in 2017, southern california's coachella valley hosted the inaugural edition of desert X — a site-specific, contemporary art exhibition that featured works by doug aitken and phillip k. smith III. now, the event has returned for its second edition, comprising a new series of installations that will remain on view in the desert until april 21, 2019. as part of the exhibition, sterling ruby has set a monolithic neon orange structure on the arid landscape, while julian hoeber has designed a pavilion inspired by the mobius strip. read more about some of desert X's other installations below.
john gerrard, western flag (spindletop, texas) 2017, 2017-2019
main image and video by lance gerber | all images courtesy of desert X
irish artist john gerrard is known for creating real-time simulated images set against austere landscapes. he uses this approach to convey messages of how power functions in society, exposing the intricate structures and overwhelming networks that dominate mass culture. situated at the gateway to palm springs and the coachella valley, western flag (spindletop, texas) depicts the site of the lucas gusher, the world's first major oil find (in 1901), located in spindletop, texas, now barren and exhausted. the work acts a stark reminder of not only the willful exploitation and depletion of resources, but also of the energy taken to return the deserted land to its current state of artificial habitation.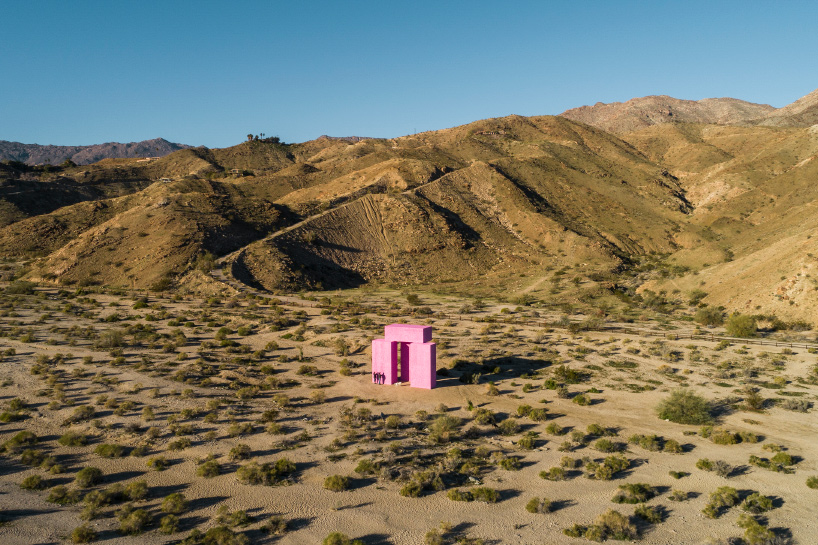 SUPERFLEX, dive-in, 2019
image by lance gerber
SUPERFLEX is an artist collective consisting of jakob fenger, rasmus nielsen, and bjørnstjerne christiansen that creates projects intended to be actively used. this encourages communities to participate in, and further develop, the projects to alter their socio-economic contexts. by rethinking architecture from the point of view of future submersion beneath the water, SUPERFLEX sought to create a land-based form that would be equally attractive to human and marine life.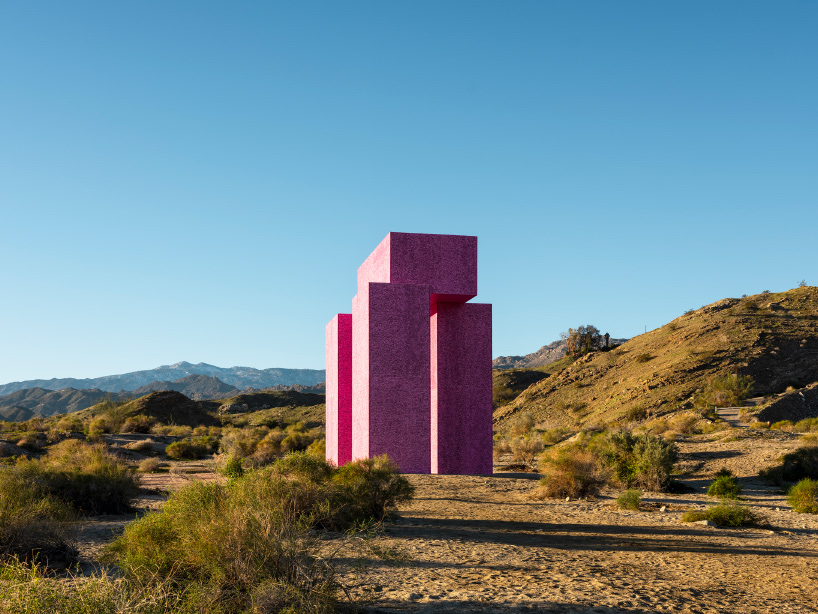 SUPERFLEX, dive-in, 2019
image by lance gerber
titled 'dive-in', the installation merges the recognition that global warming will drastically reshape the habitat of our planet with another more recent extinction: the out-door movie theater. here the interests of desert dwellers and sea life come together in the coral-like walls and weekly screenings of a structure born of a deep past and shallow future.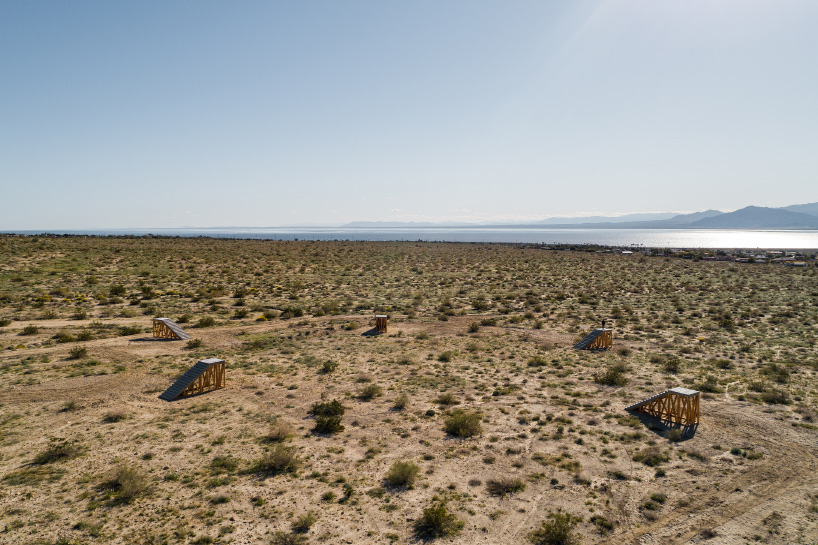 iván argote, a point of view, 2019
image by lance gerber
iván argote is a paris-based colombian artist who creates installations, sculptures, and films that explore the relationships between politics and history that construct our public and personal lives. titled 'a point of view', the interactive sculpture has been installed at an elevation above the salton sea — the man-made body of water that has been california's largest lake for the past century. the arrayed concrete scales sited near the sea's north shore project the viewer into the landscape. messages set in concrete appear in spanish and english on each step.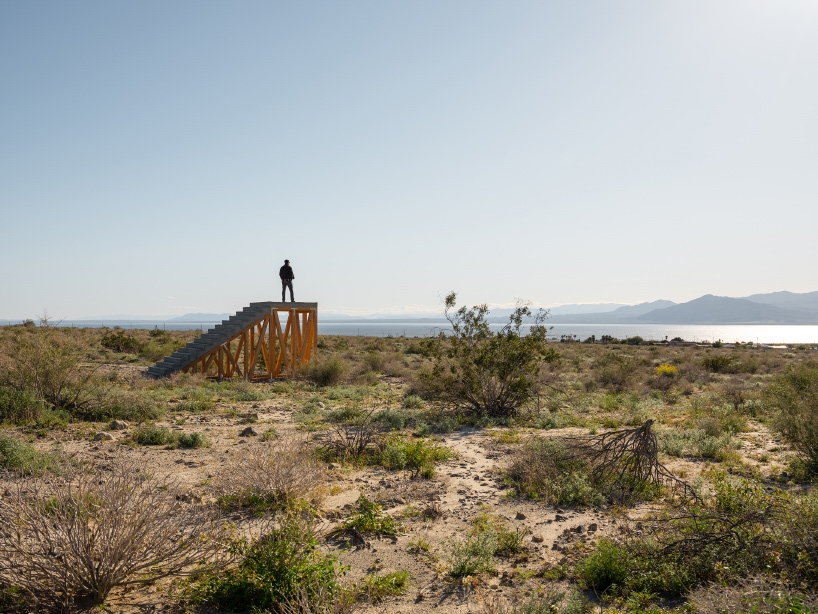 iván argote, a point of view, 2019
image by lance gerber
the temporary sculptures sit in a basin where the ancient lake cahuilla once engulfed a paleolithic horizon before its final recession into the desert floor in the 1600s. according to the artist, the assembled sculptures function as sundials representing time in fragmentation. from the platforms the audience may communicate with each other or turn to the vast landscape.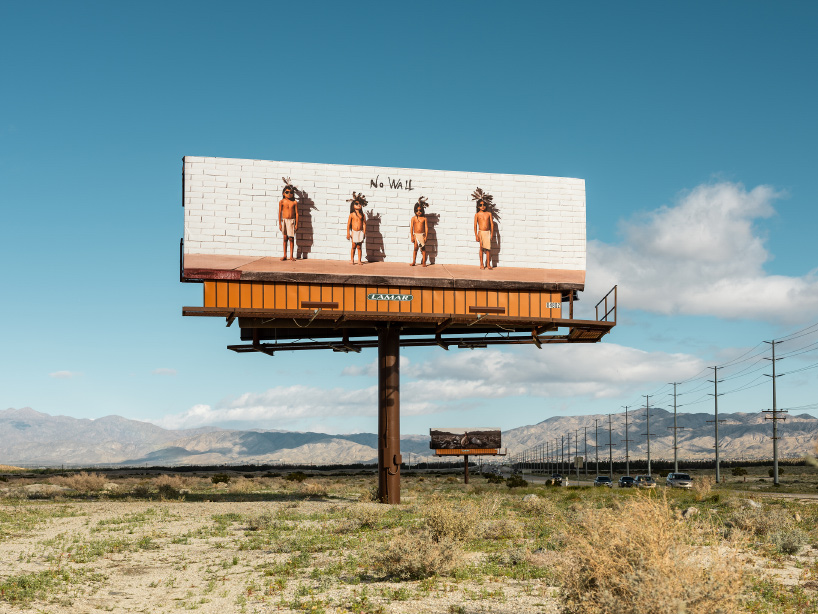 cara romero, jackrabbit, cottontail & spirits of the desert, 2019
image by lance gerber
cara romero is a chemehuevi tribal citizen and artist based in santa fe, new mexico. her work is a response to current events and issues in indian country. her digital photography examines indigenous life through a contemporary view, offering a complex understanding of today's native life, where women often take center stage. romero's new photographic series, jackrabbit, cottontail & spirits of the desert, responds to the ancestral lands of the cahuilla, chemehuevi, serrano, and mojave people. these images feature four special time-traveling visitors from chemehuevi who have come to the ancestral lands of their sister tribes in the coachella valley. in romero's vision, these small but mighty figures have returned to remind us of our deep connections to the land, the stories contained within it, and how we can live in relation to it.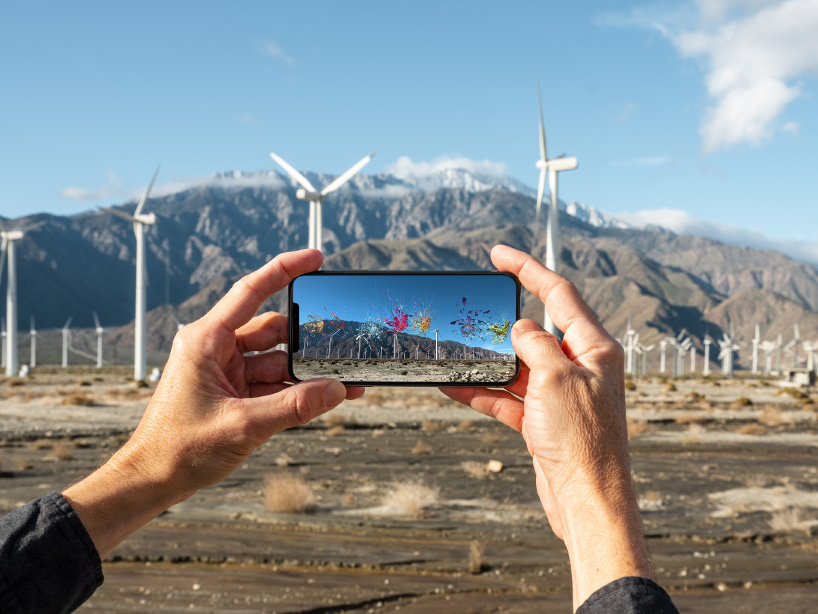 nancy baker cahill, revolutions, 2019
image by lance gerber
nancy baker cahill is a los angeles-based artist who uses drawing, video, original sound, and augmented and virtual reality (AR and VR) to frame the body as a complicated abstraction, and site of ongoing struggle and resistance. the artist has created two pieces in distinctive locations near the extreme poles of the coachella valley. to the north, near the windmill farms, revolutions (shown here) alludes to the capturing of energy, which we require to remedy a man-made crisis. the experience prompts viewers to ruminate on their own body within the space and setting of the landscape, dwarfed by the implied giant scale of the digital work.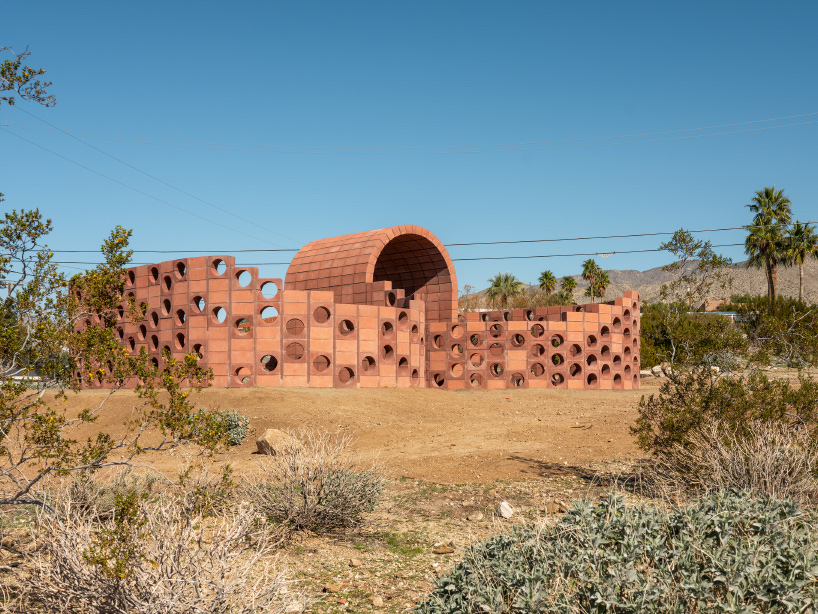 julian hoeber, going nowhere pavilion #01, 2019
image by lance gerber
julian hoeber is an LA–based artist whose practice moves fluidly between painting, installation, drawing, and sculpture. made from concrete breeze blocks in a variety of fleshy pinks and browns, going nowhere pavilion #01 (breeze block, ben-day dot, coleseum, möbius strip, thought problem) is inspired by the möbius strip. technically, the strip is a surface with one continuous side formed by joining the ends of a rectangular strip, but it has a direct relationship to methods of psychology. as with the möbius strip form, what is inside and outside the self can quickly become indiscernible. read more about the installation on designboom here.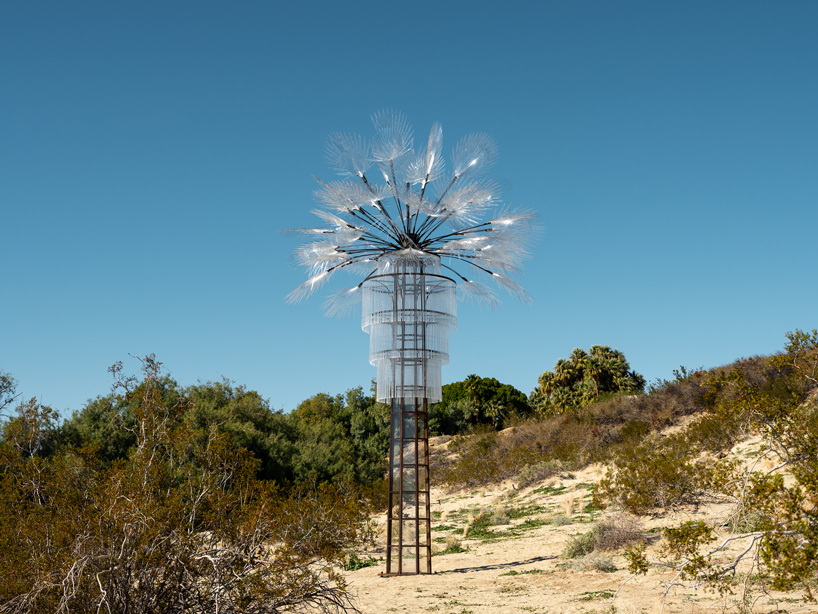 kathleen ryan, ghost palm, 2019
image by lance gerber
kathleen ryan creates large-scale sculptural works often made with heavy-duty industrial materials such as metal and stone — unnatural materials sculpted to mimic soft, organic forms of nature. ghost palm is an echo of a natural form — a meticulous reconstruction of the largest palm species native to california, the washingtonia filifera (desert fan palm). nestled in a plot of low desert, between the foreboding san andreas fault path and a line of tamarisk trees, ghost palm is a manifestation of the artist's fascination with the tenuous balance between fragility and sheer power. standing taller than 20 feet, ryan's version of this iconic palm is constructed with man-made materials: steel, plastic, and glass.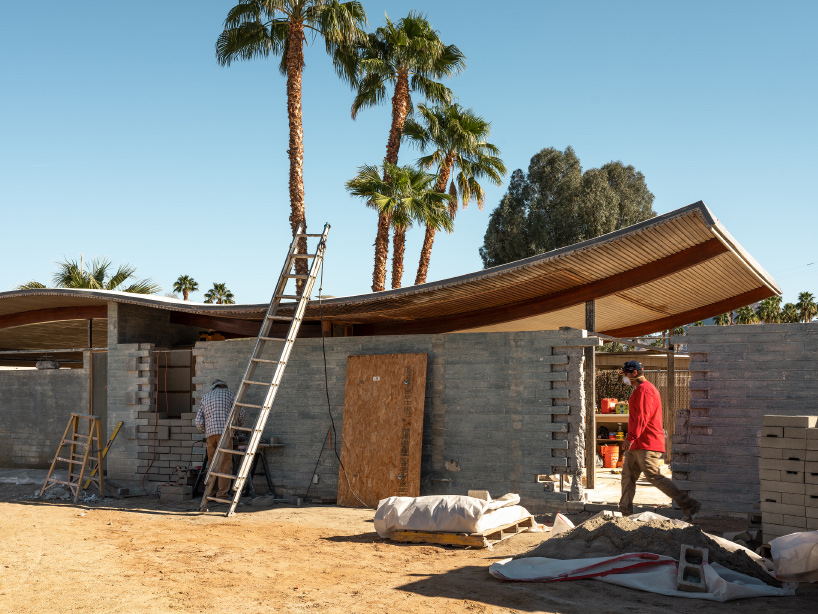 postcommodity, it exists in many forms, 2019
image by lance gerber
POSTCOMMODITY is an interdisciplinary arts collective comprised of cristóbal martínez and kade l. twist.
 the duo's project, it exists in many forms, emerged from in-depth conversations between the artists and owners of midcentury homes in palm springs. the installation is a sound work inspired by these conversations and installed in a house, specifically walter white's wave house. the work seeks to amplify complex sensations that attempt to intimate the desert as design element and object of allurement.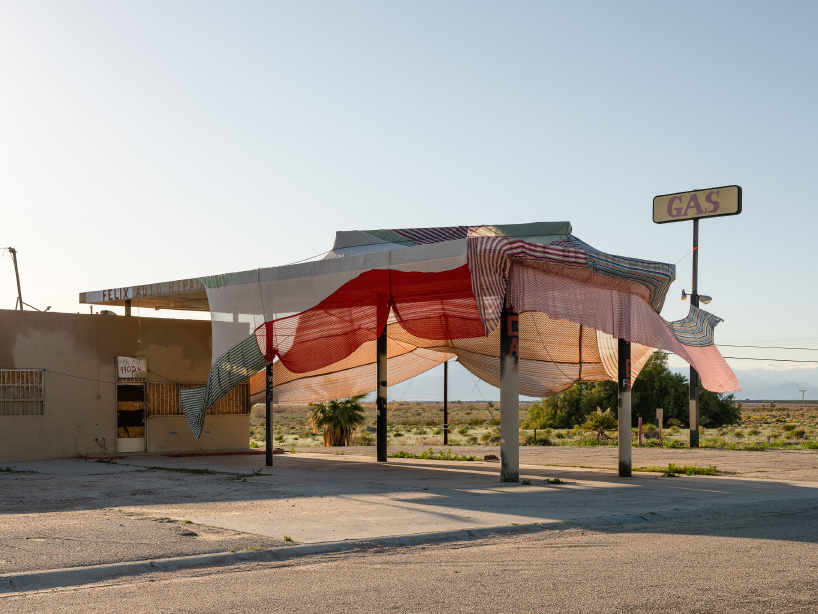 eric n. mack, halter, 2019
image by lance gerber
eric n. mack is a new york-based artist. his work, which draws from sculpture, painting, and fashion, uses fabric as a way to explore the potential for aesthetic experience. using the site of a defunct gas station at the edge of the salton sea, the artist employs his distinctive language of material as gesture to create a living architecture. silks and tulles have been stretched with rope tensioned to form a line in space, or to reframe the building's relationship to itself and its surroundings. the southern california car garage, draped and reanimated as a site-specific sculpture, brings something singular to an already-striking natural location.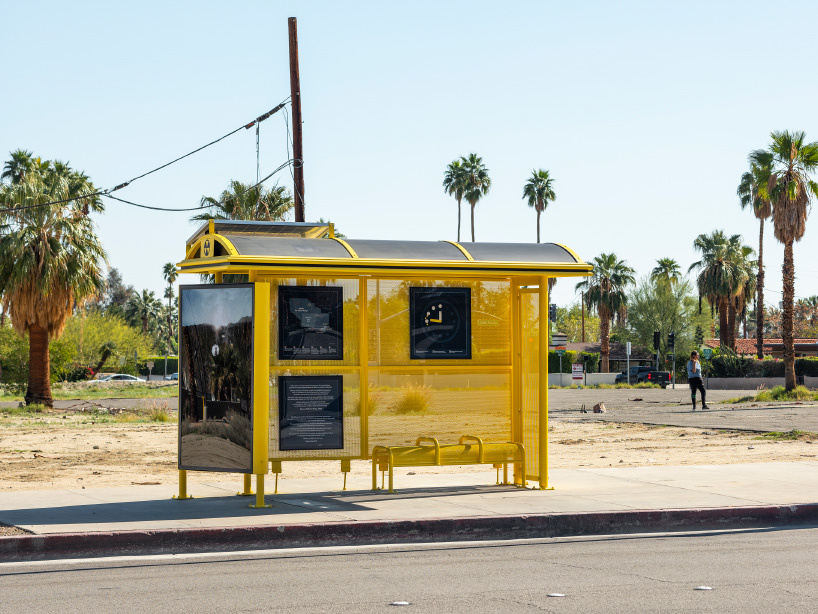 mary kelly, peace is the only shelter, 2019
image by lance gerber
mary kelly has, since the 1970s, created work that dislodges the tenets of conceptualism from male-dominated codes of representation. a long period of research led kelly to repurpose cold war-era peace activism, in this case the anti-nuclear women strike for peace (WSP), formed in 1961. this feminist group initiated lobbies, petitions, vigils, and demon-strations against nuclear testing. a central feature of the artist's public intervention is the so-called doomsday clock, whose hands tick closer to midnight as militarism rises and humanity inches closer to self-destruction. the allegory in peace is the only shelter is reshaped as a bus shelter, itself a representative timetable.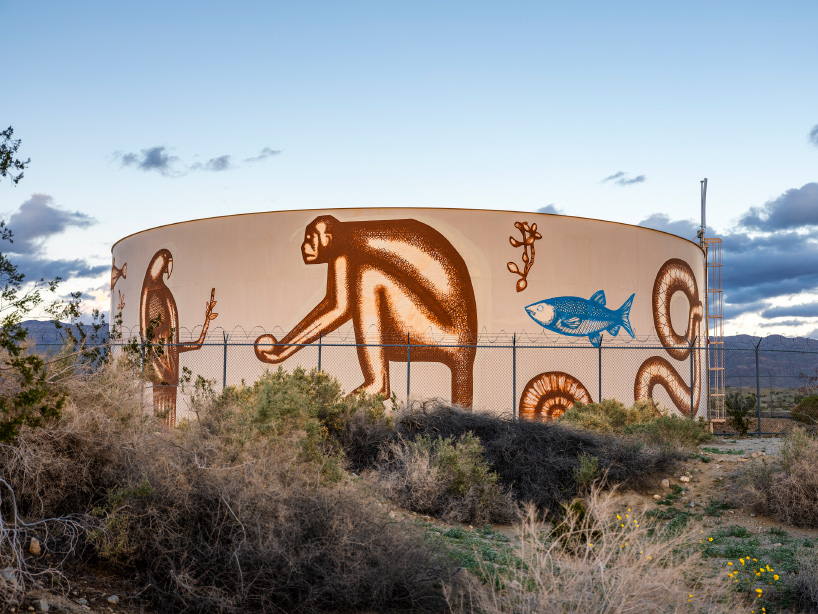 armando lerma, visit us in the shape of clouds, 2019
image by lance gerber
armando lerma often uses public art to reflect on banal realities of place and society. he taps into ancestral connections to address disparities between conditions of place and social circumstances. lerma's mural, visit us in the shape of clouds, includes various images from the american southwest and beyond such as snakes, birds, parrots, fish, monkeys, seashells, plants, flowers, and rock art. he selected these images to illustrate a story of migration and the transitory.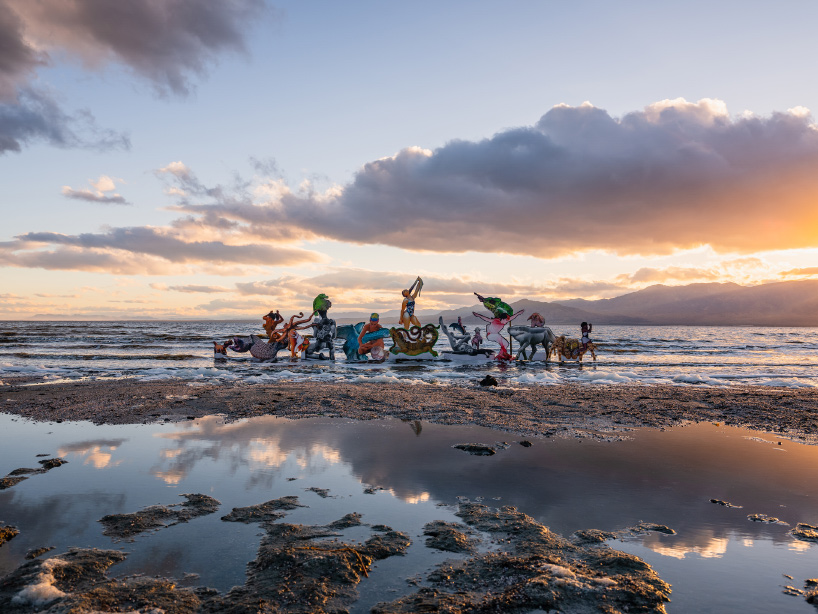 cecilia bengolea, mosquito net, 2019
image by lance gerber
cecilia bengolea is a paris–based argentinean performance and video artist who focuses on anthropological and urban dance forms and their relation to nature, the elements and figuration. bengolea's performance piece, mosquito net, is not a quest for the universal beauty of nature, but rather a display of social street dance to invoke the spirit of animals and nature. this piece is a consideration of how humans and animals (real and imaginary) observe each other. bengolea includes actual dance poses from her established performances, where she and dancers from jamaica express animals to which they feel connected.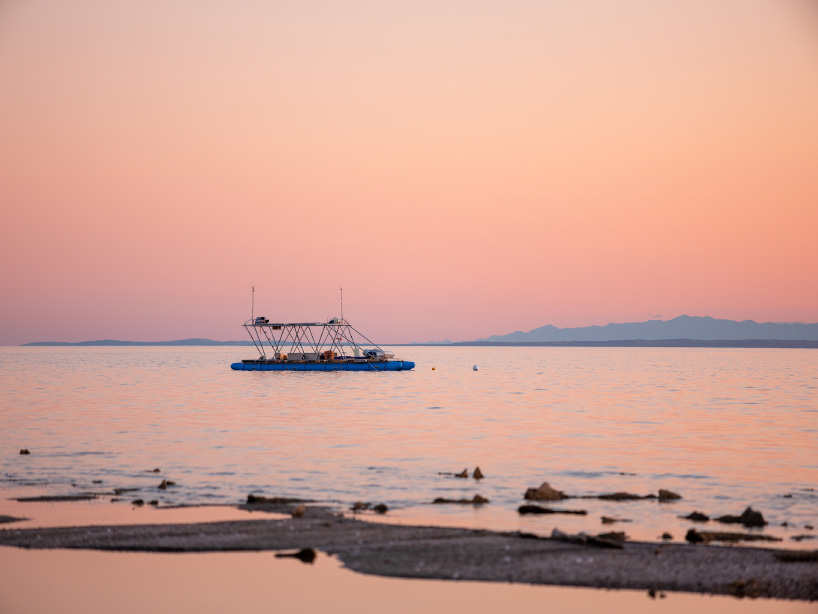 steve badgett & chris taylor, terminal lake exploration platform (TLEP)
image by lance gerber

the solar-powered terminal lake exploration platform (TLEP) explores remote bodies of water. first employed by artist steve badgett and architect chris taylor to explore the great salt lake (in collaboration with the center for land use interpretation) the platform has a modular design that maximizes deployability in inhospitable conditions and inaccessible bodies of water. this floating laboratory, with necessary life support and research infrastructure, focuses on terminal lakes. TLEP looks at these particular types of lakes precisely because they contain exceptional environmental traces, exemplified by the salton sea, which has collected decades of agricultural runoff, resulting in a particularly stressed ecosystem.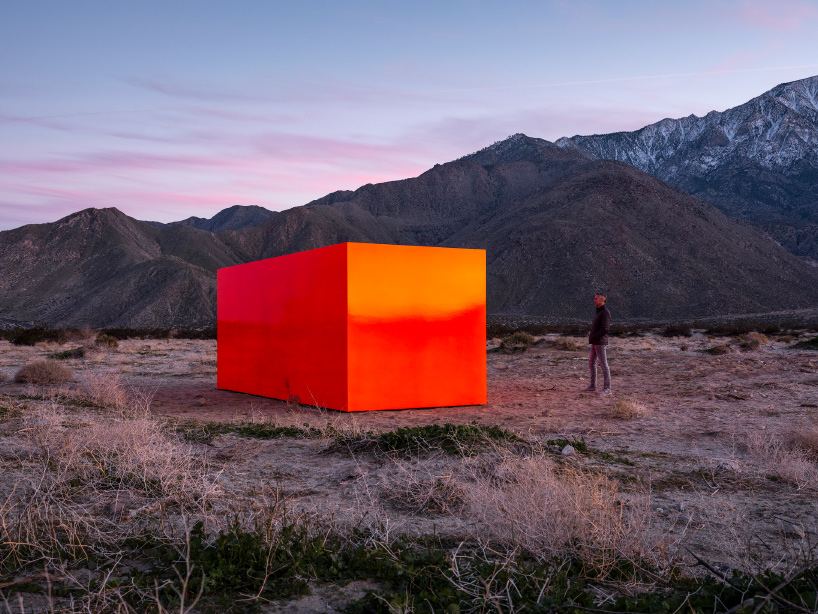 sterling ruby, SPECTER, 2019
image by lance gerber
sterling ruby is a los angeles–based artist who utilizes an extreme variety of media, producing work ranging from pristine to defaced, minimal to chaotic. ruby's fluorescent orange monolith, SPECTER, appears as an apparition in the desert. the bright, geometric sculpture creates a jarring optical illusion, resembling a photoshopped composite or collage, as if something has been removed or erased from the landscape. the block acts as a cipher or stand-in, mimicking the form it could be — a shipping container, a military bunker, an unidentified object, an abandoned home-stead. fluorescent orange is traditionally used for safety, as a warning. here that logic is reversed: a ghostly object, set apart from the natural environment, hiding in plain sight. read more about the project on designboom here.
philip stevens
I designboom
feb 13, 2019
KEEP UP WITH OUR DAILY AND WEEKLY NEWSLETTERS
a diverse digital database that acts as a valuable guide in gaining insight and information about a product directly from the manufacturer, and serves as a rich reference point in developing a project or scheme.
designboom will always be there for you
milan, new york, beijing, tokyo

,
since 1999