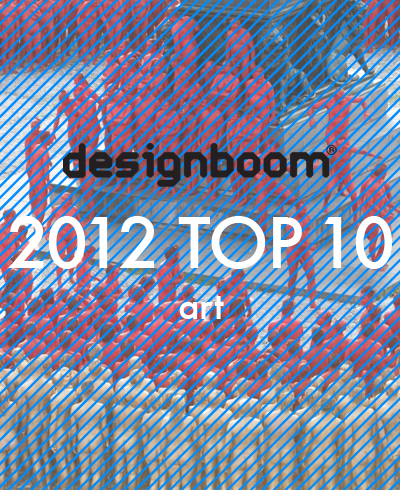 dec 24, 2012
designboom's 2012 top ten: art
designboom's 2012 top art articles
art is in a constant state of metamorphosis, expanding and contracting in conjunction with current affairs, technology and culture, and 2012 demonstrated this in a very full year of compelling work. spanning the fields of photography, sculpture, installations and even food design, the art sphere was teeming with visual fodder – each with the power to incite a gamut of emotions. presented in no particular order, designboom counts down the the top ten stories of 2012 to reveal a slice of what viewers appreciated the most in an ever-changing world ofcreative expression.
1. nude public art performance of wagner's 'the ring' opens munich opera festival
american installation artist and photographer spencer tunick has developed a nude live sculptural work captured for the start of munich, germany's 2012 opera season. more than 135 years after opera festival bayerische staatsoper's inaugural season, tunick has gathered 1,700 individuals to celebrate this musical medium in their joining as a singular organic shape or landscape in the very public square. for 'the ring', which was commissioned by the bavarian state opera, was organized and photographed in max-joseph platz, munich as naked volunteers were painted in either red or gold and guided into formations recalling poignant scenes from richard wagner's operettic masterpiece, 'der ring des nibelungen'.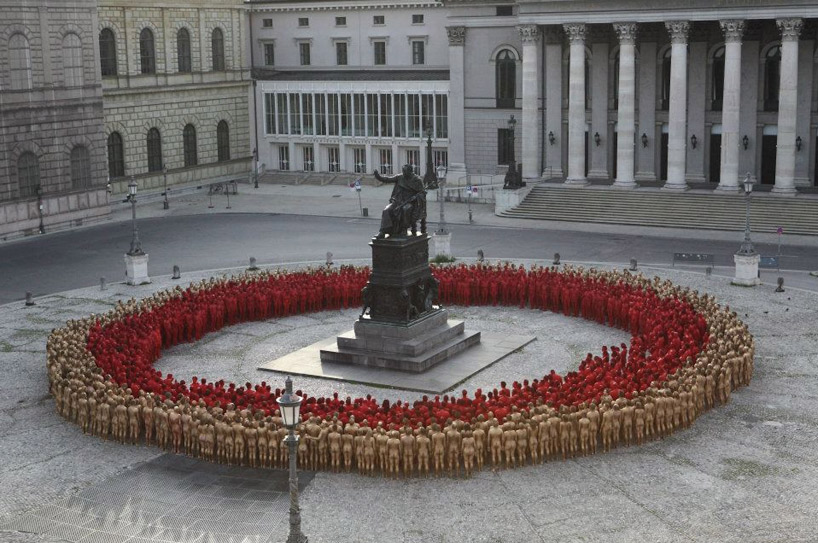 'the ring' by spencer tunick, 2012 image courtesy bayerische staatsoper
2. tauba auerbach: RGB colorspace atlas
american artist tauba auerbach presents the 8 x 8 x 8-inch hard-back cubes illustrating the color spectrum through digital offset print in a page-by-page medium. a digital offset print on paper with airbrushed cloth cover and book edges create a colorful reference volume of all the colors in existence. the special binding was co-designed by the artist herself in collaboration with daniel e. kelm, and were printed at wide awake garage, an independent bookbinder, with help from leah hughes.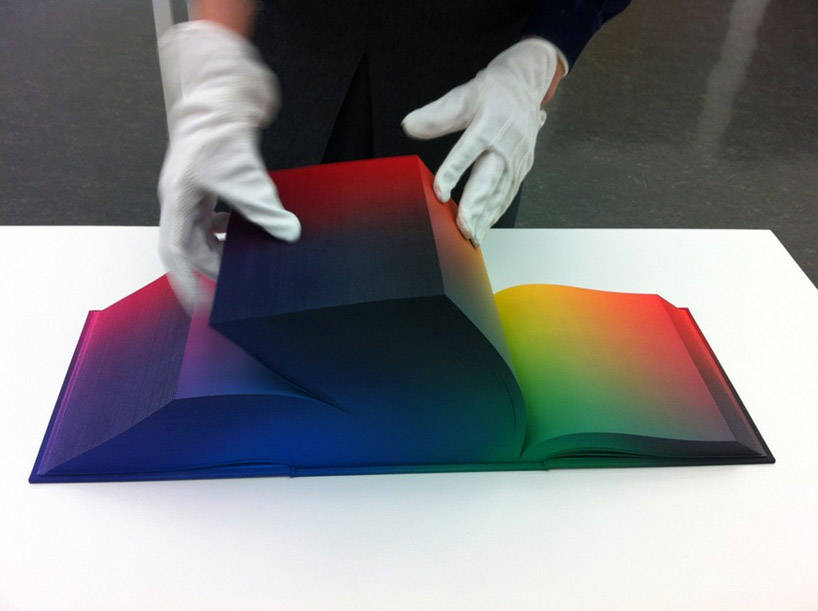 'RGB colorspace atlas' by tauba auerbach image via brittany schall
3. pablo picasso's light drawings from 1949
it was 1949 when pablo picasso was introduced to gjon mili, a photographer who at the time worked for LIFEmagazine – where he demonstrated some of his images of ice skaters with lights fixed to their skates, jumping in the dark. fascinated from the results, the spanish artist then conceived a series of projected light drawings in a dark room with two separate cameras and a small electric light attempting to 'paint' his versions of centaurs, bulls and greek profiles.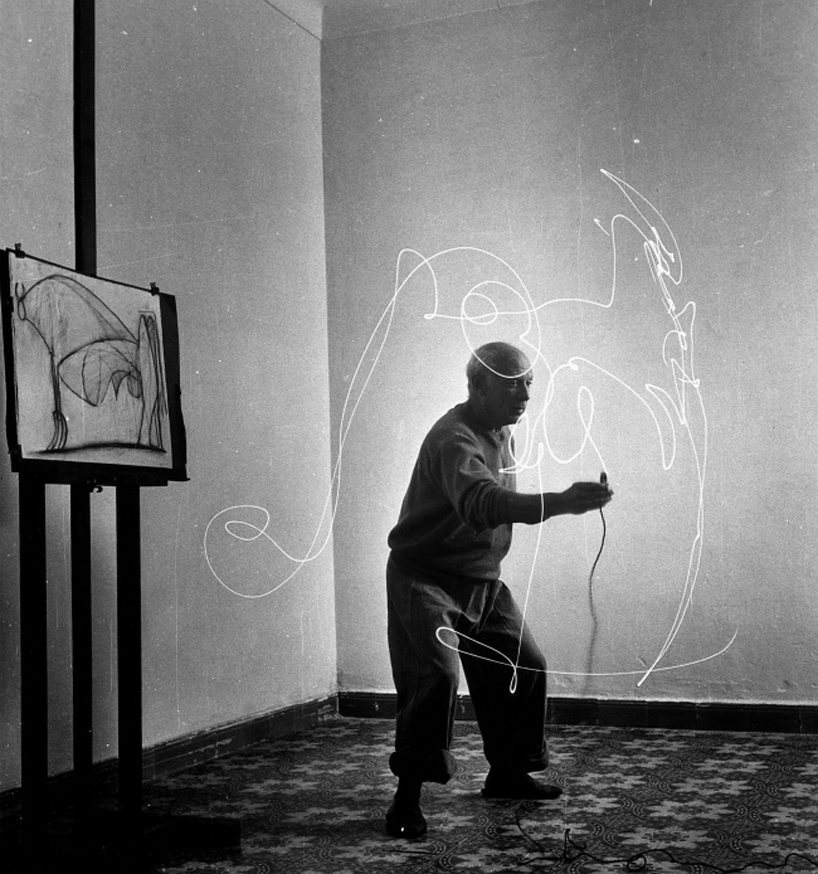 'pablo picasso's light drawings from 1949'image courtesy LIFE magazine – gjon mili
4. banksy comes to life through animated GIFs
serbian artist ABVH has conceived a series of animated GIFs reinterpreting famous artworks by banksy. the creations transform six well-known pieces – 'kissing coppers', 'no stopping rat sign', 'man walking keith haring dog', 'pink floyd: the wall', 'parking' and the 'banksy rat mural' painted on canal st. and west broadway – by the prominent street artist come to life through the machinations of GIF art. the work animates the original stencils through anticipated movements, such as the rat frantically running the stop sign or the keith haring dog barking fiercely, each one enlivening banksy's esteemed legacies.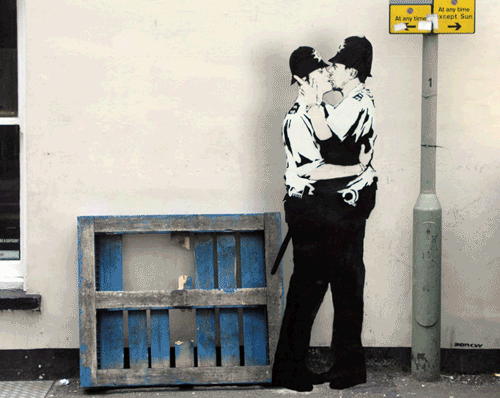 'kissing coppers' by banksy as a GIF by ABVH
5. photographs capture town stained red by hungary's 2010 toxic waste spill
spanish photographer palíndromo mészáros has created a series entitled 'the line'. the project chronicles the aftermath 
of a 2010 toxic waste spill in western hungary, killing nine people and forcing the evacuation of thousands, through a compendium of images demonstrating the material staining areas of the village red.
the work does not focus so much on the people affected but more the noxious byproduct scarring the town's landscape. without using any photo manipulation, it documents trees, homes and buildings 
blemished with a scarlet hue reaching up to two meters high.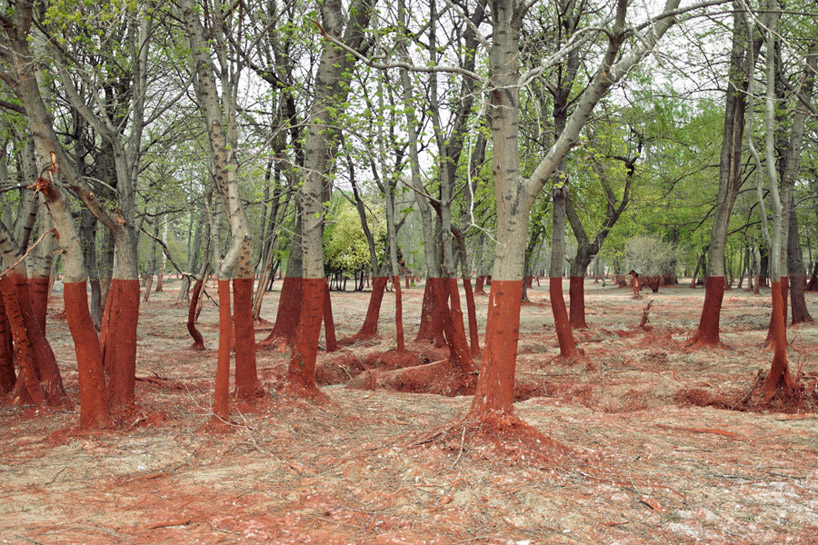 'the line' by palíndromo mészáros
a photographic series by singapore-born and new york-based photographer john clang which encapsulates new portraiture for the modern international family. the collection of images is tailored to the new standard of haphazard familial diaspora which is that regardless of whether or not the people of a particular kin group are physically in one geographic location, the photographer is able to capture all members together through a projection of the missing individual(s) likeliness with the use of the video-chat system, skype.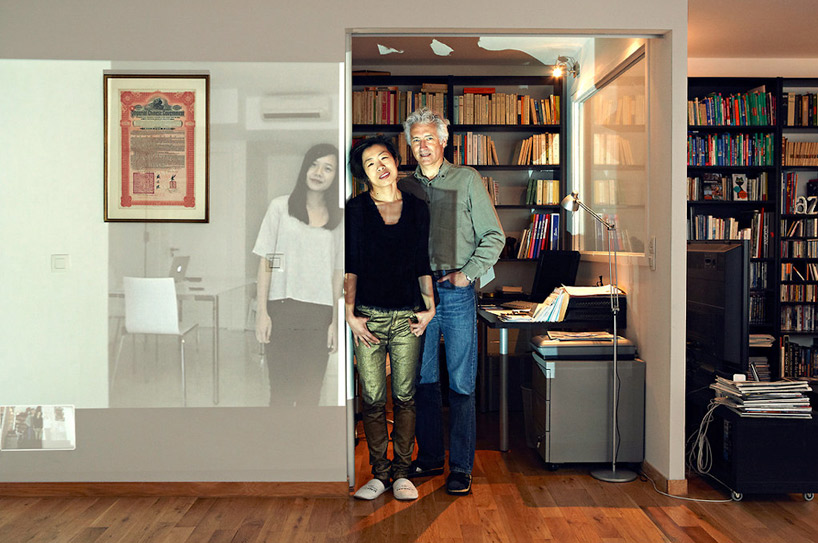 an image from the series 'be here now' by john clang, 2012 'paris (and, projected, singapore): stephanie chi-weng tsui; her mothr, alexia wai-chun tye: alexia-s partner, pierre de fouquet'
7. helium balloon suspended bridge by olivier grossetête
french installation artist olivier grossetête's work 'pont de singe' conjures ideas of dreamlike surrealism – a featherweight bridge suspended by three helium-filled balloons, steadily held aloft a lake in tatton's japanese garden in the UK. grossetête's artwork toys with the disciplines of design and engineering, with this particular piece an extension of his earlier 2007 work 'pont suspendu' – an installation along a similar vein of three large balloons supporting a bridge-like structure, hovering over château ferry lacombe in tret, france. the work evokes a sense of abstract delicacy, transferring fanciful imagery usually reserved for daydreaming to reality.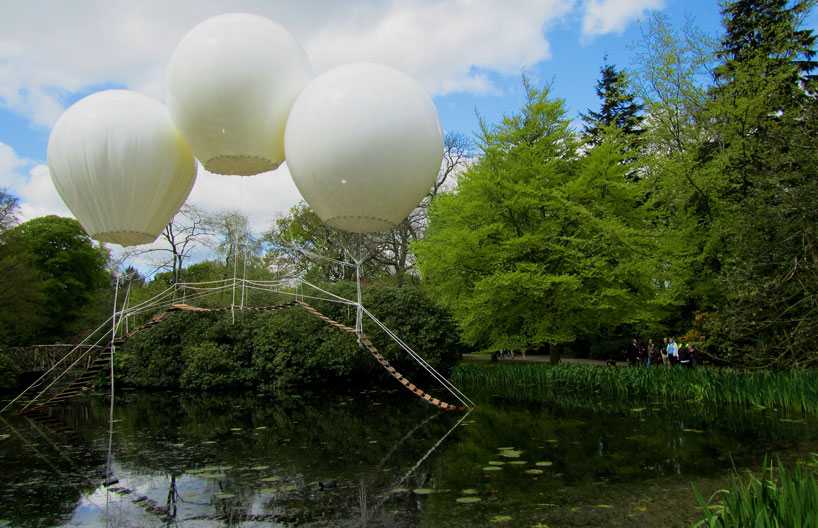 pont de singe by olivier grossetête image © wilf
8. do ho suh: home within home at leeum samsung museum of art
the solo representation of the korean artist do ho suh's work showcased newest sculptural pieces of hread-and-sheer-fabric-drawn representations of his nomadic existence living in major urban centers such as seoul, new york and berlin. the artist investigates the idea of truly inhabiting a place, developing the concept of 'home' as skeletal representations throughout the museum, actualizing this concept as both a boundary and passageway in the gallery space.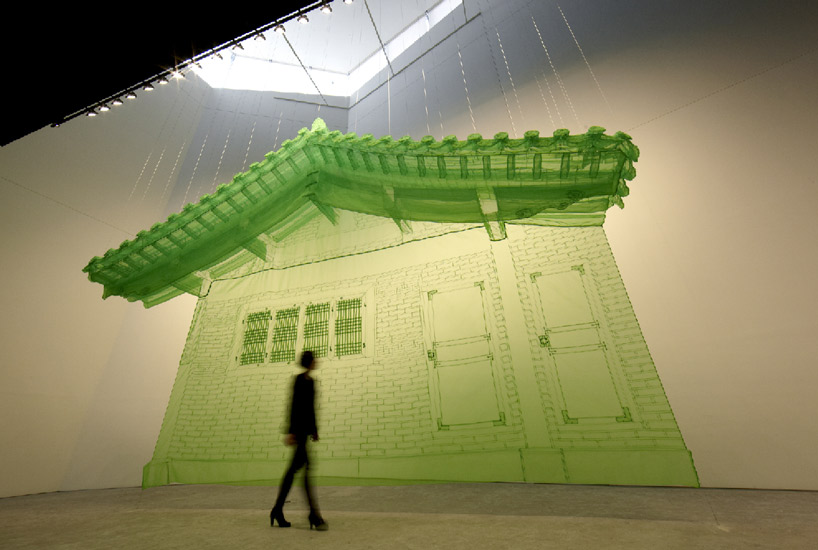 'seoul home / seoul home' from 'home within home', do ho suh, 2012 silk, metal armature all images courtesy leeum, samsung museum of art and the artist
9. sweeping nude photography by shinichi maruyama
japanese photographer shinichi maruyama is well known for his colliding liquid photography – immortalizing moments split seconds before they are lost to gravity. in his latest body of work, 'nude', maruyama continues his exploration of movement through photography – re-envisioning the language of traditional nude artwork and combining this with a reference to time.
the abstract striding limbs create almost painterly strokes across a hidden canvas – a sweep of flesh filling space. the conceptual artistic interrogation reminds one of the beauty of the human body, not through form, but through the ethereal capacity of human motion – reminding one of the power of dance, theatre and gesture.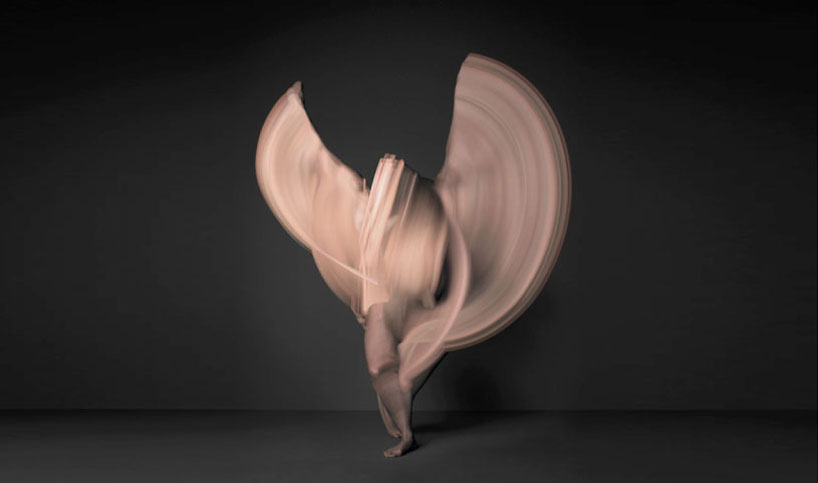 'nude #2', 2012 by shinichi maruyama
10. pantone tarts by emilie de griottes
for a special feature in french culinary magazine fricote, french food designer emilie de griottes developed dessert tarts that recreate pantone colour swatches. berries, carrots, lemon, candies, and other foods are arranged upon a tart base, whose bottom is iced in white and marked with the pantone colour represented. recipes for making the tarts are available in fricote issue number 6 (2012).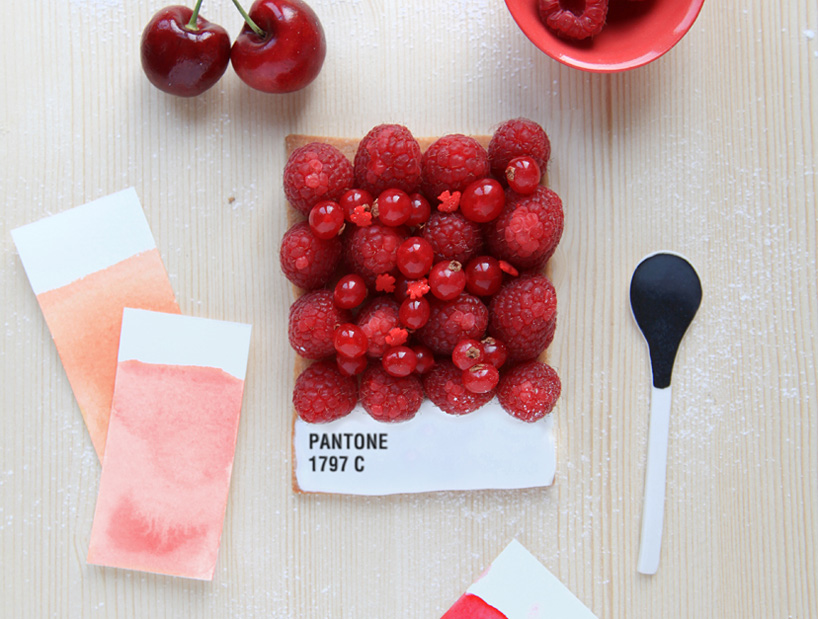 'pantone 1797 c', a tart created by emilie de griottes for fricote magazine
a diverse digital database that acts as a valuable guide in gaining insight and information about a product directly from the manufacturer, and serves as a rich reference point in developing a project or scheme.