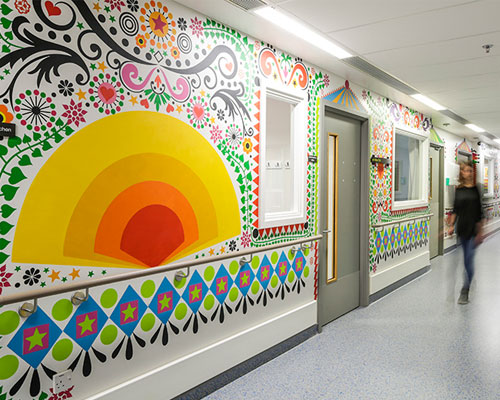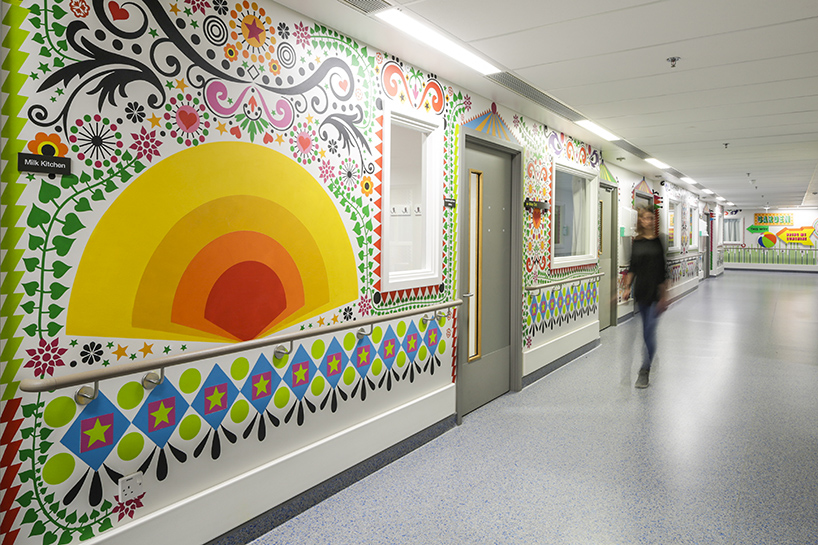 jan 29, 2015
designers and artists liven up the royal london hospital
designers and artists liven up the royal london hospital – ward 7D by morag myerscough
vital arts, the arts organisation for barts health NHS trust commissioned an array of artists and designers to liven up the wards at the royal london children's hospital.
the royal london children's hospital officially opened in march 2012 and over the past two years vital arts have been working with a variety of artists and designers to transform the walls of the children's wards through pioneering and innovative design within a hospital environment.
commissioned artists and designers that feature across the five wards throughout the royal london children's hospital are; artist morag myerscough, textile artist donna wilson, wooden toy designers miller goodman, product designer tord boontje, children's author, illustrator and rug designer chris haughton and surface and textile designer ella doran.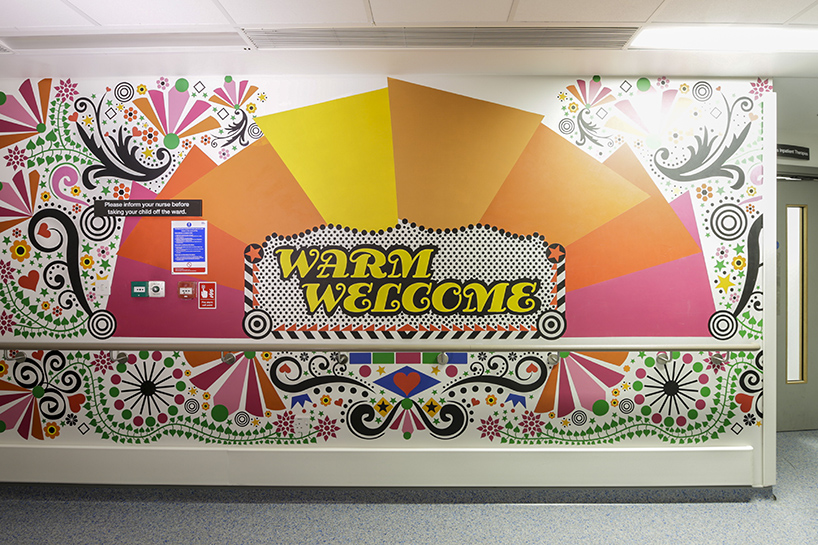 ward 7D by morag myerscough
morag myerscough, come on in 2013
ward 7D, trauma and gastroenterologh
designer morag myerscough has embellished ward 7d with her signature style of hand-painted words and distinctive patterns.this commission was inspired by a visit myerscough made in 2008 to delhi, excited by the wonderful colours and decoration of the city she returned home to create a series of drawings based on her experience. when approached about the commission myerscough felt it was the perfect opportunity to realise these thoughts and ideas for the royal london children's hospital.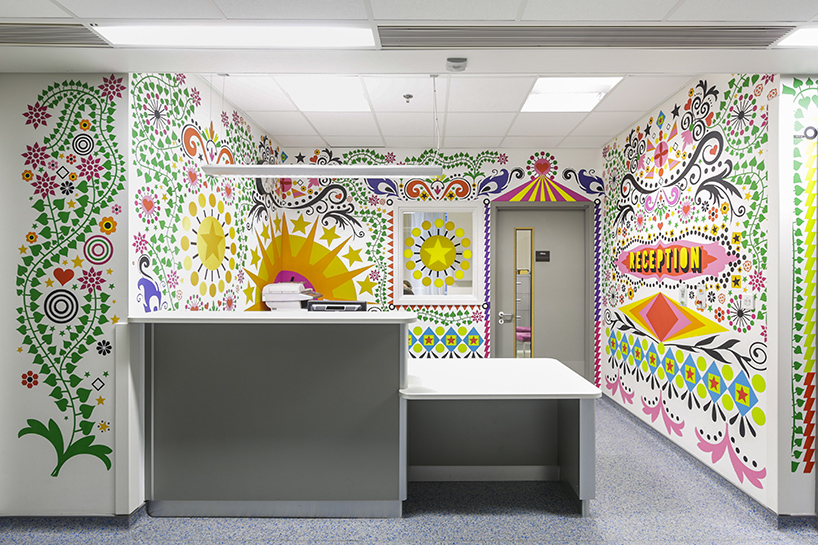 ward 7D by morag myerscough
'the piece has a huge amount of references that had been embedded in my memory for many years and came out all together at one time. so there are elements of circus, organic, art deco, asian culture, victorian architecture and the list goes on so a real mash-up that came out of my head onto paper and then onto the walls. the whole aim of the piece was to make a ward that would help to bring some joy to the young patients and parents with colour and some fun that would be warm and welcoming.' – morag myerscough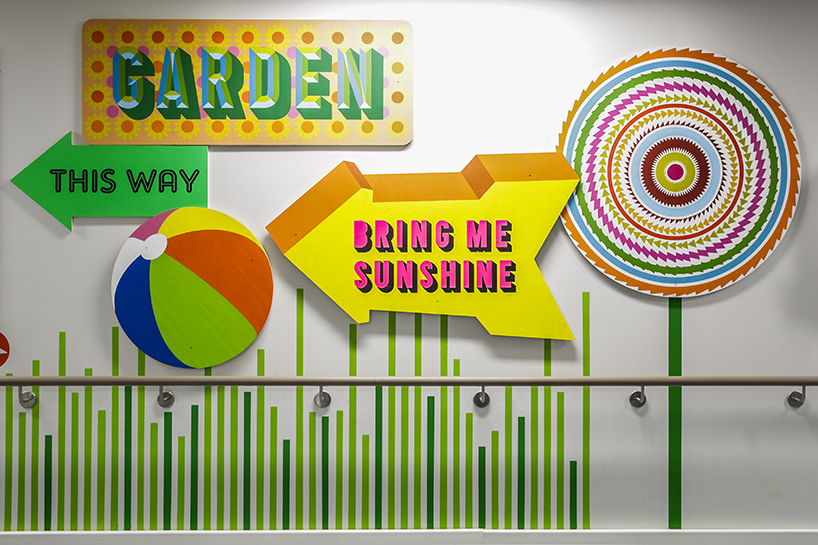 ward 7D by morag myerscough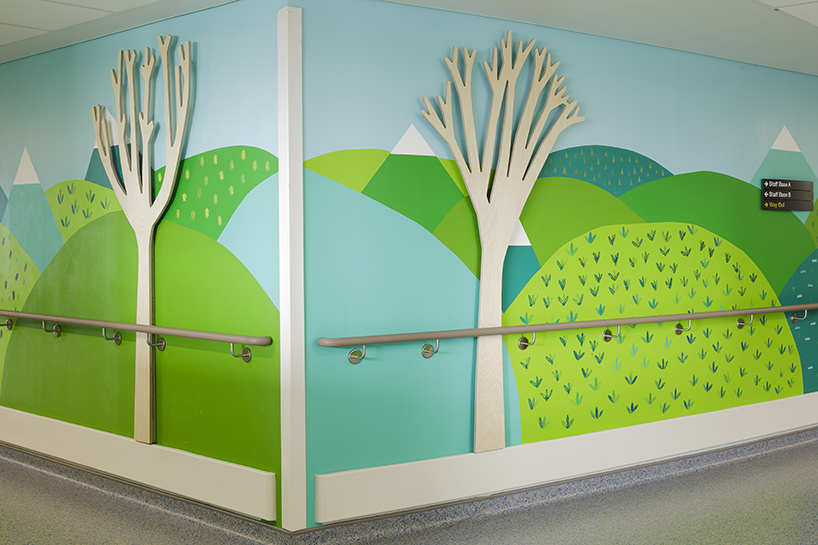 ward 7F by donna wilson
donna wilson, painted landscapes 2014
ward 7F, haematology
best known for designing and creating curious cushions and a variety of products for the home, textile designer donna wilson chose to bring the outside in to ward 7F. this larger-than-life rural scene features snow-capped mountains in bright blues and greens, textured hills and wooden trees. patients were also encouraged to participate with the finishing details by stamping patterns on to the hills to create added texture. floor to ceiling wooden trees line the walls of the ward adding a three-dimensional element to the installation.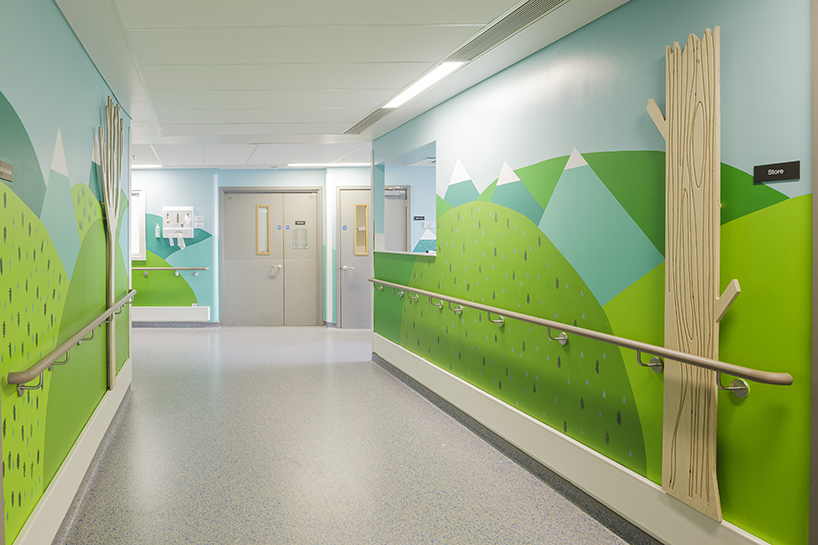 ward 7F by donna wilson
'one of the most important things for me was to make the hospital not feel like a hospital. I wanted the patients, parents and nurses all to feel relaxed, happy and stimulated by the environment that surrounds them and by using design you can lift the mood and well-being of the people there.'
I've enjoyed seeing and hearing the reactions of not just the children but the parents too who are so pleased that the ward feels happier, colourful and less sterile and intimidating. this makes it so worthwhile and hugely rewarding for me as a designer.' – donna wilson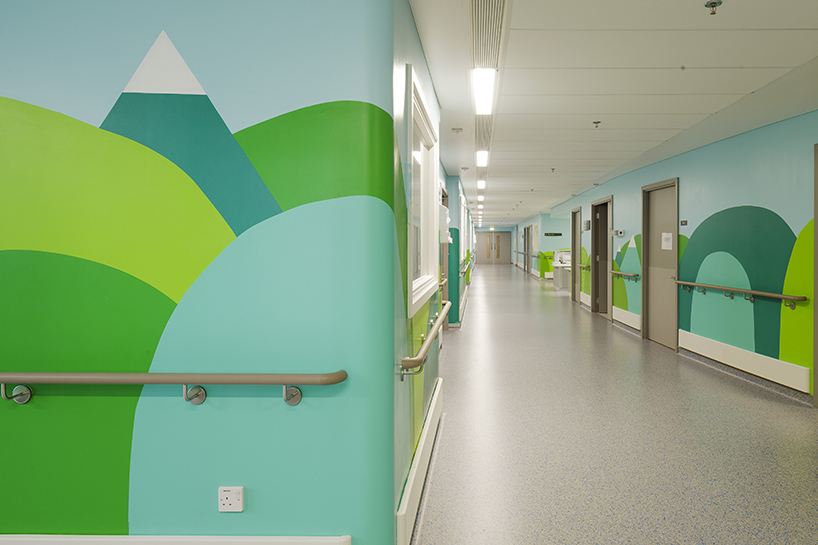 ward 7F by donna wilson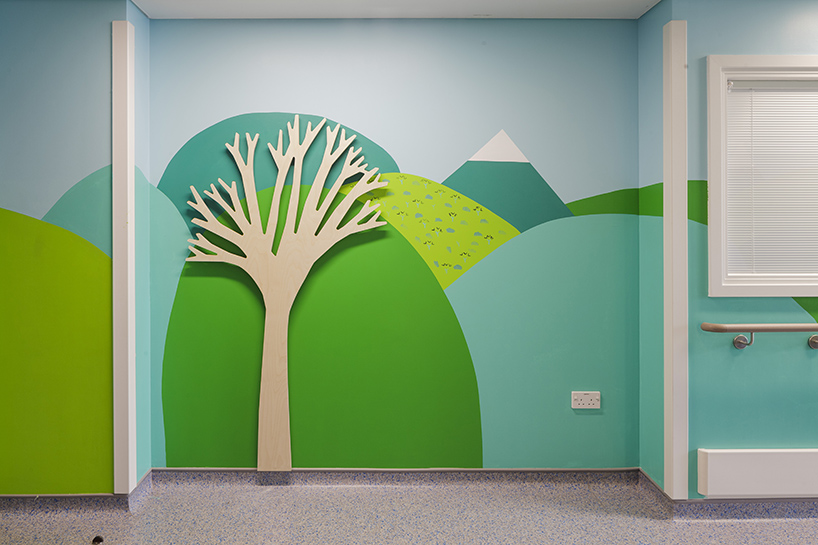 ward 7F by donna wilson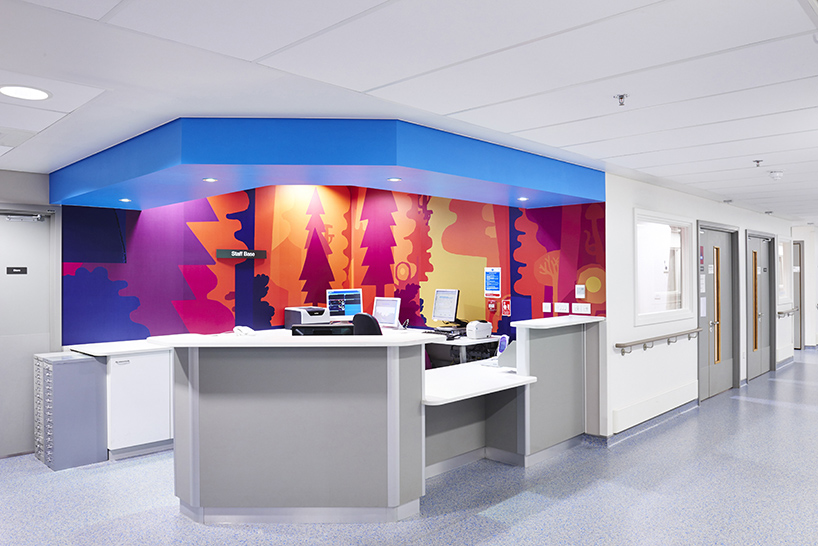 ward 7C (B) by chris haughton
chris haughton, animals! 2014
ward 7C (B), paediatric assessment and short stay unit
rug designer, author and illustrator of children's book 'shh! we have a plan' and 'oh no george', chris haughton incorporates his signature characters for his design for ward 7e. rather than numbering each room haughton decided to give each room a different animal character; a lion room, a parrot room and a fish room etc. each room features the same elements but with each animal, for example the 'lion room' has a lion's face labelled on the door, a framed print of the lion and cub hiding in the grass, a framed woven rug of the lions portrait, and two vinyl stickers of the two lions chatting and running hidden somewhere on the walls.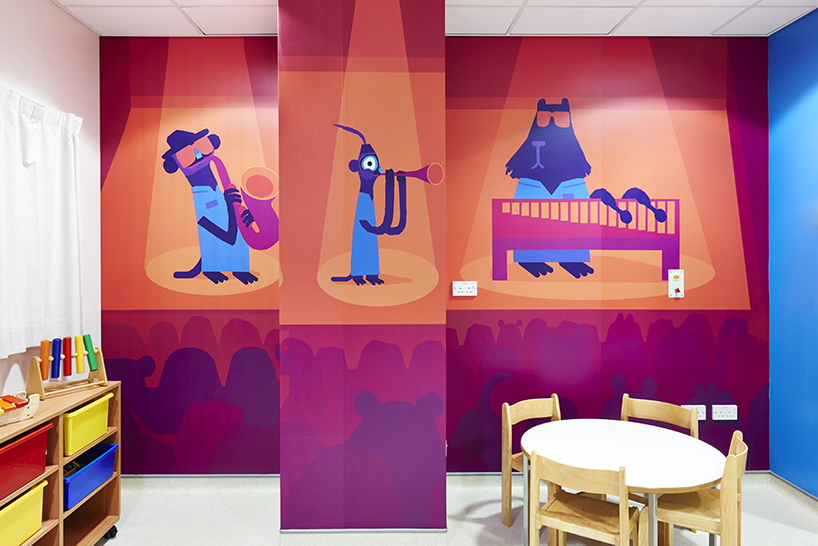 ward 7C (B) by chris haughton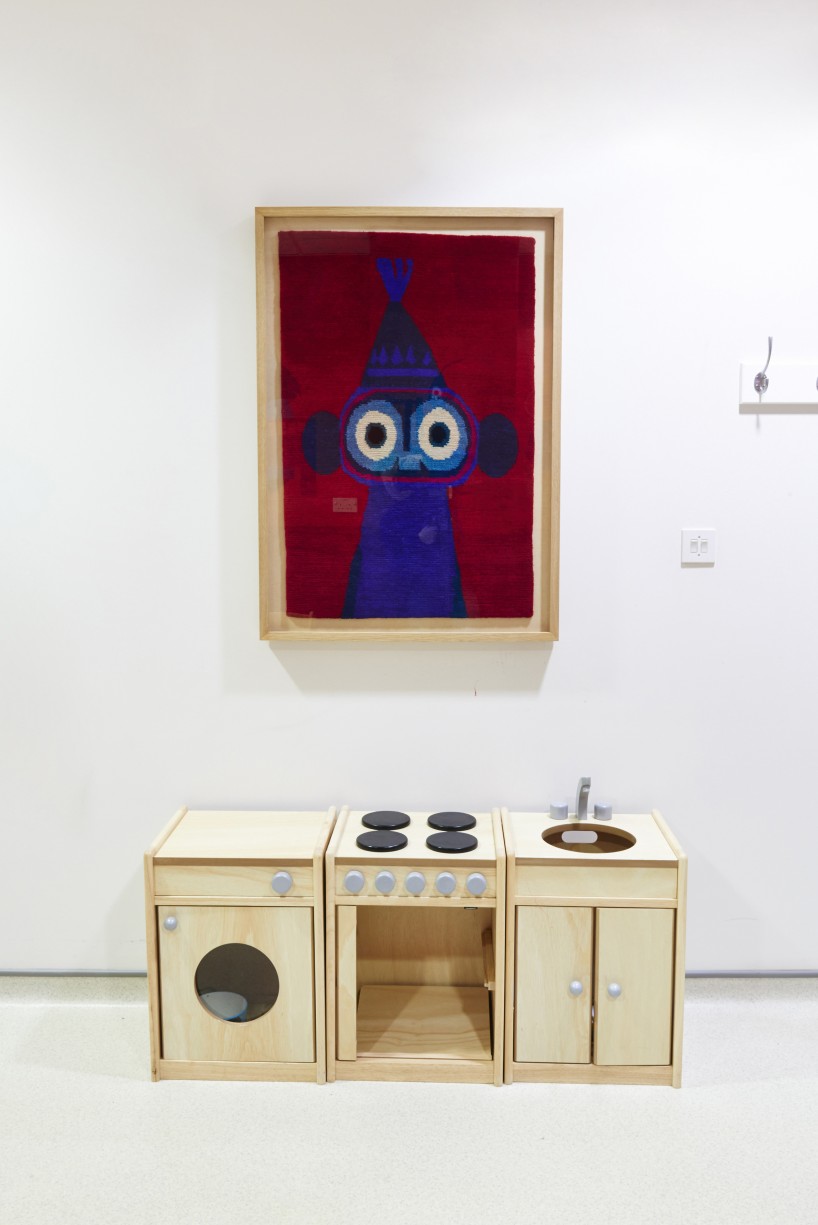 ward 7C (B) by chris haughton – framed rug
the framed rugs are hand-woven and made by a fair-trade group which haughton help set up in nepal. the rugs add an element of warmth and cosiness in an otherwise clinical and sterile environment. in the corridors vinyl is used to create a gathering of life-sized animals including a dinosaur peering down from the ceiling, all looked after by a monkey dressed as a doctor.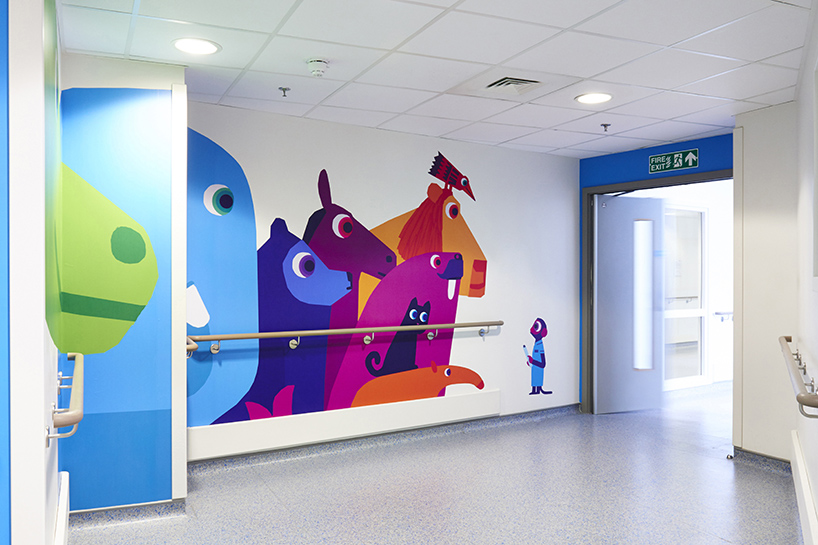 ward 7C (B) by chris haughton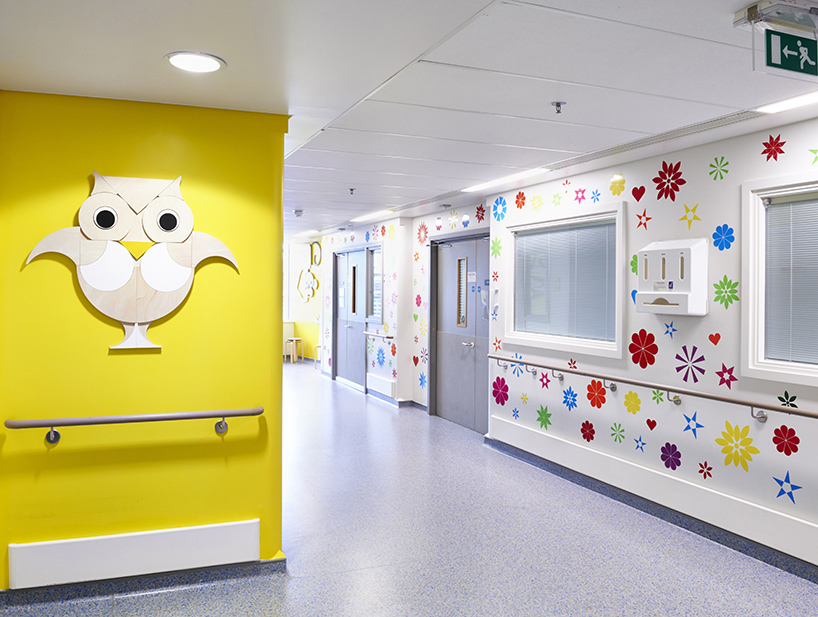 ward 7E by miller goodman
miller goodman, imaginary menagerie 2014
ward 7E, respiratory
interested in exploring the intersection between art and stylish wooden toy designers zoe miller and david goodman of miller goodman have taken inspiration from their wooden toy collection playshapes – a bag of 74 different shaped wooden pieces that have endless possibilities when played with creatively. corridors and walls throughout the ward are embellished with their distinctive wooden animals and geometric patterns; from monkeys to giraffes, flowers to hearts. vinyl and larger wooden artworks feature throughout adding colour and texture to otherwise blank and bare walls.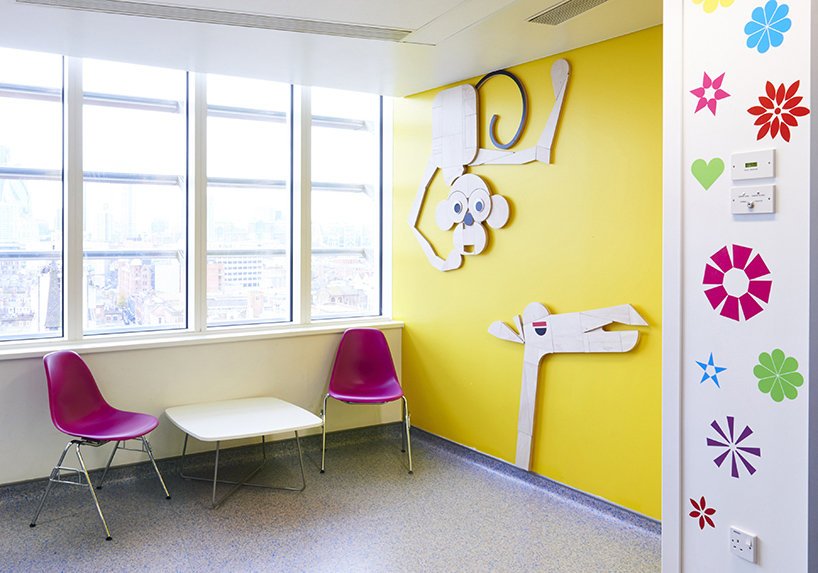 ward 7E by miller goodman
'wood is a traditional warm medium that soulfully ages softening with play. it is traditional and always evokes childhood memories of play. we hope that the mix of bright vinyl colours and wooden characters encourages and entertains the child as well as wishes them a speedy recovery.' – zoe miller and david goodman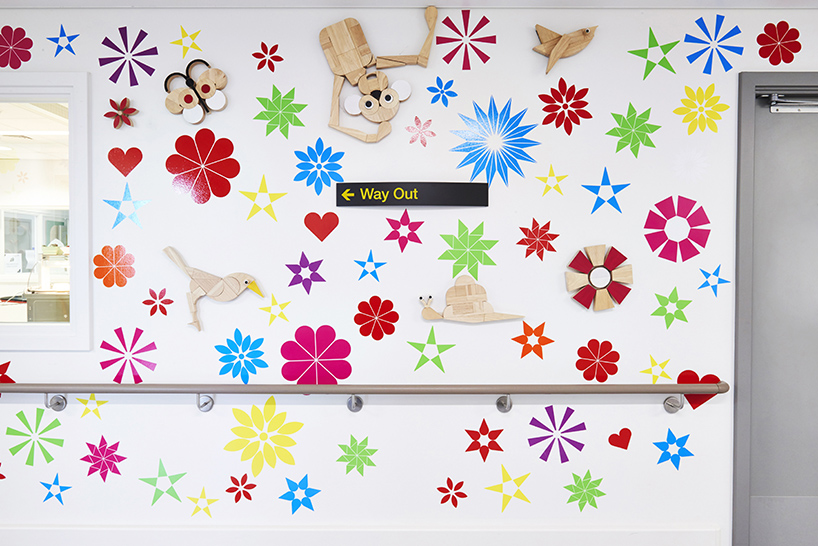 ward 7E by miller goodman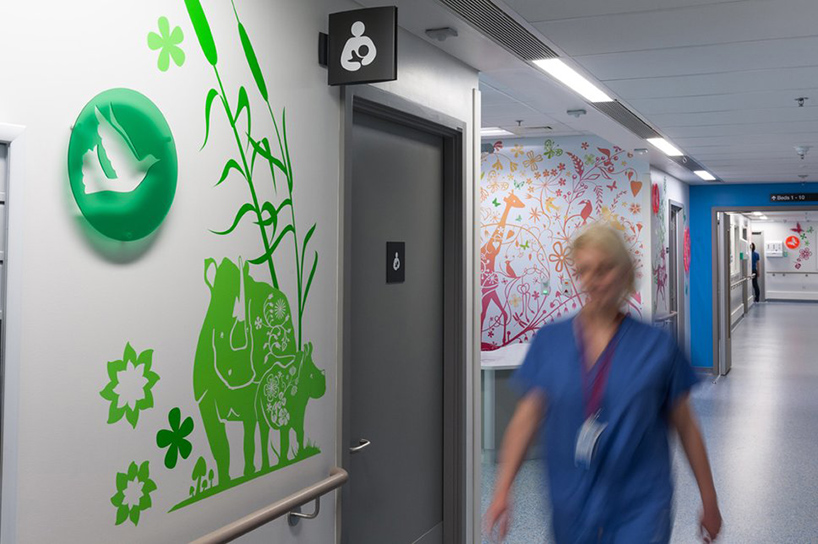 ward 6C by tord boontje
tord boontje happy day 2013
ward 6c, paediatric critical care
illustrations by product designer tord boontje adorns the wards of paediatric critical care with a sequence of vibrant vinyl flora and fauna in an eclectic mix of bright colours. alluding to renewal and growth, the work contains animals and elements in energising colours for children to find and discover. the large illustrations are very finely detailed and invite you to discover new elements day after day. the three-dimensional laser cut creatures in shiny and matt neon perspex create depth and layer, casting shadows throughout the walls of the ward.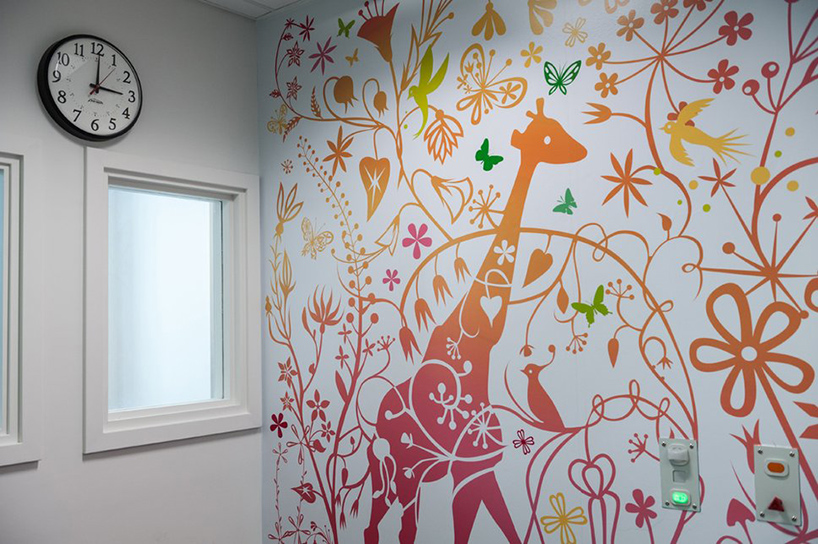 ward 6C by tord boontje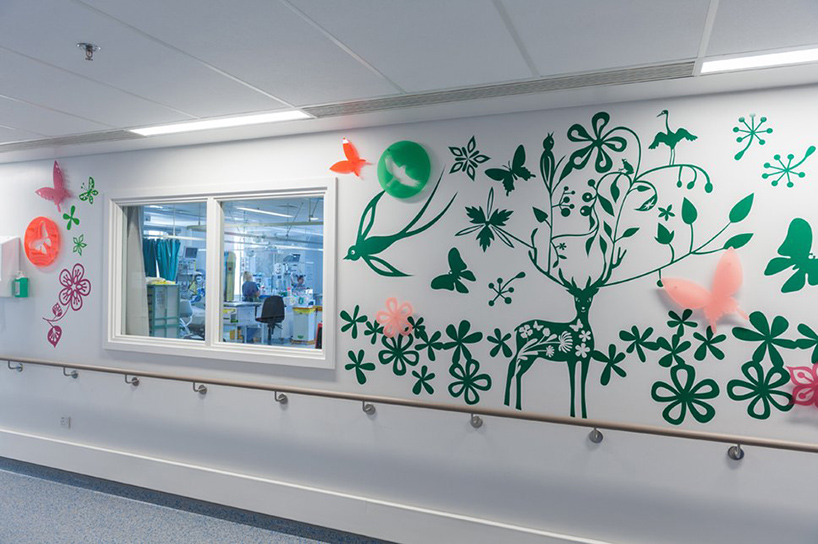 ward 6C by tord boontje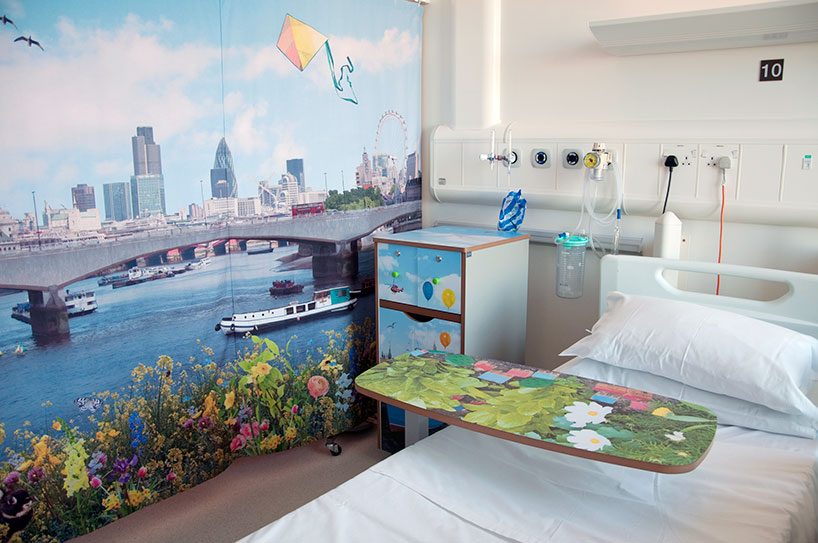 doran, bedside views
doran, bedside views 2012
throughout all wards
textile artist / designer ella doran, worked closely with the trust's procurement team to design and manufacture a series of furniture and textiles throughout all of the children's wards. privacy curtains give patients a playful panoramic view of the thames in central london with hot air balloons and kites. the reverse of the curtains reveal contrasting colours that complement the hospital furniture. bedside cabinets are covered with images of boats, origami planes and clouds. even over-bed tray tables offer alternative views into a lush london garden.
—
about the the royal london children's hospital
with 130 beds across five wards and covering london's busiest paediatric accident & emergency department, the royal london children's hospital, run by barts health NHS trust, is one of the leading children's hospitals in the UK, caring for more than 40,000 children and young people each year from london, essex and across the UK and europe.
it is well documented in medical research that children find visiting hospital, no matter how routine the visit or how often they come, a frightening and stressful experience. art has proven throughout paediatric hospitals all over the world, to be an invaluable aid for staff in either distracting children, or positively engaging children receiving sometimes painful and frightening treatments by supporting the individual needs of each patient. through consultation with medical staff and patients vital arts have commissioned artists and designers that showcase dynamic design whilst meeting the patient's needs.
sep 10, 2017
sep 10, 2017
sep 01, 2017
sep 01, 2017
aug 31, 2017
aug 31, 2017
jul 06, 2017
jul 06, 2017
feb 02, 2017
feb 02, 2017
oct 02, 2016
oct 02, 2016
mar 23, 2013
mar 23, 2013
jul 21, 2010
jul 21, 2010
apr 29, 2009
apr 29, 2009
a diverse digital database that acts as a valuable guide in gaining insight and information about a product directly from the manufacturer, and serves as a rich reference point in developing a project or scheme.