oct 23, 2014
didier faustino sites explosive installation at the entrance of paris' villa bloc
didier faustino sites explosive installation at the entrance of paris' villa bloc
all photos by felipe ribon

the 1950s villa bloc designed by french sculptor andré bloc has been inhabited by gallery owner and collector natalie seroussi for the past 26 years. annually, since 2008 seroussi has invited an artist to interact with this extremely unique architectural landmark, and — on the heels of renowened contemporary creatives like ernesto neto and tobias putrih — she has asked franco-portuguese architect and artist didier faustino to intervene. in response, faustino has implemented an explosive architectural installation entitled 'this is not a love song' to the exterior facade, 'nowhere somewhere', a light installation within its interior and 'trust me', a soundscape of whispering voices that echos and reverberates throughout the space.

an explosive architectural installation has been implemented onto the exterior facade
'this contextual proposal reflects andré bloc's architecture which tends to circumvent function through constructing sculptured dwellings. in one liberating movement, bloc limits the place of the body in his architecture. that is the history of this place. this ambiguous terrain between architecture and sculpture is very similar to mine. these days social structures are as responsible for regaining architecture as the physical body. the success of architecture as an imposed subject must end. my proposal is therefore a sculptured event surmounting the sculptured habitat, with a limited effect upon the architecture, merely framing a space waiting to be inhabited. the title 'this is not a love song' inspired by the eponymous title by [english post-punk band] public image limited, emphasizes my detachment towards andré bloc, as well as the future potential of this sculpture as architecture, an installation, a performance or an event space' — didier faustino

the vibrantly colored work is both framed and obscured by the surrounding landscape

'this is not a love song' is 'a sculptured event surmounting the sculptured habitat', faustino says

surrounding greenery obscures the installation in the background
two works of art are situated within the interior — one of light and the other of sound, simultaneously expressing doubt and hesitation. 'nowhere somewhere' takes the shape of a light source, illustrating the different openings of the habitat. its neon arrows are no longer directional; rather they are more disorientating than assistive. 'trust me' comprises a trio of whispering voices, urging the audience not to trust architects. inhabiting the space in which it resonates, this cautioning calls us to reconsider the status of architecture and its intentions.

two works of art are situated within the interior

'nowhere somewhere' takes the shape of a light source, highlighting the different openings of the habitat

both installations within the villa simultaneously express doubt and hesitation

its neon arrows are no longer directional

the light source becomes more disorientating than assistive at lending direction
jun 26, 2017
jun 26, 2017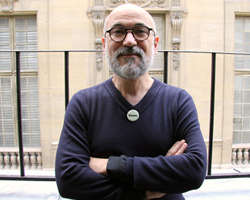 feb 19, 2017
feb 19, 2017
oct 07, 2016
oct 07, 2016