set within a dark, industrial warehouse, 'the garden' is a living, interactive, and immersive artwork by doug aitken that asks visitors to become the subject of the sculpture. presented at the inaugural edition of the ARoS triennial in denmark, the installation sees a lush tropical jungle surround an enormous bulletproof glass chamber, which contains contemporary domestic objects — tables, chairs, cabinets, and lights. viewers are invited to enter the environment and physically destroy these generic elements of modern life.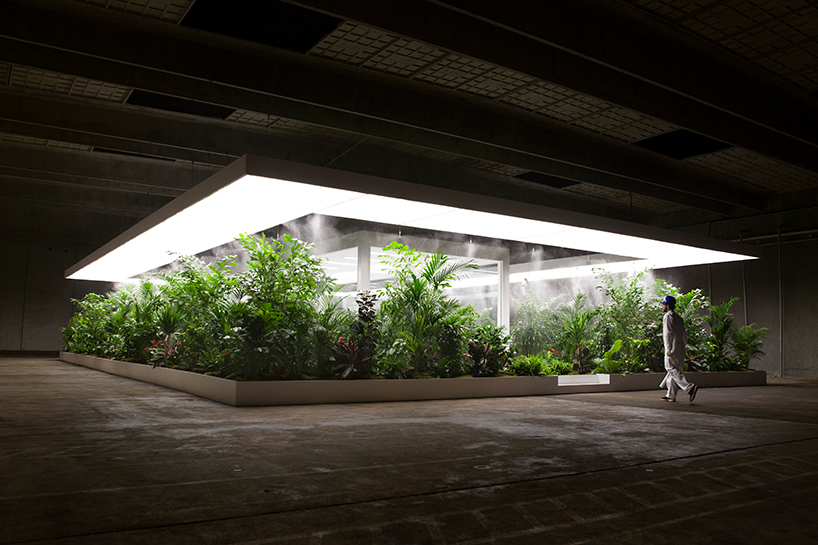 photo by doug aitken workshop / courtesy the artist and ARoS aarhus kunstmuseum
on view from june 3 to july 30, 2017 at the ARoS triennial, 'the garden' is activated by the audience. participants both experience aitken's artwork from the outside, before becoming become the subject inside. as they walk through the dimly lit warehouse and encounter the jungle-like setting ahead of them, visitors are confronted by a glass, artificially-lit room, outfitted with a collection of all-white furniture. one at a time, participants are able to enter the transparent space and destroy absolutely everything inside.

photo by doug aitken workshop / courtesy the artist and ARoS aarhus kunstmuseum
'the garden' is streamed live from four separate cameras, and can be accessed digitally from anywhere in the world — in turn, the viewer becomes 'the viewed'. over the eight-week duration of the installation's exhibition, participants will obliterate every object in the interior setting, with each expression being highly unique and personal. lying at the core of the artwork is the raw human energy that activates it, and the dissolution of nature and mechanization. 

photo by doug aitken workshop / courtesy the artist and ARoS aarhus kunstmuseum

photo by anders sune berg / courtesy of ARoS triennial

photo by anders sune berg / courtesy of ARoS triennial

photo by anders sune berg / courtesy of ARoS triennial

photo by anders sune berg / courtesy of ARoS triennial

photo by anders sune berg / courtesy of ARoS triennial

photo by anders sune berg / courtesy of ARoS triennial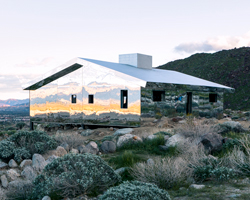 feb 28, 2017
feb 28, 2017
sep 18, 2016
sep 18, 2016
sep 16, 2016
sep 16, 2016