Akwasi Bediako Afrane returns to 'driving the human' festival
Berlin-based iniative 'Driving the Human' returns this year for its third and final festival tackling new eco-social concepts, each rooted in a desire to secure a healthy future for our planet. Running from November 25 to 27 at Silent Green, a cultural hub in Berlin, the three-day event will center around seven prototypes investigating new ways of inhabiting Earth and shaping communities. Festival visitors are invited to engage with these prototypes and their makers through a series of activities, including workshops, installations, conversations, and performances.
Specifically, the seven models 'explore ways in which AI could mitigate instead of accelerating climate change; immerse us in new forms of making community through ancestral agricultural knowledge; employ fiction as an imagination tool for new forms of multispecies conviviality; or create embodied connections as a tool to understand and change human impact in endangered territories,' shares this year's host, Forecast.
Selected to showcase his final prototype, dubbed TRONS 'R' US, along six others is Ghanaian artist Akwasi Bediako Afrane. A commentary on our delusional quest for meaning and sustenance through technology, Afrane's work repurposes disused electronics into 'living' beings called TRONS — each infused with the consciousness of the gadgets' previous owners. In line with his prototype, the artist recently held a six-day workshop in Ghana titled TRONSFORMATION, inviting participants to build and present their own version of a mechanical gizmo (TRON). Following up on his journey, designboom spoke with Afrane to learn about his latest workshop and evolving view on our relationship with everyday gadgets.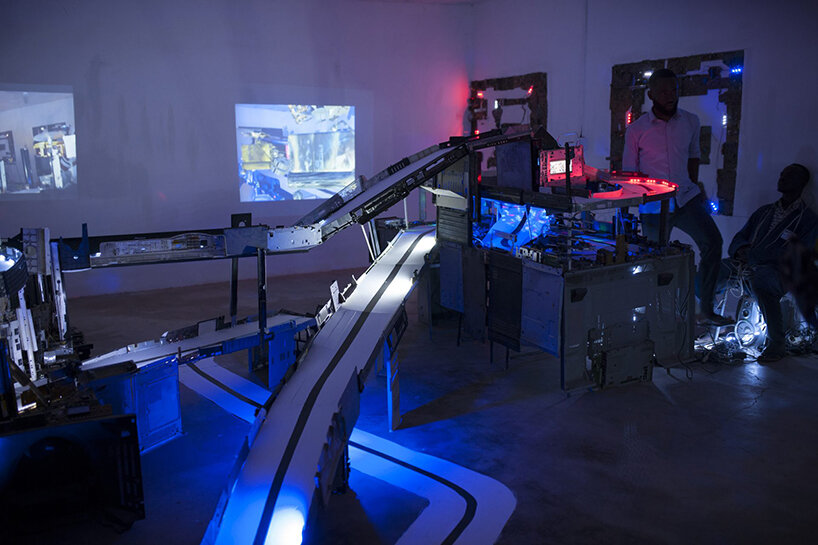 TRONS 'R' US by Akwasi Bediako Afrane | all images courtesy of the artist (unless stated otherwise)
first image © Anwar Sadat Mohammed
exploring the lifecycle of gadgets
When asked how TRONS 'R' US has evolved over the past year, Akwasi Bediako Afrane explained that his focus has been centered around giving new meaning to 'hacking'. In the context of his project, the word is used 'to describe a consumer's delight in having an intimate understanding of the internal workings of a system, which enables one to gain access to that system fully,' he told designboom.
Afrane developed this new 'hacking' concept after investigating and retracing the entire lifecycle of electronic gadgets — from production to consumption and eventually discarding. According to the artist, each gadget interacts with 'eight major players in the consumer electronics sphere. This analysis is based on my research, inquiries, and interactions. And each player interacts with the gadget at a certain stage.' To illustrate his point, he broke down a gadget's life into two halves, each listing the players or agents involved in a numbered order. The first half features (1) miners, (2) manufacturers, (3) distributors, and (4) consumers; the second half, meanwhile, involves (5) second-hand dealers, (6) repairers, (7) scrap dealers, and finally (8) recyclers. He goes on comparing three of these players on each side: producers are the equivalent of recyclers, miners of scrap dealers, and distributors of second-hand dealers.

Yet, Afrane warned us that his interpretations do not fully reflect real-life conditions: 'Though the life of consumer electronic devices and most technological products for that matter start at the mine, their conception is credited to the manufacturing companies. Relating this to the first half of a gadget's life, the manufacturing companies, therefore, serve as the core, and miners act as a source of raw materials. The distributors become their nexus of dispensation, while the consumers act as their source of validation and income.
I also re-ordered the second half, placing the recyclers at the center just like the manufacturers of the first half. Recyclers value what would have otherwise been perceived as nothing but trash. But unlike the linear form of connection we experience within the first half of the devices' life, where manufacturers use raw materials from the miners to produce these devices, which are then passed on to distributors and finally the consumers, the second half takes on an arbitrary form of connection between these agents. The second half of the lives of these devices have no definite starting point as it can either start from the repairers, the second-hand dealers, or even the scrap dealers themselves. But it always falls on the scrap dealers to migrate these devices to the recycling companies after dismantling and grouping them into various materials.'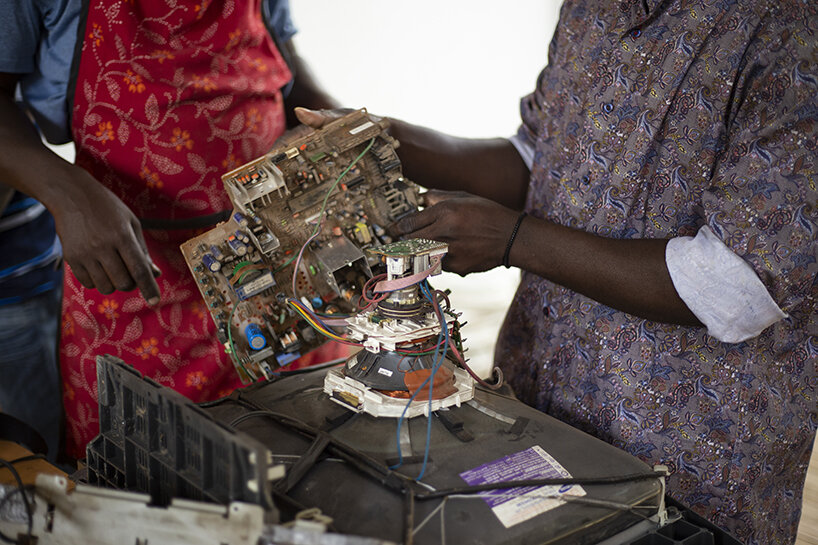 workshop day 3: hacking/discovering the gadgets
'TRONSFORMATION – Sustainability through Hacking'
Afrane's deeply insightful investigation of a gadget's lifecycle materialized into the TRONSFORMATION workshop at the Foundation for Contemporary Art in Accra, Ghana. Spanning six days, the program invited participants to build their own gizmos by 'hacking' (repurposing) the system of disused electronics. The workshop was originally intended 'to include the eight major agents […] whose livelihood is overwhelmed with electronic gadgets but [who] never find the opportunity to engage each other in conversations such as the lifecycle of these devices, its impact on the environment, and how sustainable it is,' explained the artist.
'The number of agents was later narrowed down to consumers, second-hand dealers, repairers, and scrap dealers on the premise that the activities of these groups can actually be perceived as a form of hacking. Unfortunately, I was only able to involve three out of the four categories of agents listed thus; repairers, scrap dealers, and consumers.'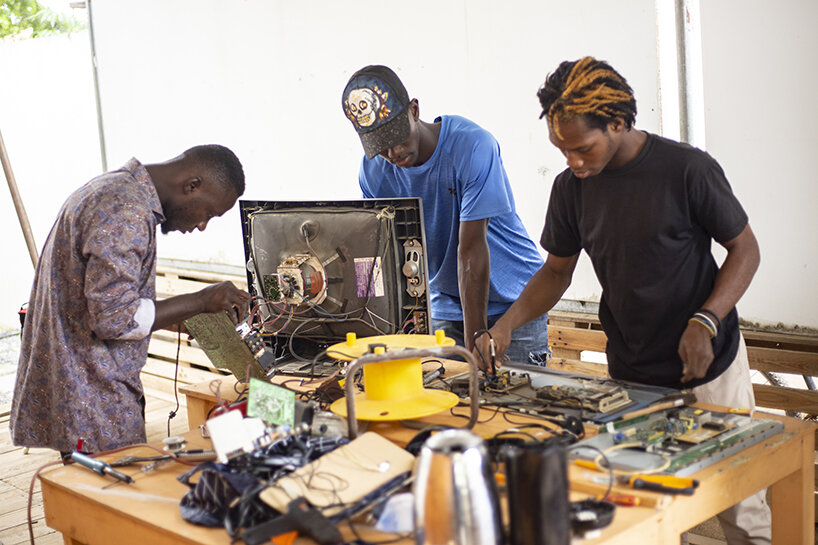 day 3: hacking/discovering the gadgets
With that said, the participants involved were three electronic repairers, a materials engineer, a scrap dealer, a university student, a high school senior, an Uber driver, three street artists, an art assistant, and staff from the foundation. After splitting them into two groups, Afrane asked them to collaborate on two TRON projects using the available material. Resources-wise, the artist provided a few Siemens devices and plenty of second-hand gadgets collected from dealers in Accra. A few participants also brought along a few disused electronics.
Both groups began 'hacking' the gadgets between days 3 and 5, deconstructing and repurposing them into intriguing models. Examples include an installation built out of a kettle, a webcam, an AM/FM receiver, and old desktop monitors, as well as a sculptural machine made of bluetooth stereo speakers. On day 6, all TRONS were exhibited publicly, followed by roundtable discussions to conclude and reflect on the workshop experience and outcomes.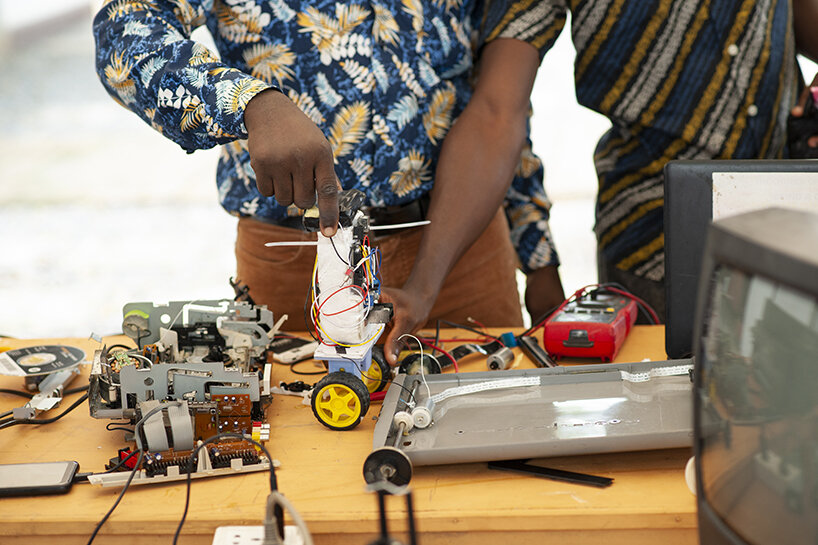 day 4: building the TRONS
By engaging first-hand in gadget deconstruction/reconstruction, participants gained a new appreciation for and understanding of this technological realm. In the words of Afrane, the 'black box' was torn apart to expose all aspects of the devices humans depend on. Last but not least, the workshop taught both groups how to create value from waste, all while cultivating social relations and collaboration. A second workshop took place in Ghana, this time with seventeen children from a foster care home. Afrane taught them how to build 'a car-like aircraft TRON' using 'parts from an audio cassette player, old fluorescent tubes from rechargeable lamps and a compact disc (CD).'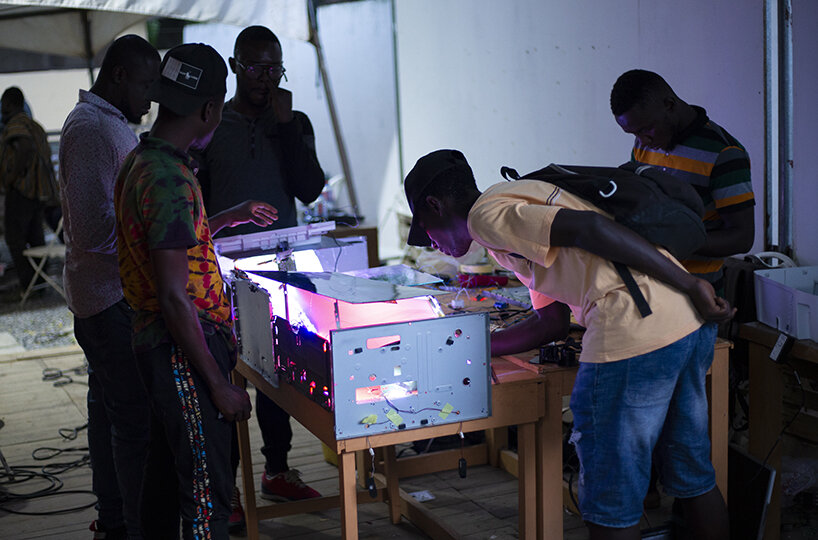 day 5: building the TRONS
As the conversation was coming to an end, designboom asked the artist to share any new thoughts he may have on the overproduction of smart devices and people's obsessive need for them. Akwasi Bediako Afrane concluded with the following:
'Whispers of the obsoleteness of the human body in its own created environment is one interesting factor contributing to this overproduction. The body must be augmented through technological gadgets to match its fast-growing and technologically advanced environment. Echoed through history is the prosthetic god, by Sigmund Freud, an idea that has been rehashed by the likes of Ernst Kapp, Marshall McLuhan, and David Rothenberg, and that describes a condition I refer to as the VIRAL PROSTHESIS which has ushered humans into an endless quest to become the 'perfect being' through augmentation using technological gadgets. This desire is preyed upon by the corporate world with promises of newer advanced and smarter devices every year which ultimately leads to overproduction of these gizmos.'
Learn more about 'Driving the Human' by checking out its full program, running between November 25 and 27, 2022. This year's edition is organized by the mentoring program Forecast.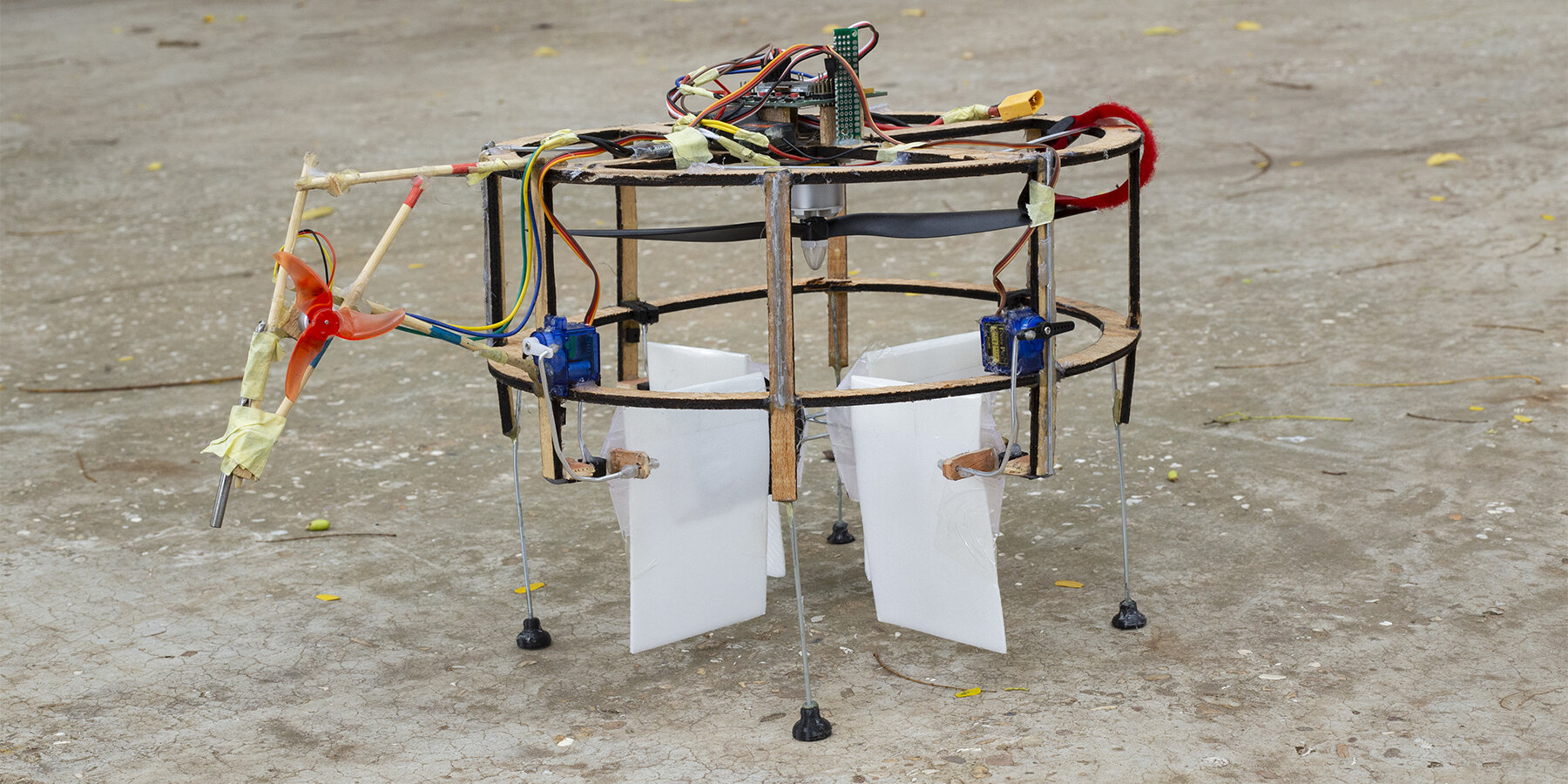 day 6: exhibiting the TRONS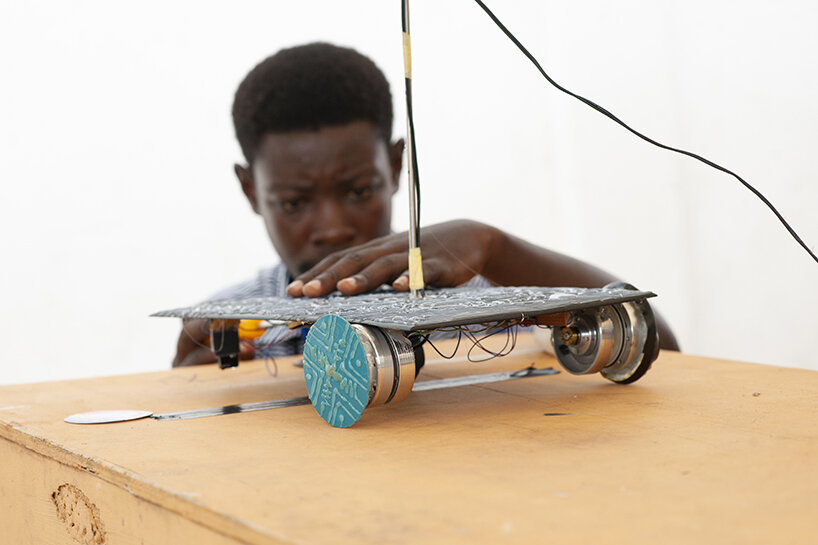 day 6: exhibiting the TRONS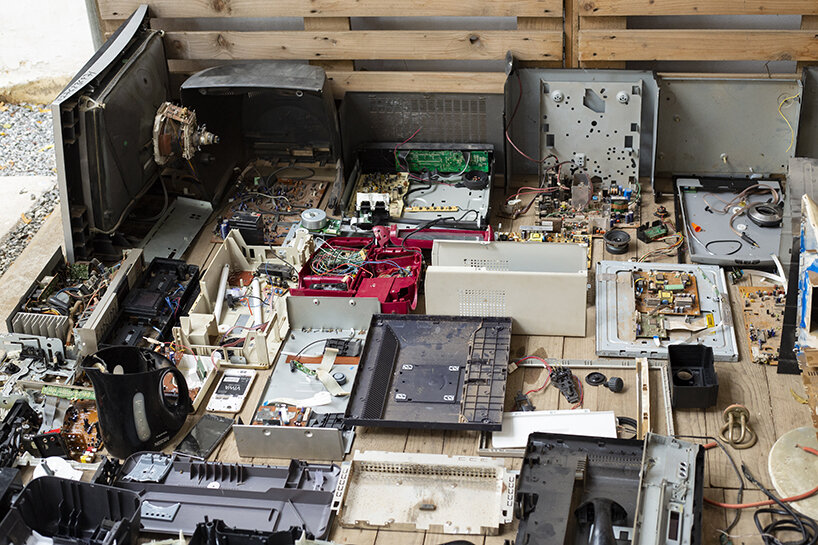 day 6: the aftermath of hacking
workshop with 'No Limits' Foster Home kids
workshop with 'No Limits' Foster Home kids
day 1: Akwasi Bediako Afrane introduces the workshop program
day 2: in-depth of Afrane's work and research
day 3: hacking/discovering the second-hand gadgets
day 3: hacking/discovering the second-hand gadgets
day 5: building the TRONS
day 5: building the TRONS
day 6: displaying the dismantled parts
day 6: exhibiting the TRONS
day 6: roundtable discussion
day 6: exhibiting the TRONS
a diverse digital database that acts as a valuable guide in gaining insight and information about a product directly from the manufacturer, and serves as a rich reference point in developing a project or scheme.
designboom will always be there for you
milan, new york, beijing, tokyo

,
since 1999