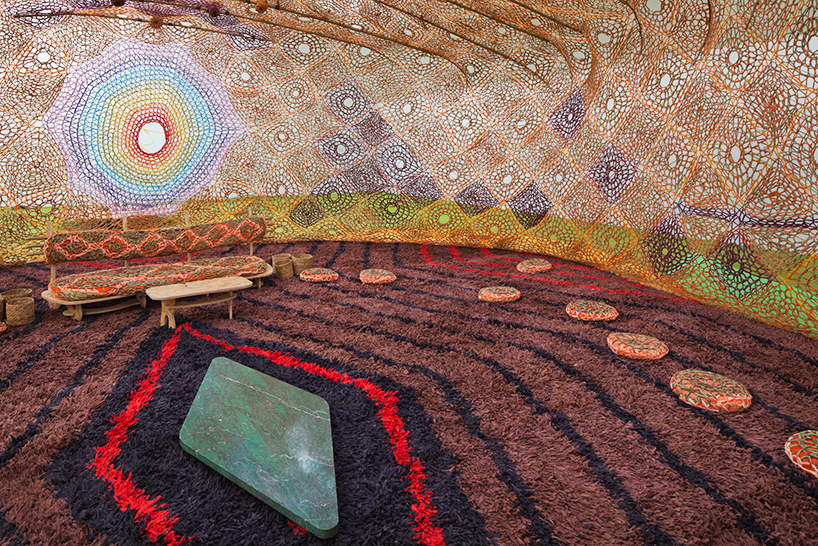 apr 05, 2016
ernesto neto's experiential exhibition celebrates brazil's indigenous huni kuin tribe
ernesto neto's experiential exhibition celebrates brazil's indigenous huni kuin tribe 
all photos by petri virtanen, kansallisgalleria | finnish national gallery
ernesto neto: BOA
kiasma museum of contemporary art, helsinki
now through september 4, 2016
for his solo show at helsinki's kiasma museum, brazilian artist ernesto neto pays homage to the traditions and rituals of the huni kuin, a group of indigenous peoples living in the amazon rainforest. with about 8,000 members spread across village communities in northwest brazil, the huni kuin continue to fight for their land rights and the preservation of their culture. their collaboration with the artist is a way for them to make their voice heard, both symbolically and tangibly, through neto's own creative expression.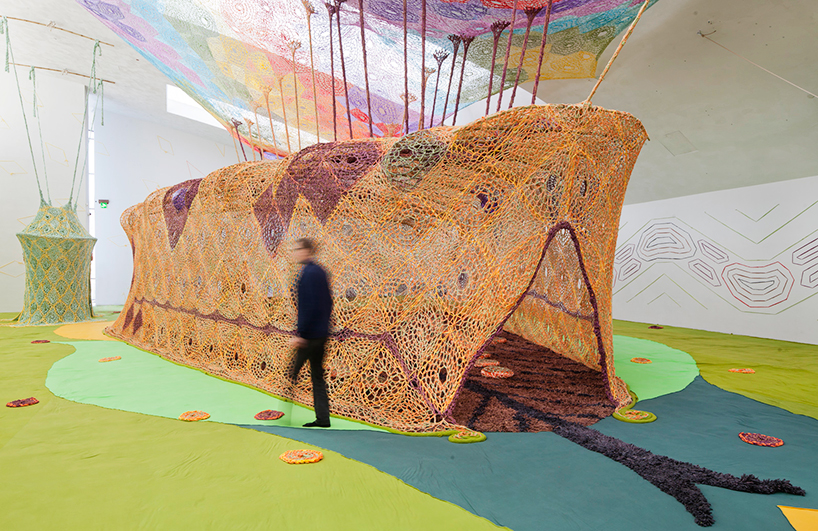 installation view of 'yubẽ bushka' at kiasma helsinki
neto's new piece for the exhibition 'BOA' strongly reflects the culture of the huni kuin, particularly their desire to achieve happiness and harmony, and to abide by the timeless wisdom of nature. drawing from the shape of a boa constrictor's head, 'yubẽ bushka' offers museum-goers a moment of respite from the bustle of everyday life. the experiential installation comprises tensile woven elements that form a netted, sculptural space, infilled with plush carpeting and small sewn seats. visitors are encouraged to experience the surroundings as a calm and tranquil hiatus from the outside world. 'yubẽ bushka' builds on the themes that neto has adopted for more than 20 years — the unity of humanity and nature, sensuousness, experientially and the production of positive energy.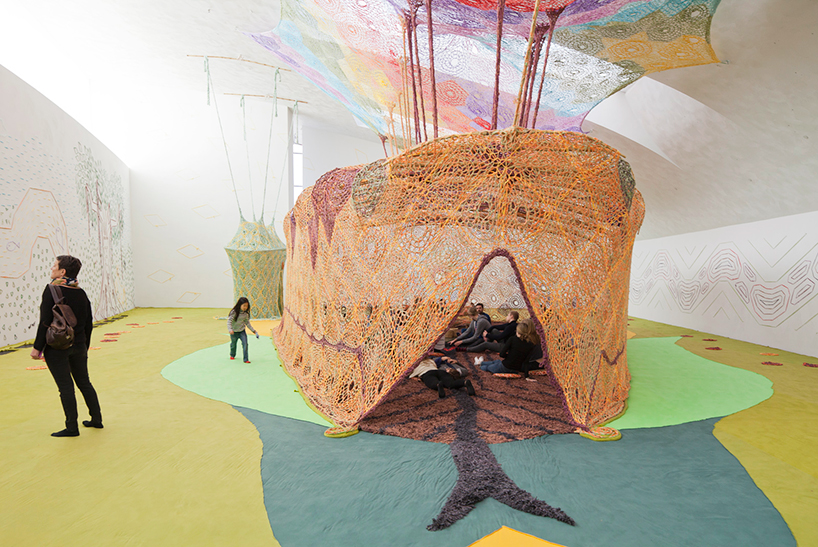 the form of the installation is drawn from the shape of a boa constrictor's head
overall, the pieces in the exhibition reflect the artist's perspective on respecting the rights and traditions of indigenous peoples. also included are works spanning from 2009 to present day, including the 2013 'velejando entre nós' — a series of suspended fabric 'logs' for visitors to climb and lie upon — and the more recent 'casa de cura' (healing house) which surrounds viewers in an intricately woven abyss.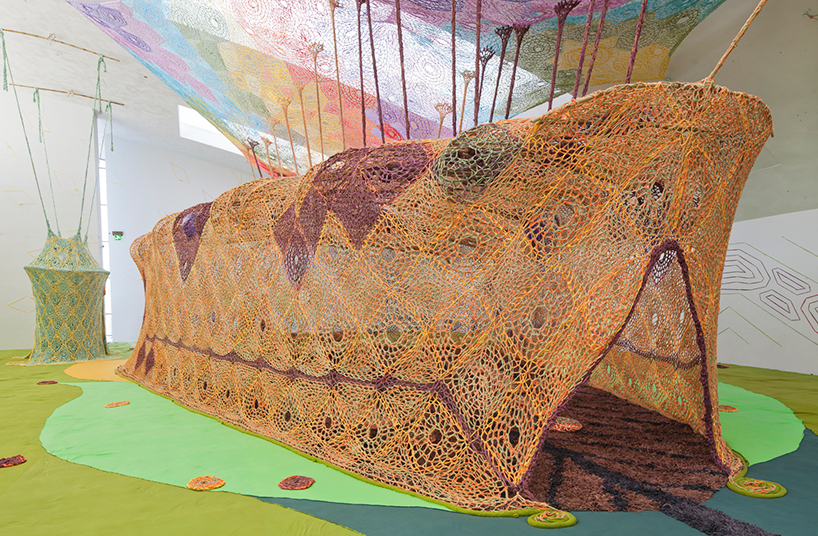 the experiential installation comprises tensile woven elements that form a netted, sculptural space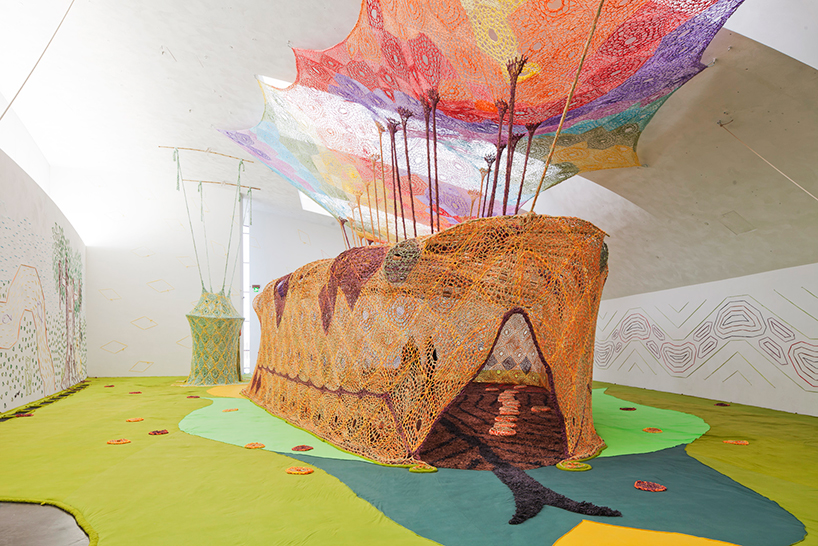 'yubẽ bushka' offers visitors a moment of respite from everyday life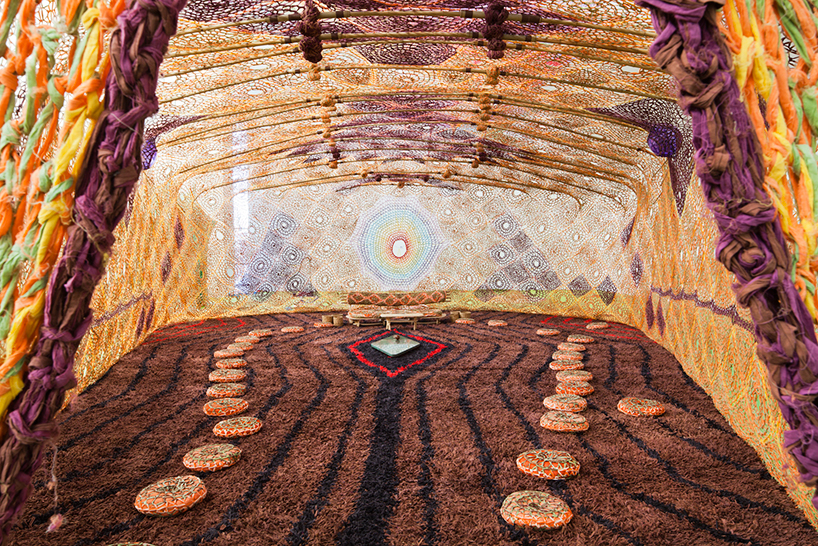 inside 'yubẽ bushka'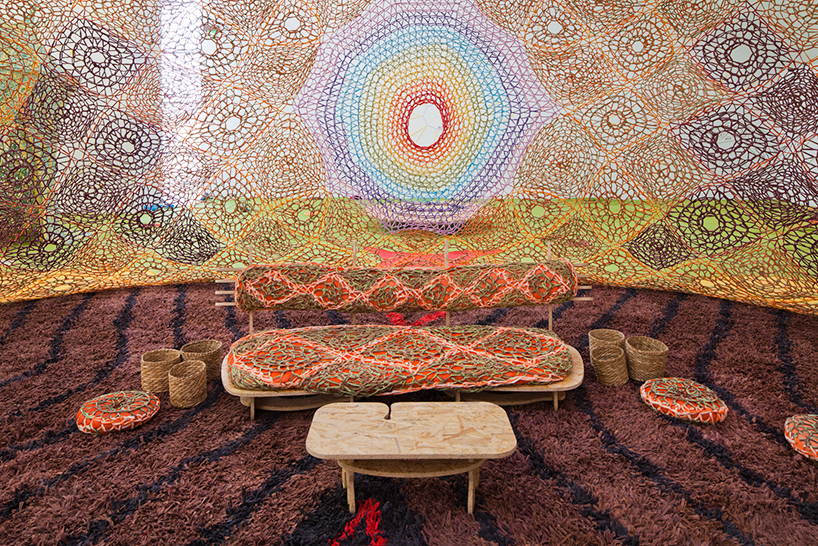 plush carpeting and small sewn seats are included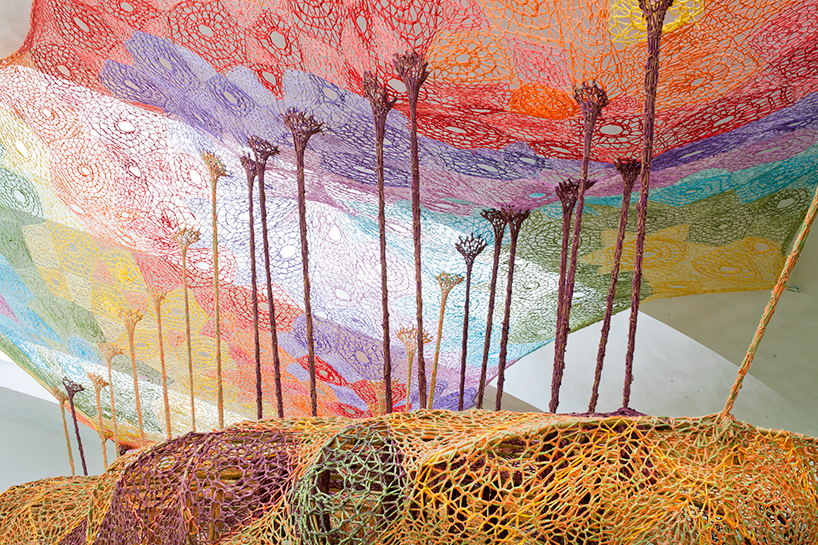 colorful woven nets connect the sculpture to a mesh-like canopy above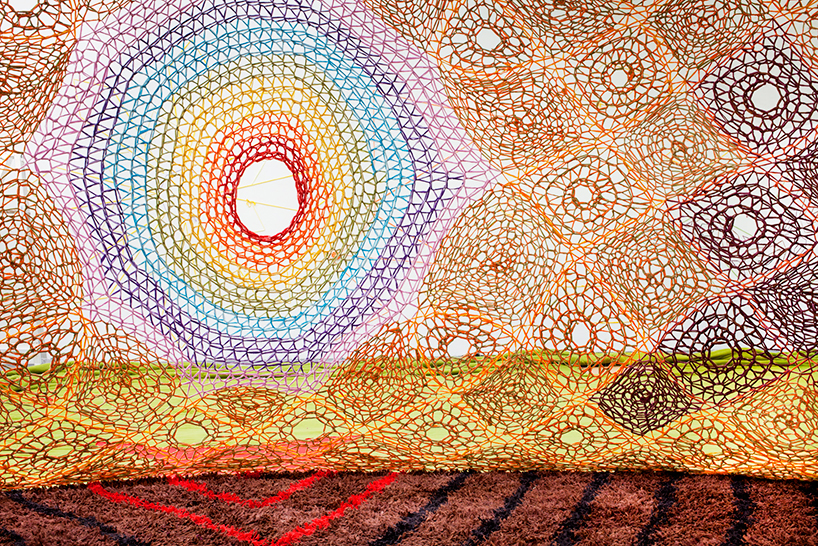 detail of 'yubẽ bushka' from inside the space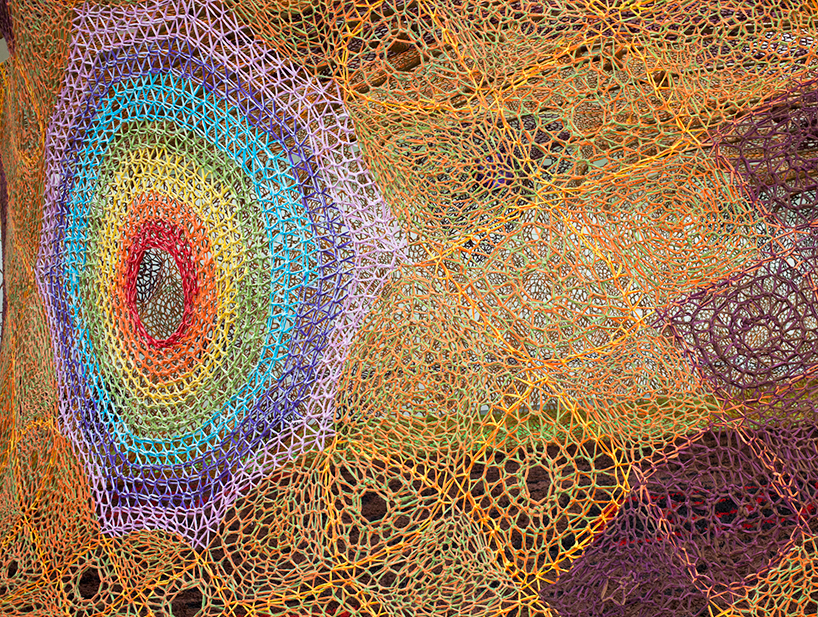 the piece builds on the artistic elements the artist has adopted for more than 20 years

detail of the patterns and colors woven together to form the sculptural space 

[tapete campo] ondé ki nós vamo?, 2012 | velejando entre nós, 2013

'velejando entre nós' comprises a series of suspended 'logs' for visitors to climb and lie upon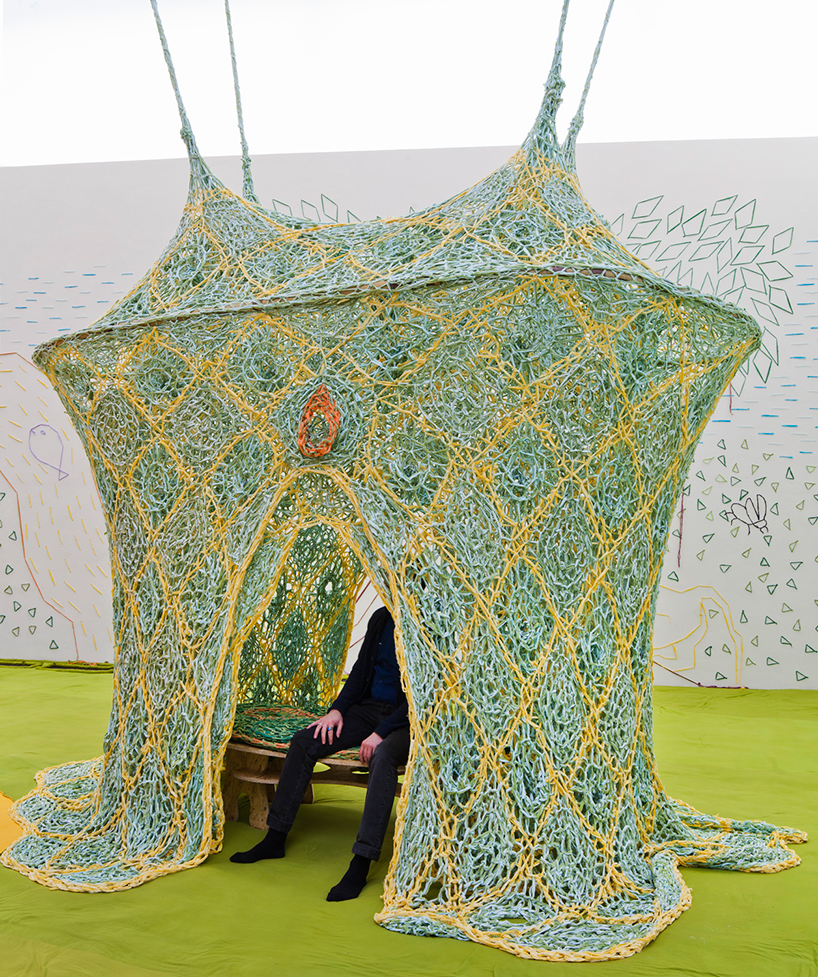 casa de cura, 2016 (healing house)
jul 23, 2015
jul 23, 2015
aug 20, 2014
aug 20, 2014
oct 01, 2013
oct 01, 2013