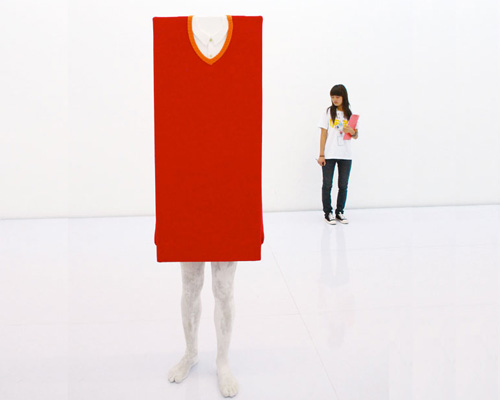 jul 20, 2010
erwin wurm: 'narrow mist' at UCCA
'narrow house' image © designboom
erwin wrum: narrow mist ullens center for contemporary art (UCCA), beijing july 17th to september 15th, 2010
with each of his new works, austrian artist erwin wurm reinvents the vocabulary of sculpture turning it on its head. using simple materials, mundane objects, wit and written instructions, wurm invites people to interact with his art, transforming spectators into active participants, encouraging them to poke fun at the paradoxes of contemporary society. designboom just visited erwin wurm's interactive exhibition 'narrow mist', on show at the UCCA in beijing, which presents sculptures influenced by childhood houses, fashion fetishes an 'stuff' you can find in the chinese metropolis.
outside the 'narrow house' image © designboom
within the UCCA's nave, one encounters 'narrow house', a home that is modeled after the one that wurm grew up in. the abode may look like a funhouse, but the installation raises questions about having our personal space constricted, restricted or invaded. inside there are narrow chairs and tables, narrow bookshelves lined with narrow books, a narrow sofa and narrow rooms which have been covered with a distinctly 1970s-style wallpaper. so is the house charmingly slender, disturbingly tight or claustrophobically close? wurm invites visitors to enter the house and have the chance to walk through it to decide for themselves.
a perspective view of the 'narrow house' image © designboom
with subversive playfulness and an appreciation of human curiosity, wurm draws his audience in, making them part of his creative process: 'I want to address serious matters, but in a light way. I want to reach more than just an elite circle of insiders. if you approach things with a sense of humor, people immediately assume you're not to be taken seriously. but I think truths about society and human existence can be approached in different ways. you don't always have to be deadly serious. sarcasm and humor can help you see things in a lighter vein.' – erwin wurm
letters to erwin wurm about the exhibition:
dear mr. wurm, if I can't fit in your narrow house, is it all right if I peek through the windows? -xiao pangzi
yes, why not? it's possible. or maybe if you go in the house, you'll get stuck in one of the rooms. I can't make any guarantees you won't get stuck.
—
dear erwin, are your box statues anatomically correct? if not, how do you tell the male boxes from the female? I tried looking under their clothes, but it was really, really hard to tell. -name withheld
at the moment, there are just male boxes, no female boxes. don't ask me why – I have no idea. an inner voice told me just to make male boxes.
—
dear creator, I need to access the internet. would it be possible to install broadband in one of my rooms, or would it have to be 'narrow-band'? please advise. -the narrow house
no, you can install normal-band because the narrowness is just related to the house, for this specific work, this specific house. I'm not going to force other things to be narrow.
inside the 'narrow house' image © designboom
narrow phone image © designboom
visitors making their way through the narrow hallways image © designboom
narrow furniture in the narrow living room image © designboom
even the artwork hanging on the walls is narrow… image © designboom
the bathroom covered in 1970s wallpaper image © designboom
view of the bathroom image © designboom
narrow toilet image © designboom
narrow shower, toilet and bedroom image © designboom
narrow bed image © designboom
narrow closet image © designboom
narrow dining room image © designboom
narrow tables and chairs image © designboom
image © designboom
in the institution's adjacent exhibition hall are wurm's standing box sculptures. dressed in sweaters, suits and prêt-a-porter, these boxy figures seem a lot like use, almost human, if only they weren't so…square.
image © designboom
image © designboom
image © designboom
image © designboom
image © designboom
image © designboom
installation view of the standing box sculptures image © designboom
'take the rubberband and play the 'international song' with your teeth image © designboom
a third section of the exhibition is a continuation of wurm's playful one-minute sculpture series, drawing on objects from beijing. he provides instructions for visitors on how to interact with these selected items, through writing or drawing on the floor and wall of the gallery, and asks them to take a photograph of themselves to preserve the sculptural moment forever.
'be a shell for one minute' image © designboom
erwin wurm was born in bruck an der mur, austria in 1954. since the 1980s, he has been expanding the concept of sculpture and delving into thezeitgeist, approaching subjects which are all too often dealt with an serious manner. he has had solo shows around the world including the MUMOK, vienna; the palais de tokyo, paris; the contemporary art center, cincinnatti; and most recent the städtische galerie im lenbachhaus, münich.he currently lives and works in vienna.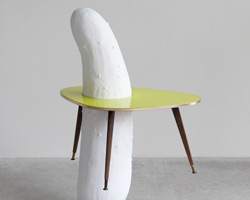 jan 19, 2020
jan 19, 2020
sep 22, 2019
sep 22, 2019
jun 12, 2018
jun 12, 2018
may 15, 2017
may 15, 2017
may 13, 2016
may 13, 2016
feb 04, 2016
feb 04, 2016
a diverse digital database that acts as a valuable guide in gaining insight and information about a product directly from the manufacturer, and serves as a rich reference point in developing a project or scheme.