italian sculptor fabio viale uses a refined, cultured, eccentric, and extraordinarily contemporary approach to historic sculpture-making, which he interprets in a very personal language. provocative when necessary, his work expresses the poetics of displacement and often intends to create a fracture. the main feature of his tattooed marble sculptures is that they are not colored on the surface — not painted over — but that the ink infiltrates the marble in a very similar manner as tattoos penetrate human skin.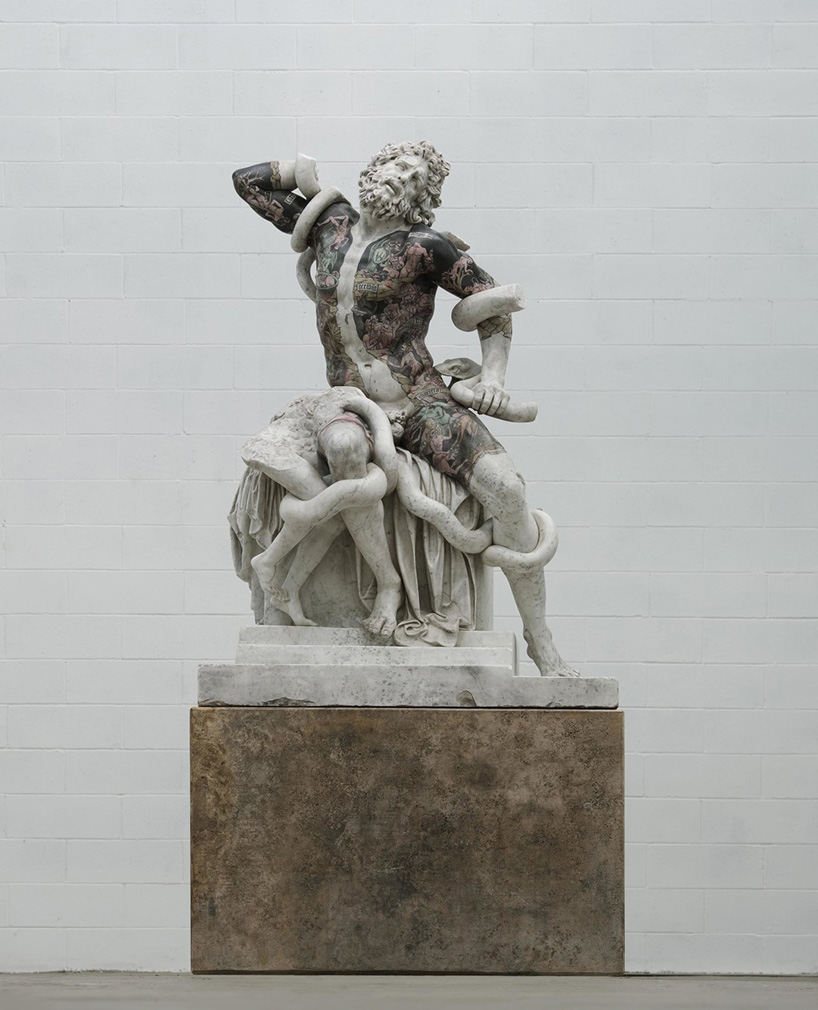 images courtesy of fabio viale
the combination of marble, classicism and tattoos is a choice repeated several times in the works of fabio viale, such as in the laocoön. he changed the iconography of the original sculpture by subtracting the figures of his sons.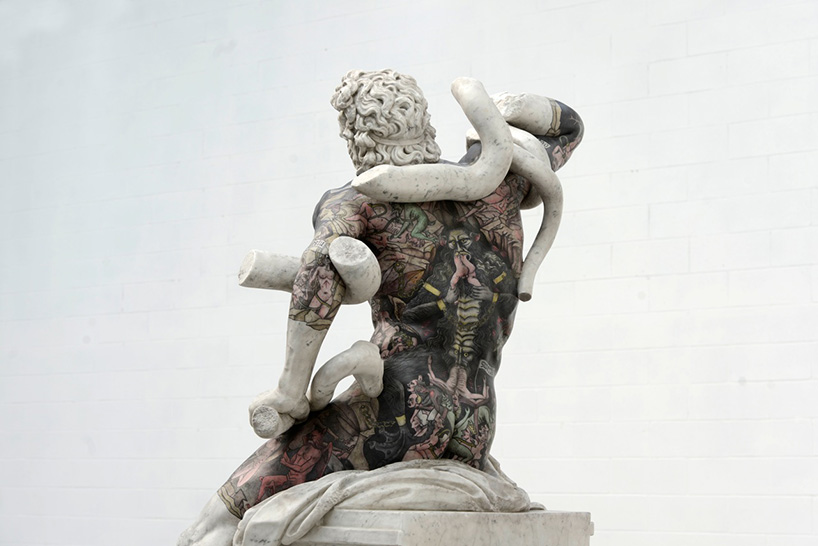 laocoön has a total body tattoo, which represents dante's inferno, painted by giovanni da modena in the fifteenth century (and can be admired in the basilica of san petronio in bologna)
'in addition to illustrating all 7 deadly sins, giovanni di modena placed the figure of muhammad among the damned in hell, as early as in 1400. and the terrible thing is that he also wrote his name, this makes us understand how hatred was already present and is a constant in human history.' says fabio viale.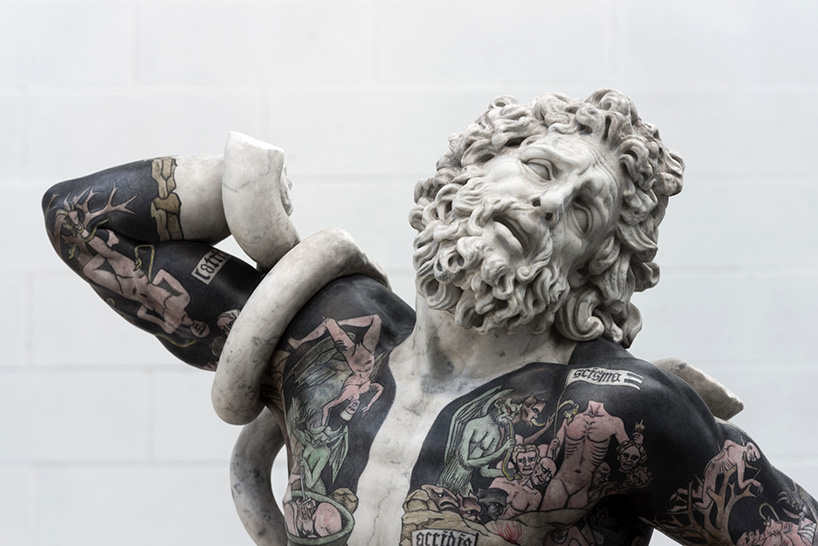 designboom (DB): why don't you create your own busts, your own figures, and instead prefer to take classic iconic references?
fabio viale (FV): the images that come to us from the past do not belong to simple sculptures: they are icons, they are symbols, which have been able to resist in time. I don't think it's a matter of aesthetics or content, but rather of survival during the historical periods. I've always been attracted to mysteries, such as the mona lisa (leonardo) or the pietà (michelangelo), and their study has led me, during their reproduction, to understand the artist's personality more analytically which these works generated.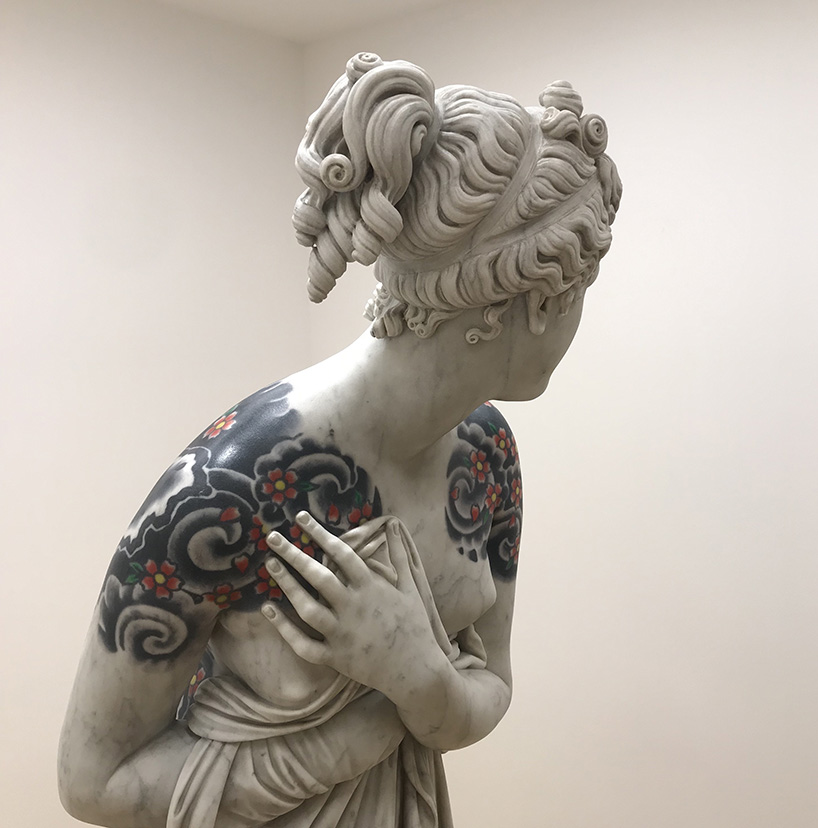 DB: which technique did you use to tattoo your marble work?
FV: when I decided to tattoo the marble, I realized that it was very important not to paint it, but being able to make the color penetrate into the porosity that is proper to this material. only in this way I could reach the effect of the tattoo on human skin in the most realistic way. experimenting with colors and surfaces: this was the beginning that then led me to a wise mix of texture and color chemistry.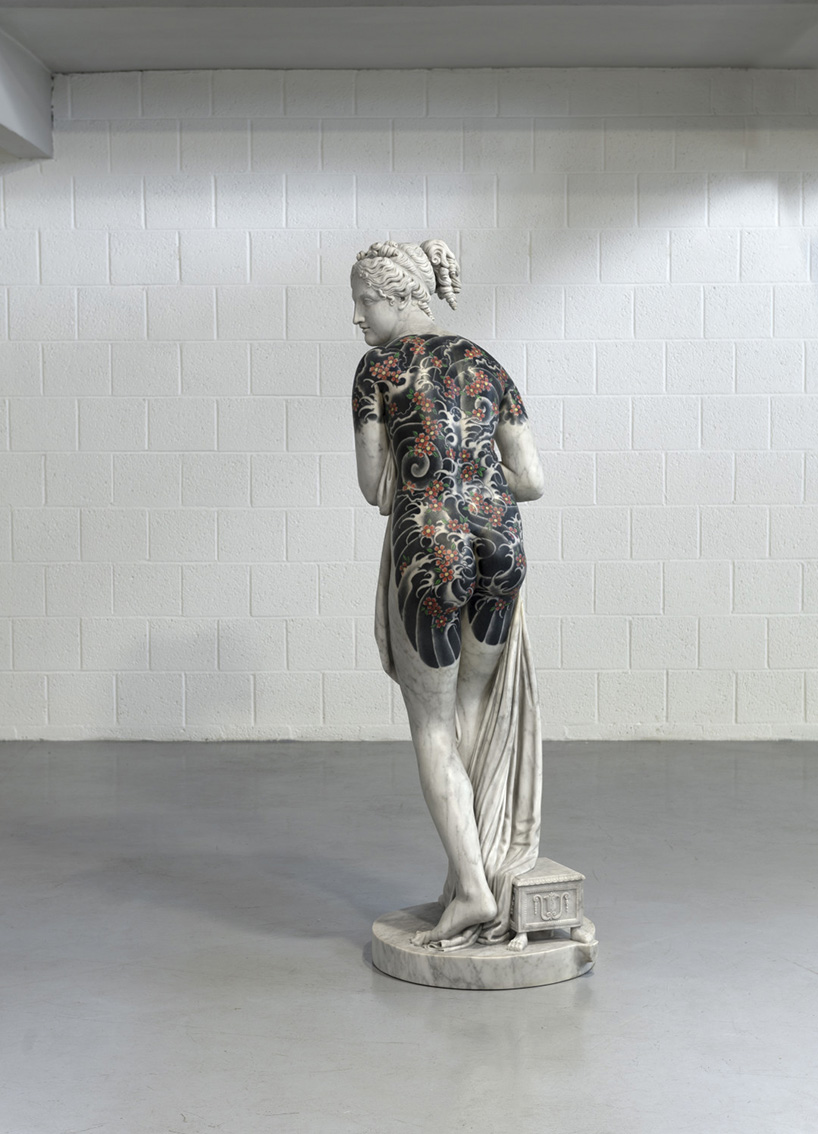 DB: you devote a lot to research and technical experimentation, what were the main difficulties of this project?
FV: each sculpture forces the artist to improvise, often it can make sense to build specifically new tools to test a process. in the approach to tattooing, I needed the collaboration of chemists, so that I could obtain the maximum result within the time frame necessary for the refinement of the technique. not surprisingly, each natural material has its strong personality and difficulties connected to it. this represents a challenge for me.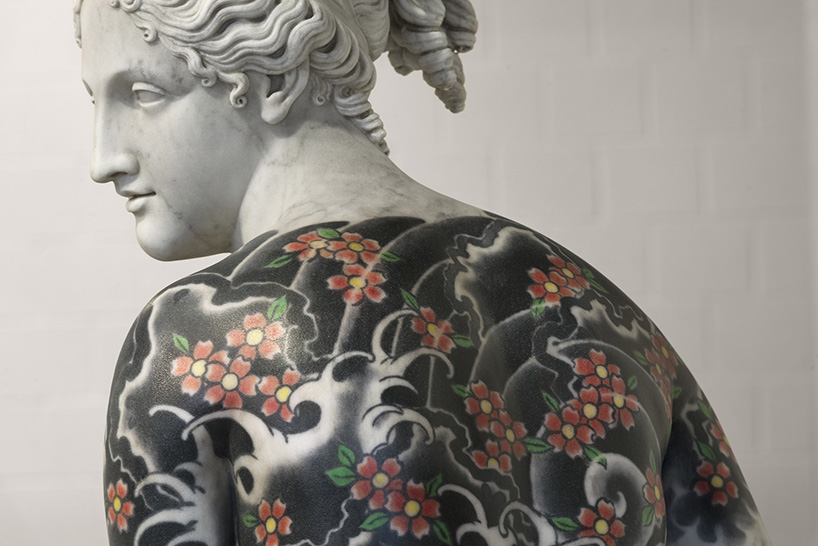 DB: can you describe the contrast of the different iconographies?
FV: the iconographies (I'm fed on) belong on the one hand to the history of art and are recognized as symbolic, on the other they are also contemplated in the world of tattoo. I don't intend to say that this is valid for the 'decorative tattoo', but it is for the 'criminal tattoo', imbued with symbols and representations that derive from artistic imagination. it is a meeting between life and death, between the sacred and the profane. a combination, the relationships between these two sets, results in a solid bond that creates energy: the preconception we have of classical beauty and the hardness inherent in a certain type of criminal tattoo provoke gasp and wonder.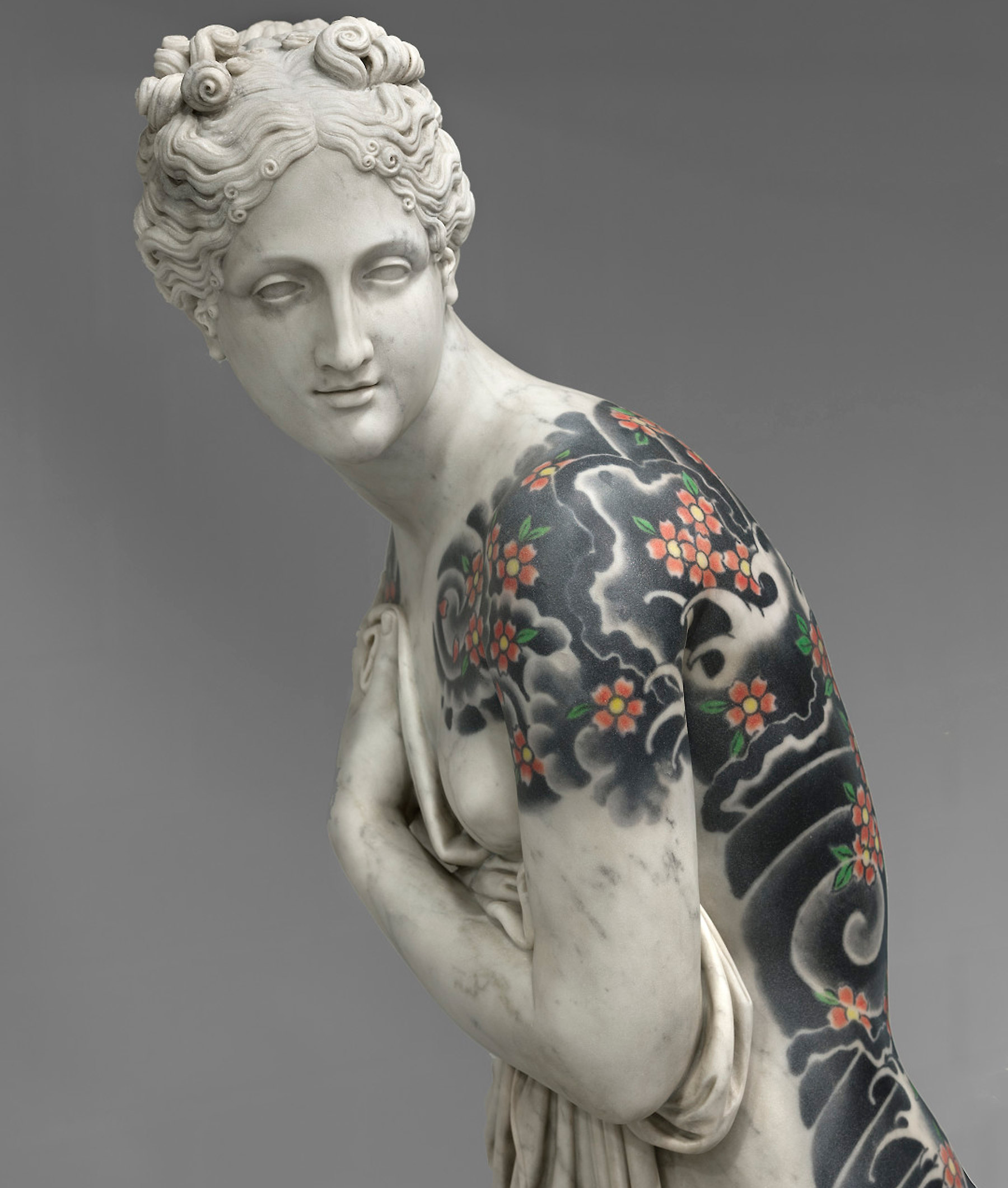 a 1: 1 scale copy of the venus of canova, made from marble, tattooed with oriental symbolic ornaments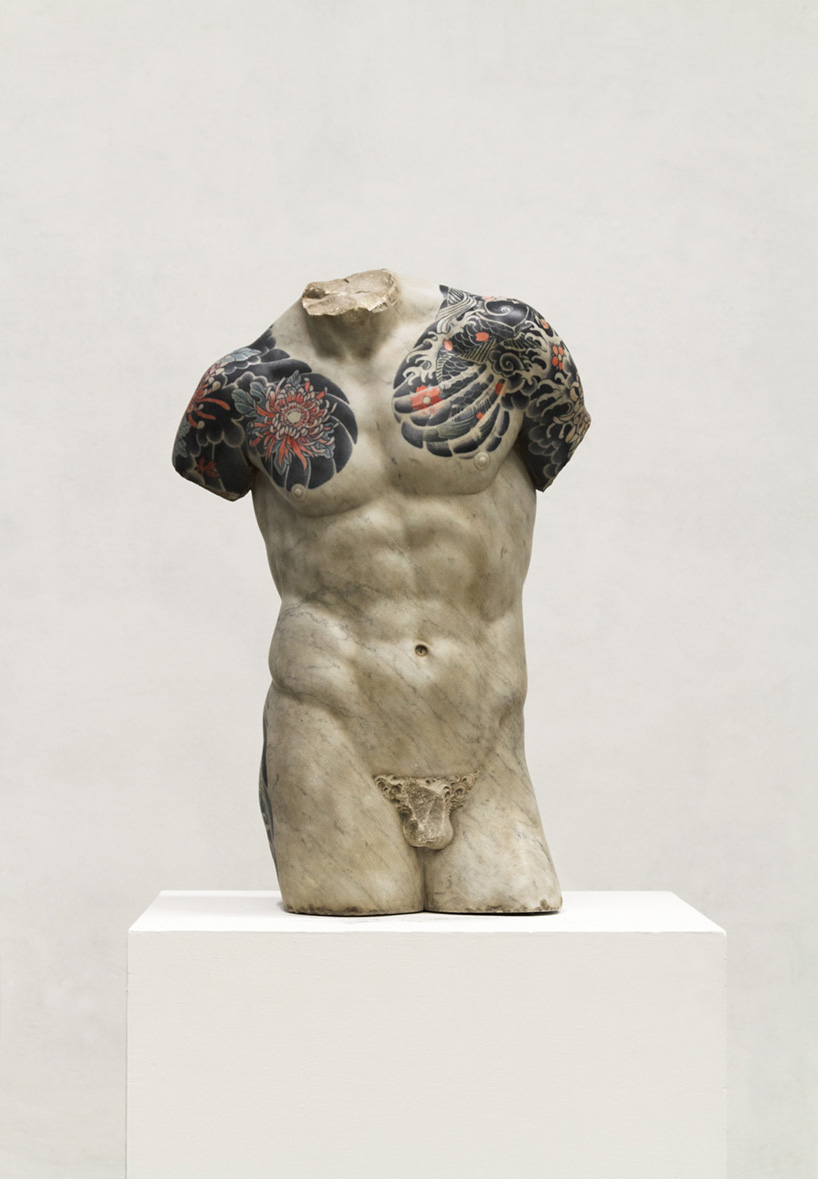 it is interesting to observe how different codes, united by a lean and brutal spirit are, through the technical virtuosity of the artist, at the same time soft and sinuous, and never completely static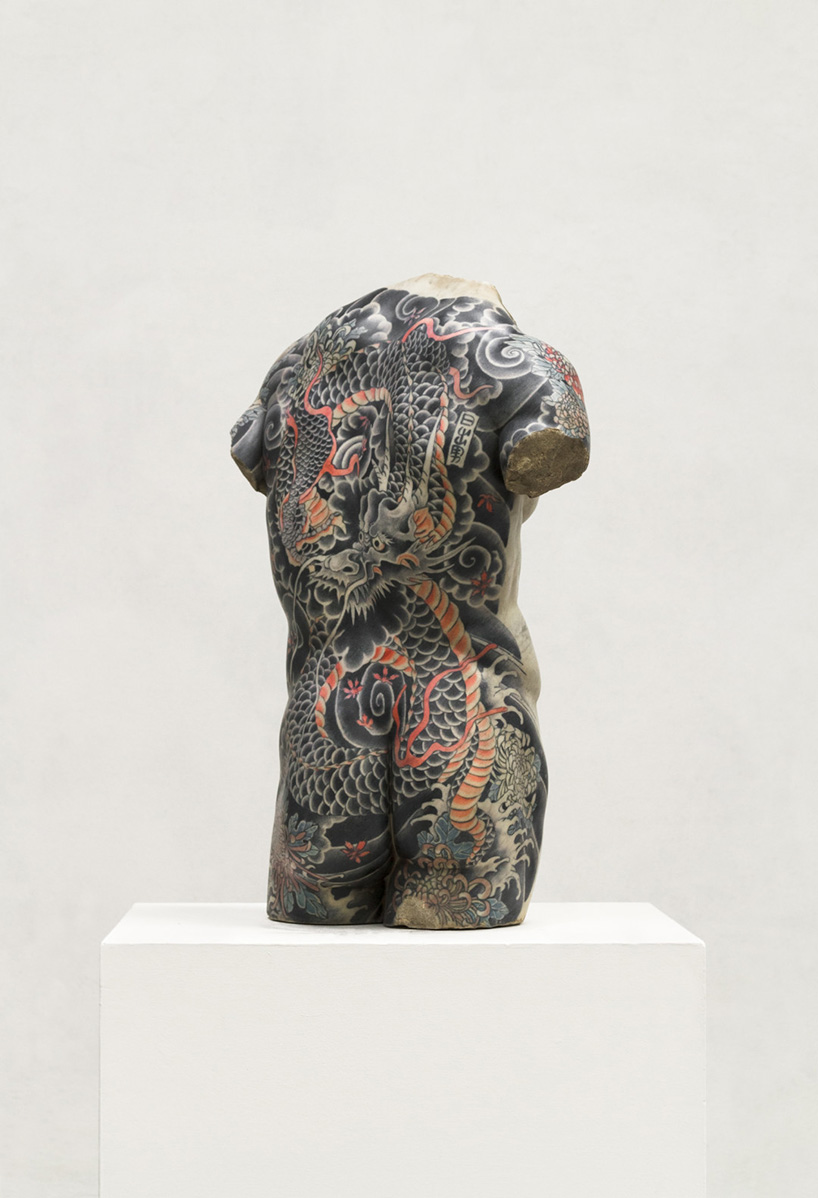 a classical marble bust gets dirty with ink as if it would be real flesh

fabio viale creates a dialogue between classic iconography and the russia of prisons. he chose russian criminal tattoo, with a very complex code that should not be explained (only the initiates understand it) – the purpose is to tell a life and to inspire fear, messages that now screech with the whiteness of marble.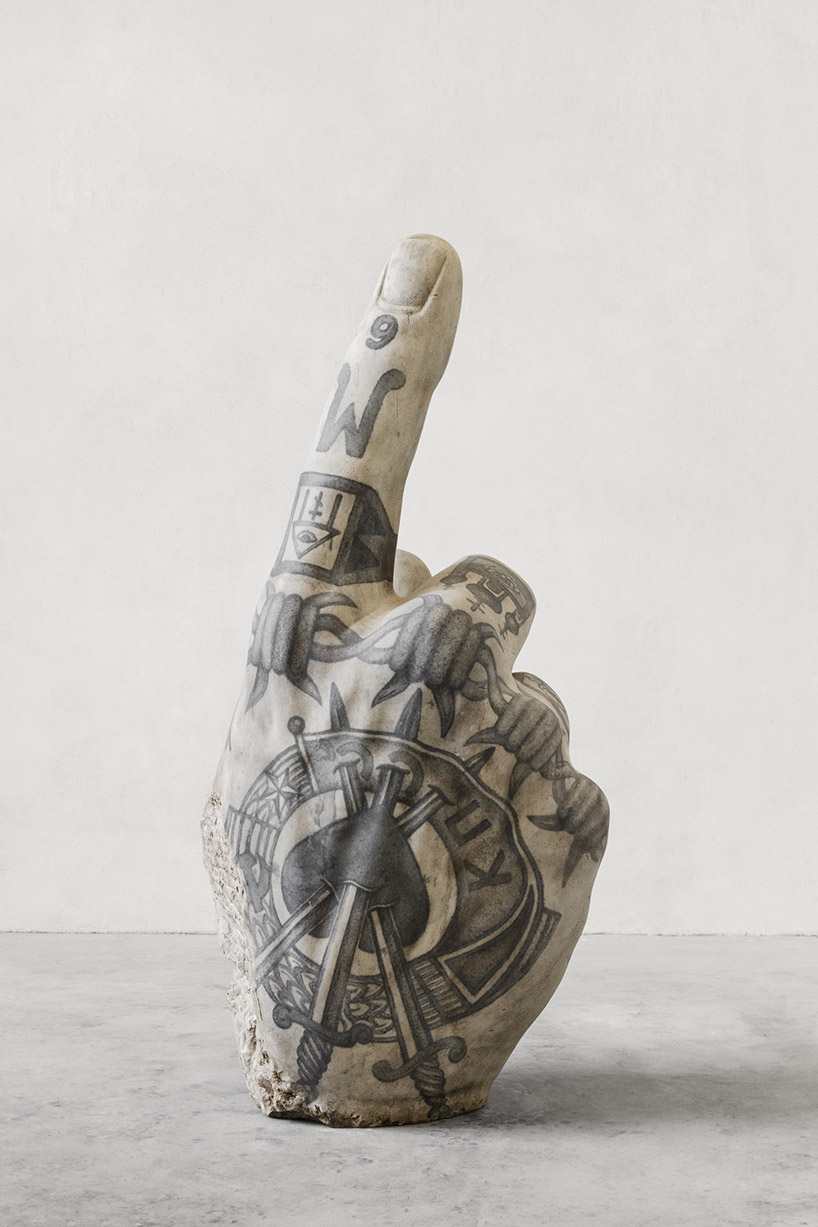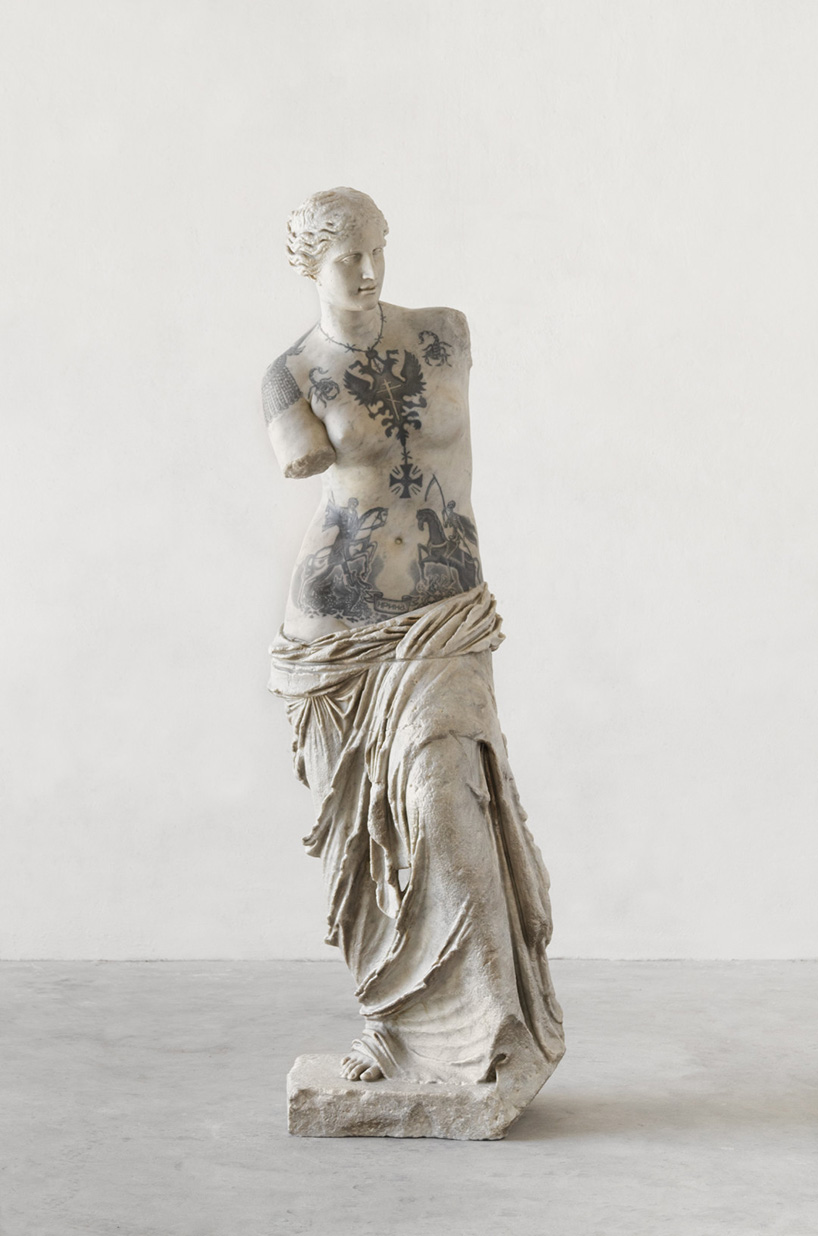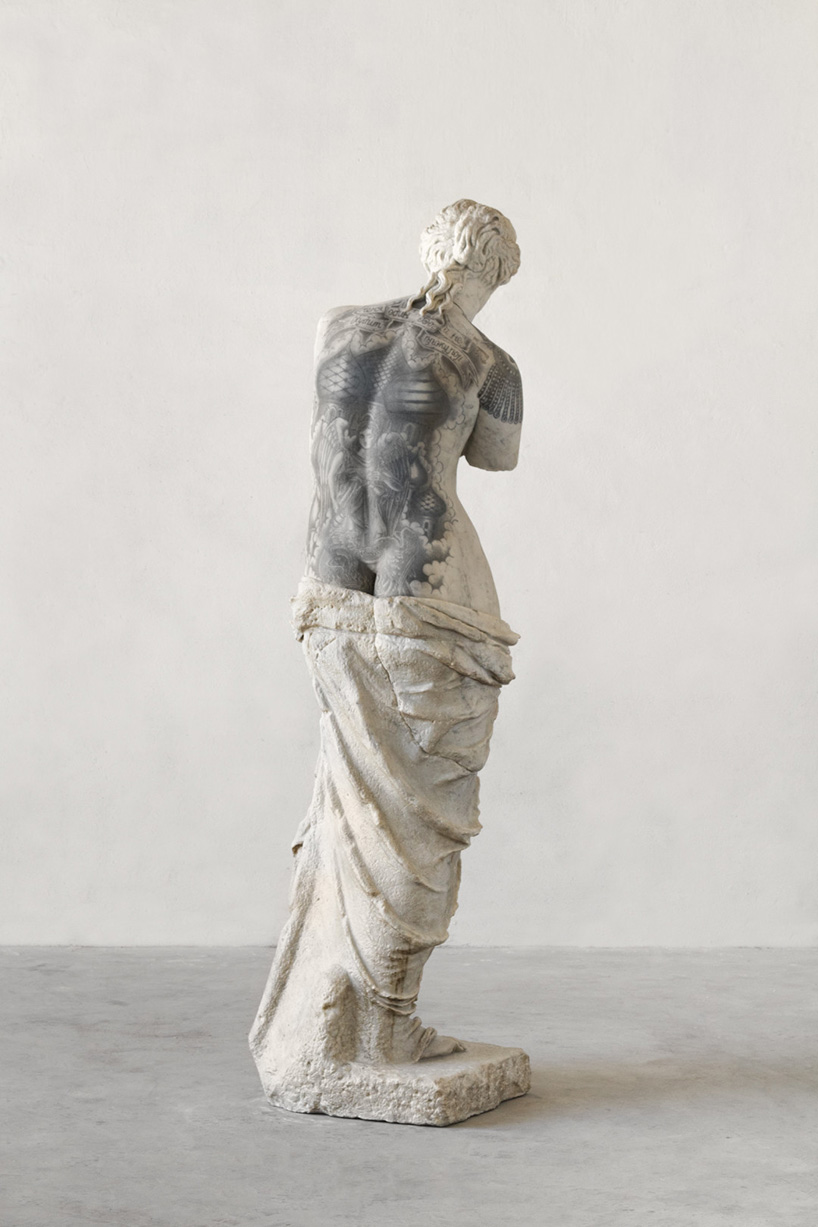 in 2015, an exhibition at the poggiali and forconi gallery in pietrasanta – entitled 'punk'- revealed the icons of the classic world tattooed as if they were russian criminals.
—
about fabio viale
the italian artist fabio viale is undeniably an excellent marble sculptor.
born in cuneo in 1975, he hooked his life to marble at the age of 16, when he attended art school (the academy of fine arts in turin) and discoverd his passion for the material. he spent summers close to craftsmen to learn the secrets of the trade.
in adolescence he quickly gained fame in the craft sector and among some antique dealers. initially he produced architectural design components and statues for the monumental cemetery of milan, before starting an independent career as contemporary sculptor. the first few years fabio viale worked alone, now with some collaborators (mainly for the roughing phase).
his works arrived from italy to new york and russia. in 2013 he made his debut at sperone westwater in NY. a year later he won the cairo prize, the most important recognition for contemporary art in italy for having created the first fully functioning and floating marble boat. in 2015 he began a collaboration with the poggiali gallery in florence, which in 2016 led to an exhibition, for the first time in history, of two sculptures of contemporary art in one of the most famous churches in the world: the basilica of san lorenzo in florence.
aug 04, 2020
aug 04, 2020
aug 04, 2020
aug 04, 2020
aug 04, 2020
aug 04, 2020
aug 03, 2020
aug 03, 2020
aug 03, 2020
aug 03, 2020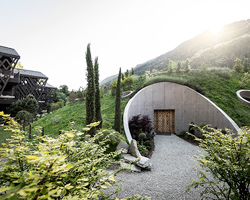 jul 30, 2020
jul 30, 2020
may 03, 2020
may 03, 2020
may 01, 2020
may 01, 2020
jul 27, 2020
jul 27, 2020
jul 20, 2020
jul 20, 2020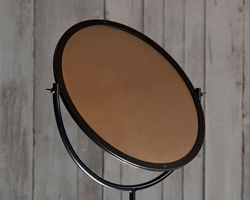 jul 12, 2020
jul 12, 2020
jul 27, 2020
jul 27, 2020
jul 24, 2020
jul 24, 2020
jul 21, 2020
jul 21, 2020
sep 16, 2019
sep 16, 2019
jul 23, 2019
jul 23, 2019
aug 03, 2018
aug 03, 2018
a diverse digital database that acts as a valuable guide in gaining insight and information about a product directly from the manufacturer, and serves as a rich reference point in developing a project or scheme.