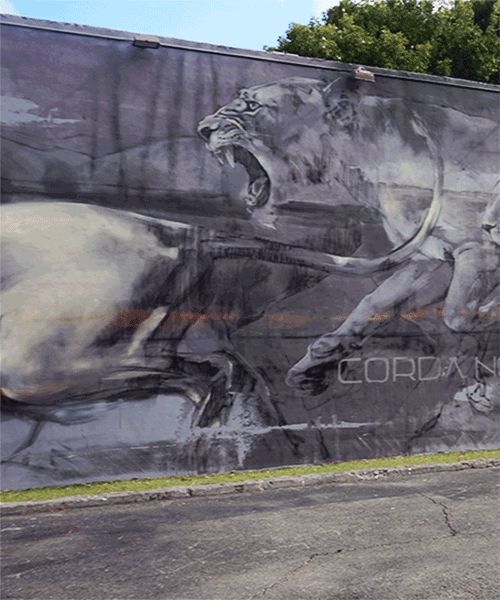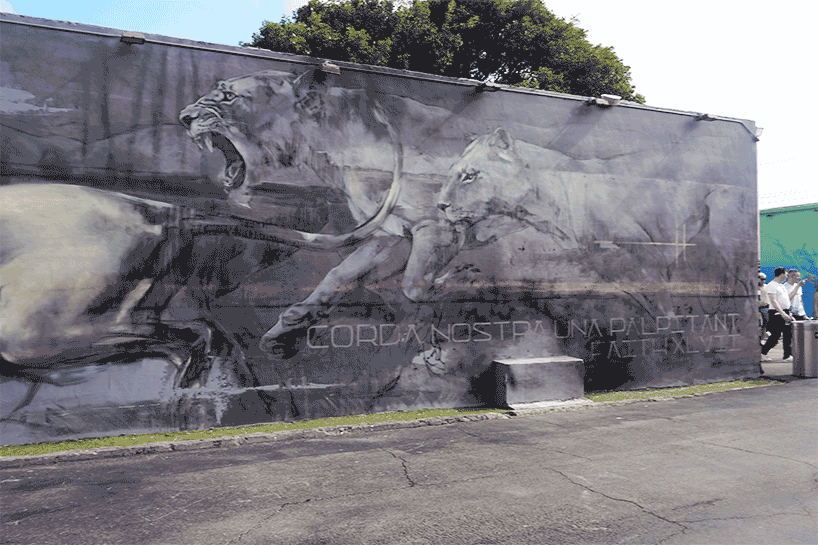 dec 18, 2016
faith47 paints predator and prey, where wild animals take over miami's wynwood walls
faith47 is an artist from south africa whose work is conceived as an internal and spiritual release, that speaks to the complexities of the human condition. monochromatic color palettes, animal motifs and spiritual symbols are prevalent throughout her large-scale works, often made with a wide range of media intended for both gallery and street settings.
during miami art week 2016, faith47 added a sprawling depiction of lions chasing a stag to wynwood walls — an outdoor street art 'museum' and urban grafitti gallery. a portrayal of the relationship between predator and prey, the artwork seeks to carry the profound weight of our interconnectedness.

'corda nostra una palpitant' illustrates the intense moment of a hunt
image © designboom
titled 'corda nostra una palpitant' (our hearts beat together), the piece illustrates the intense moment of a hunt as a pride of wild lions spot their next meal. the artwork is completed in a palette of grey, black and white. faith47's distinctly rough textures, deep shading and dramatic contrast between light and dark is delineated by hyper-realistic depictions of animals mid-run. lions chase a stag as he desperately attempts to flee the scene, but the urgency and agility of the big cats is near-palpable. 

a pride of wild lions spot their next meal
image © designboom

the face of a stag as he desperate attempts to run from his predators 
image © designboom

the artwork is completed in a palette of grey, black and white
image © designboom

faith47's distinctly rough textures, deep shading and dramatic contrast between light and dark is visible 
image © designboom

hyper-realistic depictions of animals are illustrated mid-run
image © designboom

lions chase a stag as he desperately attempts to flee the scene
image © designboom

the urgency and agility of the big cats is near-palpable
image © designboom

faith47's tag at wynwood walls 
image © designboom

the artist completes work on 'corda nostra una palpitant'
image by instagrafite
Save
Save
Save
Save
oct 19, 2017
oct 19, 2017
jul 24, 2017
jul 24, 2017
may 29, 2017
may 29, 2017
apr 13, 2017
apr 13, 2017
mar 07, 2017
mar 07, 2017
jan 30, 2017
jan 30, 2017
jan 17, 2017
jan 17, 2017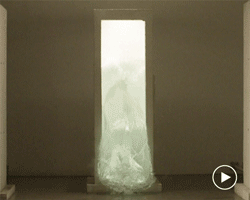 dec 21, 2016
dec 21, 2016
dec 11, 2016
dec 11, 2016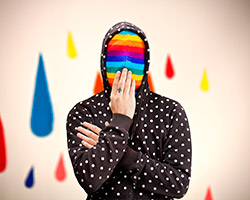 nov 01, 2017
nov 01, 2017
oct 10, 2017
oct 10, 2017
sep 20, 2017
sep 20, 2017