during the venice architecture biennale, fondazione prada presents 'jannis kounellis', a major retrospective on the greek italian contemporary artist. curated by germano celant, the exhibition explores his artistic and exhibition history, following his death in 2017. bringing together more than 60 works from 1959 to 2015, they highlight key moments in the evolution of his visual poetics whilst establishing a dialogue with the historic palazzo of ca' corner della regina.
held at fondazione prada's eighteenth century venetian venue, the first floor of the palazzo features the artist's early works which deal with urban language. paintings originally exhibited between 1960 and 1966 reproduce actual writings and signs from the streets of rome. later on, the artist transferred black letters, arrows and numbers onto white canvases, paper or other surfaces, in a language deconstruction that expresses a fragmentation of the real.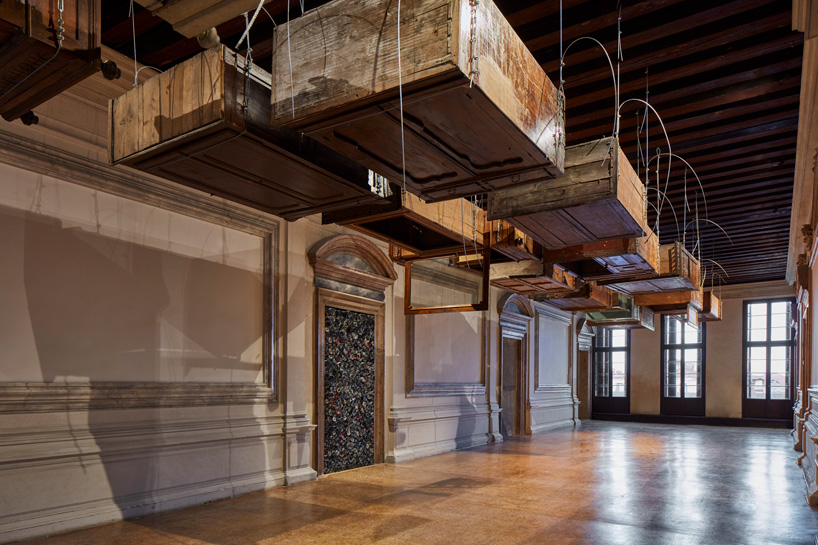 untitled (1993–2008), wardrobes, steel cables, untitled (2004), lead rolls, fabric
images courtesy of fondazione prada
from 1964 onward, kounellis addresses subjects taken from nature, from sunsets to roses— the latter represented on canvases. two years later in 1967, kounellis' investigation turns more radical embracing the use of organic and inorganic materials to transform his traditionally pictorial uniformity. during this time he embraced concrete and natural elements including soil, cacti, wool, coal, cotton, and fire.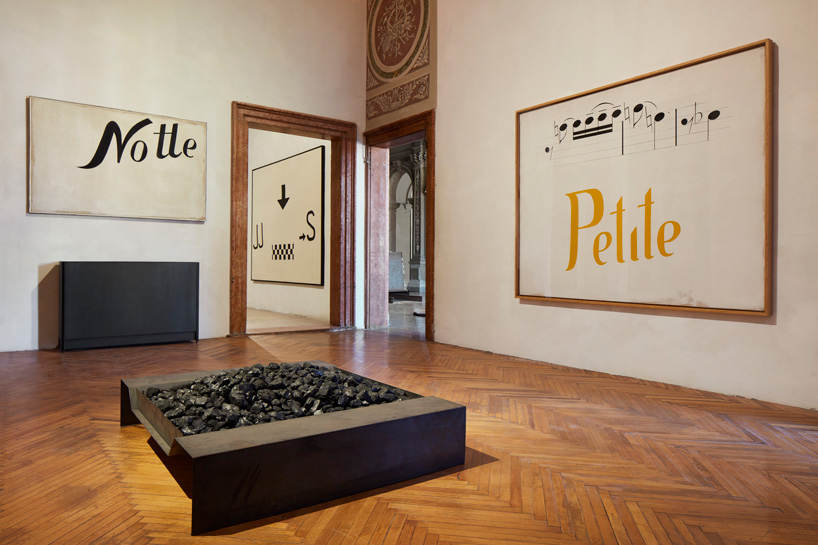 left to right: untitled (1965), oil on canvas, untitled (1967) iron, coal, untitled (1960), oil on canvas, untitled (1964), oil on canvas
kounellis also explored the sound dimension of his work, translating paintings into sheets of music which could be played or danced to. in 1960, he began chanting his letters on canvas, and by 1970 he included the presence of a musician or a dancer.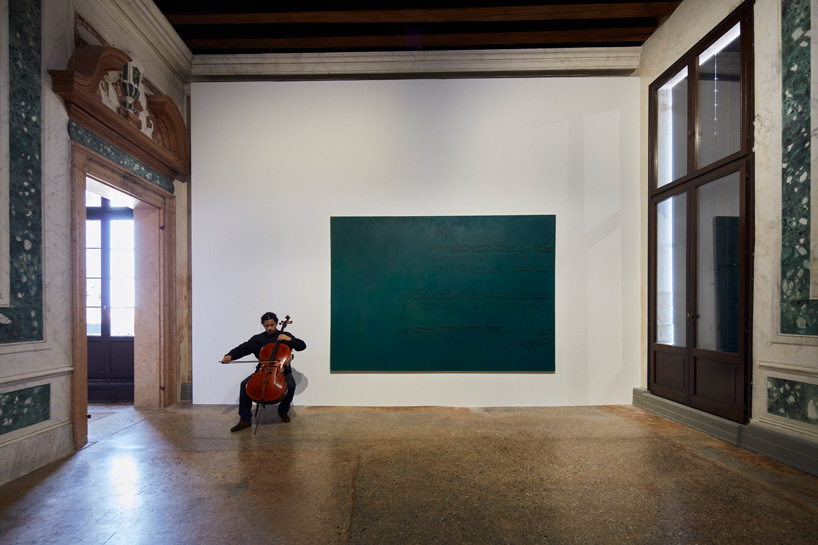 untitled (1971), oil paint on canvas, chair, cellist
these musical semblances are seen in two works from 1980 and 2006 which are composed of musical instruments connected to flaming gas cylinders and wrought iron bells. several flutists play a fragment of a composition by mozart, while in the second an oil painting portrays the notes of another sacred composition by bach, this time played live by a violoncellist.
these works substitute or connect the image with sound, overcoming the traditional distinctions between artistic languages. the exhibition explores the olfactory expression, with works that include materials such as coffee and grappa, offering an escape from the illusory limits of painting.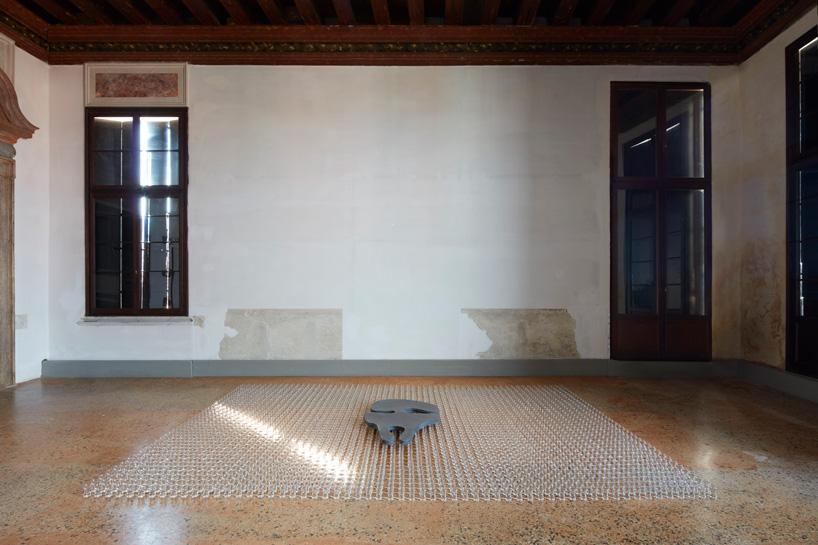 untitled (1988), glass, grappa, lead
as kounellis moved from a written and pictorial language to a physical and environmental one, he subverted the elitist aspect of the art world. in its place, a more expressive one based on the primacy of vital elements and a terrestrial relationship evolved.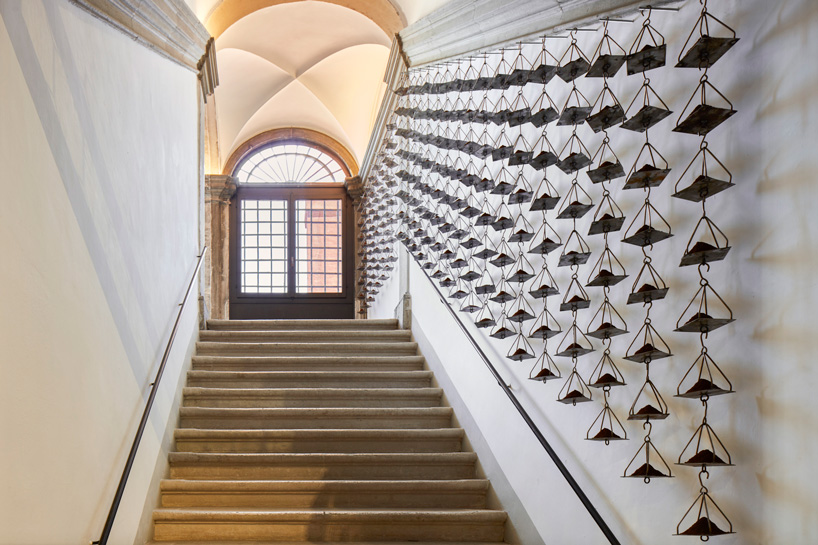 untitled (2013), iron, coffee
concerned with the corporeal experience, kounellis was intrigued by the dialectic battle between lightness, instability, and temporality, as it was connected with the fragility of the organic element. in contrast to feelings of heaviness, permanence, artificiality, and rigidity of industrial structures, these are represented at several points by modular surfaces in gray painted metal.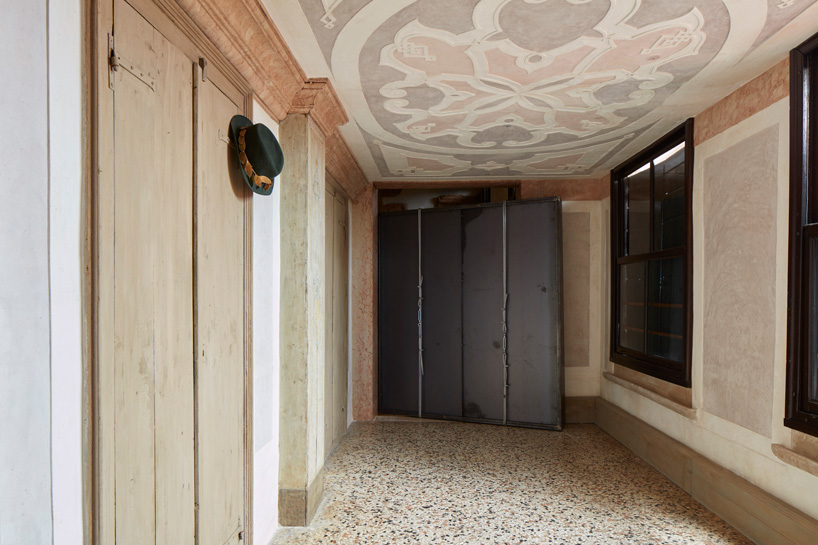 kounellis' inclusion in exhibitions that contributed to the elaboration of arte povera is also traced. the installation 'untitled (tragedia civile)(1975)', a self-portrait characterized by the contrast between the gold leaf that completely covers a bare wall and black clothing which hangs on a coat hanger, underlines the drama of a scene that alludes to a historical crisis and personnel.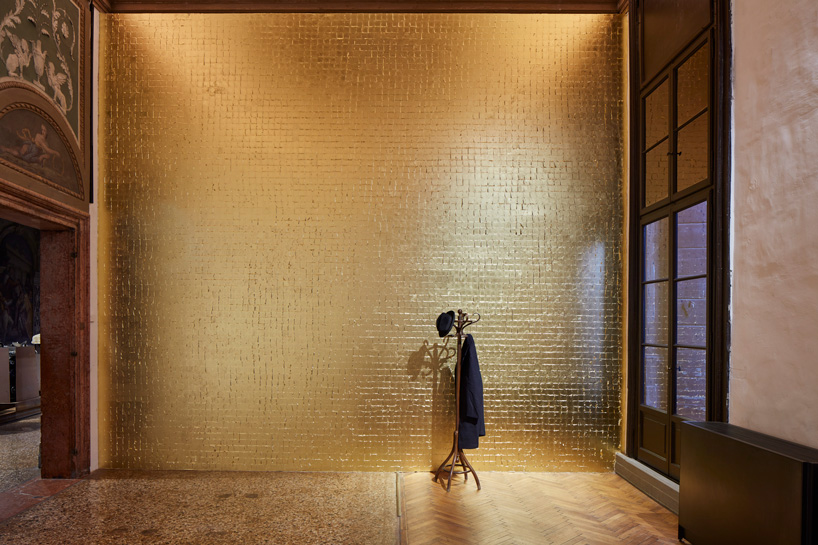 untitled (tragedia civile)(1975), goldleaf-coated wall, coat rack, coat, hat, lamp
meanwhile, the traces of soot on the stones, the canvases and the walls, in some works of 1979 and 1980, indicate a personal 'return to painting'. it is a sentiment that stands in opposition to the anti-ideological and hedonistic approach of a lot of pictorial production of the eighties. during this time the artist also developed the chimney motif, the opposite to a 'primitive, revolutionary flame', now imprisoned in the brick structure.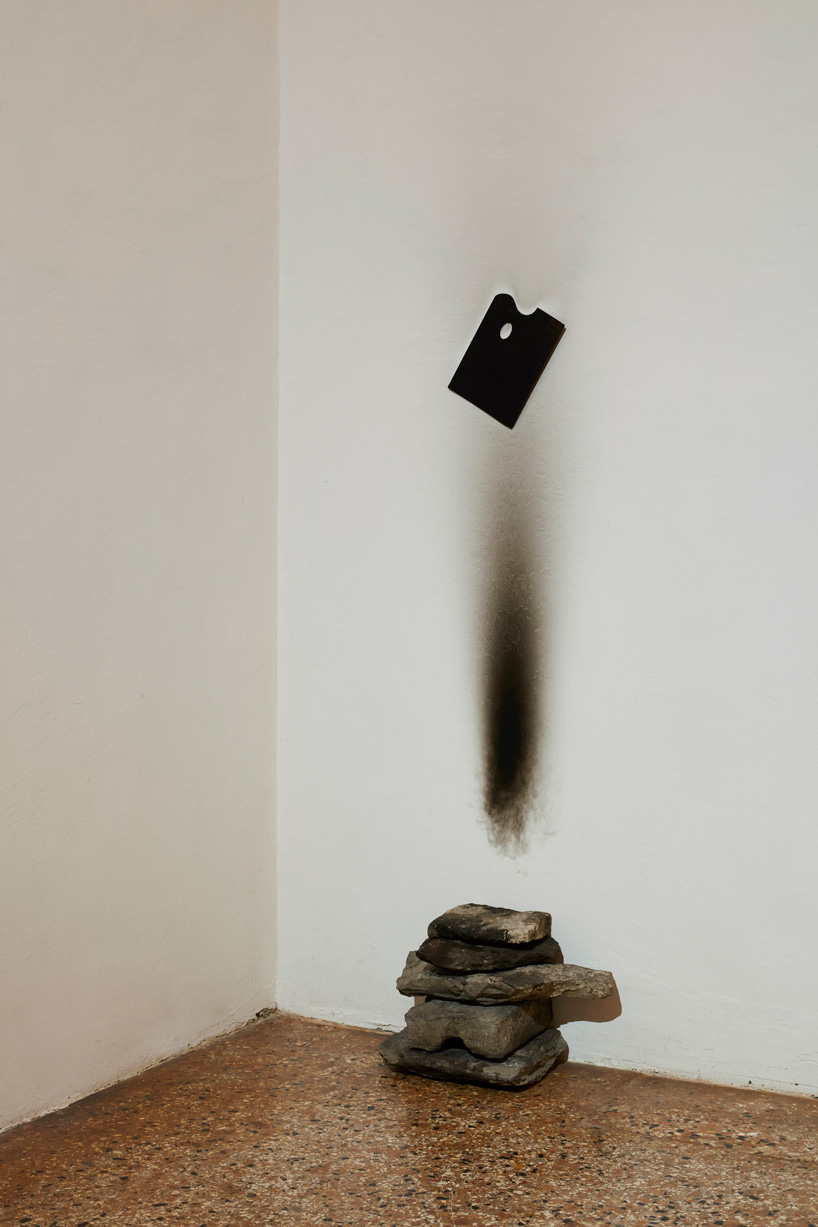 untitled (1980), stones, palette, soot
a work from 1974 made up of portions of plaster casts of classical statues laid out on a table and accompanied by a lit paraffin lamp represent the past. meanwhile, others riff on the artist's greco-roman heritage, exploring it through a mask, as in the 1973 installation made up of a wooden frame on which plaster casts of faces are placed at regular intervals.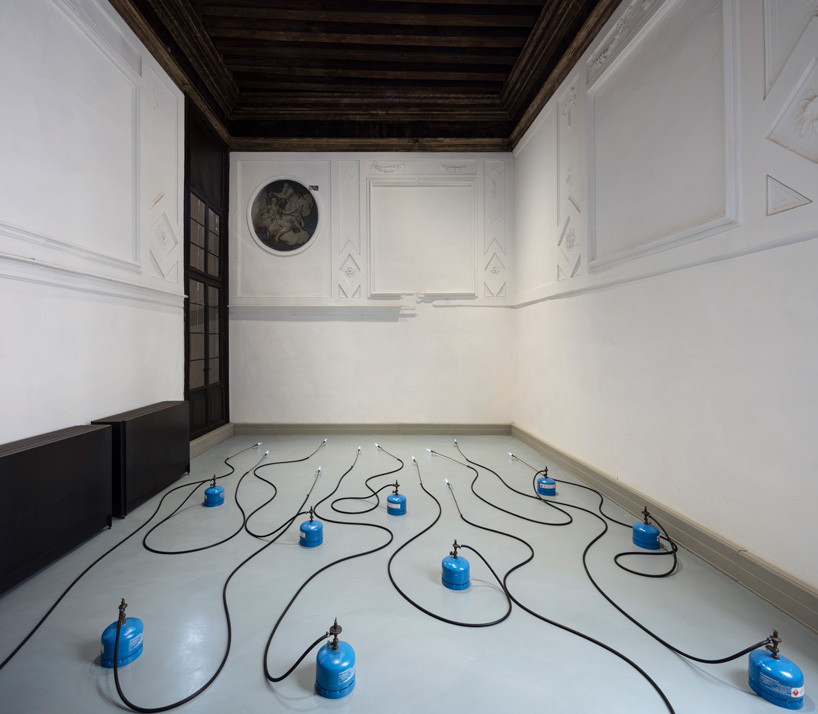 untitled (1971), gas tanks, flames, rubber pipes
another common motif is the door, which kounellis represented in various versions, sometimes accompanied by bells and plaster casts of classical statues. displayed in the exhibition in three different declinations dating from 1972 to 2004, it tells of the difficulty between the artist and the dynamics of his present. passageways between rooms are closed up with stones, iron reinforcing bars and lead sheets revealing the historical interiority of the building and making several spaces inaccessible in order to emphasize their unknown.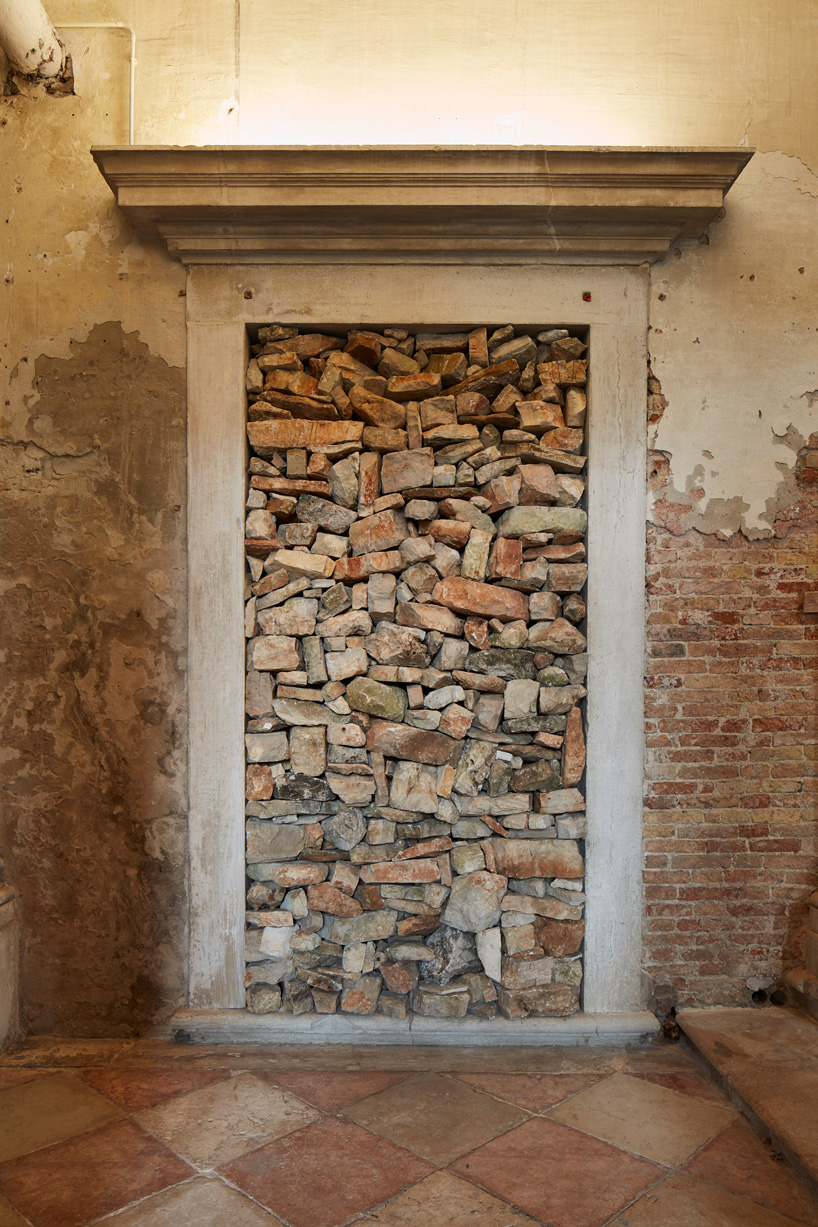 untitled, 1972, walled up door with stones
presented in the internal courtyard of the venetian palazzo, an installation encapsulates kounellis' deeper dialogue with architectural and urban spaces. composed of seven metal plates that support sacks filled with coffee beans, it tells of the artist's fascination with gravity and equilibrium. completing the exhibition are a series of large-scale installations realized from the end of the 1980s. these ensembles challenge the laws of gravity, enveloping shelves or metal constructions containing objects of various origins: from plaster casts to stones, from coats to glasses and mechanical gears.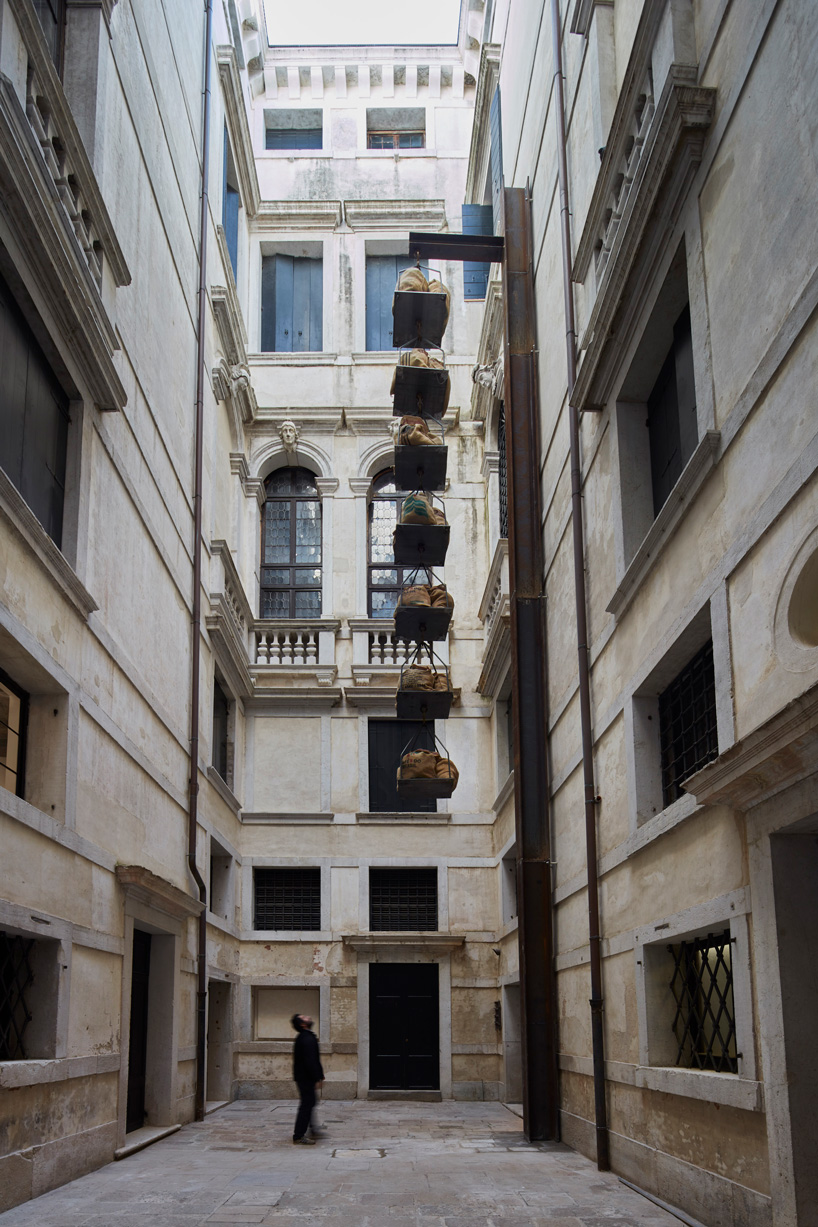 untitled (1992), iron, burlap, coffee
the retrospective concludes on the ground floor with documents – including films, exhibition catalogues, invitations, posters and archival photographs – that trace kounellis' exhibition history. the exhibition is accompanied by a volume that includes an essay by germano celant and an extensive illustrated chronology, documenting and exploring jannis kounellis' artistic career and biography.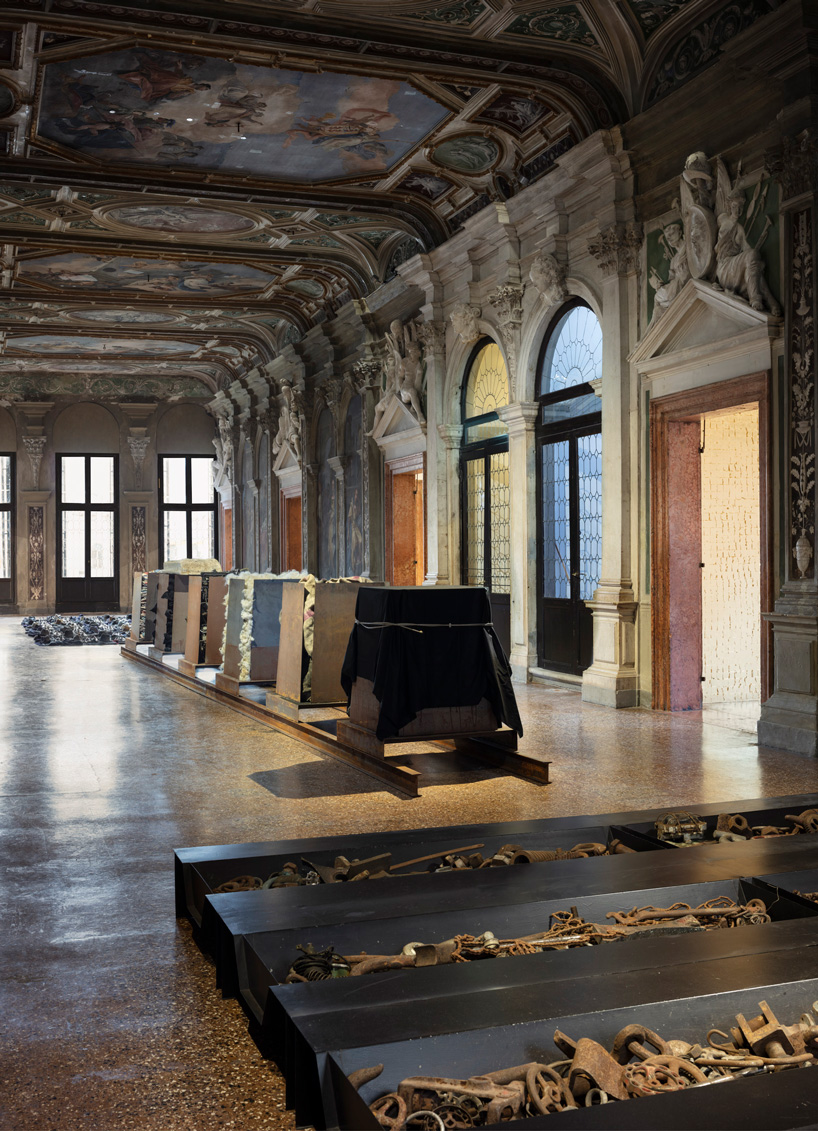 untitled (1994), iron, enamel, untitled (2013), iron, stones, cloth, steel, burlap, coal, wool, sewing machines, coats, marble, ceramic, untitled (2011) coats, hats, shoes
project info
gallery: fondazione prada
exhibition: jannis kounellis
artist: jannis kounellis
location: venice
venue: ca' corner della regina
dates: 11 may – 24 november 2019
kieron marchese
I designboom
may 13, 2019
a diverse digital database that acts as a valuable guide in gaining insight and information about a product directly from the manufacturer, and serves as a rich reference point in developing a project or scheme.
designboom will always be there for you
milan, new york, beijing, tokyo

,
since 1999