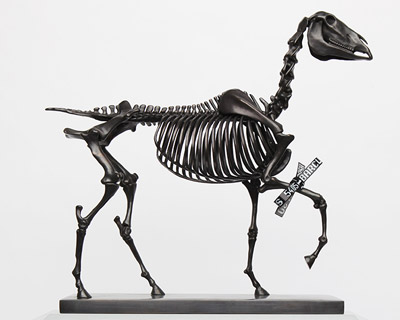 sep 25, 2013
fourth plinth shortlist for 2015 + 2016
fourth plinth shortlist for 2015 + 2016
all photos © james o jenkins
six new ideas for the next two fourth plinth commissions were unveiled in london, yesterday 25 september. artists marcus coates, hans haacke, mark leckey, liliane lijn, david shrigley and ugo rondinone's maquettes of proposed sculptures will be exhibited at st martin-in-the-fields until november 17th. the two artworks that are chosen via public voting and a closed judging process will be announced next year and then installed in trafalgar square in 2015 and 2016 respectively. see the exhibition online here.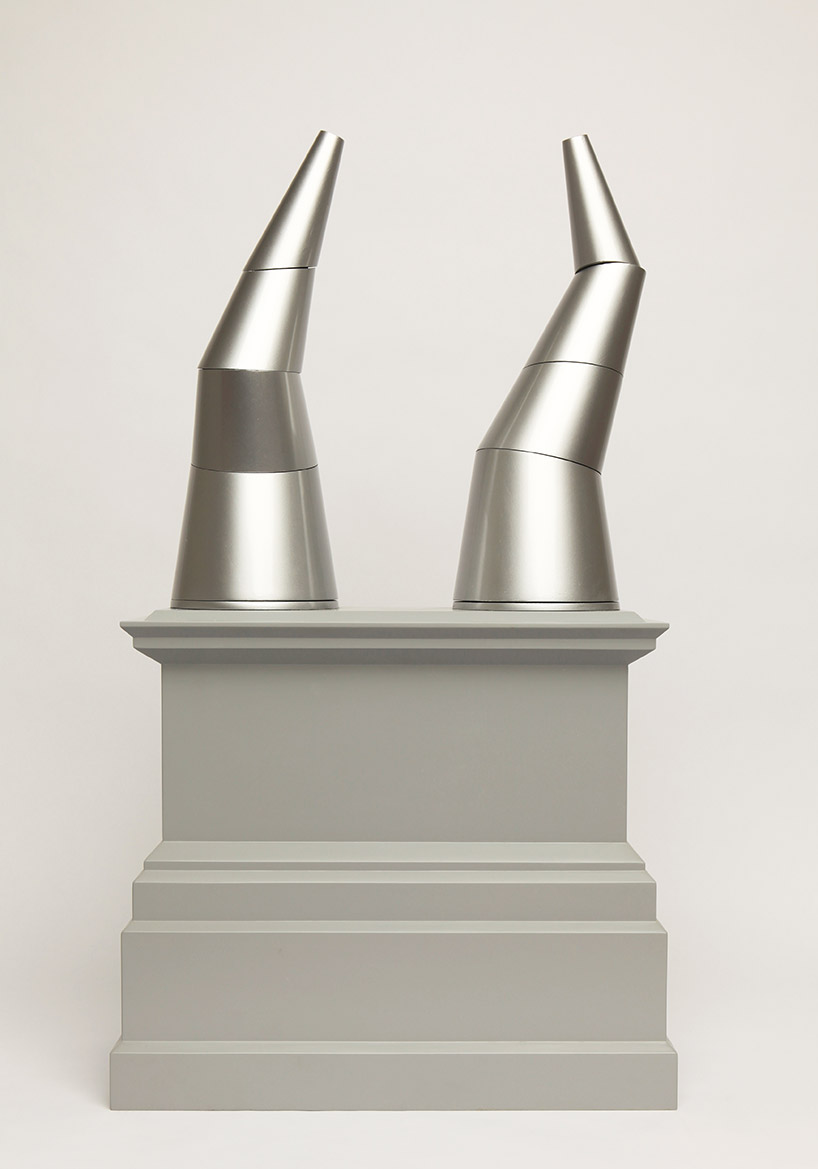 liliane lijn – the dance
© james o jenkins courtesy the artist and riiflemaker, london
liliane lijn – the dance
proposed materials: brushed anodised aluminium
rather than one imposing sculptural object, liliane lijn's proposal the dance features the complex changing relation between two apparently identical objects. the cone is a ubiquitous abstract form that occurs in mathematical, mythical and astronomical systems. here the cones also relate to the spire of st. martin-in-the-fields, while their gleaming metallic surfaces recall the machinery of space travel. once the dance begins, formal geometry gives way to sensual movement and we become mesmerised by the energy of the interaction. the shifting shapes and interactions of the dance are an extension of lijn's interest in combining energy and matter, language and light. her small and large-scale kinetic installations often use technologies such as laser cutting, programmable electronics and aerogel, a material used by nasa to capture stardust. lijn's poemcons and poem machines, rotating cones and drums bearing evocative words and phrases, offer tantalising fragments of meaning and insight, while ultimately falling apart in the mind.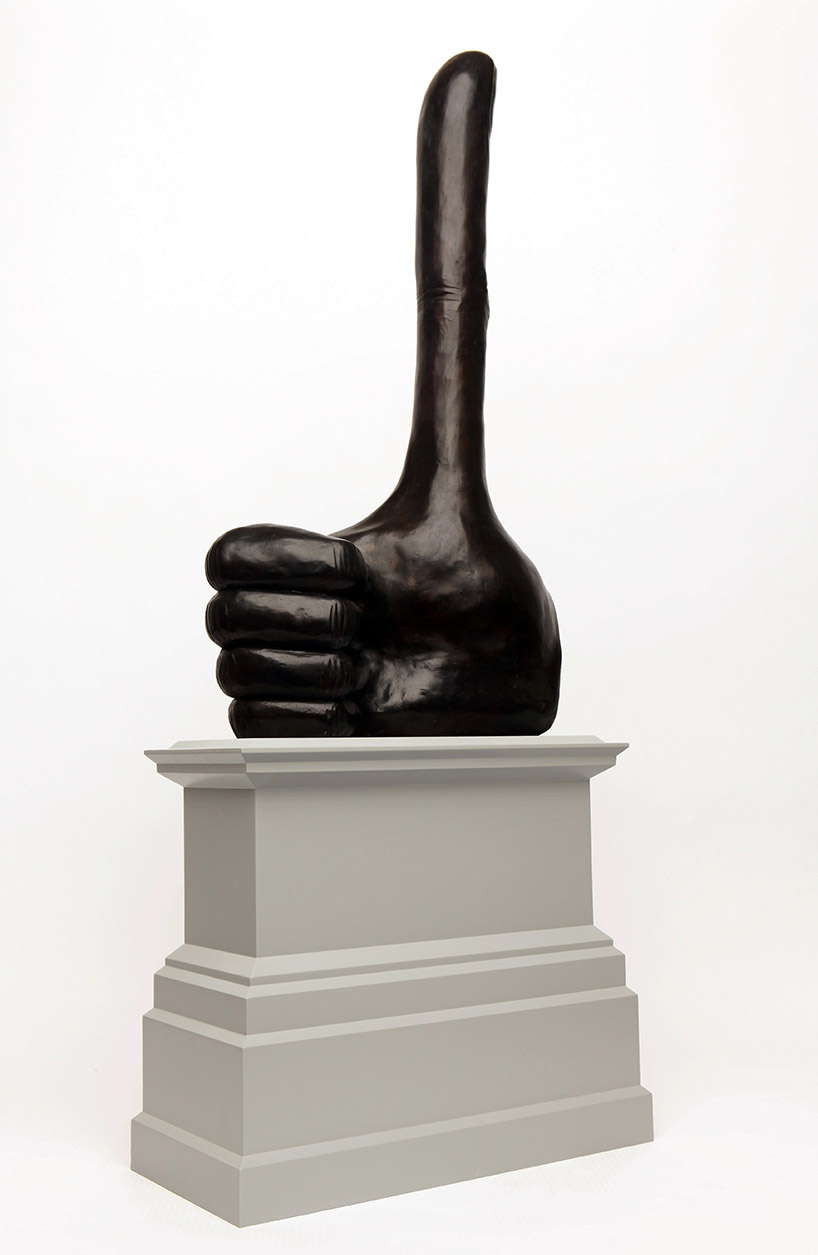 david shrigley – really good
© james o jenkins courtesy the artist and stephen friedman gallery, london
david shrigley – really good
proposed material: bronze
a giant hand in a thumbs-up gesture, and with a really long thumb at that, must mean that something, somewhere, is really good. but what is that something and where is it? is it trafalgar square? or all of london? or maybe the artwork itself? and if it's so good, why is that? who says so? and will we agree? really good would be cast in bronze with the same dark patina as the other statues in the square, the comic extension of the thumb bringing it up to ten metres in height. shrigley's ambition is that this will become a self-fulfilling prophecy; that things considered 'bad', such as the economy, the weather and society, will benefit from a change of consensus towards positivity.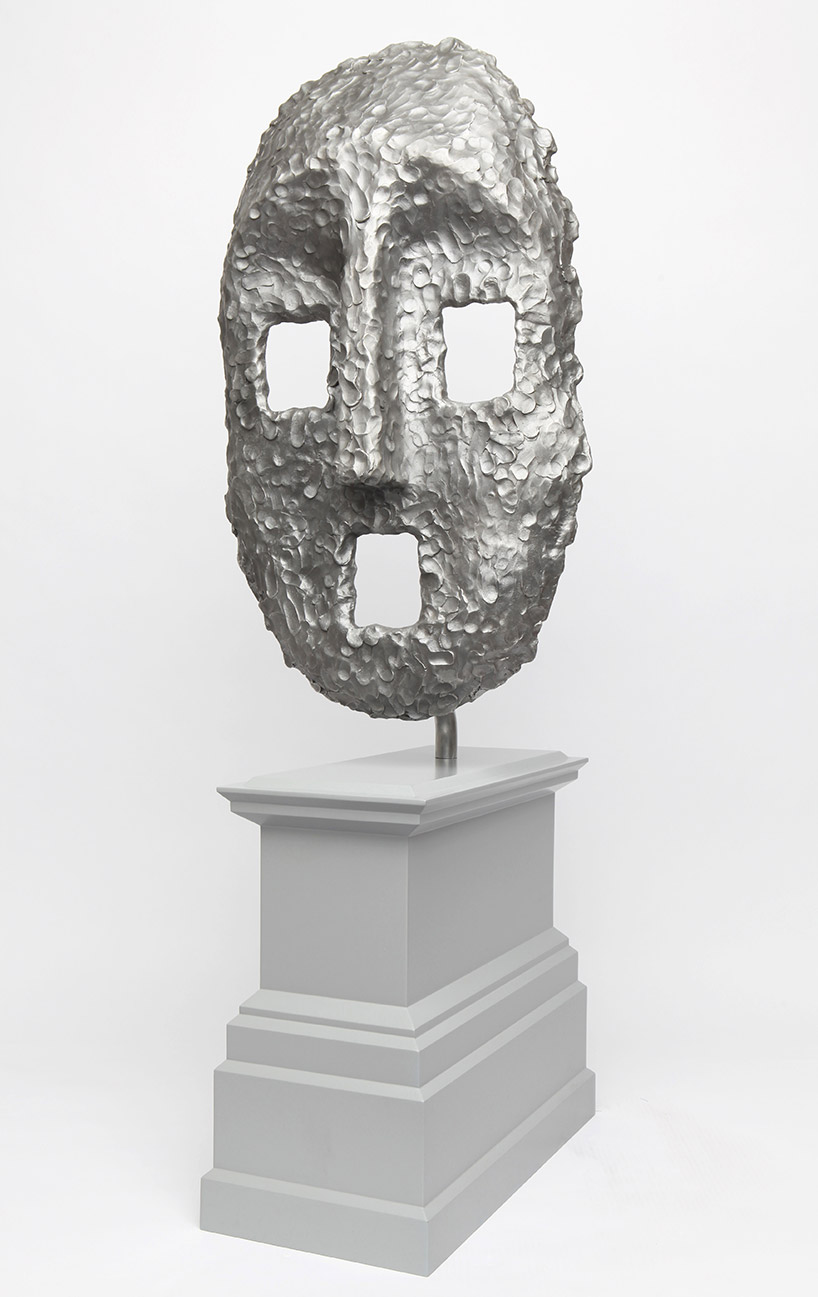 ugo rondinone – moon mask
© james o jenkins courtesy the artist and Sadie Coles Gallery, London
ugo rondinone – moon mask
proposed materials: aluminium, steel
ugo rondinone's moon mask, modelled expressively by hand, enlarged, cast in aluminium, and fixed to a pole, would be an abstract sentinel facing out over the square. moon mask seemingly refers to many visual traditions – perhaps the folk art of an ancient clan or early 20th century cubism, which was itself influenced by african tribal masks – and yet it makes no specific claims for its origin. the eventual work would inspire free association, its three window-like apertures suggesting portals through which cultural references and individual emotions can tumble at will.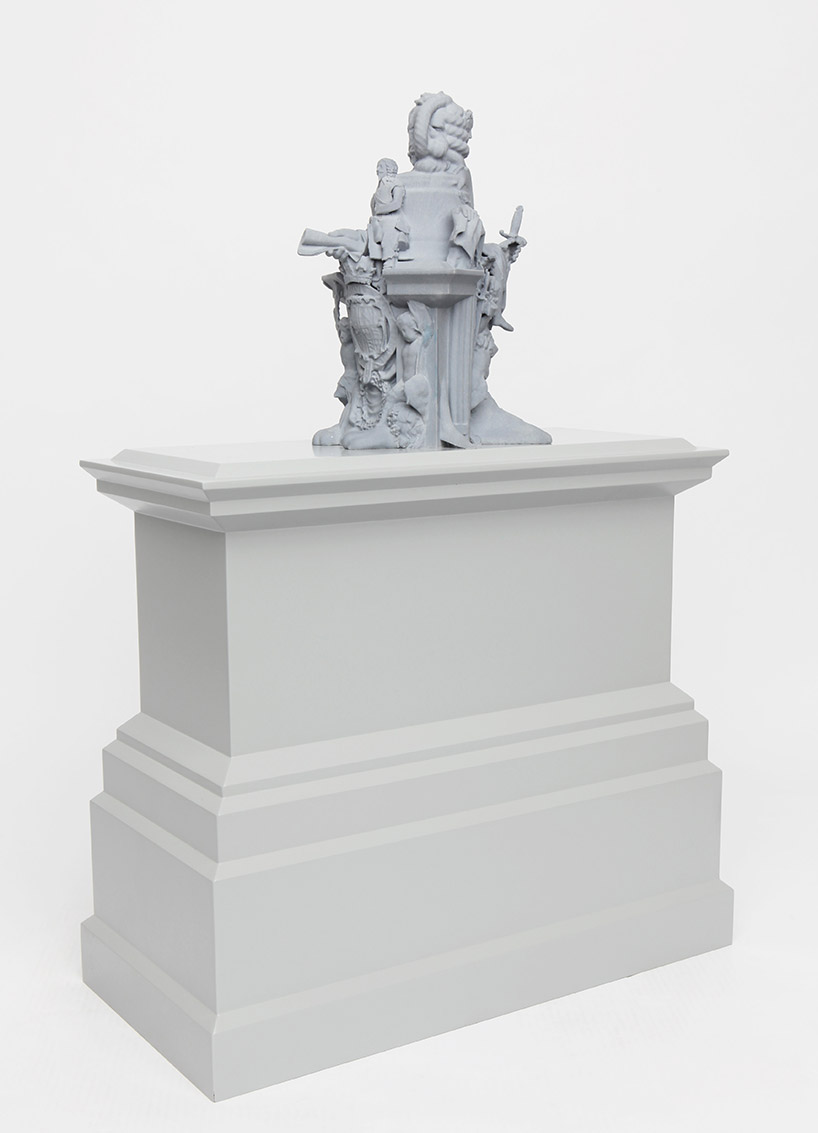 mark leckey – larger squat afar
© james o jenkins courtesy the artist and cabinet gallery, london
mark leckey – larger squat afar
proposed material: fiberglass laminate
the proposal reflects how we now approach the world in the 21st century. because of current technology, objects and artefacts are no longer these fixed, permanent things. instead we look at any sculpture, object or image and ask, what can i do with that? how can I change it to suit my desires?'
larger squat afar is an anagram of 'trafalgar square', and mark leckey's chimera is itself an amalgam of elements lifted from all the statues found in the square. details of james II, the water fountain, admiral jellicoe and the plinth itself are enmeshed into a single figure, which, while appearing absurd illustrates the compound history of both people and place. fabricated using 3d laser scanning and printing technology, larger squat afar embodies the power of the digital to overcome the physical and to fulfill the more monstrous capacities of the human imagination.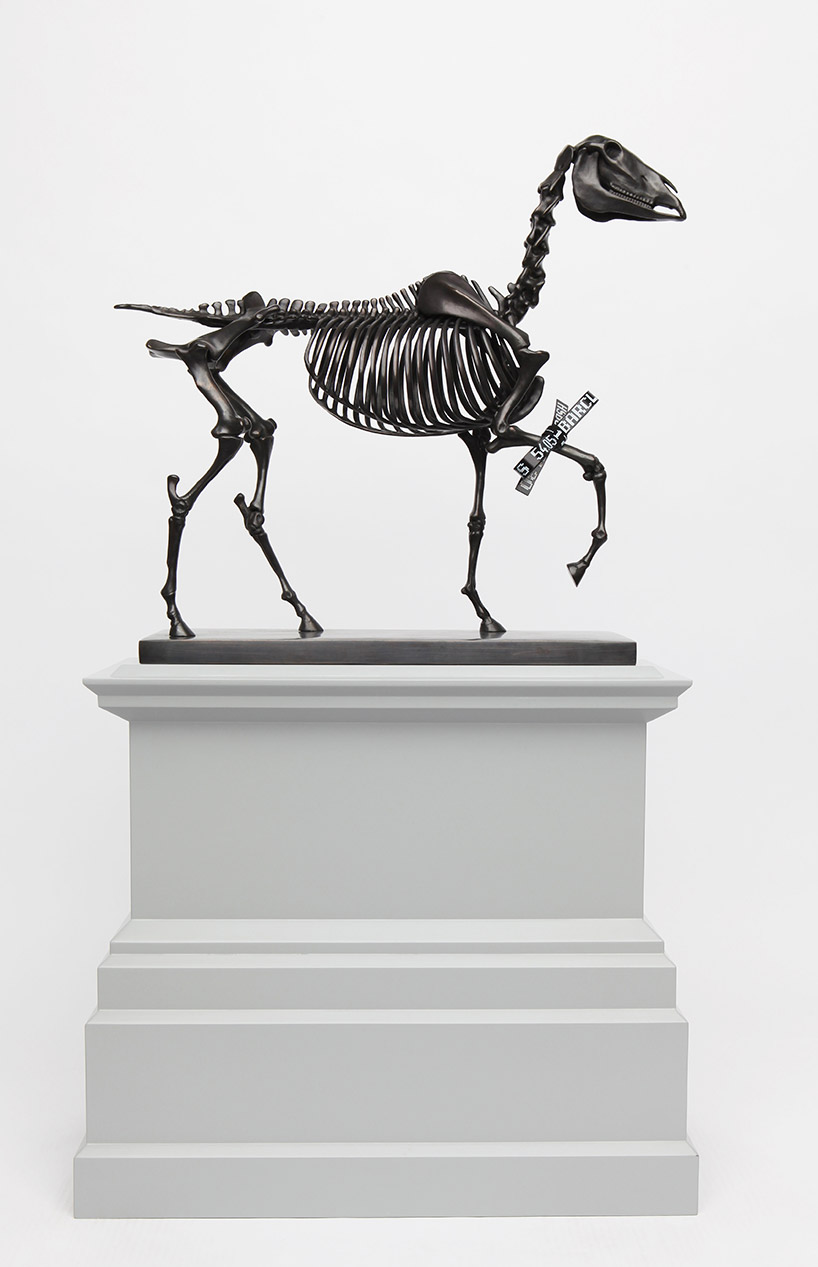 hans haacke – gift horse
© james o jenkins courtesy the artist and paula cooper gallery, new york
hans haacke – gift horse
proposed materials: bronze, electroluminescent film
instead of the statue of william III astride a horse, as originally planned for the empty plinth, hans haacke proposes a skeleton of a riderless, strutting horse. tied to the horse's front leg is an electronic ribbon which displays live the ticker of the london stock exchange. the horse is derived from an etching by george stubbs, whose studies of equine anatomy were published the year after the birth of the reputedly decadent king, whose statue was abandoned due to a lack of funds. haacke's proposal makes visible a number of ordinarily hidden substructures, tied up with a bow as if a gift to all.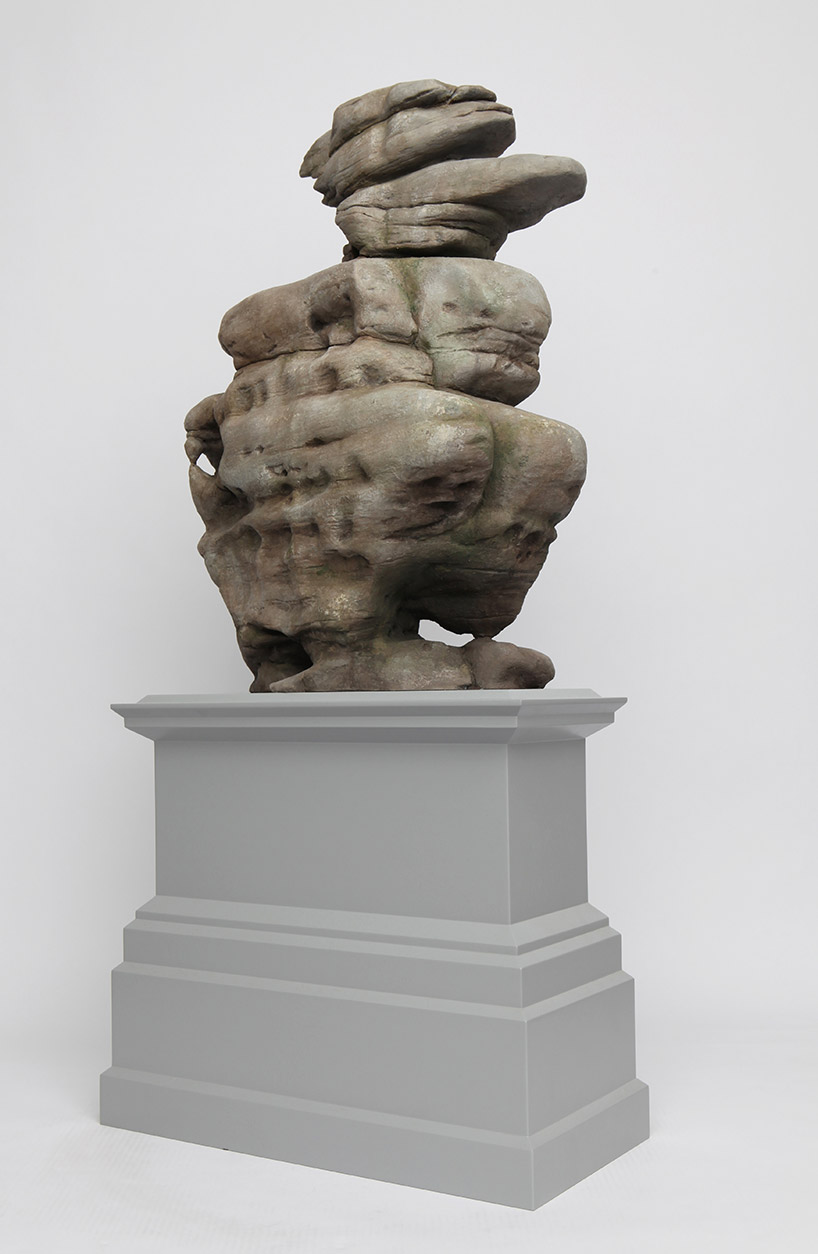 marcus coates – unmade monument
© james o jenkins courtesy the artist, kate macgarry, london and workplace, gateshead
marcus coates – unmade monument
proposed materials: concrete based resin, fibreglass, steel
trafalgar square is almost entirely fashioned from stone, sourced from all over britain and manipulated into buildings, pillars and statues by the will of architects, designers and sculptors. marcus coates plans to contrast these symbols of rational progress with a huge replica of a gritstone outcrop created hundreds of millions of years ago in yorkshire by the natural forces of ice, wind and rain. its form suggests a face or a bird, as we automatically try to make sense of the organic shapes that emerge and retreat as we walk around it, and invest it with human qualities or mythical powers. it would be a monument to non-human creativity and a totem of timeless, irrepressible powers.
sep 29, 2016
sep 29, 2016
jul 25, 2013
jul 25, 2013
jul 15, 2014
jul 15, 2014
jun 12, 2014
jun 12, 2014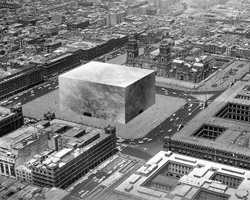 jun 03, 2014
jun 03, 2014
a diverse digital database that acts as a valuable guide in gaining insight and information about a product directly from the manufacturer, and serves as a rich reference point in developing a project or scheme.