premiered at panorama festival, 'infinity (tiles of virtual space)' is a traveling interactive light-art installation designed by new york-based artist gabriel pulecio. the immersive space combines light, sound, and space to introduce the user to a seemingly endless digital three-dimensional matrix of interactive graphics and haunting voids of light, floating in the middle of what feels like infinity. inside, the modest structure immediately explodes into an ever-changing landscape and place of self-reflection, reminding us that we exist in the present and every action has a changing effect on our environment.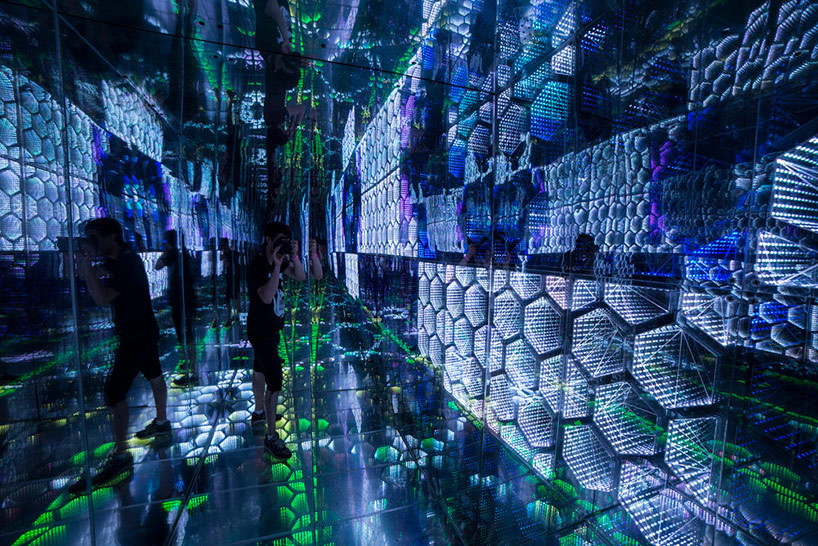 image © gabriel pulecio
video above by gabriel pulecio
with the use of kinect sensors embedded into the ceiling, the user triggers ripples of light that grow from their feet and define a new digital landscape, accompanied by carefully-designed sounds to match. the TouchDesigner-based algorithms designed by pulecio that create constant visuals respond to the movement inside, so each person's experience is unique and personal. the concept of infinity is utilized on a multitude of scales. made up of 25 custom-fabricated/ laser cut panels with a combination of mirrored and two-way acrylic sheets, a total of 10,000 LED lights define a hexagonal grid with each light reflecting endlessly into the darkness.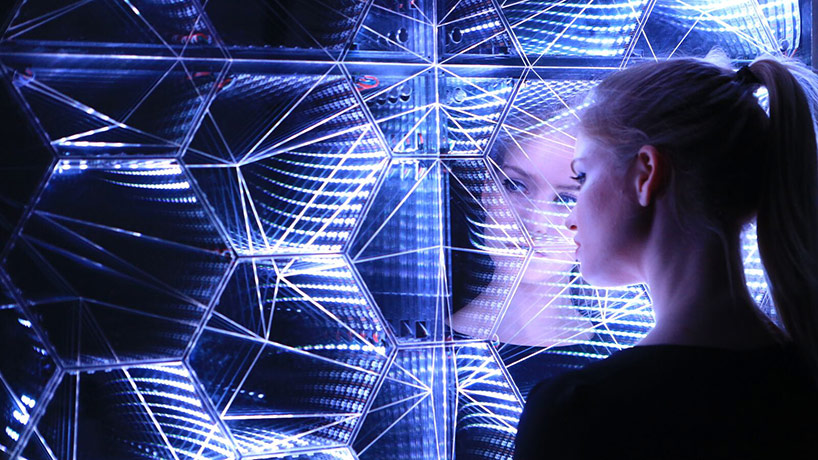 each panel's infinite reflections play into the room as a whole, which infinitely reflects everything inside
image © gabriel pulecio
the inside of the rectangular room itself serves as a portal to infinity, reflecting each of the walls and floor almost endlessly in every direction. unlike other infinity cubes which may use projectors or other systems to overlay graphics into the space, 'infinity' instead embeds an array of LED lights within the reflective panels like a large-scale digital screen, programmed using TouchDesigner, so all the surfaces inside achieve a truly reflective conceptual purity.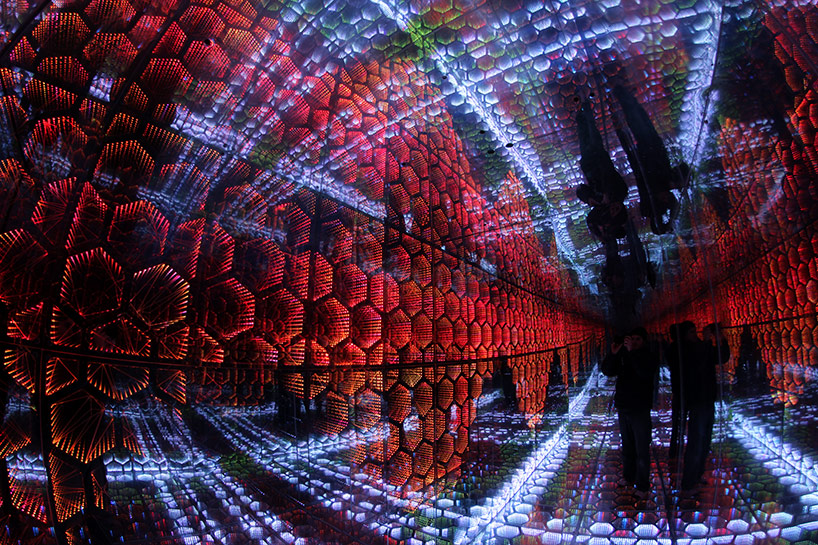 an overlaying of colors, shapes, and sounds forms unique digital landscapes
image © designboom
each of the individually-programmed lights allows for a multitude of graphics that range from simple shapes, to individual points, to complete light/color chaos, each providing the user with a unique perception and experience. most recently, the cube was assembled for the filming of 'emotions portrait' as a an immersive backdrop for a dancer, produced by brooklyn-based video/animation studio yes boss.
the infinity cube was recently built for a filming of 'emotions portrait' by yes boss
video ©
yes boss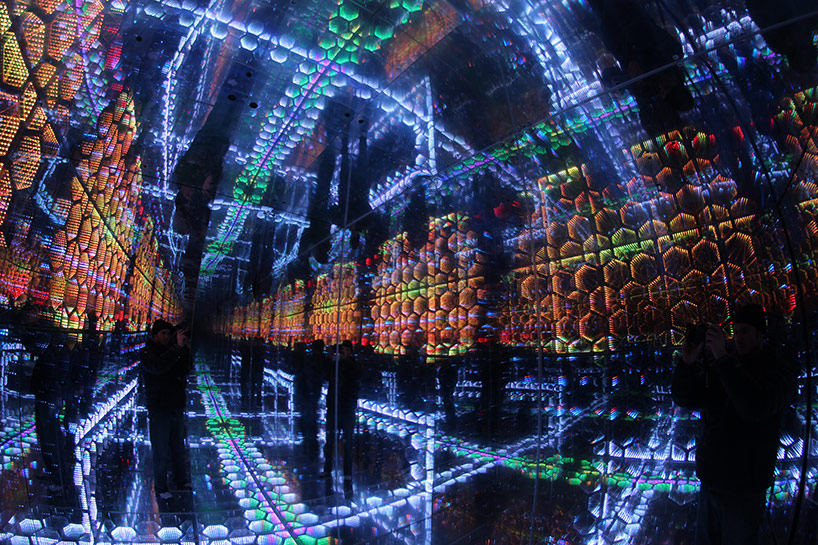 growing white lines superimposed onto an animation create custom spaces prompted by the user
image © designboom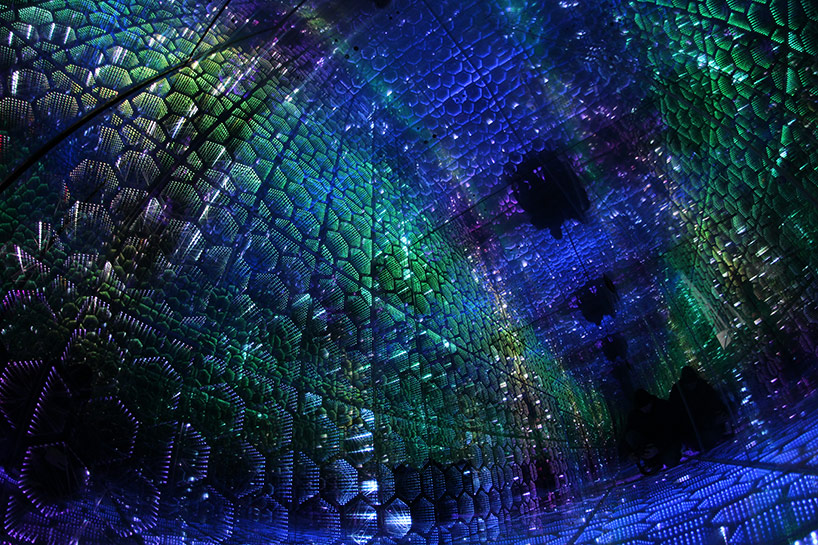 the 360-degree reflections make the room feel like a massive, endless chamber
image © designboom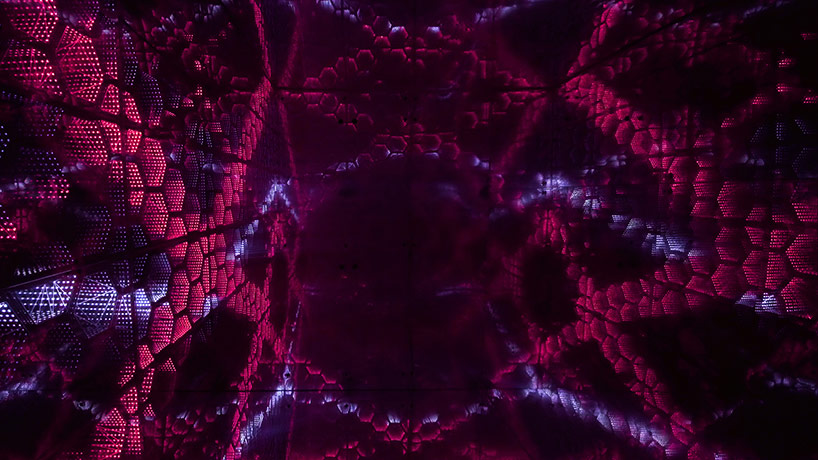 animations can even take away the notion of physical space and become almost an inhabitable two-dimensional composition
image © chris p zero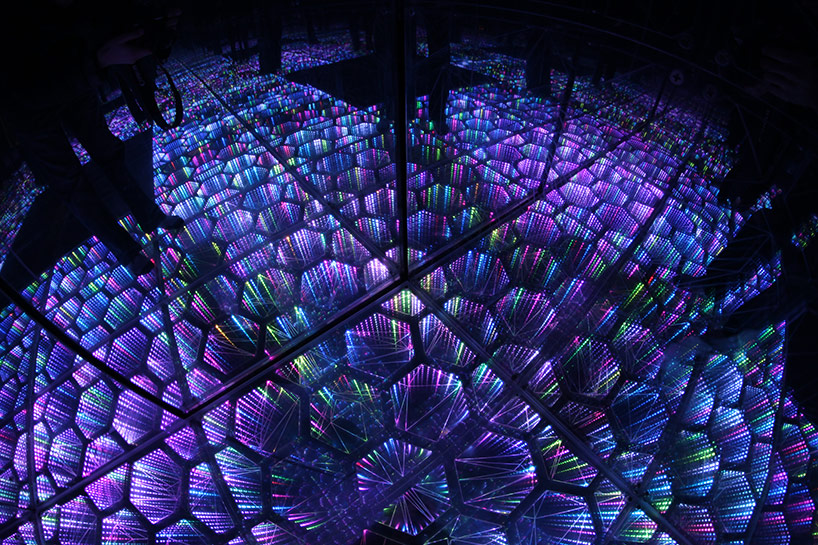 image © designboom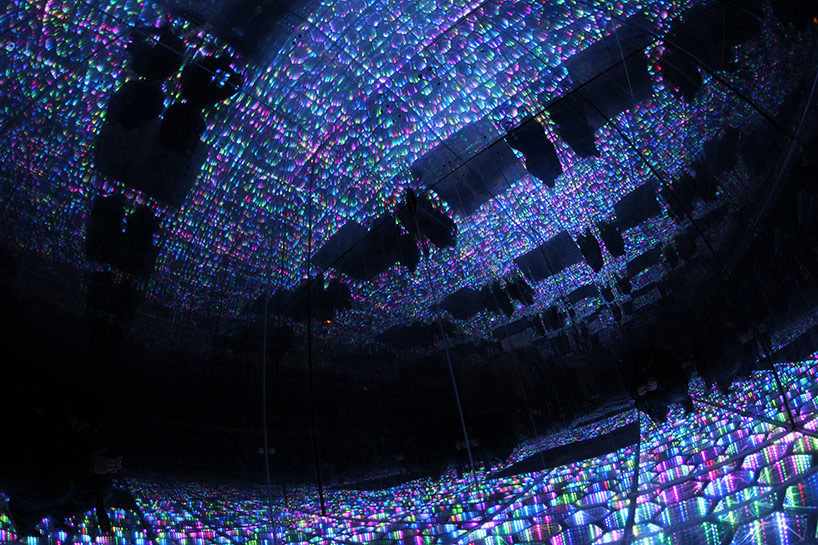 by controlling the images on the wall and floor, a vast array of spaces can be created
image © designboom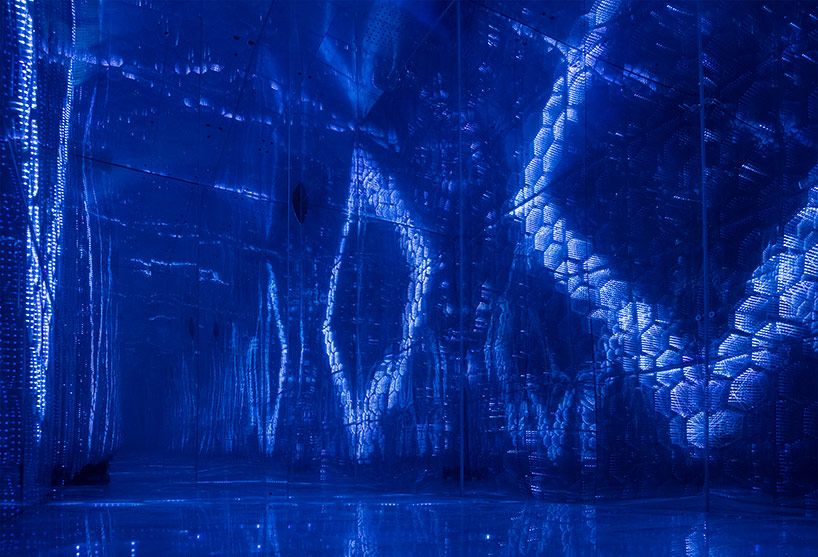 image © chris p zero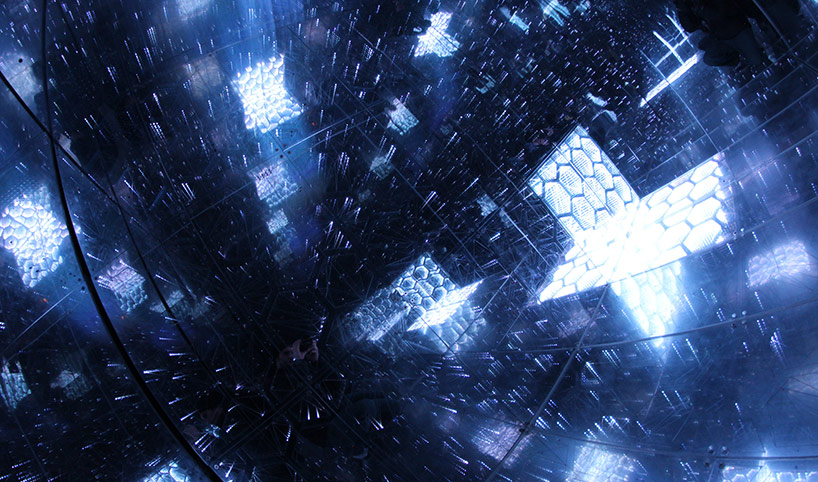 image © designboom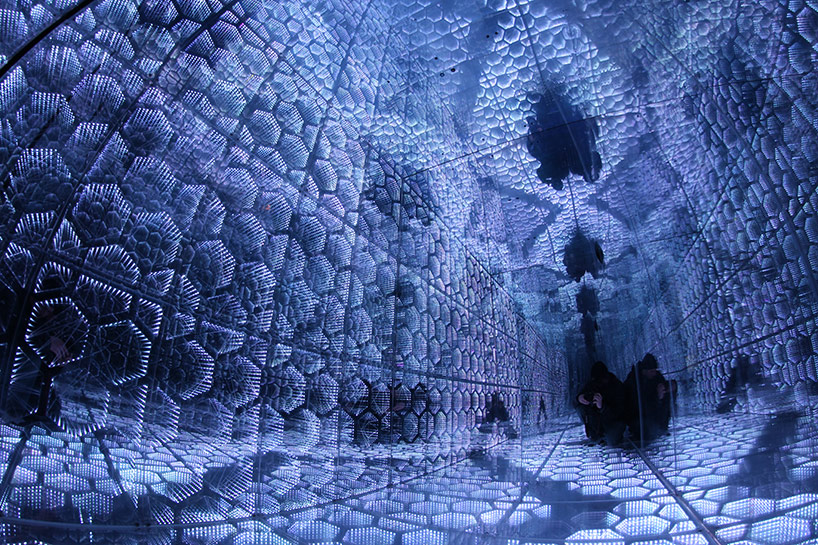 image © designboom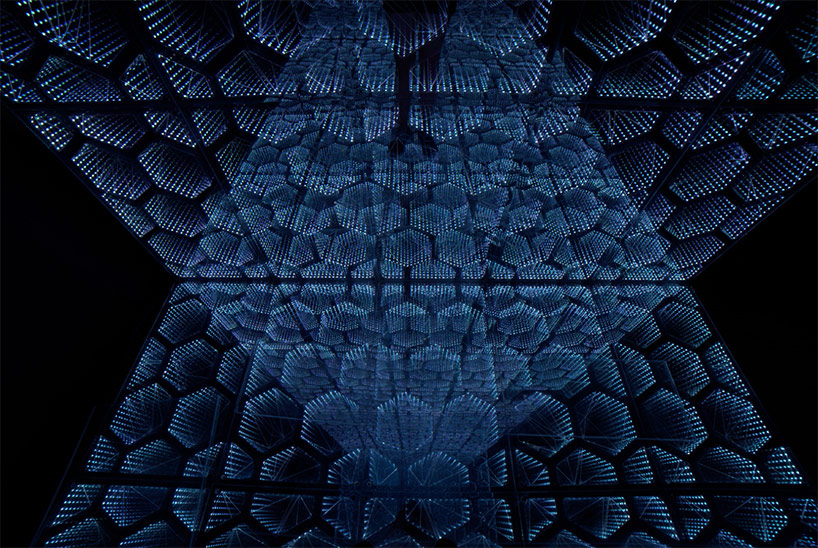 the first rendition at panorama festival allowed users to walk through in a linear fashion through the end walls
image © gabriel pulecio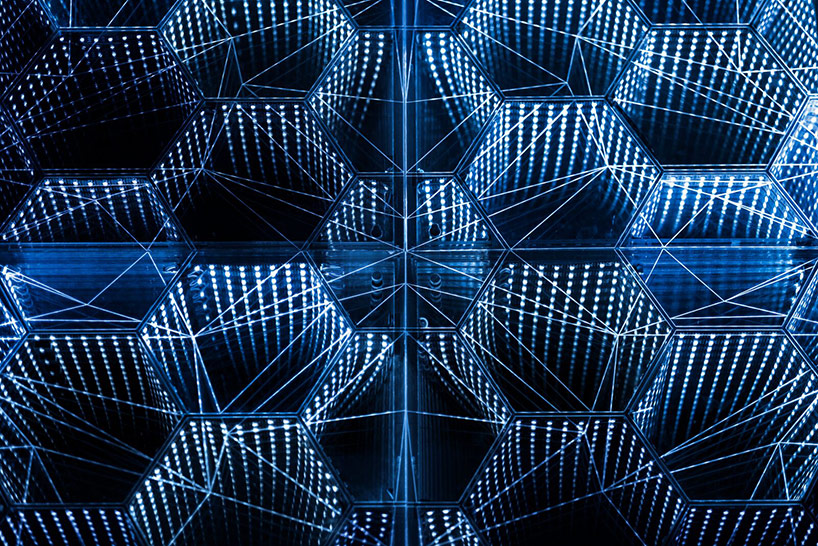 the panels fit seamlessly together forming a perfectly flat, reflective wall
image © gabriel pulecio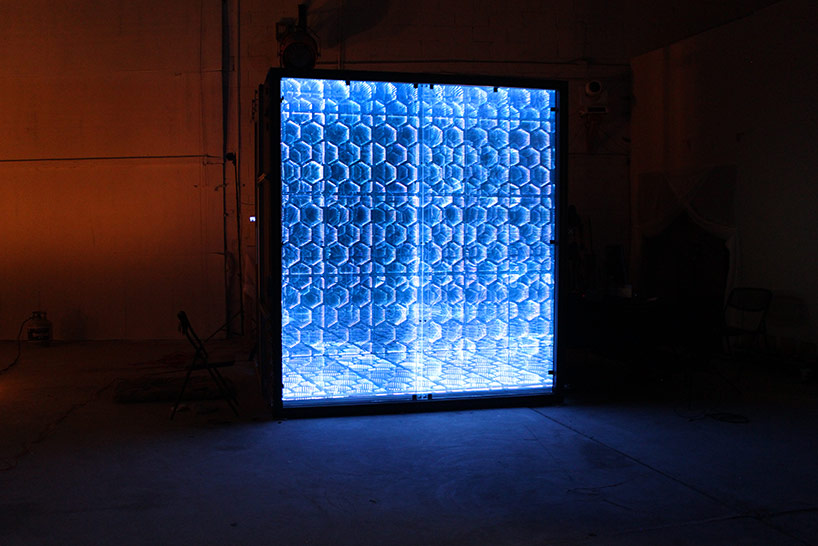 as large as the inside feels, the cube itself only occupies a footprint of about 5′ x 8′
image © designboom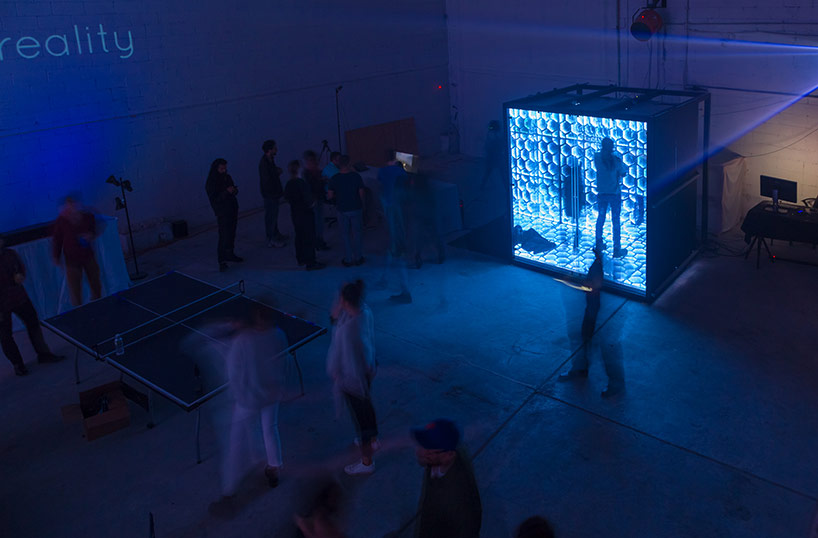 from the outside, a two-way wall allows outsiders to peer into the cube observing those inside exploring their new found universe
image © chris p zero
project info:
concept, design, direction: gabriel pulecio
lead technologist: daniel schaeffer
programming: daniel schaeffer, lucas morgan, gabriel pulecio
programming software: TouchDesigner
sound design / composer: jeff dodson
structure assembly/fabrication: youngbuk
cnc milling: gamma nyc
led panels: gabriel pulecio studio
special thanks: marcus metzger, grace jeon, paul gaugon, terese pagh, danny hudson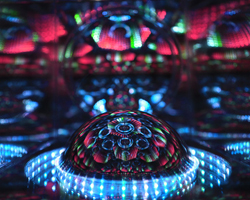 jan 24, 2016
jan 24, 2016
may 05, 2020
may 05, 2020
apr 14, 2020
apr 14, 2020
mar 12, 2020
mar 12, 2020
video
(7 articles)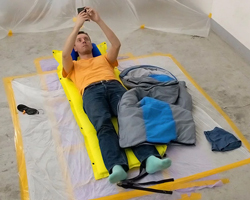 mar 19, 2020
mar 19, 2020
feb 19, 2020
feb 19, 2020
sep 06, 2019
sep 06, 2019
a diverse digital database that acts as a valuable guide in gaining insight and information about a product directly from the manufacturer, and serves as a rich reference point in developing a project or scheme.