Artificial gemstone artworks of Voice Gems
The first artificial intelligence encounter that artist and technologist Harry Yeff had was with an AI chess. No matter how many times he tried to beat it, it would always one-up him, beating him as it calculated his next move. Harry saw it as a chance to become a better player rather than a sour opponent. He now recalls it as a fond memory, a built rapport that he wanted to dive into, so much that he believes his opponents are his greatest collaborators.
In another experience, he grew up in a turbulent neuro-divergent environment of Walthamstow where he thought he did not have a voice. Combining these episodes, Harry ventured into a 15-year exploration into how far a voice can be visualized, testing the limits of vocal ranges first of his as a beatboxer then of people and animals using technology that encompasses NFT and 3D printing.
His journey has resulted in VOICE GEMS, a set of voice-generated digital art he creates with Vietnamese artist Trung Bao. On September 8th, the artists will open a solo exhibition across the interior and exterior of London's W1 Curates under W1 Immersive where they will debut their interactive installation VOICE GEMS: 1000 YEAR ARCHIVE, a collection of the Earth's vulnerable voices that have been created and preserved as individual gemstones.
Gemstone artworks cover the show's 400 square-meter gallery, every wall carpeted with a selection of VOICE GEM archives the duo has compiled throughout the years. The public art displayed across the facades of the three floors will flash on the LED screens, shifting and circling before the eyes of the visitors. The exhibition aims to preserve the influential and essential voices across the globe, which encapsulate messages of love, death, hope, and legacy.
Contributors to the archive include Ai Weiwei, Will.i.am, Felipe Pantone, Aitor Throup, Dr. Jane Goodall, Sir Geoff Hurst, Herbert W. Franke, Sougwen Chung, Reggie Watts, Kenny Schachter, Lily Cole, Klaus Schwab, Platon, Justin Aversano, Johann König, Jesse Damiani, Nancy Baker Cahill, Dejha Ti and Ania Catherine and more.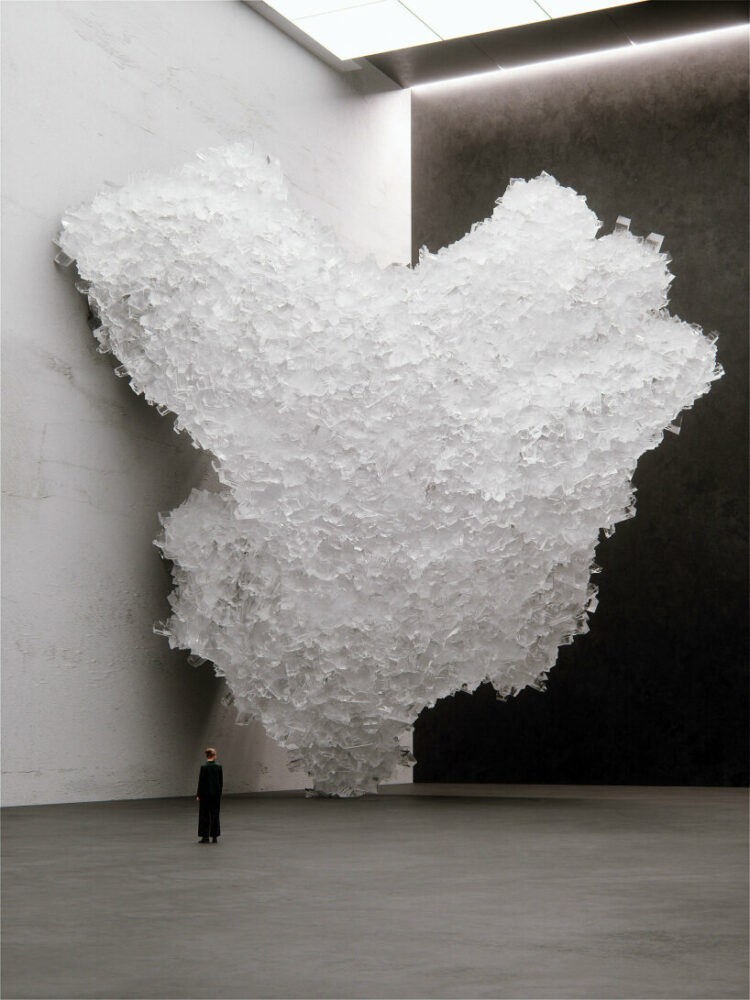 images courtesy of VOICE GEMS & W1 Curates | photo: Gallery Voice Gem Sculpture
200,000 particle system of Voice Gems
Couple engagements denote a passage to a fleeting moment treasured for years to come as a memory. The laughter of the newly engaged couple might only be caught on video or heard by those who surround them at the moment, passed on as stories after the event, but Harry and Trung wanted to materialize it into an object.
In 2018, they recorded the laughter between two lovers and transformed it into a gemstone that replaced a traditional diamond engagement ring. It was the very first VOICE GEM they made and since then, the project has grown into collections, manifesting as large-scale new media, lab-grown physical pieces, installations, and sculptures. The duo has even produced rare pieces from recordings of loved ones who have passed on.
VOICE GEMS is a generative system designed by Harry Yeff – known as Reeps100 – and Trung Bao. The 200,000 particle system harnesses the fingerprint-like features found in the human voice to generate the colors and the form of the digital and physical gemstones, all stored in VOICE GEMS: 1000 YEAR ARCHIVE.
The exhibition will also present a physical lab-grown gem named 'The Everlasting Memory' for the first time, a collaboration with Sir Geoff Hurst, the first man to score a hat-trick in a World Cup final. Hurst´s VOICE GEM is a personal recording recalling the event and one of the many people gracing the exhibition's archive.
The archive also collects vocal phenomena, expanding to AI synthetic voices and the voices of endangered species, and institutional collaborations with The World Economic Forum Messages of Hope collection, Koenig Gallery, Francisco Carolinum Linz, Ben Mirin of National Geographic and The Berggruen Institute. Visitors can listen to the voices that produced the artificial gemstone sculptures via QR codes.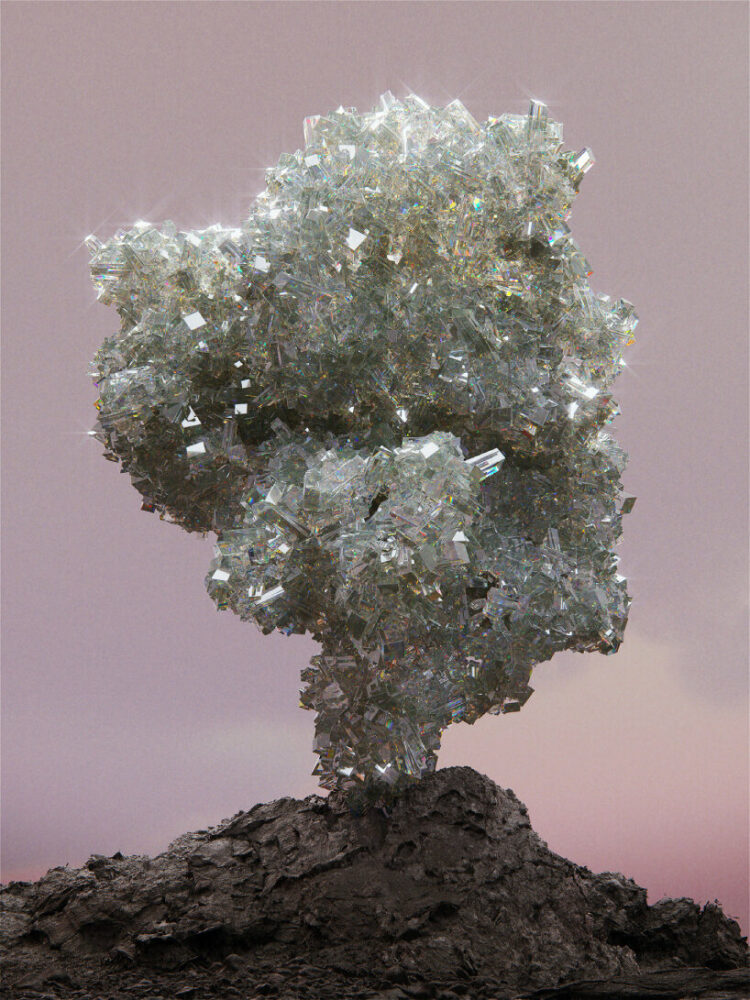 Lovers Laughter Physical Voice Gem
Preserving gemstone artworks from voices
The duo believes that every voice comes with unique fingerprint-like metadata that can be used for human-centered generative design, and VOICE GEMS has paved a way for them to collect, highlight, and preserve these human and animal voices and vocal phenomena to share.
We have already replaced diamond engagement rings, preserved first and last words and now highlighted some of the most unique minds on the planet with voice-generated gemstones. People are seeking new ways to highlight our most fundamental human experiences with technology. VOICE GEMS is a new method of connection,' says Harry.
Trung agrees as he states that their method creates a new way for people to experience and connect with voices. 'Highlighting, preserving, and amplifying unique, important voices along with the vulnerable ones through a medium that people can see, touch, and connect with through different sensories is something very special,' he adds. VOICE GEMS: 1000 YEAR ARCHIVE will run from September 8th to 26th at W1 Curates in London.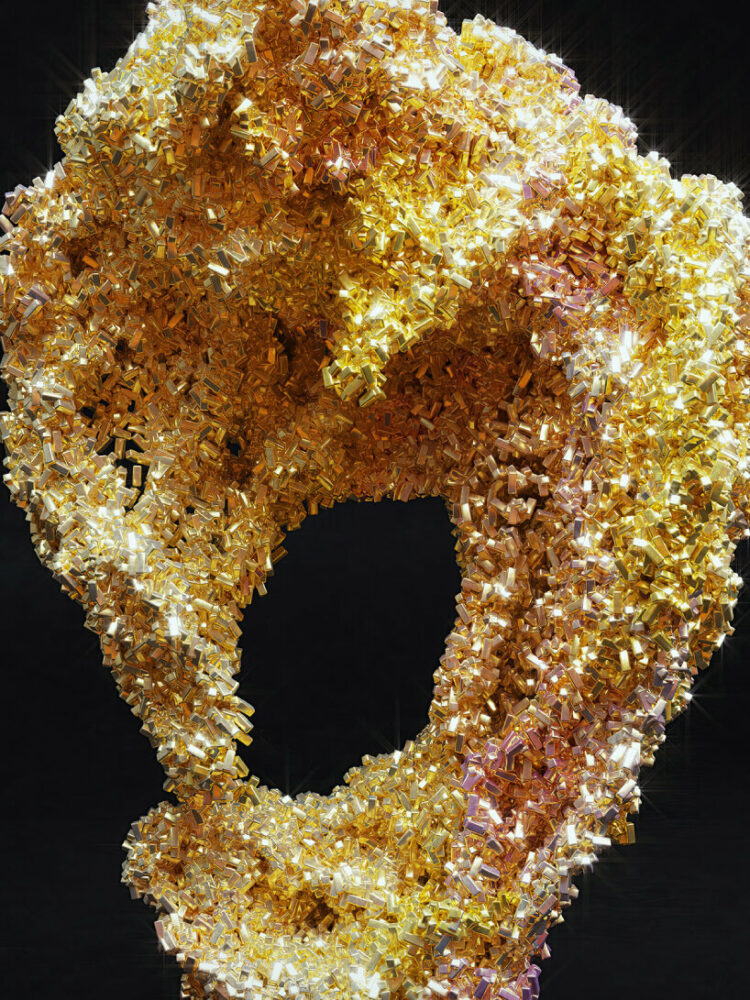 Sir Geoff Hurst World Cup Memory Voice Gem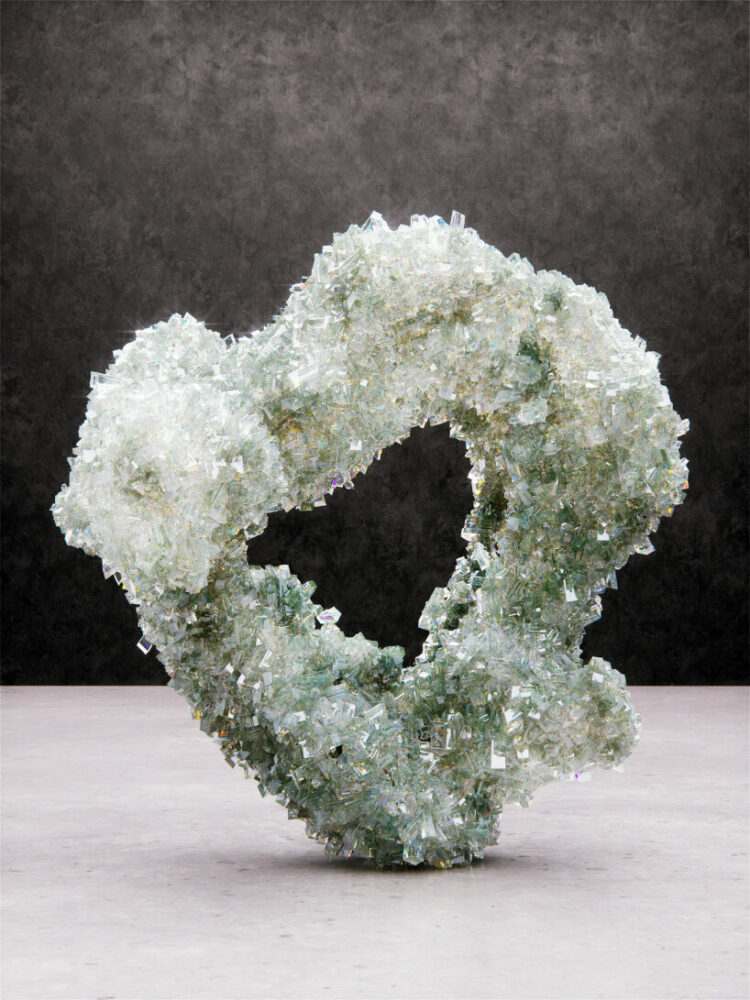 Lovers Laughter Physical Voice Gem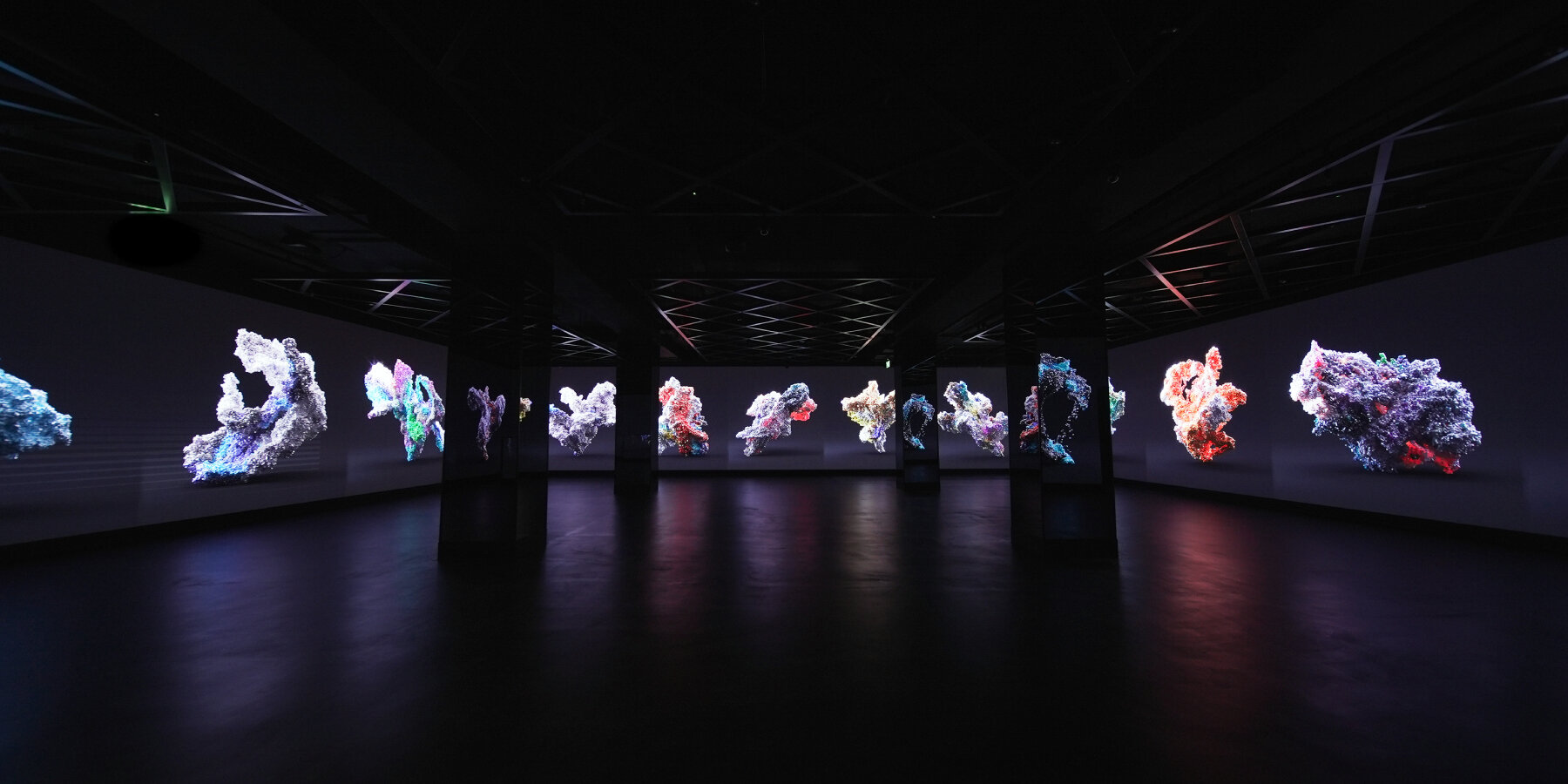 VOICE GEMS at W1 Immersive show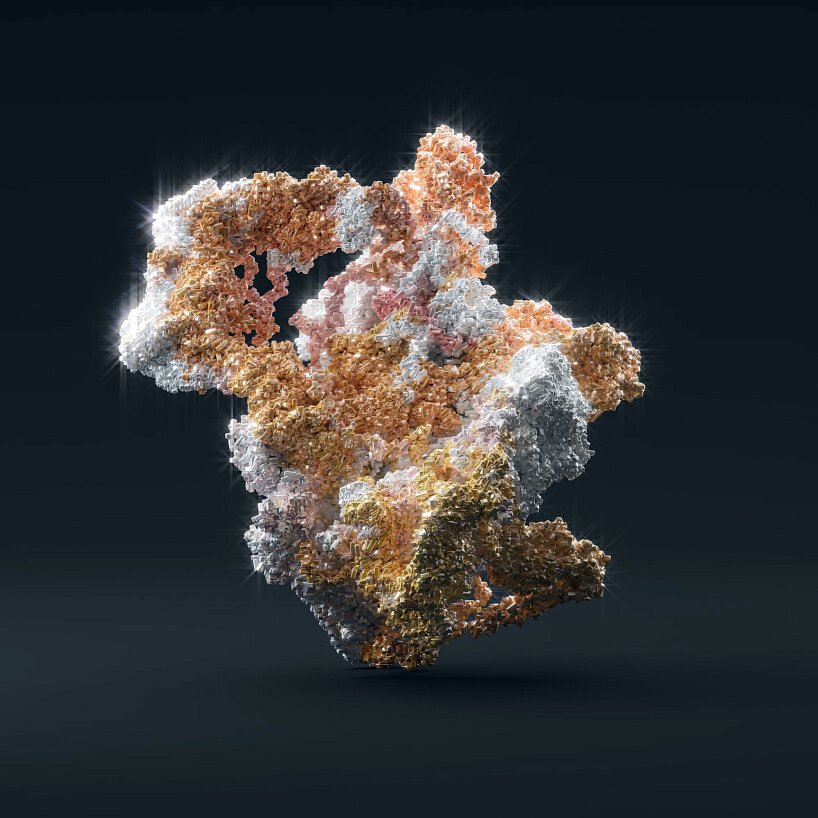 Johann Koenig Voice Gem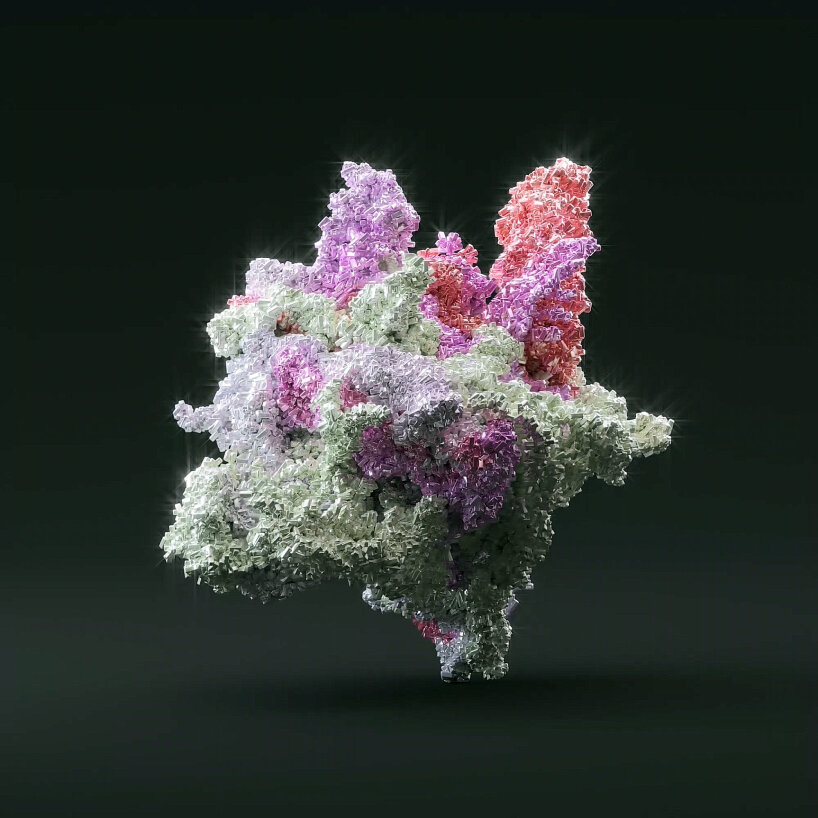 Kenny Schachter Voice Gem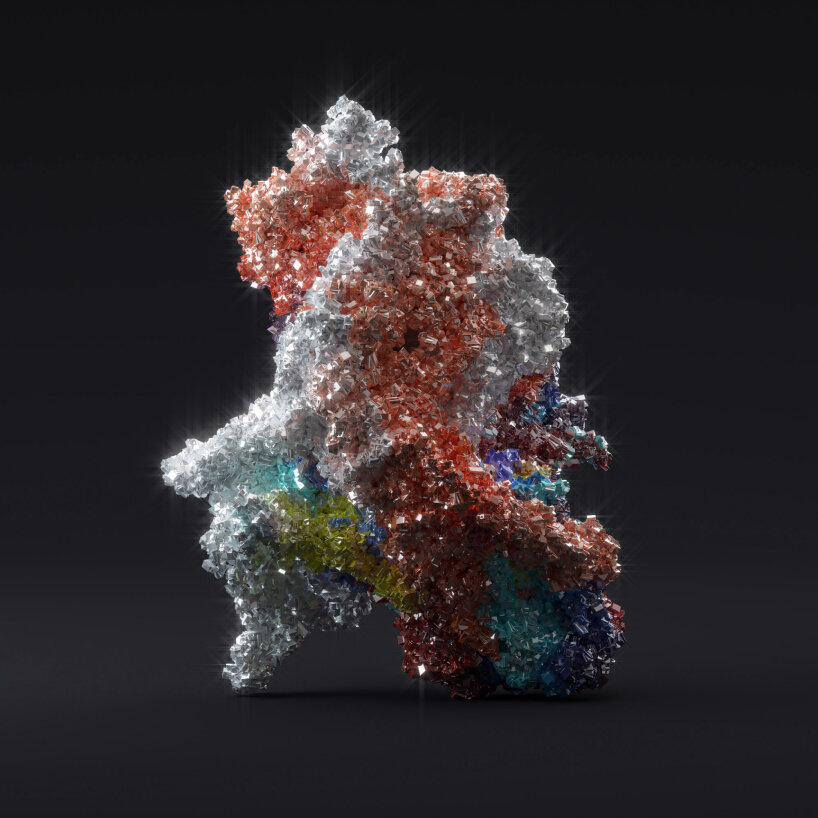 Justin Aversano Voice Gem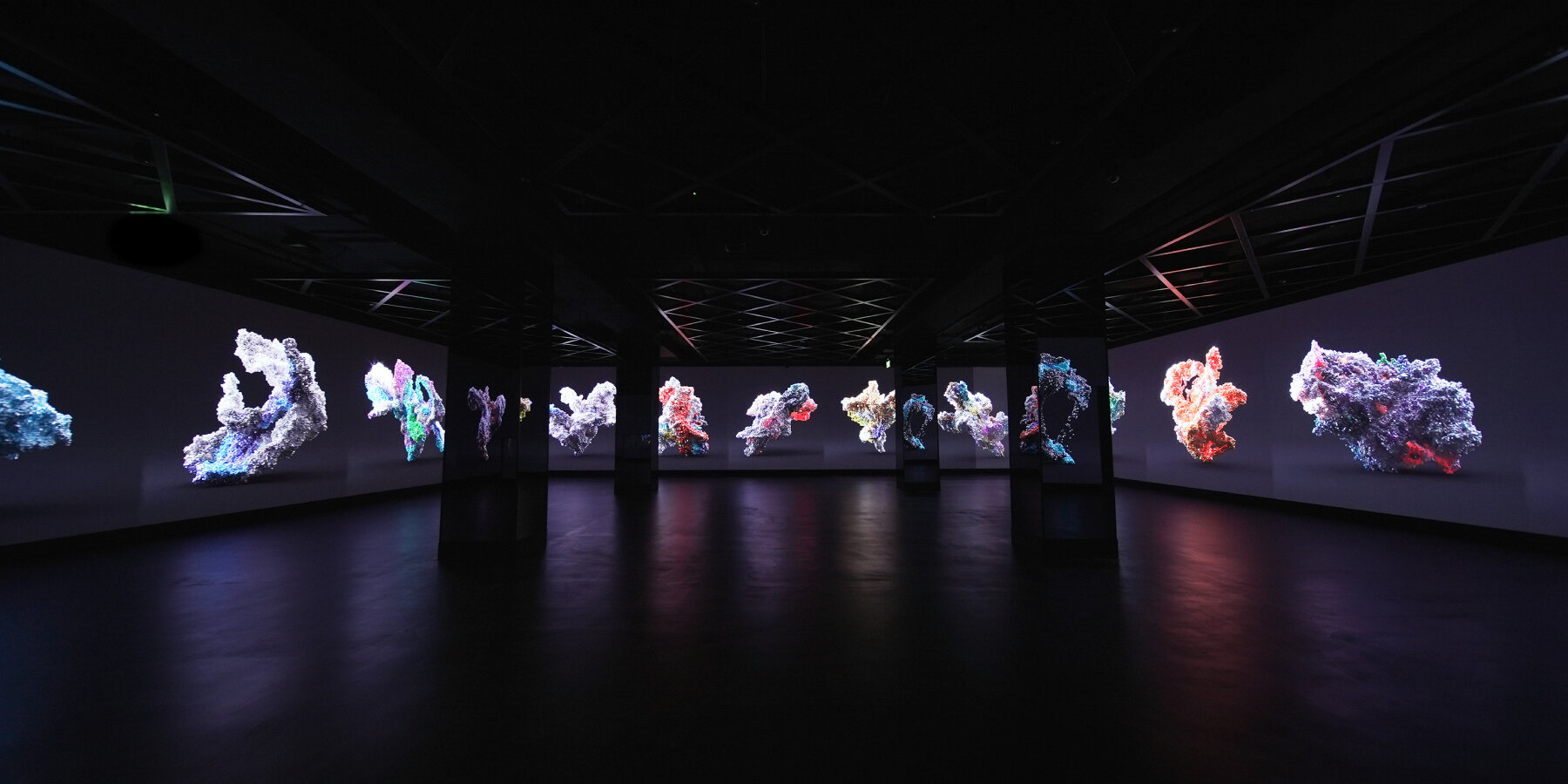 VOICE GEMS at W1 Immersive show
project info:
name: VOICE GEMS: 1000 YEAR ARCHIVE
artists: Harry Yeff (Reeps100), Trung Bao
exhibition gallery: W1 Curates
exhibition location: Oxford Street in London, England
dates: September 8th to 26th
matthew burgos | designboom
aug 31, 2022
KEEP UP WITH OUR DAILY AND WEEKLY NEWSLETTERS
a diverse digital database that acts as a valuable guide in gaining insight and information about a product directly from the manufacturer, and serves as a rich reference point in developing a project or scheme.
designboom will always be there for you
milan, new york, beijing, tokyo

,
since 1999