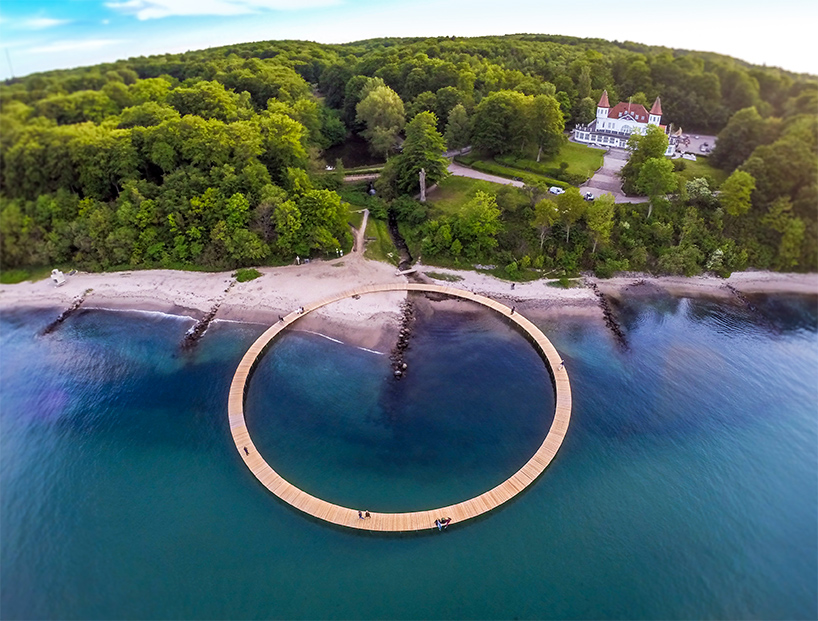 jul 07, 2015
gjøde & povlsgaard arkitekter elevates the infinite bridge over danish coast
gjøde & povlsgaard arkitekter elevate the infinite bridge over danish seaside
image © aarhus I billeder 
during this year's sculpture by the sea festival in aarhus, denmark, danish practice gjøde & povlsgaard arkitekter have added 'the infinite bridge' to the picturesque coastal landscape. the circular structure spans from the sandy shore out to sea, elevated just above the surface of the water — depending on the tide. the infinite bridge' has been realized for the exact location, and refers to a historical, demolished jetty on the site.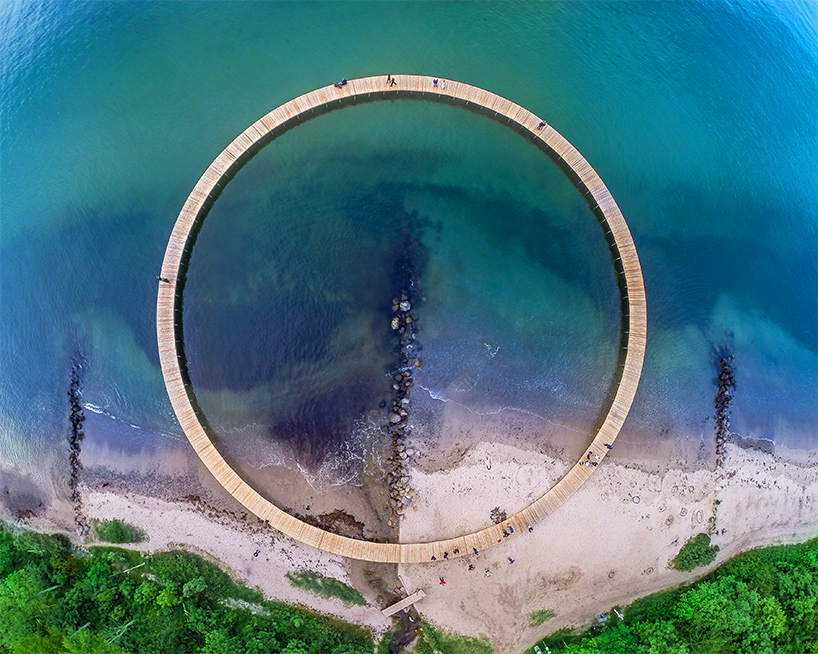 a 60-meter diameter spans from the shore out to sea 
image © aarhus I billeder 
beginning at the coast, visitors follow the ring-shaped formation from the beach to the water's depths, making their way around the vast and continuous construction.the center is situated at the end of a groin, and the construction is positioned half on the beach and half in the sea. a 60-meter diameter separates spectators on the seaside from the participating pedestrians situated at the furthest point from the coast.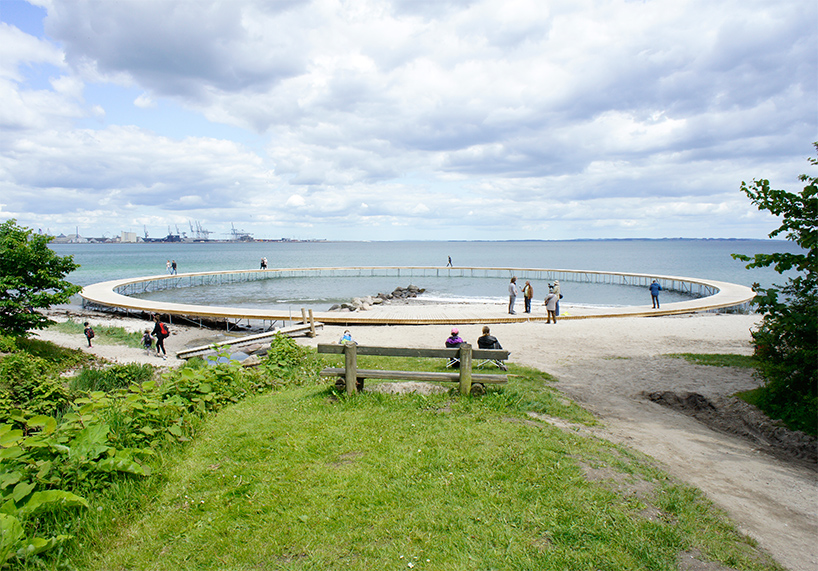 'the infinite bridge' forms a circular pathway that leads visitors around the coast 
image © danish TM
as if walking on water, those traversing the circumference of 'the infinite bridge' encounter the surrounding landscape from a variety of angles and orientations. the unparalleled vantage point, height and depth above the water offer a panoramic view otherwise unable to be experienced and enjoyed. 'from the infinite bridge it is possible to experience the city and the bay as an endless panoramic composition,' the team at gjøde & povlsgaard architects describe. 'visitors get the opportunity to take time to immerse in nature and contemplate it from new, usually inaccessible spots.'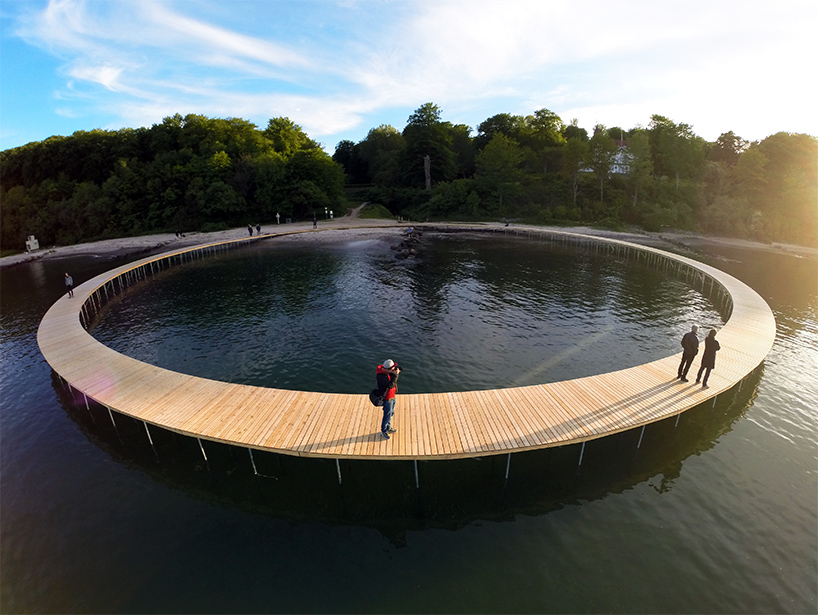 the deck leads visitors to unique vantage points of the surrounding landscape 
image © aarhus I billeder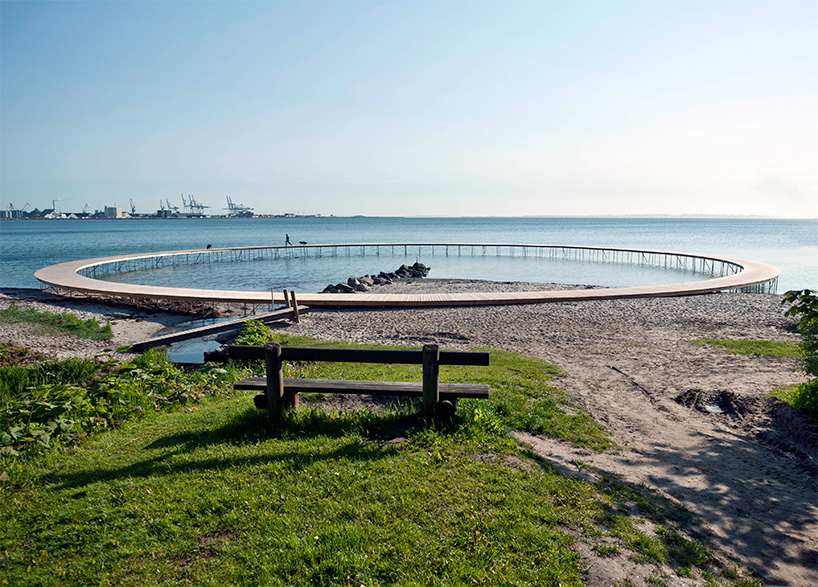 the bridge connects the beach to the inner depths of the water 
photo by ole hein petersen / courtesy of sculpture by the sea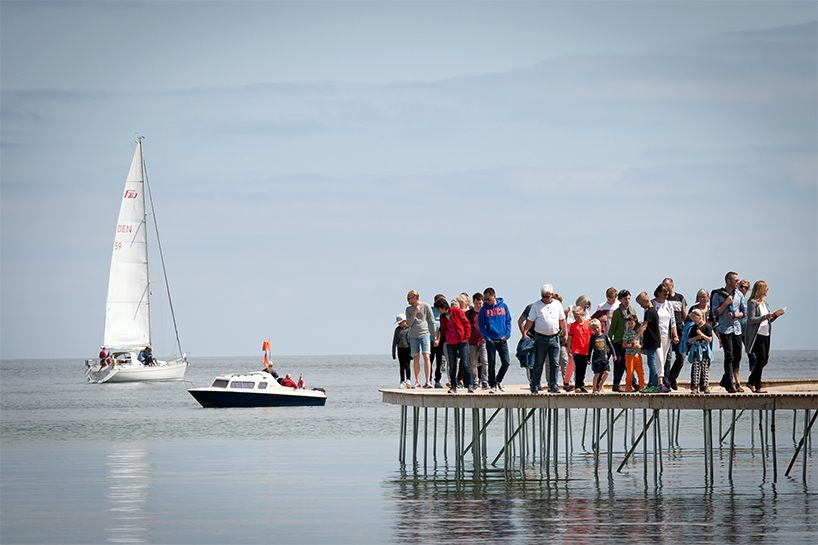 visitors walk along the circumference of the ring-shaped bridge
image © peter hastrup jensen 
nov 15, 2016
nov 15, 2016
dec 10, 2015
dec 10, 2015
jul 06, 2015
jul 06, 2015