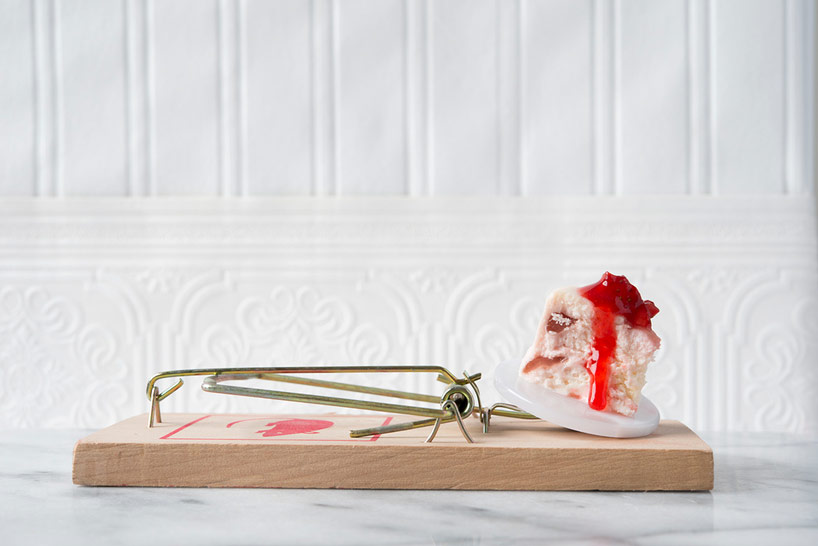 nov 05, 2013
gourmet mouse traps by davide luciano and claudia ficca
gourmet mouse traps by davide luciano and claudia ficca
'strawberry cheesecake'
digital c-print, mounted on plexiglass.
48″ x 72″;  edition of 3
all images © and courtesy davide luciano and claudia ficca
the creative couple of fine-art photographer davide luciano and food stylist claudia ficca have teamed up again to create 'gourmet mouse traps', a photography series showcasing various cheesy dishes, fit for the pickiest mouse, baited on the edge of traps. after a week-long cheese advertising shoot in new york, luciano, encouraged by his self-described 'cheesy state of mind' embraced the challenge of creating and photographing miniature, delectable food plates. creamy cheesecake, grilled cheese, layered lasagna, bagel & lox, and nachos are just a few of the gourmet, intricately crafted spreads that ficca cooked up. the ten, tiny dairy-based dishes are positioned on the catching device, set against changing environments and atmospheres. prop stylist maeve sheridan decorated each scene with diverse background wallpaper and lighting to give an impression that the traps were applied in different homes at different times throughout the day.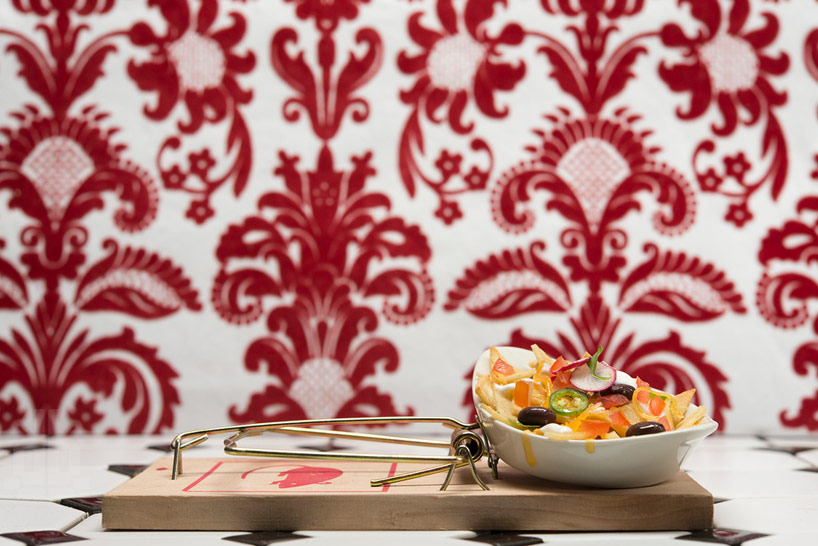 'nachos'
digital c-print, mounted on plexiglass
48″ x 72″; edition of 3
'gourmet mouse traps' marks the second endeavor in food photography for the collaborating couple, after 'meals interrupted': a series of images displaying dining tables that had been suddenly disrupted by various disasters. you can see designboom's coverage of the work, here.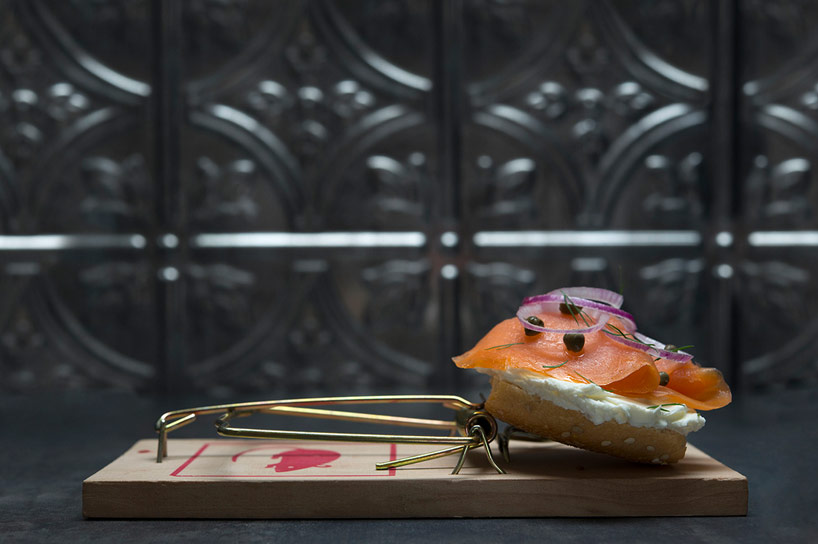 'bagel & lox'
digital c-print, mounted on plexiglass
48″ x 72″; edition of 3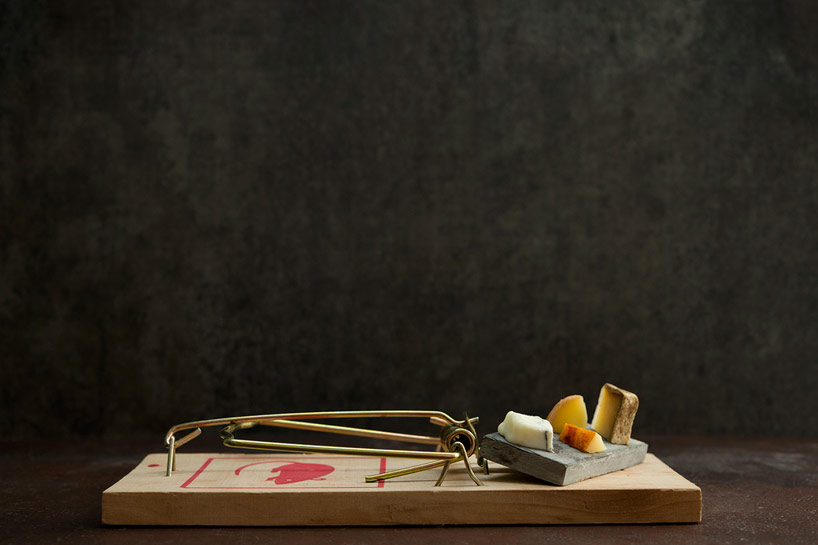 'cheese board'
digital c-print, mounted on plexiglass
48″ x 72″; edition of 3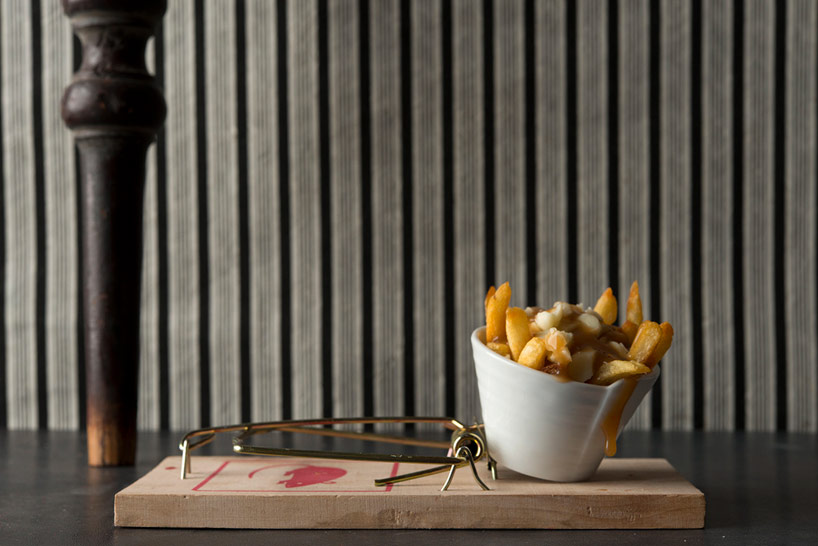 'poutine'
digital c-print, mounted on plexiglass
48″ x 72″; edition of 3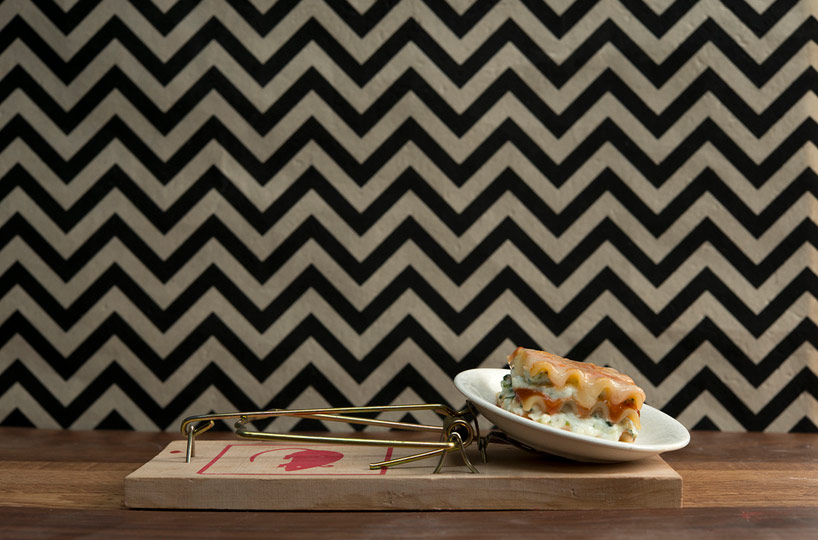 'lasagne'
digital c-print, mounted on plexiglass
48″ x 72″; edition of 3
jun 23, 2015
jun 23, 2015
jan 17, 2014
jan 17, 2014
aug 16, 2013
aug 16, 2013
jul 05, 2017
jul 05, 2017
jun 27, 2017
jun 27, 2017
jun 08, 2017
jun 08, 2017