gwangju design biennale welcomed 421 designers and 87 entities
the 61-day journey of the gwangju design biennale 2021, themed d-revolution (design revolution) comes to its end. held from september 1 to october 31 at the gwangju biennale hall and venues in gwangju, located 330 kilometers south of seoul, korea, the event hosted 421 talented designers, 87 corporate entities and design institutes in addition to international partners from 50 countries. from a squid-game inspired treasure hunt to interactive exhibitions, thousands of visitors got to navigate through the artworks both physically and virtually. for the online users, a permanent online VR exhibition platform was created with an aim of providing a 360 degree panoramic view through the exhibits, accompanied by docent guidance.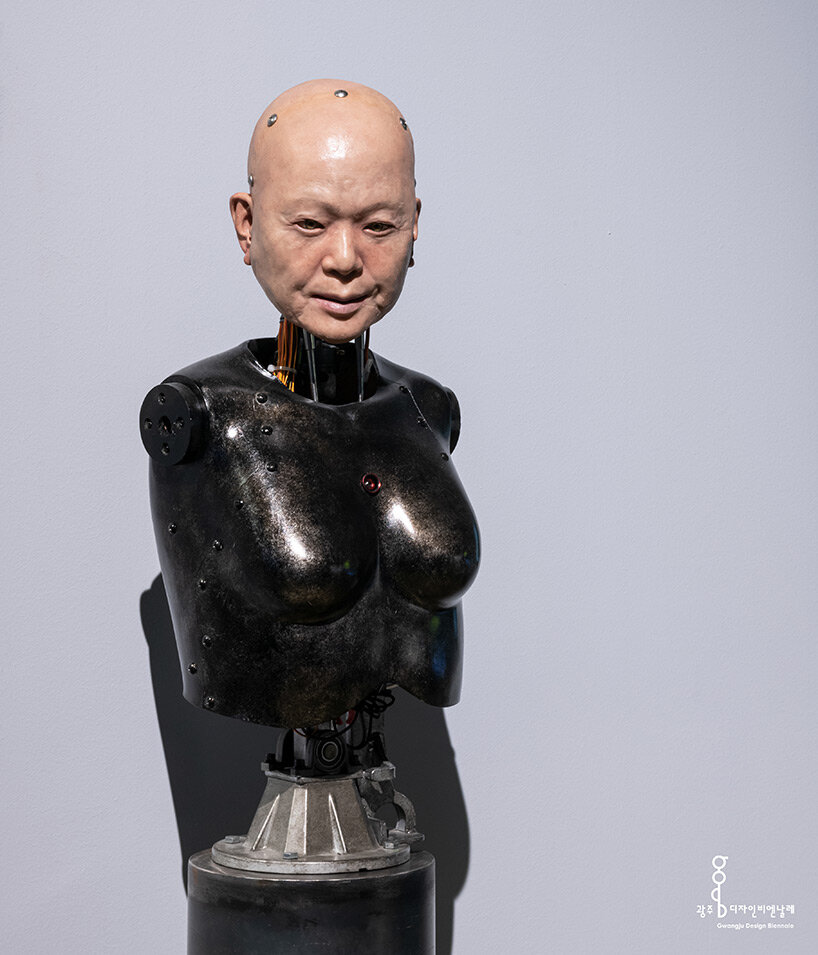 mater ex machina by jinah roh (s.korea)
all images courtesy of gwangju design biennale
directed by the general director, hyunsun kim, d-revolution challenged conventional approaches by emphasizing how design plays a significant role in offering new perspectives and solutions to issues involving humanity, technology, diversity, environment, culture, and society. in particular, the title of gwangju design biennale 2021 reflects the thoughtful deliberation that went into the event's creation. 'd' represents the various sub-themes including digital, day, data, dub, dimension, description, etc. while revolution refers to change, or evolution, which in turn signifies transformation.
safety and sanitization was taken very seriously throughout event. AI robots, partnered with zetabank, were utilized to serve as disinfection devices and docent guides that move around the exhibition spaces. these autonomous devices and guides provided effective sterilizing solutions.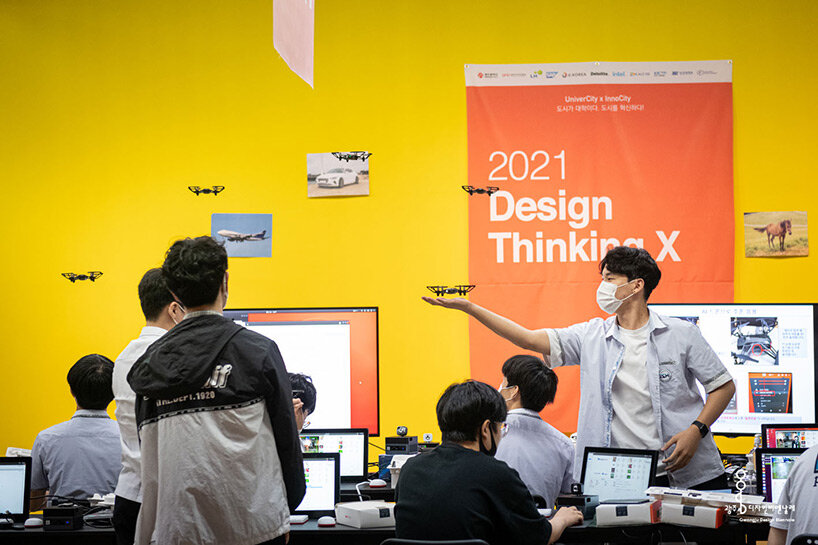 design thinking workshop '2021 design thinking X'
d-revolution held exhibitions, forums, a design-thinking lab and educational workshops
through the hi-tech exhibitions, the visitors were invited to pause, rethink, and reflect of their own interpretation of the theme, while over a thousand of fascinating and engaging displays were offering a message of hope, optimism, and positivity. 'I wanted to convey a message to people that there is light in this temporary darkness through the power of design,' general director, hyunsun kim commented.
besides the interactive installations, an international academic forum, a design thinking lab and educational workshops also took over the gwangju at venues. as part of the forum, the renowned experts were invited to speak about current topic and discuss relevant issues, while the lab cultivated creative thinking solutions using design and AI related technologies and educating participants of the importance of sustainable cities.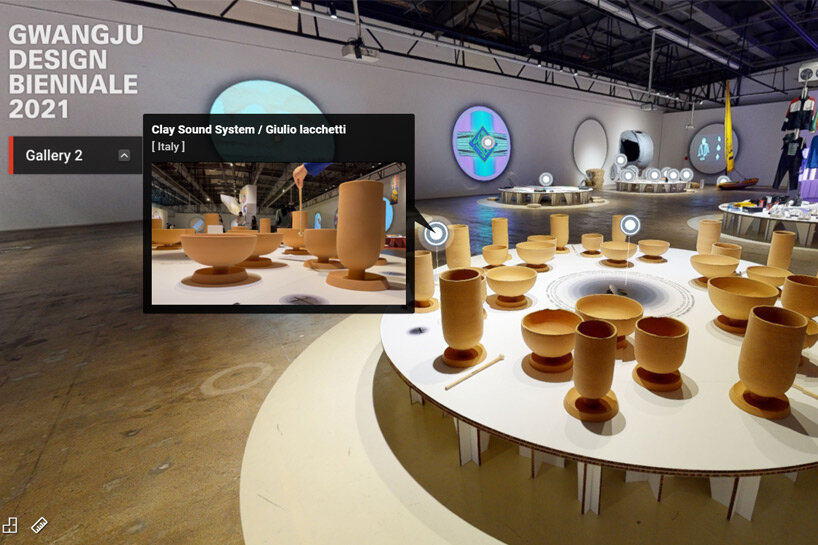 what the virtual exhibition platform looks like online
a squid-game inspired virtual treasure hunt was hosted
with the ease to remotely navigate through the works, a particular exciting opportunity unraveled. inspired by squid game, a scavenger treasure hunt was created in the form of a VR online exhibition platform. as the netflix aired show has taken the world by storm, the gwangju design biennale 2021 surprised the local and international visitors who wanted to participate from home. with the treasures hidden virtually within the exhibitions and with prizes ranging from a luxury massage chair to KTX express train tickets, the idea was a huge hit.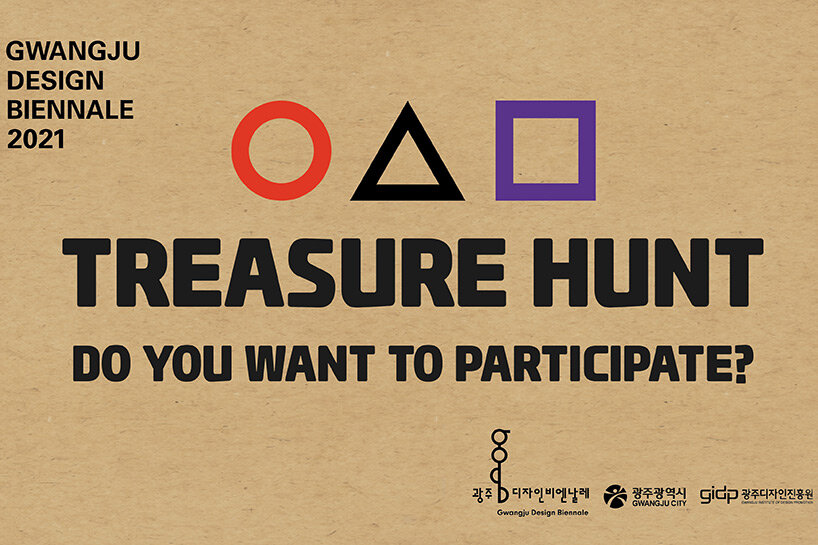 virtual invitation to the squid game treasure hunt
the exhibition featured both analog and futuristic installations with hi-tech aspects categorized into five themes: d-revolution and beyond; DUB revolution, DNA X, d-revolution for evolution, and d-revolution for gwangju's revolution through design. below, some highlighted projects reveal the event's creativity.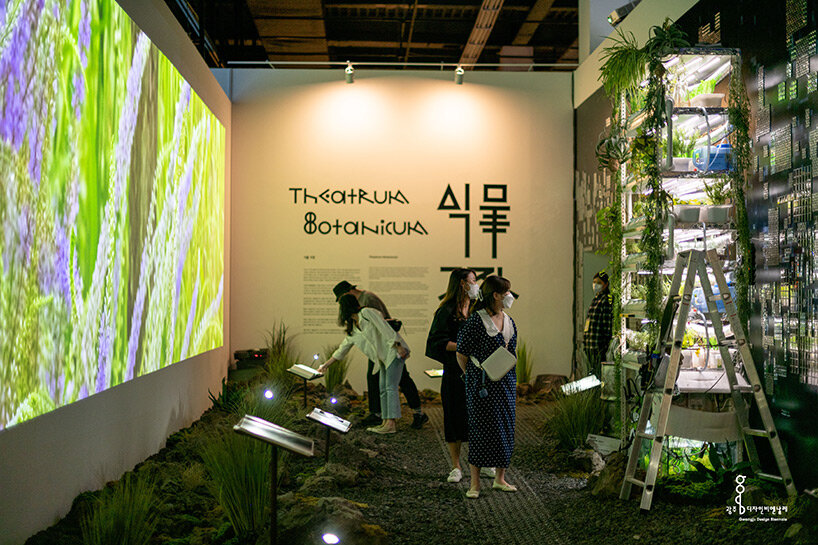 theatrum botanicum by kyungjin Jo (s.korea), nakajima juri (japan), korea land and housing co. (s.korea)
the 'theatrum botanicum' exhibition explores various aspects of the future garden in the concept of 'plant theater', especially in the face of COVID-19. its first theme is the 'botanical garden' positioned close living spaces, where an abundance of plants serve to satisfy the five senses. a video captures the creation of an example garden in a shared park. the second theme, 'plant factories', demonstrates a change in lifestyle in which plants are cultivated and consumed in everyday spaces in a way for zero carbon. the third theme is 'plant books' that record the dreams, plans and creation of a garden – often perceived as a place of extremely personal memories and desires.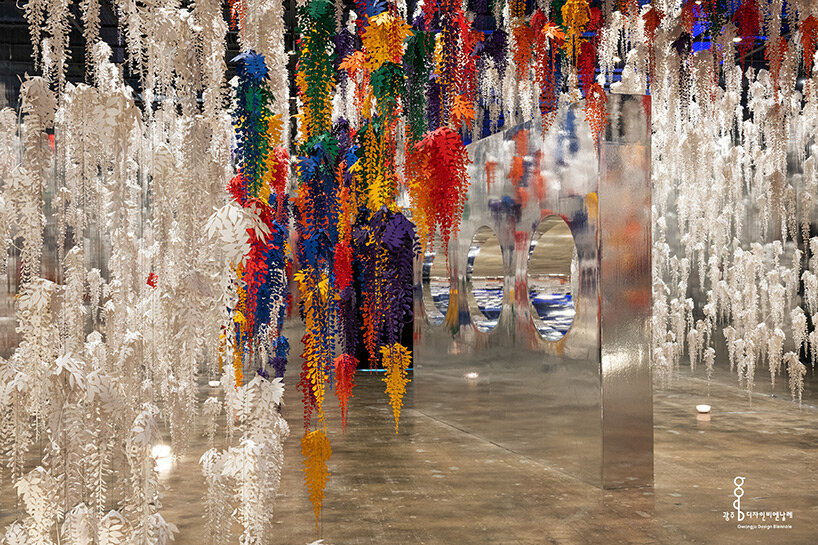 'from color to eternity' by wanda barcelona x D MUSEUM
'from color to eternity' is a collaboration between wanda barcelona (spain) and D museum (south korea). walking into the space, visitors were left awestruck by 4,000 hand-made paper flowers symbolizing wisteria flowers with a sense of healing. it was a magical scene of timeless splendor in which the monochromatic and colorful flowers communicated with the audience through seemingly natural beauty.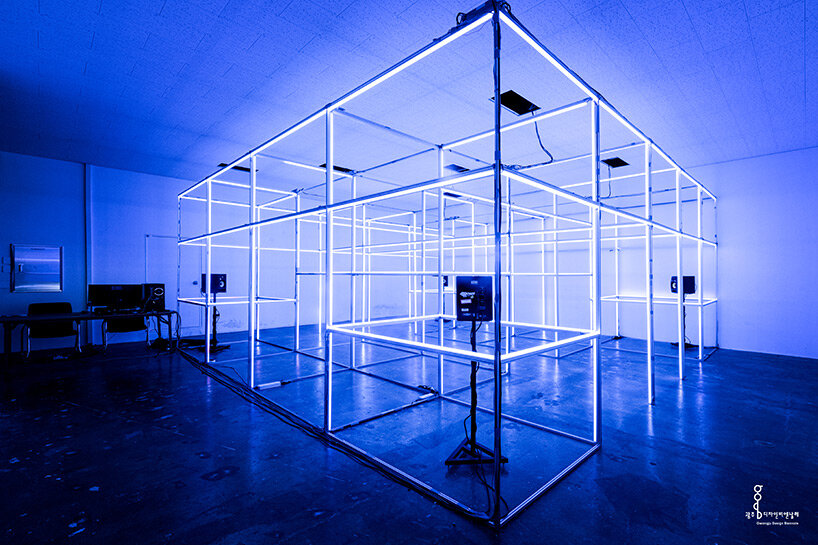 'spirits untangled' by EASThug (south korea)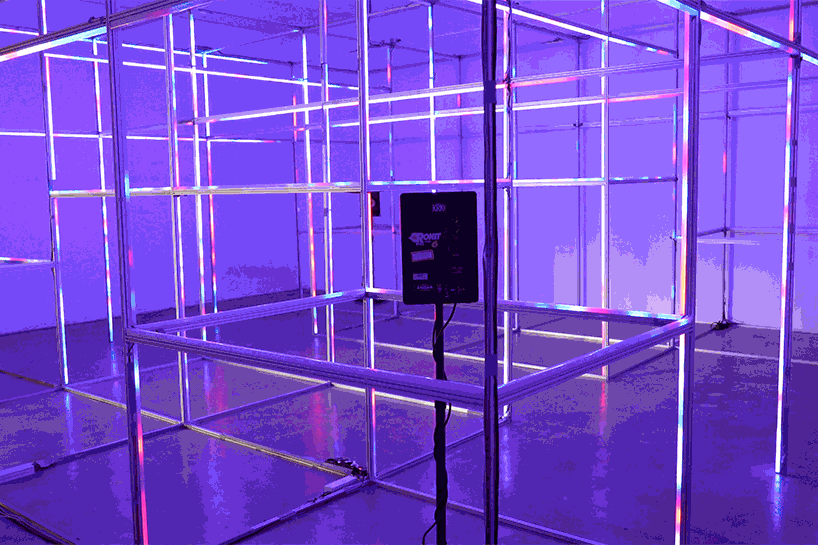 'spirits untangled' in motion
'spirits untangled' represents the process of unwinding and tying by combining rhythmic gut (goot) music and media art. with tribute to the korean traditional shaman of ritual offering sacrifices to gods, spirits, ancestors, the work involves modern electronic trance beats. the visitors were invited to be entangled in the maze and then to symbolically untangle themselves from their worries and struggles. aesthetically, the lights of the maze serve as a reminder to look on the bright side during times of uncertainties.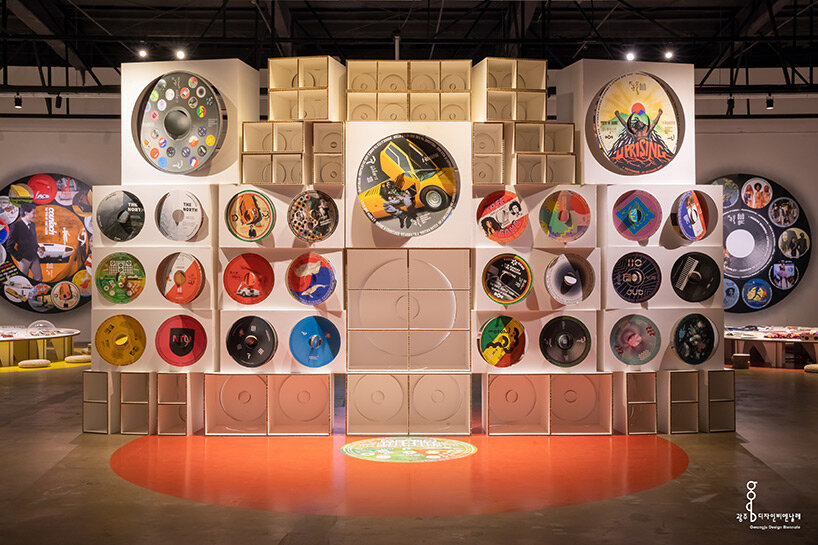 'sounDUB system' by MOTOelastico (south korea) x FUNNYPAPER (south korea)
sounDUB system is a welcoming artwork consisting of a large wall of visual elements with labels representing each exhibitor in the DUB revolution hall. designed by MOTOelastico and fabricated by FUNNYPAPER, the media wall installation took an inspiration from jamaican sound systems that represent pre-digital means of communication. the work explored artistic revolution and celebrated the jamaican root of DUB – 'dubbing' (mixing) international elements with local flavors. to introduce DUB, the biennale invited reggae historian roger steffens and designer cedella marley to feature a first imaginary bob marley korean tour with vinyls and turntables.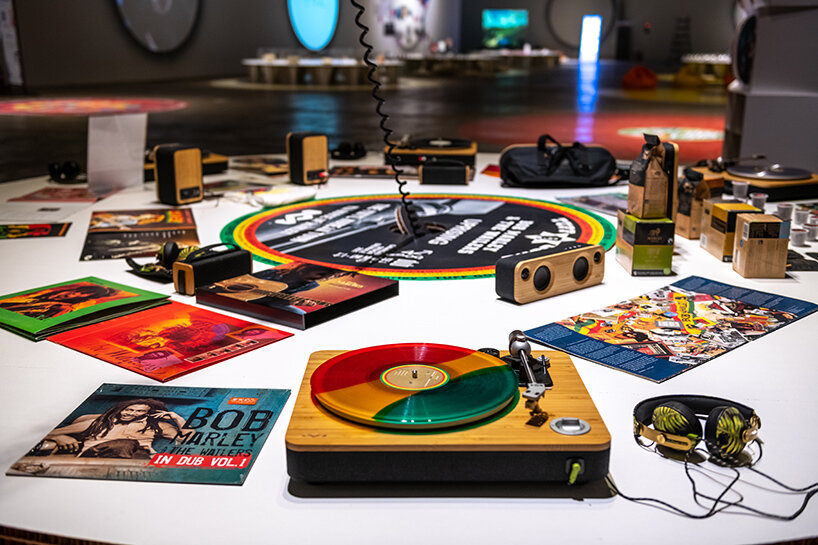 marley DUB by cedella marley (jamaica, USA, s.korea)
for the first time in korea, the design biennale presents the global cultural contribution of icon bob marley, whose work transcends music to lead social revolution too. an imaginary vinyl korean tour celebrates his 1980 album 'uprising', which was the same year the gwangju democratic uprisings took place. this project invites visitors to play colorful vinyl records via house of marley turntables, headphones and speakers, and explore the eco-philosophy of the marley brand.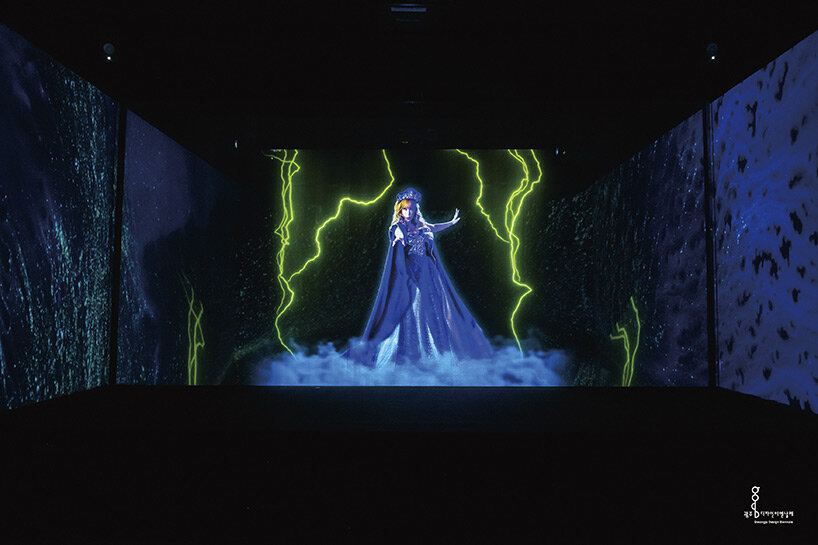 hologram theater for sumi jo by seoul arts center (s. korea)
a hologram theater of multi-award winning and worldly-renowned soprano sumi jo brings the music and design worlds together. visitors got carried away by her vivaciously conducted voice and her virtuosic performance presented artificially.

moleskine & moleskine foundation (italy)
moleskine and moleskine foundation, product designer and papermaker, is known for its luxury notebooks, stationery, journals and more. their goal was to use creativity as a tool for social change to spread a culture of sharing and giving by allowing people to organize their thoughts and ideas. at the installation, visitors were invited to experiment in analog ways. children, adults and elderly didn't miss any opportunity to engage and communicate on the busy table.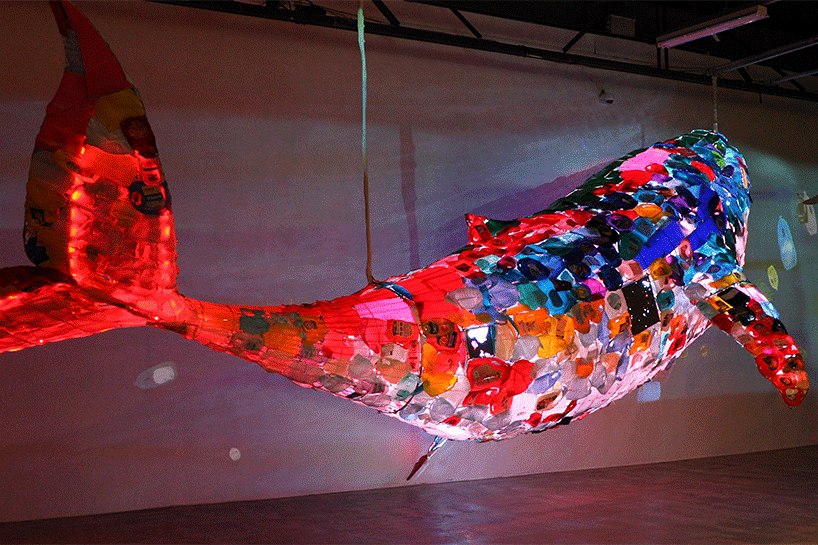 'whales floating in space – saving whales is saving humans' by sang yeon kim (s.korea)
a media art project 'whale floating in space – saving whales is saving humans' is the story of a whale swimming through the ocean and collecting marine wastes with the energy of waves being expanded with AI technology. this thought-provoking work made of plastics, metal and marine waste was made to raise awareness and to remind visitors that sea animals are endangered. the gigantic, eye-catching whale sculpture measures about 5.6m (width) by 2.8m (height) and is the first direct AI encounter at the 2021 edition. with an audiovisual background, videos of whales groaning in a contaminated sea in the background forces viewers to reflect upon the urgency of their plight.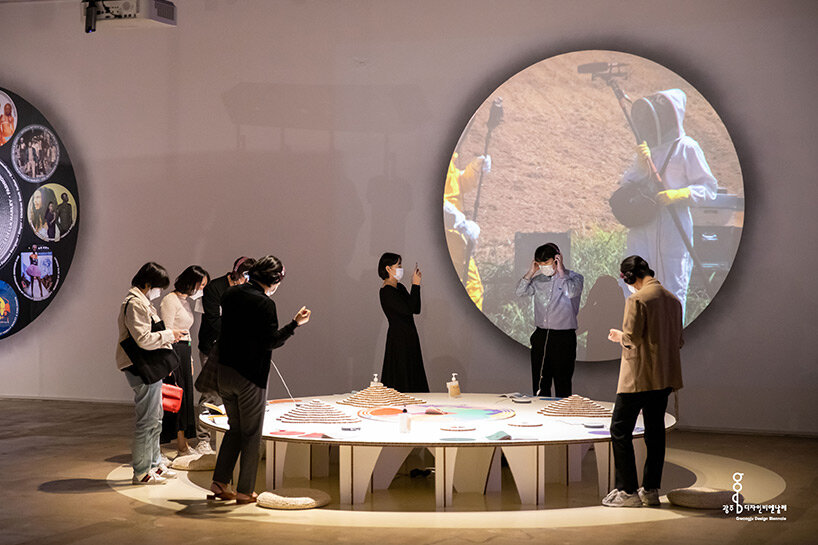 'earthphonia' by max casacci x marino capitanio (italy)
'earthphonia' led by max casacci is a sound project that combines the sounds of nature, urban noises, calls of animals, and snaps of the breaking roots, which are then transformed into music without instruments. 8 natural elements spoke to visitors, transporting them into nature. in addition to the release of 'strombolian activity' featuring the voice of alfio antico, a video by graphic designer marino capitanio was premiered, merging everything together.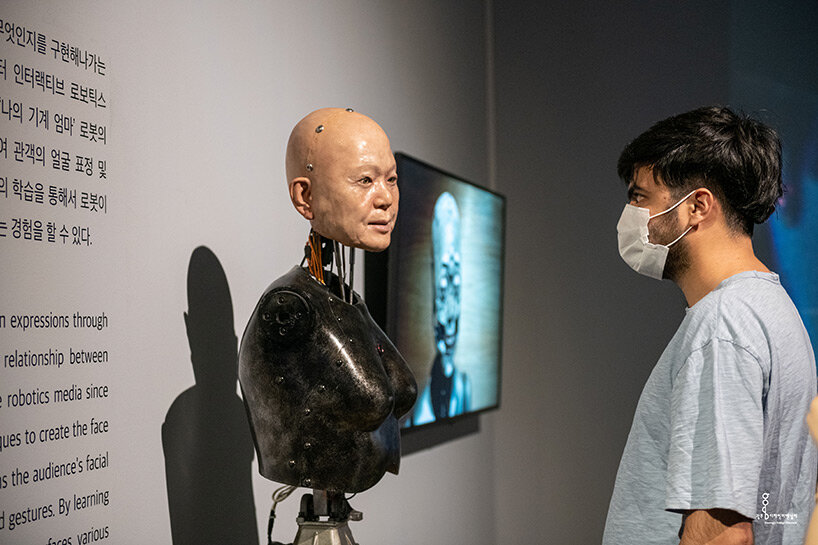 mater ex machina by jinah roh (s.korea)
'mater ex machina' is a robot that learns human expressions through machine learning to embody the relationship between man and technology. jinah roh, an interactive media artist, used traditional sculpting techniques to create the face of the robot modelled on her own mother. the humanoid learns the audience's facial expressions, accumulates data, and imitates these gestures to visitors. these behaviors of the bot convey an emotional warmth and empathy, expanding the potential relationship with humans.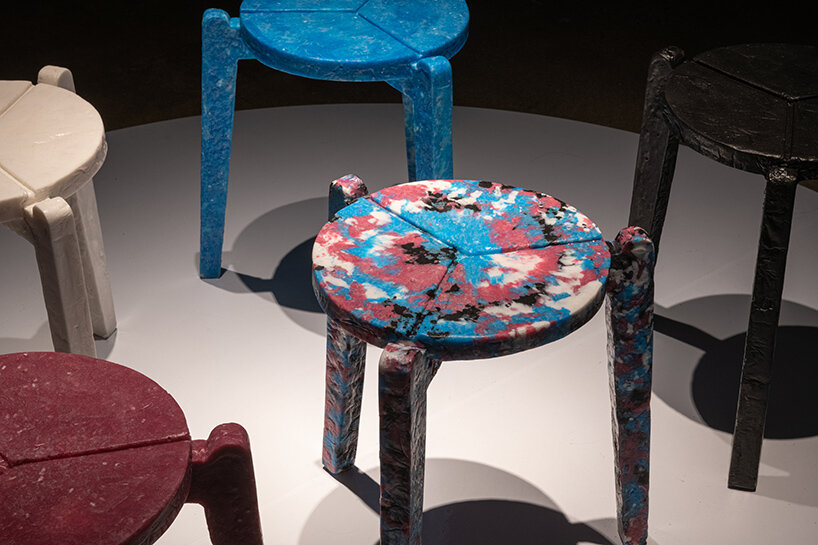 'stack and stack (in pandemic)' by haneul kim (s.korea)
'stack and stack (in pandemic)' by upcoming seoul-based designer haneul kim designed an eco-friendly solution that reuses the great amount of masks discarded during the pandemic. the creative melted and molded thousands of waste masks to create unique stackable stools. the project highlights the need for designers to take action in raising awareness as well as solving ongoing environmental problems.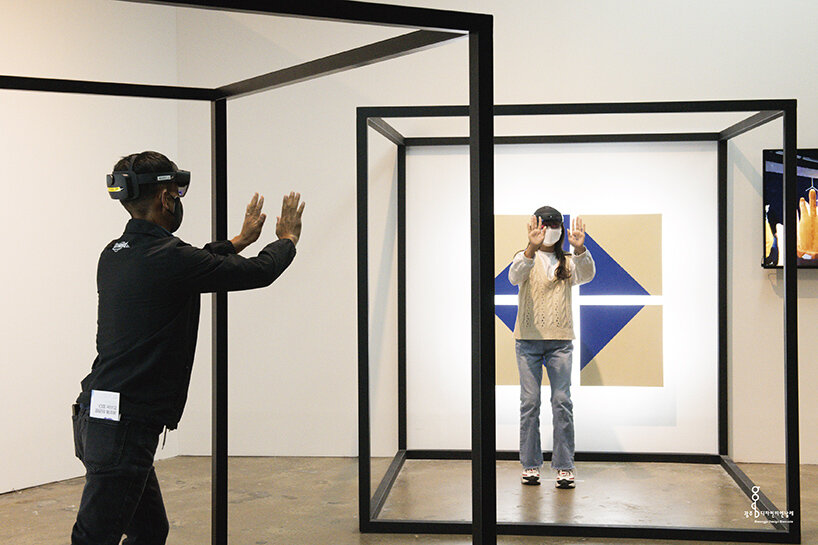 experience metaverse through hololens 2 by microsoft korea, SPK (s.korea)
the 'experience metaverse through microsoft hololens 2' exhibition explores the not-to-distant future of mixed reality technology, as digital communication increases in popularity due to the COVID-19 pandemic. mixed reality platform, microsoft mesh, enables visitors to experience interaction in both the real and digital world. 'hololens 2' is a depth sensor with a built-in artificial intelligence sensor that recognizes gestures, such as hand movements, voice and eye gazes, without a remote control. this means users feel a more immersive experience. the exhibition welcomed visitors to meet in a lively hybrid environment without limitations of space or hygiene.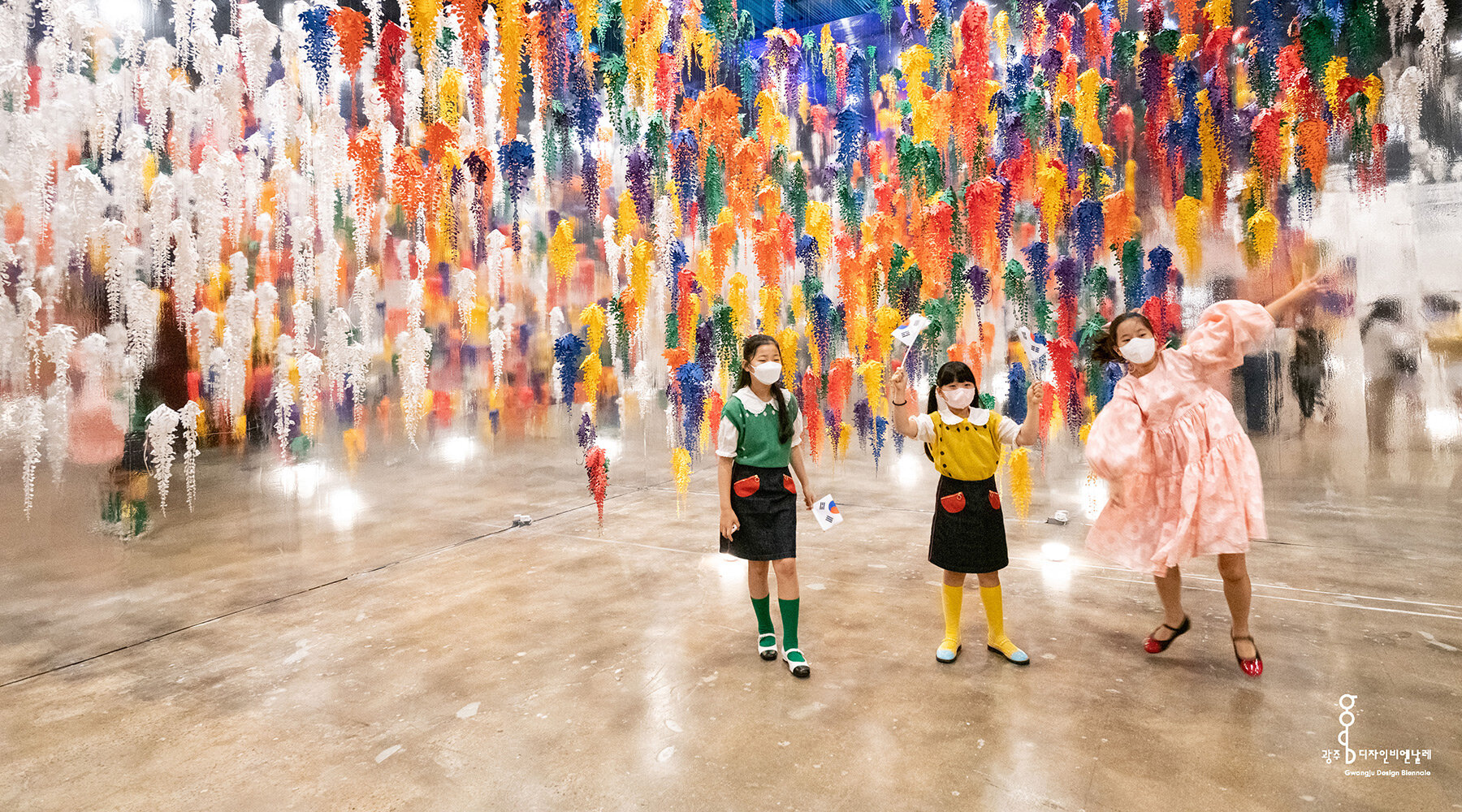 'from color to eternity' by wanda barcelona x D museum
halloween at the gwangju design biennale 2021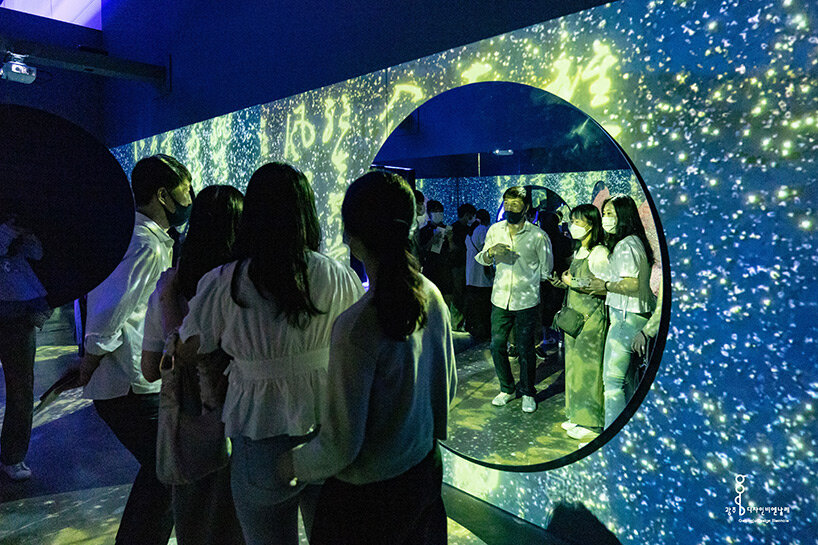 DNA landscape by lee leenam (s.korea)
XTRA by junehong kim@ZANYBROS and seoyoung park@ARTOFSEYOUNG (south korea)
DUB installation designed by cedella marley & bob marley, curated by simone carena & minji kim
'rêvolutionner' curated by nodesign (france)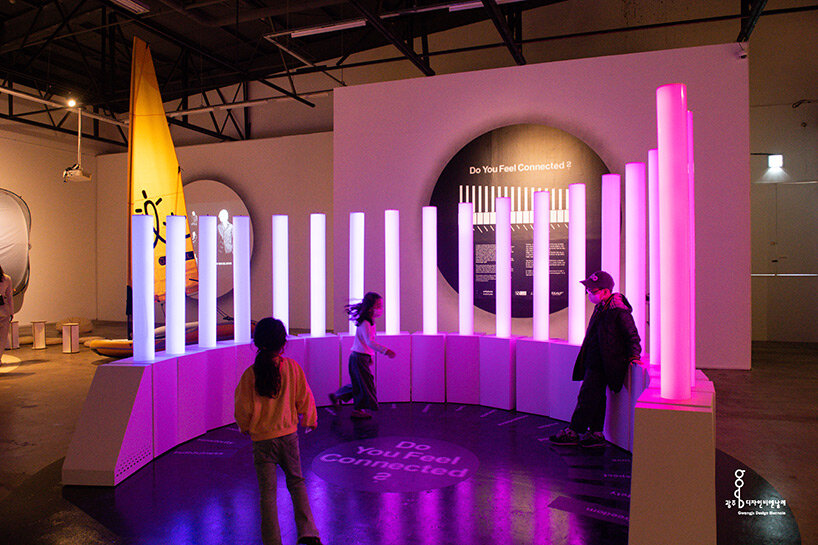 do you feel connected? by infuture institute (poland)
unified by minha yang (s.korea)
digital windy bamboo grove by jungsun park (s.korea)
future autonomous vehicle XR lab by seungjun kim and GIST students (s.korea)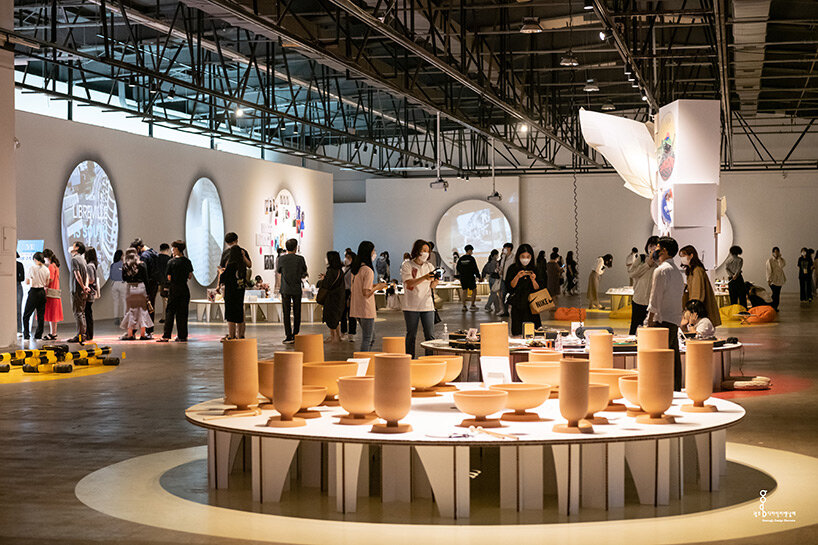 clay sound system by giulio iacchetti (italy)
exhibition info:
name: gwangju design biennale 2021
theme: d-revolution
general director: hyunsun kim
organized by: gwangju institute of design promotion
VR exhibition: www.gdbvr.or.kr
location: gwangju design biennale exhibition hall/ gwangju institute of design promotion
dates: 01 september – 31 october, 2021
for the article, the relevant data was coordinated with jisoo moon, a project manager of the GDB, gwangju institute of design promotion.
KEEP UP WITH OUR DAILY AND WEEKLY NEWSLETTERS
a diverse digital database that acts as a valuable guide in gaining insight and information about a product directly from the manufacturer, and serves as a rich reference point in developing a project or scheme.
designboom will always be there for you
milan, new york, beijing, tokyo

,
since 1999