herman de vries collects and catalogs nature inside the dutch pavilion at the venice art biennale
photo by judith jockel
dutch artist herman de vries represents the netherlands at the dutch pavilion for the 2015 venice art biennale. de vries' background as a horticulturist and natural scientist offers visitors to the exhibition 'to be all ways to be' a look at both the unity and diversity of the world around us, presented through sculptures, works on paper, photography and an expansive range of objects.
de vries collects, catalogs, isolates and displays items found in nature. experienced through all five senses, the works within the dutch pavilion question the relationships that exist between nature and culture, and the ways in which they affect and influence one another. the exhibition and its title (to be all ways to be), curated by colin huizing and cees de boer, expresses the idea that human existence takes many divergent paths, none of which is superior or inferior to the other.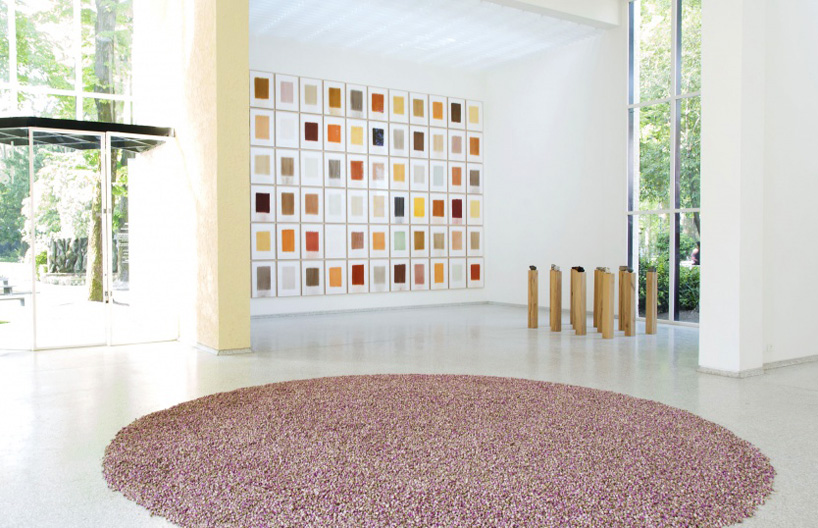 overview of 'from earth: everywhere', 'the stones' and '108 pound rosa damascena'
image © designboom
'from earth: everywhere' is a wall sized tableau comprising 84 earth rubbings on paper. de vries has collected soil samples from different locations all over the world on his many travels, forming a sort of personal earth museum.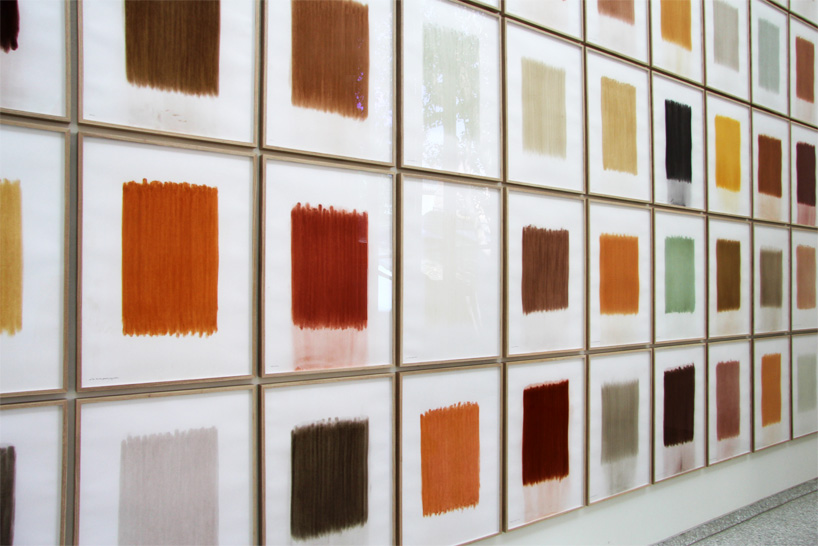 collected samples from different locations all over the world are framed on paper sheets
image © designboom
earth is a traditional and natural pigment that has the potential to visually characterize the quality of the land, while symbolically telling us something about the spirit and society of a civilization. most of the material presented in this tableau at the dutch pavilion is sourced from surfaces of land that have been cultivated, such as fields and paths.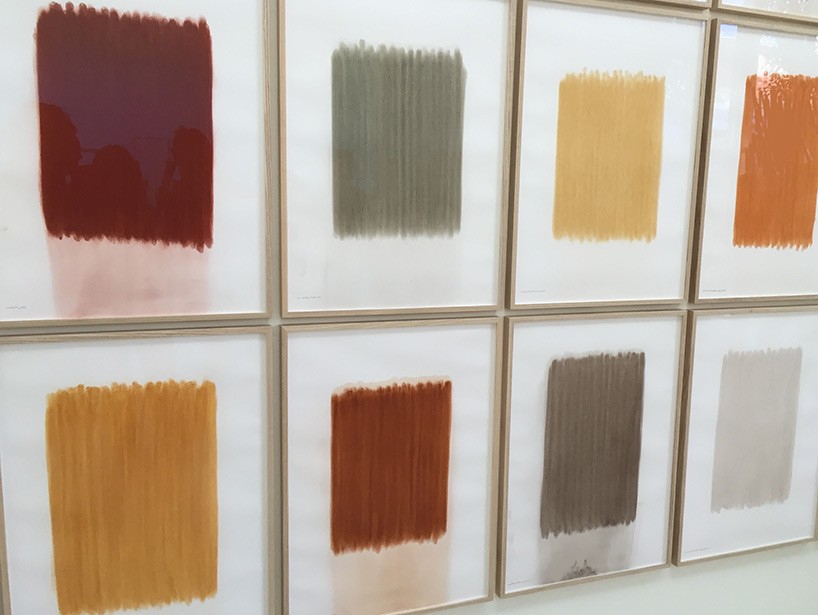 rubbings from some of the earth museum's more than 8000 different samples
image © designboom
the distinct hues and tones of these earth samples is, in part, determined by the growth of surrounding plants and trees, but also by human intervention. the earth we walk on has a history of which we play a major part. by means of a minimal action — rubbing the earth on paper — de vries reveals that human and natural diversity is, at the same time, a physical and intangible fact.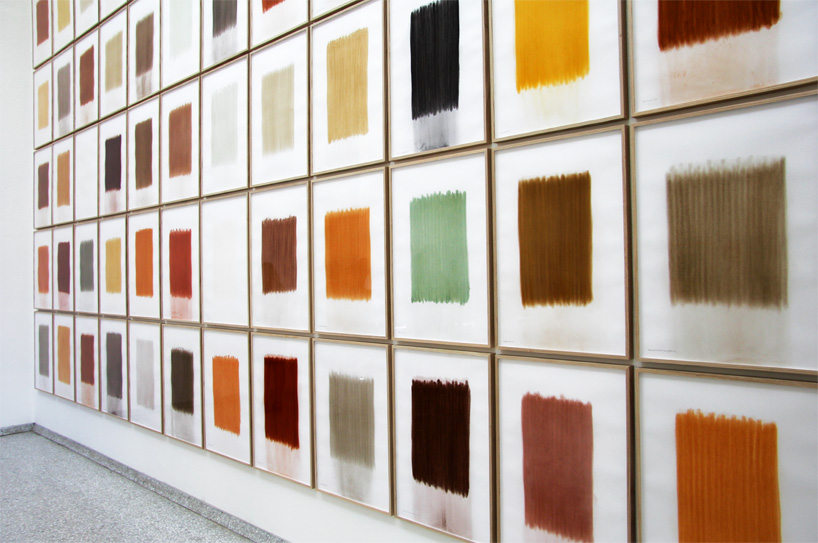 the natural pigment visually characterizes the distinct quality of the land it is sourced from
image © designboom
'one of the 84 colours on show is from australia – a yellow. do you remember the moment you collected it?' db
'it comes from ormiston gorge. it is a spot where the aboriginals have collected the earth for thousands of years. it's probably the oldest paint material on earth. that is what I do when I collect — I like the original. I don't want a photo.' herman de vries
each rubbing is created by the minimal swipe of the artist's hand. vaguely visible finger marks add to the organic quality of each rectangular composition. the rows of tones range from a rusty orange to a forest green, to a faint grey and dusty rose, each describing the character of the land that it comes from based on the color it emits.
'neither dogmatic nor political, but engaged from a personal, recognisable and generally applicable perspective — nature as art?' db
'sample of soil from all over the world are turned into areas of colour, to show how many different colours the soil over which normaly one walks without thinking, can have: mustard yellow, red, white or green… I wish to transmit an increased awareness what nature presents and what is our primary reality.' herman de vries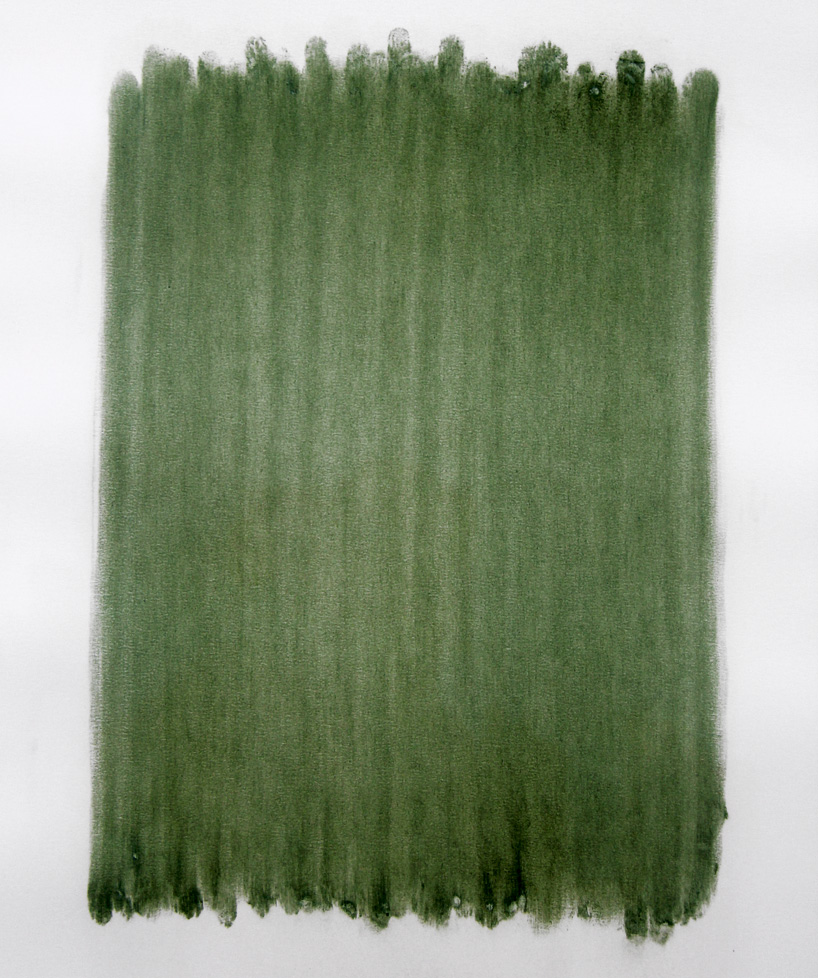 the rubbings are created by the minimal swipe of the artist's hand
image © designboom


to be all ways to be – herman de vries – venice biennale 2015
video courtesy of vince de vries

'the stones' represent 12 fragments of reality as 12 works of art. de vries has collected these naturally-shaped pieces of earth and exhibits them on tall wooden plinths, showing them as nothing but themselves. the raw wooden pedestal acts as a tool which turns each stone into a sculpture.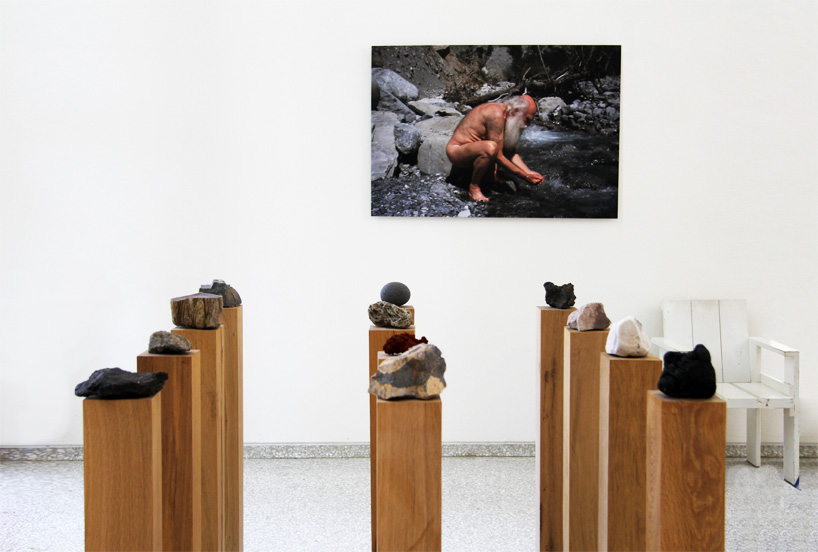 12 stones are presented on tall wooden plinths. on the wall there is a photograph of the artist 'drinking from the stream'.
image © designboom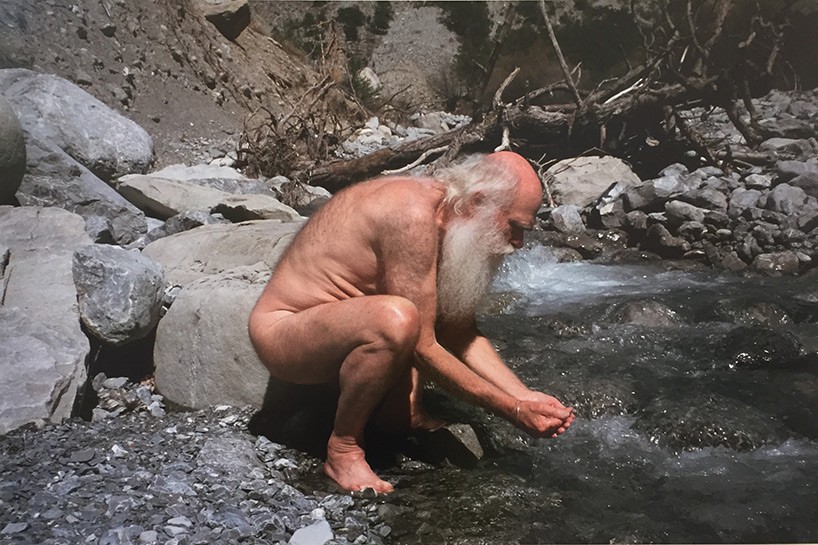 herman de vries 'drinking from the stream', 2011 -15
'is this connected with the fountain of youth?' db
'the source and the stream are metaphores for life. waterfalls were used very often by artists like duchamp, bruce nauman did a self portrait as a fountain, ingres pictured a nymph holding a jar from which the water is falling … drinking from the stream shows a relationship to the basic aspect of our life. when I say 'from the stream' or 'from a source' I show that stream is a word I can use in many ways. the water is in us, I drink it, I piss it out again, it streams through me and it's participating in a stream. when I take it from the source, it comes from the origin of the stream, which goes through me. 'stream' can also be used for the great process in which we are participating.' herman de vries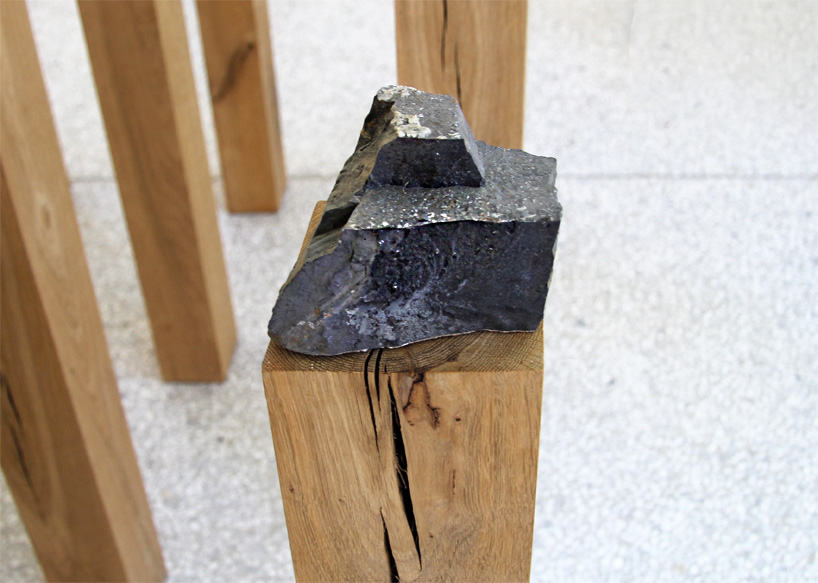 the stones are shown as nothing but themselves
image © designboom
the work alludes to 'scholar stones' from china, korea and japan, referring to naturally shaped rocks that are widely appreciated for their aesthetic appeal and resemblance to mountainous landscapes. their artistic value comes, not because they have been shaped by a human hand, but because they are formed by natural processes. this kind of attitude towards nature has roots in taoism and zen buddhism and has influenced de vries since the 1950s.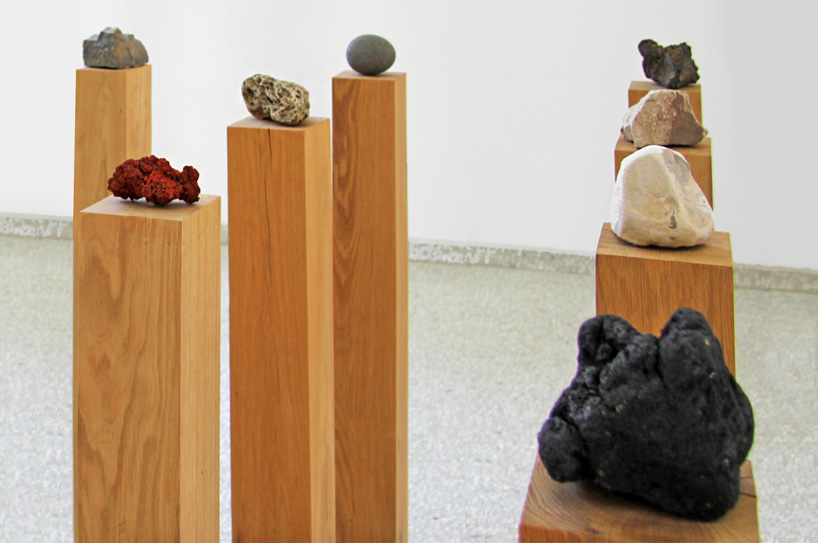 de vries encourages the viewer to study the objects without questioning what they should look like
image © designboom
however, for this work, he deliberately seeks a contrast between oriental and western approaches: the stones he has chosen to exhibit do not to resemble anything else. de vries encourages the viewer to study what is there without questioning what something looks like or is reminiscent of.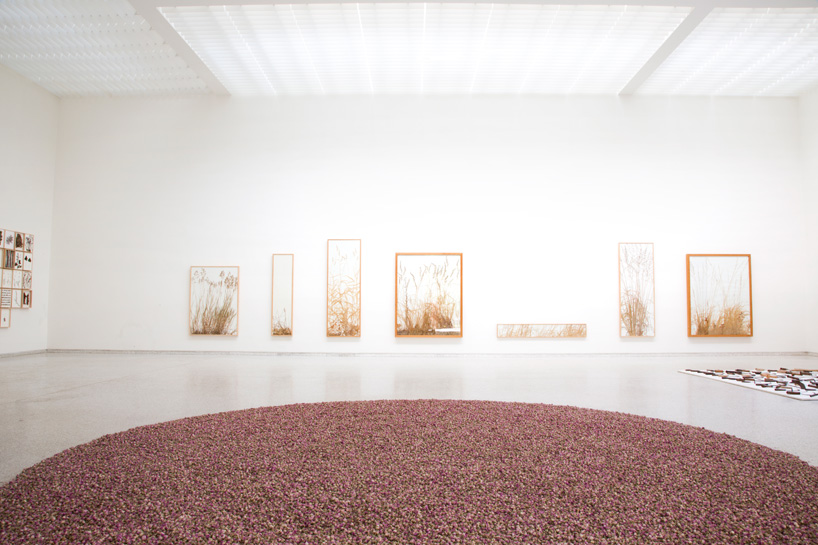 installation view of '108 pound rosa damascena' at the dutch pavilion
photo by judith jockel
'108 pound rosa damascena' is a sensorial and poetic experience, set within the center of the dutch pavilion's interior expanse. the color and scent of hundreds of tightly packed, tiny roses define a circular space around which the senses have direct access. the perfumed scent that emits from the small buds evokes a different set of personal memories and emotions for each visitor, while the roses themselves always remain the same.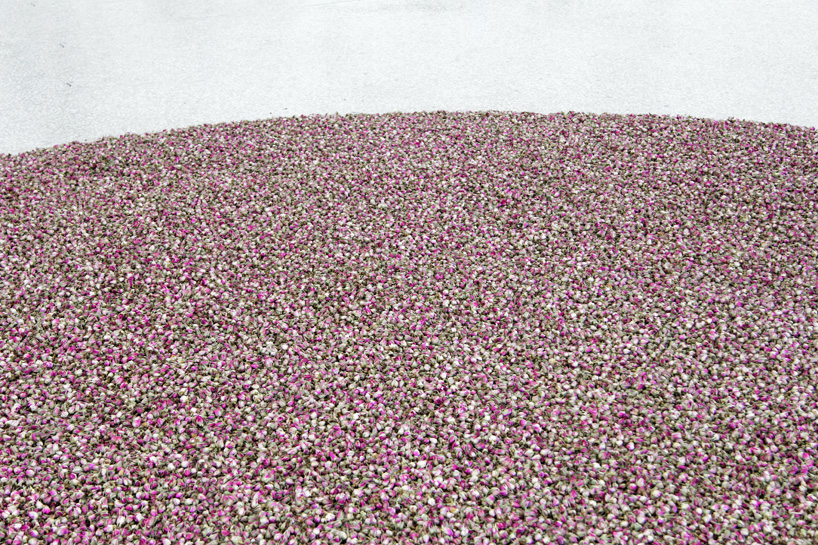 the installation forms a circular 'carpet' in the center of the gallery
image © designboom
'does this relate to gertrude stein's – a rose is a rose is a rose?' db
'I like to show on the ground but sometimes I need a sockle and I need a place to isolate the object – a specific place for observation (BTW that is a beautiful definition of the museum, that should be used much more). sight gives us an enourmous amount of information and people who go into an exhibition space and a museum should trust their senses much more, instead of thinking that their interpretations are subjective.' herman de vries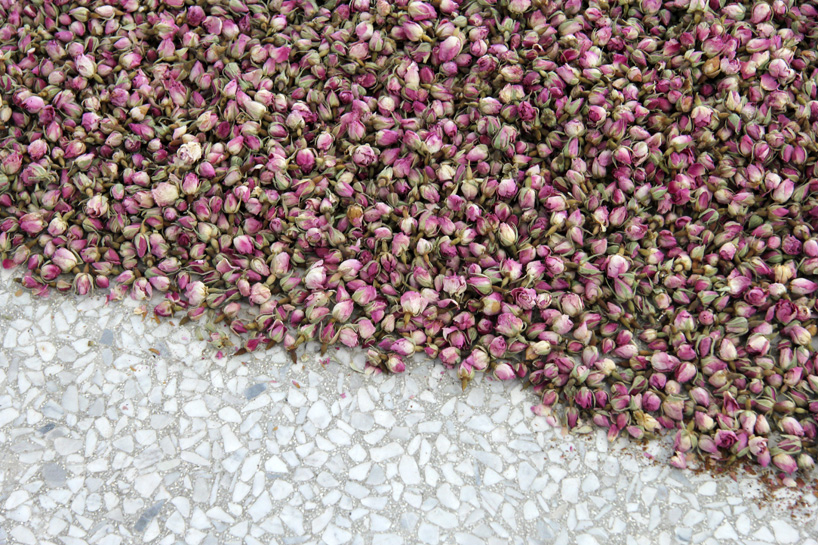 detail of rosebuds that make up the circular material expanse, they release their scents for months
image © designboom
'we mostly rely on sight but often forget the other senses…' db
'sight and hearing are much more sophistically elaborated in our culture than the three other senses that are less intellectually used. our nose is almost non-intellectual, it's just a sense. also the input of the smell is a direct experience without mediation. I love the smell of roses. it's real poetry.' herman de vries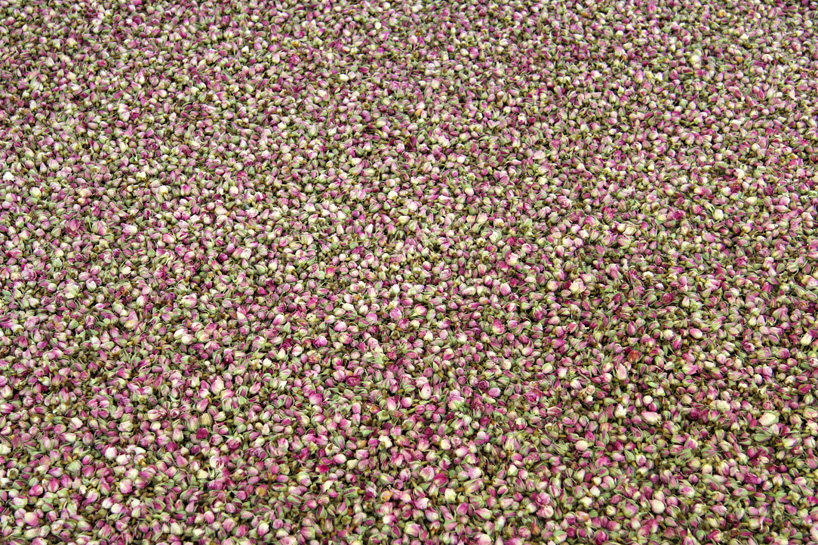 the smell and sight of tightly packed rose buds creates a sensorial experience for the visitor
image © designboom
nina azzarello
I designboom
may 13, 2015
a diverse digital database that acts as a valuable guide in gaining insight and information about a product directly from the manufacturer, and serves as a rich reference point in developing a project or scheme.
designboom will always be there for you
milan, new york, beijing, tokyo

,
since 1999