feb 02, 2010
hongtao zhou: snow furniture dancing at milwaukee art museum
'snow furniture dancing at milwaukee art museum'
as part of the outdoor installation at the milwaukee art museum, designer hongtao zhou has designed a series of furniture ice sculptures that purposely sustain 'melted' appearance to remind visitors of the impending global climate change crisis. it is being showcased during the museum's first green furniture show and green fair for the city.
struggling to find snow for the installation due to the unpredictable weather, zhou collected limited amounts from nearby neighbourhood and took advantage of a thin ice cover sitting over lake michigan. slush shaped around a tree branch helped to give a curved shape to the legs of his furniture designs, while the cold wind solidified his new structures.
this impermanent sculpture installation will be on display until the pieces have melted away.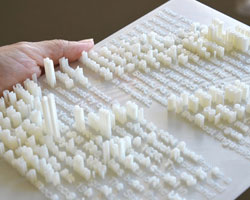 jan 13, 2015
jan 13, 2015
jul 25, 2011
jul 25, 2011
dec 14, 2010
dec 14, 2010