dec 20, 2013
inflatable snow chalet by kolkoz floats in miami's biscayne bay
inflatable snow house by kolkoz floats in miami beach bay
all images courtesy of audemars piguet
on the occasion of art basel miami beach, swiss luxury watch manufacturer audemars piguet — the global associate partner of art basel — and paris-based galerie perrotin presented 'curiosity': a life-sized inflatable log cabin. contradicting south beach's sunlit waterfront vistas, the winter chalet created by french artist duo kolkoz floats at the core of a buoyant stage, playing host to the haute horology brand's events throughout the exposition week. a yellow, faux-wood texture wraps the pavillion's façade, crowned by a puffy white coat; at its interior, warm tones saturate the volume, encompassing dwellers within in a vast, cozy enclosure.

the inflatable, floating beside the now-abandoned miami marine stadium
on the installation's namesake, the artist's said, 'curiosity' was the name that was given to the last mars exploration rover. we have taken this idea of an invader exploring a foreign land and applied it to the snow covered chalet that has set off on a journey and arrived in the middle of a maritime stadium in the hot florida sun.' offering an unfamiliar panorama of the abandoned miami marine stadium it neighbors — a modernist structure once the epicenter of spectacular motorized sports — the artwork housed VIP ceremonies and brand celebrations, running alongside the audemars piguet booth in the collectors' lounge, which featured a retrospective of the iconic royal oak watch model.

yellow faux-wood texture wraps the façade

the snow covered chalet illuminated in the miami bay at night

interior view of the inflatable 'curiosity'

the french artist duo kolkoz standing outside 'curiosity'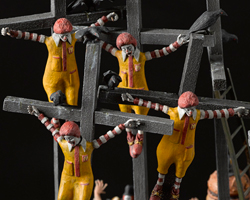 jan 08, 2014
jan 08, 2014
jan 04, 2014
jan 04, 2014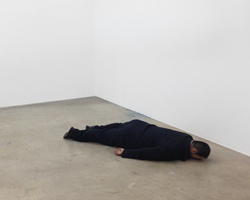 jan 02, 2014
jan 02, 2014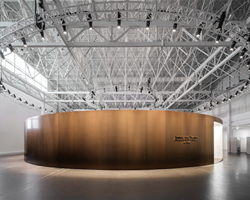 nov 09, 2016
nov 09, 2016
may 21, 2015
may 21, 2015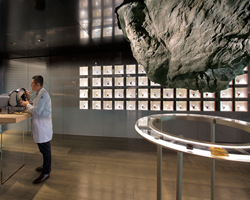 jun 19, 2014
jun 19, 2014
may 29, 2017
may 29, 2017
dec 16, 2016
dec 16, 2016
sep 14, 2016
sep 14, 2016
jun 13, 2017
jun 13, 2017
mar 29, 2017
mar 29, 2017
mar 15, 2017
mar 15, 2017