agnieszka pilat trains next generation of artists
Self-proclaimed machine evangelist Agnieszka Pilat has taken on the task of training the next generation of creators of the digital age. Expanding her creative fascination with robots and technology, the Polish artist takes a step back and passes her brushes on to her robot apprentices, Spot and Digit, for her latest exhibition ROBOTa. Together, the trio's venture begins to define a futuristic yet joyfully primitive intersection between technological evolution and artistic tradition.
Following a year-long residency at Boston Dynamics, Pilat presents an experimental series of 11 acrylic paintings that will be on display at San Francisco's Modernism Gallery until December 21, 2022. The vibrant canvases, marked with the robots' primitive angular gestures evocative of Cy Twombly and Jean-Michel Basquiat's Abstract and Neo Expressionism, express a constrained simplicity and bold youthfulness. Beyond the surface however, they are laden with nuanced notions about history, agency, and the surging power of artificial intelligence — questioning conventional understandings of creativity and limitations of machinery.
Delving deeper into the processes and technologies behind this collaboration between (wo)man and machine, designboom spoke with Agnieszka Pilat, uncovering her insights on the paradoxical power of robotics.'It's all about humanizing technology with creativity,' she shares.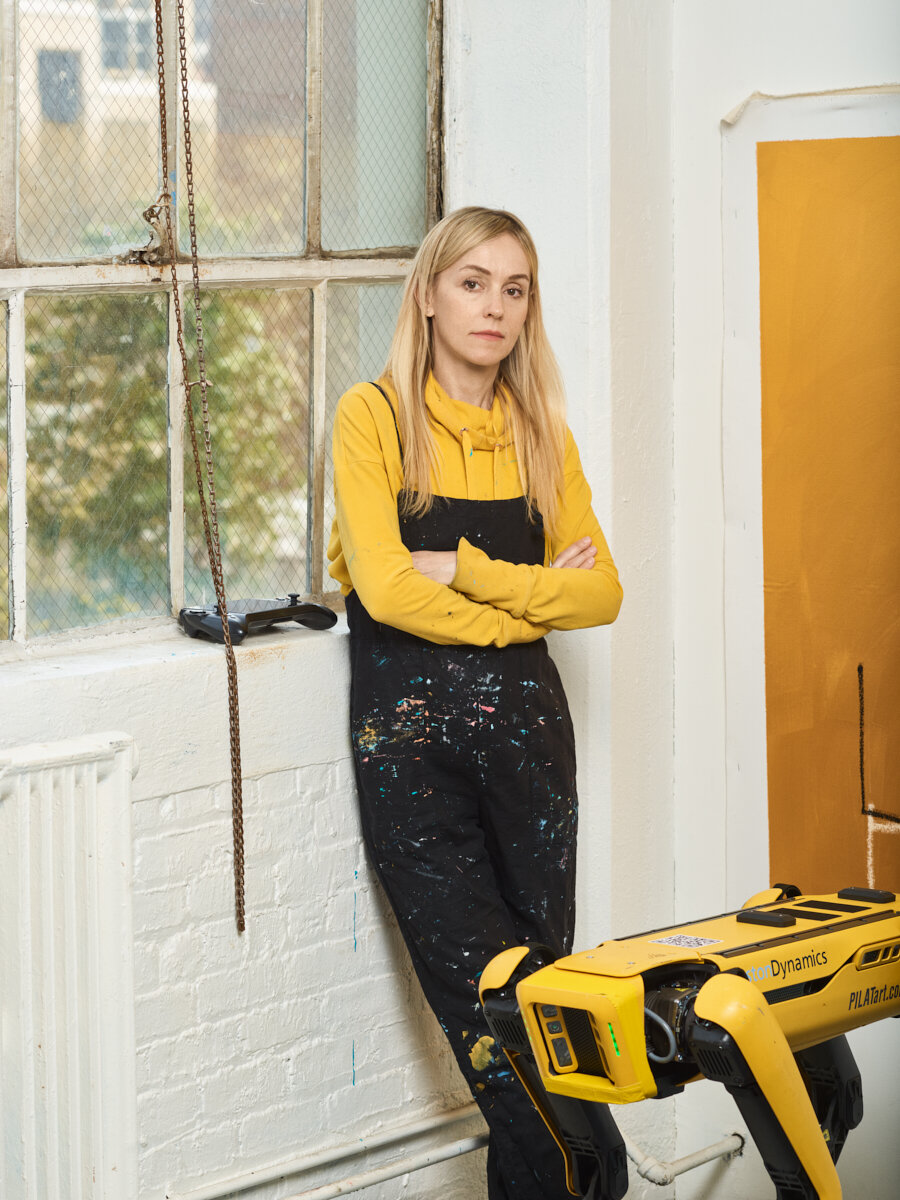 Agnieszka Pilat and her robot apprentice, Spot | image by Aaron Richter
'ROBOTa': a collaboration between man & machine
Originally trained as a portrait artist, Agnieszka Pilat's work has evolved over time to explore her long held fascination for robotics and technology. Now, shifting from mere muses and sitters, machines take on the role of her collaborators, creating artworks of their own.'Recently, I came to Boston Dynamics with the intention of painting a portrait of their robot Spot,' Pilat tells designboom.'Then, the engineers said to me that instead, maybe I should use the robot to paint. When I started, the arm was still under development, and they insisted I play with it, and then the whole body of work of ROBOTa followed from that.'
Alongside her adopted apprentices — dog-like Spot and Agility Robotics' human-like Digit — the artist sparks an exploration of the machines' evolution as they grow and learn from their human counterpart. Widely admired for their mechanical dexterity, the AI-powered workhorses are typically more likely to be found laboring in coal mines or nuclear sites, but under Pilat's guidance they are now able to unleash their latent creative potential.
Driven by the spirit of collaborative curiosity at robotics companies and in alignment with their technological innovations, Pilat explains how ROBOTa is less about the final form of the artworks and more so about the underlying innovative processes and implications. Ultimately, the exhibition questions what the collaboration between man and machine beholds for the future of design, technology, and creative expression.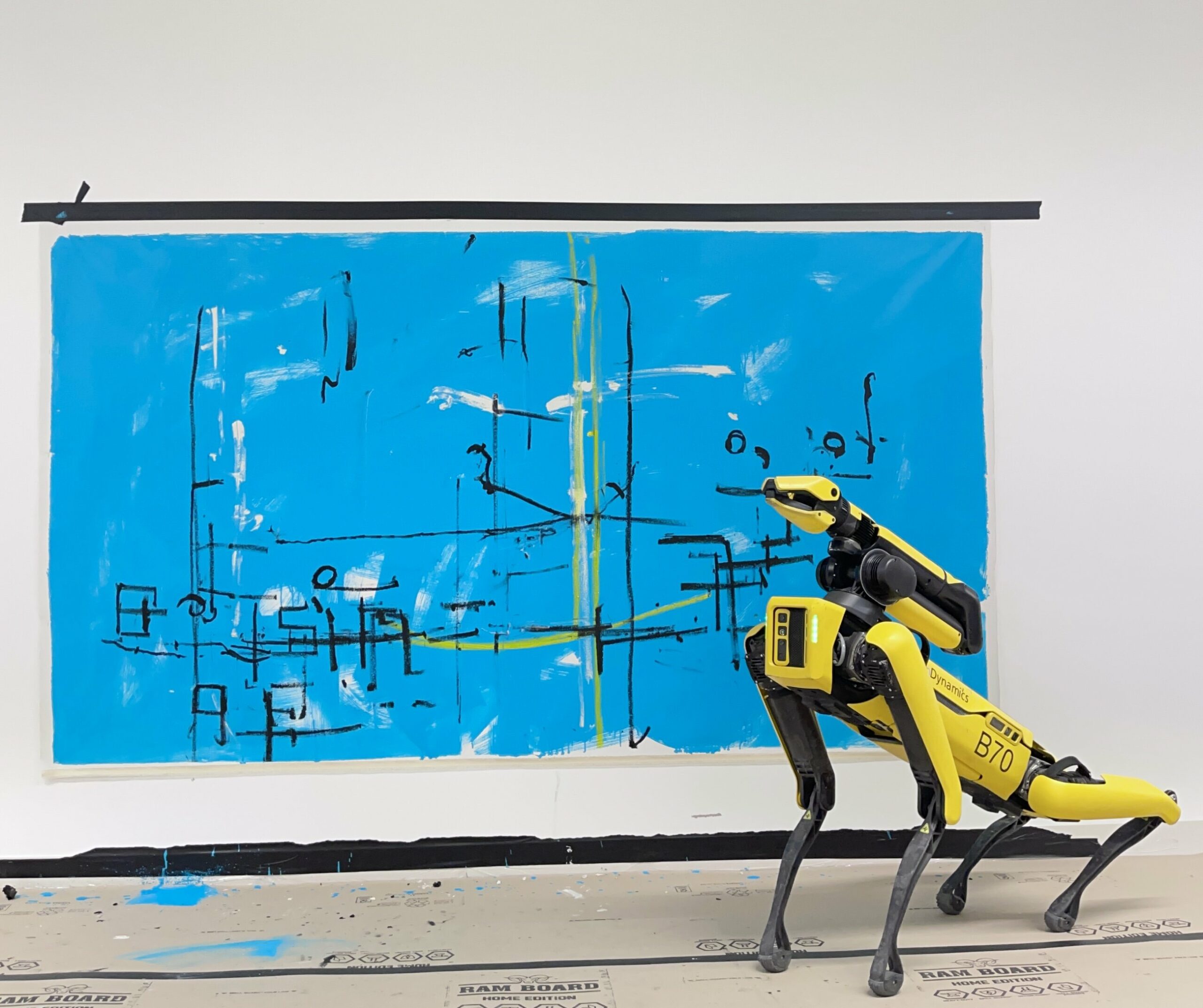 B70 portrait | image © Agnieszka Pilat
paving the way for intersections between design & technology
Agnieszka Pilat begins her venture to train the robots as budding artists by imparting them with her creativity and integrating various technologies. Different implementations of artificial intelligence, augmented reality, object/image recognition, and athletic learning, embed within Spot and Digit their own distinctive artistic personalities.
In human years, Spot and Digit are essentially young children, as Pilat puts it. The way they interact with their environments and their artistic capacities are only limited, dependent on both her creative guidance and the optimization of integrated technologies. 'Both Digit and Spot are imperfect extensions of my arms. When they transfer my aesthetic ideas onto canvas, those ideas are translated into the physical language of machines.'
Their artwork as a result, naturally 'represents a true lack of skill', an enthusiastic visual translation of their youthful innocence. Atop vibrant backgrounds washed in vibrant primary colors and sweeping abstract brushstrokes, the robots' primitive marks emerge as 'silly, simplistic, stick figures, with antennas and circles on top… There is a lot of enthusiasm and emotion going into that work.'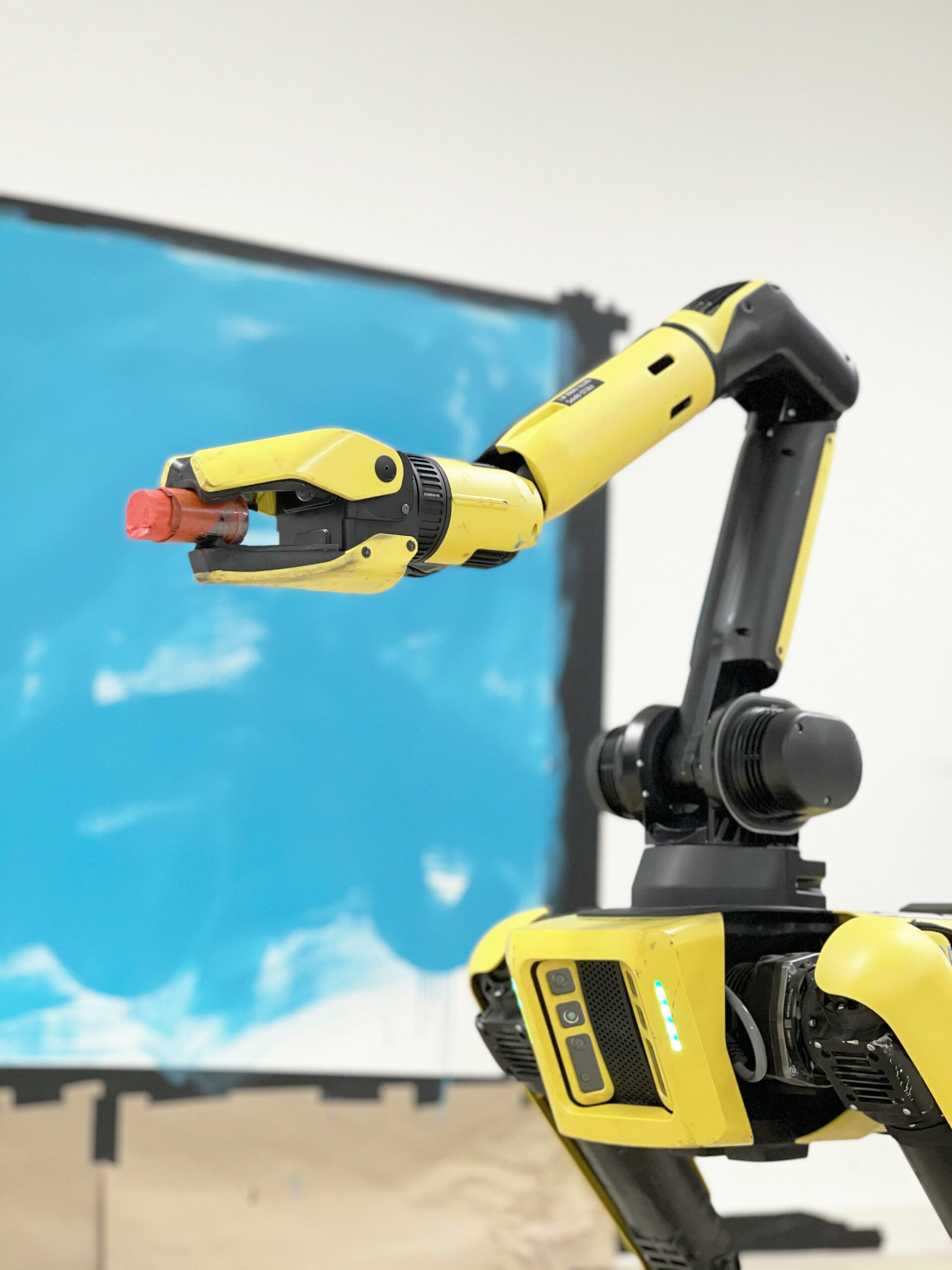 oil stick controlled by Spot's arm | image © Agnieszka Pilat
Explaining her process, Pilat notes:'There are five ways I worked with the robots. With Digit, everything you see on the canvas, I preprogrammed. I tell the robot where to go, how to move its arm, how long to stay in one spot, how fast to move, and so on.' With calculated movements, Digit handles paintbrushes with a constrained yet energetic angularity.
Spot on the other hand, who produced the majority of the exhibition's work, translated Pilat's aesthetic ideas onto canvas in various experimental and expressive ways. Spot's lines are created by a paintbrush and oil stick wielding arm manually controlled by Pilat through an iPad or control device. Still in its early stages of development, the arm is limited to making small controlled motions, including straight lines and simple round gestures with calligraphic qualities evocative of Cy Twombly. Their simplicity, considerably a limitation, Pilat believes actually enhances her work with a level of innocent abstraction that she feels was somewhat lacking in her own creations.
Alongside the engineers at Boston Dynamics, Pilat also incorporated augmented reality and programmed an Oculus into Spot. 'As I would move my arm, Spot's arm would move with me. This was the most organic and imperfect extension of my own self,' she shares. 'Another way of working with the robot is that I can upload an image as a PDF, and the robot will figure out in the real world how to translate it. And the last one is live painting, where I paint on the console and the robot simply repeats the movements I make.'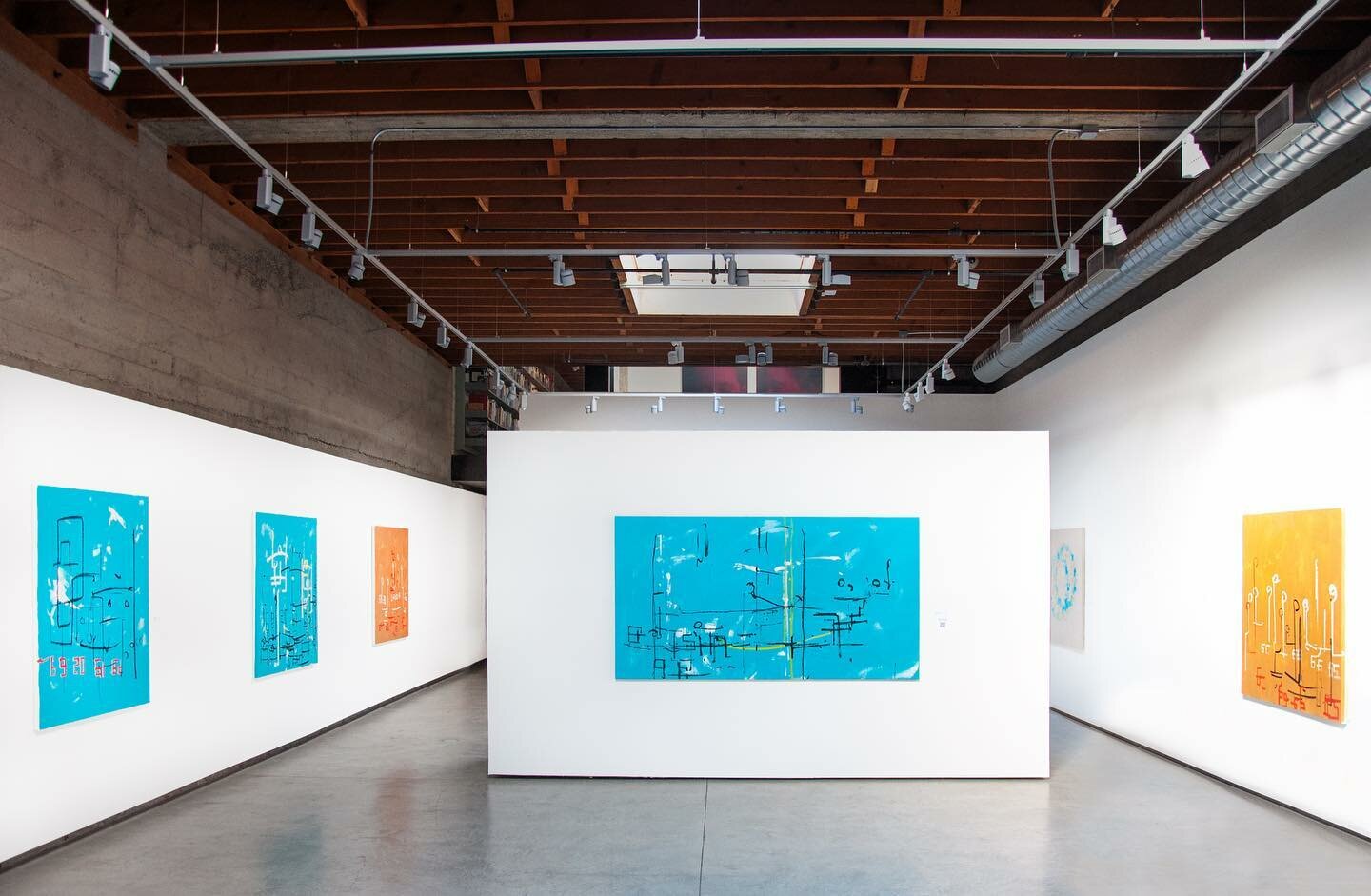 ROBOTa on display at Modernism Gallery | image © Agnieszka Pilat
a childlike visual expression of advanced robotics
Agnieszka Pilat notes that the most important parts of the work are the mistakes the robots make, where it seems that they have mustered a sense of agency.'Sometimes, the robots do unpredictable things. That's the moment I call 'ghost in the machine' and that is the exciting, spontaneous feeling that there is another mind entering and messing up your plan.' The artist considers Spot and Digit's imperfections and childlike lack of skill an asset and not a limitation. It is this spontaneity that makes the works of ROBOTa so unique, enhancing Pilat's work with a dimension she might not have been able to achieve herself and diverging from the exhausted abstract expressionist gesticulations of human artists. 'I think my creativity is being enhanced by the robot, because the limitations force me to think beyond things like imitating nature,' she explains.
Significantly, this unexpected creative input from the machines is what establishes them as her creative collaborators, rather than mere design tools for design; in the exhibition, Pilat grants her apprentices authorship rights, crediting Spot and Pilat for their respective paintings in their accompanying information panels.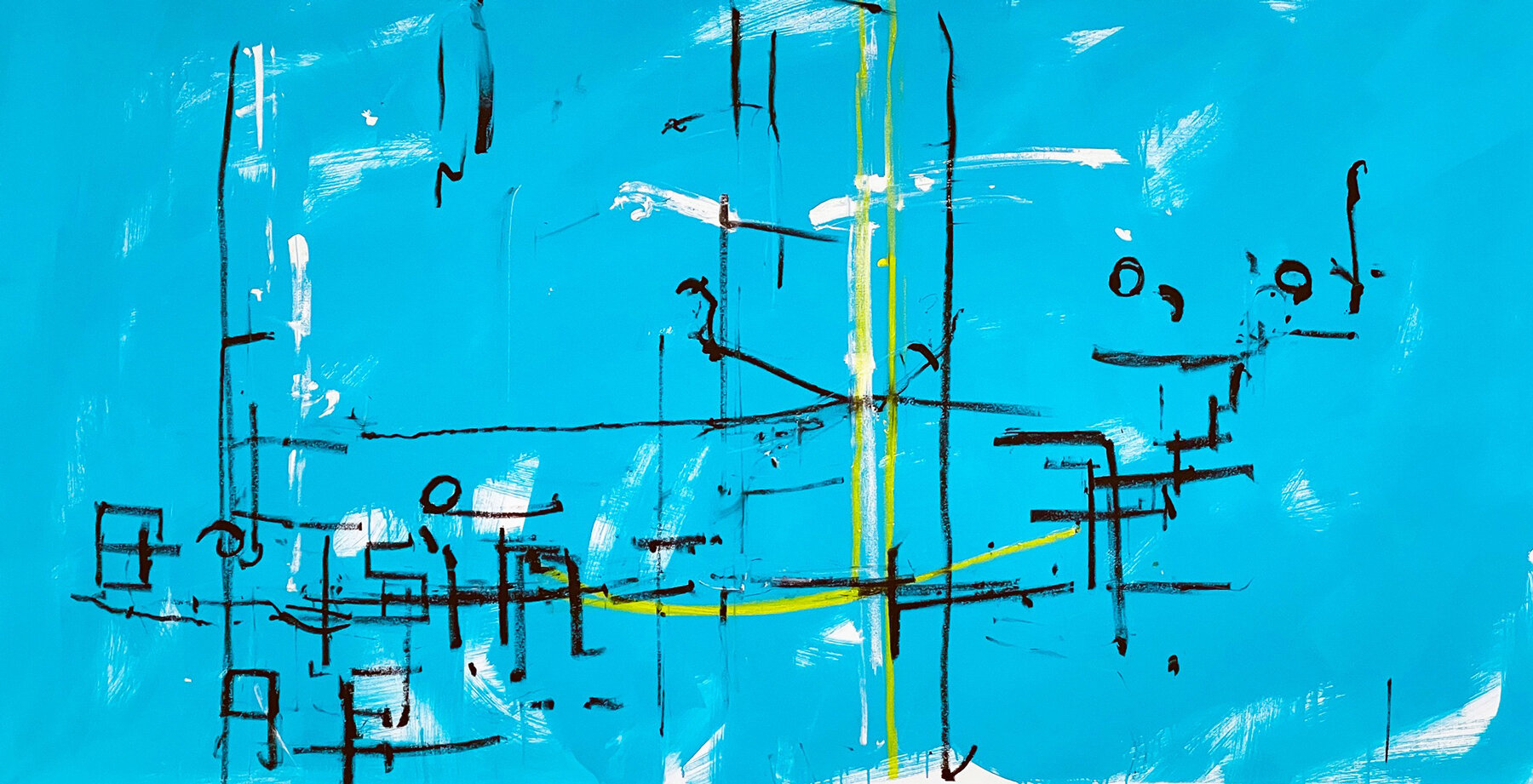 the childlike marks evoke Abstract Expressionist aesthetics | image © Modernism Gallery
Reflecting on the implications of ROBOTa's optimistic fusion of design and technology, the artist comments:'In that sense then, the whole work of ROBOTa is all a big paradox, in that you would expect a machine's work to be produced in a very mechanical way. That it would be very repetitive, unoriginal, and mass produced. But the way I use the robots, each work is different and original. No two lines go the same way.'
This paradox further poses a commentary on recent conversations around the surging fusion of design and artificial intelligence. While some people are optimistic about this innovative and futuristic evolution, others remain skeptical about the dehumanization of art. Pilat's ROBOTa however, ironically reveals these machines to be mere 'children' who make simplistic, non-threatening art full of joyful mistakes. 'Through their errors, robots promise to make art interesting again — interesting for people and perhaps one day for their fellow machines,' she concludes.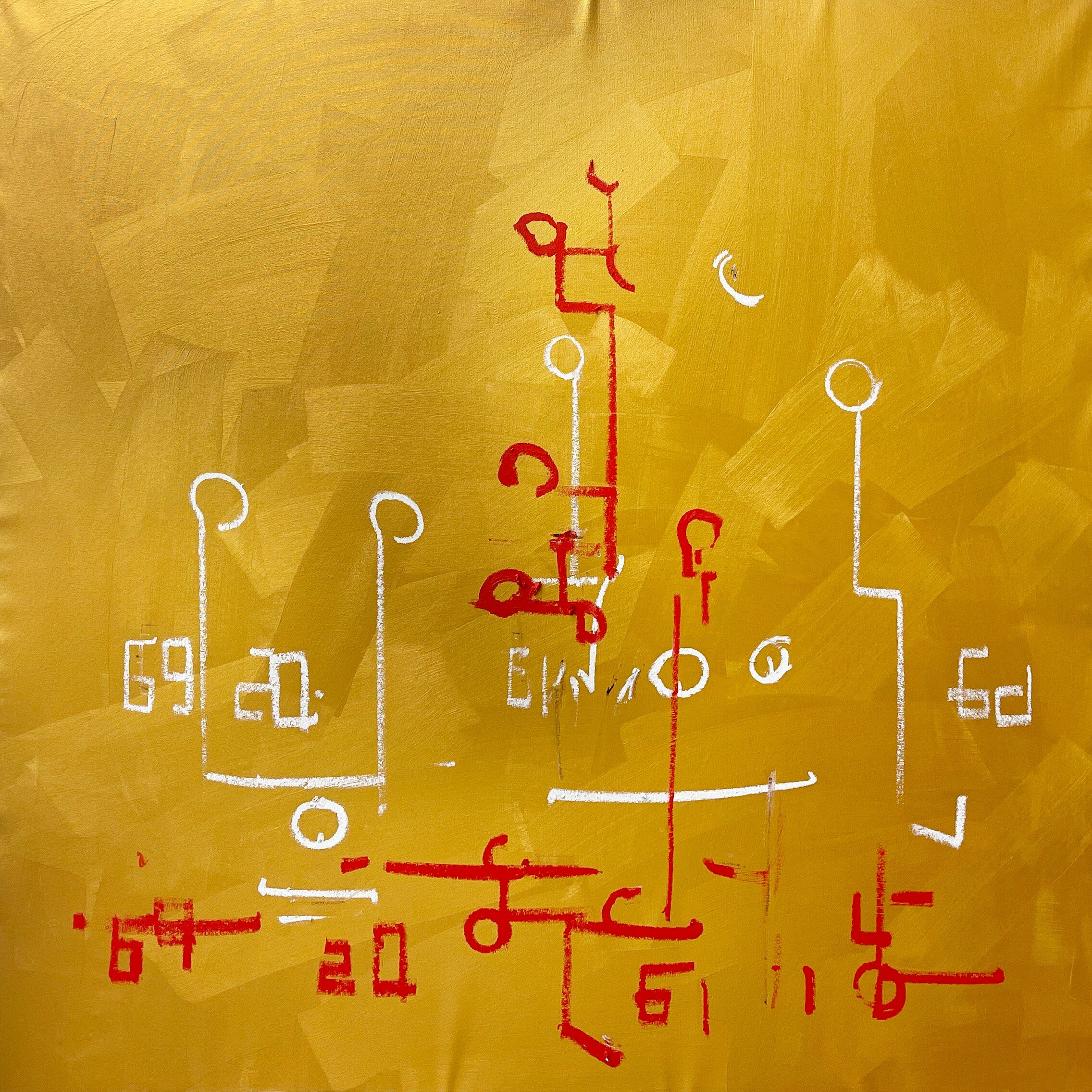 'Emperor' by B22 | image © Modernism Gallery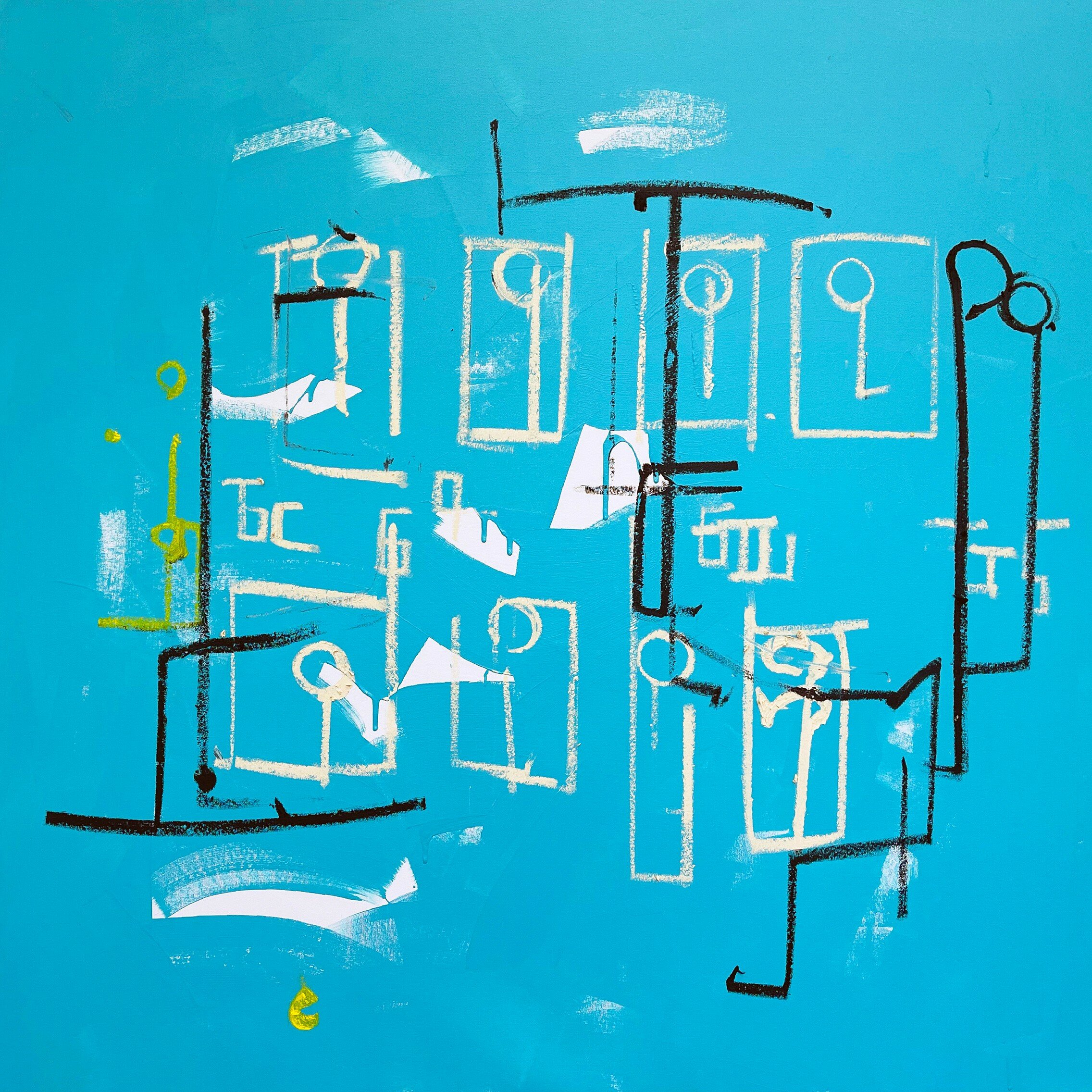 'Multiples 02' by B69 | image © Modernism Gallery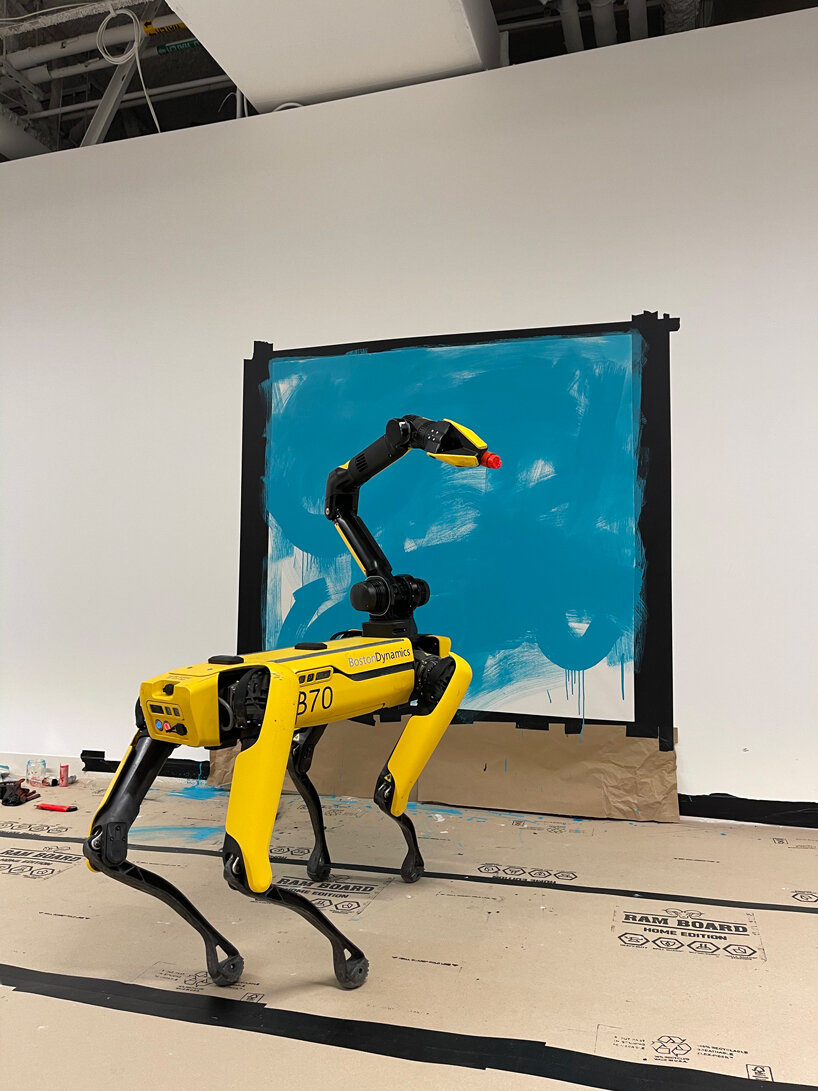 Spot creatives geometric gestures on a pre-prepared canvas | image © Agnieszka Pilat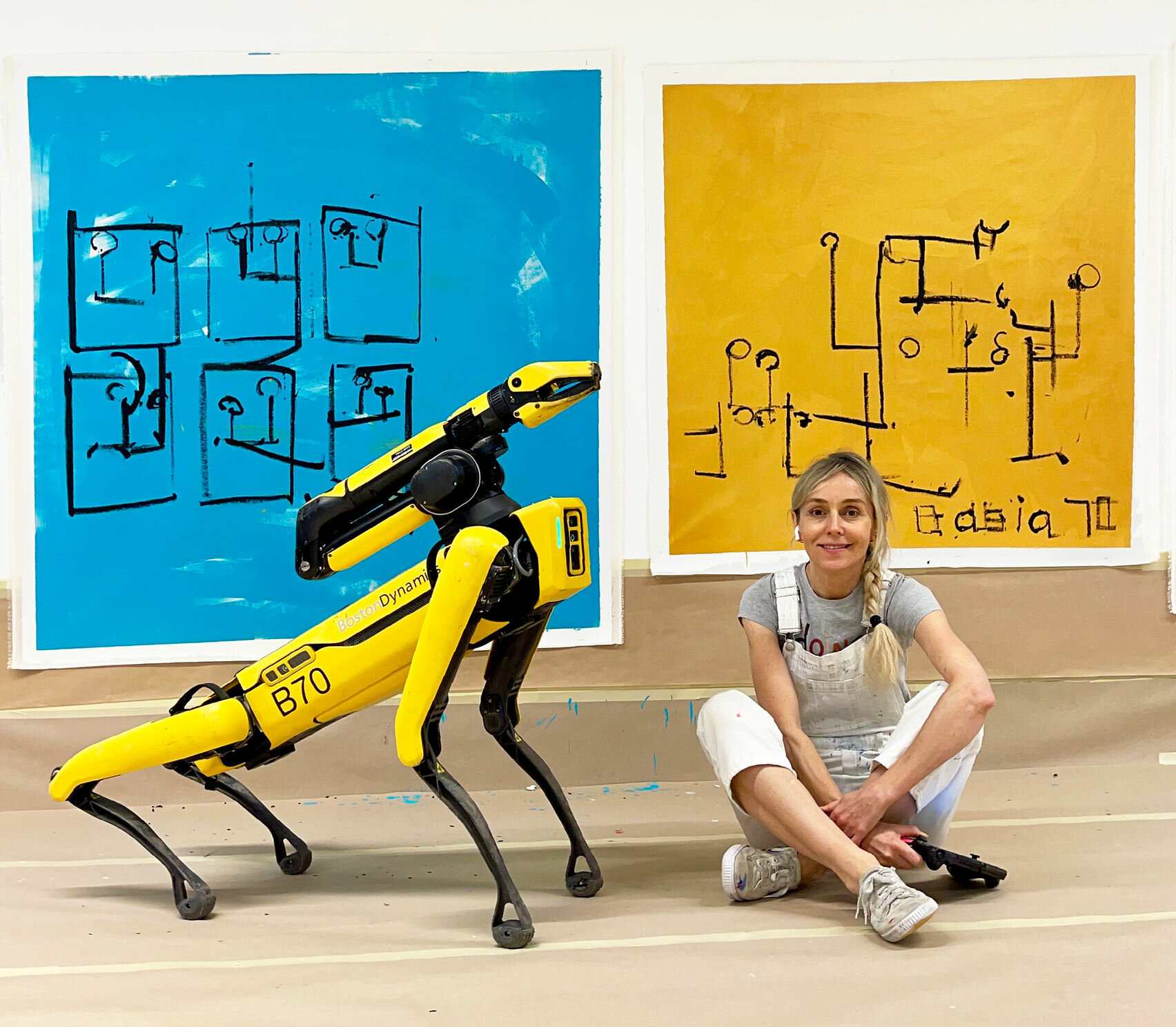 the artist duo | image © Agnieszka Pilat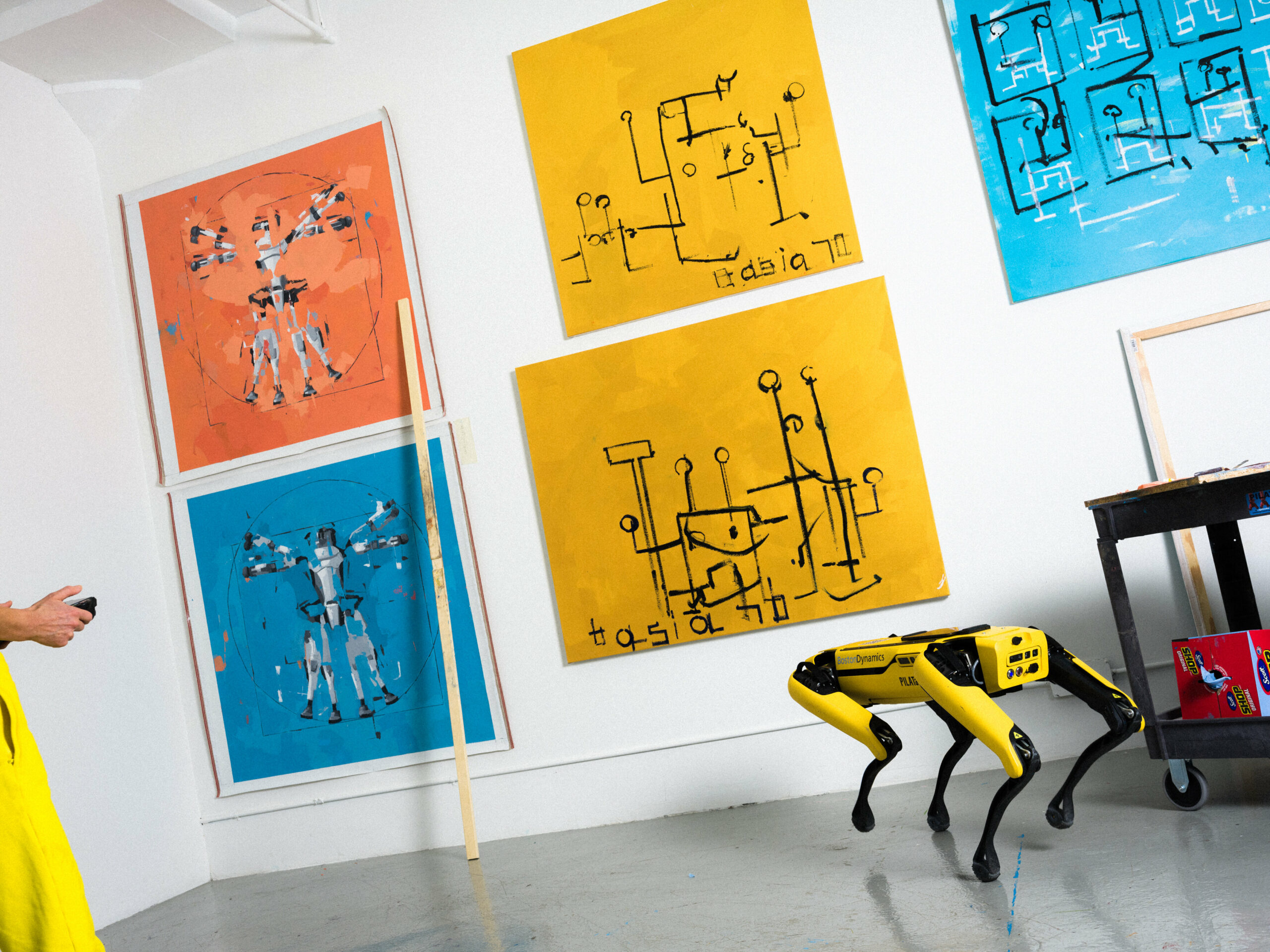 Spot controlled by a device | image by Mark Sommerfeld

image © Modernism Gallery
image © Modernism Gallery
image © Modernism Gallery
image © Agnieszka Pilat
image © Modernism Gallery
image © Modernism Gallery
image © Agnieszka Pilat
image © Agnieszka Pilat
project info:
name: ROBOTa
designer: Agnieszka Pilat
gallery: Modernism Gallery
a diverse digital database that acts as a valuable guide in gaining insight and information about a product directly from the manufacturer, and serves as a rich reference point in developing a project or scheme.
designboom will always be there for you
milan, new york, beijing, tokyo

,
since 1999