lungiswa gqunta, TENDING TO THE HARVEST OF DREAMS
somewhere between conflict and calm, dreams and reality, lies the powerful work of south african artist lungiswa gqunta. having grown up in post-apartheid port elizabeth, gqunta's work reflects on the continued impact of colonialism, spaces of conflict, and communal resistance. for her latest exhibition at MMK frankfurt, called tending to the harvest of dreams, the artist cultivates a multisensory garden that's not as friendly as you might want it to be. it's a garden filled with barbed wire wrapped in colored cloth, a sweet yet tangy fragrance, and half asleep murmurs of a dream before it's forgotten.
towards the end of the summer, and before the opening of her installation, designboom got to know gqunta over a couple of video calls. in this interview, the artist opens up about the experiences that drive her work and what she hopes to communicate with this latest immersive piece. 'whether it reaches other people or not, I don't know. i'm just hopeful that something will stay here and you will feel it through the color, through the light, through the smells… through something.'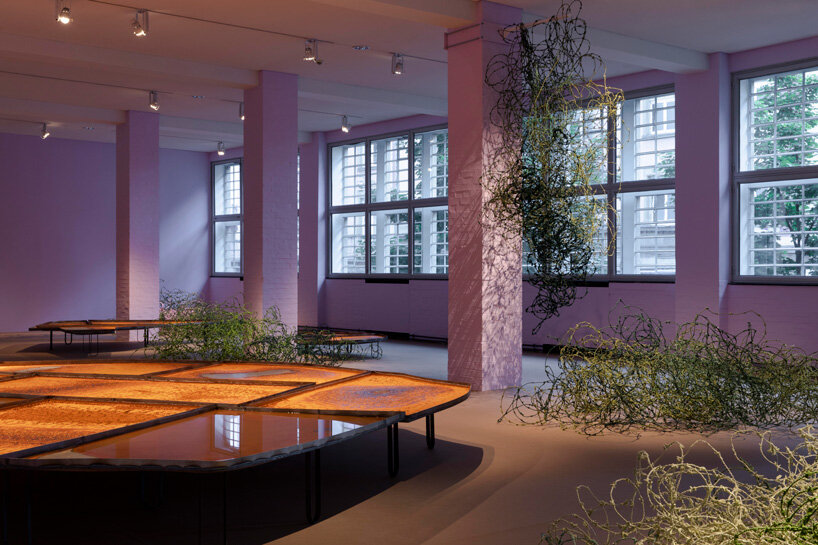 image by diana pfammatter (main image by axel schneider)
'i want people not to be settled on anything'
DESIGNBOOM (DB): what can people expect to find at tending to the harvest of dreams?
LUNGISWA GQUNTA (LG): color, sharpness, and conflict. they're definitely going to walk in there not really sure what to expect and while they're in there, still be conflicted. I want people not to be settled on anything once they get into the show. I want them to constantly negotiate with themselves in the work.
they'll find quite a sensory atmosphere filled with a very distinct smell, some whispers, depending on where they are in the room, and some cloud-like bushes. I don't want to describe the actual installation but more so what I see when I walk into the space and how I would describe the work. it's not one thing, it's many. it's constantly moving and I feel like people might find certain things the longer they stay; there will be some surprises. I think people could also find a moment of contemplation, a moment of stillness and calm.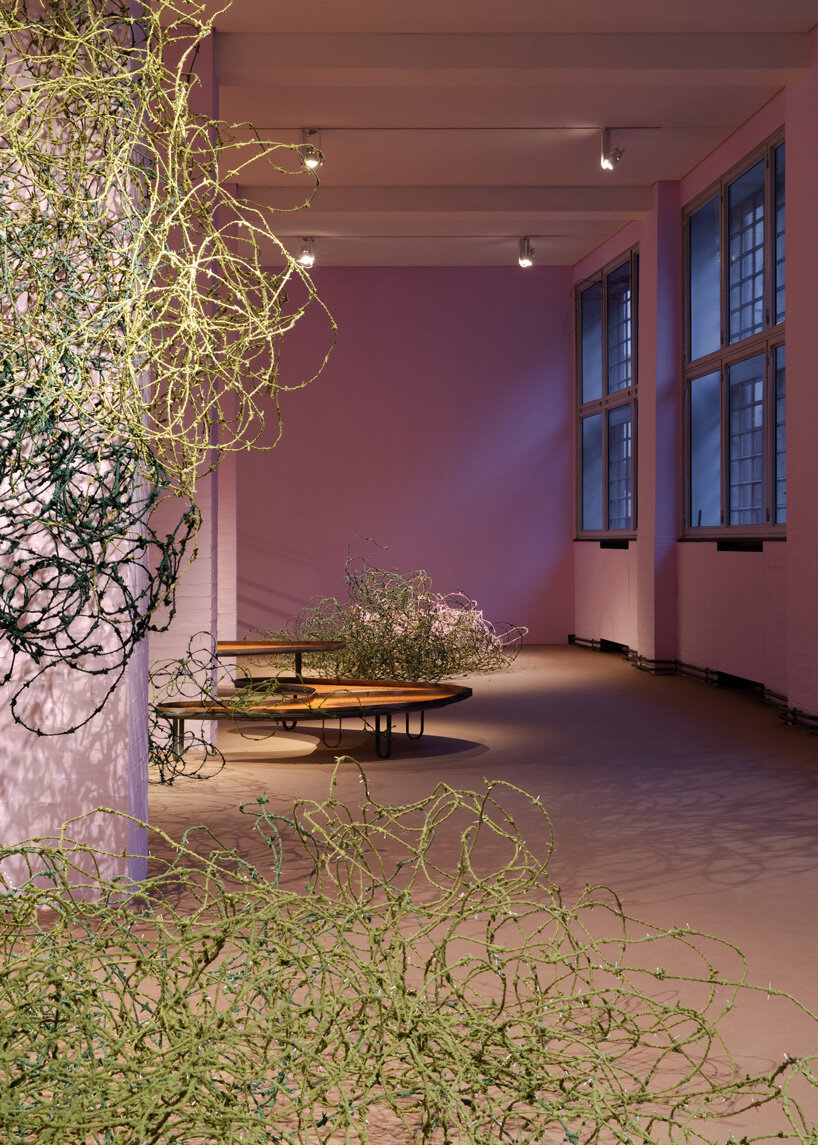 image by diana pfammatter
'lines turned into barbed wire'
DB: where did the idea for this exhibition originate and what do the different elements represent?
LG: the first part of the exhibition started growing in 2018 while I was doing a residency at gasworks in london. during that time, I was doing a lot of drawings that were rethinking traditional ways of scoring music, and the lines turned into barbed wire. for me, it was a very easy connection when I saw that and I also had barbed wire in the space because I wanted to surround myself with very familiar materials just to feel grounded. I had previously been working with razor wire but I couldn't find it because it was illegal to sell in london. the next best thing was barbed wire. I had no idea how to work with it so I did a lot of drawings and I just played with the wire and tried to figure out many things.
I struggled through a lot of it, like not knowing what to do with it. at one point I tried to change the color but spray paint wasn't working. so I figured fabric, let's go back to what I know, and then I could choose which color. that's when I started wrapping the wire. but I still wasn't sure what it was that I was doing… the natural form of the wire as it unraveled, wrapped with cloth, looked so natural, and it started looking like vines as it was crawling through my studio. it was immediately like this plant that was growing every day. I continued with that and I ended up showing it at the showroom along with the drawings. and I hung the wire and had it come down like vines over this purple corridor. that was kind of the start of it.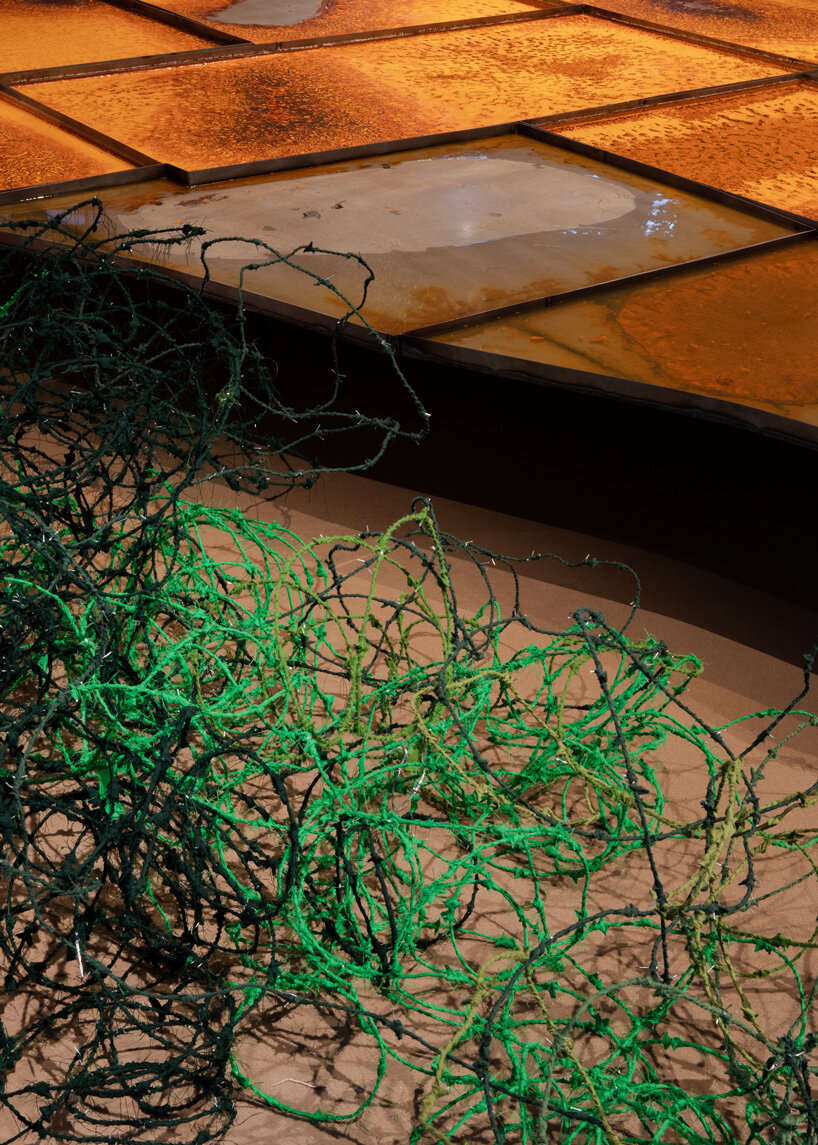 image by diana pfammatter
'i started thinking about spaces of conflict'
LG (continued): when I moved to amsterdam, they had packed and shipped the wire. then I unrolled it in my studio and it looked like this huge tumbleweed and I was like, oh, damn! I got so excited, I wanted more. and at that time, I already had soil in my studio so this garden, this landscape, was starting to form without me even consciously understanding what it was that was happening in the space. I took photos and the wire just sat there. after a while, I started thinking about spaces of conflict that I deal with a lot of in my work and continuing to think about gardens from the wire and also from previous work that i've done like 'the lawn', which deals with the garden as a space of luxury that we cannot have as our own or even access it.
I got to thinking about what other kinds of gardens exist that have the same sentiment and I thought about these kirstenbosch botanical gardens back home that are a little bit outside of the city. and, you know, one has to have a particular set of resources to even access the space.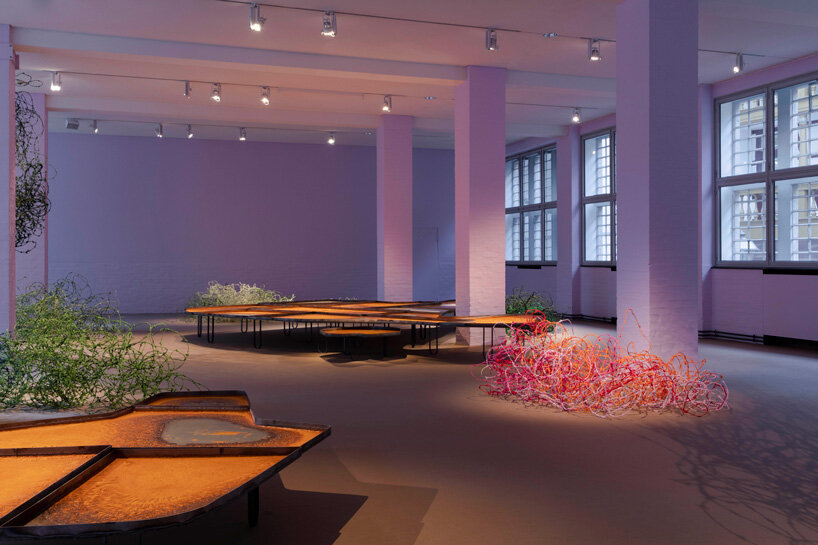 image by diana pfammatter
'i think about the garden as this very volatile space'
LG (continued): during segregation in south africa, people were moved in or forcibly removed from 'prime spots' into camps, you could say. and I was thinking about that removal from nature and removal from knowledge, and what that means. this body of work, tending to the harvest of dreams, also represents that violence of being removed or cut from a knowledge, which you would have easily had. an intergenerational knowledge that could have been passed down was instead interrupted. the violence of that interruption, the violence of the removal of a people from nature, because it's not even just about having access to the land, but we learn from it, we live with it, we eat from it, we heal from it, and we have rituals that require certain spaces. for me, it was very saddening and it was very upsetting to think of all of that and to think about the knowledge we lost or could have had.
right now only certain people in these boujee shops know about plants. why does this knowledge seem like a privilege when it should have been accessible to everybody? and I had to think back on what that relationship looks like now and how it got there. and so for me, it was like thinking about how gardens are also borders. gardens are potentially spaces of violence because back home, a lot of us are the ones laboring to maintain the spaces, yet, we cannot enjoy them. that disconnect is quite huge. in the work, I think about the garden as this very volatile space, as a very conflicting space.
the garden holds a lot of beauty, healing, and history, but all of that history is muddled up and tense and at war. that's the direction I chose to go with when I was deciding what colors to use and how to put together the work. and that's the wire component of the exhibition.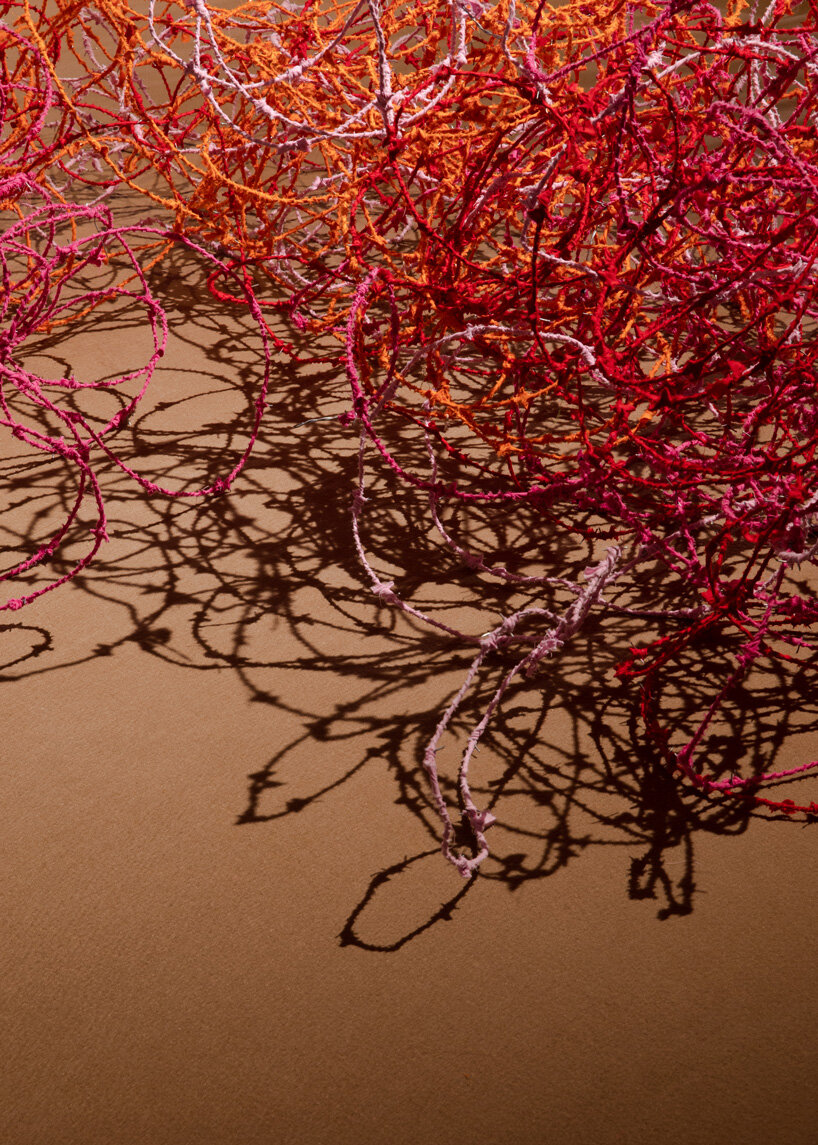 image by diana pfammatter
'i also wanted my ancestors to be in the space'
LG (continued): there are also river beds made out of steel, then the water becomes rusty so these vast and freeform shapes are bursting with orange and various colors and textures from the rust. that was part of me constructing some crazy landscape that i'm not sure if i've been there or not, either in a dream or in real life. it feels very much like a space of in betweenness where you're half asleep and you're in the dream, but you're also kind of awake. I wanted to create a space like that, which you're unsure of; it looks like it's welcoming, but it actually isn't.
the smell component is from a plant back home called imphepho, which is normally used in rituals to allow for your ancestors to be present in space. i've been using it quite a bit but it's also more something for me, rather than a part of the show. part of me is in the show and I am in there. so when I am in there, I like to have this smell that grounds me and I feel like it's a reminder of what it is that i'm doing and why i'm doing it. I also wanted my ancestors to be able to be in the space themselves because i'm not only doing this for myself, it's for them too.
leaving behind a certain energy in the space is important for me because emotion is a very big part of my work. when I put something together, more than how it looks, I try to go for how does it feel? how do I want to feel? or how do I want people to feel? and that becomes my marker. so, all the decisions are based on, do I feel at peace here? or do I feel conflicted? what are the feelings that I want people to have?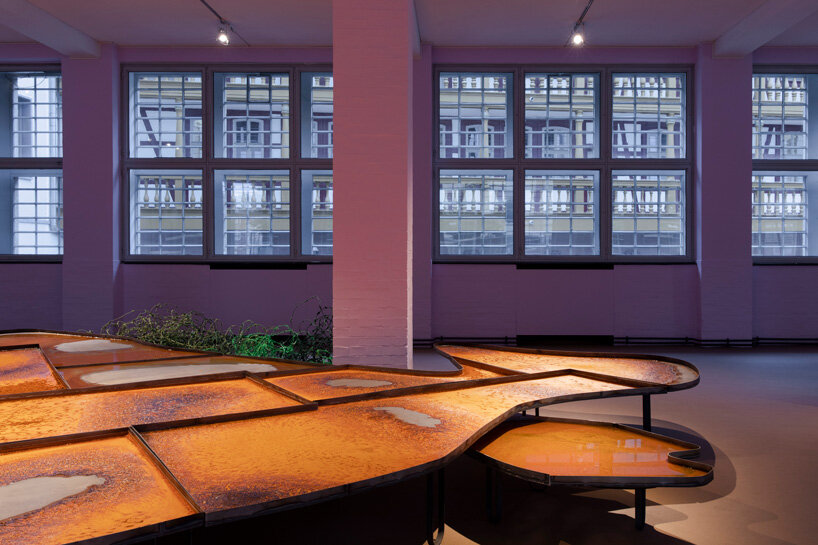 image by diana pfammatter
'dreams are an important part of this journey'
DB: tell us about the sound that fills the space?
LG: the sound is a recording of myself. I had just woken up and I was still slightly asleep but I knew I had had an important dream that I wanted to record. I have a practice of recording dreams; it's my own spiritual practice because i've been told that dreams are important places of knowledge production and knowledge sharing. dreams are an important part of this journey that i'm on, which is why I record most of them depending on whether I think it's important according to the people in it and certain markers of ancestral presence. it's a very personal part of my life that somehow crept its way into the work. not intentionally, but it's there.
the sound is me recalling this dream of mine mostly in isiXhosa, which is my language. a few bits are in english in the beginning but people won't be able to piece together anything that is said in the dream. for me, it was a really great way to be able to share something personal without really giving all of it, by keeping some things to myself. having the audio as part of the show also made sense with this 'in betweeness' that I was trying to create within the space.
i'm not really sure how people are going to deal with it because it's quite sensory, there's a lot of things. i'm hoping that because people will be moving around, certain things will sing a little bit louder than others so that people have the time in the space to familiarize themselves with all the parts of the show.
tending to the harvest of dreams by lungiswa gqunta is on view at MMK frankfurt in germany until sunday, november 14th, 2021.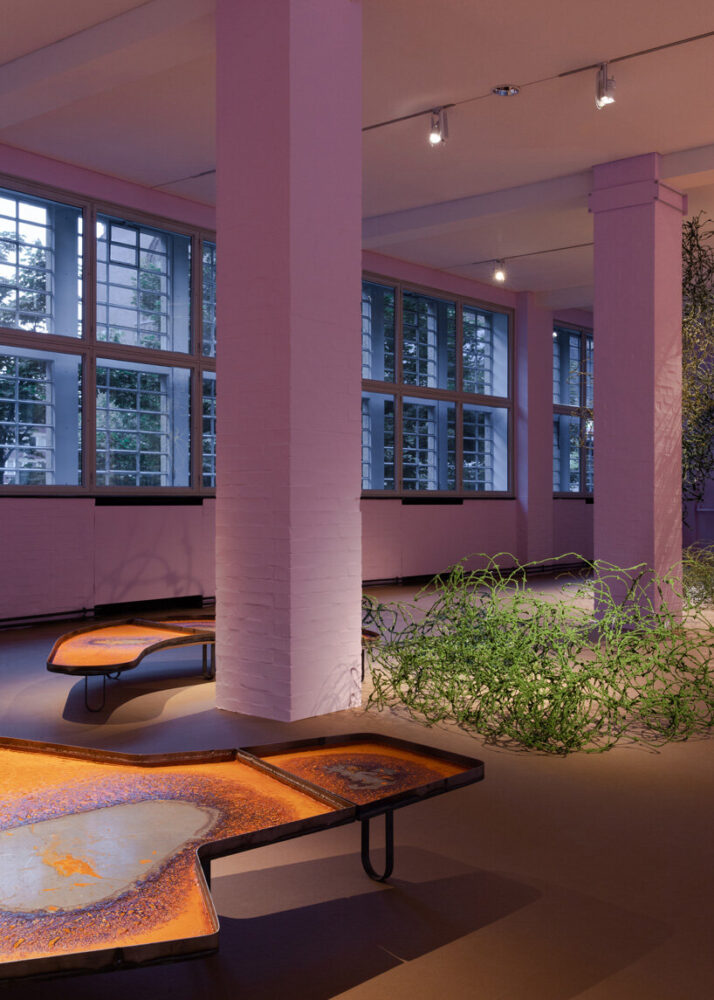 image by diana pfammatter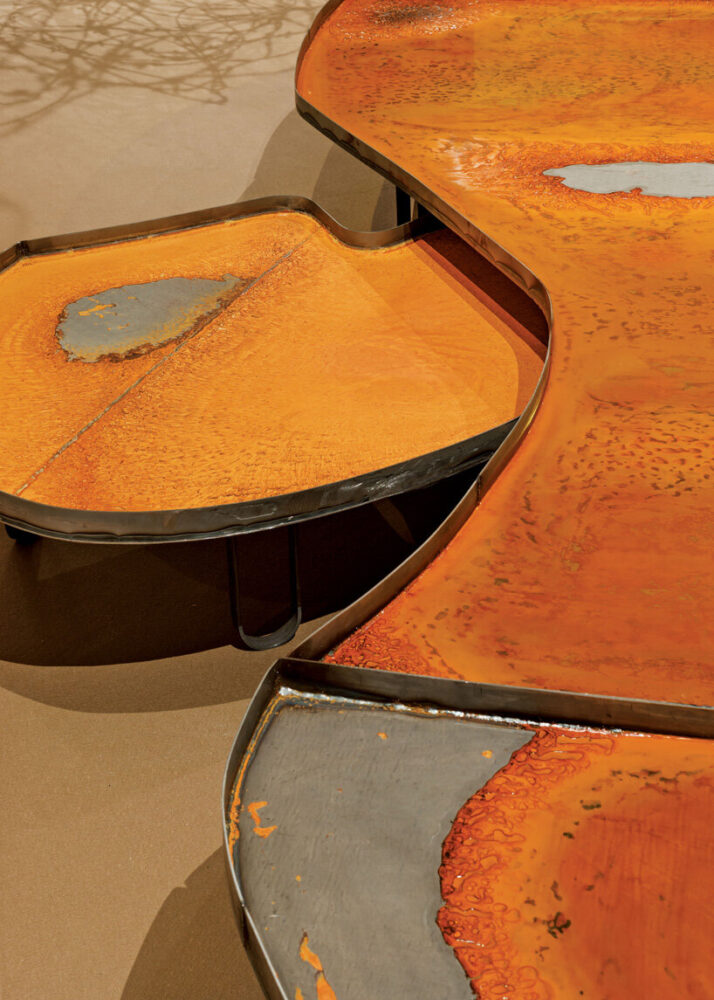 image by axel schneider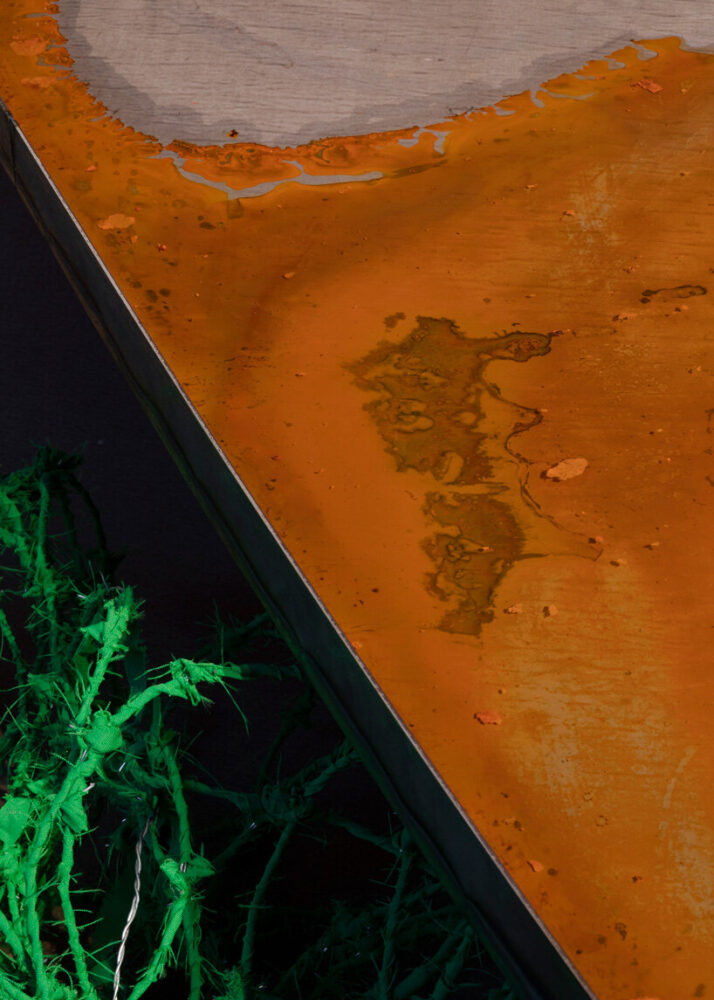 image by diana pfammatter
a diverse digital database that acts as a valuable guide in gaining insight and information about a product directly from the manufacturer, and serves as a rich reference point in developing a project or scheme.
designboom will always be there for you
milan, new york, beijing, tokyo

,
since 1999