where reality meets fantasy
animals, in particular fish, have always been a subject of fascination for korean artist minyoung choi. on growing up in daejeon, choi recalls the national geographic programs that fed her dreams and the fish tank in her family home that lit up her imagination. after spending her childhood drawing and painting, choi knew she wanted to work in the creative realm and pursued her dream with masters of fine arts in painting from both seoul national university and UCL.
now living and working in london, choi has become known for her dreamy watercolors and oil paintings that intertwine surreal moments with real memories. in recent years, it's the artist's aquarium and fish bowl paintings that have struck a particular chord, with the theme of captivity reflecting how we experience nature in contemporary life while inviting viewers to escape into a miniature world within a world.
in this interview with designboom, choi elaborates on her inspiration, her process, and what she wants to express with her paintings. read the full conversation below.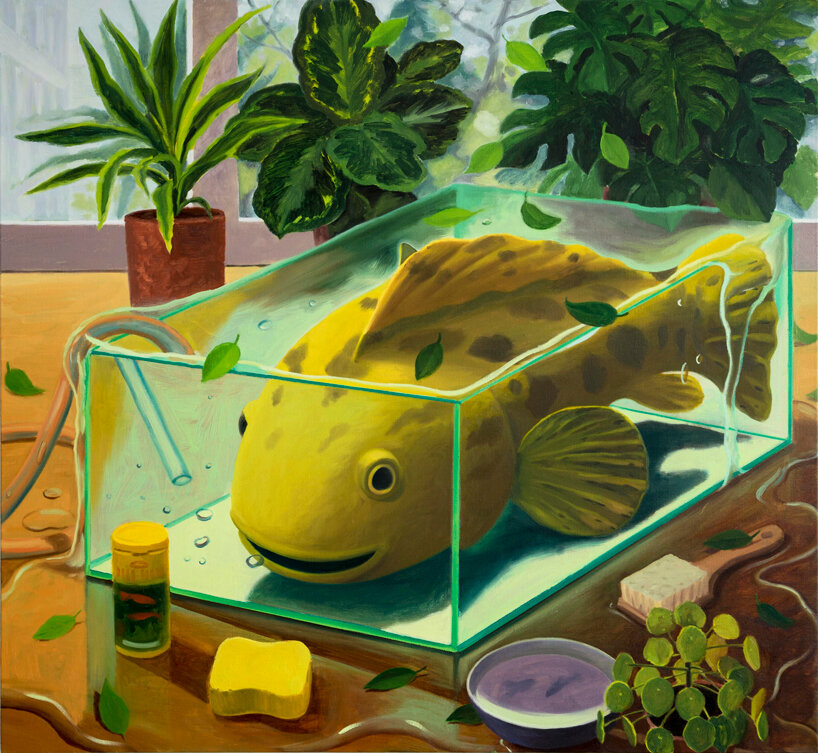 bath, oil on linen, 110 x 120 cm, 2020
all images courtesy of minyoung choi
in conversation with minyoung choi
designboom (DB): can you tell us about your aquarium paintings? why did you choose fish as your subject matter?
minyoung choi (MC): I have always been fascinated by animals since I was young. I used to watch national geographic all the time and dream of seeing all kinds of creatures in real life. naturally, I grew up having tiny creatures around me as pets (but not necessarily) and the first animals that I sympathized with, were fish. I remember goldfish swimming in a big ceramic bowl on my family's balcony and a large glass fish tank for tropical fish in the living room. my neighborhood in my hometown of daejeon was called 'eoeun' which means 'fish is hiding'. I would imagine that fish are literally hiding in my town and that the whole place was underwater as a kid. I remember someone saying that seashells could be found in the neighboring mountains as this place used to be an ocean a long time ago. for many trivial reasons, fish were particularly familiar to me and I felt that I am part of them somehow, like I am one of them too as my star sign happens to be pisces also. when I paint big anthropomorphized fish, I empathize with them a lot, feeling that they represent some side of me.
the fish tank itself is a fascinating subject to me as well. it is a glass box that holds nature within. I love how the world is arranged inside of a confined glass box. it is a whole world for the fish and a small universe for me. it reminds me of the boundaries of the world I belong to.
while living in big cities, seeing fish as pets in a glass jar or in an aquarium has been more common for me than seeing them in the sea in their natural habitat. I think this idea of captivity also perfectly reflects how we interact with and perceive 'nature' in the contemporary world. it's all a bit staged in the end. I believe it creates tension when the living and the inanimate coexist in the same image within a painting.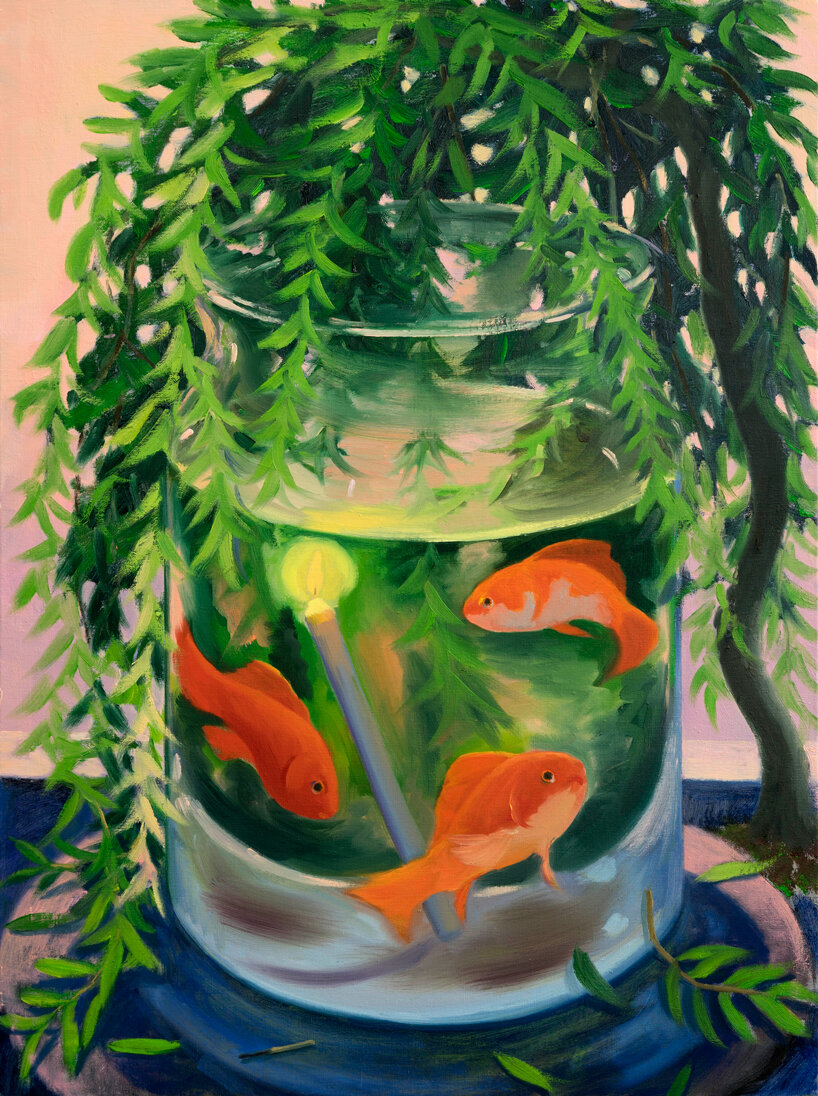 goldfish, oil on linen, 80 x 60 cm, 2020
DB: you created works like 'bath', 'goldfish', and 'sunset' in 2020, at the height of the COVID-19 pandemic. were these works an intentional comment on lockdown, or just a form of artistic escapism?
MC: none of my works are made in relation to the pandemic or lockdown intentionally.
I could almost divide the year with when the paintings were made. I remember I made 'bath' just before the pandemic. the idea behind the painting was that the yellow fish is taking a bath in a temporary box while his original house is being cleaned. that was how I remember our fish tank being washed in my childhood. I may have completed 'goldfish' but left 'goldfish 2' unfinished.
during lockdown, I've developed my routine working from home making watercolors. naturally, I've made more fish tank paintings as I was fascinated by the visualization of the water of the fish tanks in a water-based medium. I began incorporating the vivid colors of sunsets that infused the fish tanks and the space into the works. I was more familiar with using blue/green shades for my work but I wanted to expand the color range I could use as well. this was how the 'sunset' series came to be.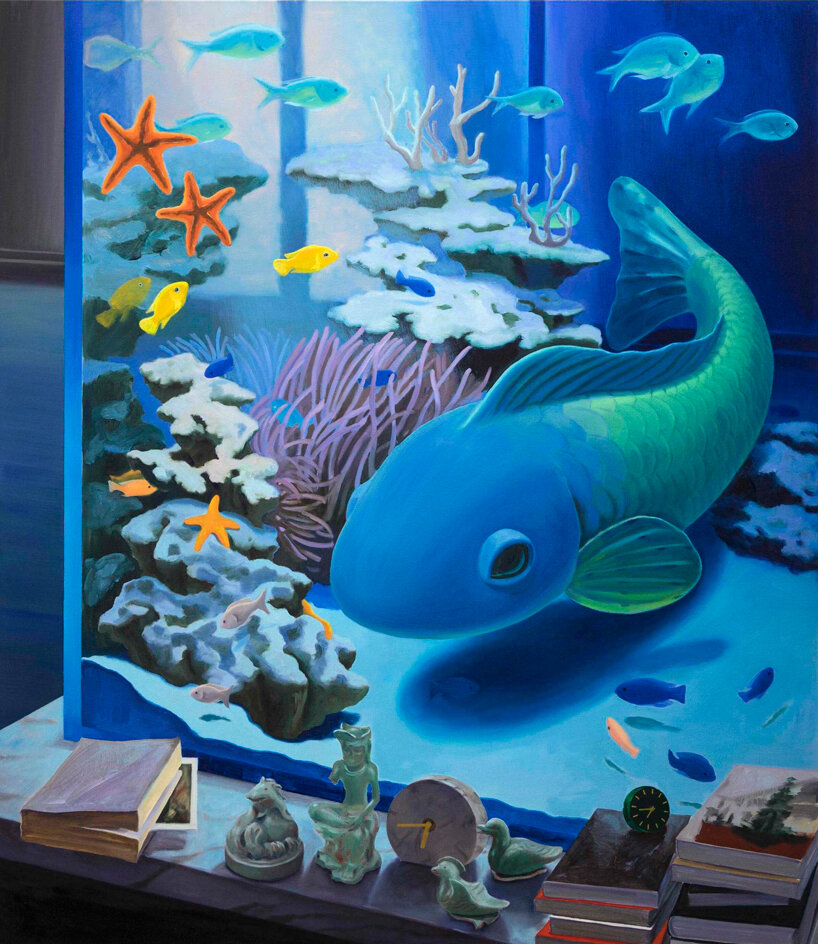 aquarium, 150 x 130 cm, oil on linen, 2020
MC (continued): back in the studio that summer, after the lockdown, I continued to expand the idea of the fish tank in oil paint.
'goldfish 2' was finally completed then and I also made 'aquarium' which was an extension of my 'sunset' watercolor works. by the time I was fully back in the studio, I was able to lead my work in a new direction.
I wasn't necessarily associating the pandemic with my paintings. I was more interested in the subject as a means to draw natural elements into the domestic settings: the visualization of a world within a world. the viewer first started to connect my paintings with the lockdown and eventually, I also felt the pressure of confinement reflecting into my work. afterward, I did move on to depicting living creatures in open spaces too. I believe these paintings will feel differently after many more years when the pandemic is over and probably they won't be associated with the health-related isolation anymore.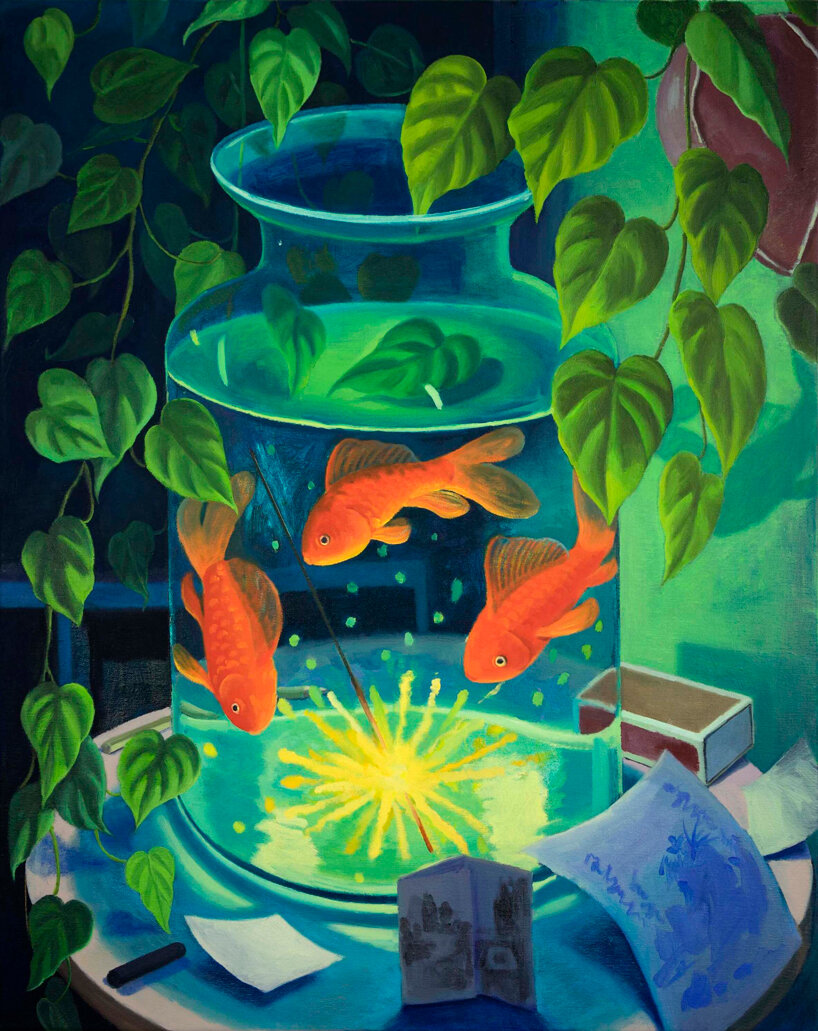 goldfish 2, 76 x 61 cm, oil on linen, 2020
DB: what feelings or sensations do you want your work to express to the viewer?
MC: I believe the completed works are beyond my intention and open to interpretation for the viewer. however, there are mixed feelings and sensations such as 'eerie yet playful' or 'tranquil yet uncanny' that I focus on while I paint. I aim to retain those mixed elements until the end. I can say fantasy is at the center of my work, although my work is tied to reality and is essentially related to my own memories. I constantly drive my motifs from the surreal moments I have experienced which include some of my strangely vivid dreams, playing games, watching movies, and other digital or non-digital experiences. for me, life is magical and strange enough. I just need to tweak a little and arrange things in a slightly different way or view them from a different perspective. things I paint won't make total sense in real life but they do in my work. the fact that it is a painting is essential. each element is crucial to the whole image so composing the image for a painting is the same as staging a perfect coincidence and the viewers become the witnesses of these slightly unreal yet believable worlds.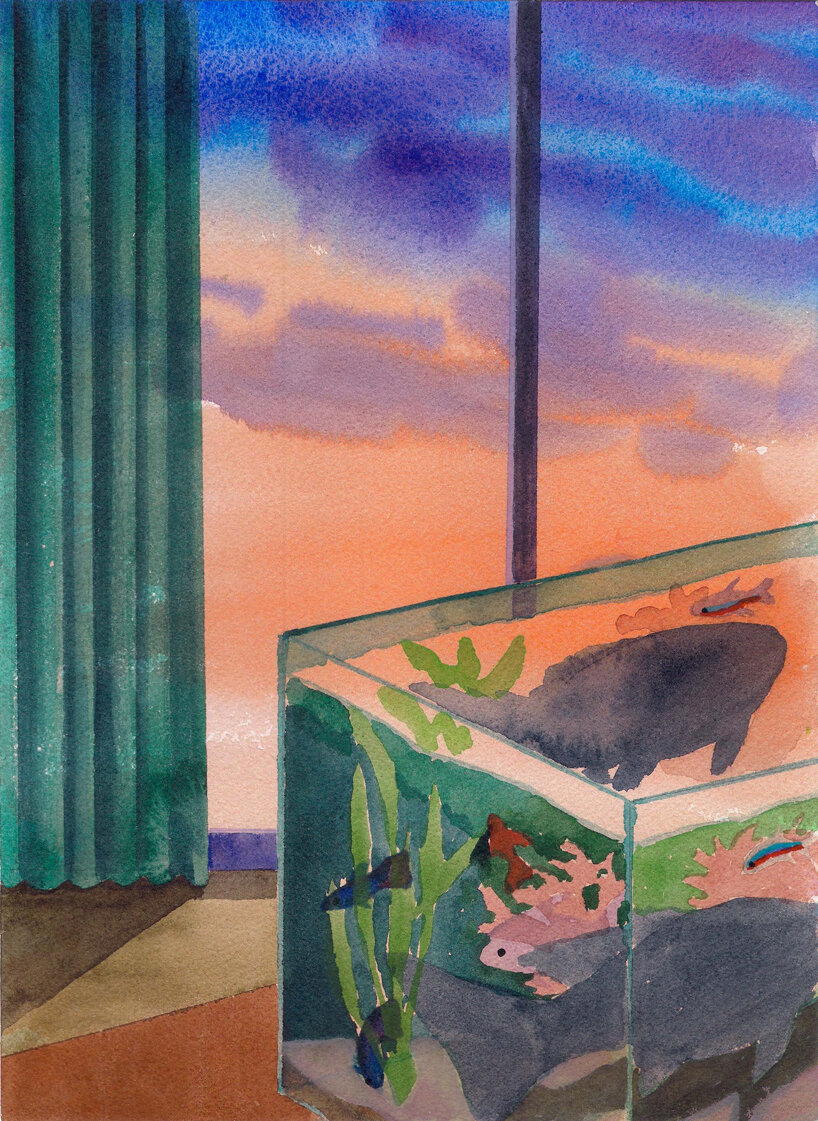 sunset 5, 28.3 x 20.7 cm, watercolor on paper, 2020
DB: how do you approach a new painting? what does your initial process look like?
MC: I start working from vague imagery in my mind. I pick the subject from my doodles on paper which only shows rough ideas. then I collect items and photos that would help me with depicting details. I don't have one particular way of working but I tend to create a plausible space and time which feels lived in and occupied. although I plan, many parts are materialized while I actually work on the canvas. overall, I adapt a lot to what is already painted on the canvas and work quite intuitively changing colors, shapes, and composition. you can imagine my initial process looks quite messy and rough. I don't really like to reveal the process to other people because the initial images are so different from the final stage.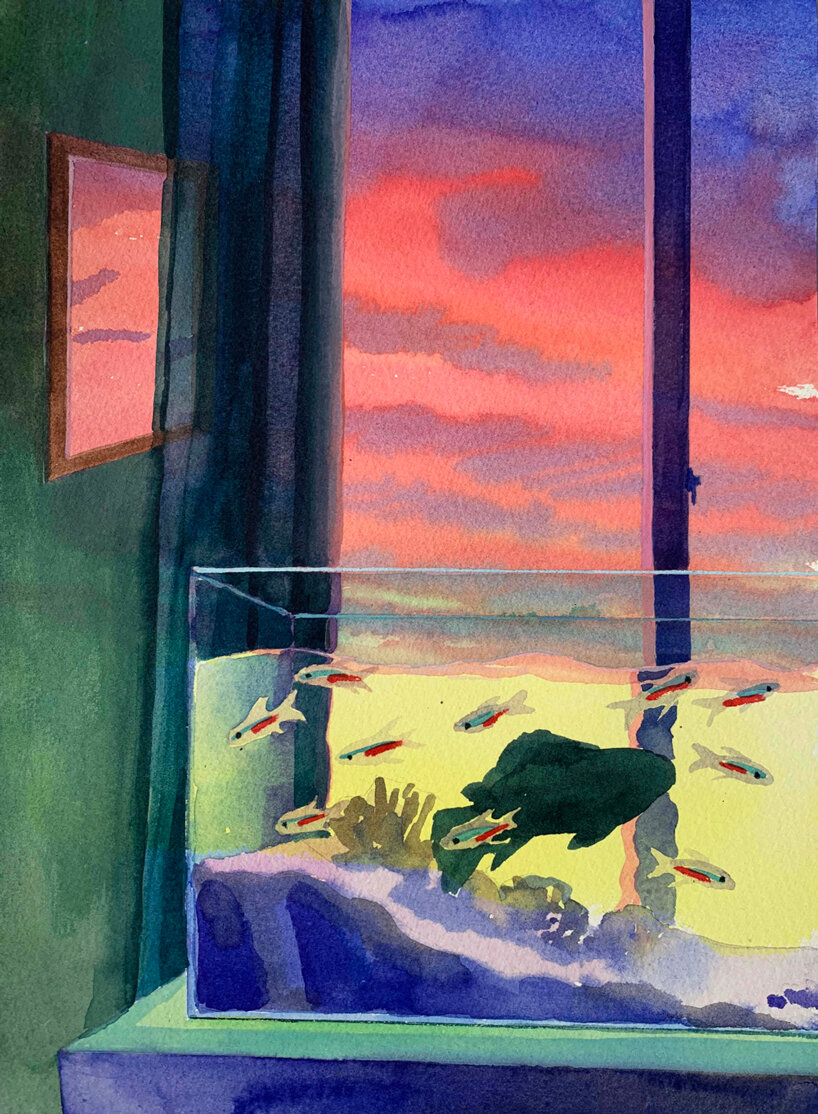 sunset 2, watercolor on paper, 28.3 x 20.7 cm, 2020
DB: what inspires you from everyday life?
MC: since I have been taking on a residency in romania for two months, the new environment is a great inspiration to me. the pine trees are beautiful here and the animals are always around the studio. especially at night, I find the moon and the stars significantly brighter in this area. the stars are like shining salt and it feels like I can pick them out. it is indeed surprising to see how bright it is outside, only from the moonlight at night. we had heavy snow for a few weeks and it was wonderful to see the snowscape again.
DB: what are you currently working on? what themes would you like to explore next?
MC: I am currently working on a series of paintings to be shown for multiple projects this year. the first one I will take part in is the london art fair with lychee one and will be followed by a few other projects in china and korea. I will have a show with thisweekendroom in seoul in may.
I am developing some images that I made a few years ago. there were a few things that I feel I didn't get to fully explore. there are my paintings called 'moon ritual' (2017) and 'snowball picnic' (2016) which I made while I was at the slade. I have already started a new series based on these. I am also developing new works from my drawings of 'sleeping fish' and from my recent painting 'cats playing with slightly frightened creatures on a clear day (2021)'.
discover more of minyoung choi's work on her website here and instagram here.
a diverse digital database that acts as a valuable guide in gaining insight and information about a product directly from the manufacturer, and serves as a rich reference point in developing a project or scheme.
designboom will always be there for you
milan, new york, beijing, tokyo

,
since 1999