glacier dreams: at the intersection of art, science & technology
A pioneer in aesthetics of data and machine intelligence, Refik Anadol returns with Glacier Dreams — his newest AI data painting installation unveiled as an immersive, multisensory activation. At Art Dubai 2023 which took place between 1-5 March, the new media artist launched the first chapter of his ongoing collaboration with Swiss Private Bank Julius Baer for their NEXT initiative. Presented as a three-dimensional space where sound, light, and scent come together in a hypnotic generative display, the synesthetic project illuminates the beauty and fragility of Iceland's volcanic glaciers which Anadol refers to as 'melting memories'. Across its multiple chapters, Glacier Dreams investigates both the geological and aesthetic formations of glaciers while raising awareness about the dangers of rising sea levels by utilizing AI tools in innovative ways to 'change humanity'.
A call to preserve 'nature's magnificent sculptures', as Anadol puts it, Glacier Dreams sits at a thought-provoking intersection of multi-sensory experiences, machine learning, and environmental studies. The project is shaped from an enormous corpus of data including 85 million images and real-time sound bites alongside an extensive collection of weather data. Algorithms developed by AI and inspired by fluid dynamics were then trained on the datasets to reconstruct a dreamlike, audio-visual alternate reality that commemorates the beauty of these perishing landscapes. Interpolating the data with fluid visualizations, and using data as a pigment and AI as a paintbrush itself, the final installation unfolds as a poetic sequence of multisensory narratives that ripple hypnotically across each surface of the room. Abstracted glimpses through dissolving minuscule fragments reveal the ever-shifting nature of glaciers, the dynamic plays of light and color of glacial ice, and the fluctuating weather patterns in the region as they evolve under the threat of climate change. Despite the weight and urgency of the issue, the work exudes a sense of optimism. Each pixel and data point in the piece is heavily laden with a sense of hopeful activism, stirring viewers to urge preservation of these final, eroding 'memories of humanity'. 'The whole idea is to bring attention to glaciers, their beauty, structure, and function, while highlighting the dangers of them disappearing and the purpose of preserving them,' Anadol tells designboom.
To find out more about the goals and processes of the collaboration from the artist himself, designboom spoke with Refik Anadol and attended an exclusive preview of Glacier Dreams at the Julius Baer lounge at Art Dubai. Read our conversation in full below.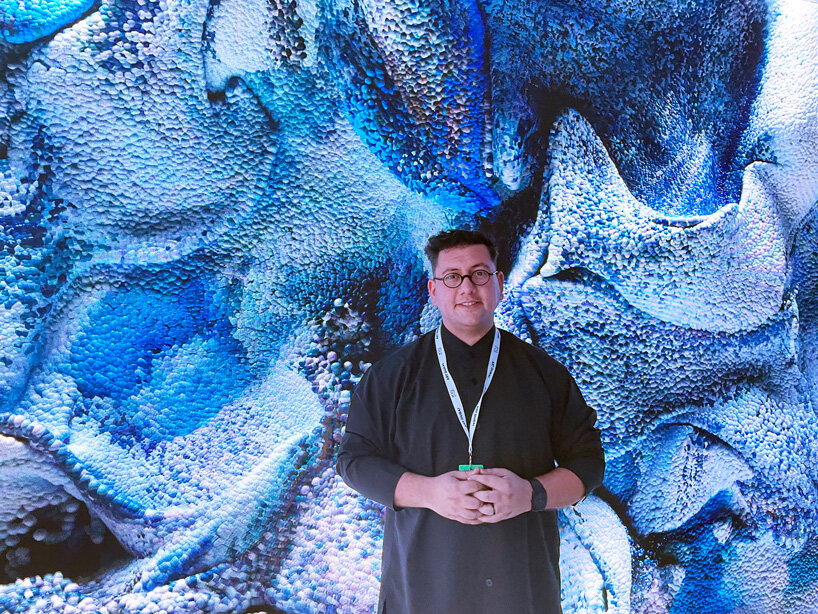 Refik Anadol launches the first chapter of Glacier Dreams at Art Dubai 2023 | image © designboom
interview with refik anadol
designboom (DB): What is Glacier Dreams and how did you start working on this collaboration?
Refik Anadol (RA): Glacier Dreams is part of the NEXT initiative commissioned by Julius Baer and curated by Hans Ulrich Obrist. It started as a powerful statement about how we can bring together art, science, and technology, and how we can progress meaningful actions going beyond shiny pixels.
I have been researching nature for the last four years now. In my work I am not trying to mimic nature, but I am trying to find new ways of expressing it. In this case, thanks to Obrist, I was challenged to try something more fresh and different. For the last seven years, I have also been working with AI and have worked with over 3 billion images across many different disciplines. But I have never been able to do a profound data collection of spaces, until now.
During this year, we are collecting new data sets to create a corpus and archive of glaciers, beginning our travels in Iceland. Our next stop will be Greenland and then Antarctica and each chapter will have it's own activation. Here, we have an immersive three dimensional room where sound, image and scent driven by AI come together, looking at melting volcanic glaciers in Iceland and highlighting their beauty.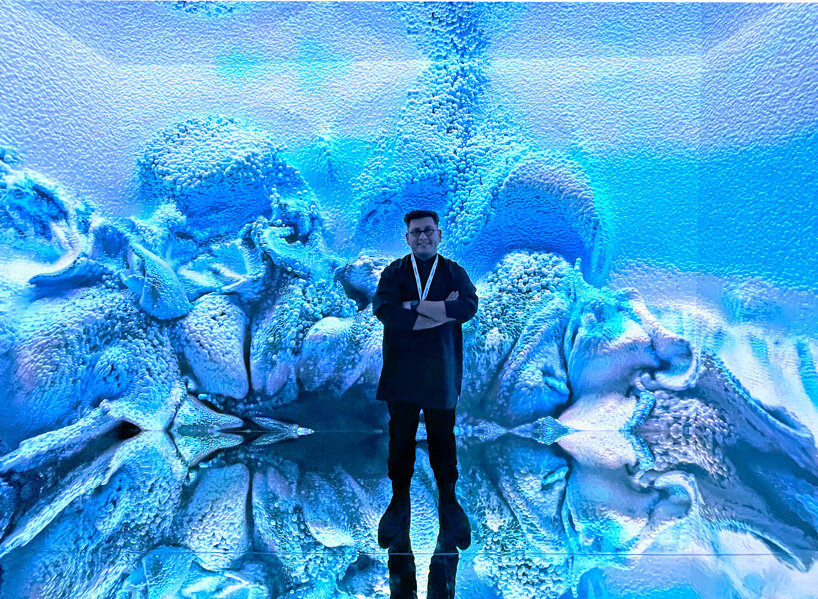 the activation presents a multisensory experience in a three-dimensional space | image © designboom
DB: How did you compile the data sets for the installation?
RA: For the past several weeks, we have been in Iceland looking at volcanic glaciers and recording real-time data from the environment. For the data collection, we are very significantly focusing on photography, videography, drone-based analysis of the glaciers, and NERF — a new technique of reconstructing 3D surfaces. I've personally collected more than 10 million images.
We documented the weather and sound of glaciers as we walked along them, including their cycle acoustics. We are also using weather station data looking at temperature changes, patterns of the wind, snow, and rain, their speed, gesture etc. We looked at all of these patterns and turned them into a database.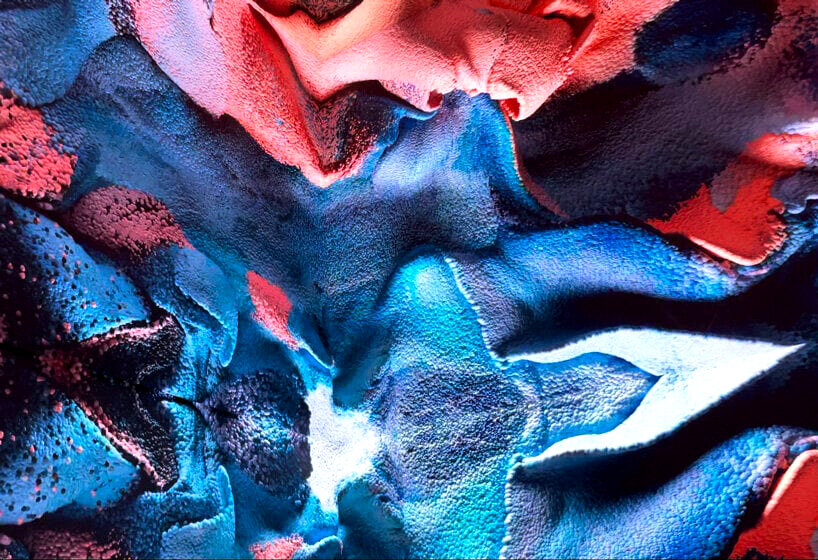 a mesmerising fusion of sound, image and scent driven by AI | image © designboom
DB: The installation is a really rich multi-sensory display, encompassing visuals, audio, and even scent. How was that database then materialized into this physical experience?
RA: We have three steps. First, we collect the data, then classify, analyse, and curate it. At the second stage we use generative AI tools to train machines with the data sets and reconstruct new realities. As a studio we always collect our own data, and train and interact with our own models, and try to push forward the AI training process in new ways.
On top of that there is also artistic computation which is now a signature movement in my work — like fluid dynamics. I like to think of data as a pigment, and find ways to create art with it. I believe there will be an ever-changing influx in data pigmentation, so I am trying to uncover the aesthetics in the work.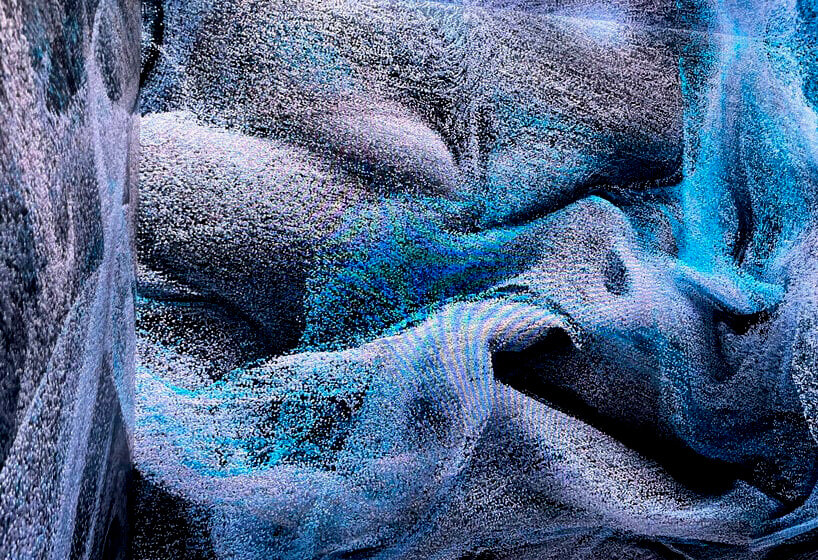 the activation highlights the beauty and fragility of glaciers across Iceland | © designboom
DB: It's quite interesting how nature as a subject is being portrayed and even somewhat preserved by innovative AI design tools. What were your intentions behind that?
RA: Yes, I am always trying to find, and to see, the beauty in things. Trying to find what else we can do with it. And AI, I believe, is a form of preservation — preserving the memories of humanity. But also, glaciers are so important too. They provide 70% of fresh water for humanity, and unfortunately, more than 10% of the Earth's land is covered by glaciers that are constantly melting. I like to call them 'melting memories'.
At the same time, they're also like beautiful sculptures of nature. Not different than Monet or other artists, I am also inspired by nature, but I am just using recent tools to reimagine the reality that we are exposed to by it. The whole idea is to bring attention to glaciers, their beauty, structure, and function, while highlighting the dangers of them disappearing and the purpose of preserving them.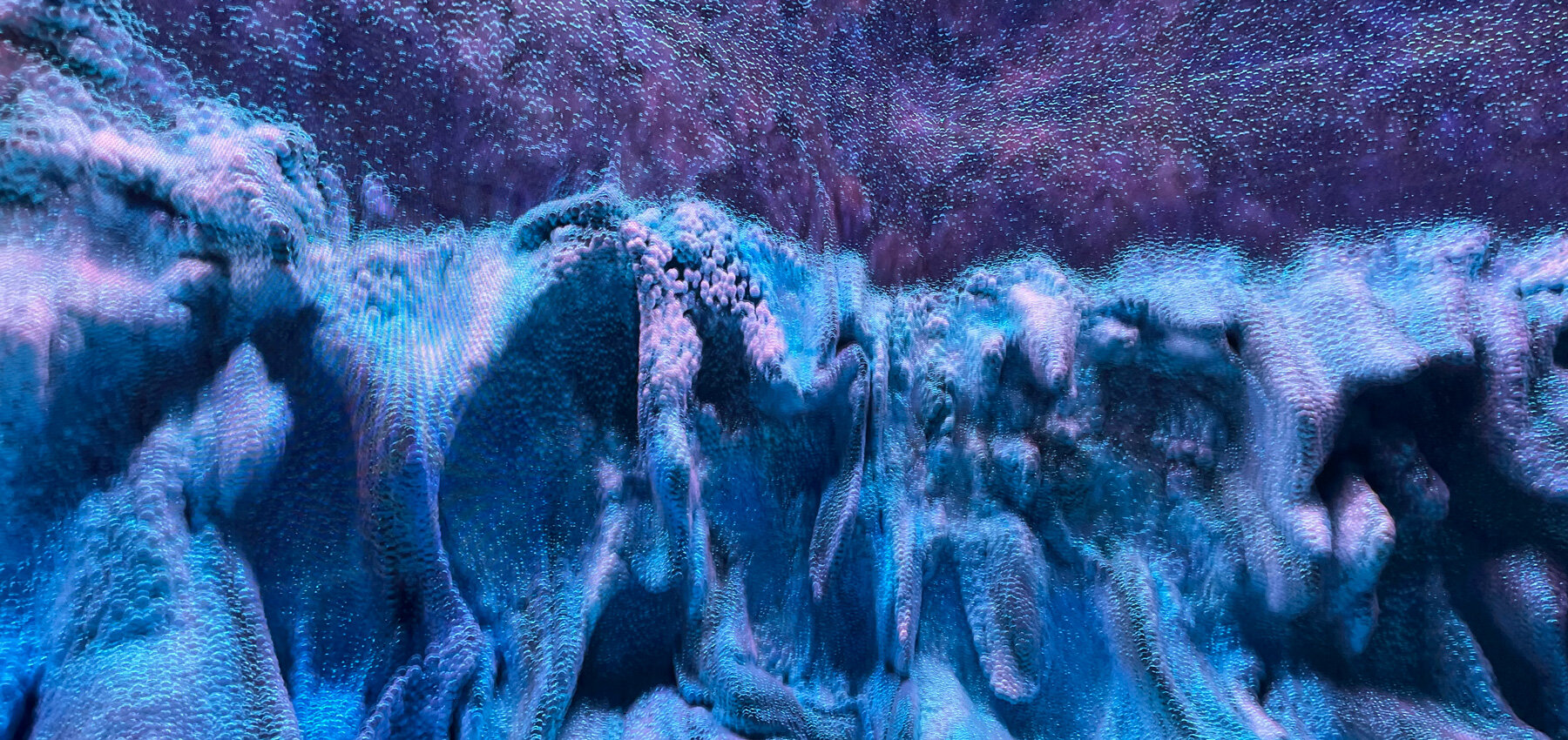 DB: In the age of new media, we are seeing so many artists beginning to integrate innovative technologies into their creative processes as we can see at Art Dubai Digital. But a lot of it is often met with scepticism. You have been one of the pioneers in generative design movement for many years now — how do you navigate past that?
RA: As a creator pushing boundaries of reality, doing things never done before, and trying to be at the forefront of this effort, I always find sceptical minds. I call them gatekeepers or dinosaurs — people who don't want the progression of new mediums. When I encounter them, I see not myself but the people who come after me, practicing with the same tools and achieving new heights.
So, I think it is very important to share what this process means in order to demystify AI. That is the most important part. Our work is super straightforward, honest, and direct. That's why we always share process videos alongside our installations.
But I am already seeing a lot of progress and inevitable change. It is a very powerful thing to use AI in the creative process, and I think that AI will profoundly change humanity. I just wish that we can go beyond the current fearful, anxiety mode, and find the most productive way of using AI in humanity.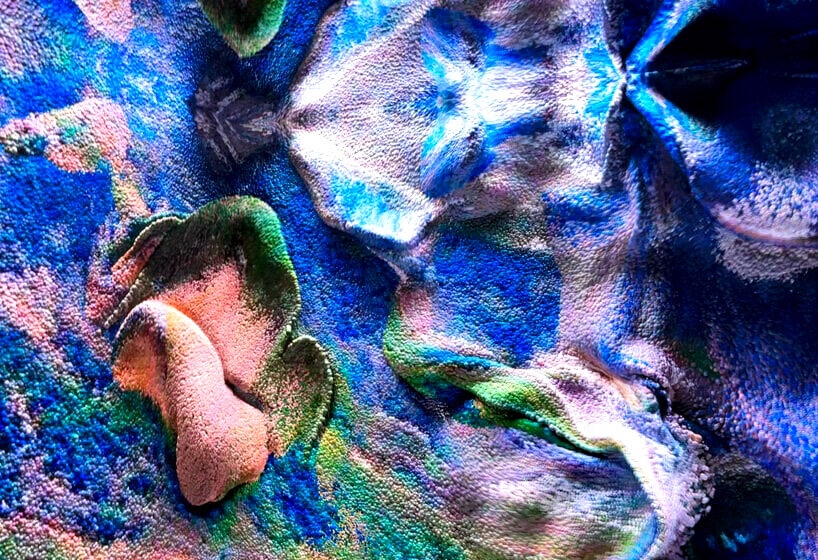 each pixel and data point in the piece is heavily laden with a sense of hopeful activism | image © designboom
DB: That really shines through with 'Glacier Dreams'. Being inside the space really inspires awe and optimism, rather than shocking us to worry about the urgency of the problem.
RA: Yes, because I found the connection in trying to find the human in non-human. It's an empathic thinking — it's about conveying what the glacier feels when it's melting. We are carrying out the research ourselves, exploring the glaciers and connecting with nature while we gather the data, and the work reflects our journey.
There are many artists and activists trying to create impact and take attention through their work but I don't think that they are making the impact that we need. But with this work I find that I have the attention of the audience when I start talking about how I felt when I was in Iceland, how I felt about this reality of climate change. I found a hundred percent reaction and action. People want to care about the problem.
Actions can only come about when a person connects with an idea, and I believe this positive hopeful approach is what we need. I think this is a new take, hopeful, positive, and educative, inspiring. Pointing fingers and focusing on negatives doesn't work for humanity.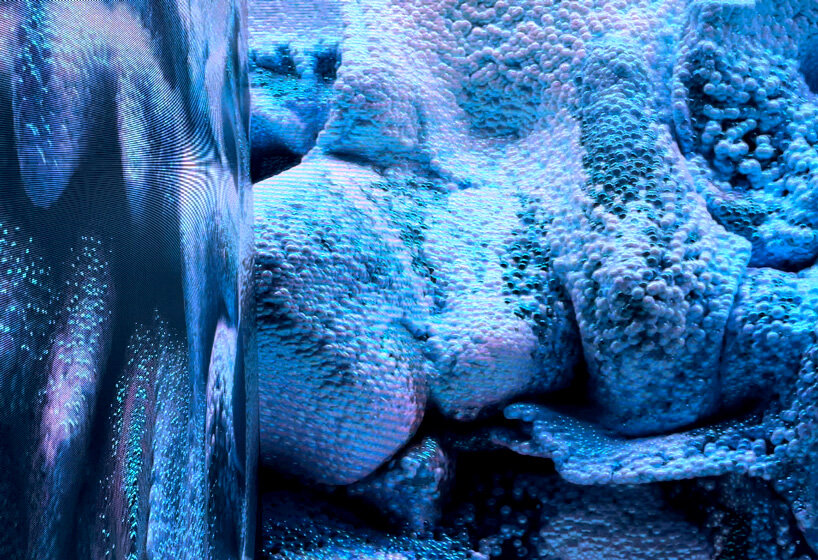 image © designboom
Glacier Dreams' first chapter captures data across Iceland | video © Refik Anadol Studio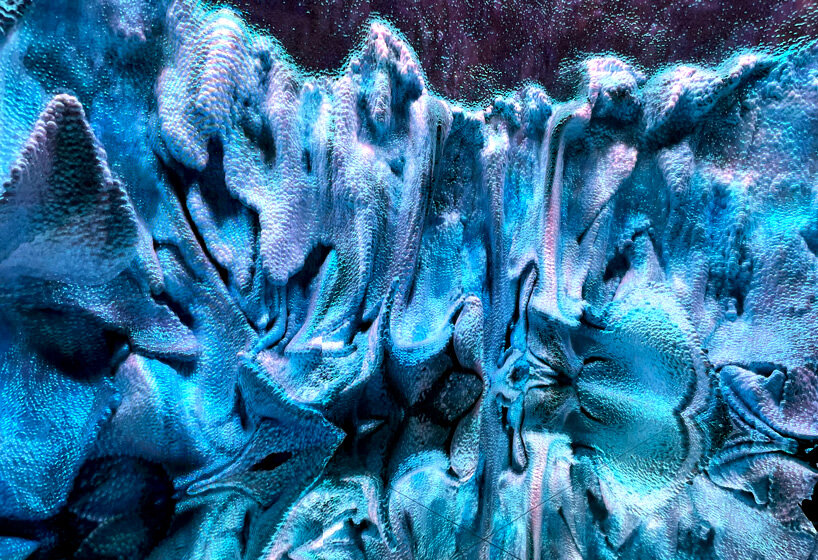 image © designboom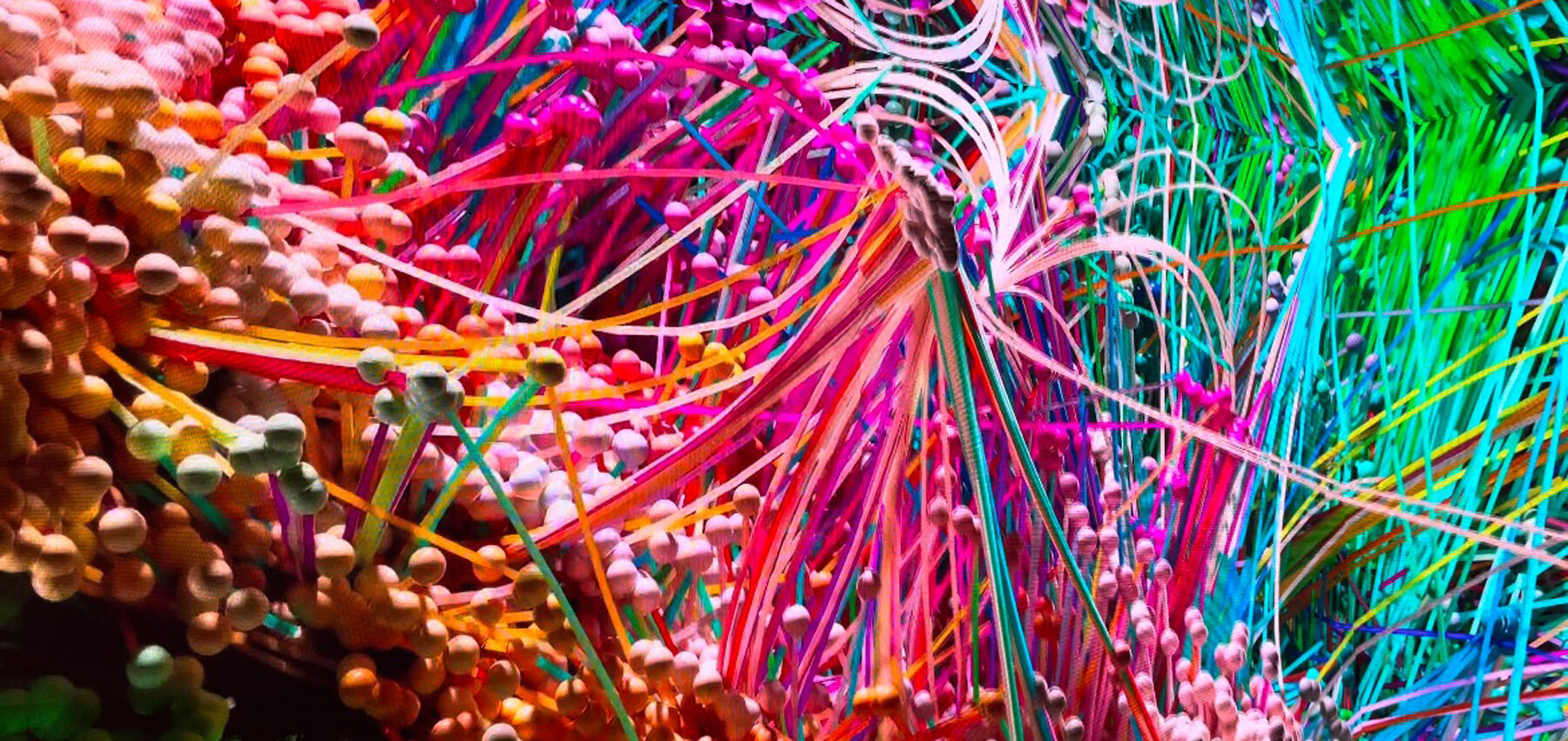 Refik Anadol talks us through Glacier Dreams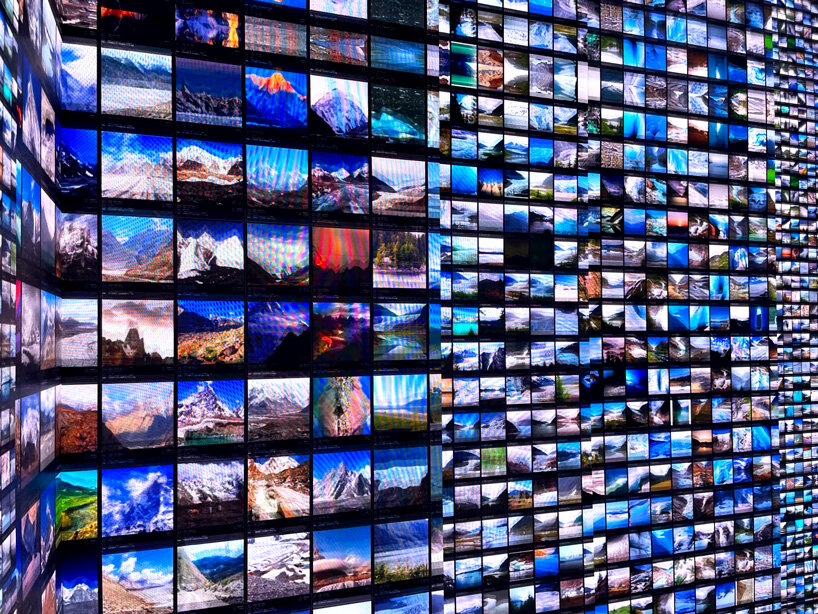 KEEP UP WITH OUR DAILY AND WEEKLY NEWSLETTERS
a diverse digital database that acts as a valuable guide in gaining insight and information about a product directly from the manufacturer, and serves as a rich reference point in developing a project or scheme.
designboom will always be there for you
milan, new york, beijing, tokyo

,
since 1999