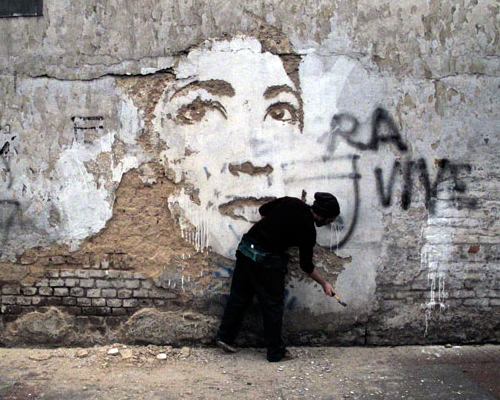 jun 25, 2014
interview with artist alexandre farto AKA vhils
alexandre farto AKA vhils
photo by silvia lopes
portuguese artist alexandre farto AKA vhils has been interacting visually with the urban environment since his days as a graffiti writer in the early 2000s. in recent years he has become better known for his chiseled facade portraits, which see him break away surface layers of walls to create highly detailed artworks. ahead of his upcoming show at the EDP foundation in lisbon he told designboom more about his influences and approach.
designboom: can you remember the instance that made you want to be an artist?
alexandre farto: I don't really like to think of myself as an artist, but I remember I was always drawing as a child, and when I was around ten years old I became fascinated with the graffiti I saw in the streets on my way to school. and it was long after that I was out there tagging and bombing with other kids. so, I regard graffiti as my first art school.
scratching the surface
DB: has graffiti been the biggest influence on your art?
AF: yes definitely. much of what I do today is still somehow connected with this illegal practice. it gave me purpose and a sense of how to use the public space to communicate, while also giving me many of the tools and techniques I'm still exploring today.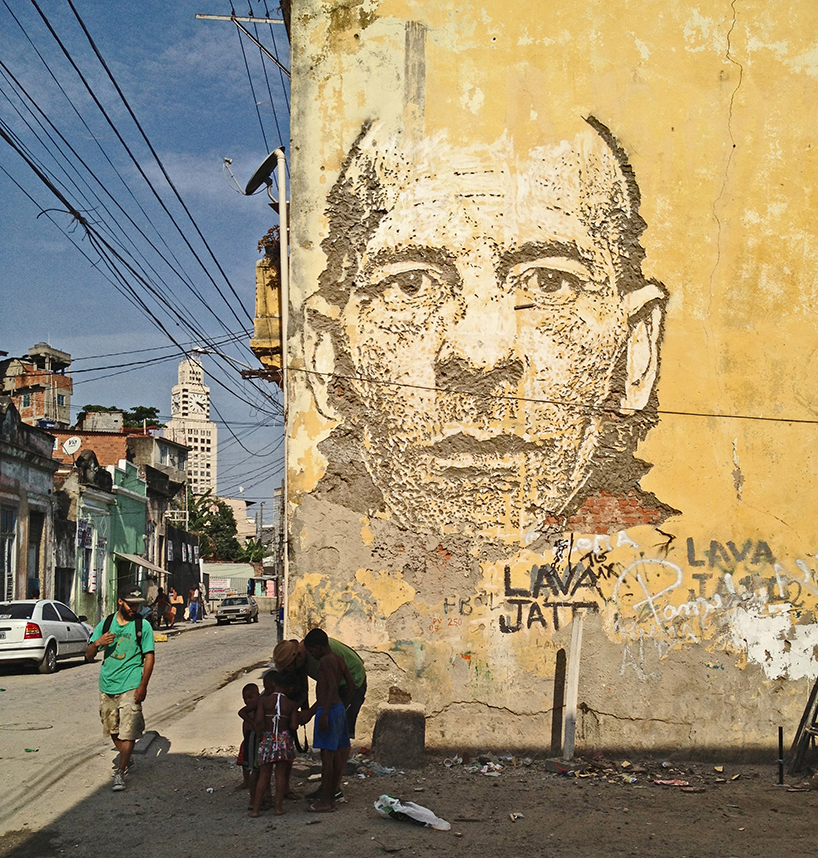 seu elias, morro da providência, brazil
photo by joao pedro moreira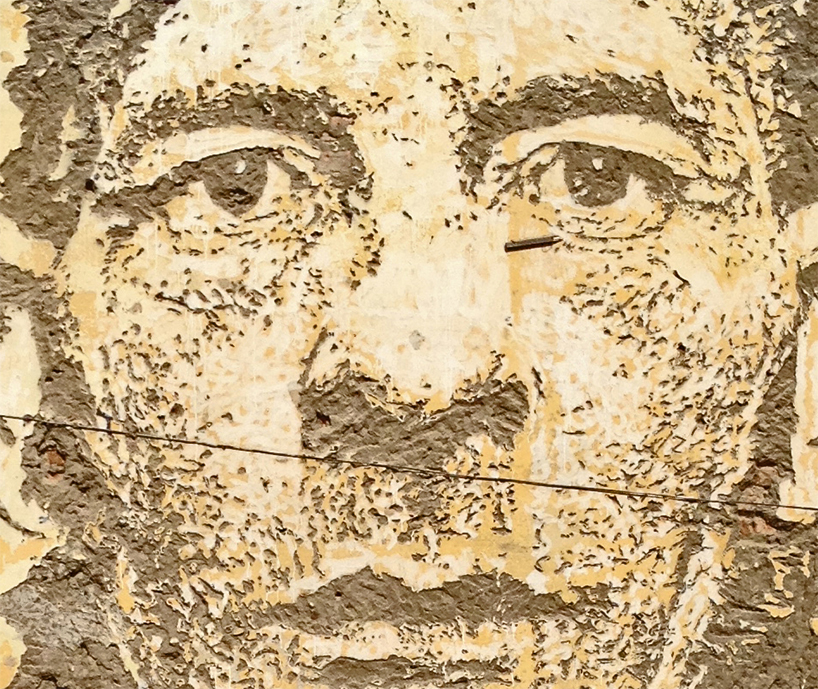 detail
DB: how would you describe your approach to someone unfamiliar with your work?
AF: I like to use destructive means to create artwork that is meaningful and poetic, mostly portraits that can humanize the often oppressive public space that we find in our cities. you can think of stenciling that creates a symbolic window that helps reveal what lies hidden beneath the surface of things. it is a work of subtraction and exposure.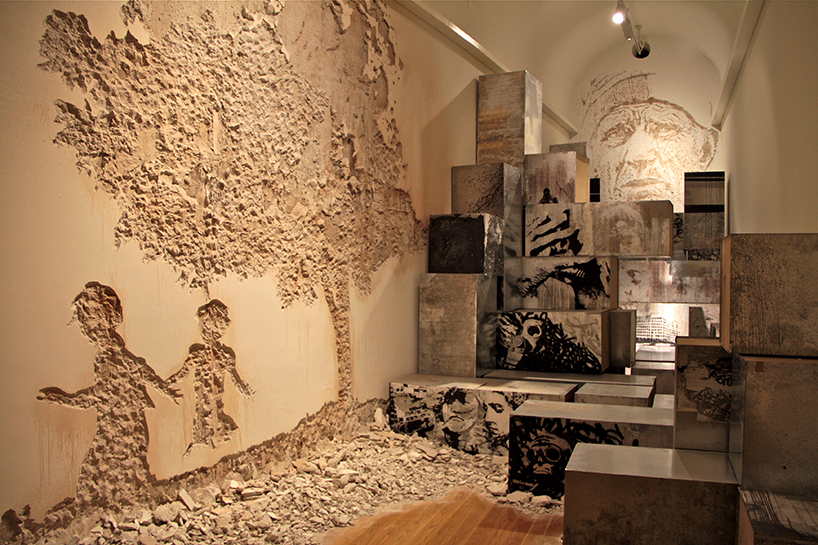 MACE at elvas museum, portugal
DB: how has your work evolved over the years?
AF: I have been exploring many bodies of work using a lot of different media over the years – from wall carvings to works on paper, posters, wood, metal, styrofoam, cork, explosives and others – so it's hard to describe in detail how all of these have evolved over time. gradually the works have evolved in terms of the technical complexity. I started carving, cutting and drilling very simple pieces, on a small scale and with hand tools, and over the years I have been experimenting with several tools and approaches that have somehow increased the level of detail and richness of each piece.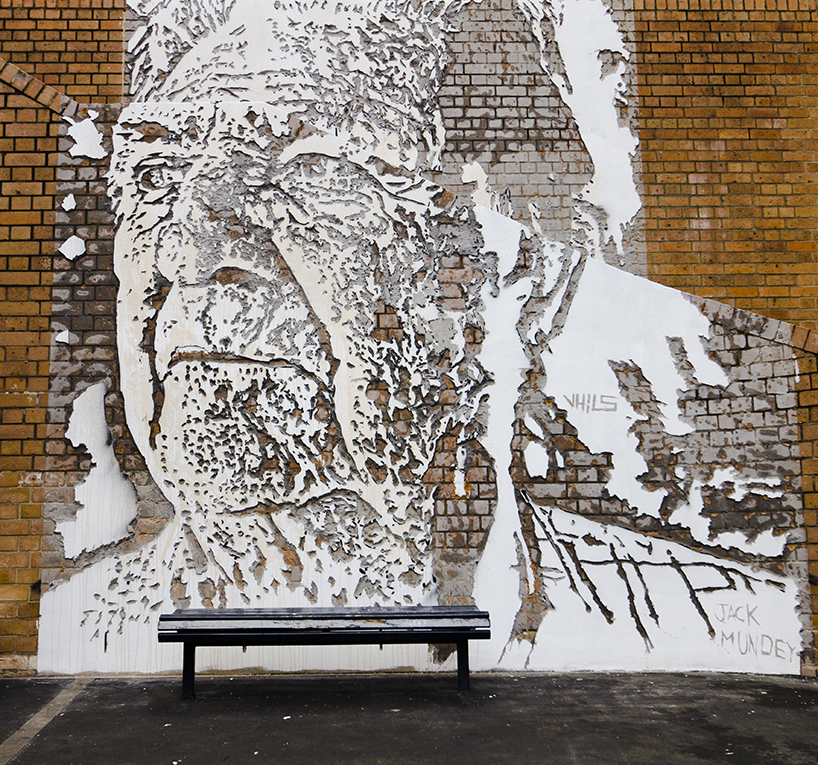 jack mundeym, sydney, australia
photo by silvia lopes
DB: which medium or materials do you like working with the most?
AF: the most obvious answer would be walls – I started writing graffiti on them (before I became immersed in the train writing scene) and that is where I created some of my finest work. I definitely like working with walls because of their layers, rich textures and the narrative they hold within… but I also like working with other media as well. I have always loved working with screen prints for example, and the last few years have been very good in terms of finding new materials like styrofoam and cork, which are both amazing to work with. working with explosives has also been an incredible experience.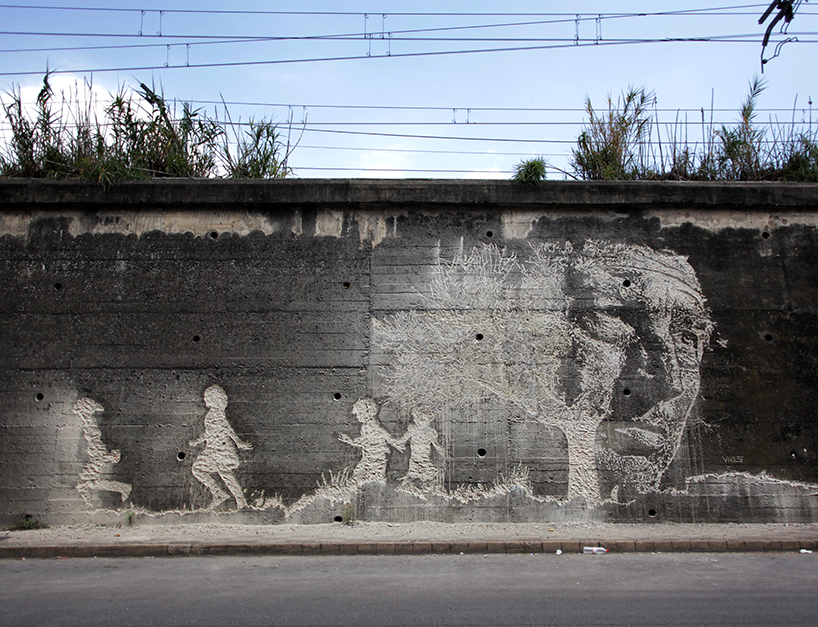 milestone, girona, spain
photo by smart bastard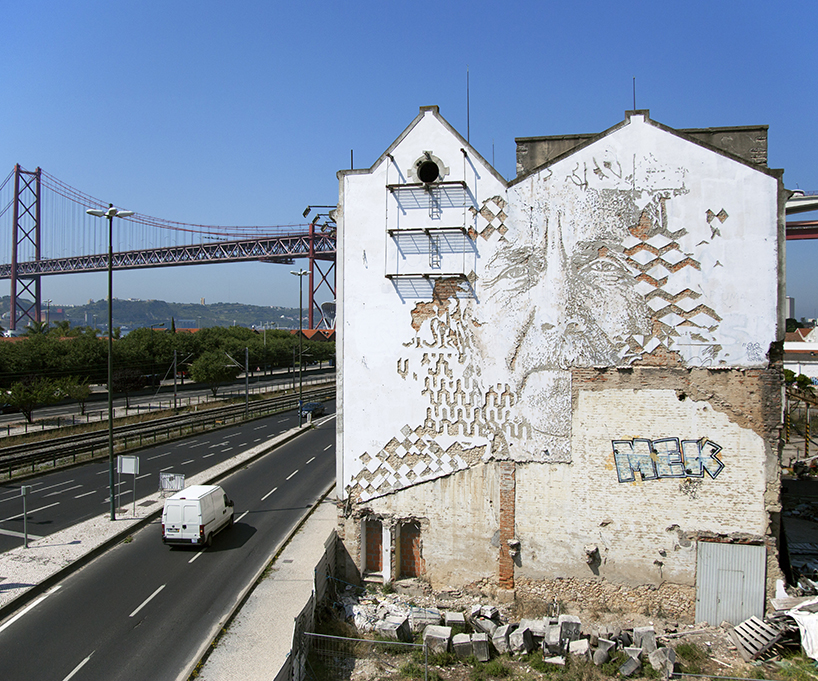 untitled, lisbon, portugal
photo by alexander silva
DB: which piece or collection has given you the most satisfaction?
AF: I am usually most satisfied with the latest piece, so this is always changing. in many ways, the community-related projects I've done in brazil and other countries have always been very rewarding mostly because you're working with people who are dealing with real-life issues and it feels good to help them in a very modest way. in terms of artwork, at this moment in time I'm very pleased with the work [see video below] that I am presenting at my new solo show at the EDP foundation in lisbon, opening on july 4th.

vhils at EDP foundation
DB: please, could you tell us a bit more about this project?
AF: this is by far the most ambitious piece I have ever worked on; an underground train carriage that I've cut up into small pieces and which has proved a huge challenge in many ways – I hope people will enjoy it as much as I have enjoyed producing it.
it is the first time I'll be holding a solo exhibition at a major art institution/museum in portugal and it is essentially an in-depth approach to the urban environment based on a dissection of some of its key elements – it is yet another step in exploring this subject that has been a major part of my work over the last few years.
reflecting on this model of socio-economic development that shapes the contemporary city and what it offers in both positive and negative terms, reflecting on the interrelationship that exists between people and the places they live in (and how they shape one another), and reflecting on both individual and collective identity and the increasingly homogenization that is at work around the globalized world we live in today.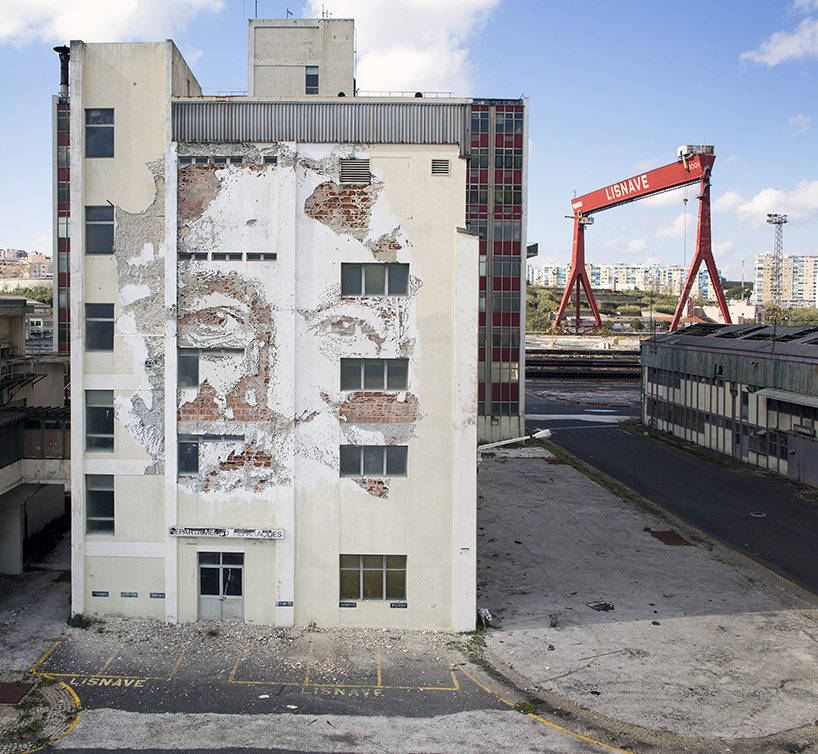 untitled, lisbon, portugal
photo by alexander silva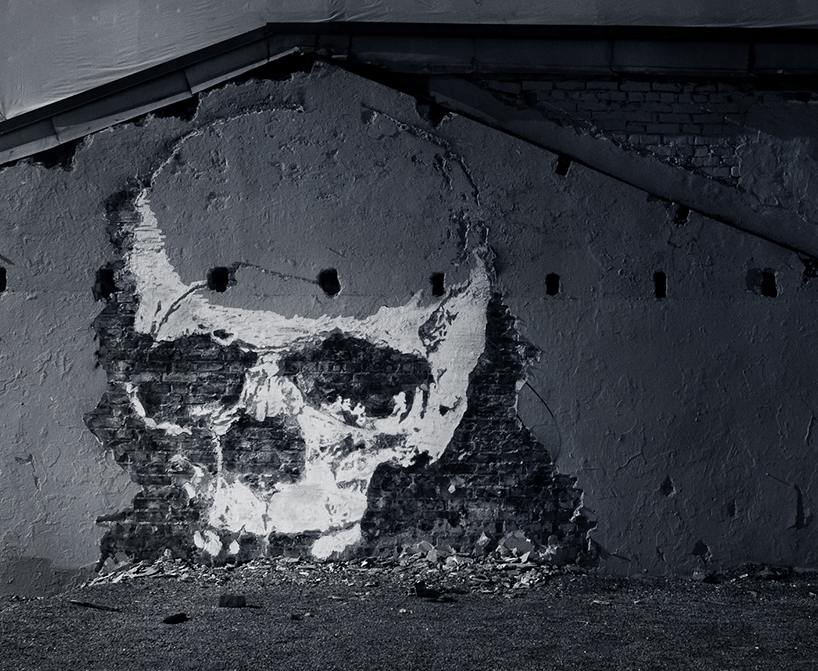 untitled, lisbon, portugal
photo by vhils
DB: what are you currently fascinated by and how is it feeding into your work?
AF: I'm currently fascinated by the process of dissection. besides carving, destroying and blowing things up, I have always liked cutting and opening things up to see how and what they are made of, how they work. I've been applying this to my work over the years, but now it's become much more of a focus – in the new solo show 'dissection' it becomes both the main technique and the core theme.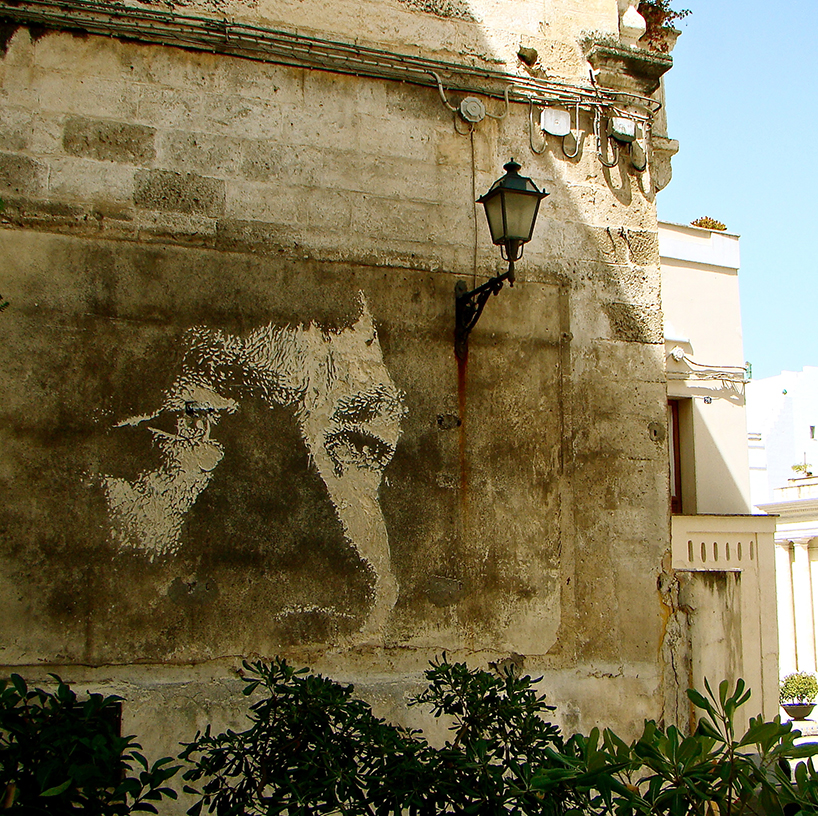 untitled, italy
photo by vhils
more
vhils at the EDP foundation, lisbon, portugal
04 july – 05 october, 2014
7pm to 10pm
full details »
dec 06, 2018
dec 06, 2018
jun 20, 2018
jun 20, 2018
apr 12, 2018
apr 12, 2018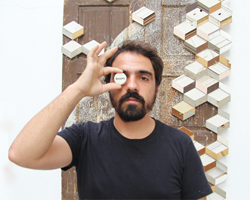 may 19, 2017
may 19, 2017
jan 29, 2017
jan 29, 2017
jun 06, 2012
jun 06, 2012
feb 14, 2020
feb 14, 2020
jan 28, 2020
jan 28, 2020
jan 22, 2020
jan 22, 2020
a diverse digital database that acts as a valuable guide in gaining insight and information about a product directly from the manufacturer, and serves as a rich reference point in developing a project or scheme.