darren coffield
photo © declan browne
darren coffield was born in 1969 in london, where he still lives and works to this day. he studied at goldsmiths college, camberwell school of art and the slade school of art in london where he received his bachelor of fine art in 1993. he has exhibited widely in the company of many leading artists including damien hirst, howard hodgkin, patrick caulfield and gilbert and george at venues around the world. designboom caught up with ahead of his new solo exhibition 'psycho' at the residence gallery, london from 1 november – 24 december 2014.
designboom: what originally made you want to become an artist?
darren coffield: back in the 1980's I was at an inner city comprehensive school. the teachers would not allow me to take art as one of my 'O' level subjects as they thought I was too intelligent and that art was really a subject for those not very bright academically. I can remember browsing through the school library on lunchtime and coming across a book on francis bacon. the images were unlike anything I had ever experienced or perceived before, they literally sent a shudder through my body.
it was not until I was 16 and in my first year of taking my A levels that I was able to take an O level in art during my free periods. I took and passed my exam within in two terms then applied to camberwell school of art and to my surprise, was accepted…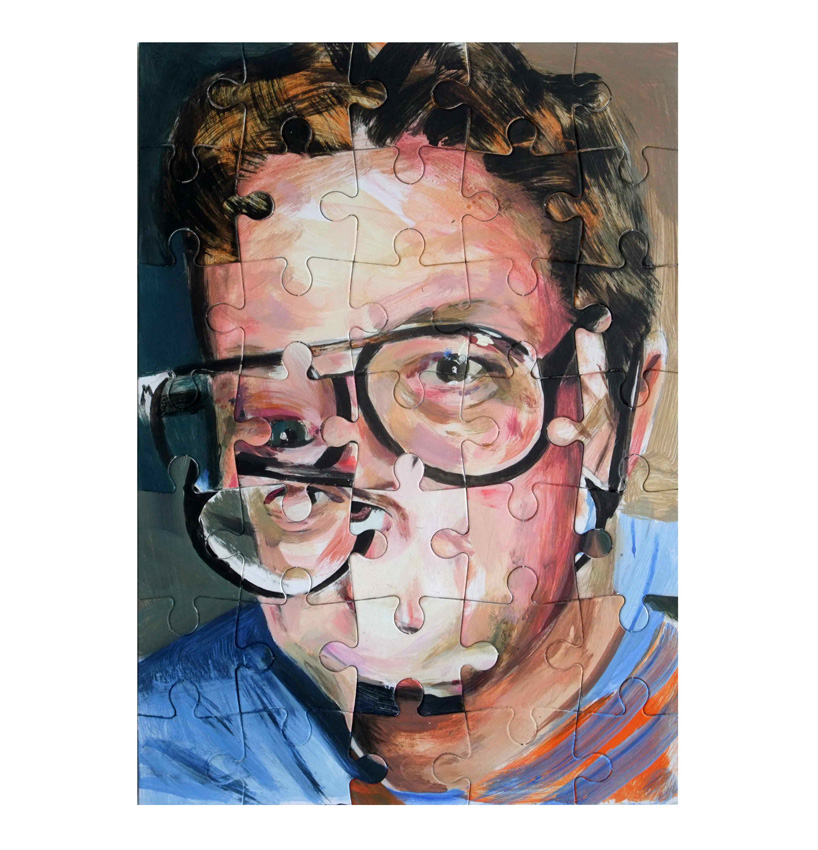 self portrait, 2014
acrylic on die cut board
image © darren coffield
at camberwell school of art I met the infamous now deceased joshua compston. the first time I saw him he was sitting on the steps at camberwell school of art on the first day of term wearing a tweed three piece suit and his grand mothers fur coat. I admired his balls for wearing the fur coat, we obviously had similar sartorial tastes, in fact he seemed at first glance to be the only person of any interest or note on the entire course. he sat there pretending to read ulysses. he was using the book as both a sign and a social foil. he was obviously checking everybody out from the corner of his eye. he seemed a bit wary of me.
he invited me to his house for lunch. his room was stuffed with dead animals, bird skeletons even the pelt of a leopard from which he would create the most extraordinary pieces. I remember that when he found out that my father worked at smithfield meat market he was always arranging me to procure a hundred or so dead pigs eyes for a formaldehyde sculpture he wanted to make. this was all way before any of these ideas came into vogue. also I remember that there was another guy who I think was called rick gibson who freeze dried human body parts, so they wouldn't rot and was struck off the teachers training course at goldsmiths back in 1987. he freeze dried human arms & legs as well as fetuses and put them on show in a in gallery at the cut, waterloo. which was then raided by the police and the body parts confiscated. there was a big noise made about it in the local press since nobody knew where the dead body parts came from. that was all pre-damien hirst, although he was studying at goldsmiths at that time.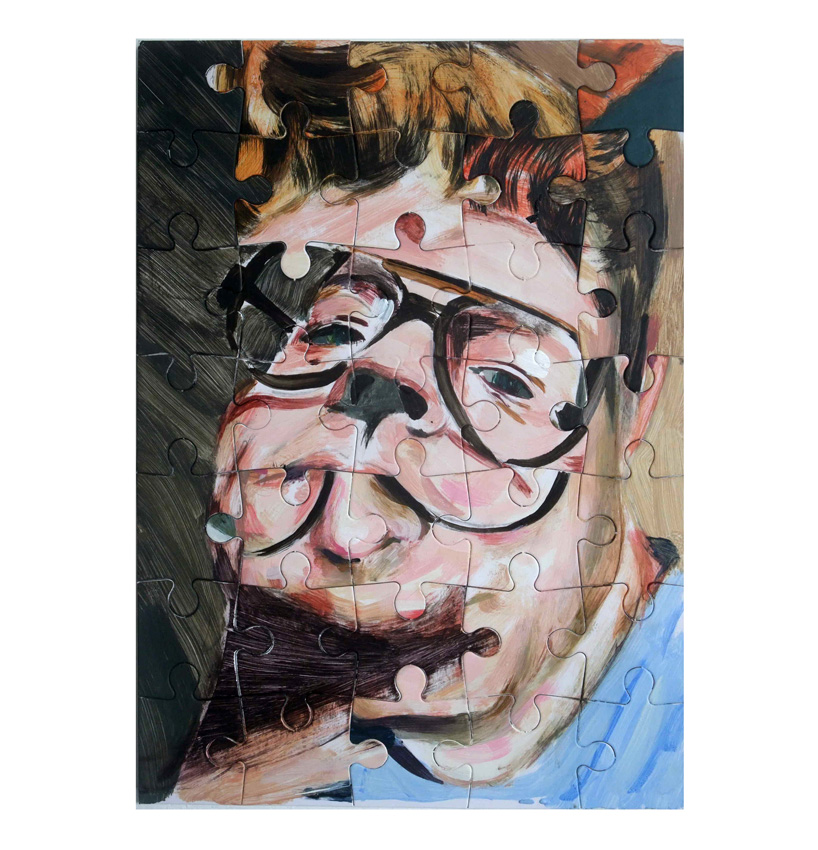 self portrait, 2014
acrylic on die cut board
image © darren coffield
I thought joshua compston was the most extraordinary person I had ever met. the course at camberwell was not very inspiring, it was rather dull and pitched at rather dull nice white middle class kids posing at being scruffy and talking in fake working class accents. joshua & I detested them and their clichéd personas – we had that in common.
after that year I applied and went to the slade school of art whilst joshua went to the courtauld, where he organized the first ever contemporary art exhibition which included myself as well as gilbert & george, damien hirst, gary hume etc. this was a groundbreaking exhibition back in 1991. it was so successful that the courtauld has been continually running the project for the last 23 years under the banner of the east wing collection.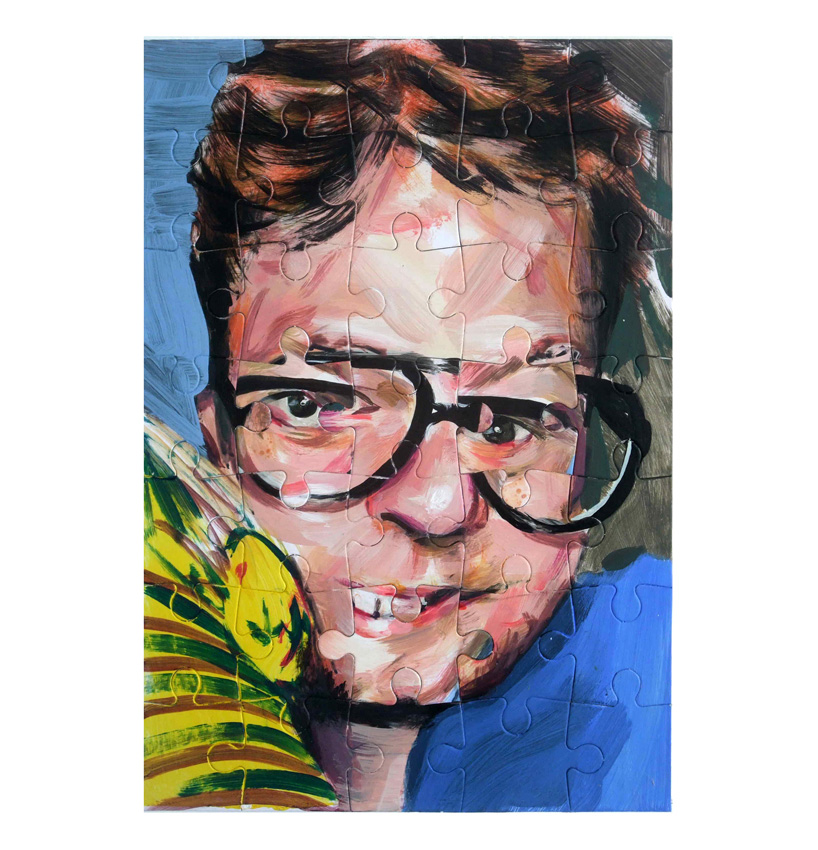 self portrait, 2014
acrylic on die cut board
image © darren coffield
I was very fortunate to just keep falling into situations back in those days, I once modeled for gilbert & george, appearing in the independent newspaper with them and became a member of the infamous colony room club in soho where I met francis bacon and barry flanagan. I think that by the time I graduated from the slade I had met all my idols and heroes.
DB: how would you describe your approach to art?
DC: art not appropriation. constantly striving for originality of thought and execution in everything I do.
DB: who or what has been the biggest single influence on your way of thinking?
DC: that's a little difficult to pin down as I find my influences wane and change as my work has progressed over the decades. I was very much influenced by george orwell when I was younger. oh, and one of his former employees, the art critic david sylvester, I was very fortunate to have met david, over the years he was a mentor, he was a marvelous critic and had some wonderful insights. meeting him was one of life's unexpected pleasures… unfortunately every day I am sent emails from galleries which challenge my views on contemporary art.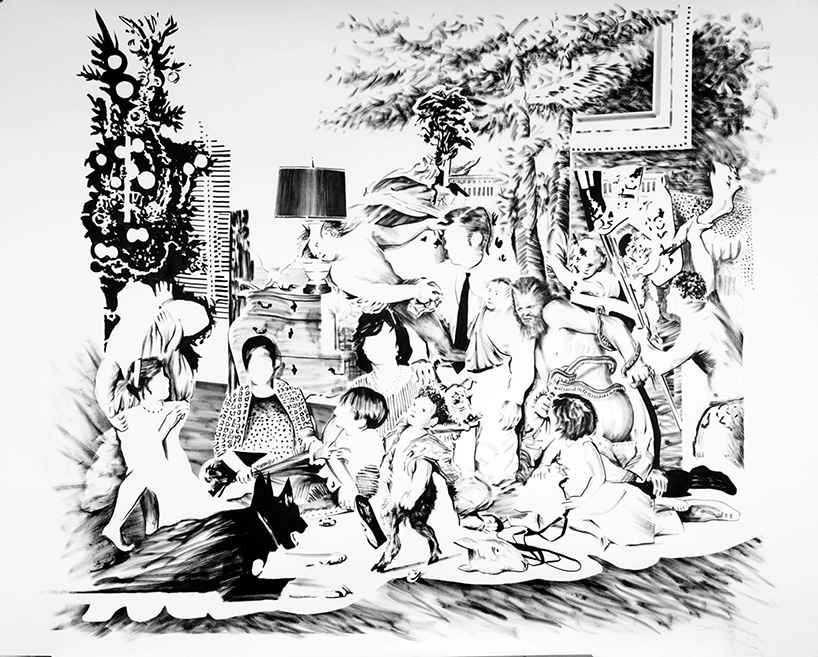 christmas at the kennedys, 2006
indian ink on paper
image © darren coffield

flora, 2006
indian ink on paper
image © darren coffield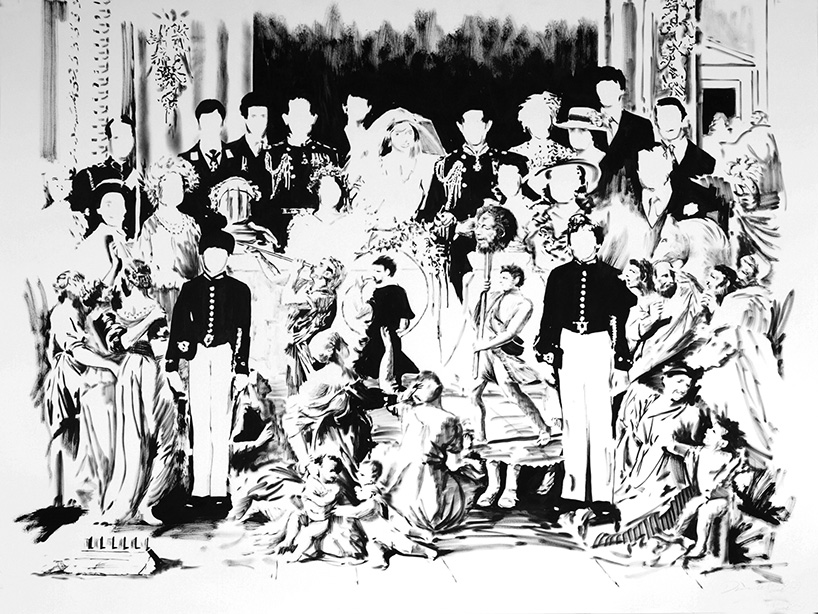 the ballad of charles and di, 2006
indian ink on paper
image © darren coffield
DB: what would you say is your strongest skill?
DC: I enjoy drawing with a brush, which is rather difficult, but persistence does pay off. after many destroyed works and frustration the clarity and sense of the artists touch wins through and allows one to create the most enigmatic drawings such as my black rain series which deal with 20th century history.
DB: what materials do you enjoy working with the most?
DC: I enjoy working with indian ink. it is completely unforgiving as a material, you cannot erase or change it. the mark when put down is indelibly there, I use it with a brush, you have to integrate your mistakes into the work, which leads you in all sorts of unexpected directions, it's rather like trying to keep something afloat in the air, overwork it and it becomes leaden and the images crashes, I call it the kamikaze school of drawing.
I will next be working on a series of paintings which are being finished with a computer guided laser, the culmination of 3 years of preparation and research.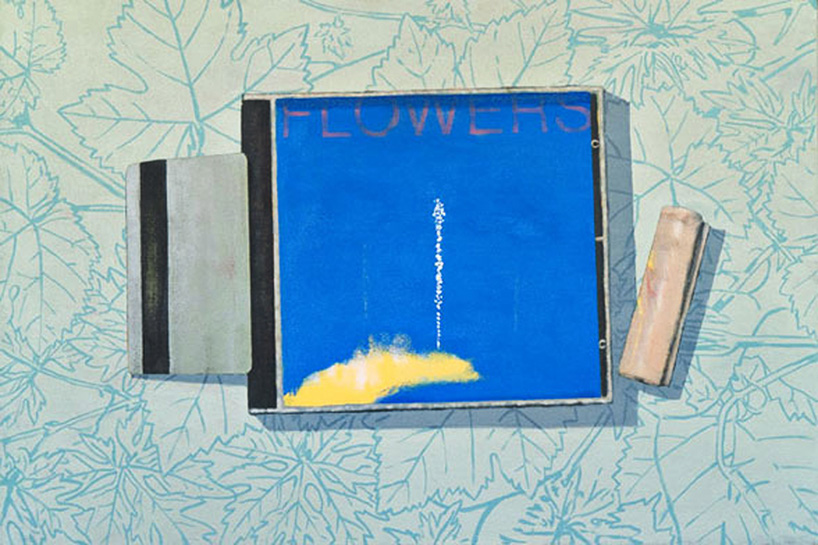 la grande nocturne
acrylic on canvas
image © darren coffield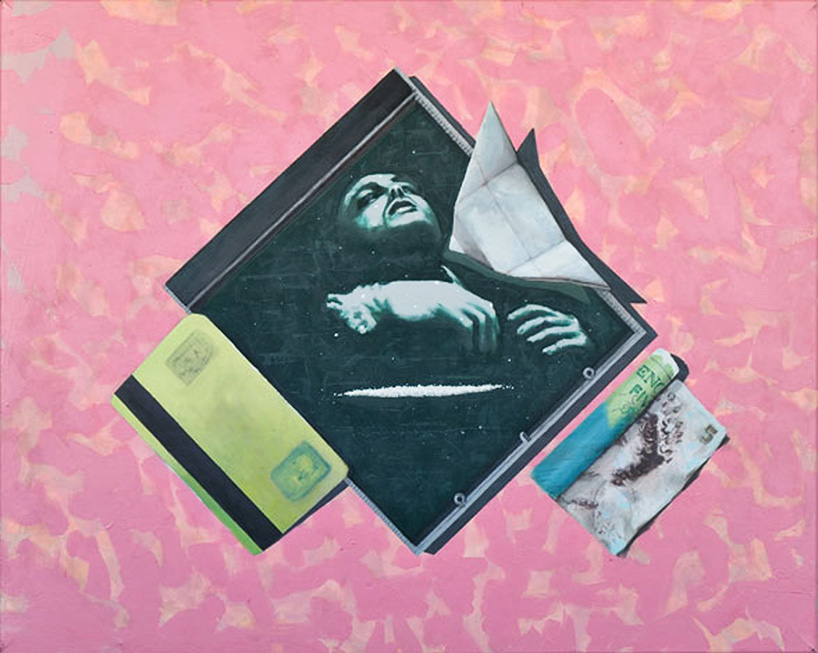 nachtmusik
acrylic on canvas
image © darren coffield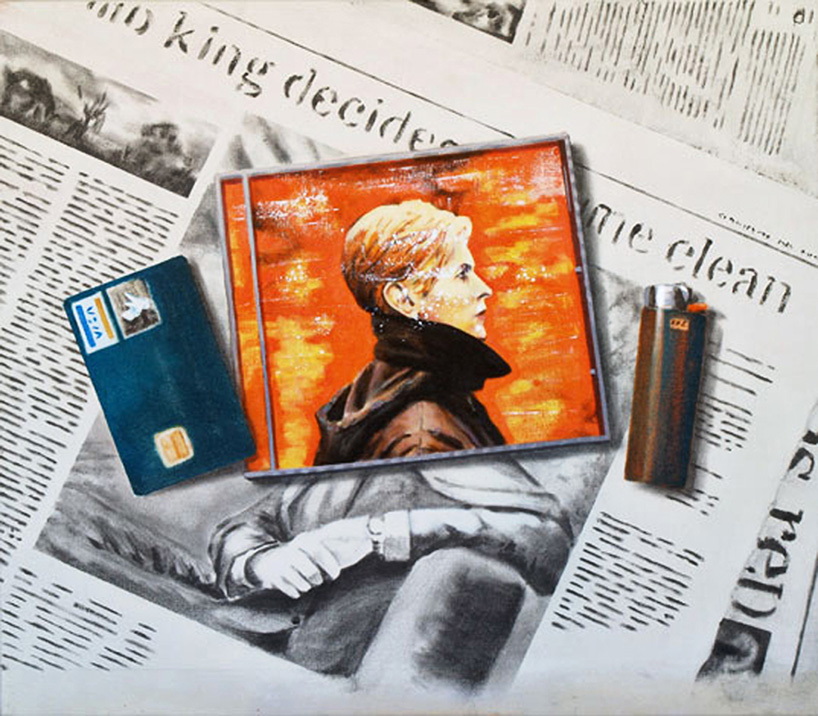 orange and silver
acrylic on canvas
image © darren coffield
DB: what are your thoughts on specialization vs generalization?
DC: always aim for the improbable, go for both.
DB: how do you think online resources have influenced the art being produced today?
DC: they're very useful if you want to make a film, build a website etc. but not so useful as a painter. online help has democratized and made available so many things that it has got be of benefit. conversely however the internet also narrows thought and panders to some of the worst human characteristics, as reflected in the narcissistic banality of much of what passes for art at the moment.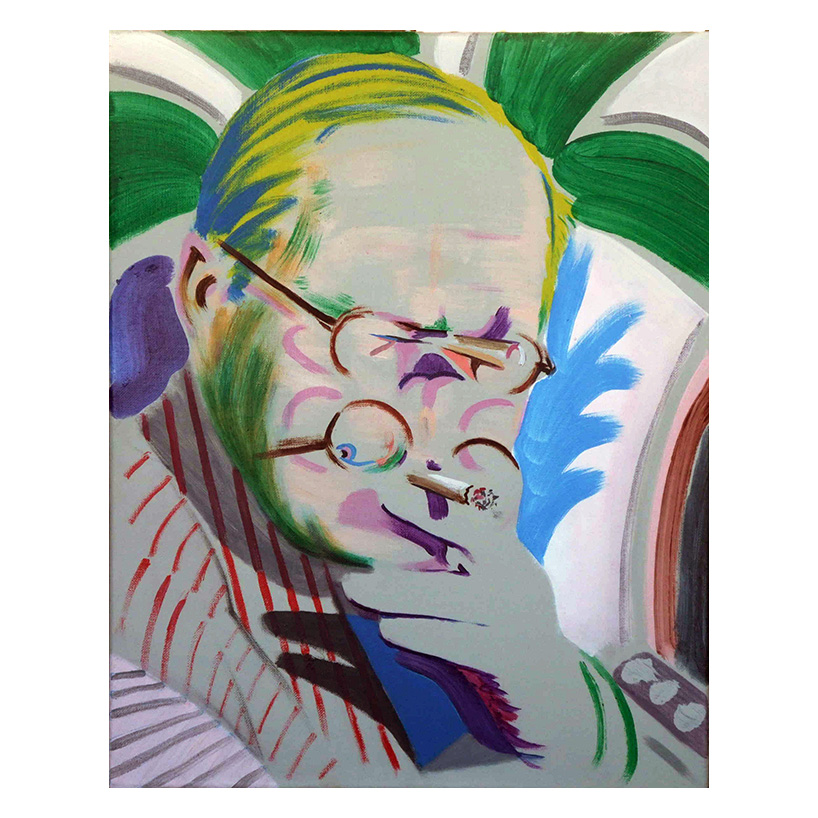 hockney takes a breather, 2012
acrylic on canvas
image © darren coffield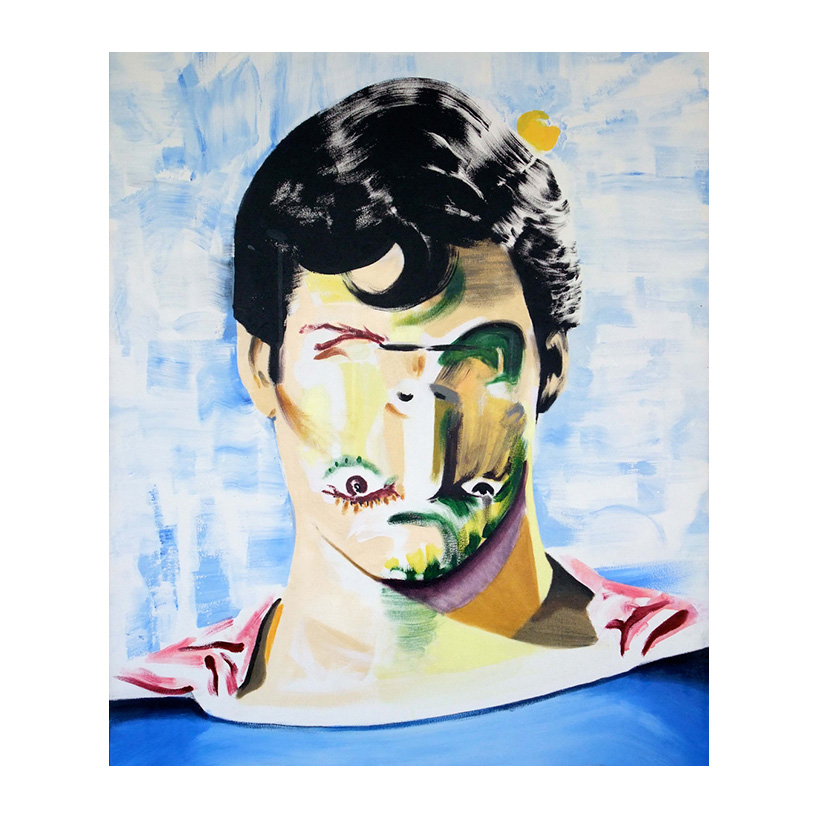 episodical (study), 2012
acrylic on canvas
image © darren coffield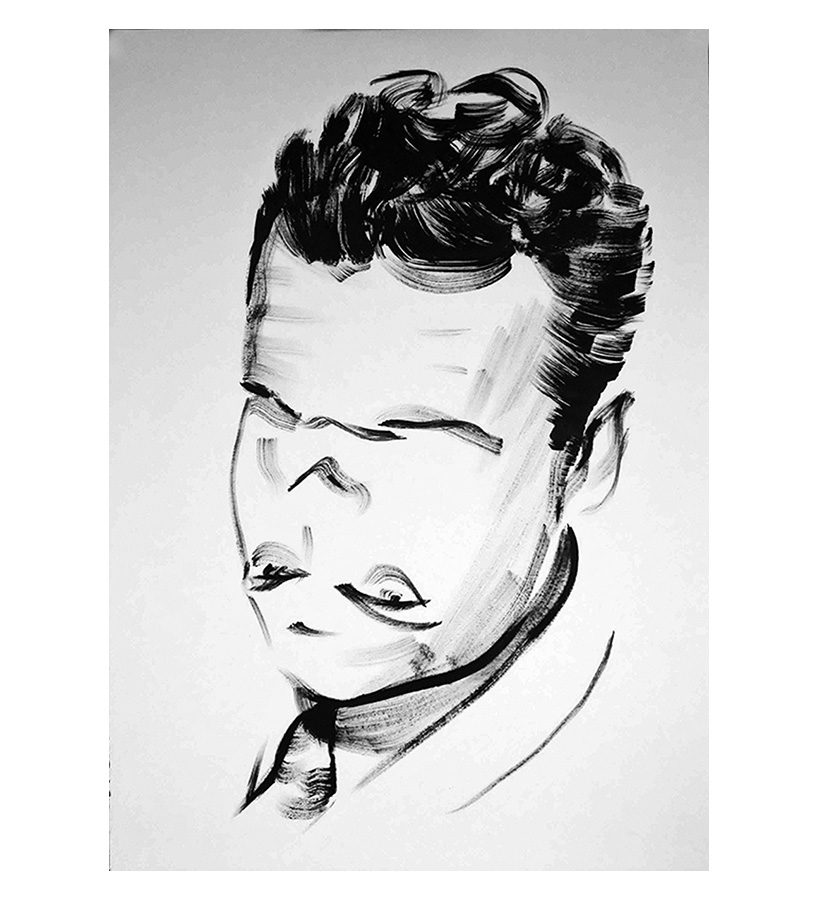 orson welles, 2012
acrylic on canvas
image © darren coffield
DB: what are you currently fascinated by and how is it feeding into your work?
DC: I am interested in notions of time and space in painting and how one can disrupt it to produce multi-spatial works dealing with the 4th and 5th dimensions in a very full on engaged way. I have spent most of the last 12 years wrestling with how to execute these works, which are a combination of old world craft (painting) with the modern technology of the laser.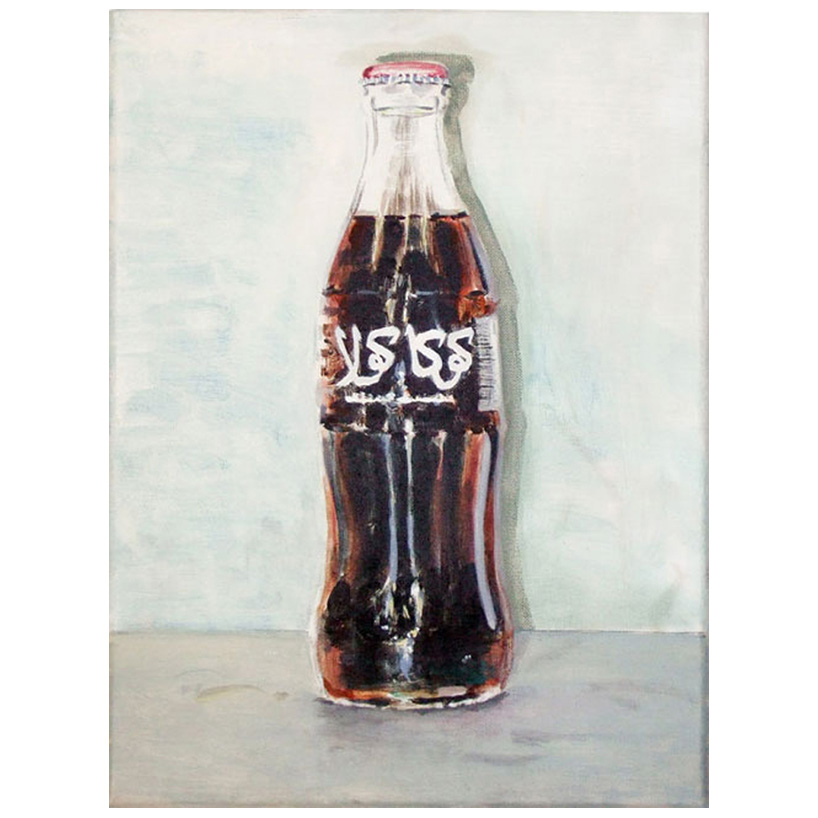 replicant, 2007
acrylic on canvas
image © darren coffield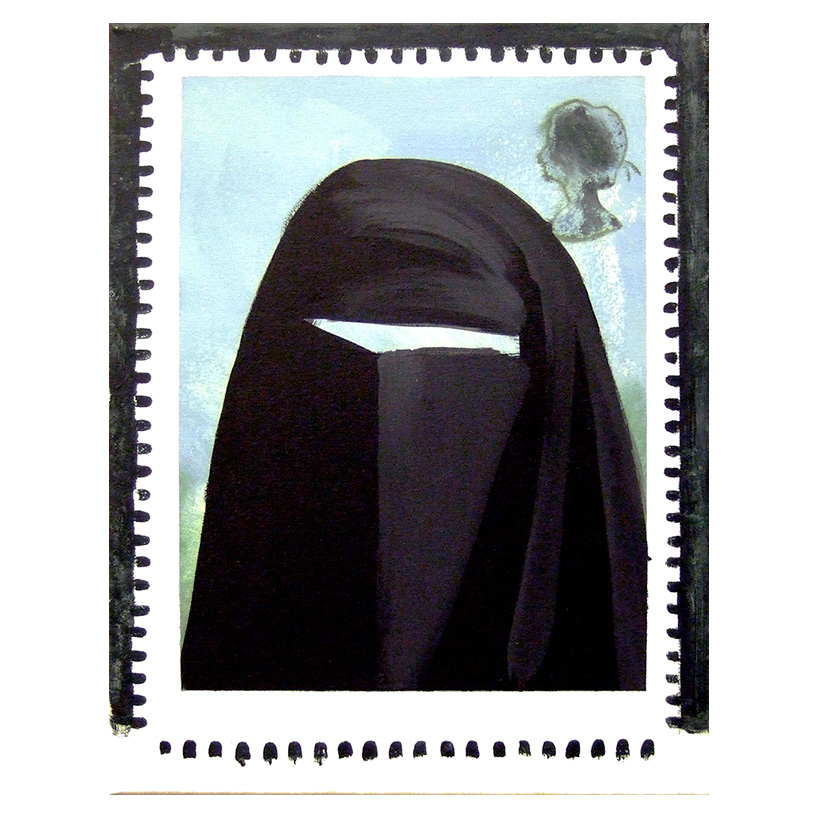 stamp, 2007
acrylic on canvas
image © darren coffield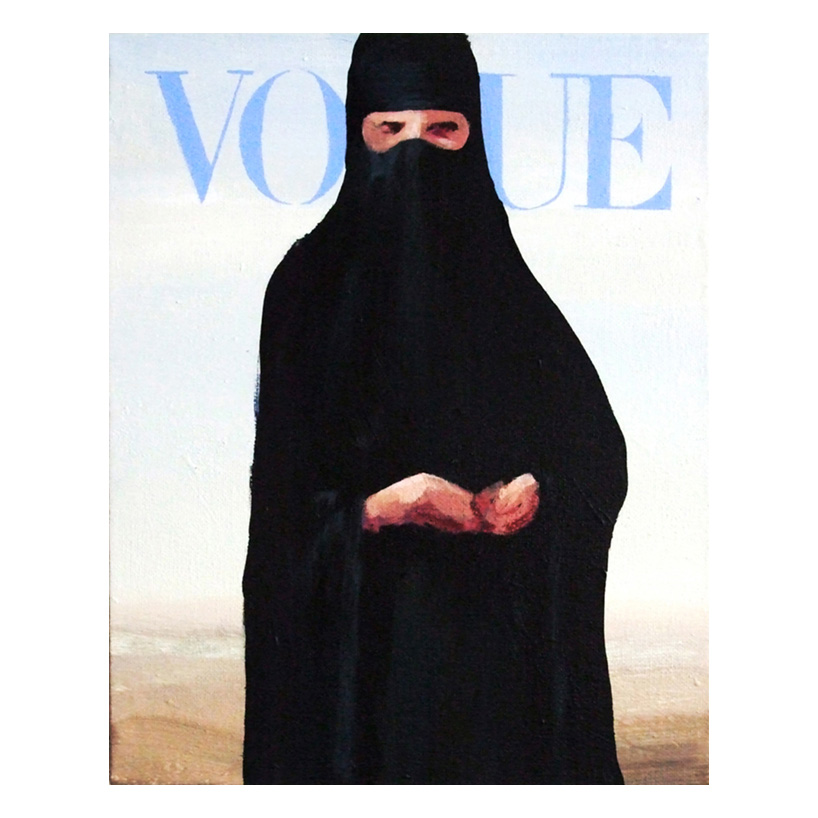 vogue, 2007
acrylic on canvas
image © darren coffield
DB: what are you passionate about besides your work?
DC: I am a bibliophile, passionate about literature and books. last year I wrote a book on my late lamented friend joshua compston.
he was seen by some as the romantic martyr of his generation and by others, as a prankster, sending up the art establishment, compston's gallery 'factual nonsense' (FN) was quite unlike any other. called a 'crazy powerhouse of ideas', factual nonsense was a cultural think-tank located in a then run-down area of the east end. determined to change the world through art, he was a driving force that helped turn the east end of london into the cultural hub that it is today.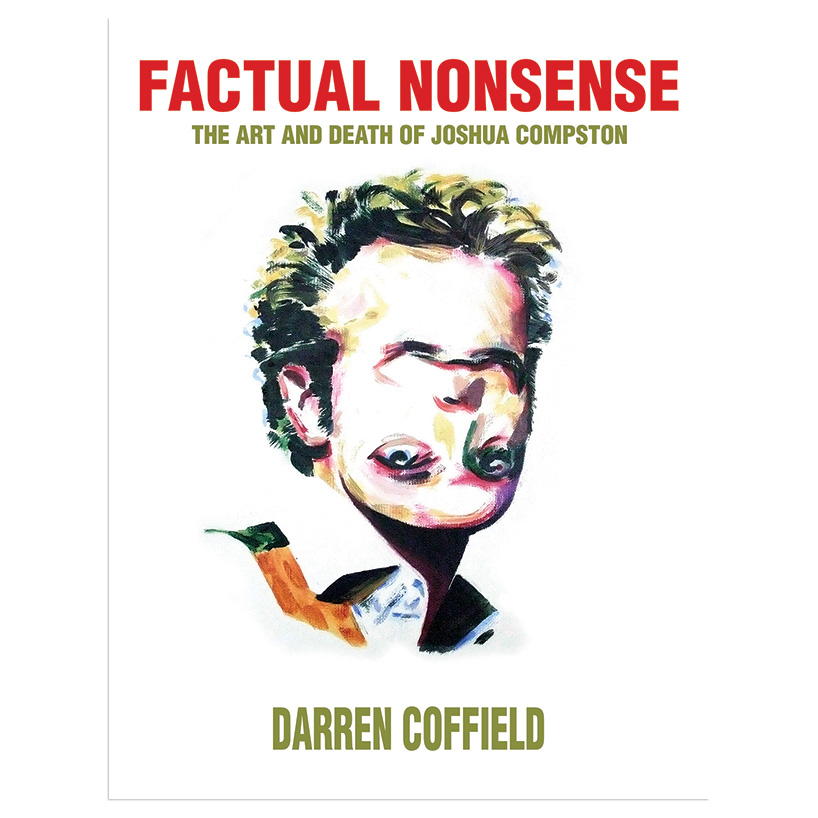 factual nonsense – the art and death of joshua compston
by darren coffield
'factual nonsense – the art and death of joshua compston' is both a biography and an alternative portrait of the 1990's art scene in london's east end. it is also a guide to living fast and dying young in the contemporary art world; joshua compston made hoxton hip and shoreditch sexy. the list of the fifty or so interviewees in the book reads like a who's who of the contemporary art world, with contributions from the likes of jay jopling, damien hirst, sarah lucas, sam taylor-wood, gary hume, gavin turk, maureen paley, and sir peter blake.
joshua was a mass of contradictions; he bridged two different worlds, the son of a judge, before his demise he had been stockpiling dynamite to blow up the artworks he detested. the most social of people at the height of his infamy he became the point where art, entertainment and real estate met. the book covers the entire span of joshua's life from his suburban childhood and his early days at college; his first success bringing contemporary art to the courtauld institute: his highly active love of danger, the mould breaking excitement of his events such as a fete worse than death; his pivotal role in the regeneration of hoxton and shoreditch as a thriving cultural area; and his final days of rejection and isolation.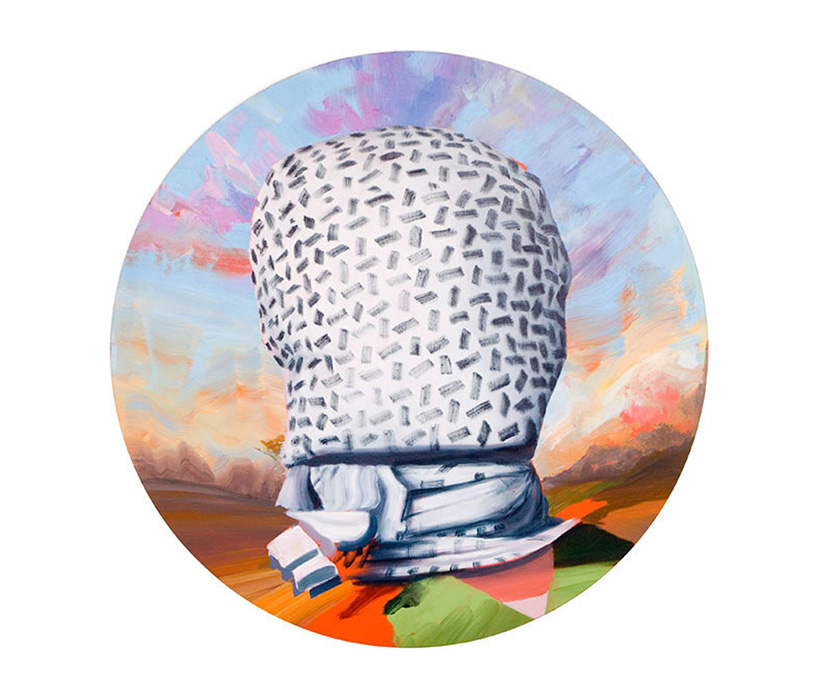 insurgent 8, 2007
acrylic on canvas
image © darren coffield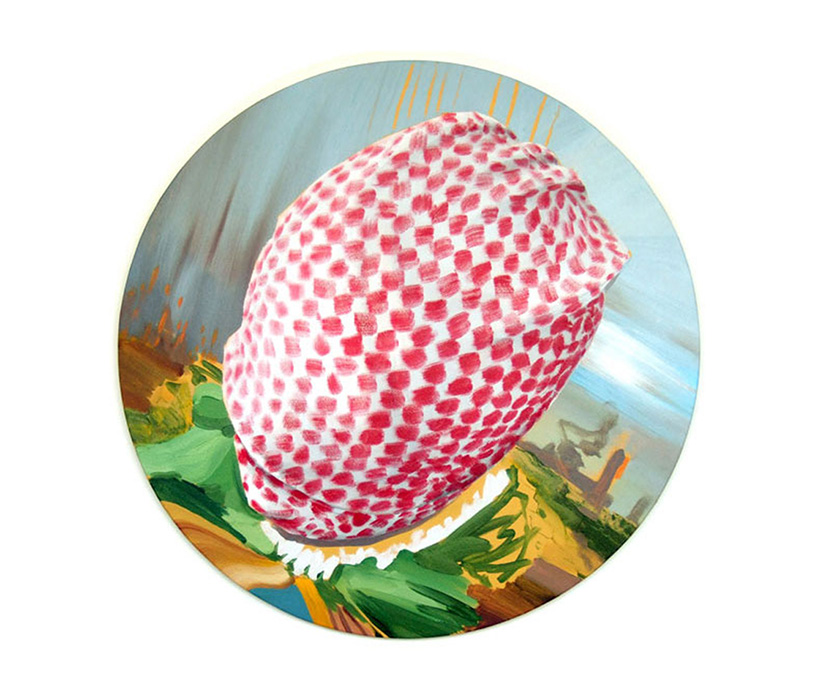 insurgent 4, 2007
acrylic on canvas
image © darren coffield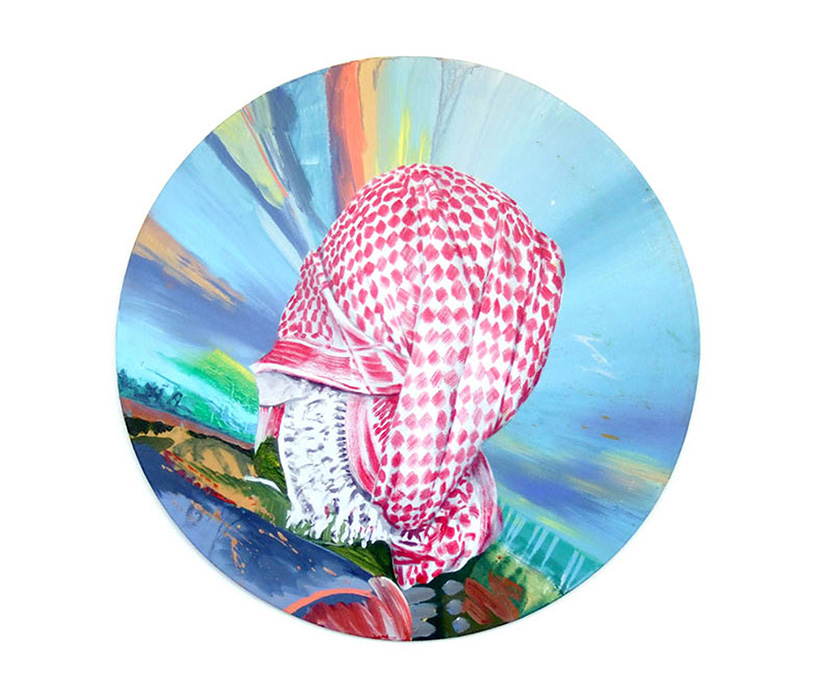 insurgent 6, 2007
acrylic on canvas
image © darren coffield
DB: do you have any superstitious beliefs or rules that you live by?
DC: all roads lead to roam.
roam all roads.
DB: what's the best piece of advice you have heard?
DC: become neither a member of the establishment nor the avant garde. plough your own field.
DB: what's your personal motto?
DC: art is an illusion, the art world doubly so.
a diverse digital database that acts as a valuable guide in gaining insight and information about a product directly from the manufacturer, and serves as a rich reference point in developing a project or scheme.
designboom will always be there for you
milan, new york, beijing, tokyo

,
since 1999