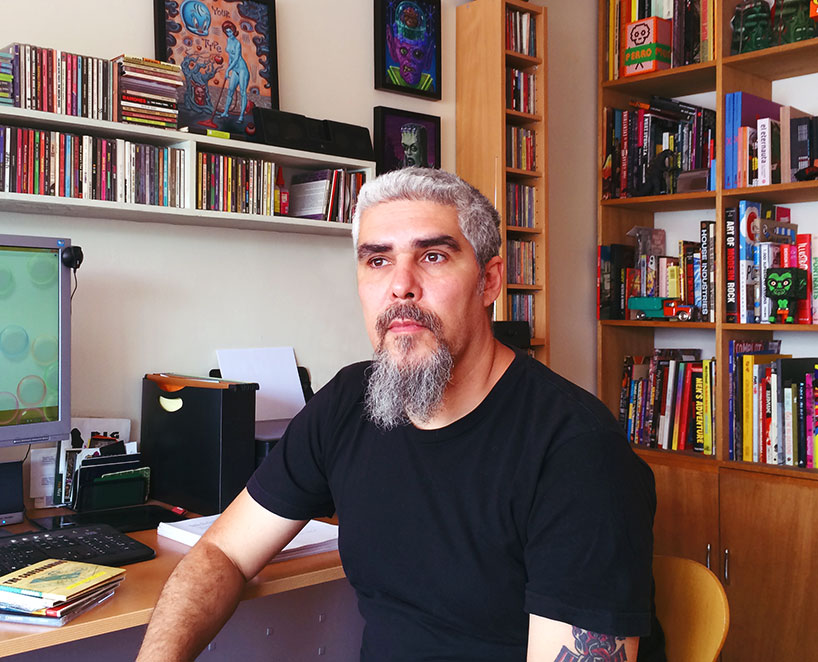 dr. alderete at his studio in mexico city.
portrait © designboom
jorge alderete, better known as 'dr. alderete', was born in santa cruz, argentina in 1971. at the age of 18 he moved to buenos aires to study visual communication design at the national university of la plata's faculty of fine arts. during his studies and immediately after graduating he worked as an illustrator for a national newspaper in argentina before moving to mexico in 1998.
following jobs with MTV and nickelodeon he set up his own studio in mexico city producing illustrations mostly for music groups and cultural events. sixteen years on his art is synonymous with acts such as los straitjackets and lost acapulco, as well as 'el alicia' – a live music venue in mexican capital that's somewhat of a local institution.
jorge's work is influences range from science fiction films of the 50's, wrestling, surf music, polynesian cultures, hotrods, lowbrow art, punk, rock and everything in between. together with his wife, clarisa moura, he also runs vertigo galleria. designboom visited him at his studio to learn more about his work…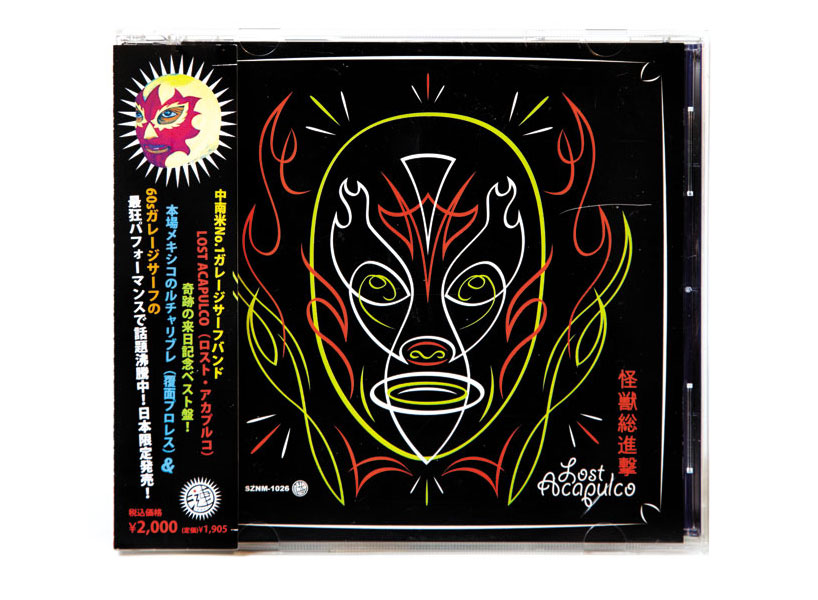 artwork for the album 'destroy all monsters' by lost acapulco.
designboom: do you remember something from your childhood that made you want to become an illustrator?
dr. alderete: growing up I was surrounded by comics; argentinean comics, mexican comics, american comics. I would read them over and over again and copy the characters. at some point I started to make my own comics and characters and then later as a teenager I created a zine with some friends called 'alquitrán' – 'tar' in english, it featured very short stories and was really cheaply made but it was fun.
when I chose to study visual communication design at university because it was close enough comics for me. at that time, the late 1980s / early 90s, the comics scene was dying and so the work on offer was more commercial – editorial illustrations and graphic design, so it made sense to do that kind of work.
for as long as I can remember I've been very influenced by music; rock music, punk, surf music, rockabilly and in turn, the themes found in those types of music – horror, nightlife, cars and pop culture. when I arrived to mexico I began doing artwork for bands and music venues – which had always been a dream of mine growing up.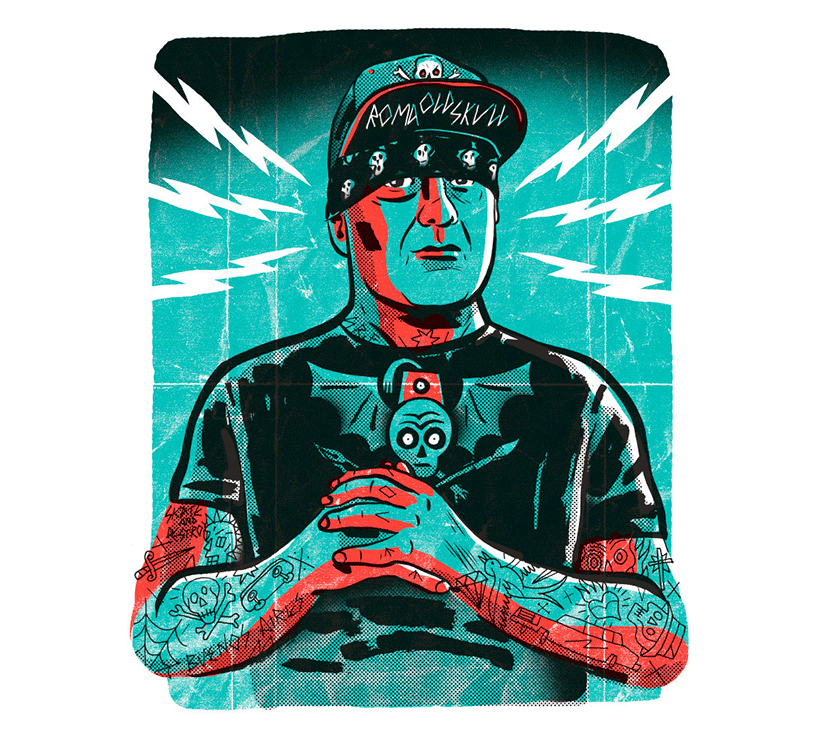 sr. flavio from the band los fabulosos cadillacs.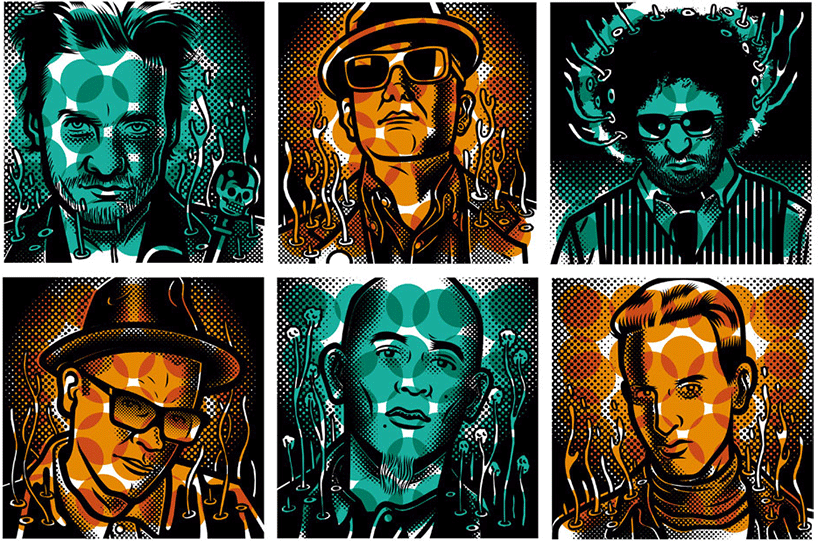 band members of the los fabulosos cadillacs.
DB: what were some of your first paid jobs?
Dr.A: as a teenager my friend's mother owned a bakery and she needed some art for a newspaper advertisement, so she paid me to do something simple and that was my first paid job. when I was in my second year of university I started a small design studio with two friends from university and we had some client work.
posters for 'el alicia' live music venue in mexico city.
DB: what made you relocate to mexico from argentina?
Dr.A: after university I always had the idea that I would like to travel and mexico was the place I decided to go. I got a job here, one thing lead to another and now I've been here sixteen years – in-between me and clarisa, my wife moved to barcelona for a year but it didn't work out, we didn't really enjoy it there, so we came back. in some ways mexico city feels like home now – but you never know what the future can bring.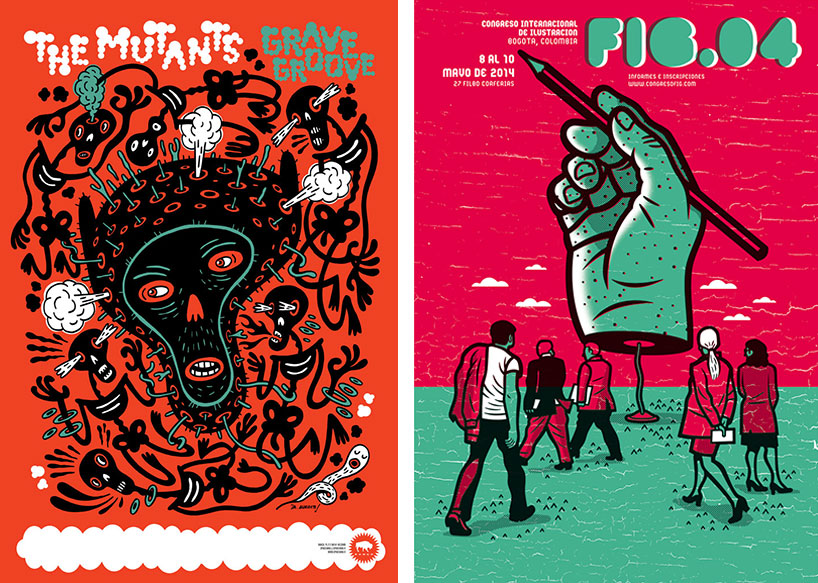 left: poster for the mutants' 'grave groove'.
right: poster for 'fig. 04' illustration congress.
DB: how has your style or approach to illustration evolved over the course of your career?
Dr.A: I have never made a big effort to develop a 'style' but eventually and inevitably you arrive to a point where some people can recognize work as being by your hand. at the start of my career I tried out many styles, mediums and materials – copying the work of different illustrators and artists until I found that working with a brush and ink was what worked best for me. it felt natural in the sense that I could work quickly and neatly.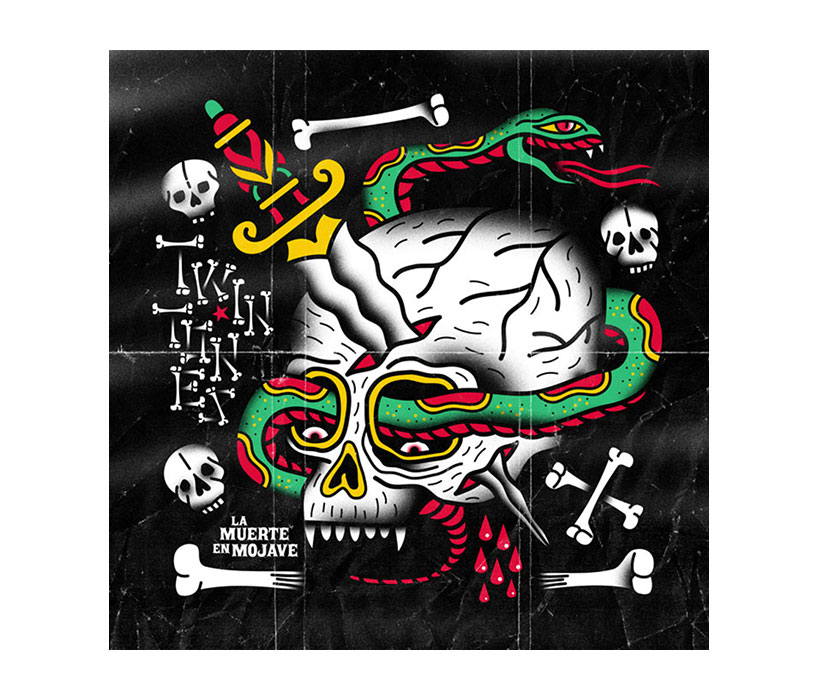 album artwork for 'muerte en mojave' by twin tones.
DB: has any client, project or experience informed your approach?
Dr.A: one of my first jobs as an illustrator was working with a newspaper in argentina and the timelines were very tight. that's something that has made a big impact on how I work. I'd would have to produce one or two illustrations each afternoon for the next day's newspaper. in some ways I enjoyed that pressure and momentum, looking back it was very valuable training. you can imagine my relief when I started working with other clients and they told me, we're in a rush – we need the illustration in a week – it felt like a had all the time in the world! working for a newspaper in the nineties, before the internet took off, really was an education – I learned a lot skills and self-discipline.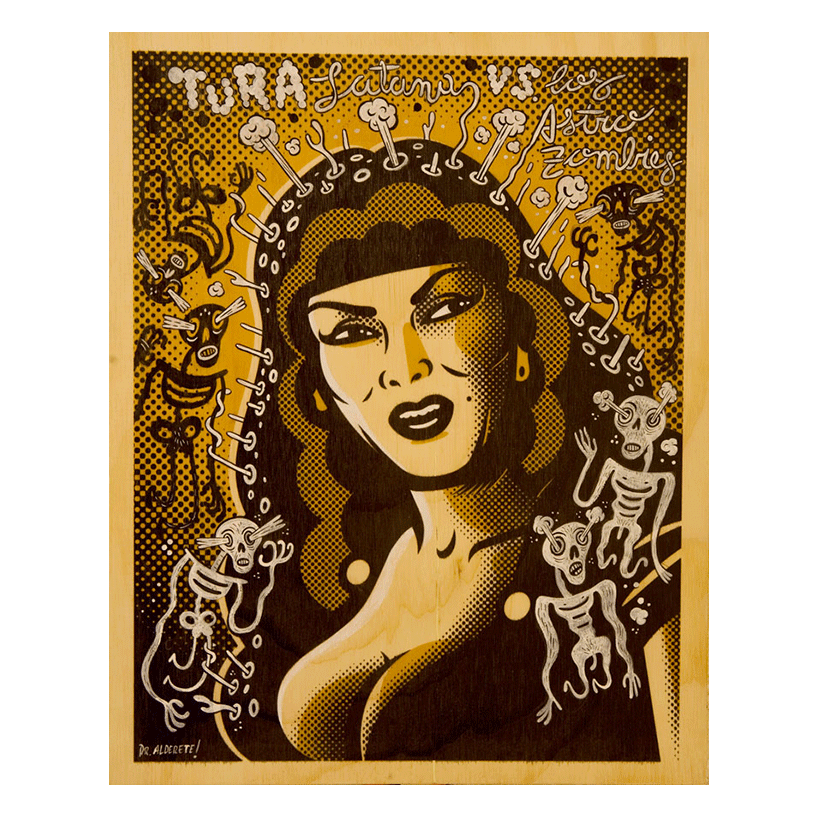 tura, tura, tura! artwork for a collective project where various artists paid homage to tura satana.
DB: how do you split your time between client work, self initiated projects and down time?
Dr.A: there's no defined schedule that I stick to, it really depends on how busy I am with paid projects. I'm very busy at the moment, so for a while my wife has been running vertigo galleria without much help from me. we see each other often at home and we talk about the gallery so I know what's going on. I try to spend as much time as I can with my family and we try to find time to travel and see new places. there's no master plan, I just try to enjoy everything I can and take things as they come.
'martes 13' invitation to the opening of galeria vertigo in mexico city.
DB: what do you do to keep your ideas fresh?
Dr.A: I try to find new themes to explore and move through different mediums. it's been a while now since I did any editorial illustrations, admittedly I continue with the artwork for music, but I've also started doing live drawing performances with musicians – which is something completely new for me. this takes the drawing from a personal thing to a public thing – and it's changed the way I think about working quite considerably. In this new context I can't always afford to be so precious with what I draw, I have to live with a line a draw that I might not like at first, it's made me think a lot about the idea of 'mistakes' especially in relation to expression – do they exist? how do you know when something is 'wrong' in a drawing?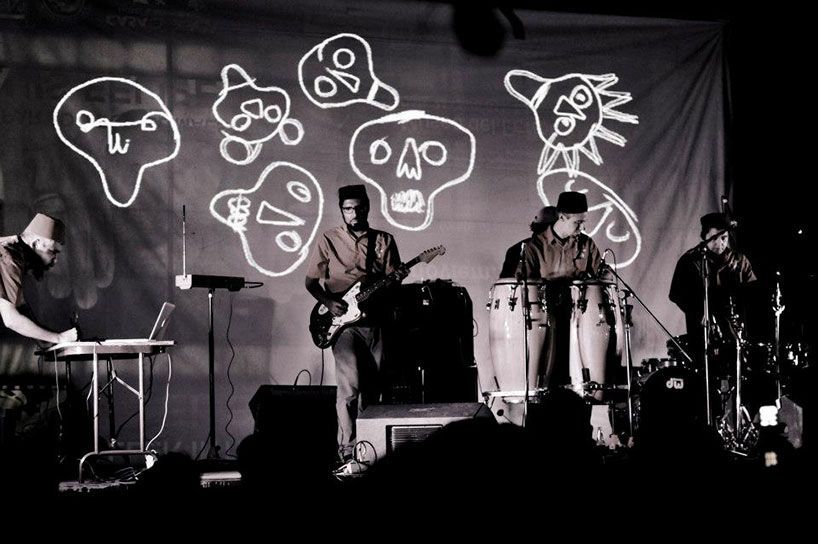 dr. alderete (left) during a live drawing performance.
DB: do you usually rework your drawings a lot to get to arrive at the final image?
Dr.A: it really depends on the project and how the final image will be used. if I'm doing an illustration that's going to be used as a logo or on a record sleeve, then I'll analyze and tweak it in a completely different way and with more scrutiny than an illustration for a silkscreened flyer that will be pasted on the wall and then torn down a week later. it depends on lots of factors and also what you're trying to communicate, sometimes a rougher look can help with what you're trying to get across.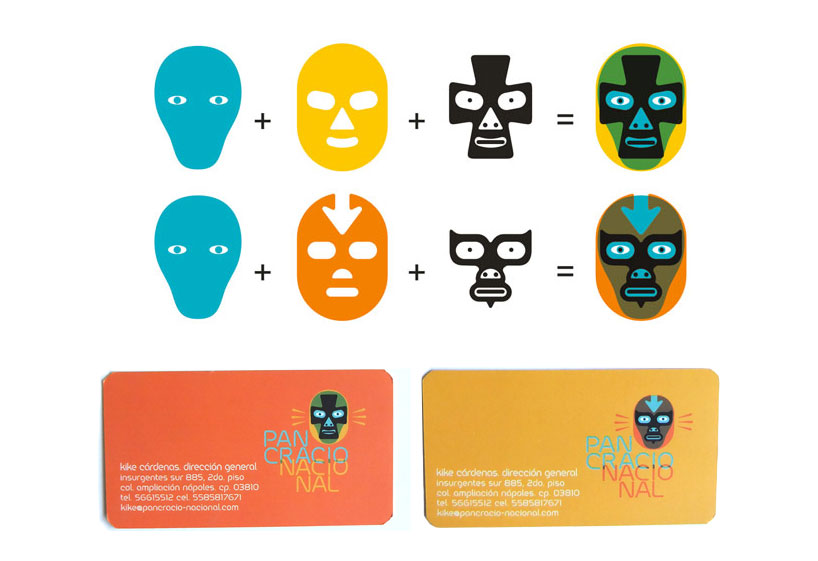 visual identity for pancracio nacional communication agency.
DB: how have you developed your sense of color over the years?
Dr.A: when you look back at my early work you can see that I used a lot more colors in a single work than I do today. people think my work is colorful but normally I use very few colors in one illustration. this economic use of color comes from designing a lot of gig posters that had to be silkscreened cheaply and the fact that I couldn't dictate which exact colors would be used. a lot of the low-cost printers don't give you the option of which pantone color you want to use – if they see the design is red, they use the closet red they have – so you have to design in a way that's resistant to that kind of unpredictability. the design has to be foolproof in terms of the colors, the print registration, the paper – so that's informed not just the way I use color but my work overall. I like the bold appearance of using just a few colors together with black and white now, even if the end result is not screen printed.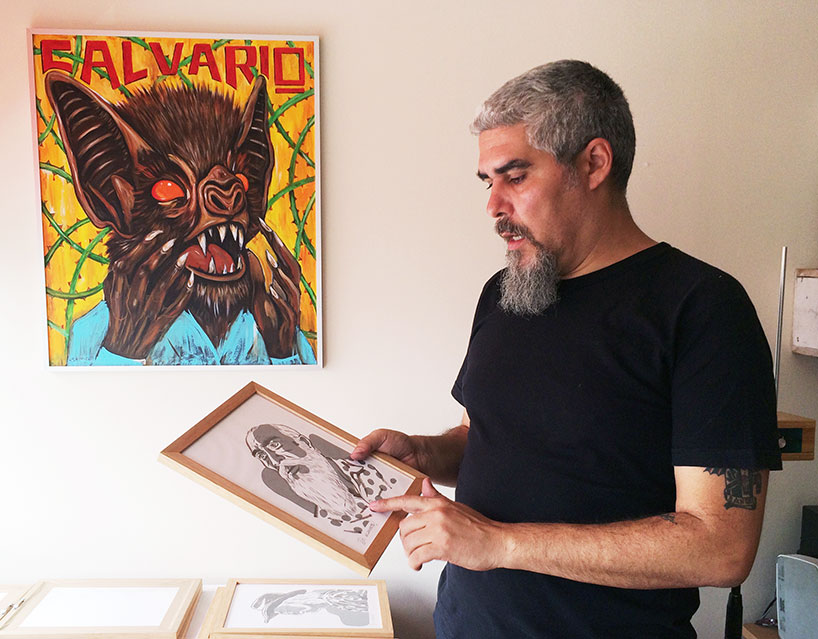 dr. alderete showing us his illustrations of easter island locals.
photo © designboom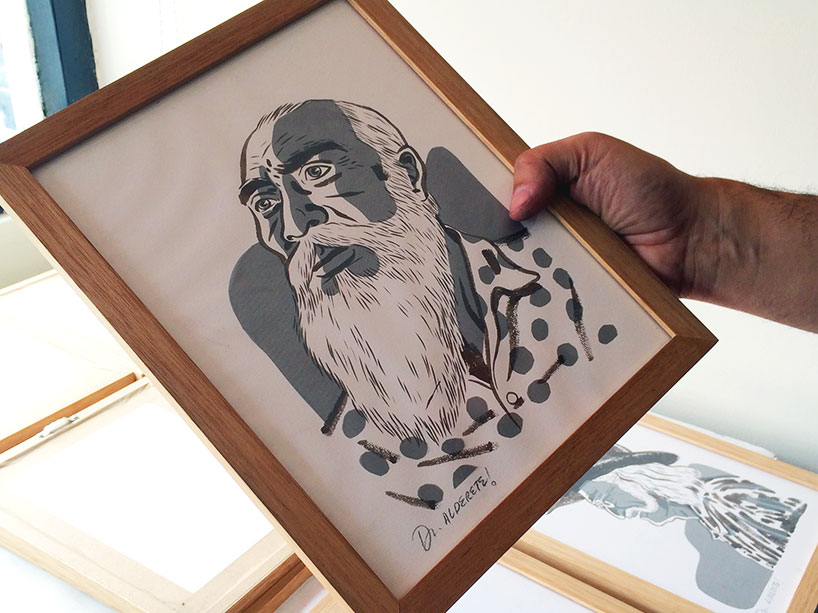 illustrations of easter island locals.
photo © designboom
DB: how do you think the internet has influenced illustration as a profession?
Dr.A: of course it's made big, big changes there's no doubt about that, too many to mention in one answer. for me personally it's been great in terms of increasing the visibility of my work outside of mexico and latin america, ten years ago especially – now there's so much online, it's harder to get noticed, it's almost a second world in which you have to exist.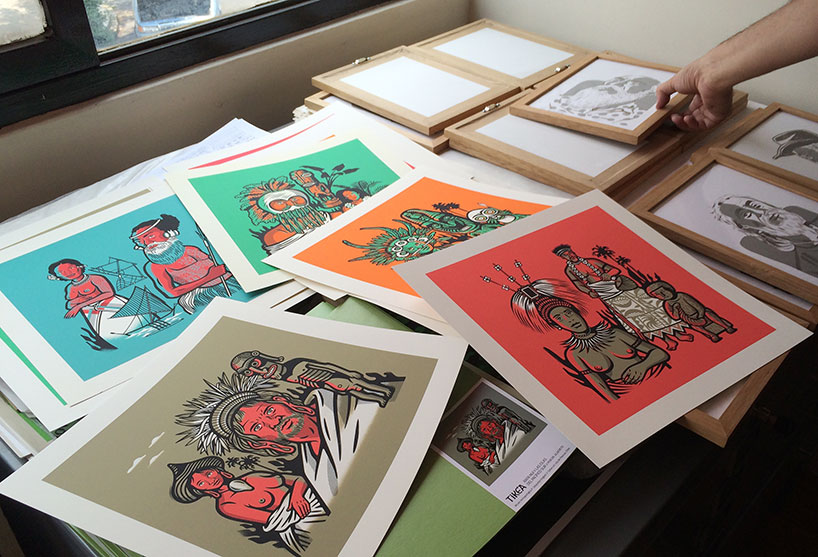 silkscreen prints from the project 'tike'a rapa nui and the south pacific islands'.
photo © designboom
DB: do you think that the internet has made designers and illustrators more or less creative in their output?
Dr.A: I can only talk from a personal perspective; I like the things I like and if I like something enough I'll do whatever it takes to know more about it. before the internet that meant buying magazines, books and going to the library, going to events and talking with people – the internet now makes that same kind research easier to do. I don't think people use the internet without an aim in mind, it's a tool, a platform – the content still has to be made and considered in order to be any good. in terms of ideas and creativity, everyone takes bits and pieces from other places all the time and it's always been like that, and always will be. if someone takes my work as the starting point for what they want to do I have no problem with that, it's no different from when I copied from comics – it's all part of the same cycle and not something to get angry about or distracted by.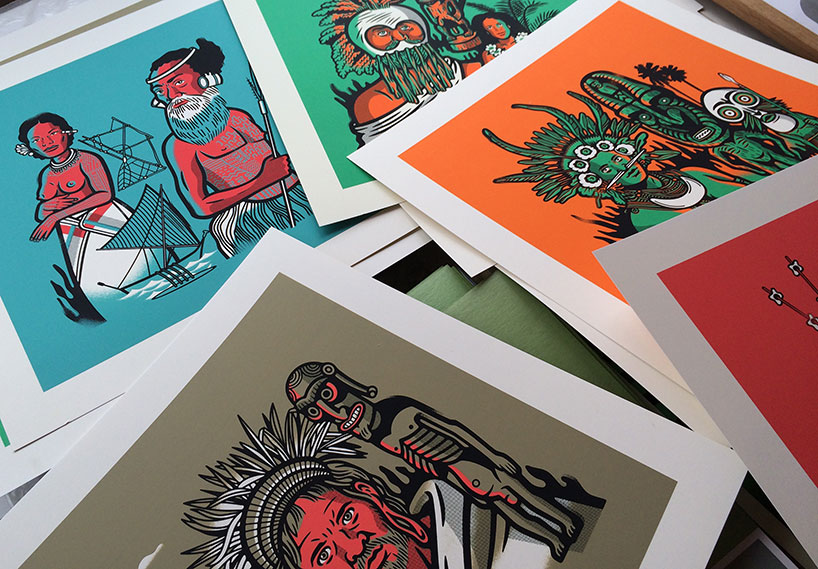 silkscreen prints from the project 'tike'a rapa nui and the south pacific islands'.
photo © designboom
DB: do you have any fascinations that people might be surprised to learn of?
Dr.A: I'm very interested in extraterrestrial life and I have a lot of books on that but my wife always tells me that if I hadn't become an illustrator I would have been an archeologist. for the last several years I've been slightly obsessed with easter island. at first I was just interested in the statues but the more I read the more intrigued I became by the whole history of the island, its customs, culture… about everything! I went there for the first time in 2011 and did a lot of observational drawings, talked with the local people and met the curators of the anthropology museum – who last year staged an exhibition of my easter island illustrations. it's a very big passion of mine, and right now I'm working on another series of works about each of the south pacific islands and their histories.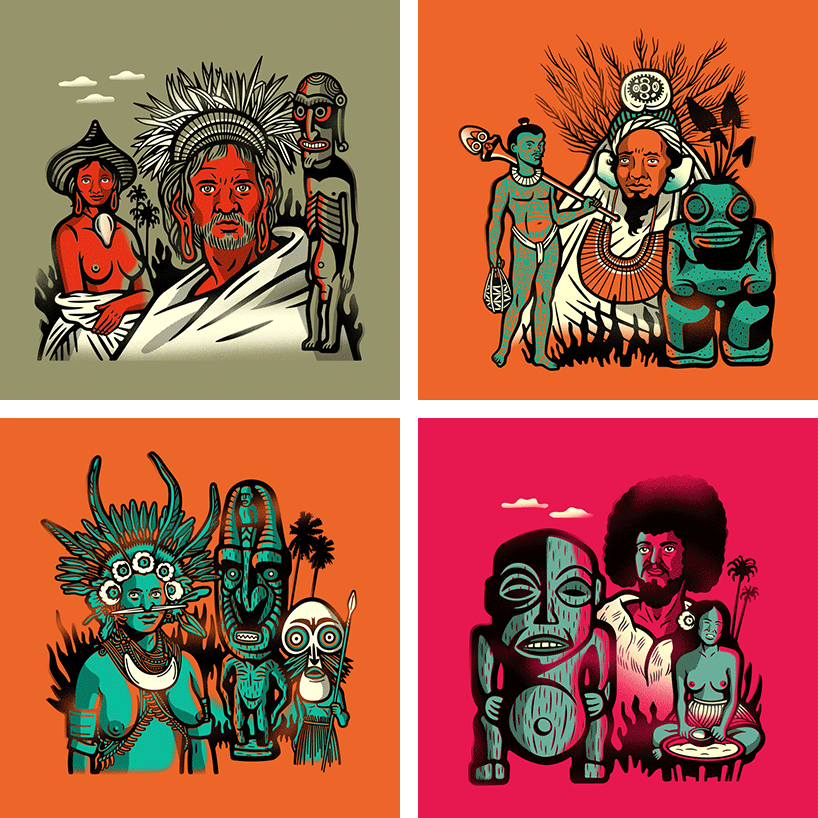 silkscreen prints from the project 'tike'a rapa nui and the south pacific islands'.
DB: do you have any superstitious beliefs or rules that you live by?
DR.A: no, not really, in fact I like to make fun of superstitious beliefs. when we opened the the vertigo gallery we decided to open it on 'martes 13' – tuesday the 13th, which is the latin american equivalent of friday the 13th in the USA. we designed the whole invitation [shown above] around this topic of 'luck' – so it featured a black cat, horse shoes and a four leaf clover.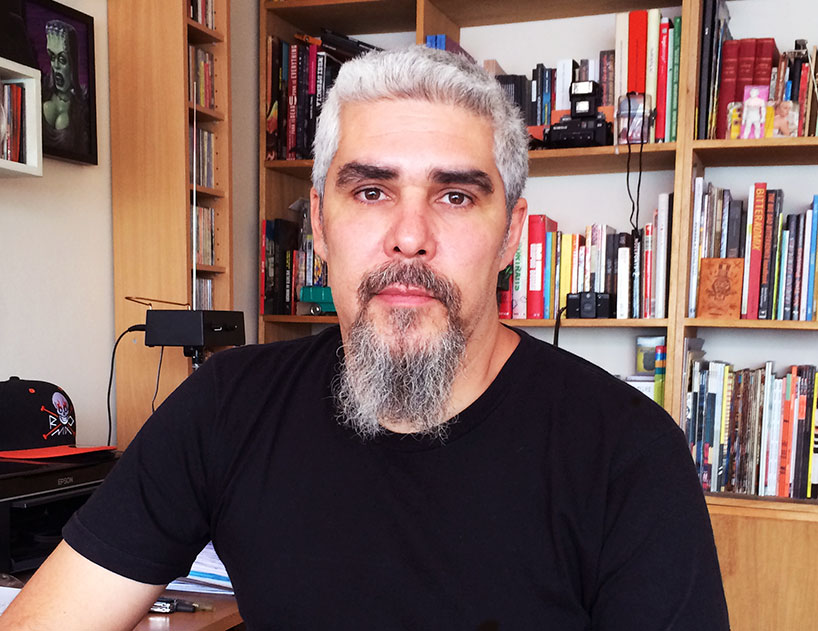 dr. alderete at his studio in mexico city
portrait © designboom
DB: what do you know now that you wish you knew when you were younger?
Dr.A: I'm not one to look back and wish things had been different, everyone has their own journey to make and you learn things along the way, if you knew everything in advance life would be boring. but, with regards to my work, perhaps I placed too much importance on the final product when I was younger and didn't always take time to enjoy the process. I have learned to embrace mistakes at this point but I feel that I'm only able to do that now because I've lived through a time when I was obsessive with details. sometimes you have to experience one way of doing things before you can understand and appreciate another way of thinking.
a diverse digital database that acts as a valuable guide in gaining insight and information about a product directly from the manufacturer, and serves as a rich reference point in developing a project or scheme.
designboom will always be there for you
milan, new york, beijing, tokyo

,
since 1999