after years of work, british artist jason decaires taylor has finally completed his monumental underwater project 'museo atlantico' in lanzarote, spain. comprising more than 300 sculptures, the final phase features the installation of a 100 ton, 30 meter-long wall, an underwater botanical garden, and a larger-than-life formation of over 200 human figures in a gyre. set off the coast of lanzarote, 14 meters below the clear blue water's edge, these new pieces join 35 figures that were installed in february 2016, and have since grown into their underwater habitat.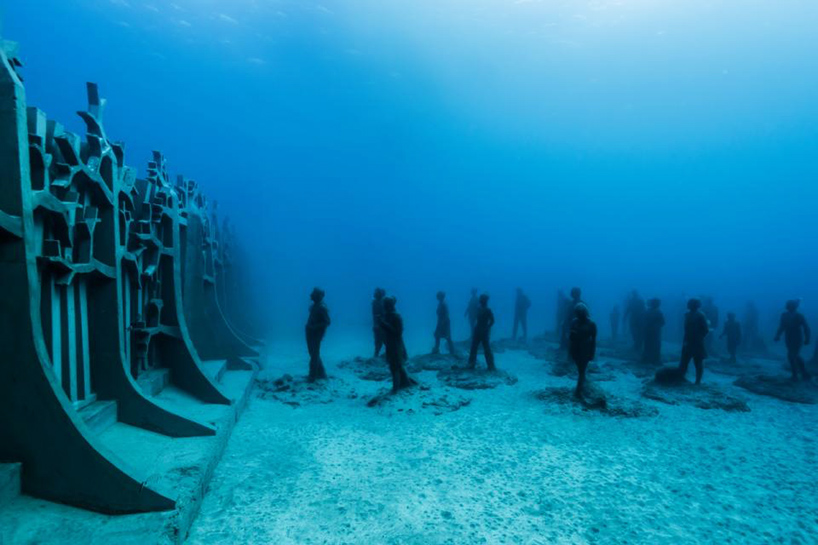 the centerpiece of jason decaires taylor's 'museo atlantico' is 'crossing the rubicon', a collection of 35 figures walking towards a 30 meter-long, 4 meter-high wall containing a single rectangular doorway at its center. 'the wall is intended to be a monument to absurdity, a dysfunctional barrier in the middle of a vast fluid, three-dimensional space, which can be bypassed in any direction,' the artist explains. 'it emphasizes that the notions of ownership and territories are irrelevant to the natural world. in times of increasing patriotism and protectionism the wall aims to remind us that we cannot segregate our oceans, air, climate or wildlife as we do our land and possessions.'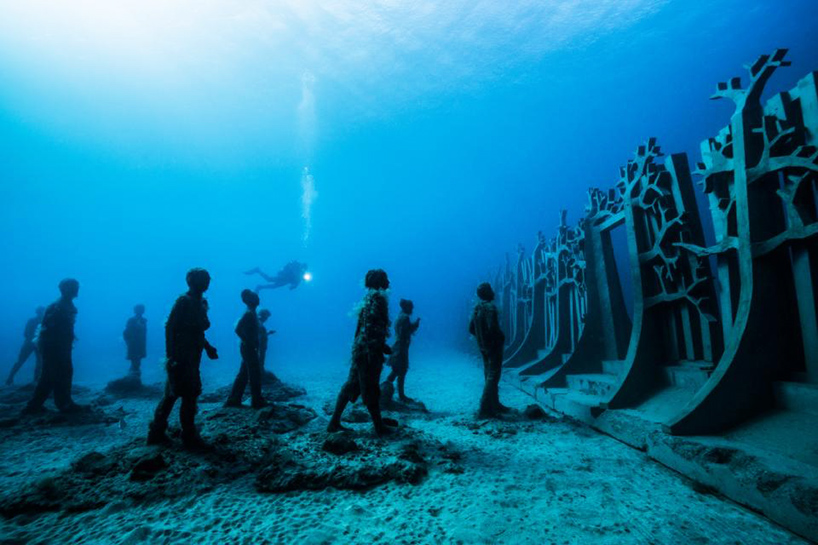 joining the underwater botanical garden is a sculptural depiction of a hybrid human-animal who gazes into a large square mirror. 'the portal' 'is intended to portray water within water, an interface or looking glass into another world, the blue world,' decaires taylor describes. additionally, the mirror is elevated on a series of cactus forms, creating small compartments designed to attract octopuses, sea urchins and fish.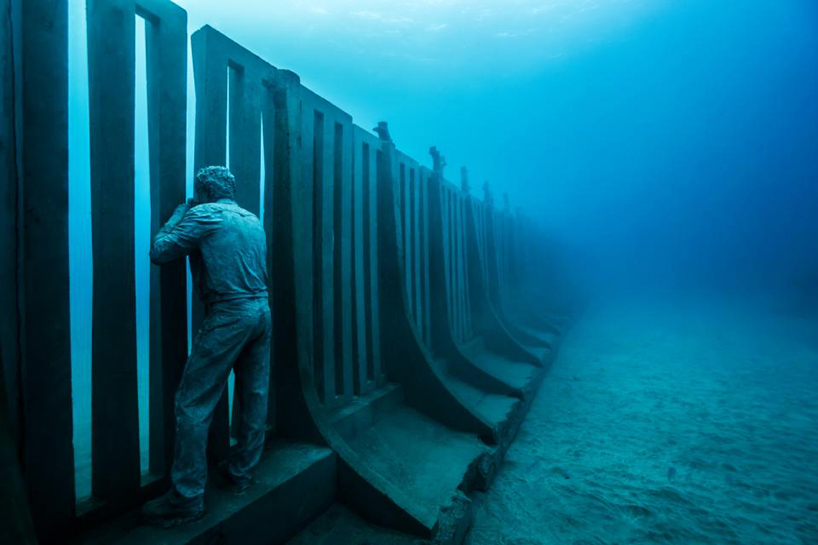 nearby, more than 200 life-size figurative sculptures of all ages form a large circular formation. 'the human gyre' creates a complex reef for marine species to inhabit, and serves as a poignant statement that we are all subject to the movements and will of the ocean. 'the piece embodies our naked vulnerability to its inherent power, and our fragility in the face of its cycles and immense force,' decaires taylor explains. 'it provides the oxygen we breathe, it regulates our climate, and it provides a vital source of nutrition to millions of people.'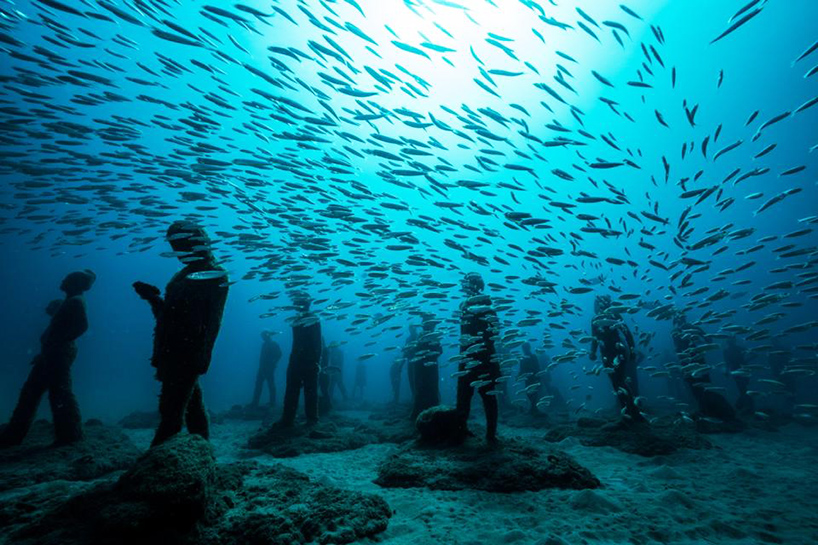 finally, an underwater installation of children's playground equipment is enjoyed by a series of suited businessmen. 'deregulated' comprises a swing, a sea-saw, and a play dolphin ride that seek to demonstrate the 'insouciance and arrogance of the corporate world towards the natural world,' the artist says. while the sea-saw references a petroleum extraction pump — a comment on the unregulated use of fossil fuels — the dolphin ride symbolizes the burden placed on marine species and its ultimate demise if left ignored.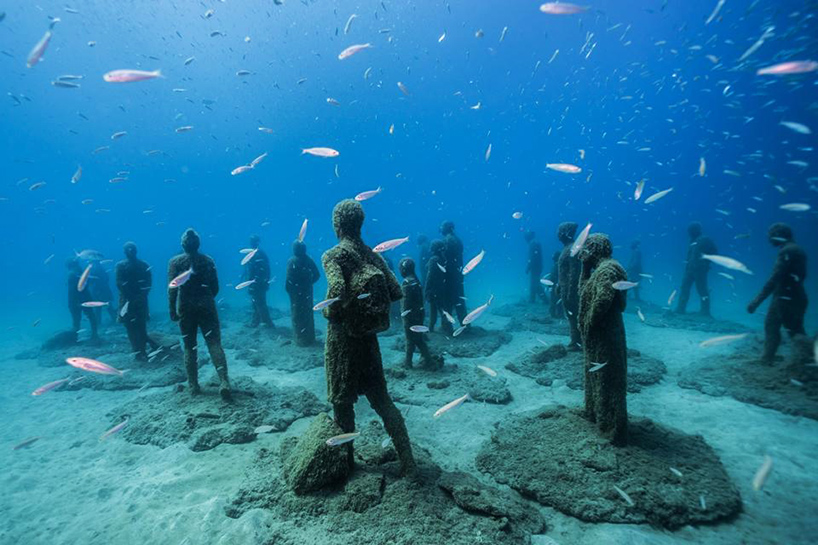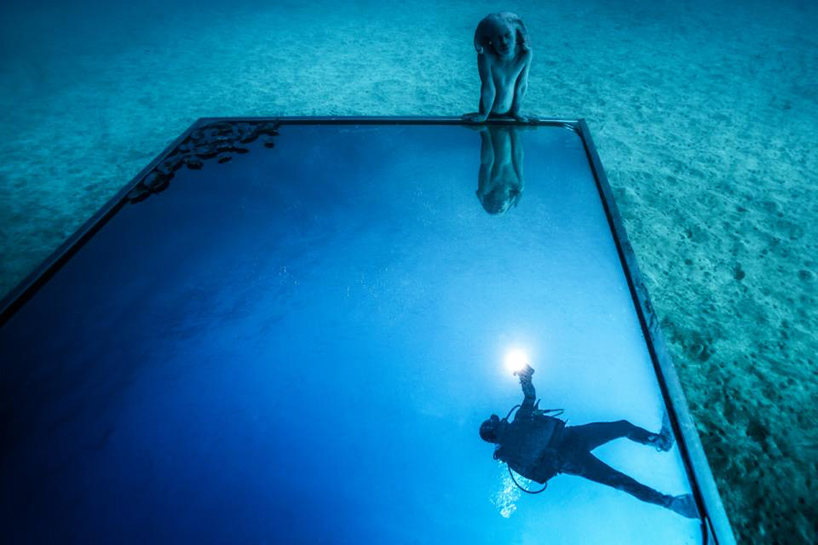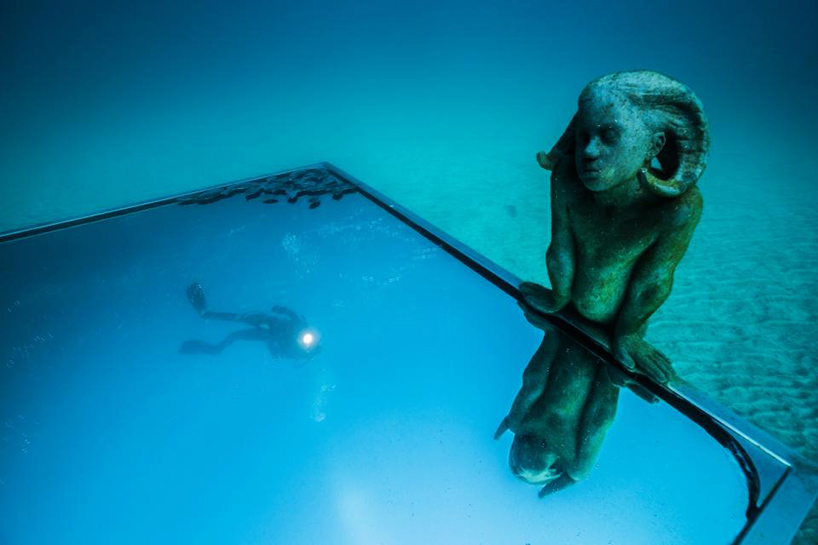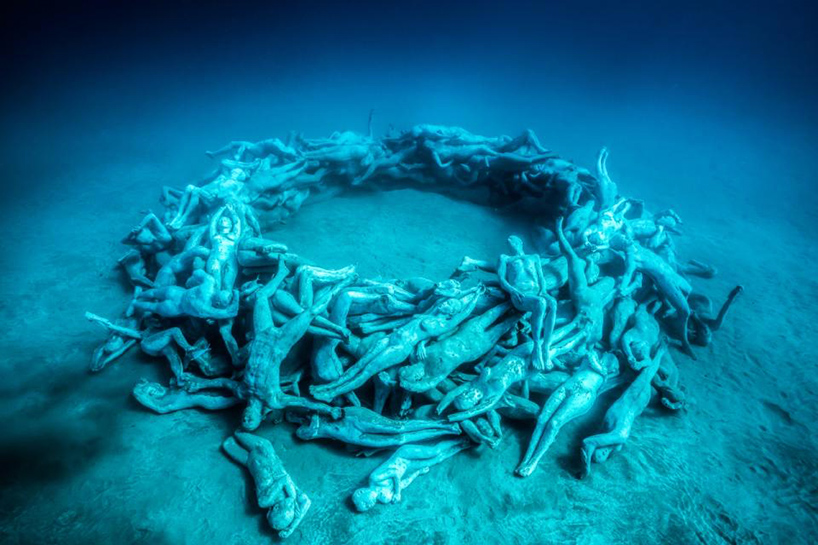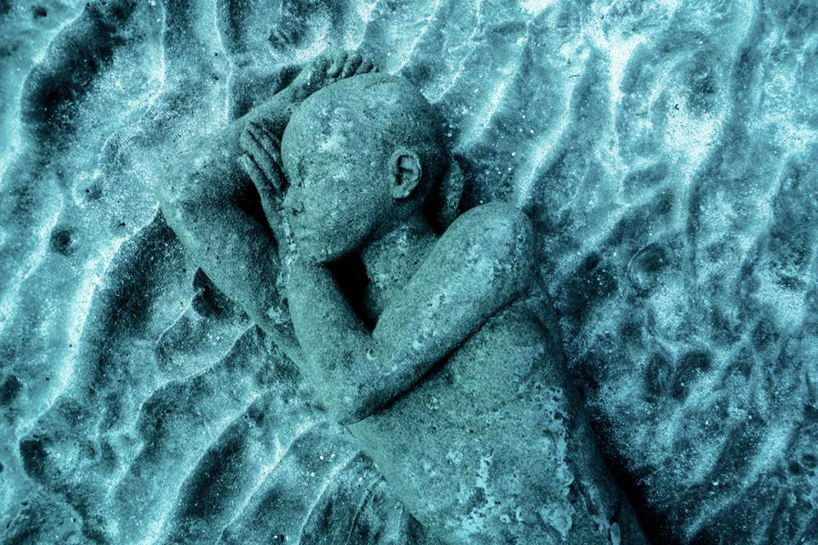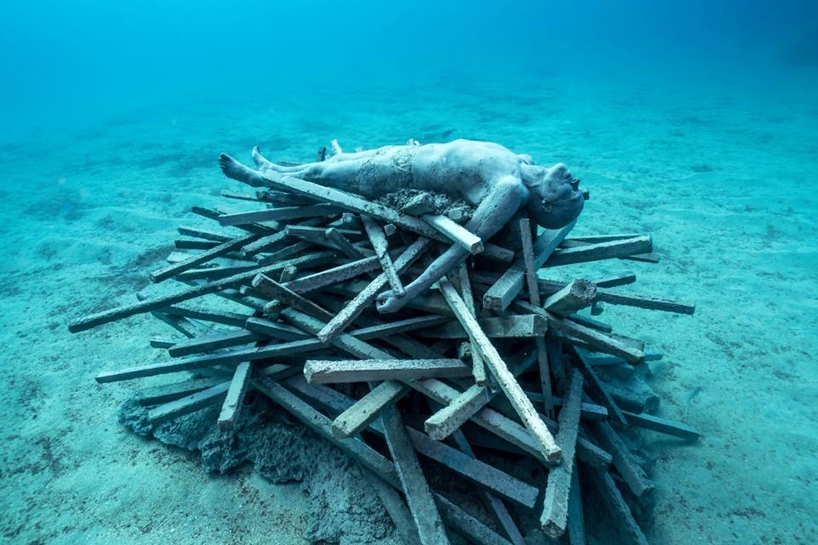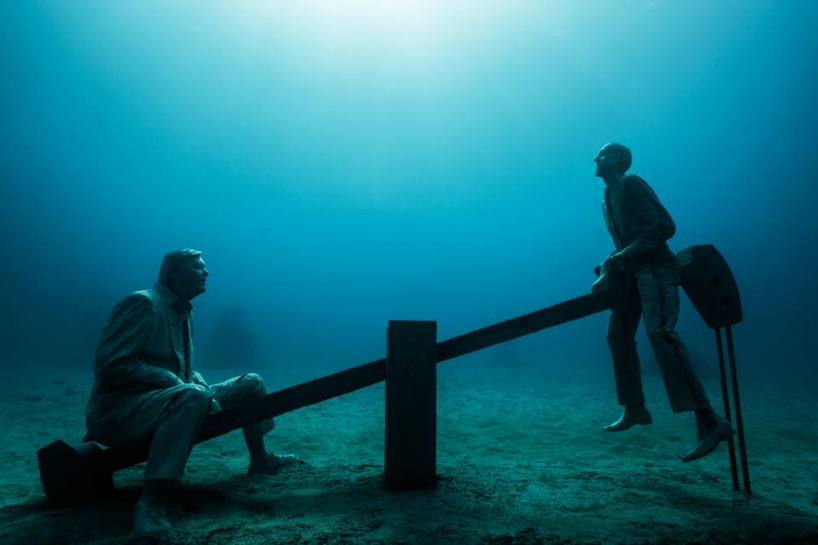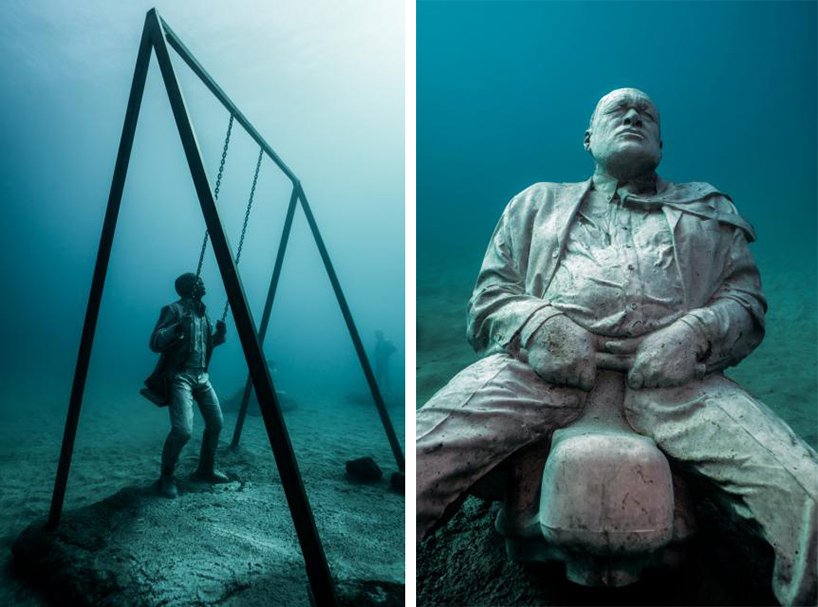 Save
Save
may 31, 2020
may 31, 2020
jul 03, 2018
jul 03, 2018
jun 18, 2018
jun 18, 2018
feb 03, 2016
feb 03, 2016
sep 14, 2015
sep 14, 2015
oct 20, 2014
oct 20, 2014
a diverse digital database that acts as a valuable guide in gaining insight and information about a product directly from the manufacturer, and serves as a rich reference point in developing a project or scheme.