jeff koons has teamed up with louis vuitton on a 51-piece series of leather goods, handbags, and accessories that reinterpret some of the world's most famous artworks. the 'masters' collection is drawn from koons' 2015 'gazing ball' series — where replicas of works by titian, el greco, and manet (among others) were interrupted by a blue glass ball attached to the front of the painting. for this collaboration with the french fashion house, koons builds on the theme by emblazoning works by da vinci, rubens, and van gogh on signature vuitton pieces. 

the da vinci 'speedy 30', complete with leather lining embossed, printed and filled with gold
all images courtesy of louis vuitton
the louis vuitton bags become a canvas for koons to express the 'masters' collection. backpacks, clutches, keepalls and silk squares are among the items to host famous painted works like da vinci's 'mona lisa', rubens' 'the tiger hunt', and van gogh's 'a wheatfield with cypresses'. accessories are replete with the gold monogram serti, reflective metallic letters and colored trimming. 'having the names of the artists in reflective type is in a way performing a function like the gazing ball in the 'gazing ball paintings', koons says, 'there's also a reflective process about the person being interlinked with the bag.' an exclusive leather lining — embossed, printed and filled with gold — describes the collaboration in further detail.

mona lisa's face on the 'palm spring's backpack features reflective metallic letters and colored trimmings

the rubens 'keepall 50' draws from painting 'the tiger hunt'

'we chose rubens's 'the tiger hunt', which is quite powerful and moving,' jeff koons says

the palm spring's bag draws from van gogh's 'a wheatfield with cypresses'

swirls and vivid color are juxtaposed against metallic lettering 

koons also chose to work with the erotically-charged 'mars, venus, and cupid' by titian

the louis vuitton silk square becomes the expression of the collaboration with koons

koons interprets 'girl with dog' for louis vuitton

a flat pouch features fragonard's famous painting
oct 03, 2017
oct 03, 2017
may 17, 2017
may 17, 2017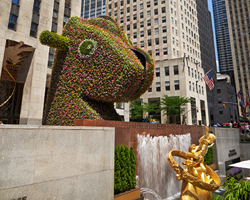 jun 26, 2014
jun 26, 2014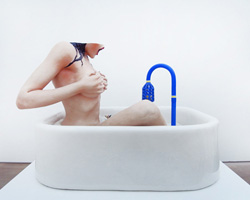 jun 29, 2012
jun 29, 2012
jun 17, 2012
jun 17, 2012
jan 09, 2011
jan 09, 2011
oct 05, 2017
oct 05, 2017
sep 27, 2017
sep 27, 2017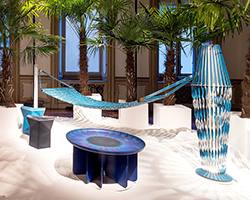 may 03, 2017
may 03, 2017
apr 24, 2017
apr 24, 2017
dec 20, 2016
dec 20, 2016
dec 01, 2016
dec 01, 2016