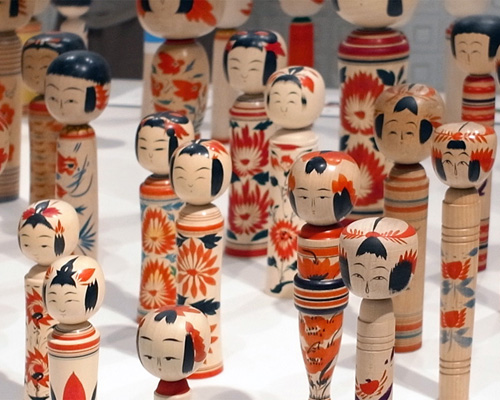 nov 16, 2012
japanese kokeshi folk toys

japanese kokeshi folk toys
image © designboom
kokeshi are japanese dolls, handmade from wood, with a simple trunk and an enlarged head with a few thin, painted lines to define the face. they lack of arms or legs, the body usually has a floral design painted in red, black, and sometimes yellow, and covered with a layer of wax. the dolls were originally made during the middle of the edo period (1600–1868). many sources credit their origin as made by artisans proficient with a potter's wheel, at the shinchi shuraku, near the tōgatta onsen in zaō, from where kokeshi making techniques spread to other areas in the tōhoku region. the kokeishi has a surprisingly little-documented history.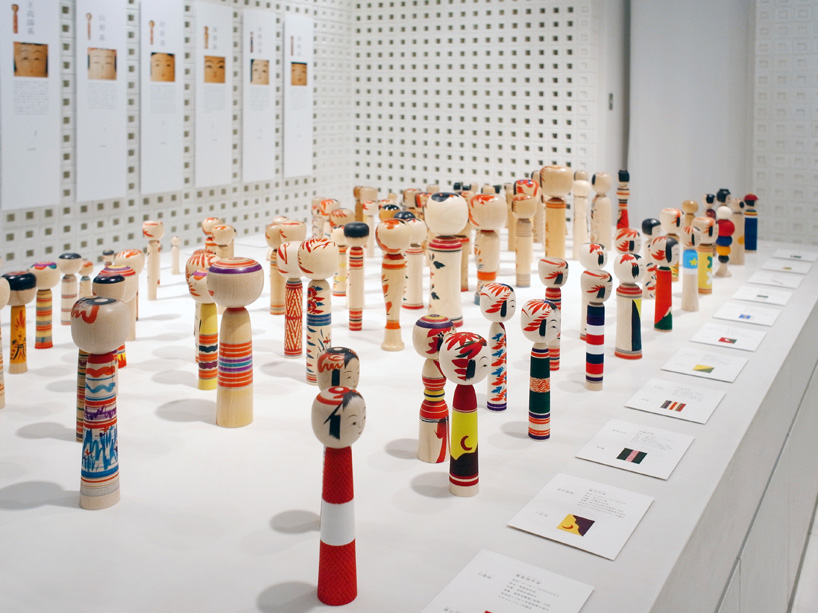 the exhibition offered the opportunity to see a wide range of kokeshi styles
image © designboom
designboom visited a kokeshi exhibition, which, during tokyo design week 2012, has been hosted in one of the oldest japanese makers of traditional sweets in japan, the confectionery 'toraya'. toraya reflects 480 years of tradition, and serves sweets such as 'anmitsu' dessert and 'kudzu' cakes… the exhibition has been organized by 'kokeshien', an organization promoting the kokeshi and their craftsmen to raise funds for the reconstruction of tohoku.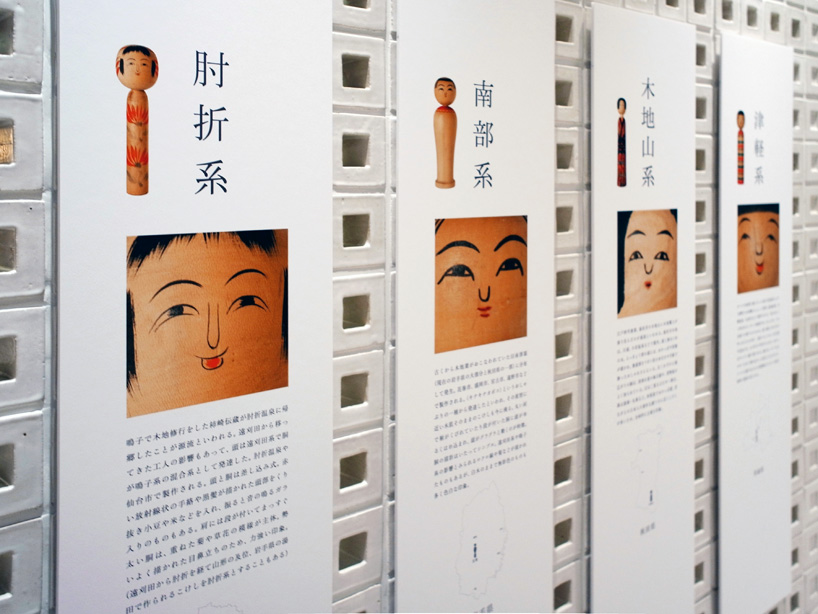 the achingly charming faces of these forms have an iconic, almost spiritual presence.
image © designboom
the dolls have been sold as toys and souvenirs to the 'onsen' / hot spring visitors, but their original purpose is unclear. they may originally have had a spiritual significance and are said to possess healing power, with the kokeshi representing a wish for a healthy child. they might have originated as massage tools by 'onsen' bathers (their round heads and limbless bodies probably were made in an unpainted form).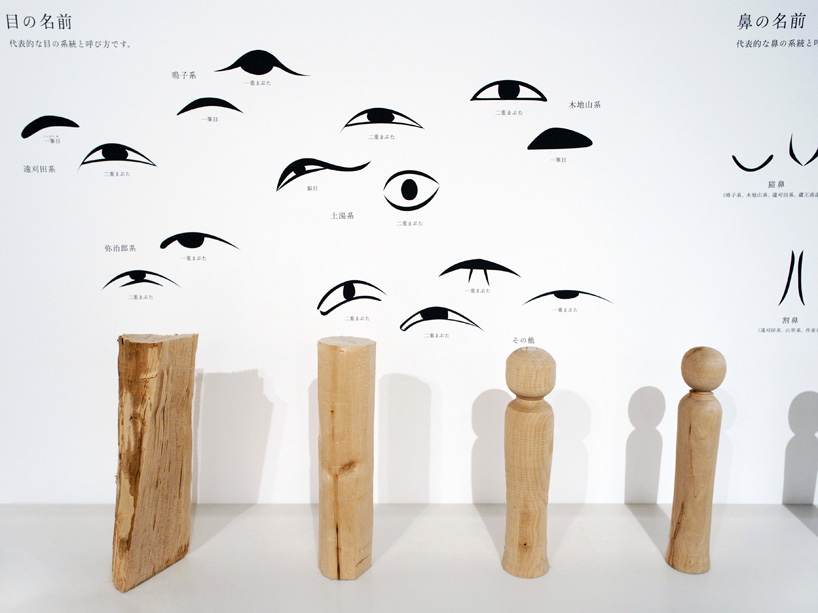 experts can determine the prefecture in which the kokeshi were made just by studying the painting style and body characteristics
image © designboom
the kokeshi are a form of folk art, and although almost all the dolls have similar figures, their shapes and patterns are particular to a certain area and are classified under eleven types. each doll has a unique face. there is a magical quality to their quiet, simple facial expression and decoration that might be described as a perpetually patient, contemplative gaze. some have large round eyes, while others have almond-shaped eyes with round noses. the different areas of tohoku produce various types of dolls and their variations in body and head shapes, hair styles and hand-painted designs indicate their source. for example, naruko-style kokeshi from miyagi prefecture feature bangs at the top of the head tied with a string called a 'mizuhiki'. 'tsuchiyu'-style dolls from fukushima prefecture have relatively small heads and slim bodies… their height can vary from only a few centimeters to an entire meter.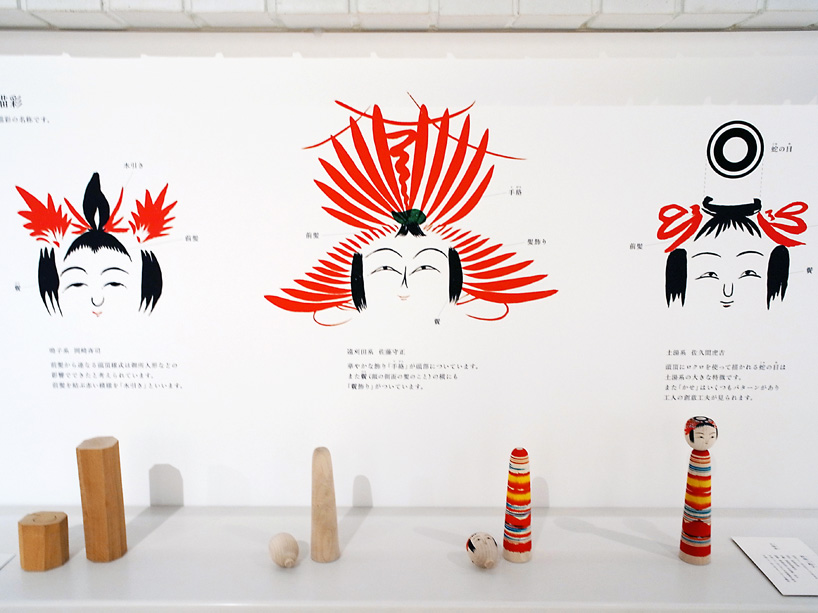 the steps of making: skilled craftsmen create the head and body and paint on the faces and body designs
image © designboom
pieces of wood spun on a lathe are carved until they have a roundish shape. the woods used for kokeshi dolls vary, from cherry to maple, … to mizuko. the working material is left outdoors to season for one to five years before it can be use.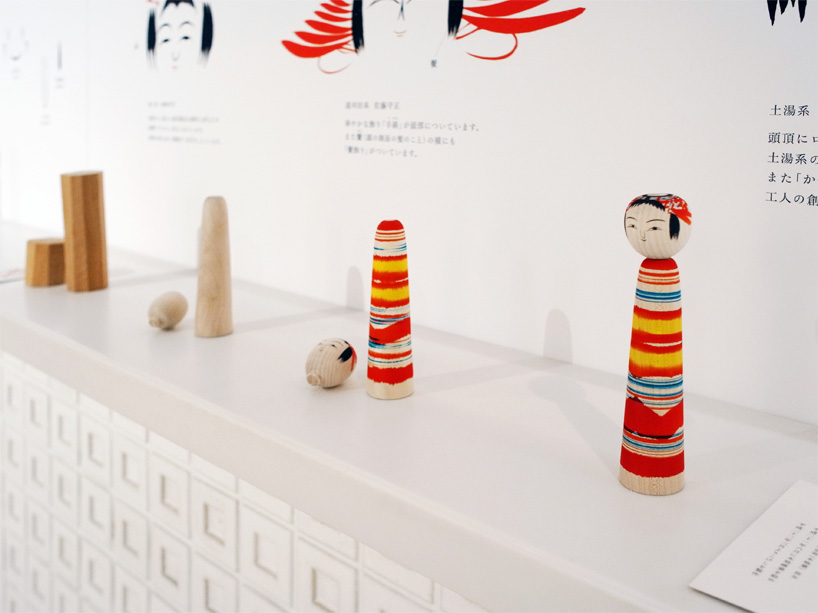 making steps
image © designboom
the designs are usually made with a limited number of colors, but each hue is vivid and distinctive and they should not be exposed to direct sunlight.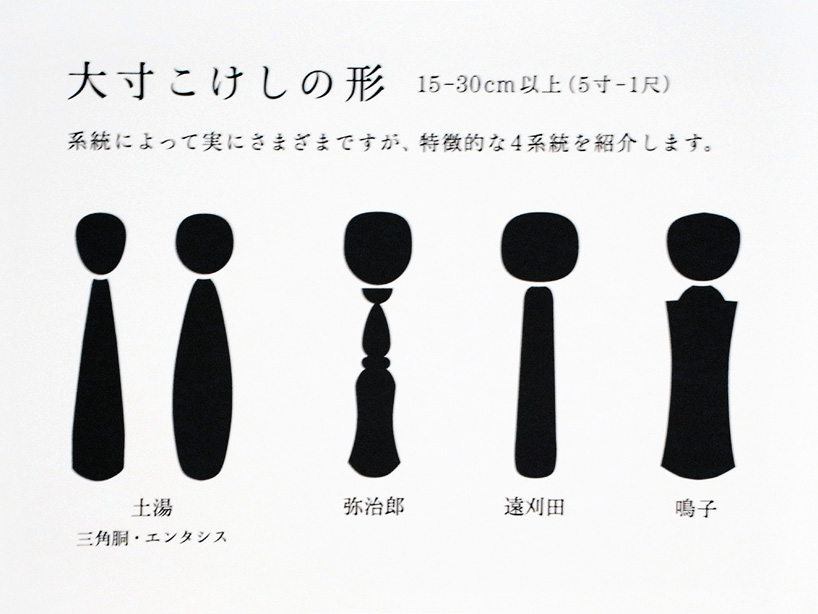 the main body shapes
image © designboom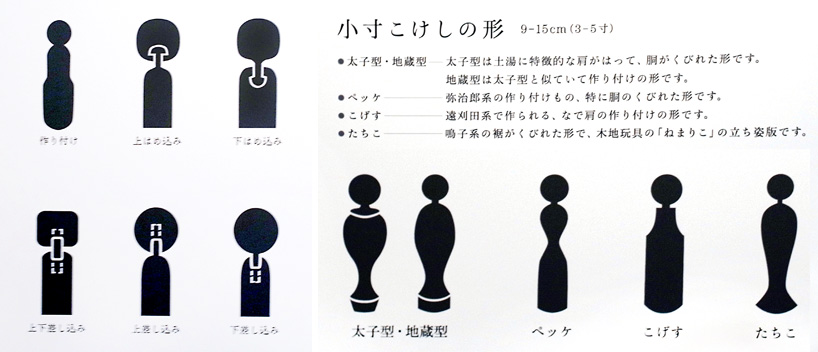 joining head and body
image © designboom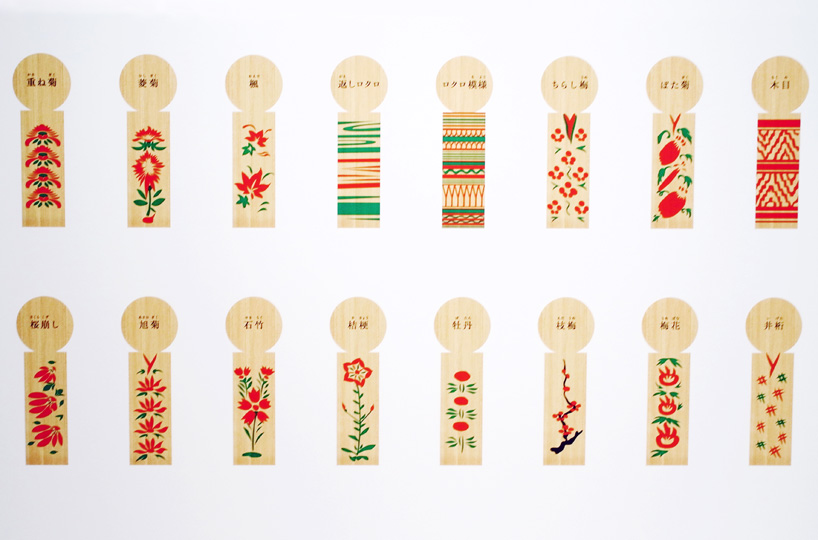 kimono patterns, an array of different designs which all tended to be simple
image © designboom
traditional kokeshi, produced only in the six prefectures of tohoku:
tsuchiyu (土湯系): tsuchiyu onsen (fukushima),
iizaka onsen (fukushima),
dake onsen (nihonmatsu)
yajirō (弥治郎系): yajirō (shiroishi)
tōgatta (遠刈田系): tōgatta onsen (zaō)
naruko (鳴子系): naruko onsen (osaki)
sakunami (作並系) or yamagata-Sakunami (山形作並系): sendai (incl. sakunami onsen), yamagata, yonezawa, sagae, tendō
zaō takayu (蔵王高湯系): zaō onsen (yamagata)
hijiori (肘折系): hijiori onsen (okura)
kijiyama (木地山系): kijiyama (yuzawa)
nambu (南部系): morioka, hanamaki onsen (hanamaki)
tsugaru (津軽系) or nuruyu (温湯系): nuruyu onsen (kuroishi), owani onsen (owani)
today the city of sendai is the center for traditional kokeshi production.
the kokeishi are highly regarded around the country so much that since 1954 the prime minister of japan has awarded an annual prize for
the best creative kokeshi design.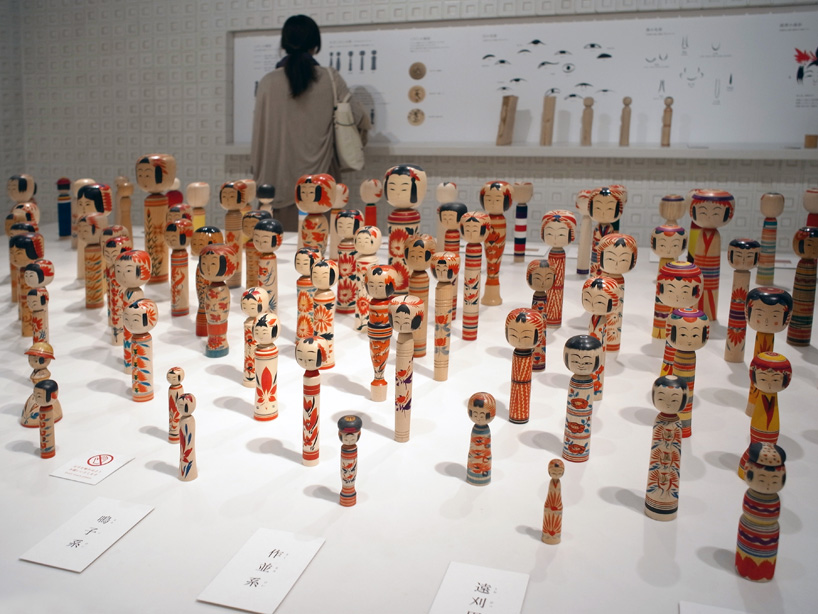 on display were over 200 breathtaking examples of traditional kokeshi dolls
image © designboom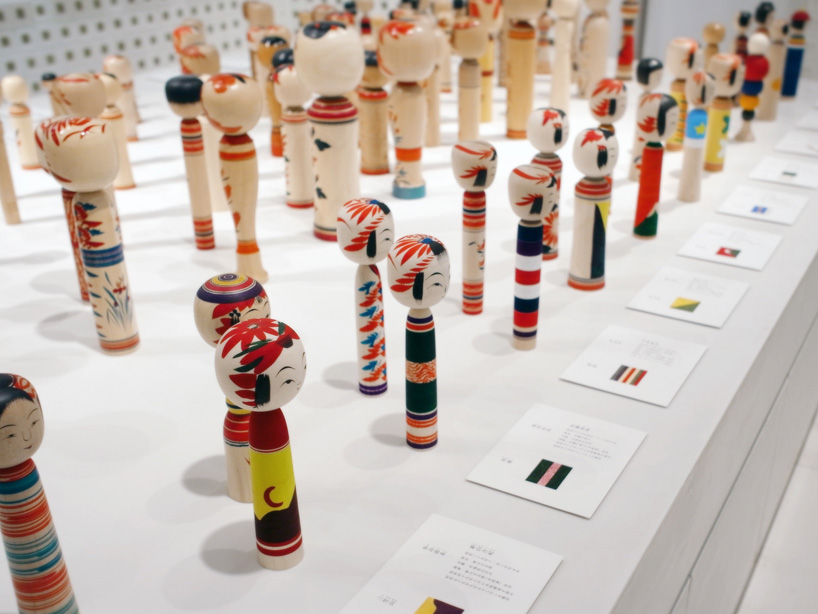 rather than exploiting the similarities of mass-produced objects, the exhibition emphasizes the variety and richness in multitude of traditional craft
image © designboom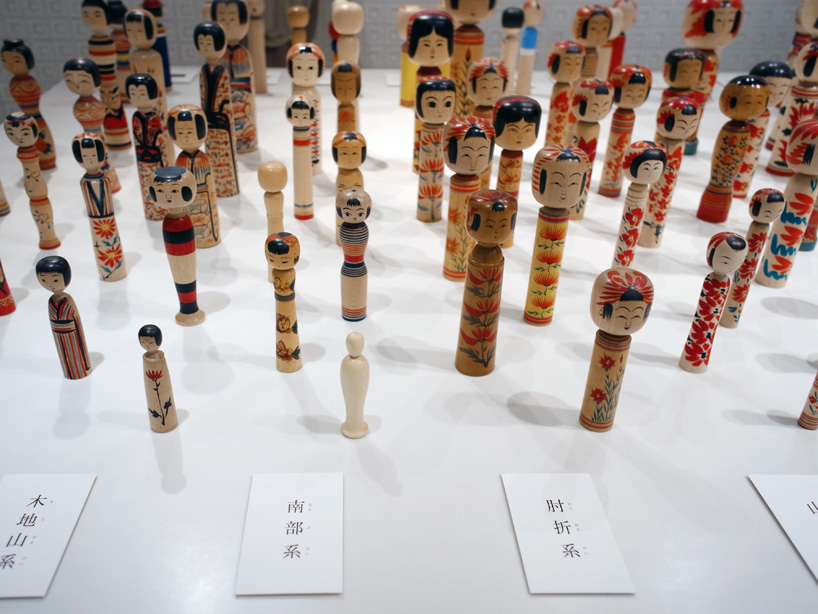 image © designboom
nov 13, 2019
nov 13, 2019
jan 30, 2017
jan 30, 2017
oct 23, 2014
oct 23, 2014
may 03, 2013
may 03, 2013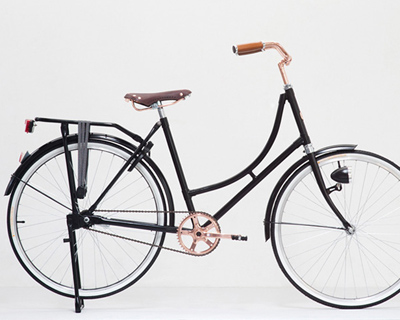 jun 06, 2013
jun 06, 2013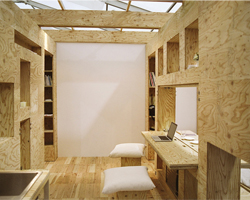 dec 13, 2012
dec 13, 2012
nov 27, 2012
nov 27, 2012
a diverse digital database that acts as a valuable guide in gaining insight and information about a product directly from the manufacturer, and serves as a rich reference point in developing a project or scheme.