Installations & Paintings take over Art Basel Unlimited 2023
The 2023 edition of Art Basel presents a diverse range of sectors, each with its own distinct focus, featuring works by both established and emerging artists. Among these sectors, such as Parcours, Feature, and Kabinett, there is one that always manages to capture our attention: Unlimited. Dedicated to projects that transcend the classical art fair stand, the pioneering exhibition platform at Hall 1 includes large-scale sculptures and paintings, video projections, installations, and live performances. Curated by Giovanni Carmine (read our recent interview here), the exhibition unfolds inside the 16,000-square-meter hall with 76 projects that, for the most part, are being shown for the first time at Art Basel.
As part of our visit to the 2023 art fair, we spotlight below some of the large-scale projects that caught our attention at Unlimited. From Serge Attukwei Clottey's huge plastic gallon tapestry to Monica Bonvicini's leather and steel swing installation, explore all the projects below.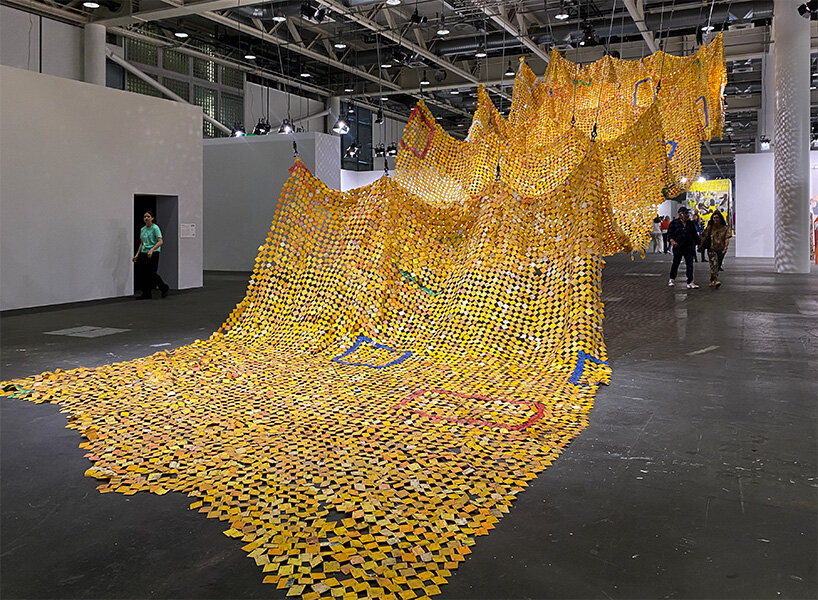 Sea Never Dries by Serge Attukwei Clottey | image © designboom
Serge Attukwei Clottey – Sea Never Dries (2022)
Serge Attukwei Clottey's installation Sea Never Dries (2022) pays tribute to the yellow containers commonly found in Ghana by transforming them into large-scale tapestries. These vibrant artworks, reminiscent of Gustav Klimt's gold leaf dresses and Byzantine mosaics, hang from the ceiling, creating flowing waves that cascade onto the floor. Initially designed for storing cooking oil, the yellow vessels now serve locals for water and fuel collection, reflecting the water shortage crisis. With the support of his community, Clottey cuts these containers into small pieces and binds them together using wire, resulting in flowing tapestries that he calls 'Afrogallonism'. See our coverage of the artist's work at the 2023 Venice Architecture Biennale here.
Simon Lee Gallery
UNLIMITED | U73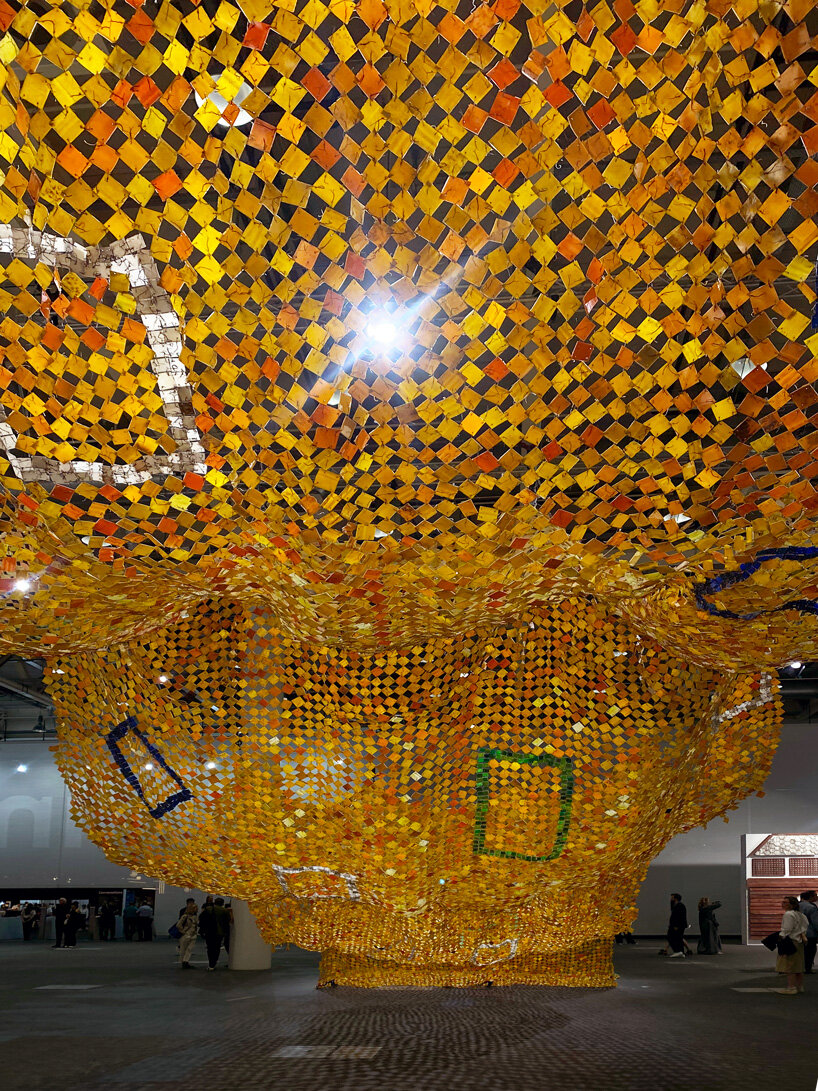 image © designboom
Mai-Thu Perret – Untitled (2021/2023)
Mai-Thu Perret's installation, titled Untitled (2021/2023), features 29 yellow neon palms arranged in a pattern along a 15-meter wall. This abstract composition, incorporating both vertical and horizontal orientations, is a product of the artist's extensive research in cultural history, literary works, and feminist narratives. The hands, serving as a symbol for labor and art-making, draw connections to their presence in ancient cave paintings, particularly those of women. Often juxtaposed with depictions of animals or hunting scenes, these handprints or outlines reflect a complex relationship between protection and freedom. Perret's installation further explores this dynamic through the reference to Franz Kafka's aphorism, 'I am a cage in search of a bird,' employing the imagery of immobilized hands.
Galerie Francesca Pia, Simon Lee Gallery, Galerie Barbara Weiss, David Kordansky Gallery
UNLIMITED | U8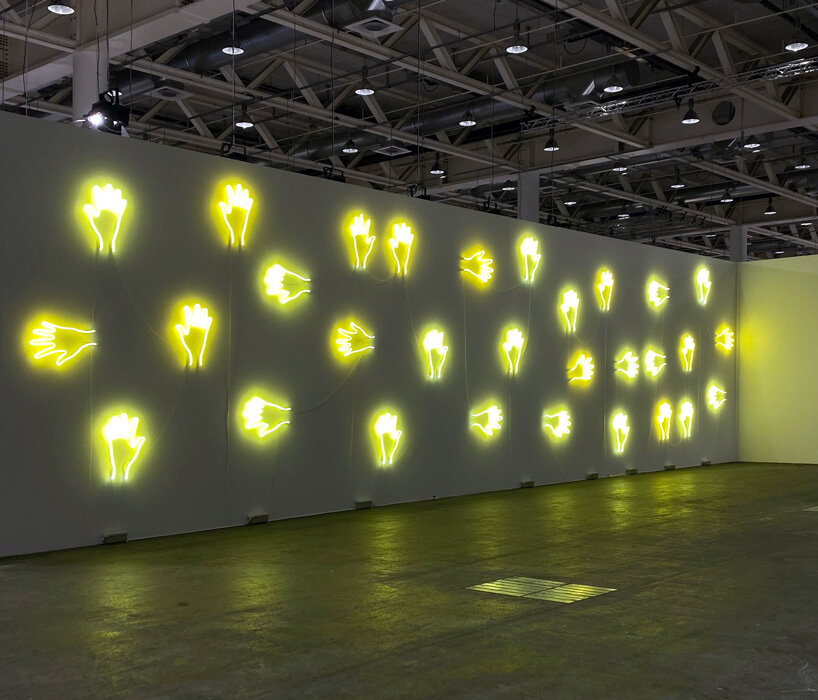 the project embodies both vertical and horizontal orientations | image © designboom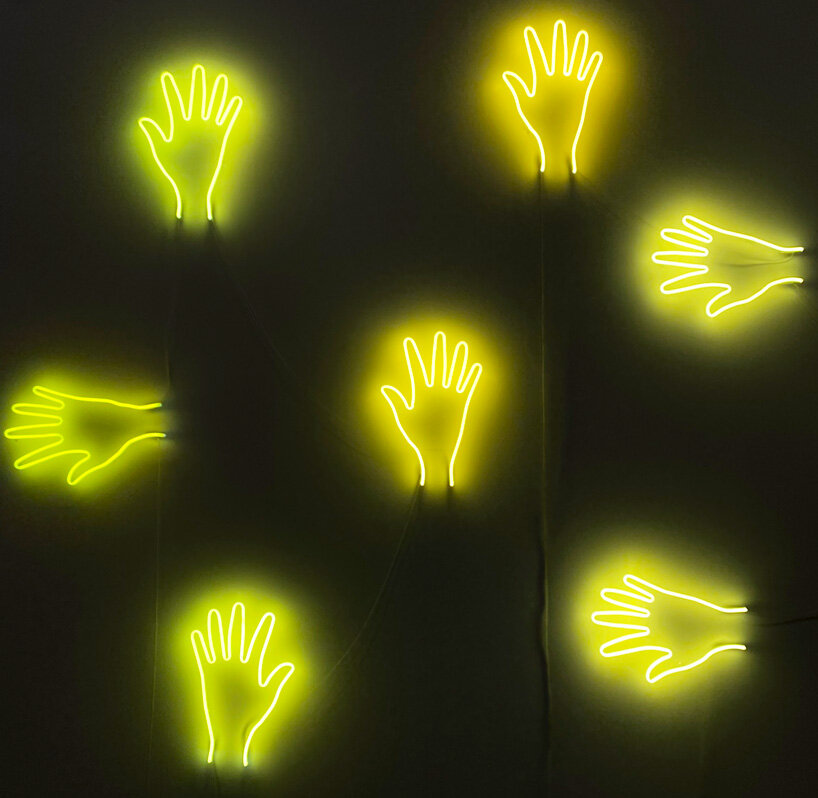 image © designboom
Cornelia Parker – PsychoBarn (Cut Up) (2023)
Cornelia Parker's artwork, PsychoBarn (Cut Up) (2023), is a reinterpretation of her earlier work called Transitional Object (PsychoBarn) commissioned by the Metropolitan Museum in 2016. The original work was a replica of the iconic mansion from Alfred Hitchcock's film Psycho, constructed using parts of a typical American red barn. In the new installation, Parker deconstructs the building to create an exploded view. The various elements, such as windows, doors, panels, and the metal roof, have been weathered by time spent on both sides of the Atlantic. The panels are arranged in a salon hang-style, appearing to float over three walls, and some are even placed on the floor. Using the Dadaist cut-up technique, Parker rearranges the shingled roof, windows, porch, and stairs to form a new composition, turning the barn inside out in a creative manner.
Frith Street Gallery
UNLIMITED | U76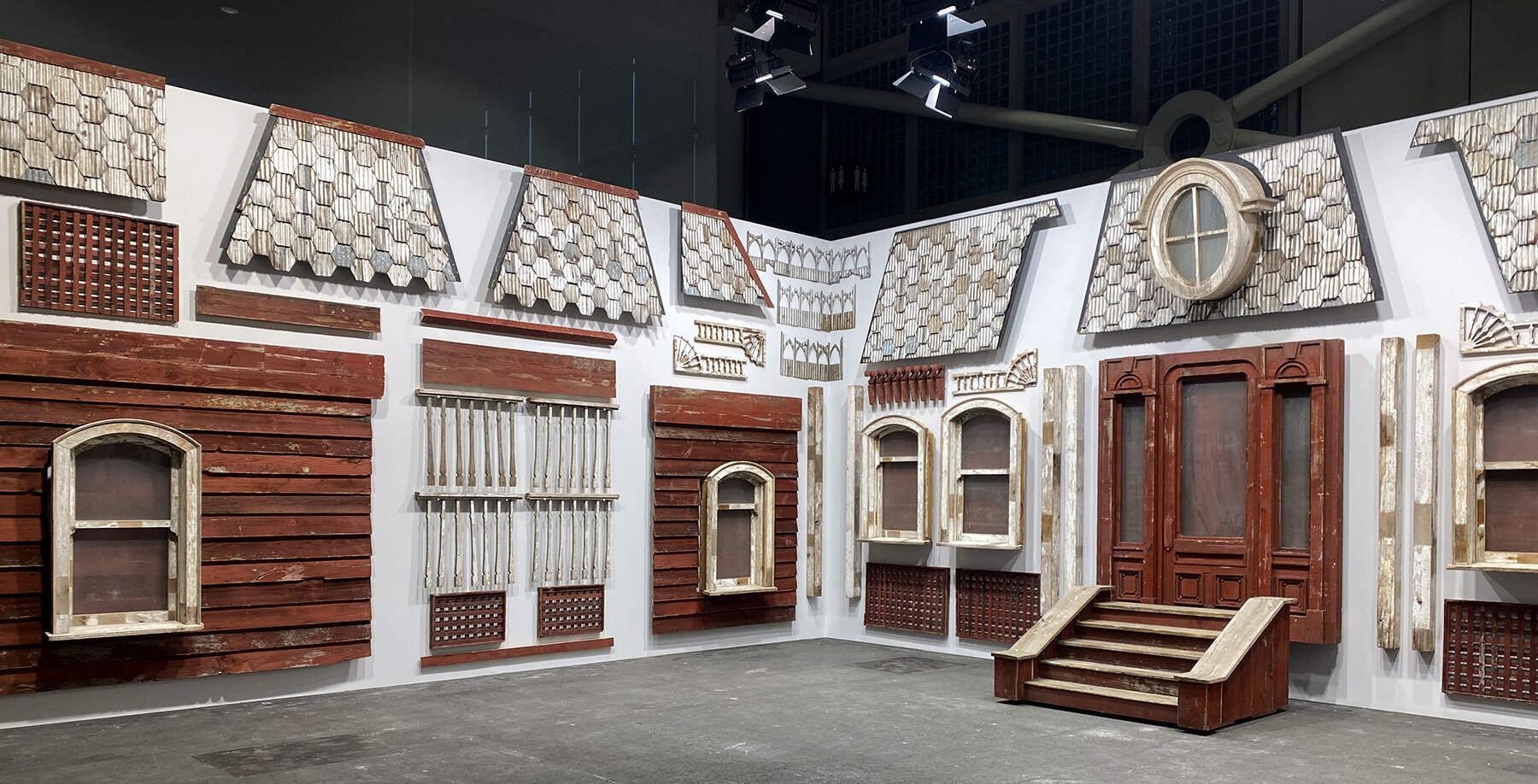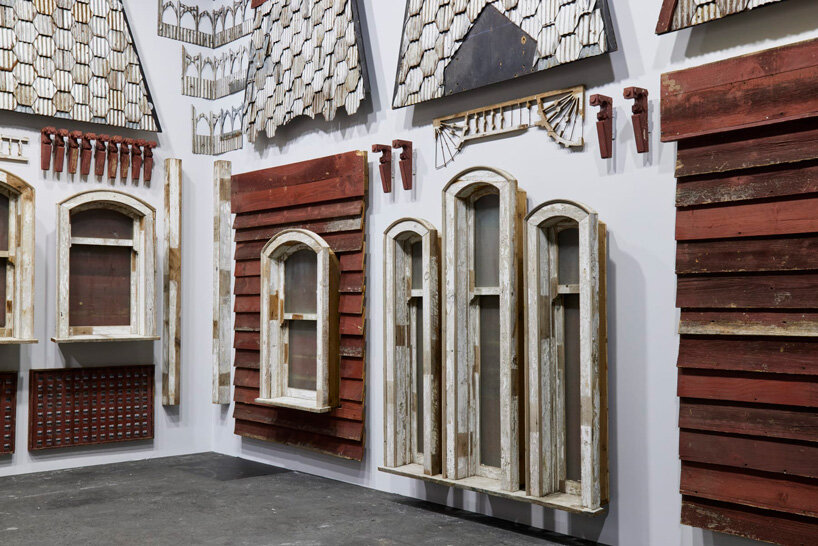 image © Art Basel
Carlos Cruz-Diez – Environnement Chromointerférent (Paris, 1974/2018)
Environnement Chromointerférent (1974/2018) by Carlos Cruz Diez is an interactive installation that explores the dynamic and ambiguous nature of color. The constantly shifting projection creates a transformative experience, making both the viewers and objects appear transparent and altering their shapes virtually. In this chromatic event that unfolds in real space and time, the viewers become both participants and creators, actively engaging with the environment. As spectators gaze at the shadows on the walls, they perceive a sensation of moving in the opposite direction to the lines of colors, initiating a dialogue between the ever-changing chromatic interferences and the consistent presence of the shadows on the wall.
Galleria Continua
UNLIMITED | U21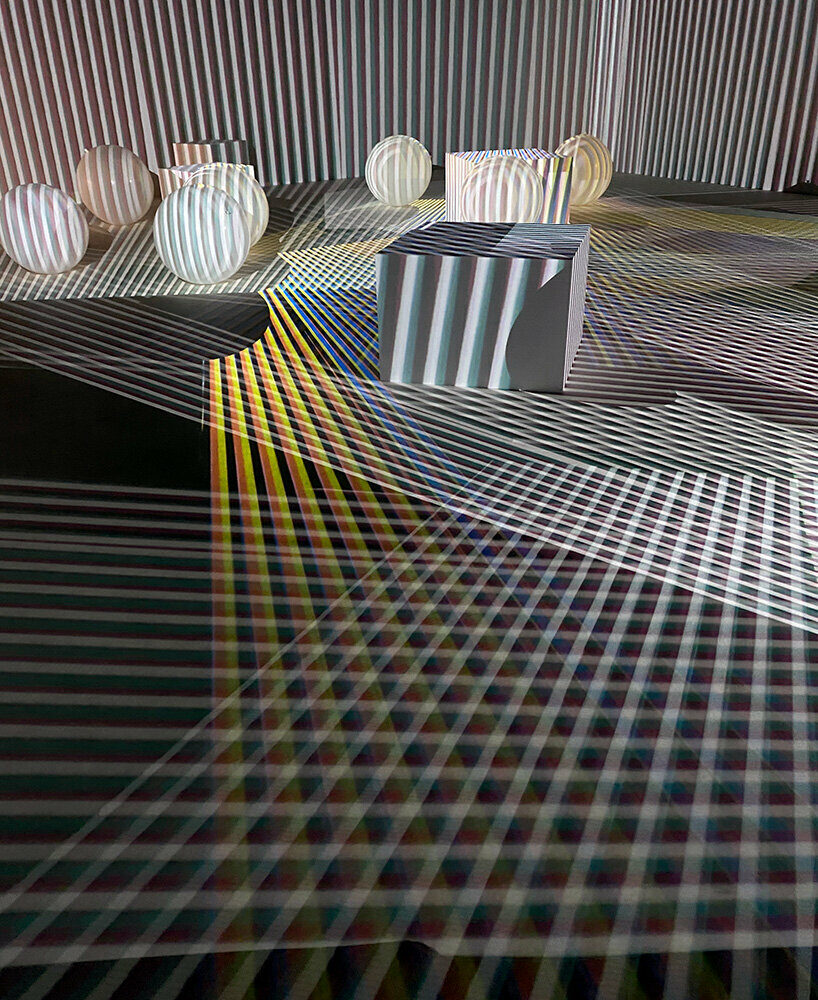 image © designboom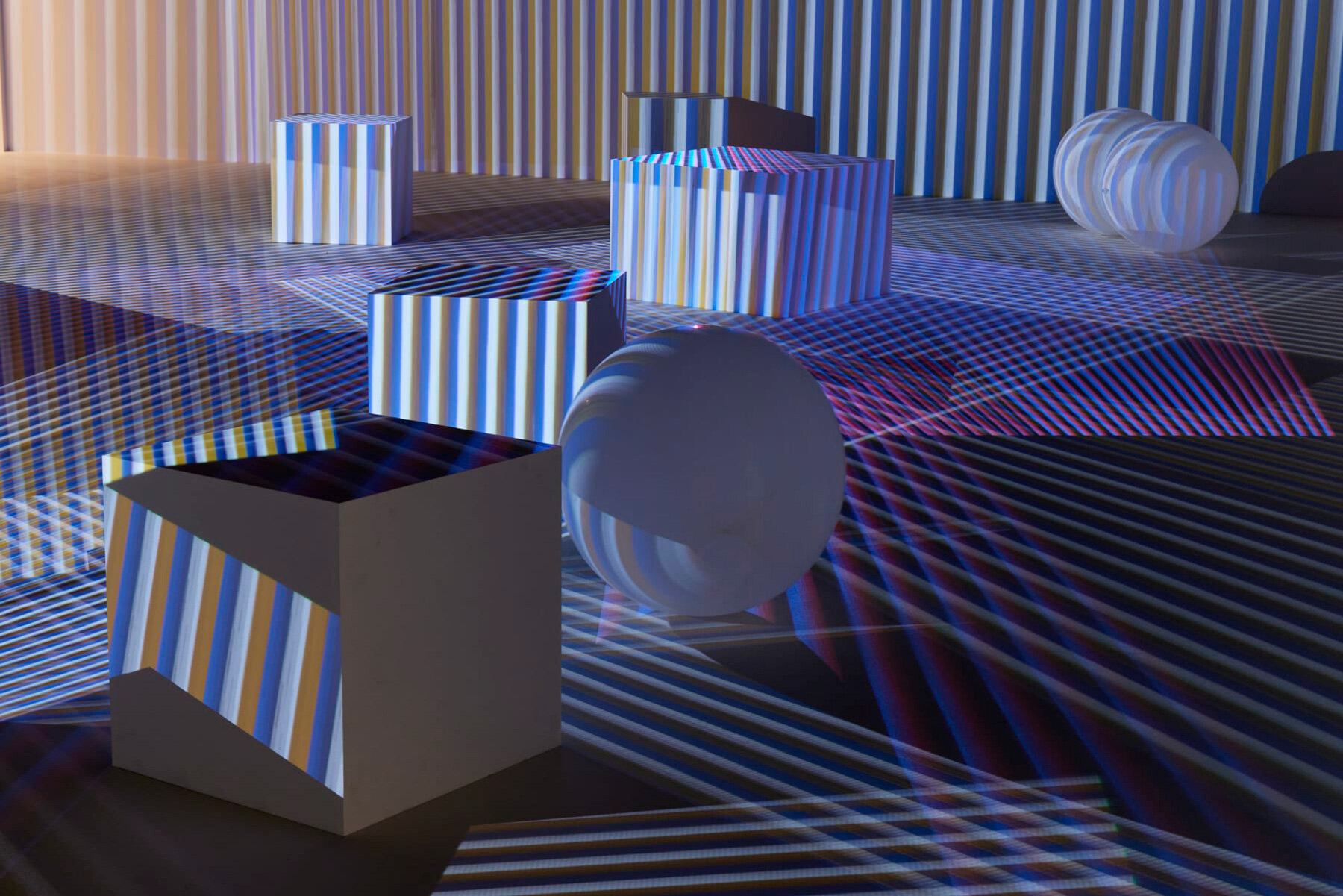 François Morellet & Tadashi Kawamata – Pier and Ocean (2014)
Pier and Ocean (2014) by François Morellet is an installation featuring a confined space illuminated by a pulsating neon tube composition reminiscent of the sea's movement. Morellet collaborated with Tadashi Kawamata, who created a wooden jetty leading viewers into the installation. In 2014, Morellet said: 'For over half a century, the works that have served as my models and which always give me great pleasure when I see one, are the works from the series Pier and Ocean, which Mondrian painted in 1914.'
Kamel Mennour
UNLIMITED | U6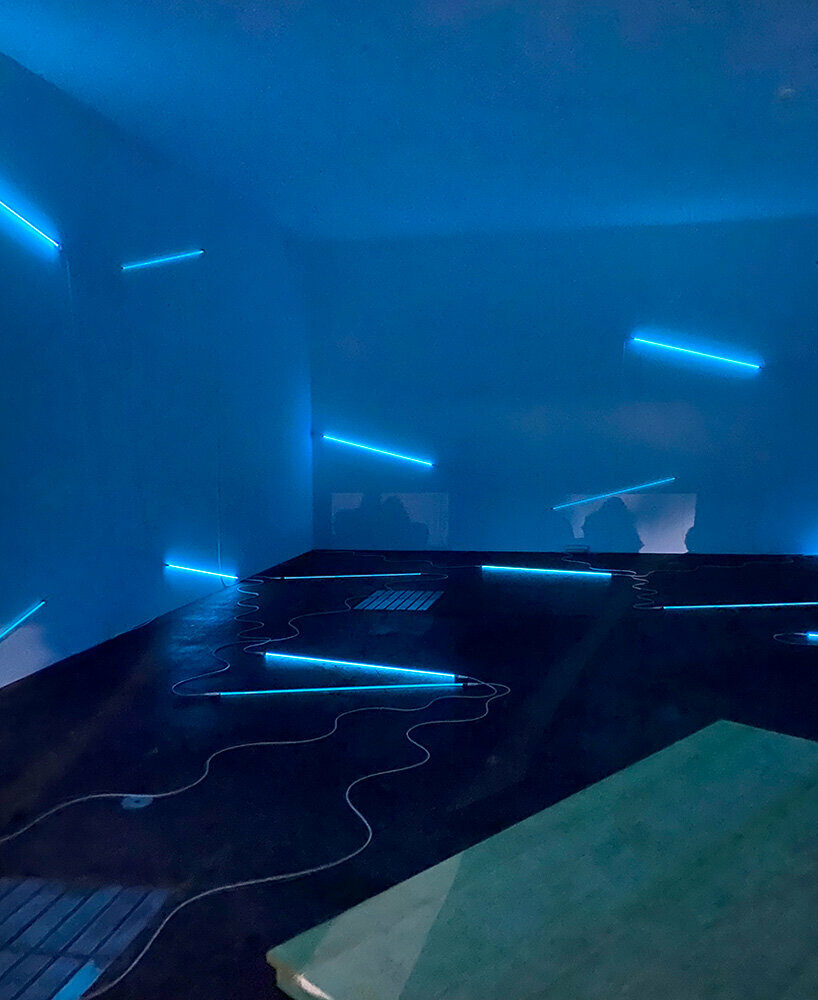 the neon tube composition reflects the sea's movement | image © designboom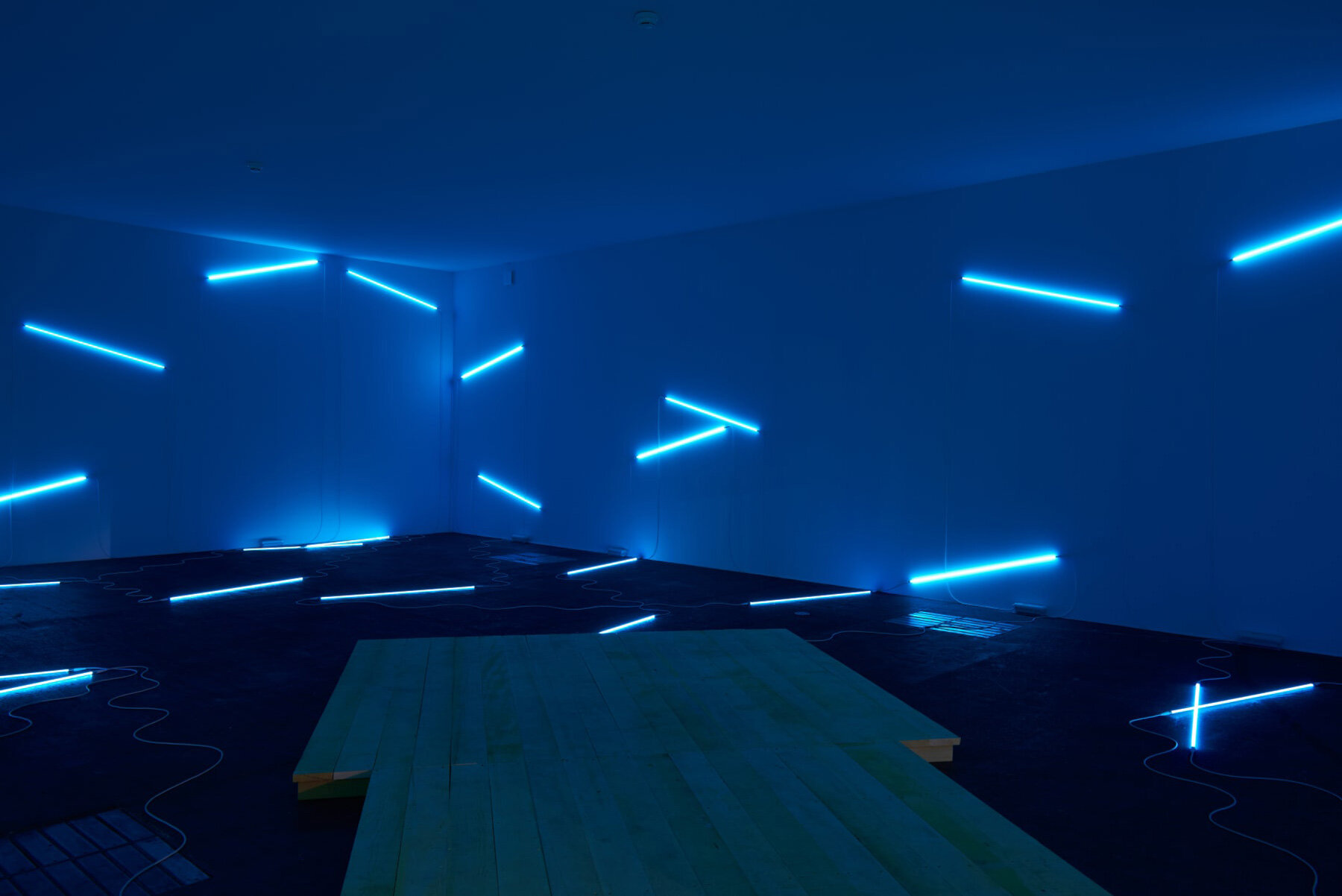 Monica Bonvicini – Never Again (2005)
Never Again (2005) by Monica Bonvicini is composed of swings made from steel pipes, black leather, and chains suspended from a steel structure. By physically interacting with these unconventional structures, viewers challenge the traditional norms of exhibition viewing and reshape the politics of space. Bonvicini's artwork incorporates various themes such as psychoanalysis, sexuality, labor, feminism, and architecture, aiming to highlight how urban, private, and institutional spaces influence our behavior. Never Again also serves as a critique of minimalist art, pointing out how it has distanced itself from the human body.
Galerie Peter Kilchmann, Galerie Krinzinger, Tanya Bonakdar Gallery
UNLIMITED | U22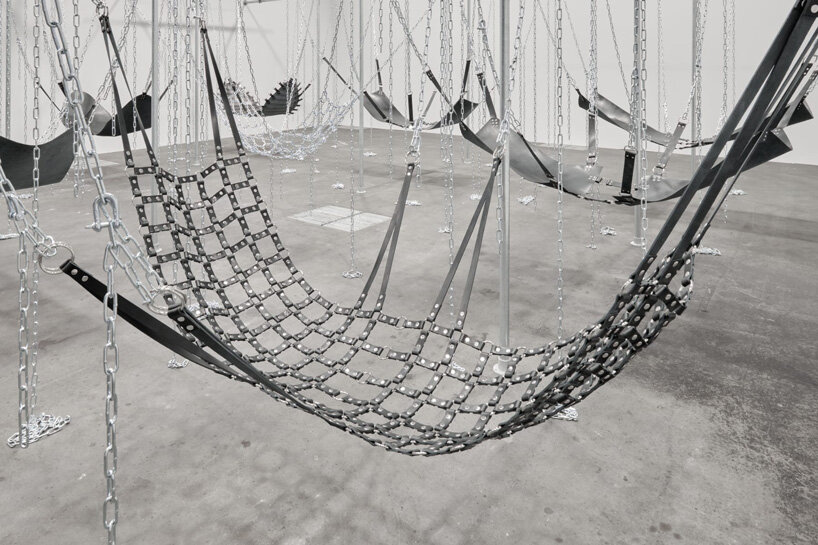 image © Art Basel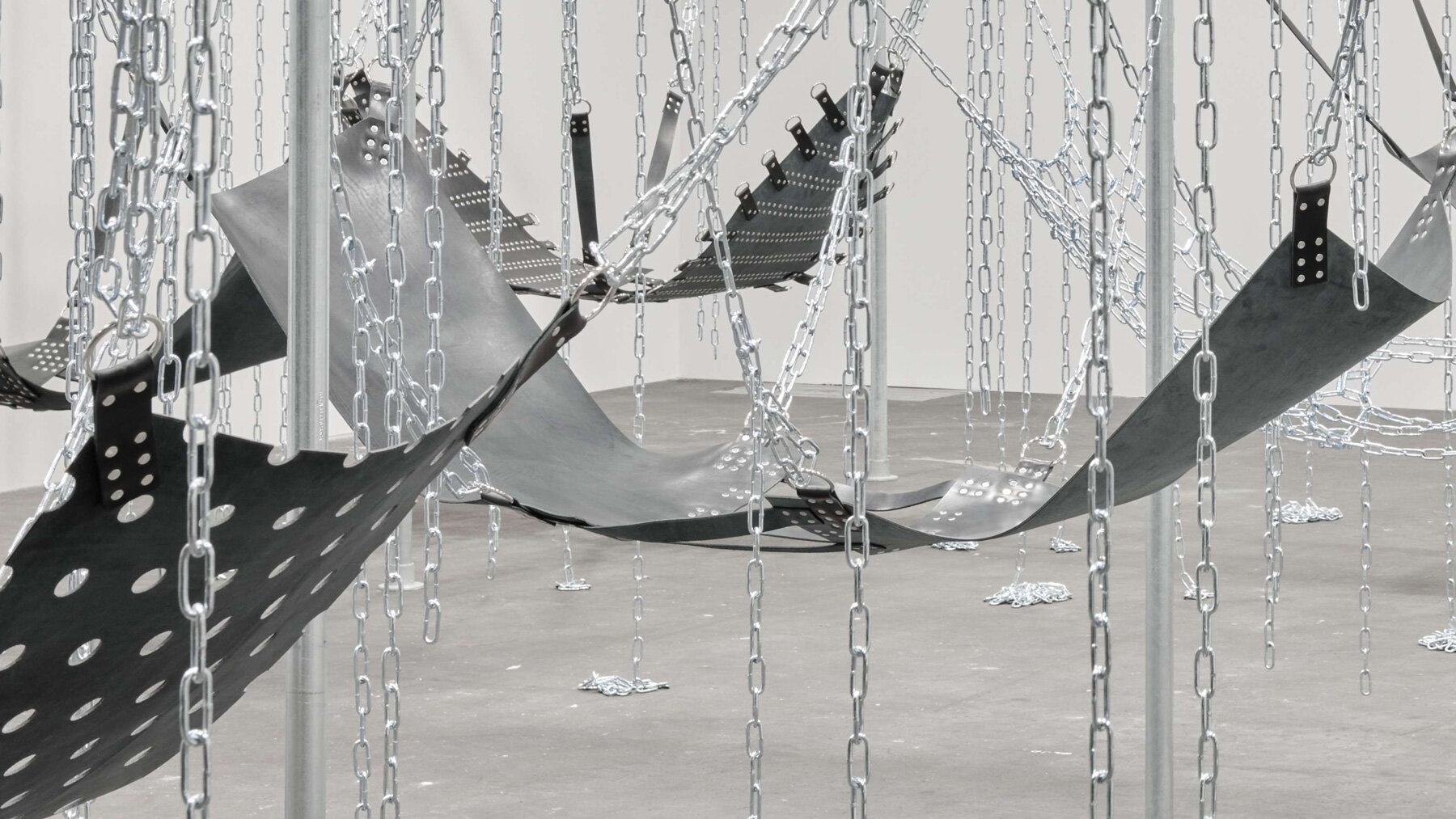 Ron Terada – TL; DR (2019 – 2020)
The artwork TL; DR (2019-2020) by Ron Terada explores the influence of communication technology on how we consume information. It focuses on typography as a representation of power and truth. The artist reproduces headlines from The Verge, a technology news site, using a font similar to The New York Times, giving them the authority of a traditional publication. TL; DR covers headlines from 2019 to early 2020 and uses densely stacked canvases to create a conceptual approach to history painting that is both humorous and unsettling. The installations reflect contemporary life through forgotten microtrends, manufactured clickbait, and ongoing narratives.
Catriona Jeffries
UNLIMITED| U28

image © Art Basel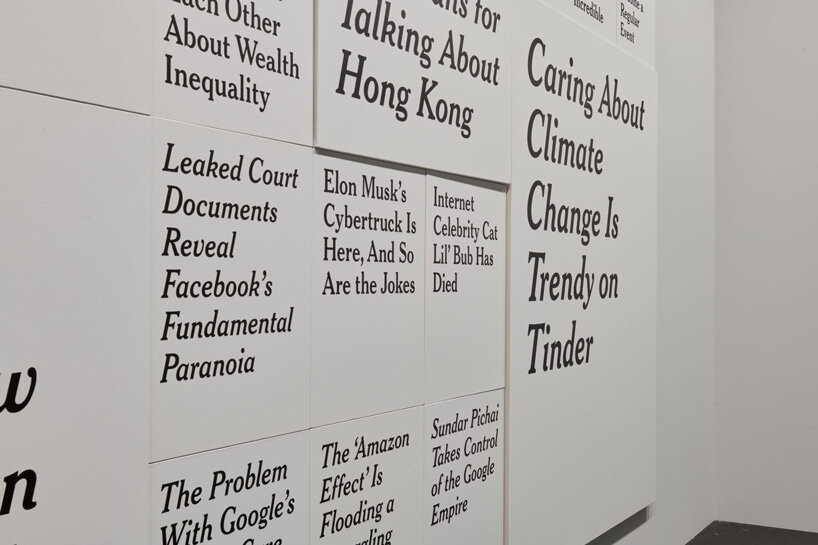 image © Art Basel
Adel Abdessemed – Jam Proximus Ardet, la dernière vidéo (2021)
In Jam Proximus Ardet, la dernière vidéo (2021), artist Adel Abdessemed uses fire and water as symbolic elements to depict a powerful and transient entity. The video deviates from traditional narrative structures and focuses on a single shot: a burning ship on the horizon, initially appearing as a ready-made image. As the ship approaches, the viewer discovers the presence of the artist standing on the main bridge, seemingly unaffected by the chaos unfolding behind him. The video's imagery is reminiscent of Abdessemed's iconic work Je suis innocent (2012), and it serves as an allegory for the tragedies that plague the Mediterranean Sea. The title of the video is borrowed from Virgil's Aeneid, where the protagonist realizes the impending destruction of the city of Troy.
Galleria Continua
UNLIMITED | U1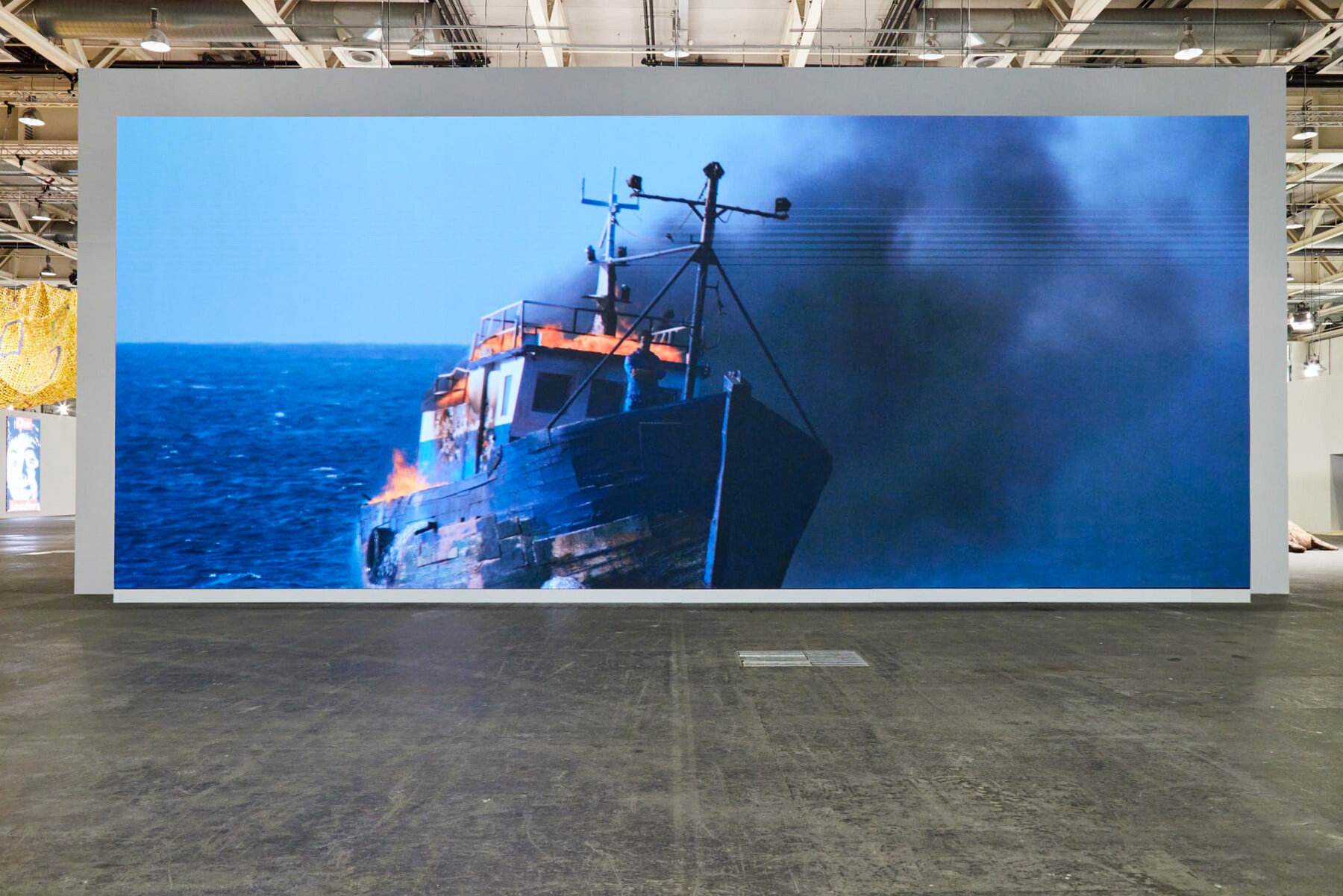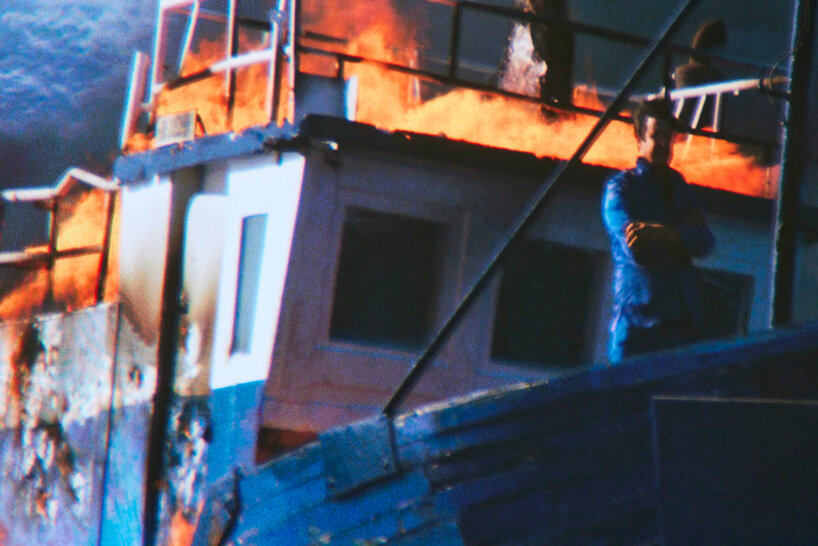 image © Art Basel
Jésus Rafael Soto – Esfera Amarilla (1984)
The monumental sculpture Esfera Amarilla (1984) is being showcased for the first time to commemorate the upcoming centennial anniversary of Venezuelan artist Jesús Rafael Soto. Soto was known for his kinetic sculptures and environments that challenged the viewer's perception by blurring the boundaries between solid and void, reality and illusion. The exhibited artwork exemplifies the artist's core inspirations, focusing on the interplay of light, color, and movement to evoke the perception of matter and energy.
Galería Elvira González
UNLIMITED | U55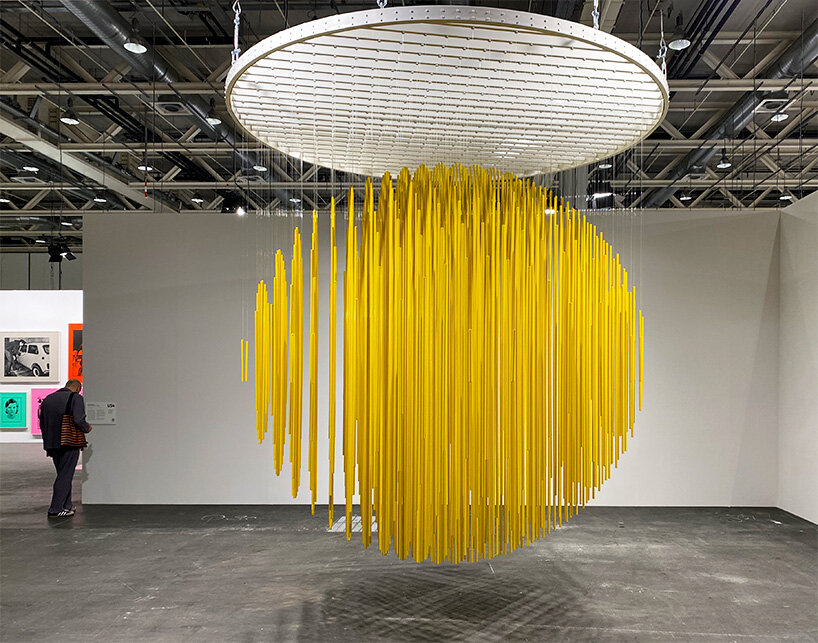 an interplay of light, color, and movement | image © designboom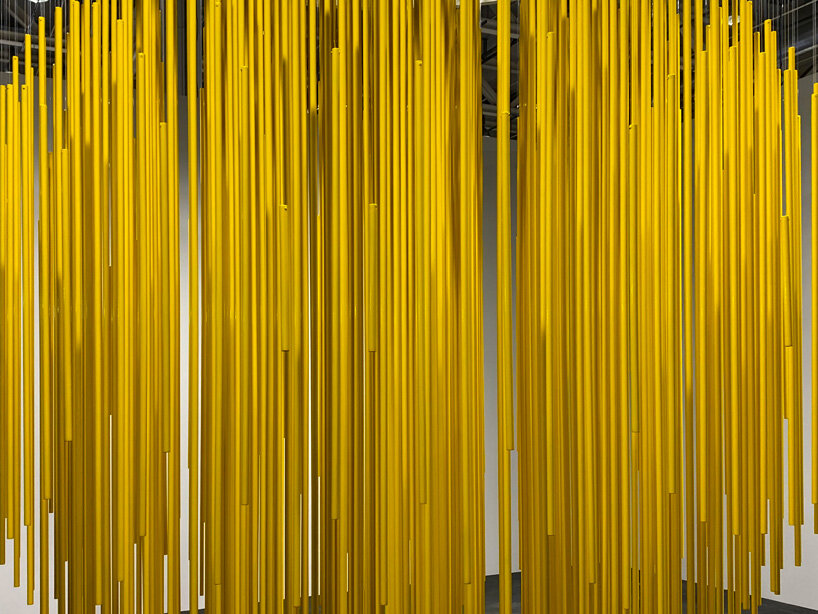 image © designboom
Kaloki Nyamai – Dining in Chaos (2023)
Dining in Chaos (2023) by Kaloki Nyamai highlights the artist's fascination with painting as a sculptural medium. Created in Nairobi, these artworks delve into the realm of tactile density and social portraiture. The modern triptych, consisting of three paintings on unstretched canvas, captures the essence of figures during a period of global crisis. The three artworks presented at the Unlimited exhibition further expand Nyamai's artistic language, addressing both social and internal challenges that arise within political circumstances. A recurring question echoes throughout the pieces: does one stop abruptly, or carry on dining?
Galerie Barbara Thumm
UNLIMITED | U62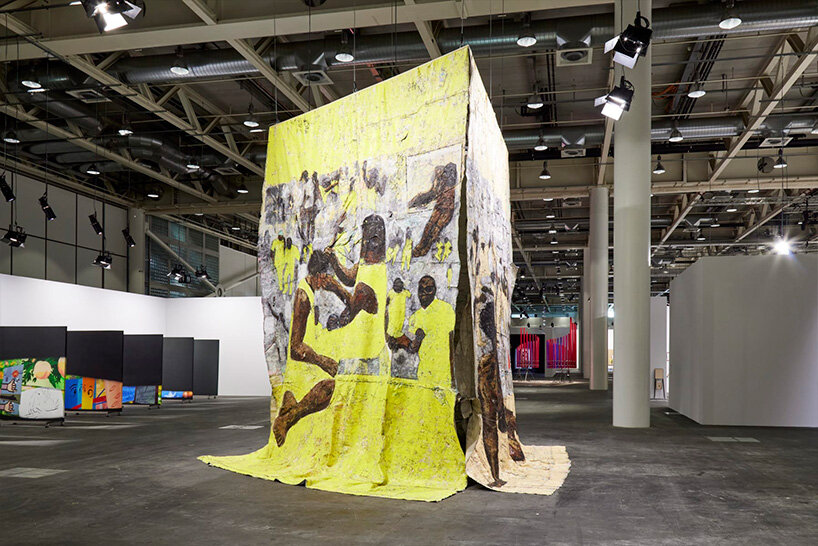 image © Art Basel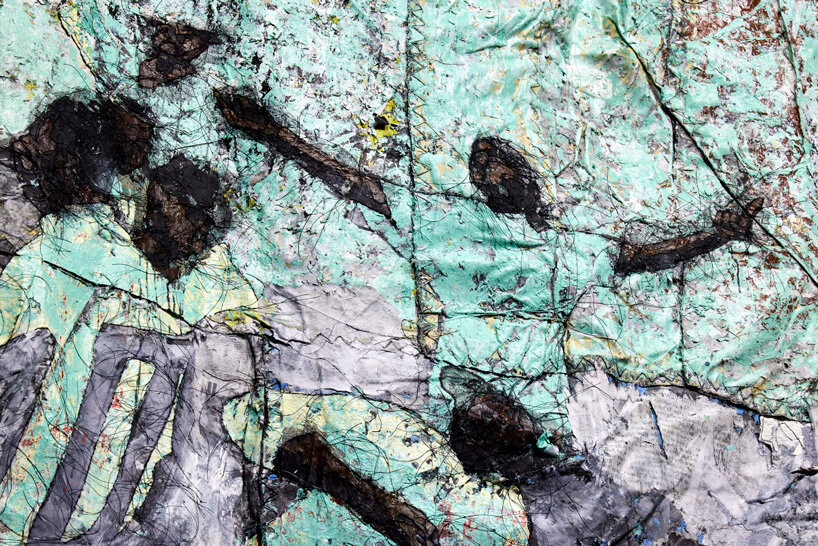 image © Art Basel
Jean-Marie Appriou – Horizons (2023)
Horizons (2023) is a monumental project envisioned by Jean-Marie Appriou in 2022, featuring a large-scale aluminum boat carrying two astronauts. Appriou's work revolves around the theme of navigation, and the boat itself symbolizes passage and heightened consciousness. The artist describes these two figures as 'exo-humans' who gaze into the distance, seeking an evolved humanity. The artwork also pays homage to two historical paintings: Eugène Delacroix's La barque de Dante (1822) and Arnold Böcklin's Die Toteninsel (1880). The influence of ancient Egyptian sculpture is evident throughout Appriou's work, which has been exhibited in the Villa Medici, Rome (2022), Lafayette Anticipations (2021), and the Louis Vuitton Foundation (2019) in Paris.
MassimoDeCarlo, C L E A R I N G, Galerie Eva Presenhuber, Jan Kaps, Perrotin
UNLIMITED | U39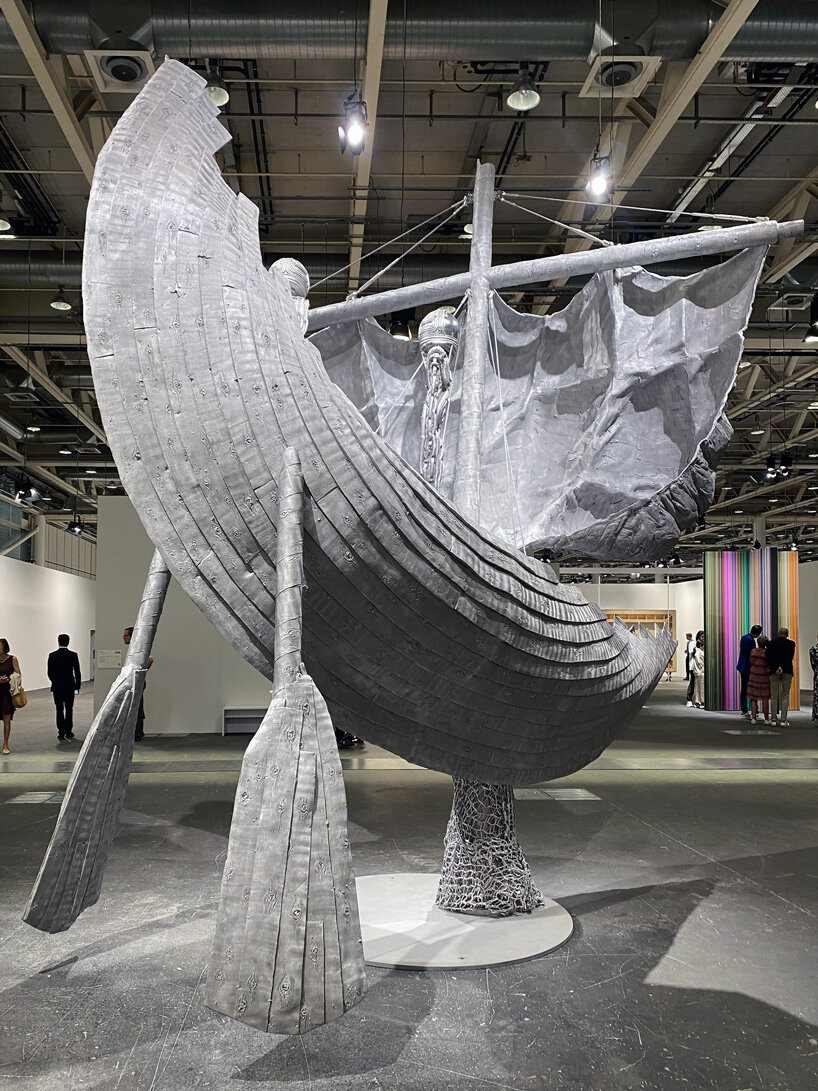 the boat itself indicates passage and heightened consciousness | image © designboom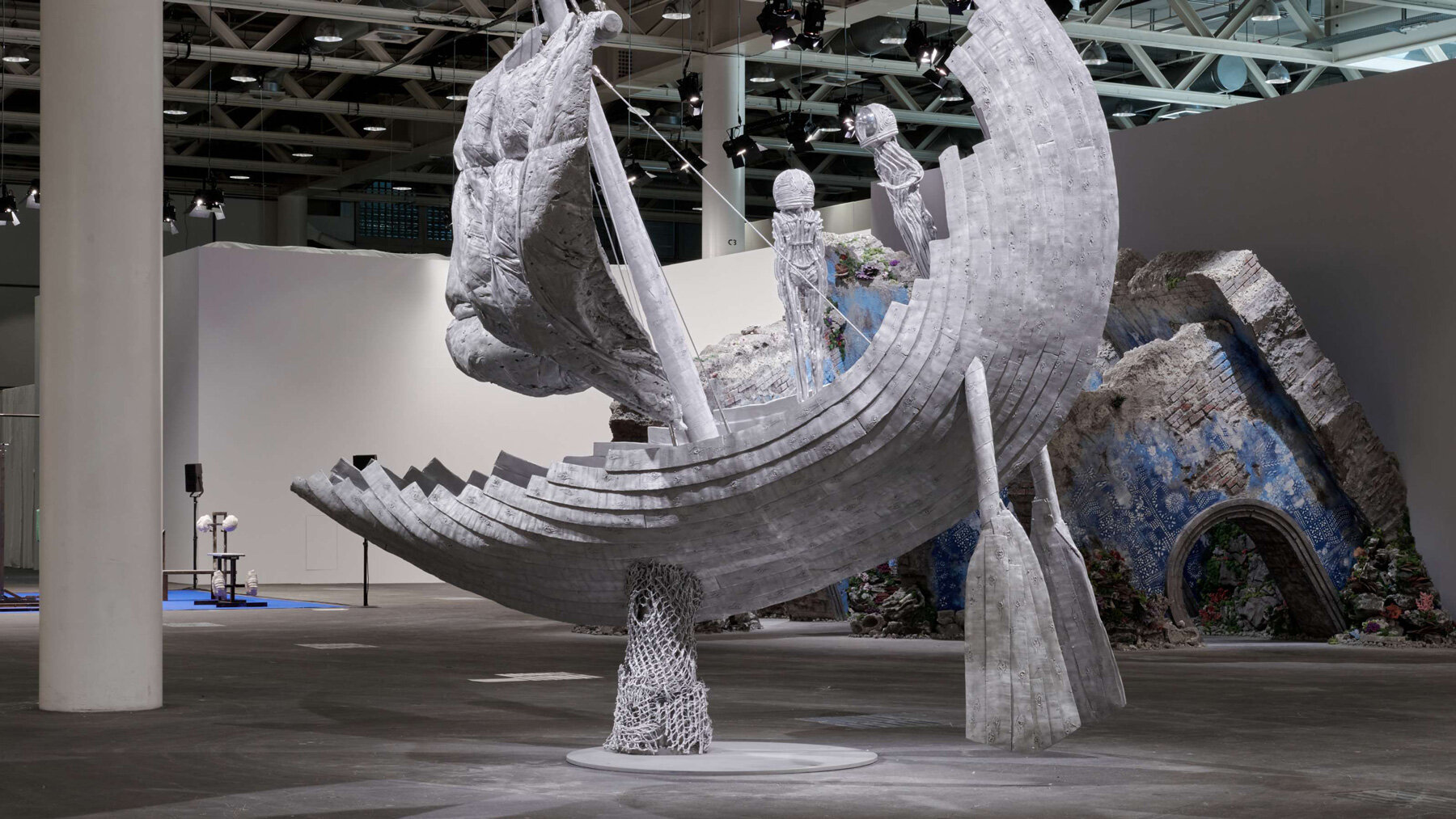 Firelei Baez – the vast ocean of all possibilities (2022)
The Vast Ocean of all Possibilities (2022) is an ongoing series by Firelei Baez that offers a reinterpretation of the archaeological remains of the Sans Souci Palace in Milot, northern Haiti. The installation immerses viewers in a decaying palace, where intricately hand-painted symbols of healing and resistance adorn the walls. These include reproductions of traditional West African indigo prints, motifs inspired by 19th-century interior design, and depictions of marine life native to the Caribbean waters. The Sans Souci Palace and its historical legacy are pivotal in Baez's artistic exploration, allowing her to reimagine and recontextualize the significance of Haiti and the broader Caribbean region. Her work unveils counter-narratives of migration, revolution, and survival.
UNLIMITED | U40
image © designboom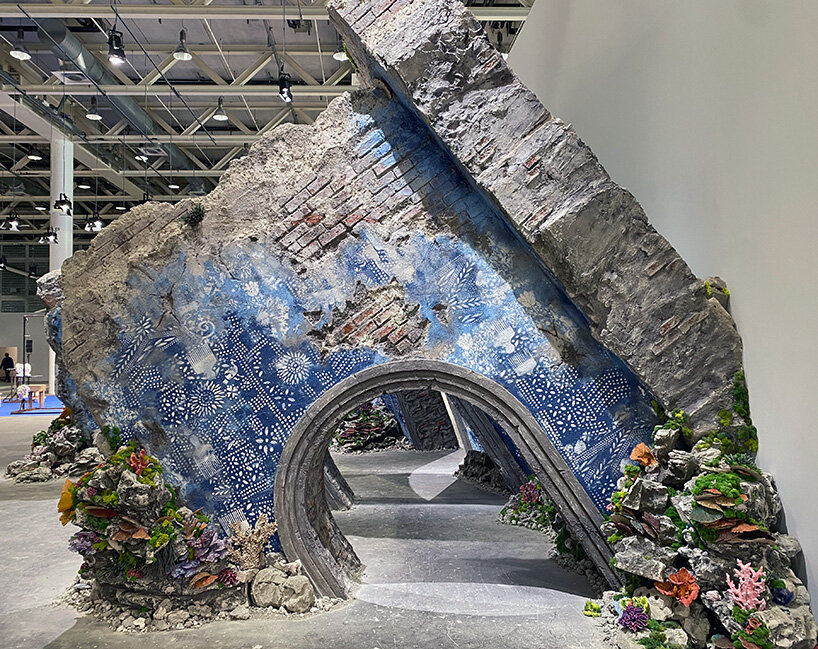 image © designboom
Steven Shearer – Sideshow Rigmarole (2020)
Sideshow Rigmarole (2020), the largest installation by Steven Shearer to date, consists of 33 framed monochromes featuring images sourced from an extensive collection of clippings. These clippings are taken from teen fan magazines from the early 1970s and possess a disposable and ephemeral quality that intrigues Shearer. Rather than appropriating full-color pinup centerfolds or celebrity covers, the artist focuses on the smaller halftone images, often captured by amateurs and selected for their quick illustrative purposes. Throughout the installation, a common theme of mortality emerges, as figures portrayed in the clippings pretend to sleep, feign death, or exhibit signs of injury. The arrangement of 'Sideshow Rigmarole' is loose and synergistic, presenting a memento mori of scenes from a recent past—specific yet anonymous, present yet ghostly. The installation serves as an electric testament to the dissonance between then and now.
Galerie Eva Presenhuber, David Zwirner
UNLIMITED | U54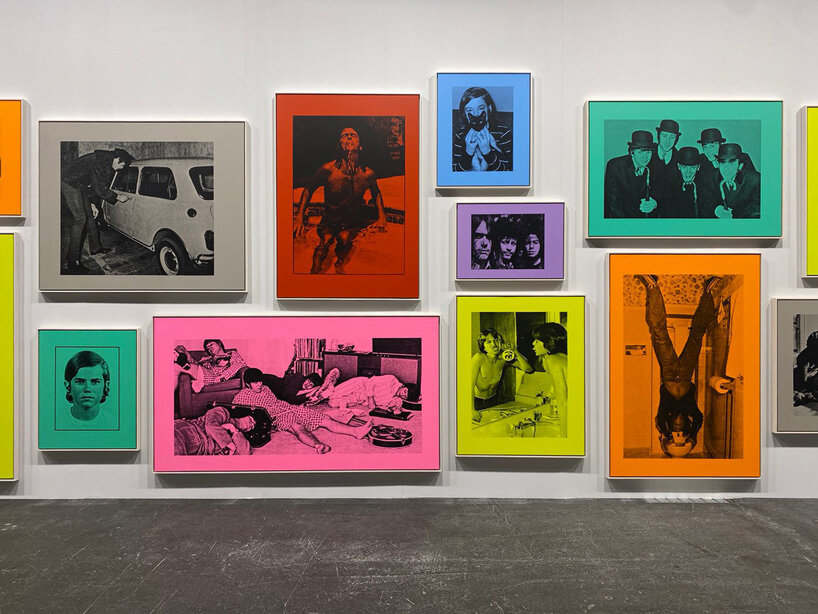 image © designboom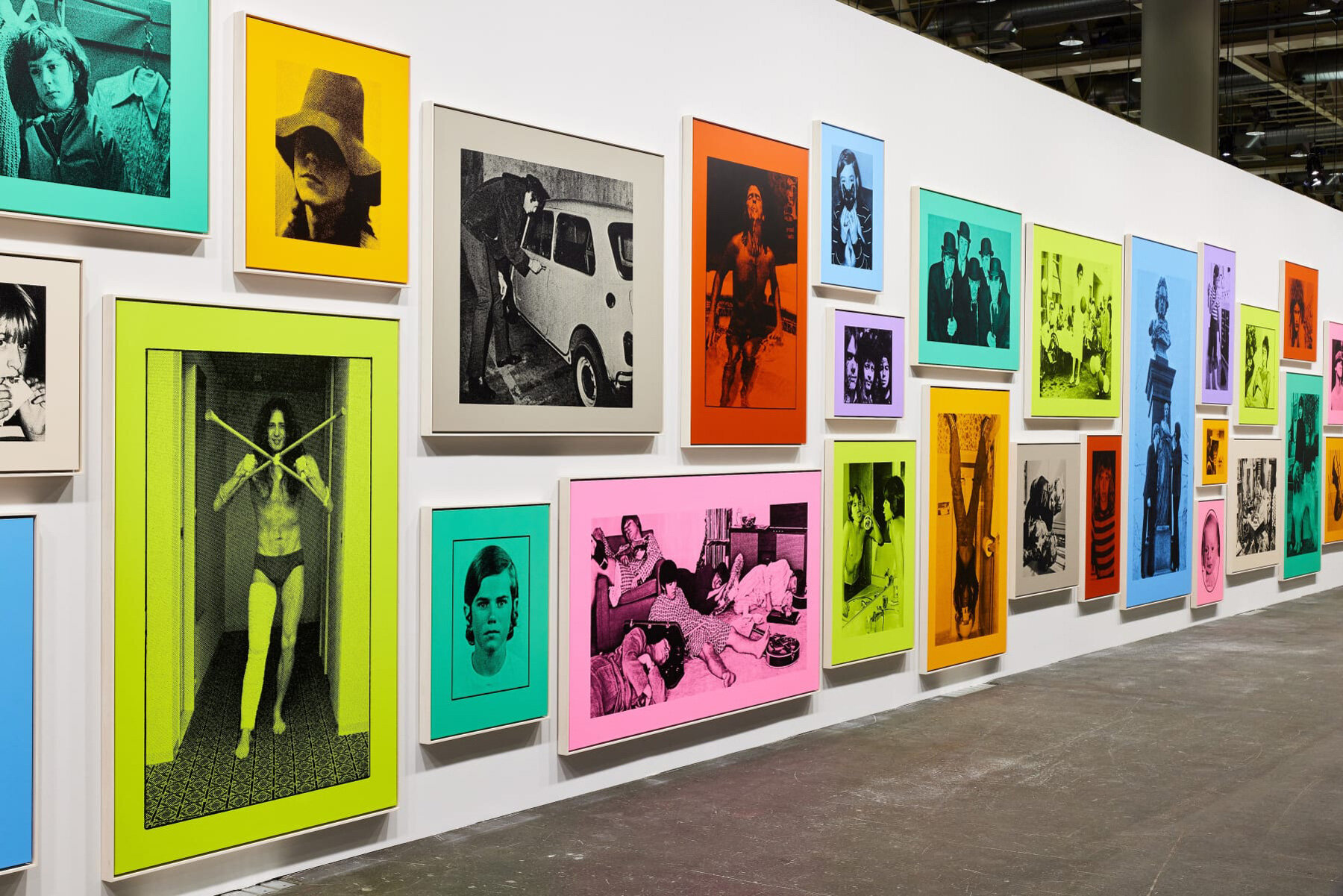 project info:
exhibition name: Unlimited
fair: Art Basel 2023
public days: 15-18 June, 2023
christina petridou
I designboom
jun 13, 2023
KEEP UP WITH OUR DAILY AND WEEKLY NEWSLETTERS
a diverse digital database that acts as a valuable guide in gaining insight and information about a product directly from the manufacturer, and serves as a rich reference point in developing a project or scheme.
designboom will always be there for you
milan, new york, beijing, tokyo

,
since 1999