laura casalis revives FMR Magazine and the Labyrinth
Laura Casalis, the wife of the late Franco Maria Ricci, leads the revived FMR magazine and the world's largest labyrinth, a torch passed on from one visionary to another. Casalis shared her present and future endeavors for FMR Magazine and the labyrinth during her live talk with Designboom's Editor-in-Chief Birgit Lohmann at Milan Design Week 2022 (video here). A reminiscence of the past that infiltrates the present, her speech touched upon the trailblazing paths Franco Maria Ricci took to fulfill his dreams for the magazine and maze and narrated her undertaking of the projects.
Casalis takes on the role as the editorial and artistic director, guiding her editorial staff comprising Edoardo Pepino – the director in charge of Franco Maria Ricci's publishing house, the magazine, and the labyrinth – and a pétit committee of advisors composed of Giorgio Antei, Massimo Listri, Giovanni Mariotti, Gabriele Reina, and Stefano Salis. The doctrine of the revived FMR lies in the origin of the magazine: it will continue not to teach art history, but desires for its readers to love art by illuminating their tastes and enhancing their gift of sight, as the publication puts it. The editorial team believes that each printed issue becomes an object of pride for any collection – an ornament that decorates one's space, serving the purpose to be read, savored, and internalized – with its complete etiquette of proper graphic presentation, a verdant garden of new knowledge and curiosity, an elevated typographic elegance, and heavy, fine paper. The quarterly publication centers on a theme each season and traverses the boundaries of art, architecture, and design as part of its creed to pique the imagination and the mind through visual adventures and textual discoveries.
Designboom's Editor-in-Chief Birgit Lohmann visited Franco Maria Ricci's publishing house in July 2001 and spoke with him for an interview, drawn from her genuine enthusiasm for books and the history of publishing. Ricci echoed the same fondness for literature and the industry, and their meeting culminated in conversations that toyed with the curiosity over the advent of Designboom as a digital magazine and the passion for curating a printed art magazine readers would revere. Since the birth of FMR, a magazine considered by many to be 'the most widely circulated fine art magazine in the world', his initials have been engraved in his readers' minds and in the publishing and art industry. When Ricci learned more about Designboom, the world's first online magazine established in 1999, he spoke with Lohmann to look into the opportunities and possibilities of internet publishing, always the curious publisher, designer, art collector, and bibliophile.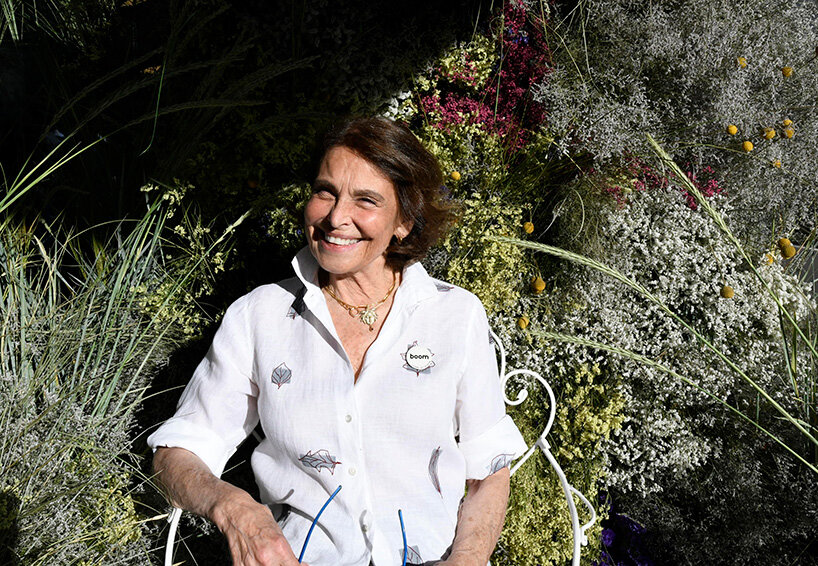 Laura Casalis at the DAAily Bar / Image by designboom
Franco Maria Ricci's view of the art landscape
At one point in their conversation, Ricci gave his opinion about the landscape of art magazines during that period. 'Terrible! In fact, one of the reasons I decided to create FMR 20 years ago was because I realized that there was a good sex magazine: Playboy; a good fashion magazine, Vogue — good in the sense that they carried out their tasks with dignity — but there wasn't a good art magazine,' he shared in our interview with him in 2001. For instance, he decided to feature the cathedral of Parma in one of his issues and did so by filling 30 pages with images of the cathedral and not just two photos and a short text.
He never worked with journalists but had always used texts from novelists, essayists, and art historians such as Jorge Luis Borges, Italo Calvino, and Umberto Eco. He wanted FMR magazine to be worth the price for those who would read it. He wanted not to teach art history, but to feed his readers with art knowledge fueled by emotions and attention to detail, and to invite his readers to become accustomed to seeing the beauty of art. He envisioned FMR magazine to be a school for taste, a platform to demonstrate how the world brims with wonder and grandeur through art and saw through it.
In our series of interviews that we ran between 2000 and 2010, we would ask our dear guests to describe their styles, just like how a good friend of theirs would describe them. When we asked Ricci the same question, he replied 'Trying to do a good job and working like crazy, not for the money, but for pride. In 200 years, when they study the visuals and designs of this era, they will have to cite FMR, which is one-of-a-kind. I know that I will remain a model for the magazine and book publishing industry. It is also helped by the fact that there is no competition — nobody makes beautiful things anymore'.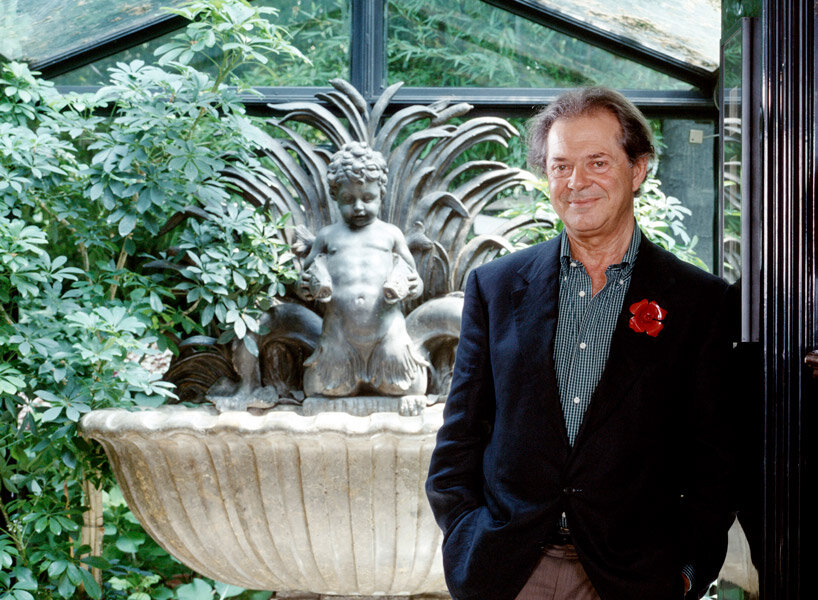 Franco Maria Ricci / Image courtesy of Franco Maria Ricci photo archive
laura casalis takes over labirinto della masone
Aside from the publication and the publishing house, Casalis also oversees Labirinto della Masone of the Franco Maria Ricci, the world's largest labyrinth. Ricci dreamed of building the largest maze in the world, a desire he confided to Jorge Luis Borges who told him it already existed by means of the desert, albeit the disbelief of the people within his immediate circle. He initially put the project aside, but upon discovering bamboos, he picked up the idea again and decided to carpet the thirty hectares of the Fontanellato estate with bamboos, purchasing them in part from the Bambouseraie in Anduze, in France, and shipping them directly from China.
He wanted to devote the construction of its garden to himself, a space where he saw ruins and bamboos that sprawled across the field. Under the lush of its greenery, a library and publishing house would nestle within. Yet the new beginning meant closing a cycle. Before venturing into building the labyrinth, Ricci left and sold FMR Magazine in the early 2000s and after 163 issues to dedicate himself and his time to the construction of his dream. From words to reality, Ricci insisted on carrying out such an ambitious move and persisted until he unveiled the labyrinth to the public, now open to visitors in Parma, Italy.
Franco Maria Ricci came to build a labyrinth following a path that, just like any labyrinth, meanders and heads towards unpredictable pathways, dictated by reveries and mysteries. The undertaking took the shape resembling a five-pointed star, spread over seven hectares of land, and crossed by three kilometers of paths bordered by bamboo. While she might be feeling the pressure of taking over both the magazine and labyrinth, Laura Casalis moves forward with passion to bring forth what her husband started, in light of her love and belief for the publication, the maze, and the lasting memories of Franco Maria Ricci.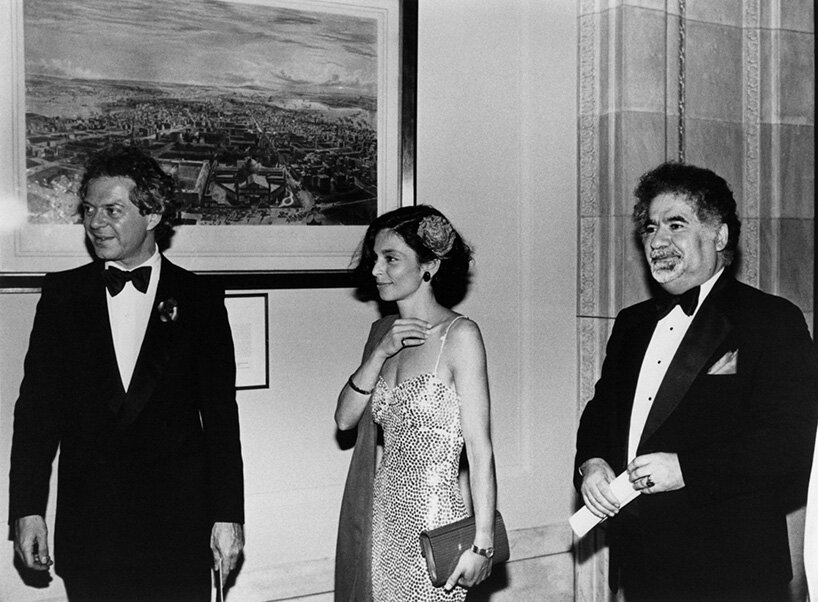 Franco Maria Ricci and Laura Casalis (later his wife) in 1984 at the launch of FMR U.S.A. at the New York Public Library / Image courtesy of Franco Maria Ricci photo archive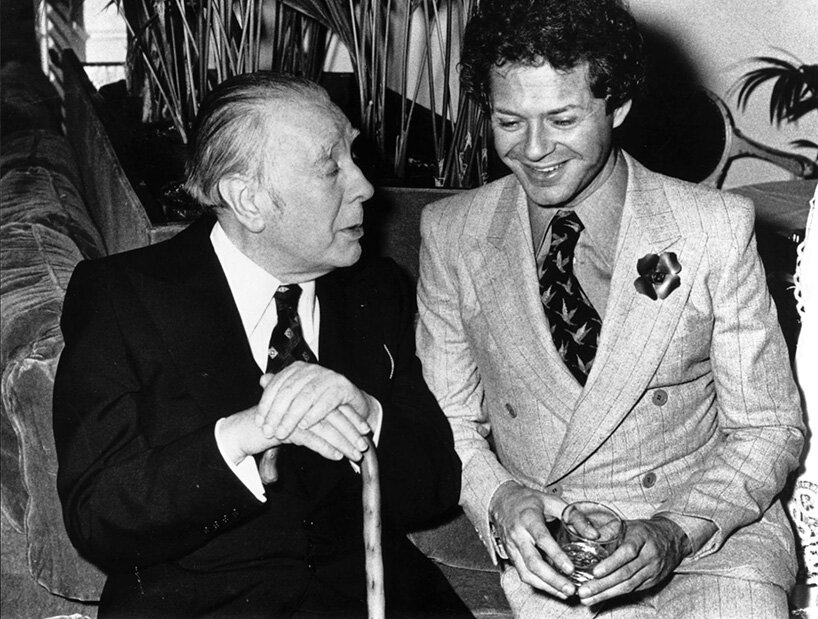 Jorge Luis Borges and Franco Maria Ricci in 1977 / Image courtesy of Franco Maria Ricci photo archive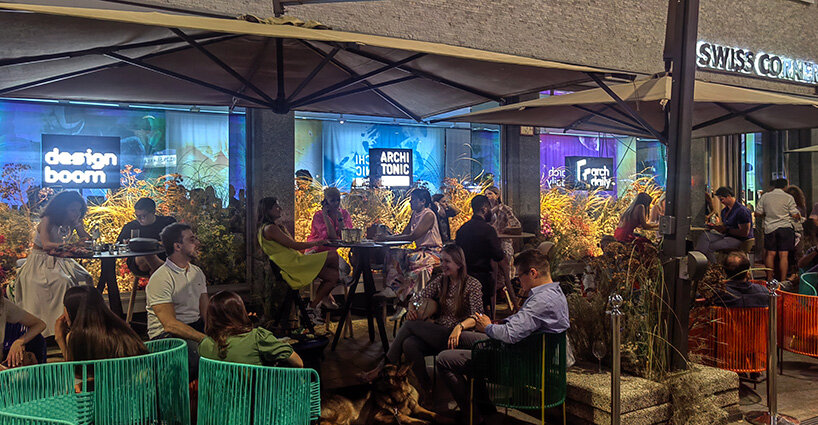 The DAAily Bar during Milan Design Week 2022,
image © designboom
DAAily bar / LOTS OF TALK!
Milan Design Week 2022 marked the entrance of the DAAily Platforms. Our group — Designboom, Architonic & ArchDaily — curated the DAAily bar space inside the Centro Svizzero building on the eastern edge of the Brera Design District with installations and hourly TALKS. The immersive Floral Installation by Anne Vitchen — Dame des Fleurs at the Ritz Paris — was joined by Swiss artist Douglas Mandry's Art Curtains and a bar that created a common ground for culture enthusiasts, brought to you in partnership with BALLY and supported by Christian Fischbacher, Brunner, Vibia, MAGIS, Andreu World and ames.
Providing insights into their current work and developments, the Live Talks hosted international guests from the worlds of design, art, and architecture, including Paola Antonelli, Alice Rawsthorn, Boonserm Premthada, Anne Vitchen, Douglas Mandry, Julian Bedel, Laura Casalis, Giovanni Moro, Edward Barber & Jay Osgerby, Alper Derinboğaz, Stefan Diez, Carlo Ratti, Cristian Zuzunaga, Jakob Lange, Sebastian Herkner, Alfredo Häberli, Mario Cucinella, Patricia Urquiola, Fabio Calvi & Paolo Brambilla, Benjamin Gallegos Gabilondo, and Cazzaniga Mandelli Pagliarulo.
Project info:
Name: Laura Casalis revives FMR Magazine and the Labyrinth
Publisher: Laura Casalis, Franco Maria Ricci
Designboom interview with FMR: here
matthew burgos | designboom
jun 27, 2022
a diverse digital database that acts as a valuable guide in gaining insight and information about a product directly from the manufacturer, and serves as a rich reference point in developing a project or scheme.
designboom will always be there for you
milan, new york, beijing, tokyo

,
since 1999