nov 06, 2013
lenka clayton invites 100 couples to create one brown shoe

lenka clayton invites 100 couples to create one brown shoe
jill anne & jonny farringdon
jill anne farringdon / merino wool sock yarn; 3.5″ x 2″ x 2″
jonny farringdon / animal crackers, hot glue; 12″ x 4.5″ x 3″
pittsburgh, pa, u.s.a.
british conceptual artist lenka clayton has asked 100 married couples from around the world to each create a single brown shoe using only materials and items found around their homes. prompted to create the footwear in private, the couples only revealed their creations when they were complete. 'each pair of shoes might be seen as a portrait – of two individuals, of one couple, and of the difference between the two', explains clayton, as the pairings artistically reflect their similarities or differences. the resulting collection titled 'one brown shoe' are contemporary, and often sculptural constructions of footwear made from a expansive range of household odds and ends like scraps of cereal boxes, cigars, office supplies, nut shells, and recycled packing tape.

lee & greg parker
lee parker / cuban cigars, wrappers, glue; 8.5″ x 4″ x 1″
greg parker / wood, wire, hinge, nail, screws; 9.5″ x 3.5″ x 5.5″
pittsburgh, pa, u.s.a. / new zealand
molly & piotr
molly / air-dry clay, shoe polish; 2.5″ x 0.5″ x 2″
piotr / cardboard, glue, masking tape; 9.5″ x 3.5″ x 2″
pittsburgh, pa, u.s.a.

mr & mrs wales
mr. wales / cardboard, sellotape, leather shoelace; 5″ x 2″ x 1″
mrs. wales / plain flour, salt, tap water, red, green and blue food dye; 5.5″ x 2.5″ x 1.5″
london, u.k.

megan lykins reich & daniel reich
megan lykins reich / cardboard, paper, tape, marker; 11.5″ x 4″ x 4″
daniel reich / found slipper, glue, penny collection from family members; 12.5″ x 4.5″ x 3.5″
solon, oh, u.s.a

ashley florence & luke waldron
ashley florence / art paper, envelope, masking tape, elmer's glue; 10.5″ x 3.5″ x 2″
luke waldron / white paper, prima color markers; 8.5″ x 5.5″ x 0.125″
charlottesville, va, u.s.a.

megan ward & steve van tuyl
megan ward / construction paper, washable marker; 6.5″ x 3.5″ x 0.125″
steve van tuyl / dried hops vine, grass, steel wire, twine; 10.5″ x 4.5″ x 4.5″
pittsburgh, pa, u.s.a.

manya & clay
manya / paper towel roll, scotch tape; 2.5″ x 1″ x 1″
clay / childhood shoe saved by mother, fake fur, hot glue; 5″ x 3″ x 3″
providence, ri, u.s.a

dana sherwood & mark dion
dana sherwood / paper, tea-dyed silk, moss, air-dry clay, glitter; 9.5″ x 3.5″ x 3″
mark dion / papier-mâché, foam rubber, paint, shoelace; 13.5″ x 4.5″ x 4.5″
new york, ny, u.s.a.

al & jill hawkins
al hawkins / almond; 1″ x 0.5″ x 0.25″
jill hawkins / recycled felt from wine bottle cover, embroidery thread; 6″ x 3″ x 3″
cleveland, oh, u.s.a
see more from the series in the gallery, below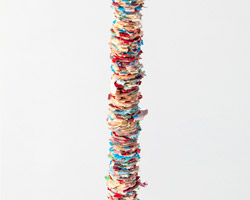 jun 20, 2014
jun 20, 2014
aug 16, 2017
aug 16, 2017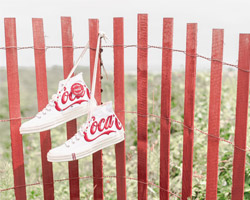 aug 13, 2017
aug 13, 2017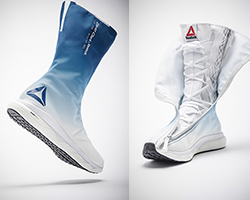 jul 19, 2017
jul 19, 2017