british artist liz west invites visitors to london's natural history museum to explore their relationship with color through the installation of a new light artwork. 'our spectral vision' — on view from now until november 6, 2016 — asks viewers to question their own experience of, and engagement with, chroma and luminosity. 

image © jim stephenson
presented as part of the natural history museum's exhibition 'colour and vision: through the eyes of nature', 'our spectral vision' forms a vivid landscape that blends luminous color and radiant light. hues from the rainbow beam through seven prisms made from special filter glass, creating an atmospheric illusion that stimulates visitors' visual perception of color. west's latest work is inspired by isaac newton's experiment with disassembling and reassembling white light into the visible color spectrum using prisms.
'the iridescent patterns and colorings present on the birds, insects and animals in the natural history museum collection have inspired the variety and selection of colors in this artwork,' west says. 'the science behind the natural processes of colour researched here at the museum has provided the backbone for my work.'

image © ian theasby

image © jim stephenson

image © trustees of NHM, london
our spectral vision: liz west's art installation for colour and vision | natural history museum
video courtesy of natural history museum
sep 13, 2017
sep 13, 2017
sep 06, 2016
sep 06, 2016
jul 31, 2016
jul 31, 2016
may 17, 2016
may 17, 2016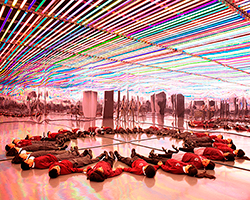 jul 20, 2015
jul 20, 2015
feb 04, 2015
feb 04, 2015