liz west has made a slight but significant alteration to a restored art deco pavilion-turned-art gallery in wales, bathing the exhibition space in yellow and hot pink hues. by applying optically transparent colored vinyl to the building's 306 window panes, the interior elements transform into saturated shapes and pigmented pieces of architecture.

all photos © yusuf rustem
the exhibition 'solstice ritual' was commissioned and presented at penarth pier pavilion. the vivid environment blends luminous color and radiant light, inducing a heightened sensory awareness in the viewer. this site-specific installation draws on heritage of the site, exploring how sensory phenomena — particularly the light from the 1930's art deco windows — can invoke psychological and physical responses. radiating beyond its boundaries, the vivid yellow and bright pink tones represent an exaggerated interpretation of sunrise and sunset. using these transitional times of day as a key source, 'solstice ritual' encourages visitors to consider the spaces we inhabit and visit, as well as our own relationships to and perception of color.
sep 13, 2017
sep 13, 2017
sep 06, 2016
sep 06, 2016
aug 06, 2016
aug 06, 2016
may 17, 2016
may 17, 2016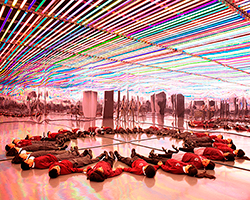 jul 20, 2015
jul 20, 2015
feb 04, 2015
feb 04, 2015