artist lucy mcrae has created a machine to mimic the positive effects of a human hug. the 'compression carpet' requires two people to operate, including someone to lie down inside the device and another to turn a crank that slowly increases pressure.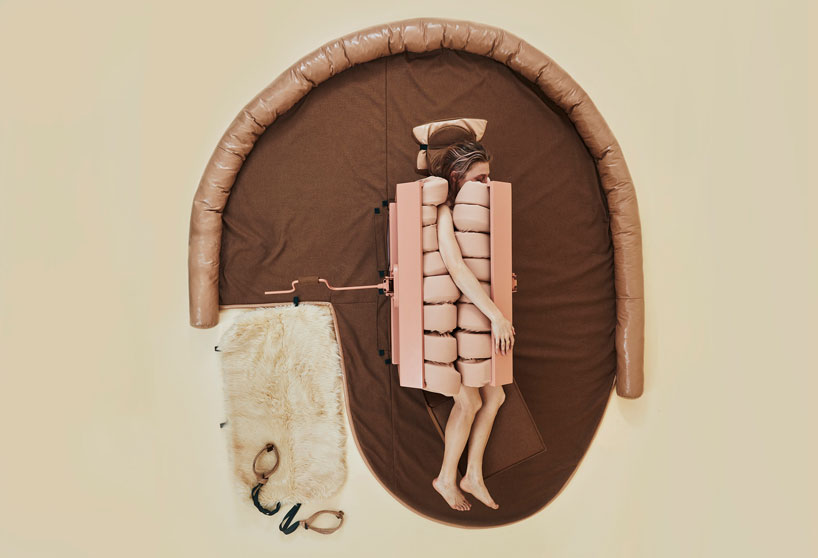 images courtesy of the artist
lucy mcrae works across science, technology, art and design, using the body to explore how the different fields can both merge and progress. her first career perspective is currently on show at NGV australia, called lucy mcrae: body architect, showcasing her collaborations with brands, scientists and pop musicians alongside her creative research practice over the past thirteen years.
'the overarching theme is to make art that speculates on the human condition and ask how science and tech are challenging what it means to be human,' lucy explains.
'body architect is a fabricated, made-up title that won me a dream job in wearable electronics at phillips. it seems to have stuck. it's a nebulous term that allows me to slip between body architect, thought leader, creative director, science-fiction artist and filmmaker.'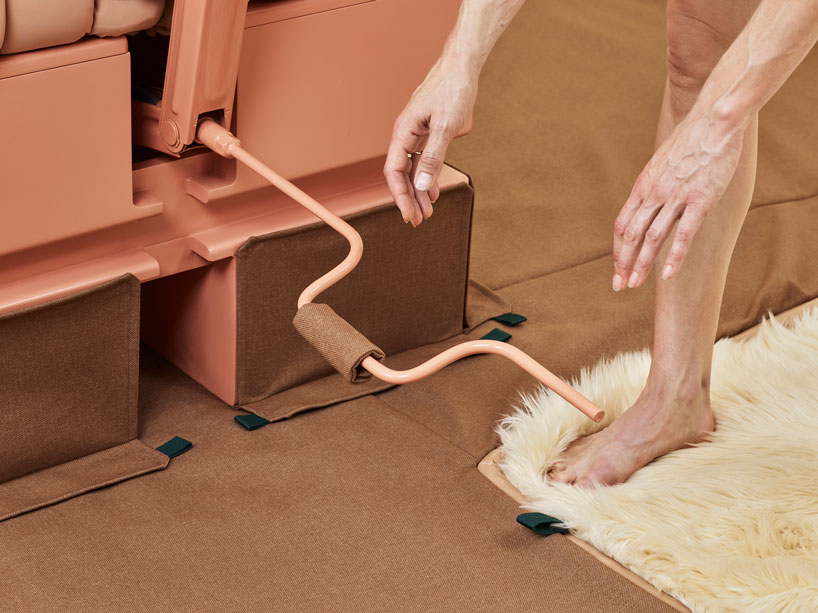 imagining a future that assumes a lack of human touch, lucy created the compression carpet to affectionately squeeze users between a series of blubber-like cushions. by adding guided audio to the experience, mcrae envisions the such a device could serve as a stress antidote to improve wellbeing.
'most people have a glazed look in their eyes after a 3-minute squeeze,' she says 'one lady compared the experience to a friend she hugs when she feels overwhelmed or anxious.'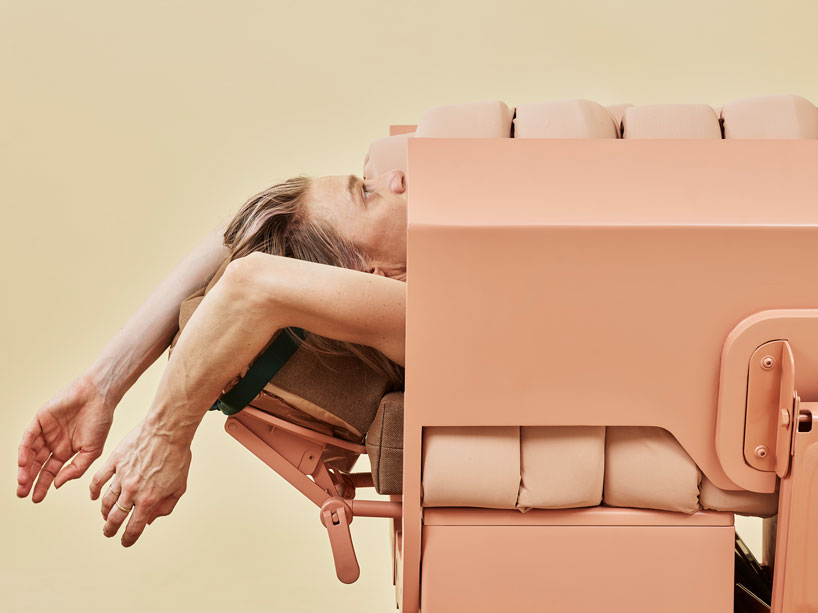 the compression carpet is a continuation of the artist's compression cradle, a machine that had a similar effect on the body by using a sequence of aerated volumes. tightening around the body as they deflate, the device aimed to assist in altering the expression of oxytocin — a hormone released in the brain responsible for building trust and pair bonding. mcrae created the piece for broken nature: design takes on human survival, the triennale di milano exhibition curated by paola antonelli.
'touch is the first sense developed in the womb and remains to be a complex sense and phenomena,' she explains. 'when you are hugged, the hormone oxytocin is released in the brain. oxytocin is responsible for promoting feelings of love and well-being; it's also being tested as an anti-anxiety drug.'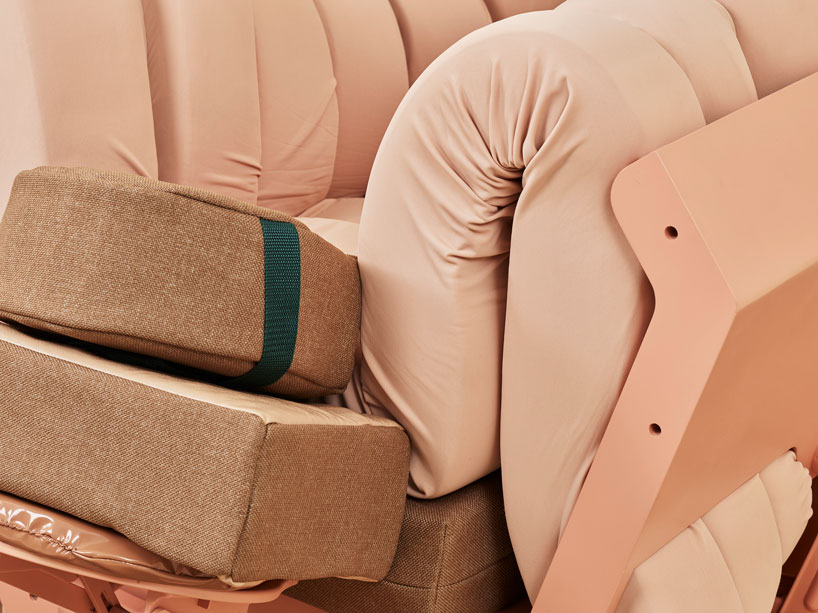 'I'm yet to measure the brain when the body is compressed in a machine like the compression carpet, but based on six years of artistic research I speculate that this hugging machine — like a human hug — can trigger the release of oxytocin.'
'when art tips into health, science and medicine – they work in tandem; complimenting and pushing each other, this is the goal.'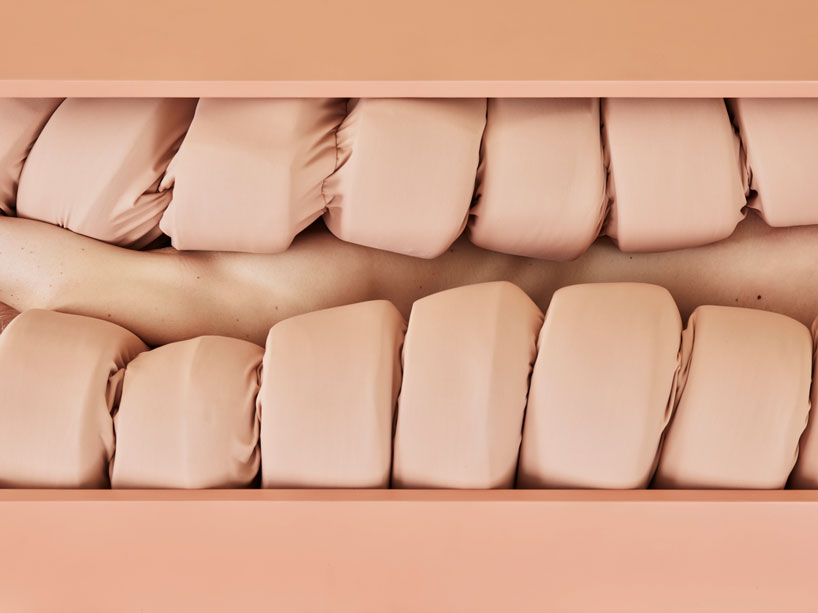 lucy's current body of work, entitled the future day spa, includes an immersive art installation offering 360-degree hugs. it envisages the spa of tomorrow in which the tools and processes of the facility help the human form cope with the conditions of living in space. she was surprised when someone who suffered from haphephobia — the fear of physical contact, hugged her after experiencing the machine.
'after learning from the future day spa, that someone who feared touch could crave it, I threw my attention to the psychology of isolation.'
'the works look at how we're moving towards a touch crisis where we're inundated with technology, to the point of anxiety. questioning whether technology will vie for our affection because of our obsession with digital.'
'both consume the body with affection and a heavy-duty hug. the big picture is to exhibit the family of hugs under the one roof; like a sort of intimacy-circuit-training for the future sensitive human.'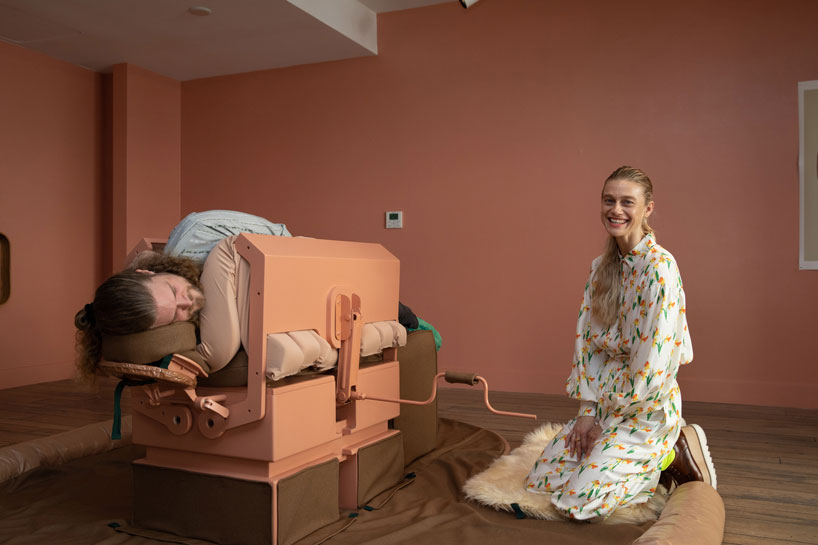 'lucy mcrae: body architect' is on show at the ian potter centre at NGV australia from now until 9 february 2020.
project info
artist: lucy mcrae
name: compression carpet
commissioned by: adobe / festival of the impossible
exhibition: 'lucy mcrae: body architect'
dates: until 9th february 2020
jan 21, 2020
jan 21, 2020
dec 24, 2019
dec 24, 2019
nov 07, 2011
nov 07, 2011
dec 15, 2010
dec 15, 2010
apr 24, 2018
apr 24, 2018
feb 06, 2018
feb 06, 2018
jan 03, 2018
jan 03, 2018
a diverse digital database that acts as a valuable guide in gaining insight and information about a product directly from the manufacturer, and serves as a rich reference point in developing a project or scheme.