feb 11, 2016
ludo adds ephemera onto the ruins of china's rapidly-changing urban landscape
ludo adds ephemera to the ruins of china's rapidly-changing urban landscape
all images courtesy of ludo
for the past two years, paris-based artist ludo has been traveling throughout china to study and reflect on the rapidly-changing landscape of the country's urban areas. every year, entire districts are torn down to make way for new developments and skyscrapers, and thousands of people are relocated and rehoused by the government. the increasing quantity of these demolition sites mark a monumental shift in the cityscape, one which will be forever changed in the coming years.

cherry — death star, shanghai
bringing his art face-to-face with the culture of the country, ludo has inscribed a series of artworks on building ruins. ludo's illustrations connect the world of plants and animals with our 21st century universe, forming hybrid organisms that are both elegant and fierce. using his signature green and themes of duality between nature, technology, beauty and violence, ludo pasted several large-scale works on dilapidated fences, broken walls and building façades. the artist's ephemeral work becomes a photographic record of the rapid modernization in chinese society, aiming to covey a message of rebirth, hope and respect.

butterflies — gun, shanghai

saber tooth, fuzhou

riot roses, fuzhou

mission to mars, shanghai

martini — skull, fuzhou

rose — human, fuzhou

gun — flower bouquet, fuzhou

gun — flower, nanping

delmonte can — skulls, nanping

skull — pineapple, fuzhou

war — bug, shanghai 

bug — satellites, nanping

apple — eye, hong kong
ludo
(4 articles)
aug 15, 2014
aug 15, 2014
jun 11, 2011
jun 11, 2011
aug 05, 2008
aug 05, 2008
aug 09, 2017
aug 09, 2017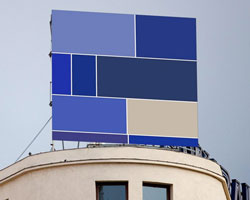 jul 26, 2017
jul 26, 2017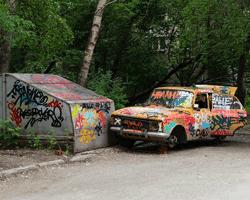 jul 13, 2017
jul 13, 2017