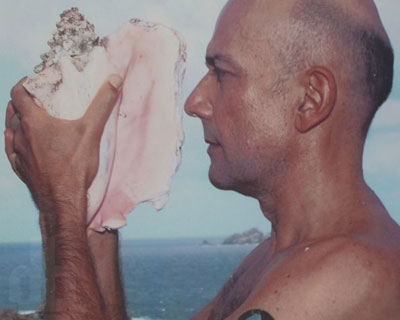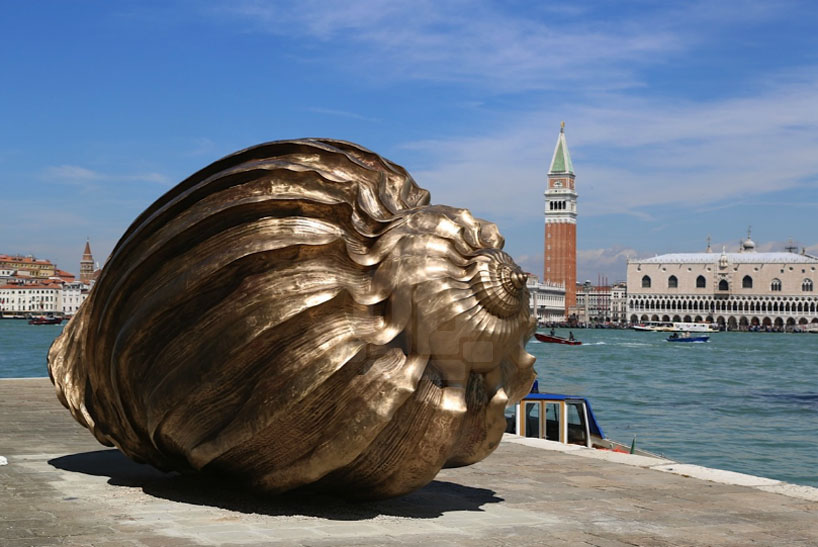 jun 09, 2013
marc quinn at the cini foundation in venice
marc quinn at the cini foundation in venice
spiral of the galaxy, 2013
bronze sculpture, 333h x 499w x 256d cm
curated by germano celant, this solo exhibition is one of marc quinn's largest and most important to date, featuring more than 50 works and including the public debut of more than 15 new works.the british artist is known for several controversial art works, among them 'self' a sculpture of his head made with his own frozen blood; and a gold statue of the model kate moss…
the marc quinn exhibition marks a return of the artist to venice, following his 2003 show at the peggy guggenheim collection, 'the overwhelming world of desire', and highlights fondazione giorgio cini's growing interest in contemporary art.
'marc quinn's works are projected backwards and forwards, from birth to death. they are fluctuating images that concern the body and its flesh and the joyous registration of its contemplation, both positively and negatively. they exteriorize the internal desires and mental images of a human being who transits from one sexual condition to another and they embrace both interior and exterior life,' stated germano celant. 'this major anthology at fondazione giorgio cini intends to give context to quinn's most recent work and provide an understanding of his art as an art of incarnation, with priority to visual and tactile values, aimed at nature and the human being, as well as light and the retina that filters it.'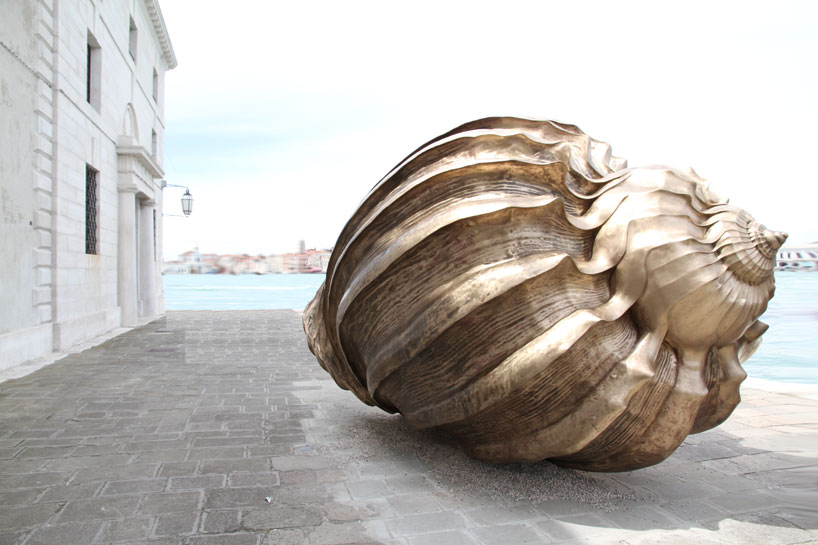 'the archaeology of art' by marc quinn
image © designboom
in a dialogue with nature, five colossal seashells in the series 'the archaeology of art' seem to ask if the will to create art is an intrinsic part of nature. these perfectly symmetrical, naturally occurring forms belie a strange intelligence and seem to follow some order greater than themselves. massive in size, yet intricate in detail, these shells are some of the largest high definition 3-D printed objects in the world, created by a computer's digital code which reflects the biological code of DNA which created the originals. the bronze shells sculptures sit next to the sea, as almost as though they rolled in from the tides.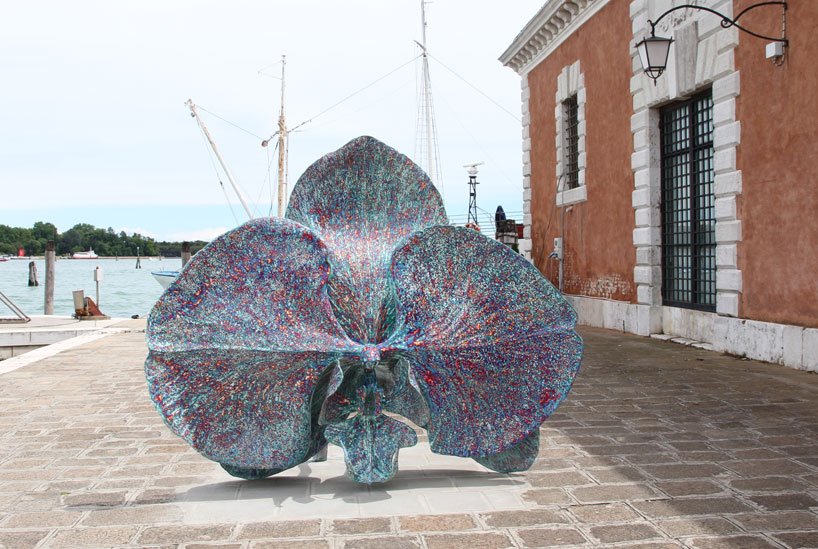 a coloured verion of 'wilder shores of desire' — a recreation of the moth orchid.
image © designboom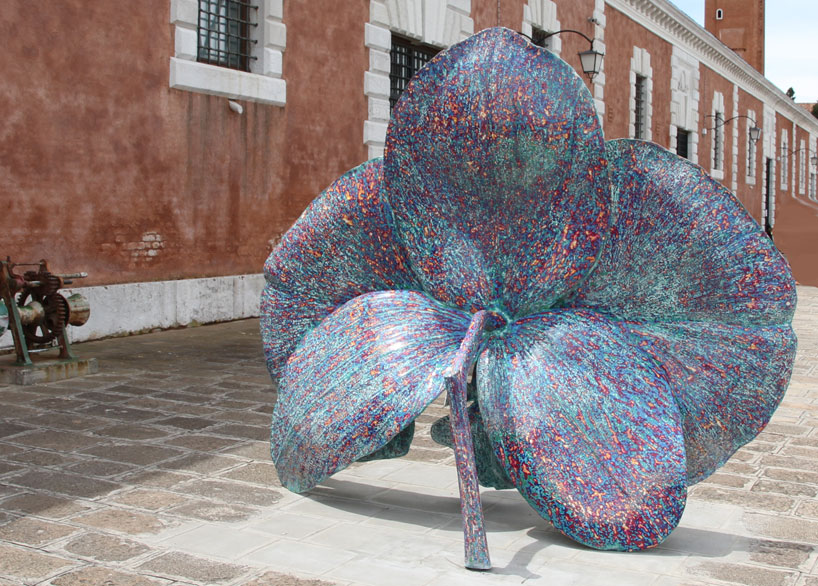 the bronze orchid was cast and painted with 18 coloured layers, each being stripped back so that every colour is visible.
image © designboom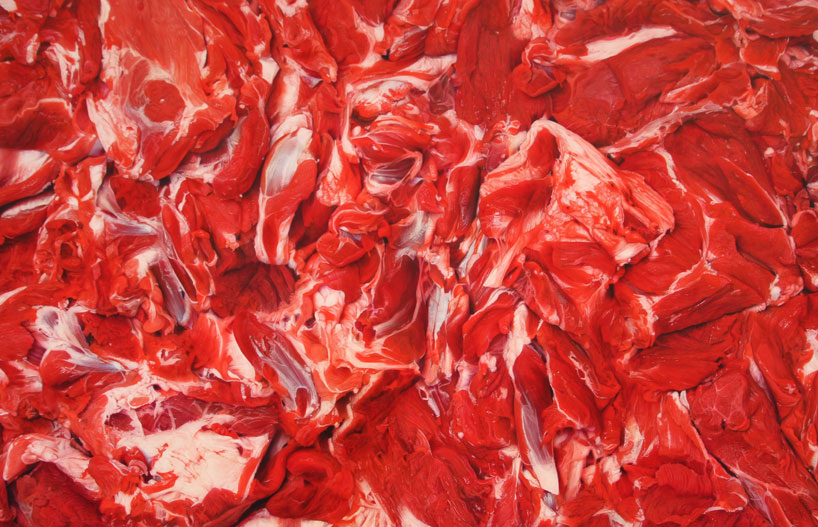 flesh painting (on calligraphy), oil on canvas, 2013
quinn debuts in this exhibition is a new edition in his series of flesh paintings: a series the artist began in 2012 that explores the dualism of beauty and revulsion evoked by depicting magnified and abstracted raw, marbled meat. the new work is a large scale, oil on canvas painting entitled 'the way of all flesh' (2013) depicting the pregnant model lara stone juxtaposed against a background of raw a meat, underscoring the origin and the fatalism implicit in all life.
quinn describes the exhibition as 'an exploration of our relationships to our bodies and to the physical and cultural world around us. what it means to live in a world both real and virtual.'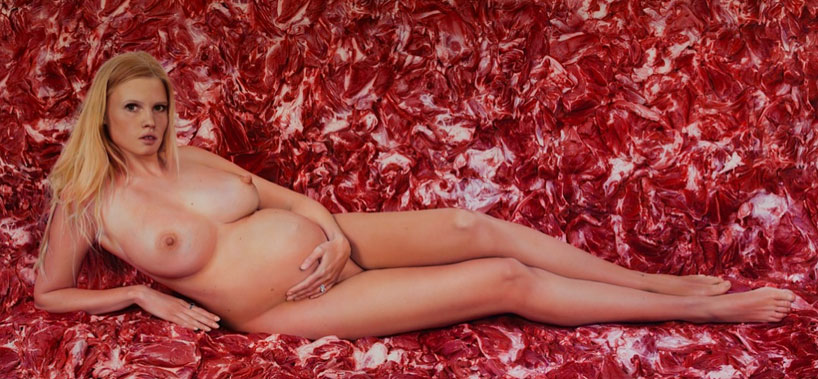 'the way of all flesh', with the pregnant model lara stone, 2013
painting, oil on canvas, 249.5h x 539w cm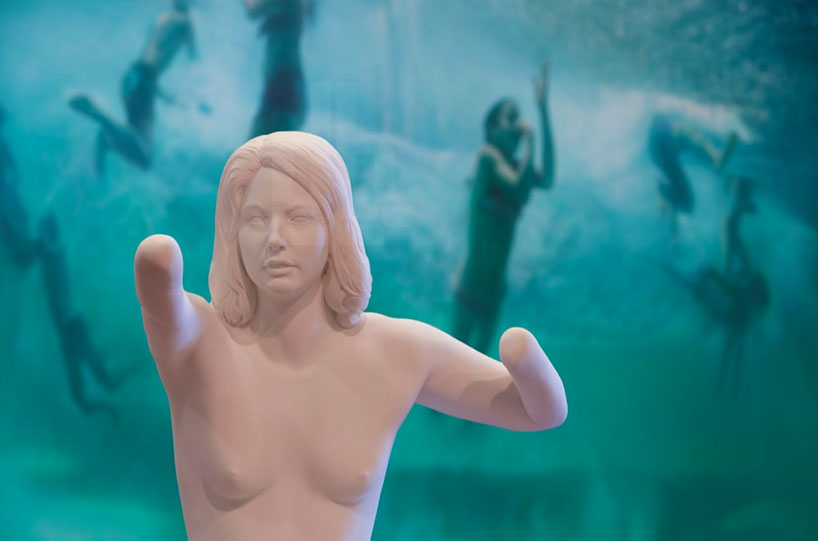 'helen smith' marble sculpture (2000) in front of 'the zone (where time meets space)', 2012
painting, oil on canvas, 290H x 437.8W cm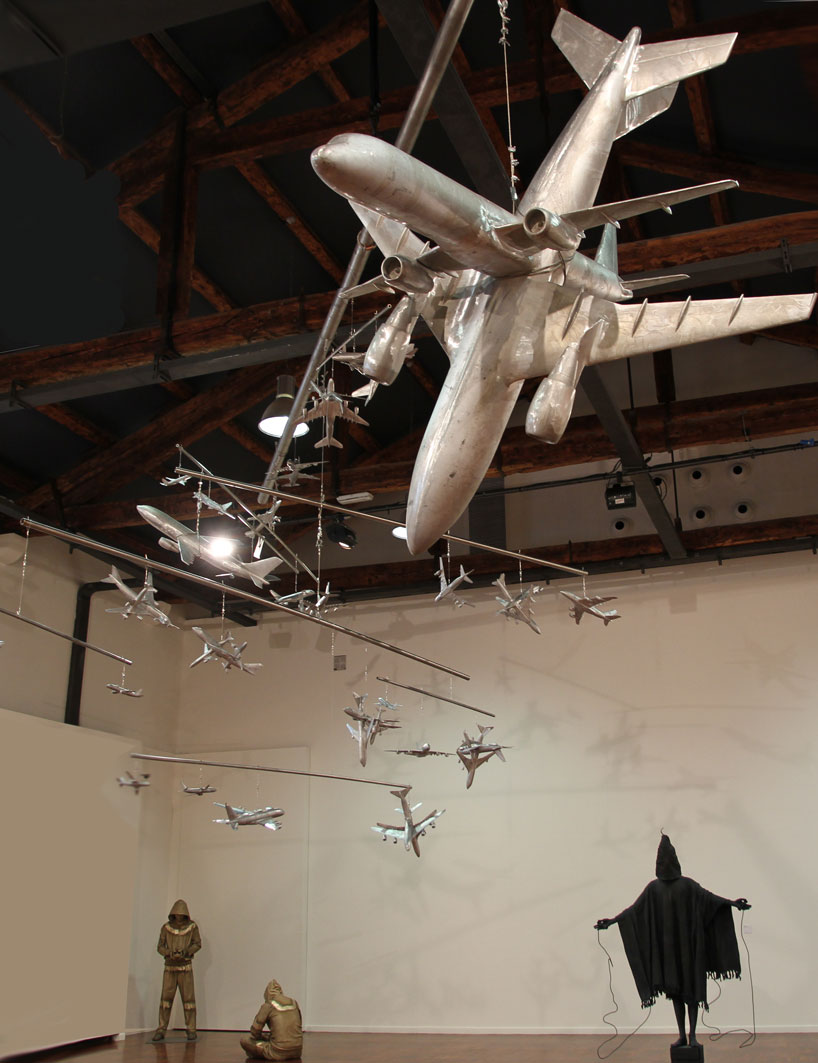 'the sound of silence' kinetic mobile installation, 2013 (with on the right 'mirage' of 2009 and on the left 'life breathes the breat (out)', 2012)
image © designboom
a large-scale aluminium sculpture, entitled 'the sound of silence', is a mobile of airplanes and airplane crashes which circle overhead without ever touching. at once explosively violent yet suspended in silence, the sculpture functions as a snapshot of a muted disaster, a manifestation of one of our darkest contemporary fears yet also captivating in its hypnotic movement.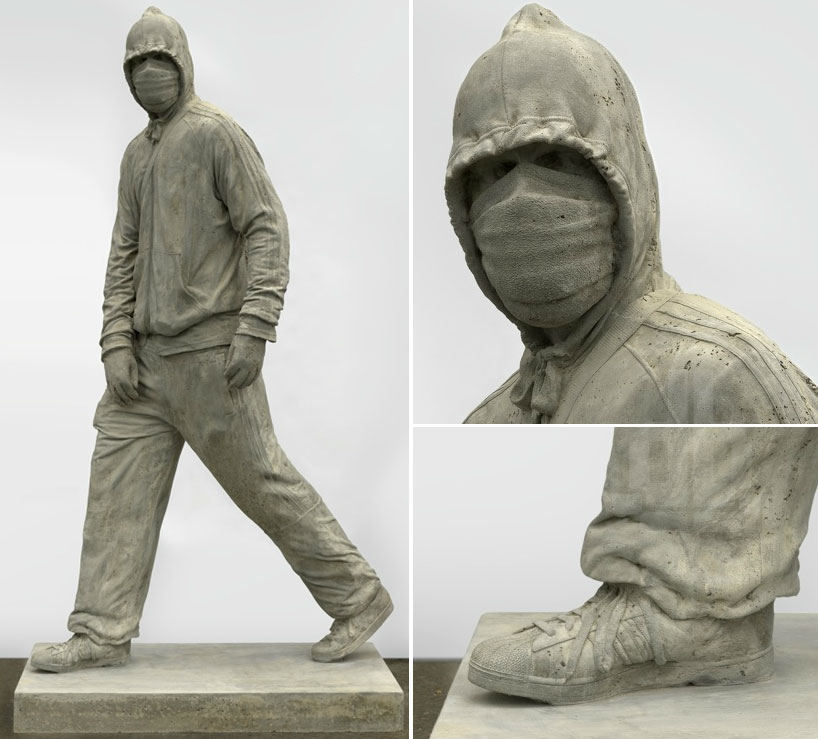 Id, 2012
concrete sculpture, 225H x 75W x 125D cm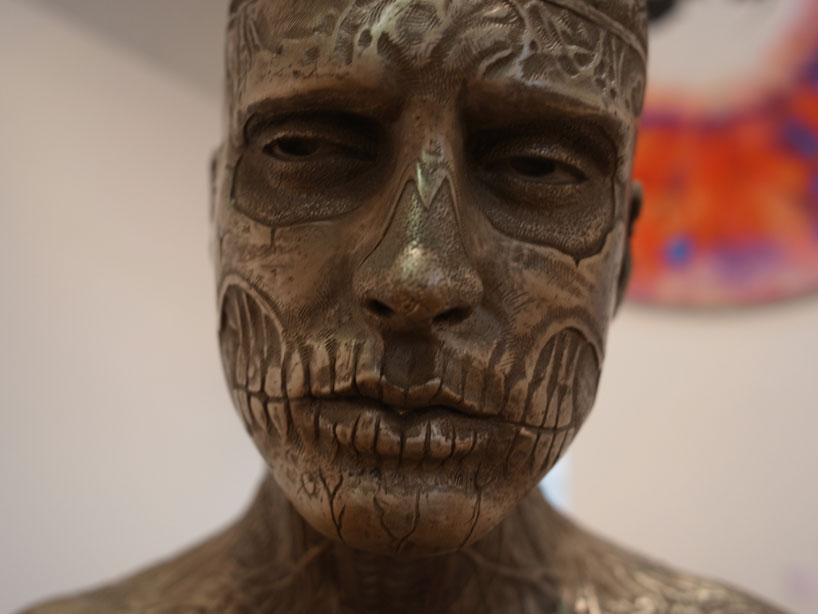 detail 'zombie boy (rick) Cu Pb Nn Fe Mg Si'
image © designboom
details 'zombie boy (rick) Cu Pb Nn Fe Mg Si'
image © designboom
'zombie boy (rick) Cu Pb Nn Fe Mg Si', 2011
sculpture, orbital-sanded and flap-wheeled lacquered bronze, 178h x 56w x 35d cm
image © designboom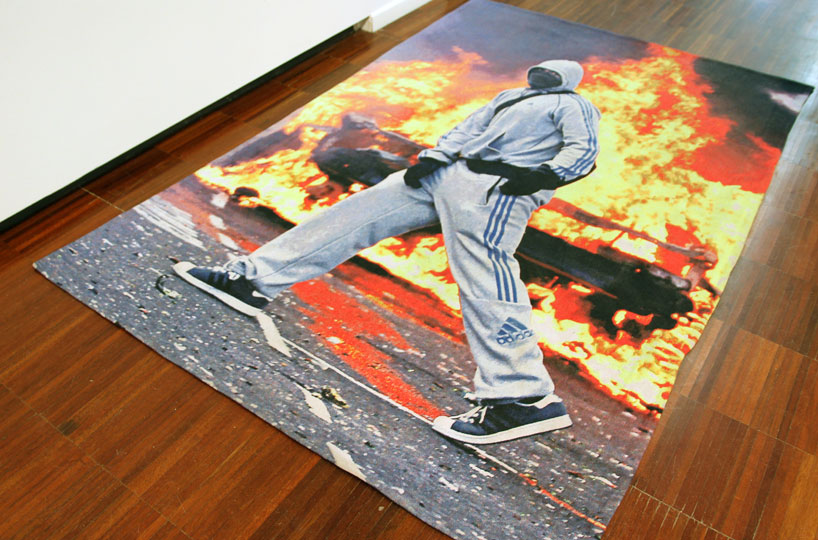 the creation of history, 2012
jacquard tapestry
image © designboom
evolution, 2005-2007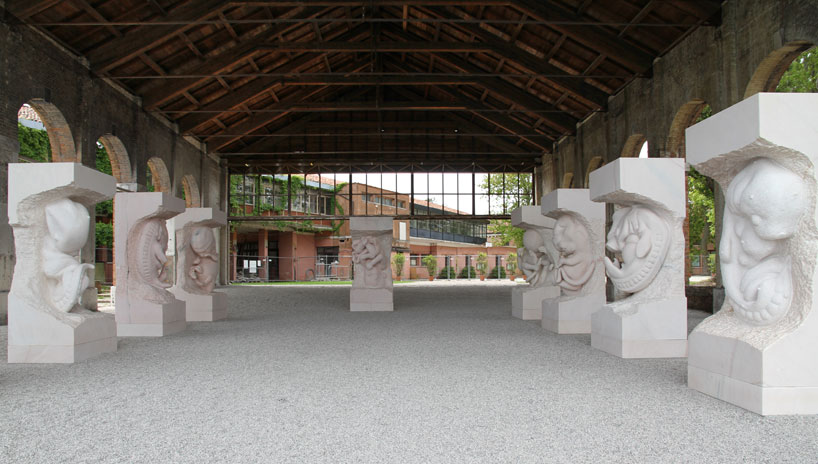 evolution, 9 sculptures, pink marble, each 252.5H x 115.5W x 85.5D cm
image © designboom
the works on view include a unique site-specific installation specially adapted for the island of San Giorgio titled 'evolution'. this series of ten monumental flesh-pink marble sculptures represent foetuses at different stages of gestation. placed leading down to the edge of the water in the squero, a former boat factory, these sculptures conjure the mystery of life that emerges from the lagoon.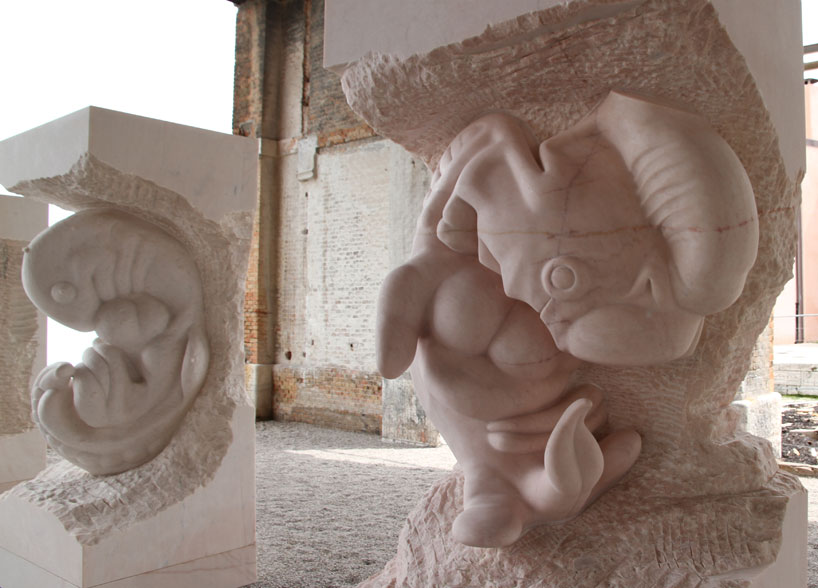 evolution (close-up)
image © designboom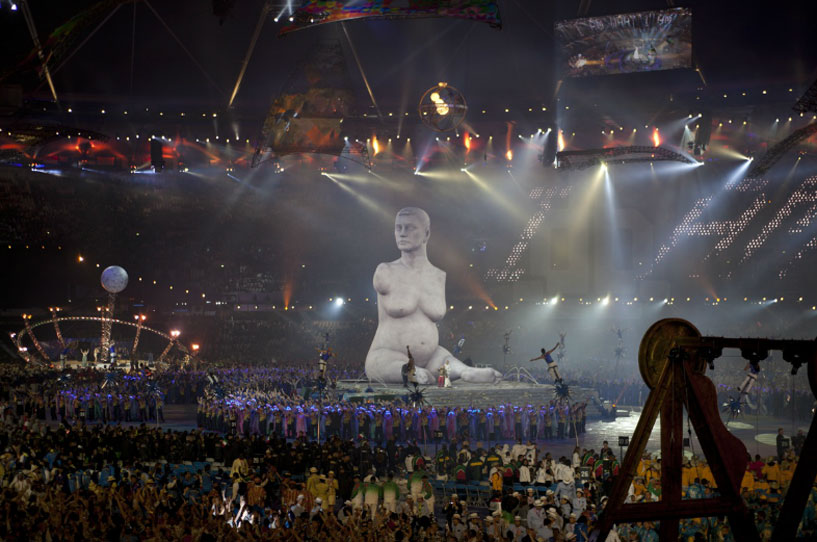 'breath' – alison lapper pregnant sulpture at london's paralympic games in 2012
included in the show is 'breath' – an 11 meter inflatable version of 'alison lapper pregnant', which was the centre piece of london's paralympic games' opening ceremony. in venice, it stands next to the church of san giorgio maggiore, to welcome visitors to the foundation.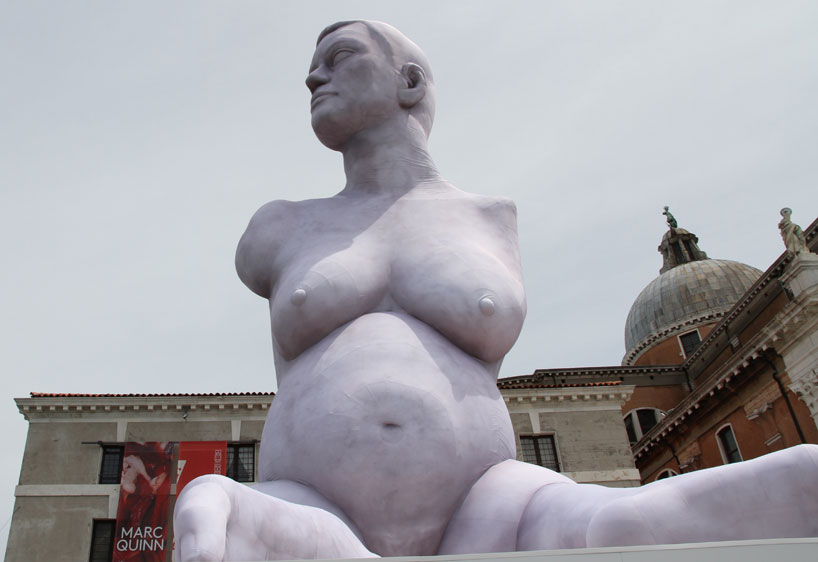 'breath' at the fondazione cini in venice
image © designboom
marc quinn solo exhibition
29 may 2013 – 29 september 2013 at the fondazione giorgio cini, island of san giorgio maggiore,venice

admission to the exhibition is free and it runs until the 29th september 2013.
in tandem with the marc quinn show: a landmark publication entitled, marc quinn memory box, edited by germano celant and published by skira. the 520-page, english-language publication includes a conversation between quinn and celant and historical interviews with quinn dating back to 1994.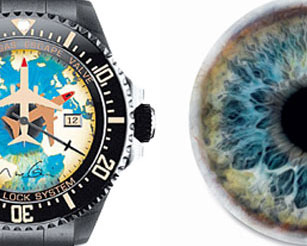 jun 08, 2013
jun 08, 2013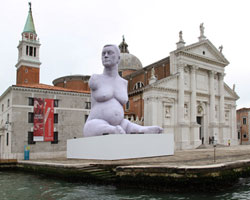 may 31, 2013
may 31, 2013
jan 28, 2013
jan 28, 2013
apr 27, 2012
apr 27, 2012
may 25, 2009
may 25, 2009
jul 15, 2008
jul 15, 2008
aug 26, 2013
aug 26, 2013
jul 31, 2013
jul 31, 2013
jul 23, 2013
jul 23, 2013
a diverse digital database that acts as a valuable guide in gaining insight and information about a product directly from the manufacturer, and serves as a rich reference point in developing a project or scheme.