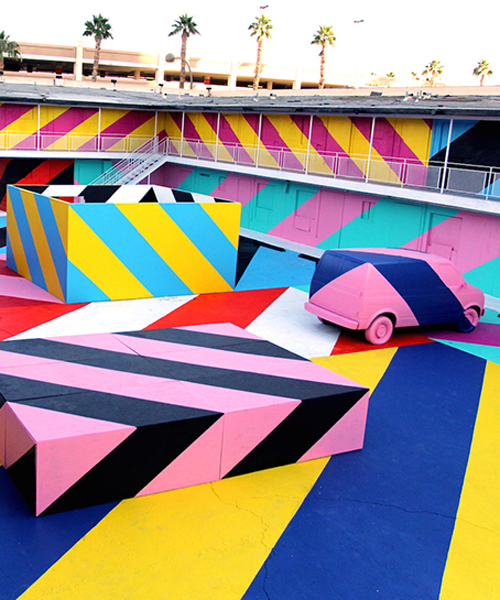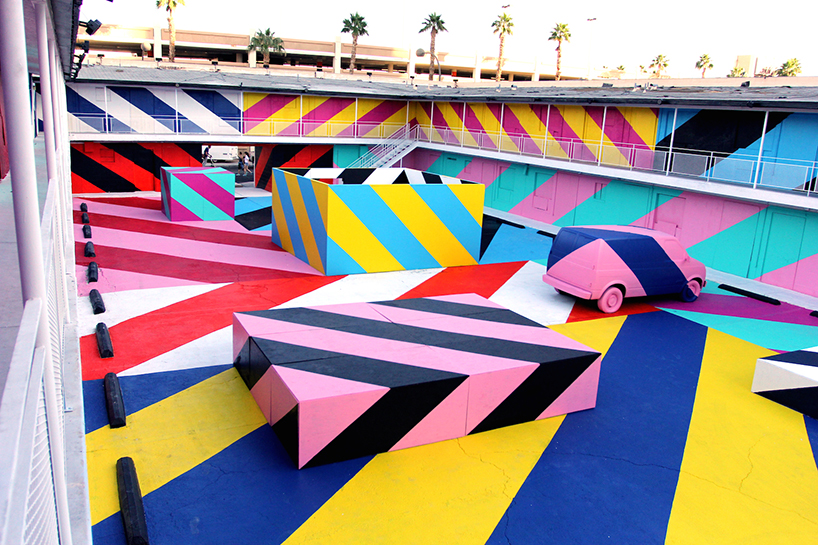 apr 06, 2016
interview with artist maser on his colorful street art interventions and painted works
artist maser — originally from dublin, and now based in the USA — began painting graffiti on the streets of ireland in 1995, eventually going on to establish himself as one the country's leading creatives working in the urban realm. while his early work was strongly in influenced by typography and sign painting, maser's unique style gradually progressed towards graphic representation and geometric abstraction, emphasizing the simplicity of form. his work can be seen on walls and doorways across the world, including austria, belgium, france, slovenia, spain and the UK. most recently, maser has explored new mediums, extending his work from walls to canvases, video and large scale installations.
from april 8, 2016 to may 5, 2016, lazarides rathbone presents an exhibition of the artist's new works titled 'orbiting on the periphery'. ahead of the opening, we spoke with maser about his background and upbringing, artistic influences, and the current fascinations feeding into his creative work.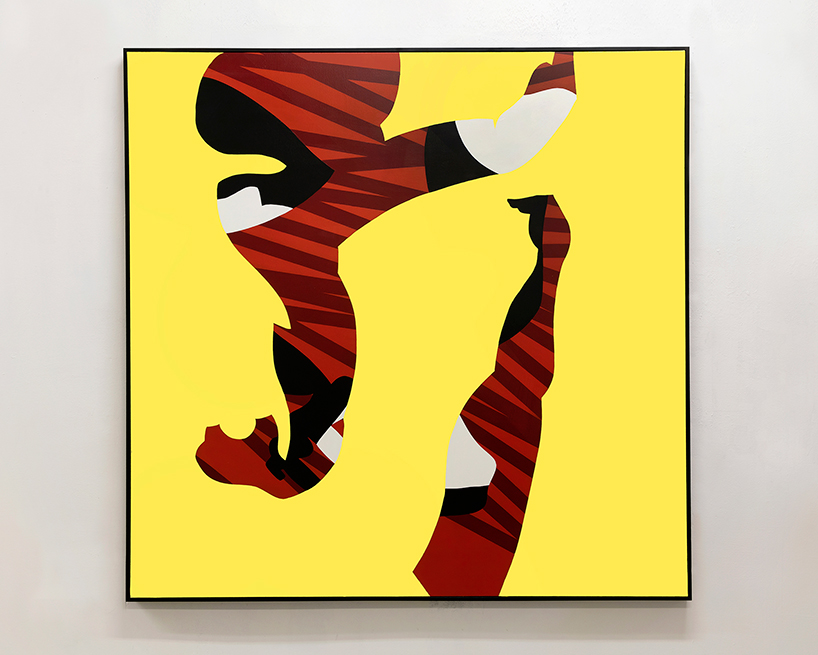 'orbiting on the periphery' series | image courtesy of the artist and lazarides gallery
all images courtesy of maser
designboom: what particular aspects of your background and upbringing have shaped your artistic style?
maser: none of my family are artists, although some are as eccentric as some artists I know! growing up, my mother let me draw all over the walls of the house, kitchen, stairs, bedrooms. it sounds strange, but it was when we moved into our house it took years before we had the money to decorate, so the walls of the house were my canvas for years. in school I spent most of my time in the art room, mainly because it had a radio and you were allowed talk. I persuaded the art teacher to let me paint a mural in the class room, I was probably about 12, that was officially my first.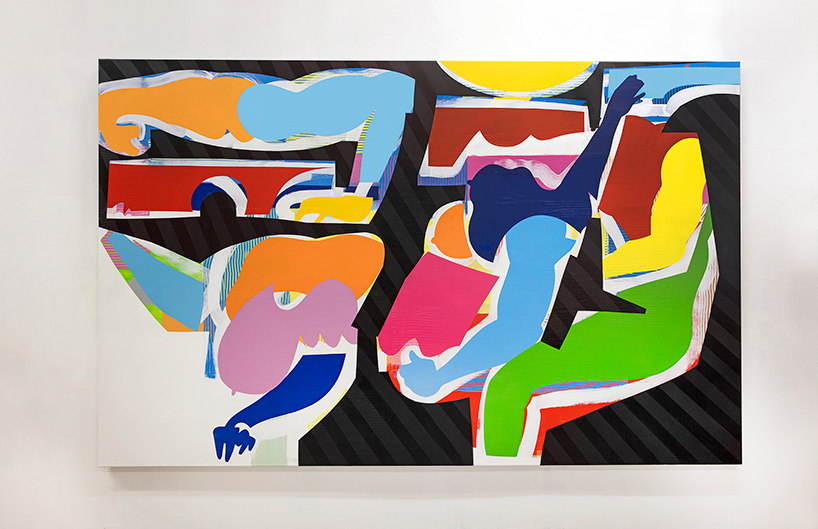 'orbiting on the periphery' series | image courtesy of the artist and lazarides gallery
(continued) as I said, I didn't grow up in an artistic environment, none of my family or friends were artists, so I was never pushed to pursue it. it almost felt forgiven to have such a keen interest in it. growing up I spent most of my time working, I certainly give it to my dad, he taught me good work ethic, that I still hold today. I started painting graffiti on the streets from the age of fifteen, thats when the dots joined and everything made sense. those years of painting outside, being completely obsessed with this subculture is totally responsible for my artistic style you see today. I can't thank it enough.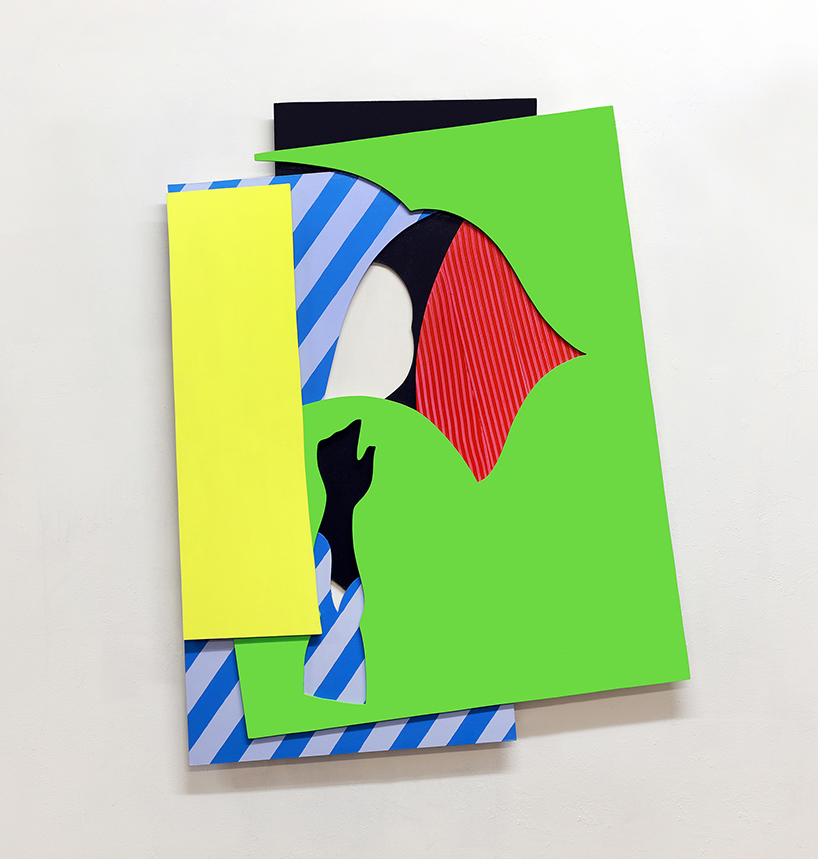 'orbiting on the periphery' series | image courtesy of the artist and lazarides gallery
DB: can you talk about your use of color — what informs the color palette of each work, and where do you draw inspiration from?
M: for me, every color evokes a different emotion and feeling, especially when paired with another color. I've gotten to the stage where I use mainly primary colors, as well as wanting to keep things simplistic, it also out of convenience. as a lot of my work is international, I try to keep to the same color palette to keep continuity to the work — they consist of ten colors; yellow, cyan, baby pink, mint, magenta, navy, orange, red, black and white. from these ten colors, I make over forty different color combinations. its a simple system that I have in place that allows me to share instructions if I'm in a different country and production starts before I arrive. the combinations are all based on contrast in colors, eg. hot and cold. this is inspired from my graffiti background where you'd always want your pieces to 'pop'.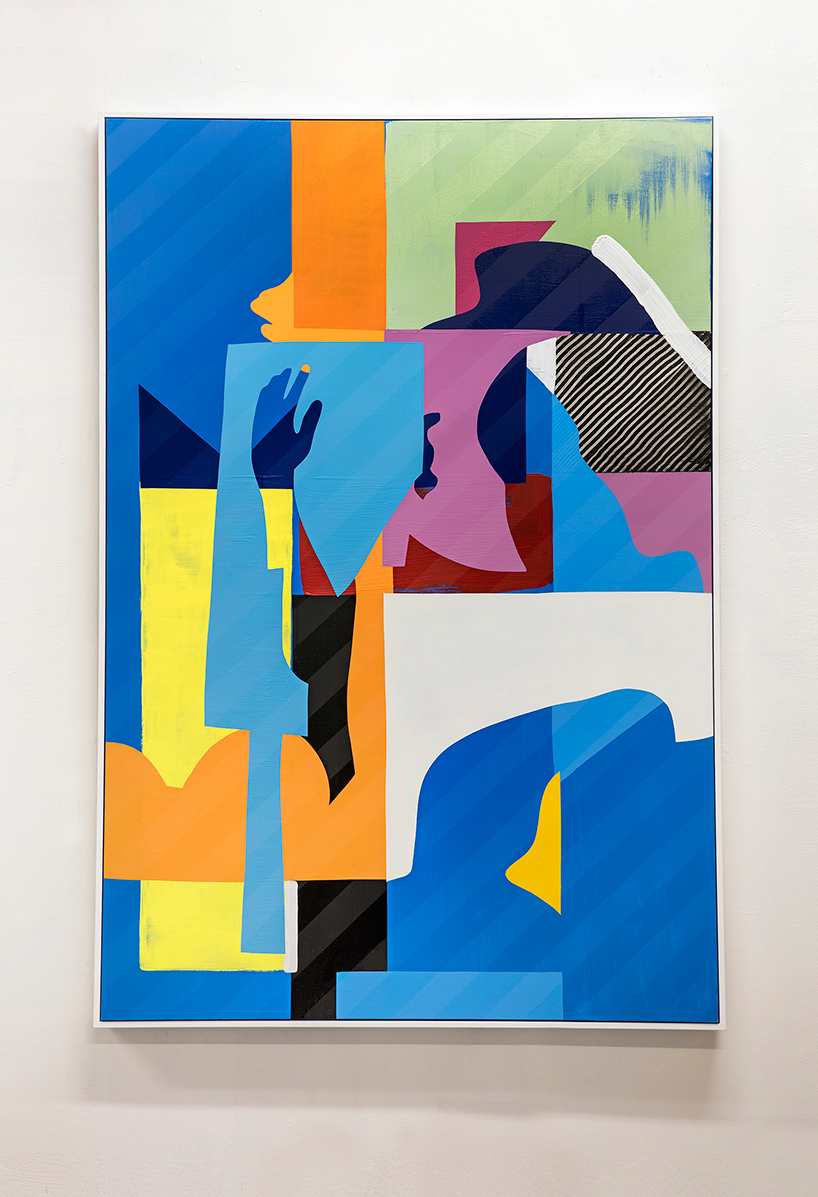 'orbiting on the periphery' series | image courtesy of the artist and lazarides gallery
DB: for your upcoming show at lazarides, in what ways do these new pieces expand upon your previous work?
M: the majority of my work over the last few years has been three dimensional. creating experiential environments for the viewer to engage with. so to go back into the studio and spend half a year working on two dimensional pieces took some time to readjust to. the narrative remains the same, the interest in relationships, how the public interact with the work, our shared public space, how color and form are used to represent. so, in someway, I'm trying to communicate what I've done previously in my installations onto canvases. I was very conscious when creating the work for this show that it was clear I put my hand to it. what I mean by this is when I create those large installations, their purpose is to be contrasting to their environment, interrupting the landscape, so they had to be super crisp, clean hard lined, to give the illusion of a hyper reality. with the exhibition work I purposely loosened up, off setting forms, adding texture and layers to the paint, on some instances I even added sand (from the beach in dublin where I go swimming) into the paint to emphasize the brushstrokes.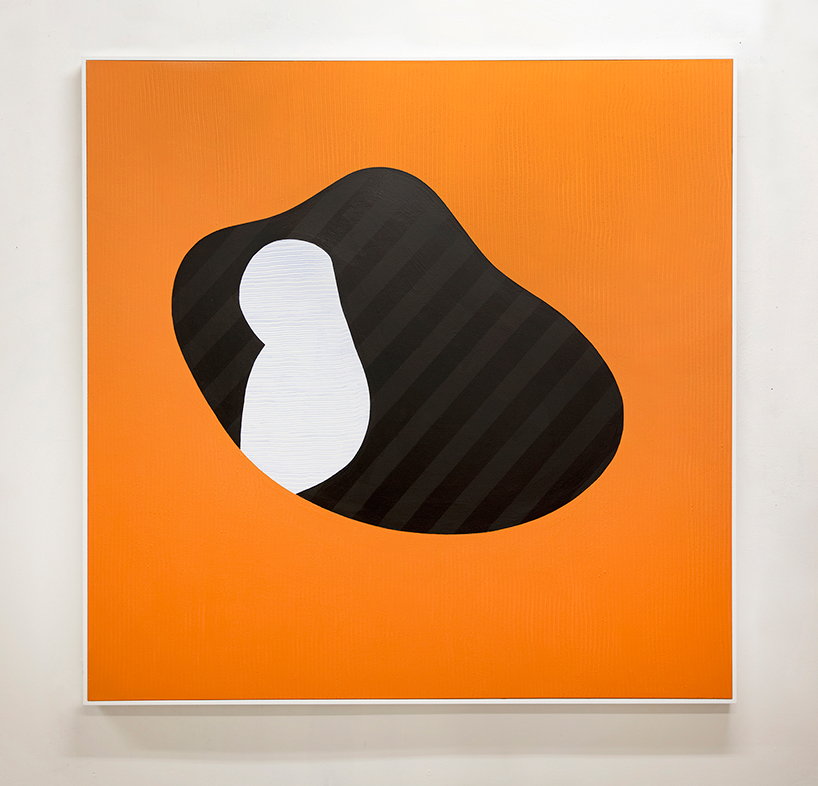 'orbiting on the periphery' series | image courtesy of the artist and lazarides gallery
DB: what are the most significant differences between working in the public realm versus in a studio?
M: the energy, for sure. it's a completely different way of working and it's down to the process. most of the outdoor works, especially the builds take a lot of planning, designing, managing budgets, crews of people, and don't get me started on the headache of health and safety. this is all done before we step outside. by the time we start outdoors it's a matter of rolling it out, all boxes are ticked, obviously a few obstacles pop up, but the more prepared I am the less they show their ugly head.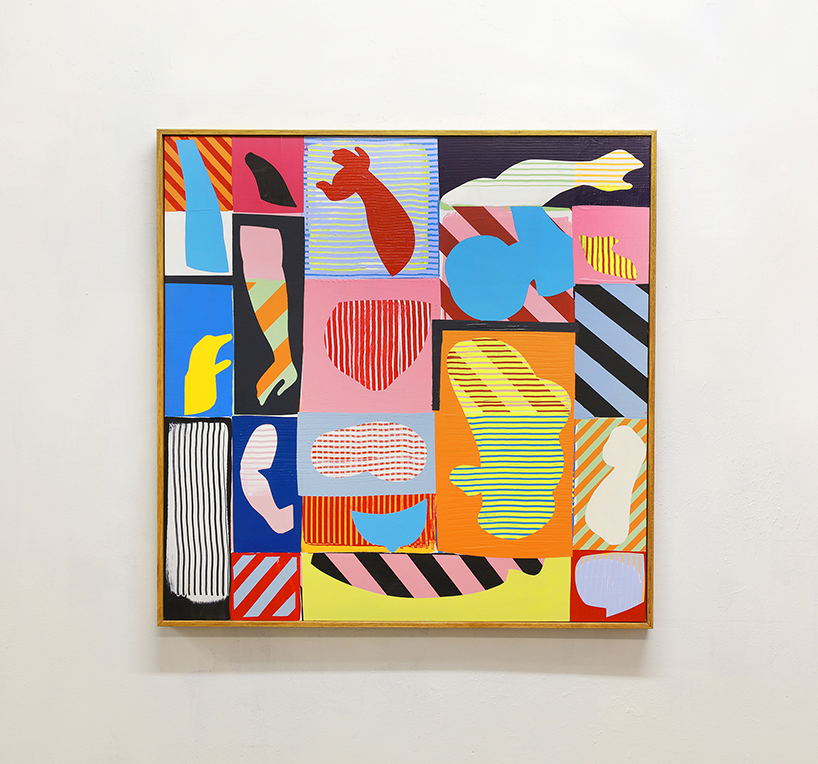 'orbiting on the periphery' series | image courtesy of the artist and lazarides gallery
(continued) in the studio, it's a lot freer, the discovery is in the process. knowing what themes I want to communicate, I give myself enough time to just think and paint, the key is to be patient with yourself and be confident that the work will come out. I must admit it's been very enjoyable, I crave routine because I spend most of my time all over the place, so the studio has become a sanctuary, spending 8-10 hours there to just paint has been a blessing.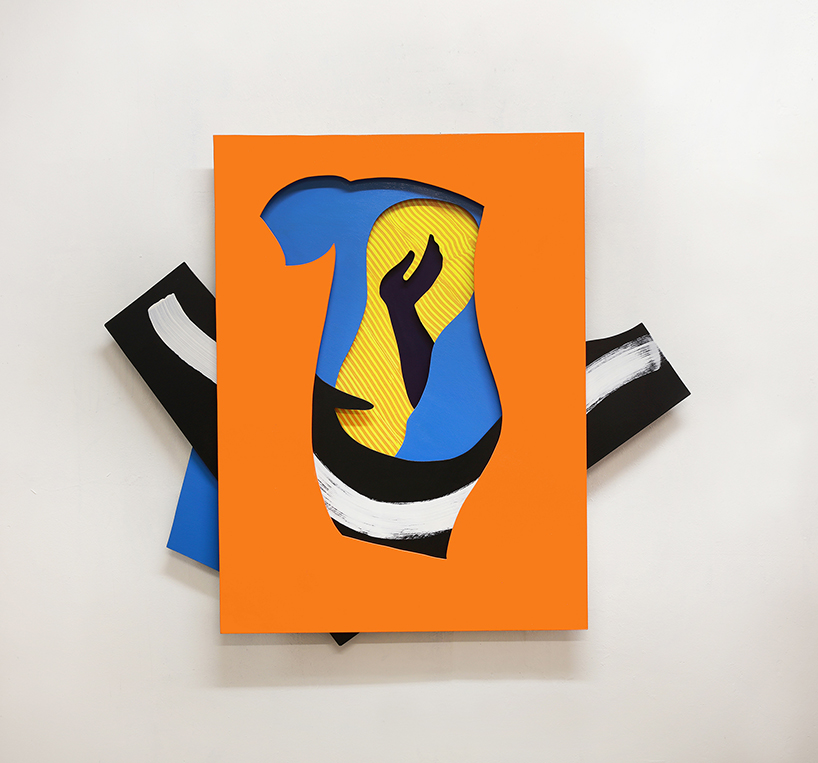 'orbiting on the periphery' series | image courtesy of the artist and lazarides gallery
DB: do you have a particular project that is your favorite, or one that stands out to you?
M: ah there are so many, not just because of the finished piece, but the experiences, the new cities, the learning and amazing people I've met. the one that probably stands out right now is a recent enough piece, from last october. mainly because it was in my home town dublin, coming home from the states to create a large institution in the city center was a proud moment for me. working with a great crew of dubs too and having a laugh through the whole process from start to finish. I love how we never take each other too seriously, but there is always love and respect.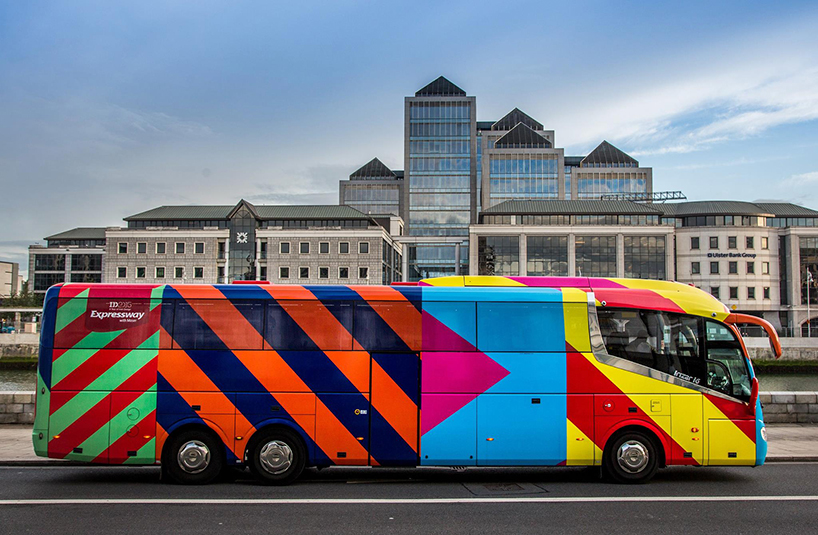 maser wrapped the exterior of a coach bus in a vibrant composition
DB: who/what has been the biggest influence on your work to date, and how do they inform your practice?
M: honestly it's just my day to day life, new experiences, meeting new people and traveling. I absorb it all. conversations with friends and strangers, interacting and communicating, taking myself out of my comfort zone and being open to new experience. an example of that is spending a month in mount joy prison in dublin painting with the inmates, I went with the intension to teach them, but subsequently I left learning the most. I can see these experiences come though in my work. I feel we are all in this together and I see my work communicates and facilities those thoughts.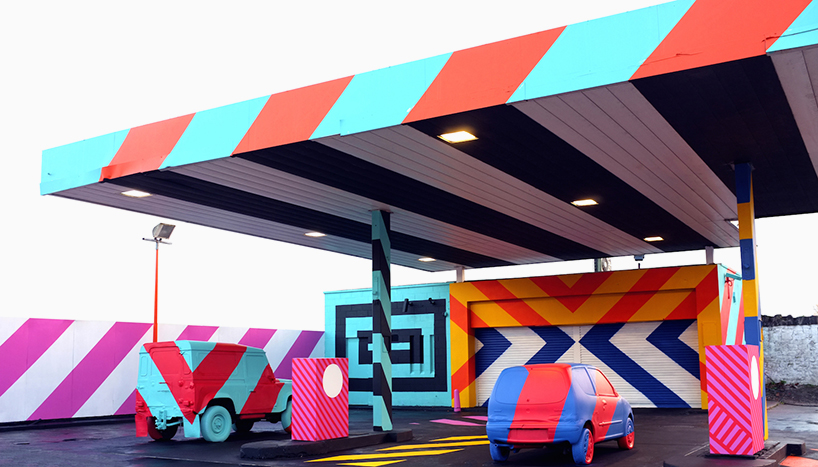 'nod to ed ruscha'
DB: which era of art do you appreciate the most?
M: I follow all the masters closely, every time I'm in a new city I'll always make time to visit the museums. what draws my eye the most is abstract expressionism, post modernism and op art. minimalism always shakes me, I find this fascinating, there is nothing to hide behind. if done right, it's truly confident work. dan flavin, sol lewitt, donald judd and frank stella to name a few.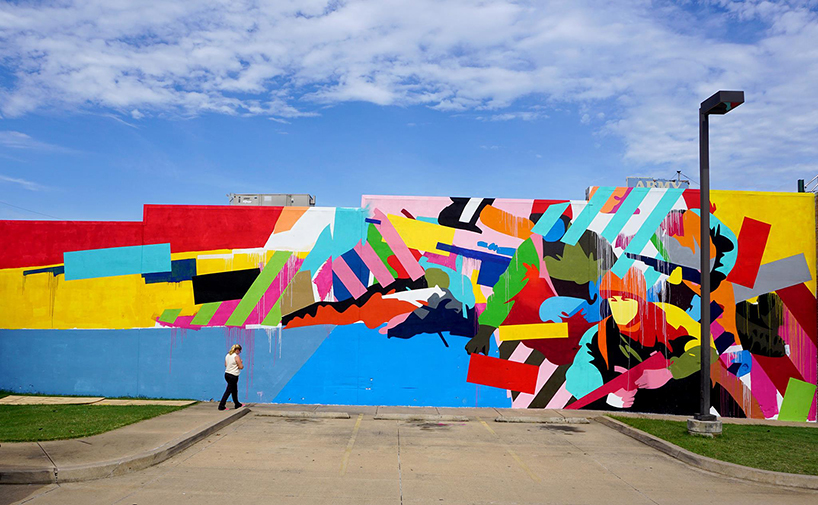 view of mural dedicated to 'darby' — best known for his organization of the first ranger battalion during WWII
DB: what are you currently fascinated by and how is it feeding into your work?
M: people for sure, catching the in-between moments, how people engage in conversation and their environment. how the body works and moves, the mechanics of it all. everything and everyone supports and relies on the other, nothing can exist solely on its own. this engagement really interests me and I see this come through my work by creating large interactive installations for the viewer to take ownership of. it also translates in the 2D work through figurative abstracted forms and how those elements work with and against more linear, hard edge painted elements.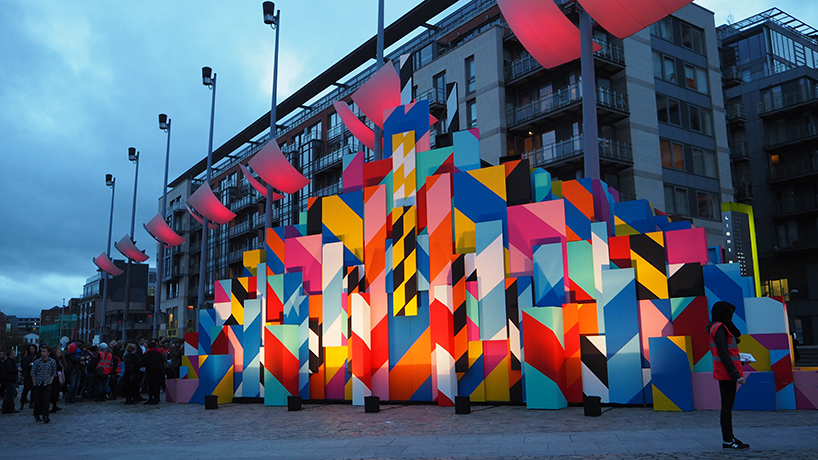 installation in dublin, ireland
a diverse digital database that acts as a valuable guide in gaining insight and information about a product directly from the manufacturer, and serves as a rich reference point in developing a project or scheme.