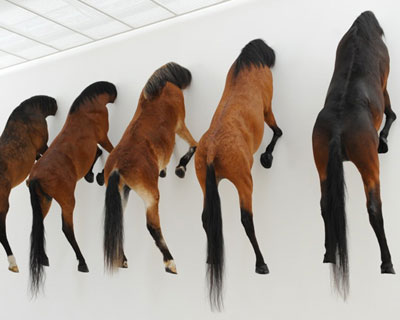 jun 11, 2013
maurizio cattelan's 5 horses at fondation beyeler

five taxidermied horses hanging headless from the wall at the fondation beyeler
photo: serge hasenböhler, basel, courtesy fondation beyeler, riehen/basel
the italian artist maurizio cattelan, who after his 2011 guggenheim retrospective announced his retirement, has an exhibition at the fondation beyeler in basel, switzerland entitled 'kaputt'. on view until october 6th, 2013, the exhibition recontextualizes a former piece: here, the solitary leaping taxidermied horse of cattelan's 2007 'untitled' becomes an entire suspended herd.
indeed, the full title of the installation of five horses in 'kaputt' is, 'untitled (all five horses together at once, for the first time)'. two of the animals are artist's proofs from cattelan's 2007 'untitled'; the remaining three are actual 2007 'untitled' pieces, on loan from various private collections around the world. whereas a solitary horse evokes a sense of loneliness, suggesting a desperate attempt to escape solitude, its transformation into a herd changes the whims of individual experience into orchestrated, intentional movement.
the title of the exhibition as a whole comes from the novel 'kaputt primavera' by curzio malaparte, an embellished account based on malaparte's experiences on the eastern front during WWII. in the text, the author recounts the tragic death of a thousand horses who jumped into finland's lake ladoga in their attempts to escape a forest fire caused by aerial bombardments. as the horses swam across, the waters of the lake suddenly froze solid, trapping the animals in place, their heads above the water and eyes frozen open. with his exhibition at the beyeler, cattelan seems to offer visitors the view from below lake ladoga's surface. like the preserving effects of cold water in malaparte's recount, taxidermy has frozen these animals in space and time, leaving them neither alive nor truly dead, but permanently in suspension, looking outwards at something that gallerygoers are unable to see.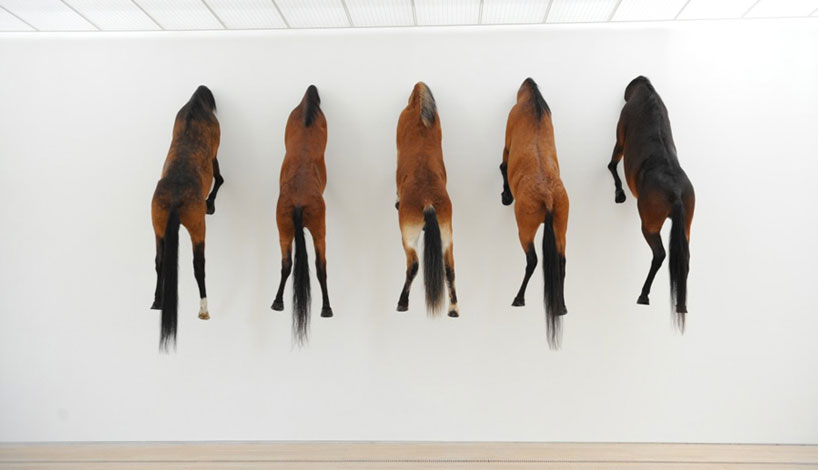 photo: serge hasenböhler, basel, courtesy fondation beyeler, riehen/basel
'the jump [of the single 'untitled' horse] is delusional and yet heroic. the five horses transform delusion into panic and individual effort into a feverish crowd. it's an exodus we're witnessing, not a search for freedom. like malaparte's horses in finland that run away from the burning wood into the frozen lake, cattelan's horses do not seek freedom but survival.'
– art critic francesco bonami on maurizio cattelan's 'kaputt' exhibition at the fondation beyeler.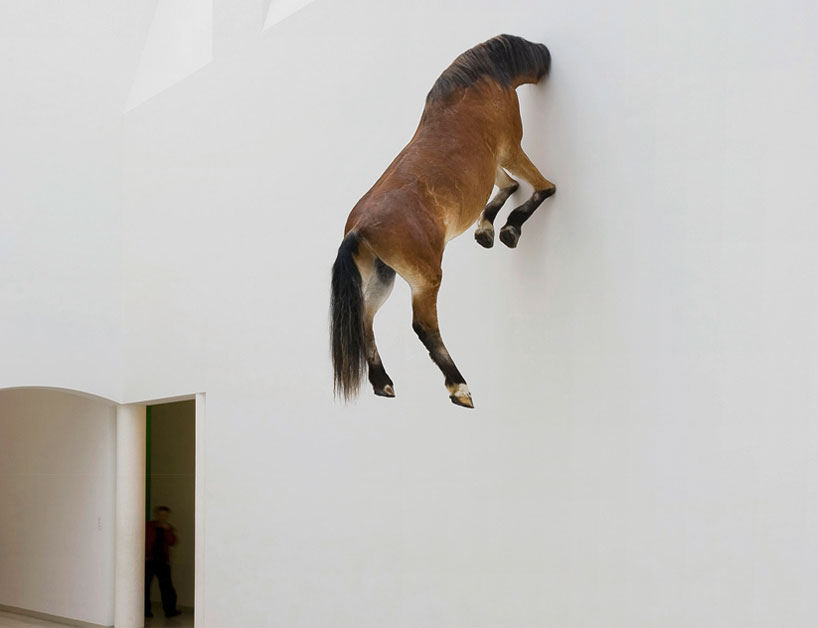 maurizio cattelan 'untitled', 2007
taxidermied horse, 300 x 170 x 80 cm, installation view
photo: axel schneider, courtesy maurizio cattelan's archive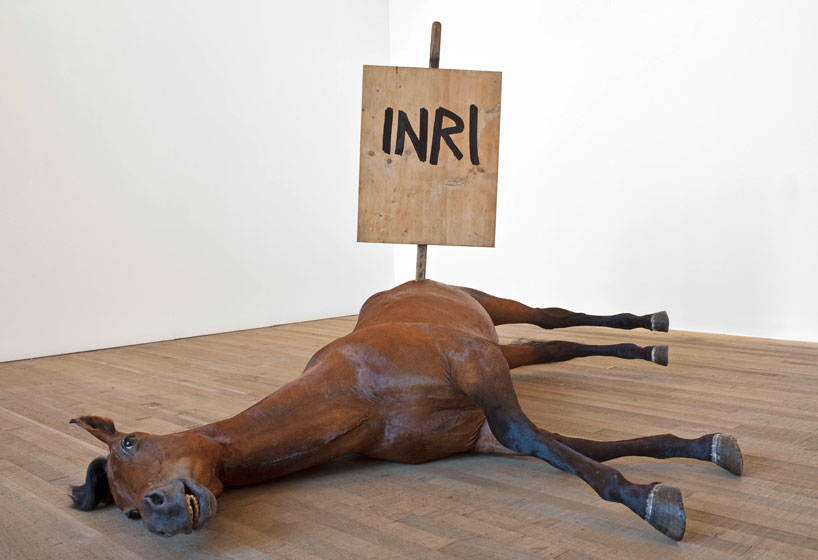 maurizio cattelan 'untitled' (2009)
taxidermied horse, steel and felt-tip pen on wood, 55 x 201 x 189 cm
installation view photo: zeno zotti, courtesy maurizio cattelan's archive
on show in 'kaputt' along the five horses is cattelan's 'untitled' donkey of 2009, whose swollen belly is pierced by a pole bearing a sign with the inscription INRI (indicating the latin phrase, Iesus Nazarenus Rex Iudaeorum — jesus of nazareth, king of the jews).
the exhibition is curated by sam keller and associate curator michiko kono.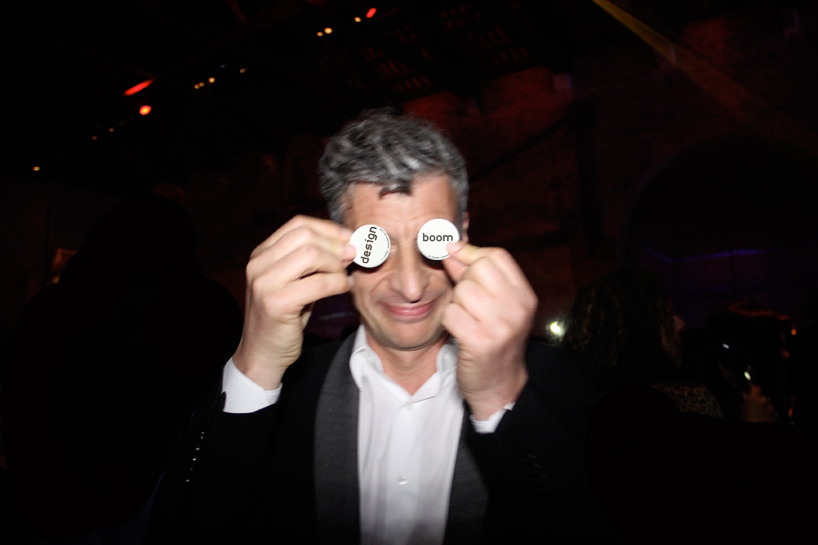 maurizio cattelan goes goo goo for designboom
image © designboom
dec 08, 2019
dec 08, 2019
oct 04, 2018
oct 04, 2018
jan 26, 2018
jan 26, 2018
feb 14, 2017
feb 14, 2017
dec 11, 2016
dec 11, 2016
oct 28, 2016
oct 28, 2016
a diverse digital database that acts as a valuable guide in gaining insight and information about a product directly from the manufacturer, and serves as a rich reference point in developing a project or scheme.