art + design take over miami
Art and design-lovers everywhere are jet-setting to Miami where, during this week, Art Basel Miami Beach and Design Miami/ will open their doors to collectors, curators, and enthusiasts alike. The two events — together with a packed program of offsite installations, exhibitions, workshops, talks and creative programming — form Miami Art Week 2022, which takes over the coastal city in full Floridian fashion.
Stay tuned as designboom spotlights the latest must-see exhibitions and events, and discover the definitive guide of recommendations for the week ahead.
don't miss
PULSE TOPOLOGY by Rafael Lozano-Hemmer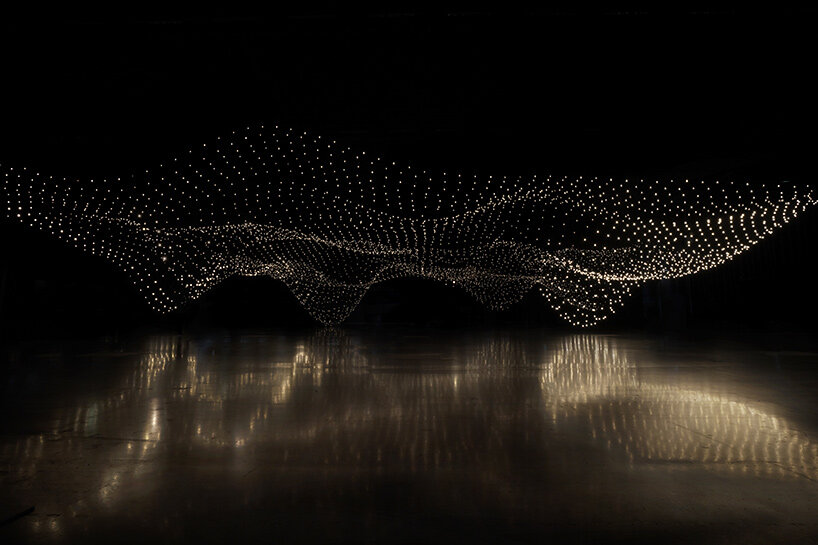 on the occasion of Art Basel 2022, Superblue and BMW i present Rafael Lozano-Hemmer: 'Pulse Topology'
image © Enes Kucevic
Pulse Topology is the first presentation in Miami of Rafael Lozano-Hemmer's ongoing series of 'Pulse Artworks', which capture and make tangible participants' heartbeats. Pulse Topology is an immersive light and sound environment activated by six pulse sensors with breakthrough photoplethysmography (PPG) technology that uses computer vision algorithms to optically detect each visitor's heartbeat.
Three-thousand lightbulbs suspended at different heights will create a glimmering landscape of crests and valleys. Inspired by conversations with engineers and designers of the new BMW i7, Lozano-Hemmer will use the same technology that activates Pulse Topology to illuminate the BMW i7's interior with a visitor's heartbeat. See designboom's previous coverage here of the installation on view this past summer in Basel.
November 17th, 2022 — August 2023 | 10am — 8pm (10am — 7pm Sundays)
Superblue Miami, 1101 NW 23rd Street
Tickets available here
RIGHT HERE, RIGHT NOW by Maison Ruinart & Jeppe Hein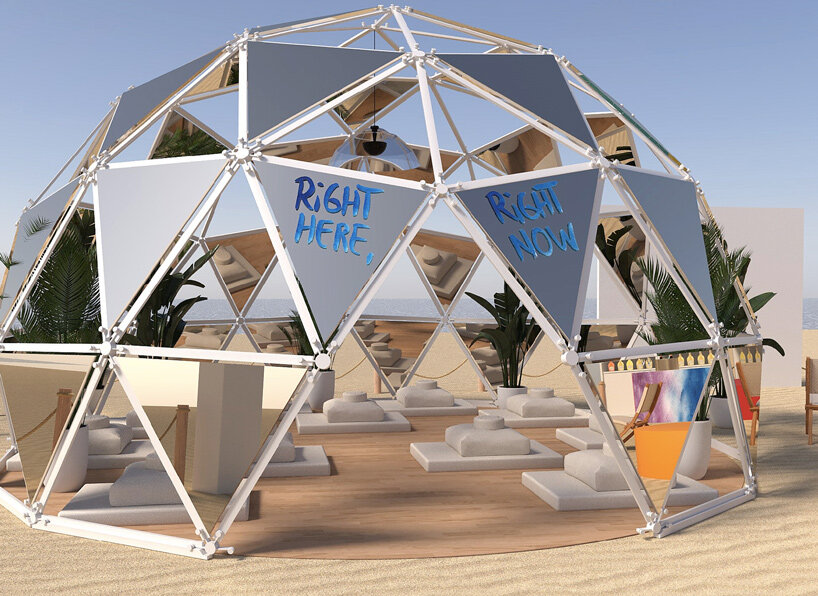 visualization of Maison Ruinart's installation and beach lounge
Maison Ruinart will introduce an installation and beach lounge to Miami's Collins Park Beachfront, between 21st and 22nd Street. It will stand as both an experiential art piece and mindful escape for visitors to unwind and enjoy during Art Basel Miami Beach.
The installation is an evolution of Danish artist Jeppe Hein's collaboration with Ruinart's 2022 Carte Blanche Program, also titled, 'RIGHT HERE, RIGHT NOW' that invokes the four elements essential to the process of making Ruinart Champagne. During Art Basel Miami Beach, Ruinart and Hein invite guests to embrace moments of calm through a custom meditative sound bath experience, featuring select sessions led by the artist himself.
November 30th — December 2nd | 12pm — 4:30pm
Collins Park Beachfront, between 21st & 22nd St.
Audi x Andrés Reisinger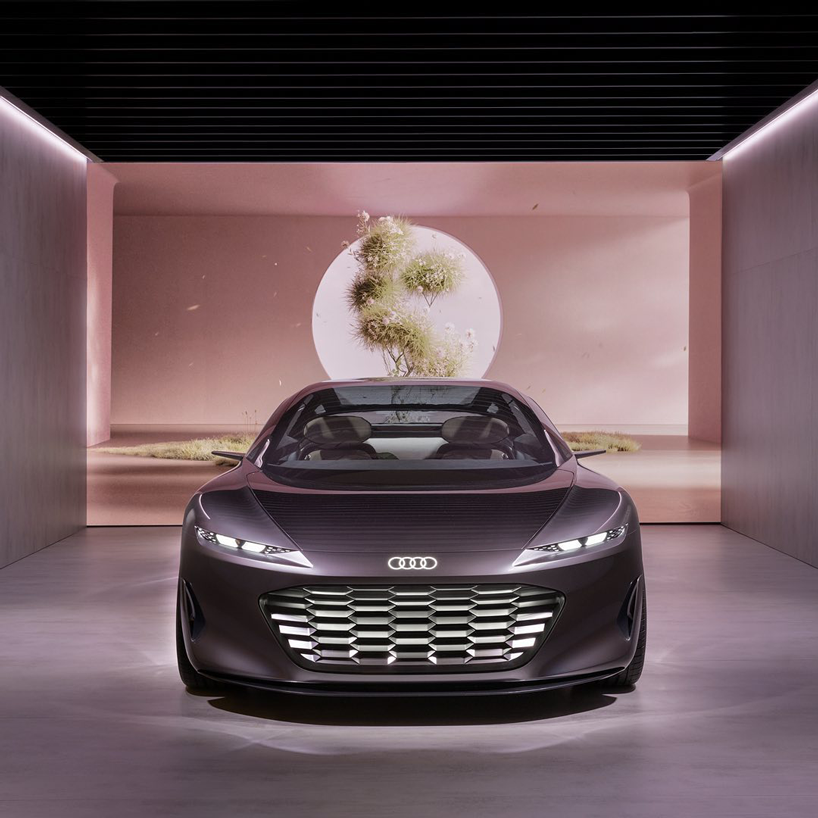 the installation takes inspiration from the Audi 'grandsphere' concept vehicle
At this year's Design Miami/, Audi presents a new immersive and experiential digital installation in cooperation with digital artist and designer Andrés Reisinger. The new work is inspired by the Audi 'grandsphere' concept, an outlook to the future of premium mobility by Audi.
To create meaningful and fascinating experiences that will shape premium mobility and design, Audi believes in co- creation. Together with Andrés Reisinger the brand explores a sphere beyond a physical installation, digitally re- interpreting interior spaces.
Audi has the vision to create a better future for generations to come and this attitude is deeply rooted in the brand, striving for progress. For Audi, the future is a space – for ideas, innovations and designs. By re-thinking design and approaching it from inside out, the Audi 'grandsphere' concept — not available as a production vehicle — demonstrates a human-centric experience, a personal sphere.
November 30th — December 4th
Design Miami/ Convention Center Drive & 19th Street, Miami Beach
Pink Meditation Buoys by the ReefLine x Andrés Reisinger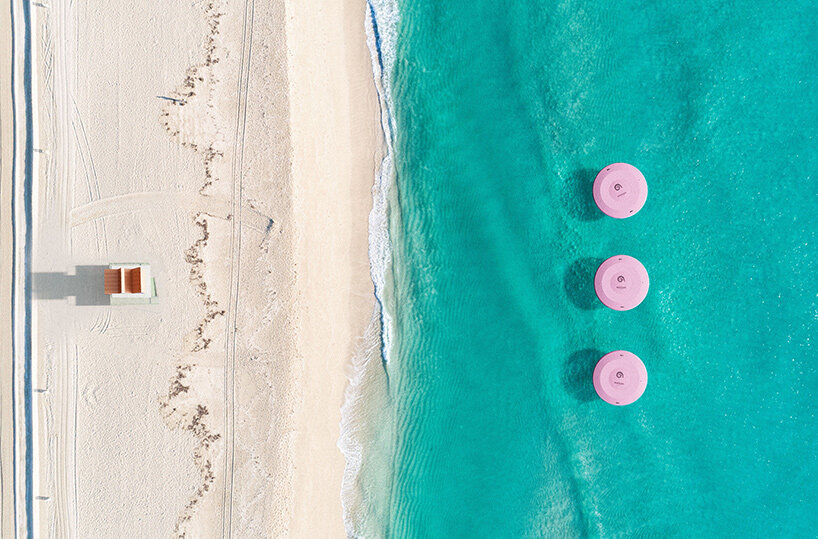 visualization of 'Pink Meditation Buoys'
For Miami Art Week 2022, Andrés Reisinger presents the site-specific installation 'Pink Meditation Buoys,' part of curator Ximena Caminos' ReefLine public cultural initiative for the homonymous non-profit organization.
'Pink Meditation Buoys' is a site specific installation consisting of iridescent pink beacons, always visible from the shore. It was conceived to give swimmers a vantage point for reef and local marine life exploration and, during the Miami Art Week, it will anchor and channel the energy of collective guided meditations focusing on the wellbeing of the endangered ecosystem that surrounds the project.
November 30th — December 4th
Faena Beach
Bottega Veneta + Gaetano Pesce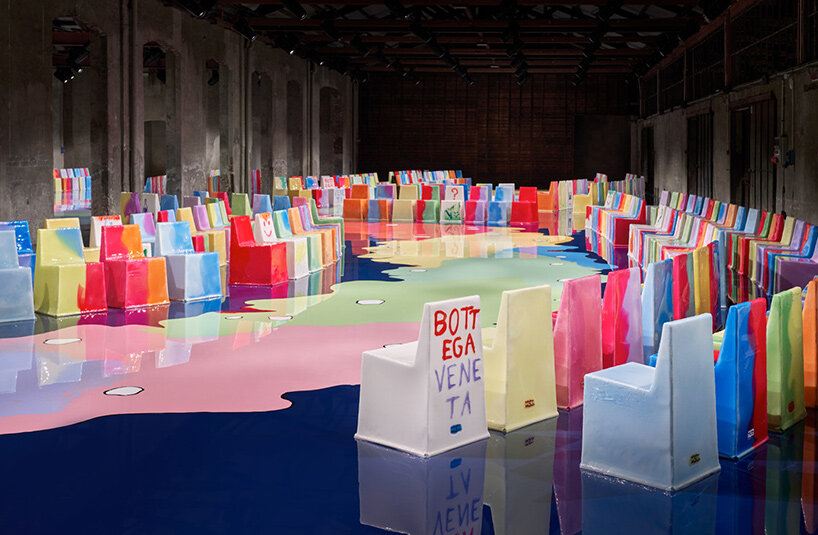 view of the Come Stai? chairs at Bottega Veneta's Summer 2023 show in Milan
For its first partnership with Design Miami/, Bottega Veneta will present a site-specific installation that follows an unprecedented commission by creative director Matthieu Blazy. Earlier this year, Blazy commissioned Gaetano Pesce to design the space of Bottega Veneta's Summer 2023 show in Milan. The space included a sculptural resin floor and 400 resin chairs, created in a spectrum of vivid colors.
At the heart of this project is the Come Stai? chair, a new expression in Pesce's oeuvre, which echoes his lifelong quest for individuality and diversity. The commission will be presented at this year's Design Miami/ flagship fair, which will see a selection of chairs presented and available for purchase until December 4th.
Come Stai? comes also as a new book commissioned by Bottega Veneta with Gaetano Pesce and Matthieu Blazy, with a book signing taking place on November 30th from 4pm — 6pm at the exhibition space at 153 NE 40th Street.
November 30th — December 4th | 2pm — 3pm
Design Miami/, Convention Center Drive & 19th Street, Miami Beach
chairs available for purchase online and at 153 NE 40th St, Miami, FL 33137
'Franchise Freedom' by DRIFT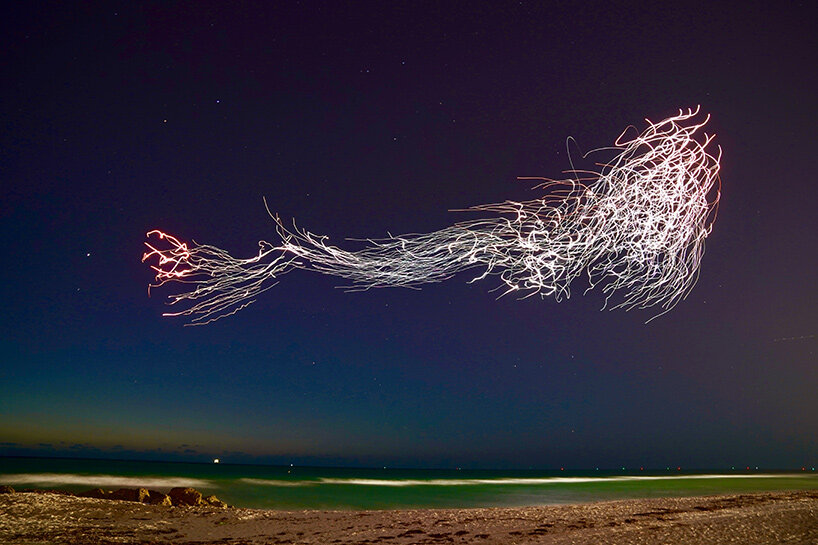 view of 2017 performance | image © Jon Ollwether, courtesy DRIFT
DRIFT presents aerial performance 'Franchise Freedom' in celebration of Art Basel Miami Beach's twentieth anniversary. The award-winning drone sculpture first premiered in Miami Beach during Art Basel in 2017.
Franchise Freedom is a flying sculpture with drones performing the flight patterns of starlings. Artists Ralph Nauta and Lonneke Gordijn explored the concept of freedom by looking in depth at bird murmuration patterns studying the group versus the individual. This behavior is imitated in their work which consists of a flying swarm of hundreds of illuminated drones, controlled by Machine learning systems and Artificial Intelligence.The essence of the work is to establish a moment of emotional connection between the audience, the environment, the music and the drones.
An artwork that uses the sky for its canvas, Franchise Freedom has the ability to reach a large audience at the same time. The installation marks twenty years of Art Basel in Miami Beach and is free and accessible to all.
November 29th — December 1st | 7pm performance
Drones to fly over the Art Basel Convention Center, 1901 Convention Ctr Dr, Miami Beach
THE ARES HOUSE by Daniel Arsham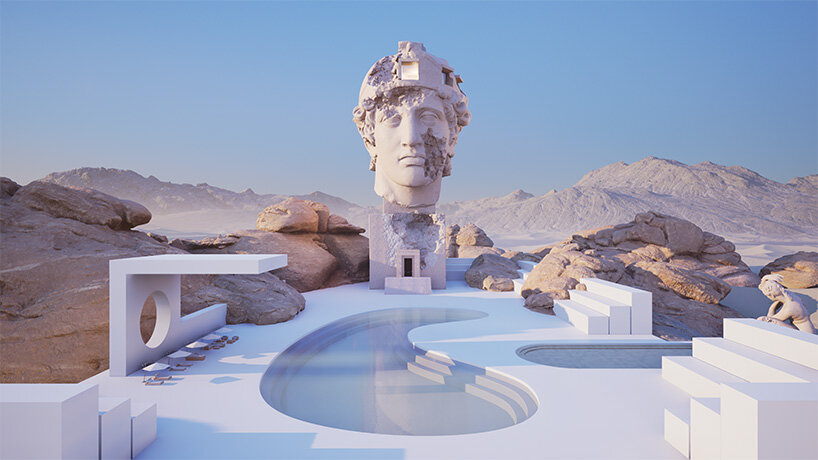 Ares House by Daniel Arsham
In a collaborative effort between The Alexander Team and Everyrealm, comes the launch of The Row, an exclusive collection of metaverse real estate featuring architecture designed by a variety of talented artists. (see designboom's previous coverage here). The 30-piece collection, made up of one-of-one NFTs, will live on the Mona platform.
The Ares House, Daniel Arsham's contribution to the The Row collection, is the inspiration for his exhibition concept. The exhibition is a real life metaverse experience that stitches together the physical and digital worlds, seamlessly interlacing 3D projection mapping to showcase a digitally-enhanced IRL version of the Ares House, a monumental digital structure that looks like it might have existed in an ancient, otherworldly civilization.
The transformation of the Ares House into a physical installation results from the joint efforts of legal and creative collaborators Jayaram, metaverse technology company Everyrealm, creative production partner Future Galerie, and metaverse world-building platform Mona.
December 1st — December 3rd | 12pm — 6pm
3925 North Miami Avenue
Louis Vuitton's Art Basel Miami Beach Exhibit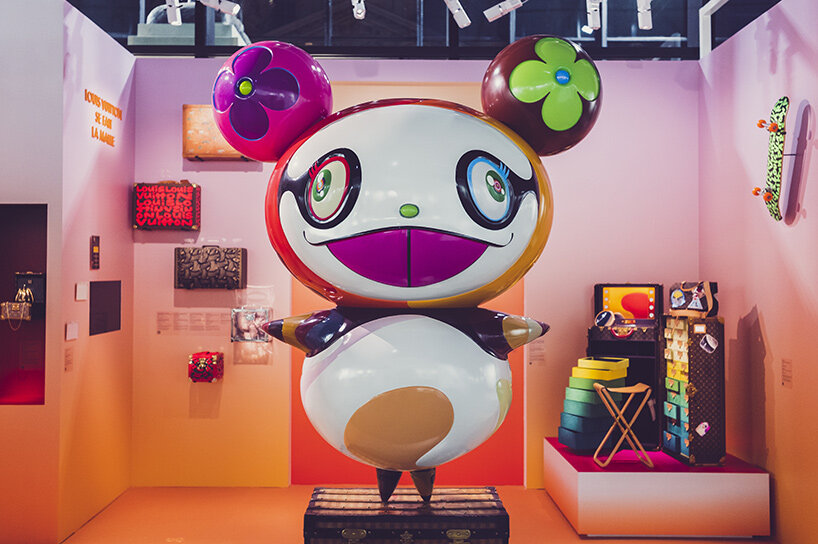 a panda figure sculpture by Takashi Murakami is displayed atop a vintage Louis Vuitton trunk
Louis Vuitton will exhibit selected works by a curated ensemble of the world's most-renowned artists as part of Art Basel Miami Beach. Standout artist collaborations on display in the Louis Vuitton lounge include two wax figures of Yayoi Kusama, created by the artist herself; a panda figure sculpture by Takashi Murakami on a vintage Louis Vuitton trunk; paintings by Richard Prince and Alex Katz; a photo by Jean Larivière, and the now iconic Artycapucines collection.
As a celebration of the Maison's relationship with Yayoi Kusama — and to mark the 10-year anniversary of the first collaboration — exclusive new pieces will be showcased for the first time as a teaser of the upcoming collaboration.
November 29th — December 3rd
Art Basel Miami Beach Convention Center
CHRONOS by Objects of Common Interest
process image showing the creation of CHRONOS
Eleni Petaloti and Leonidas Trampoukis of Objects of Common Interest — winners of THE DESIGN PRIZE 2021 for Experimentation — present CHRONOS at Design Miami's Curio exhibition platform, curated by Milan-based design agency Mr.Lawrence. The team at OoCI writes: 'The time we dedicate to any object – its use, its contemplation – could be considered the measure of its effectiveness.
'The project CHRONOS requires time to activate a perception that is fully here and now. The opalescent material interacts with the slightest variations of light and colors, and with the soft movements of the draping. Aristotle treated time as a measure of motion. Motions of things, motions of human beings.'
November 30th — December 4th
Design Miami/ Convention Center Drive & 19th Street, Miami Beach
'The Art of Dreams' by Chris Labrooy with Porsche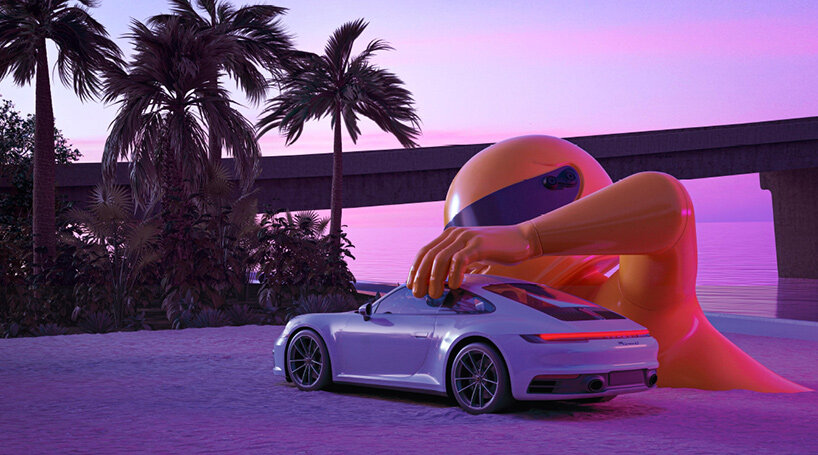 image courtesy Porsche
During Miami Art Week, Porsche presents an immersive installation, 'Dream Big,' by Scottish artist Chris Labrooy. The initiative illuminates the topic of dreams with temporary works of art in major cultural centers. Labrooy's sculpture addresses the child in every one of us and challenges beholders to dream big. It forms a physical anchor point to a project by Porsche in the virtual world that will be presented in the near future. 'Dream Big.' can be viewed at the beach of the Pérez Art Museum Miami (PAMM).
The centerpiece of 'Dream Big.' is a white Porsche 911 Carrera. In the hand of a larger-than-life figure with a racing driver's helmet, the Coupé looks like a toy car. The artwork is an homage to the dreams of childhood. With a playful tone, the installation is intended to inspire the beholder to wonder where their dreams will take them next.
Digital artist and Porsche fan Chris Labrooy first created 'Dream Big.' via CGL and then transferred it into reality. The artwork is a reference to a Porsche project in the virtual world that will be unveiled in the near future.
November 29th — December 3rd | 11am — 6pm
Tom Sachs Rocket Factory: Final Frontier powered by Mona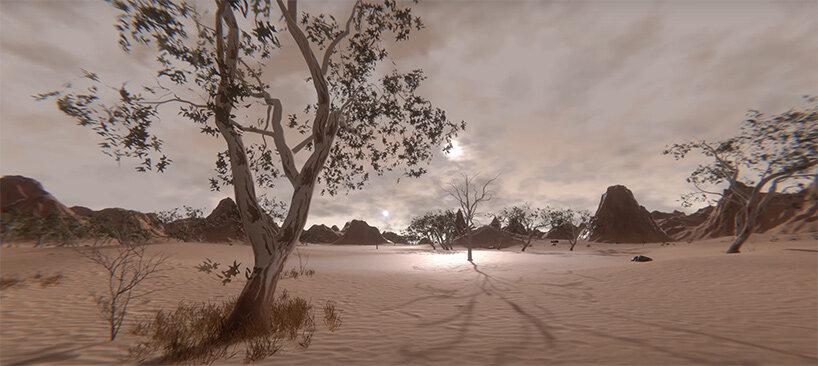 Tom Sachs Rocket Factory: Final Frontier
A Tom Sachs Rocket Factory special announcement and screening will take place at the Frost Science Planetarium with Americana NFT. Tom Sachs' studio will celebrate the announcement of the 'Final Frontier,' a new stand-alone NFT collection. The collection forms a Galaxy of eleven-thousand unique 3D spaces, hosted on the Mona platform. The 'Final Frontier' is the largest activation on Mona to date, created by world renowned contemporary artist Tom Sachs. This installation will set a premium case study for brands and artists looking to activate in the metaverse.
December 2nd, 2022 from 4pm — 6pm EST
Frost Science Planetarium, 1101 Biscayne Blvd.
The Gateway: A Web3 Metropolis by Pace Verso and Art Blocks
Pace Verso, the gallery's web3 hub, teams with generative art platform Art Blocks to present a one-day exhibition of NFT projects from their partnership. Web3 projects by Tara Donovan, John Gerrard, and Loie Hollowell, have been released this year the partnership, and will be exhibited in 'The Gateway: A Web3 Metropolis,' a sprawling NFT event in Downtown Miami spanning twelve buildings and two city blocks organized by the digital platform nft now and running concurrently with Art Basel Miami Beach.
This showing of NFT projects from the Art Blocks x Pace Verso partnership, which encompasses NFT releases, exhibitions, and community programming, will be presented during Art Blocks's week-long immersive activation in The Gateway: A Web3 Metropolis.
November 29th to December 3rd
50 NE 2nd Ave.
Living Room by Random International, presented by Aorist and Faena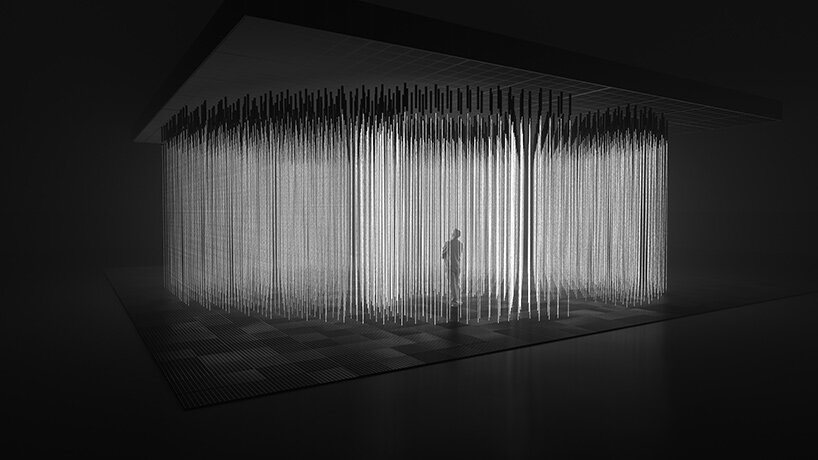 Random International, Living Room, runs November 29th until December 4th 2022, Aorist and Faena, Miami
Miami Art Week sees the premier of a newly commissioned experiential installation 'Living Room' by globally acclaimed collective Random International, commissioned by Aorist and in partnership with Faena Art.
The work continues their exploration of the impact of technological development on the human condition, utilizing Web3 to push the boundaries of immersive and experiential art. Pioneers of experiential art, Random International's new immersive light-based installation Living Room marks a shift from the iconic Rain Room, by also incorporating blockchain technology to revolutionize how visitors experience and collect art. Each visitor will be offered the chance to acquire a unique NFT linked to their experience moving within the Living Room located in a purpose-built pavilion at Faena Beach.
November 29th — December 4th
Faena Beach, Miami
Lexus & Suchi Reddy at Institute of Contemporary Art (ICA) Miami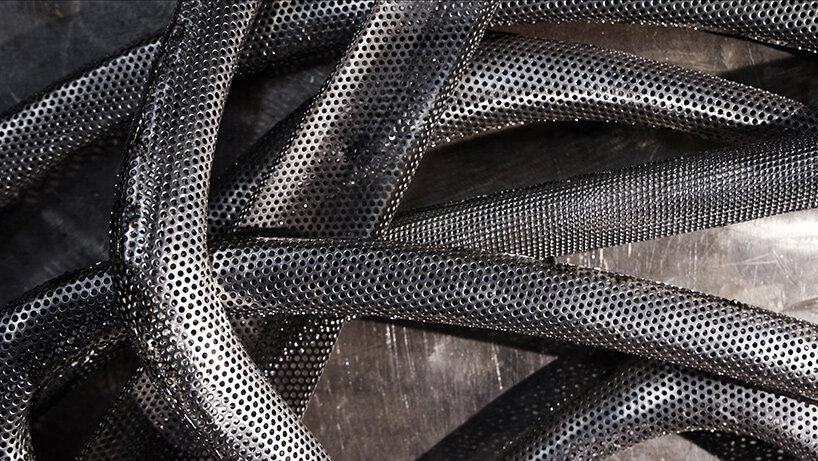 fabrication process | image © Steve Benisty
Lexus partners with ICA Miami and Suchi Reddy to present new installation, 'Shaped by Air.' The work will be installed in ICA Miami's sculpture garden and will showcase Lexus and Reddy's commitment to sustainability, high-quality craftsmanship, and human-centric design. The installation will envision the Lexus Electrified Sport as being sculpted by mist and light while illustrating its harmony with its environment.
November 30th — December 11th
Institute of Contemporary Art Miami (ICA Miami), 61 NE 41st Street, Miami
Future Transmutation by Pilar Zeta at W South Beach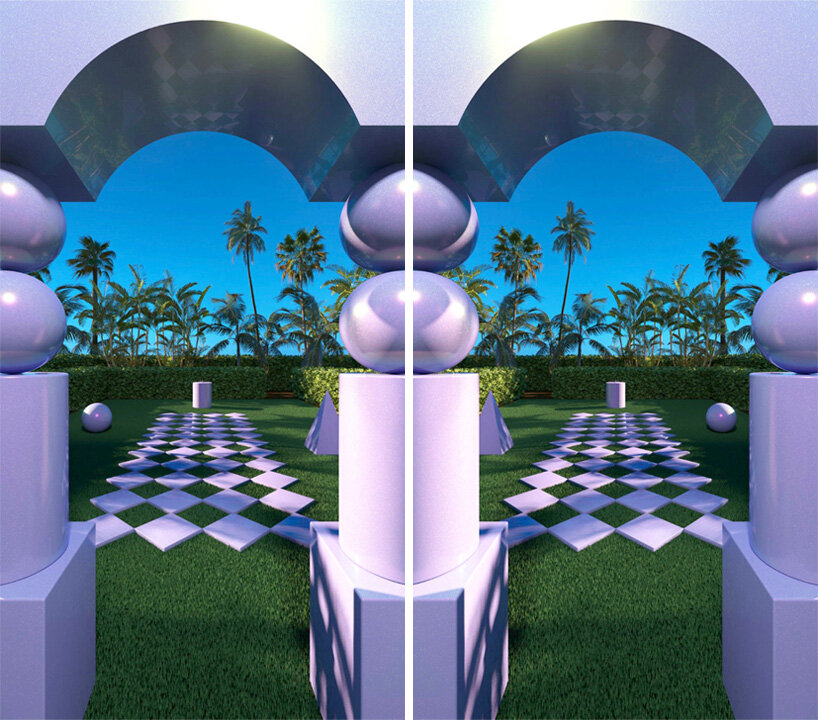 Future Transmutation by Pilar Zeta at W South Beach
Oceanside at W South Beach, art goers can witness a celebration of freedom and feminine power through 'Future Transmutation', an interactive sculptural garden installation by Pilar Zeta. A violet-hued altar leads visitors towards a portal, at the same time symbolizing the passage of time and prompting self-reflection and transformation. 'An Amphibious Love Affair by Miranda Makaroff creatively interrupts to further visitors' self-discovery. The collection is led by W Hotels x Mambo Creatives.
A 'phygital world' is also created beachside at the W South Beach hotel. 'Art Meets Web3 Bungalow' by Polygon offers an immersive, art-forward mecca for internet discovery. Visitors can experience a fusion of design, lifestyle and technology, both digital and physical, with installations by MokiBaby, OffLimits, Spatial Labs, LNQ and Prism Collective.
November 30th — December 4th | 9am — 10pm
WET Deck and LAWN at W South Beach; 2201 Collins Avenue, Miami Beach
SEX by Madonna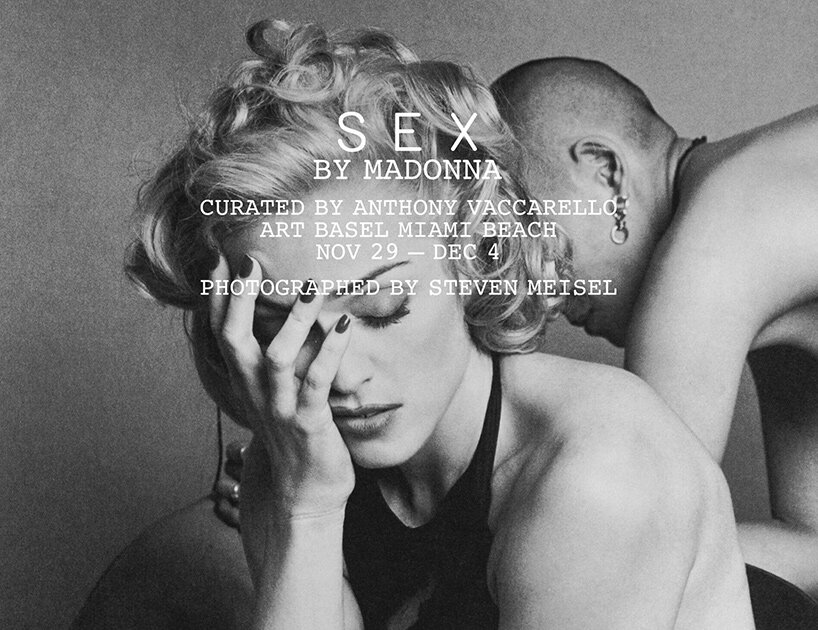 image courtesy Saint Laurent
Saint Laurent returns to Art Basel Miami Beach with an exhibition planned and curated by Madonna and Anthony Vaccarello, to celebrate the re-edition by Rive Droite of Madonna's groundbreaking book 'Sex.' With imagery by Steven Meisel as well as written text by Madonna, the book had become a controversial sensation around the globe due to its erotic content and liberated views of sexual self-expression.
To mark the book's lasting impact and special anniversary, Madonna and Anthony Vaccarello have revived its contents for the first time ever in the context of an ephemeral exhibition. The photographs by Steven Meisel will be on view in a temporary beachfront box built especially for the occasion. Saint Laurent's bespoke re-issue of the book is limited to 800 copies published by Callaway, New York, and will be available starting November 29th.
November 29th — December 4th | 10 am –- 7 pm
Beachfront at 17th street (free public access, 18 years or older)
BETA FISH by Daata and Good to Know.FYI
Daata, the groundbreaking digital art incubator that curates, commissions, and sells all forms of digital art, is announces a collaboration with Good to Know.FYI, a curatorial collective focused on creating site-responsive exhibitions in unique satellite locations. Together, they will take over Beaches Bar & Grill, a dive bar in Miami, to develop a curated screening that will coincide with Miami Art Week.
The takeover, known as BETA FISH, will showcase video works by a number of digital artists, whose video work will be displayed on one of ten television screens throughout the restaurant. The works will be grouped together by various themes including self & society, self in nature, nature into metaverse, and political and historical colonization. See designboom's recent interview with Daata here!
November 30th — December 4th, 2022 | 3pm until late
Beaches Bar and Grill, 4299 Collins Ave, Miami Beach
Airbnb and Nasdaq team with Typoe + Laura de la Vega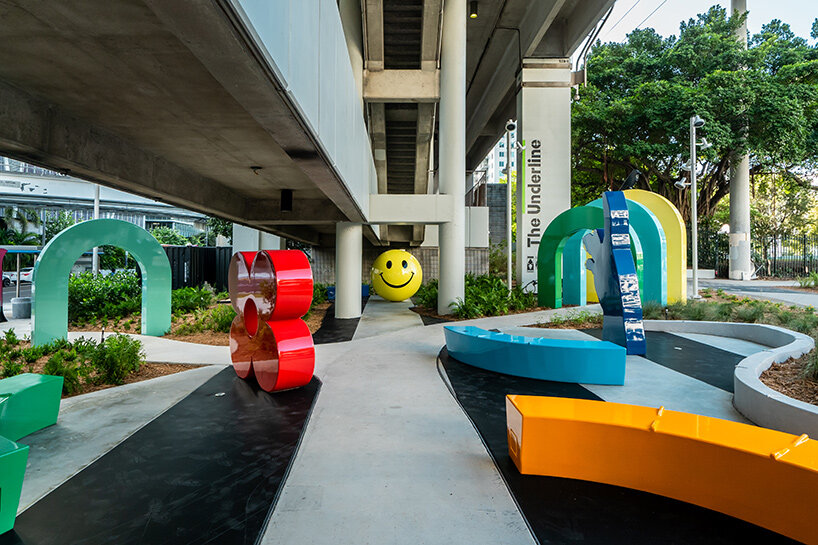 image © Defy Culture
Airbnb and Nasdaq have teamed up with beloved local Miami artists Typoe and Laura de la Vega to create a new public sculpture garden on The Underline to serve as a living, breathing space for connection and belonging. The permanent public art installation will be located at The Underline in Brickell, Miami's financial district, and will transform a section of the ten-mile linear park into a vibrant and surreal gathering area. The two artists weave together modern architecture, outdoor furniture, and larger-than-life sculpture to create an interactive community space.
'El fin de la imaginación' at The Bass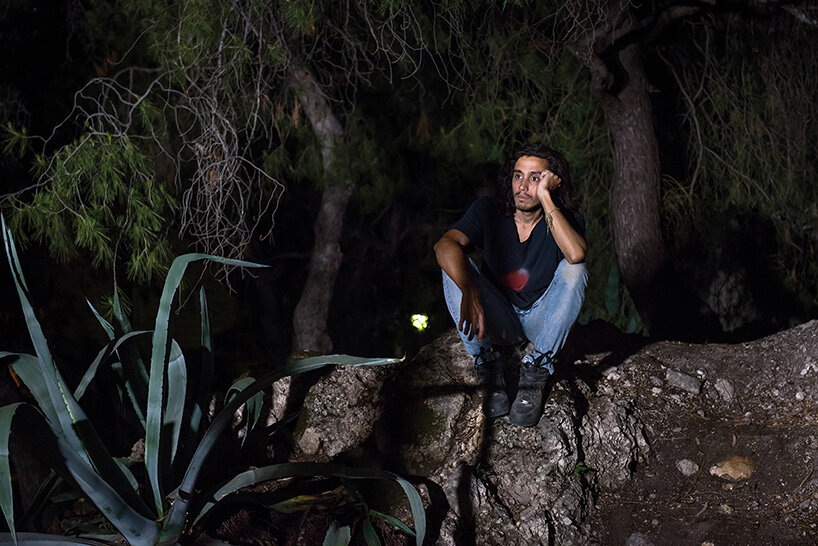 image courtesy The Bass
Miami's contemporary art museum The Bass presents a large-scale, site specific exhibition titled 'El fin de la imaginación,' which showcases an environment of works by Adrián Villar Rojas with Mariana Telleria.
El fin de la imaginación (The End of Imagination) includes newly commissioned sculptural and installation works, as well as older work re-contextualized by Villar Rojas. Known for materially rich installations, the artist transforms spaces by creating immersive environments and experiences, inviting viewers to be explorers of the unpredictable microcosmos in his design while probing existential questions relating to the temporality of humanity and the ephemerality of nature.
November 27th, 2022 — May 14th, 2023
The Bass, 2100 Collins Avenue, Miami Beach
Craig Robins Collection: Two of the Same Kind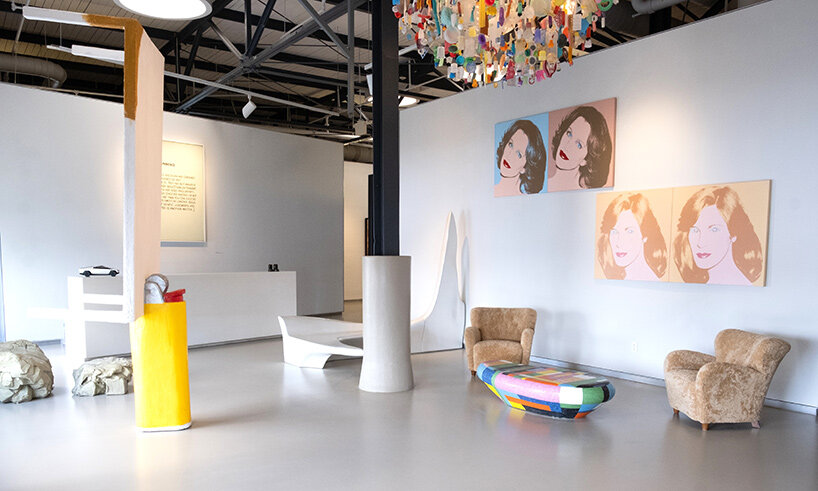 Craig Robins Collection, exhibition view
The Craig Robins Collection consists of contemporary art and innovative design, displaying within the Miami Design District headquarters of DACRA and rotating on a bi-annual basis. This year, "Two of The Same Kind" highlights the work of Marlene Dumas and Jana Euler, two artists whose painting and drawing practices are broadly represented in the Collection holdings.
The theme of dualism threads through two portraits by pop icon Andy Warhol, both commissioned decades ago by Craig Robin's mother and Jackie Soffer's mother separately, acting as a spectacular coincidence. The multifaceted Collection also features design pieces by the recently acquired Sasha Gordon and by established favorites such as Zaha Hadid, Jean Prouvé, Marc Newson and Maarten Baas.
November 30th — onward | 10am — 12pm
DACRA Headquarters, 3841 NE 2nd Ave.
ESTUARY by Rafael Domenech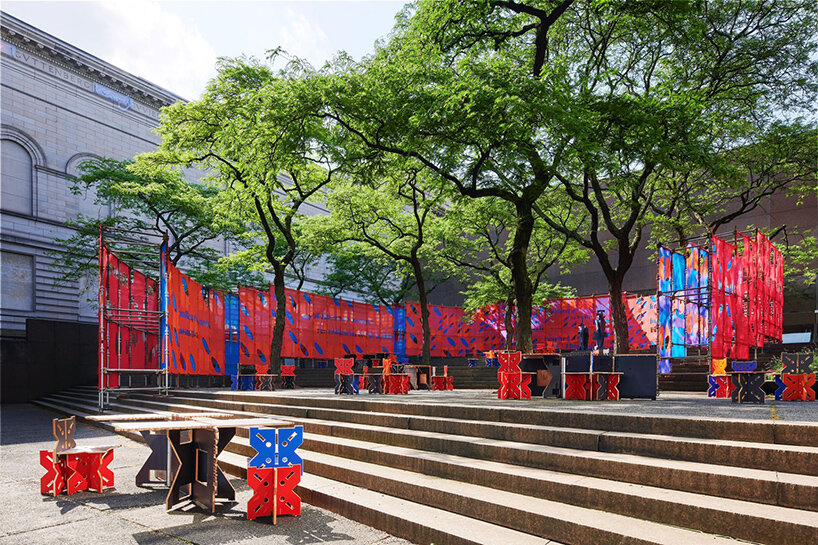 'Estuary' Pavilion by Rafael Domenech
The Museum of Art and Design (MOAD) at Miami Dade College (MDC) presents the 'Estuary' pavilion, a work by Cuban American artist Rafael Domenech, during the 39th Miami Book Fair at MDC Wolfson Campus in downtown Miami.
Commissioned by MOAD, it functions on multiple levels– as a public sculpture, a reflection on the written word, a platform for live performances and public gatherings, and a meditative environment. It is made from everyday construction materials, such as aluminum framing, and can mutate into a variety of distinct spatial configurations. Large panels or 'pages' of construction mesh feature laser-cut texts that will change throughout the duration of the project.
November 18th, 2022 — January 2023
Wolfson Campus, Kyriakides Plaza, 300 N.E. 2nd Ave.
GAGOSIAN & JEFFERY DEITCH | 100 YEARS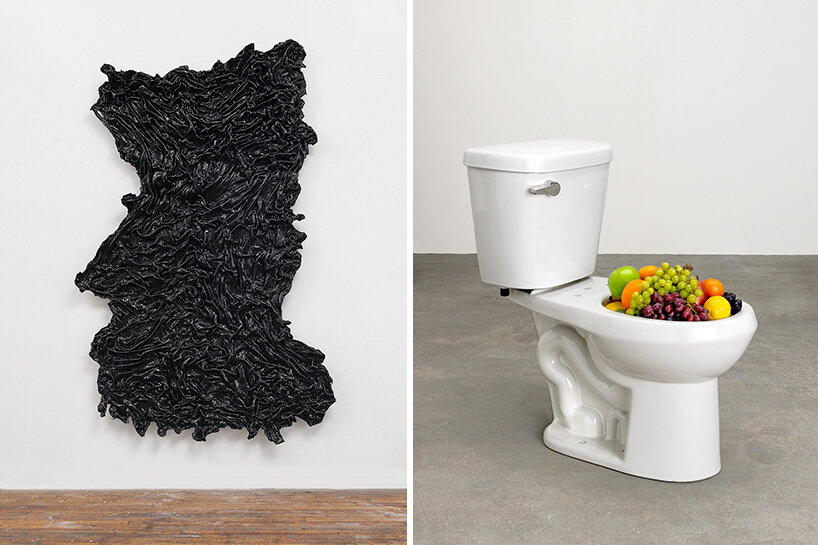 exhibition view courtesy Gagosian
Gagosian announces '100 Years,' the seventh group exhibition — including an online incarnation in 2020 — organized by Gagosian in collaboration with Jeffrey Deitch in Miami's Design District during Miami Art Week. 100 Years — on view at the historic Buick Building — explores the interplay of past, present, and future through works by contemporary artists who are in dialogue with the sweeping cultural and environmental changes of the past century — as well as those who anticipate future possibilities.
The contributors to 100 Years, who include Refik Anadol, Theaster Gates, Douglas Gordon, Urs Fischer, Tom Friedman, Austin Lee, Jamian Juliano Villani, Rick Lowe, Keiichi Tanaami, and Taryn Simon, among others, recognize the critical nature of the titular period, sloughing off a sense of weariness with time itself to consider past and future with new optimism.
November 28th — December 4th | Monday 5pm – 8pm; Tuesday – Saturday 10am – 8pm; Sunday 10am – 6pm
Buick Building NE 2nd Ave
MODULAR IMAGINATION by Virgil Abloh X Cassina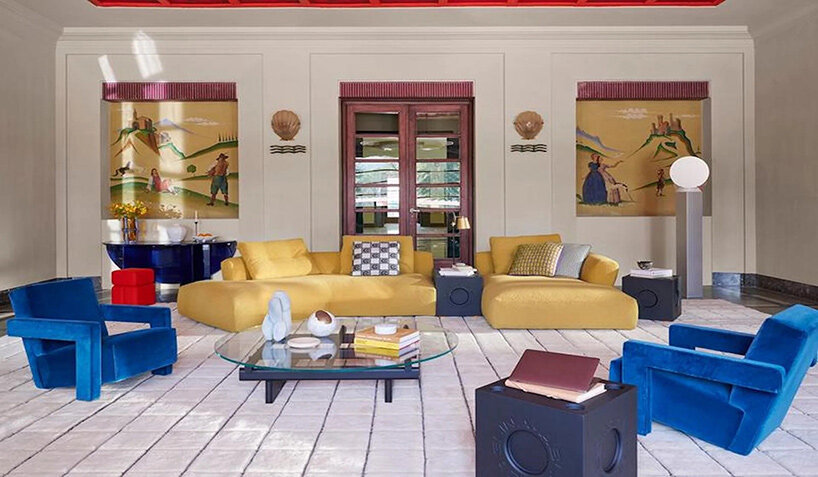 image courtesy
The late Virgil Abloh worked side by side with Cassina to envision Modular Imagination, a unique project that both questions and develops the design implications of modularity. Composed of two different-sized building blocks, Modular Imagination is an open invitation to participate in configuring space and building new worlds.
Visitors are invited to explore the collection at Miami's Luminaire Lab alongside a reimagined showroom displaying the Cassina Perspective. The event is part of Luminaire Wonderland, a series of five distinct events held during Art Week Miami in the Design District, Coral Gables, and virtually.
December 1, 2022 | 6pm — 9pm
Luminaire Lab, 3901 NE 2nd Ave.
USM NYC by Ben Ganz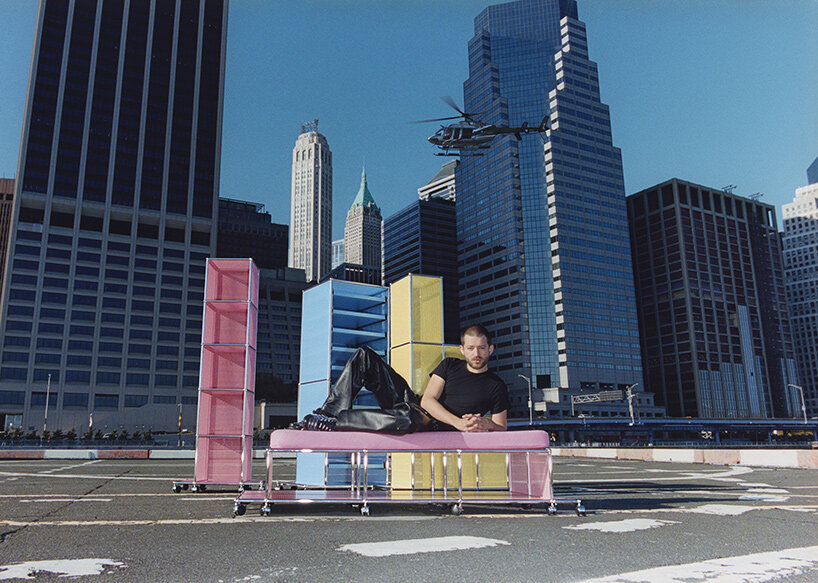 USM NYC by Ben Ganz
Swiss-born designer Ben Ganz announces USM NYC by Ben Ganz, a special collaboration between Swiss manufacturer USM Modular Furniture and New York-based design platform PIN–UP HOME. The collection is a limited edition of USM storage objects conceptualized by Ganz; a first-of-its-kind multiple piece collection released by USM in collaboration with an independent designer.
Consisting of six unique configurations, each object is inspired by New York's urban design typology and available in three limited edition powder-coated steel colors: UPTOWN BLUE, SOHO YELLOW and DOWNTOWN PINK, all in a matte-finish.
November 29th — December 4th
Design Miami/, Convention Center Drive & 19th Street, Miami Beach
PAMM Presents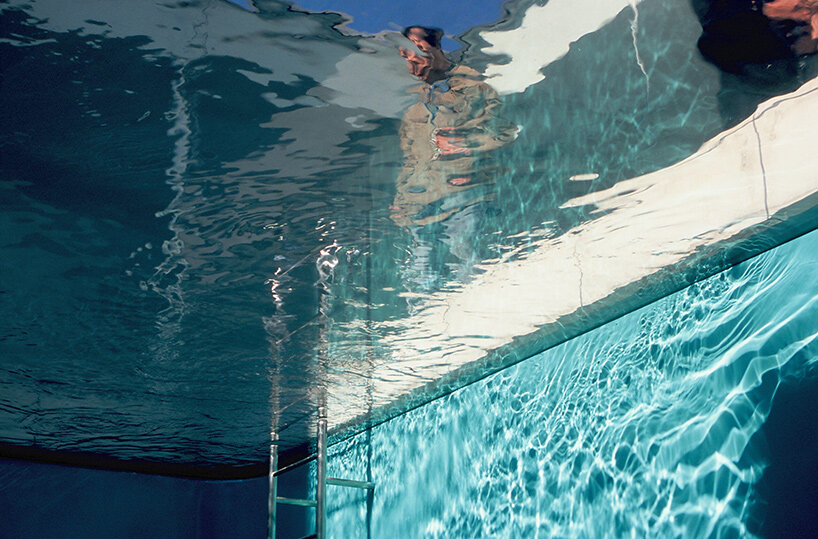 Leandro Erlich, Swimming Pool, 1999. installation view | image © Noriko Inomoto
Pérez Art Museum Miami (PAMM) will present the first monographic survey exhibition of Leandro Erlich's work in North America, under the title Leandro Erlich: Liminal. Selected and arranged by New York-based guest curator Dan Cameron, the exhibition will present sixteen works that span more than two decades of Erlich's production. Arranged throughout PAMM's special exhibition galleries, the exhibition has been designed to suggest an underlying narrative story line, leading viewers through a series of encounters that act cumulatively to introduce doubt about their own sensorial input about the spaces around them.
November 29th, 2022 — September 4th, 2022
The Rubell Museum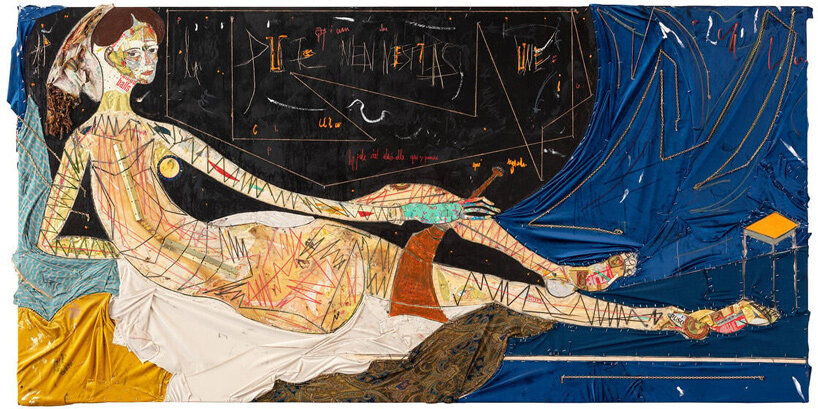 the new exhibition will highlight works by artist-in-residence Alexandre Diop
The Rubell Museum in Miami announces a slate of new exhibitions opening during Miami Art Week 2022, highlighting work by the Museum's Knight Foundation-supported 2022 artist-in-residence Alexandre Diop, as well as solo exhibitions by artists including Patricia Ayres, Doron Langberg, Jared McGriff, Jo Messer, Clayton Schiff, and Tesfaye Urgessa.
Also on view will be the Museum's collection highlights, drawn from the Rubell Family's expansive collection of contemporary art and featuring works by Jean-Michel Basquiat, Keith Haring, Jammie Holmes, Yayoi Kusama, Yoshitomo Nara, Sterling Ruby, and Kennedy Yanko among others.
The Wolfsonian: Turn the Beat Around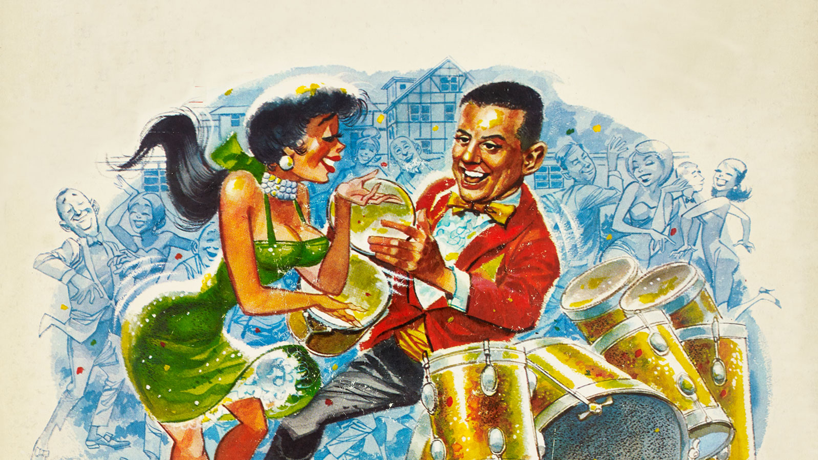 image courtesy of The Wolfsonian
Rumba, conga, and Afro-Cuban jazz. Mambo, cha-cha-cha, and salsa. Cuba's rich and diverse culture delighted American audiences in the 20th century. From tourist-packed Havana cabarets, to New York City dance halls, to the silver screen of Hollywood films, Afro-Cuban rhythms surged in popularity between the 1930s and '60s, rewriting the history of American music and dance. American jazz and big band swing, in turn, greatly influenced music in Cuba, where new hybrid genres added polyrhythmic African elements to the mix.
'Turn the Beat Around' at The Wolfsonian replays this artistic exchange, illustrating how musicians of both nations produced new musical forms by riffing off their neighbors. Showcasing posters, record and sheet music covers, film clips, and audio from the era, the exhibition charts the explosion of collaborative creativity driven by Hollywood musicals, American dance studios, and Cuban performers, bringing to life the musical fusion found between cultures.
October 28, 2022–April 30, 2023
The Wolfsonian–FIU @ 1001 Washington Avenue
WYNWOOD AREA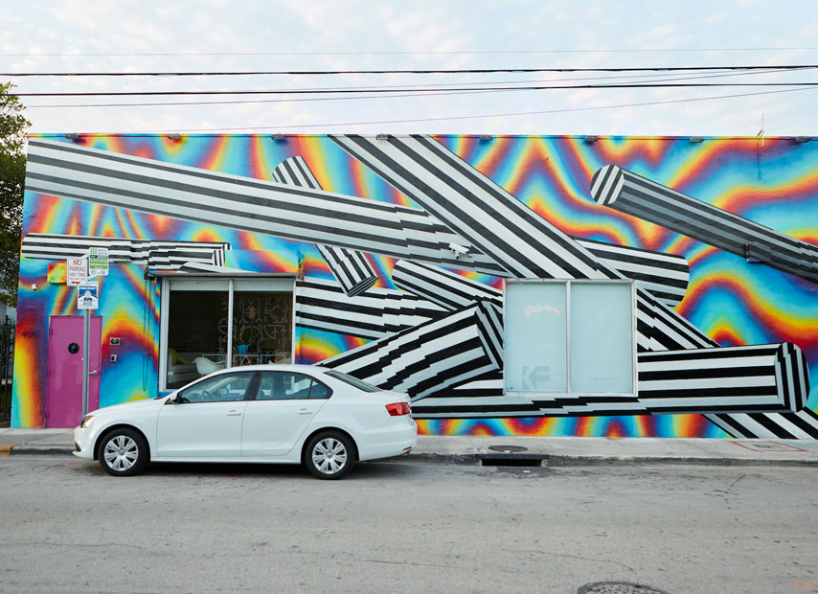 Felipe Pantone mural, courtesy of Wynwood Miami
Wynwood is home to the highest concentration of street art in the country. Each year, new, larger-than-life masterpieces by international muralists pop up around the area. On the occasion of Miami Art Week 2022 and until December 31, Wynwood Walls showcases new works by artists from around the world.
THE FAIRS
ART BASEL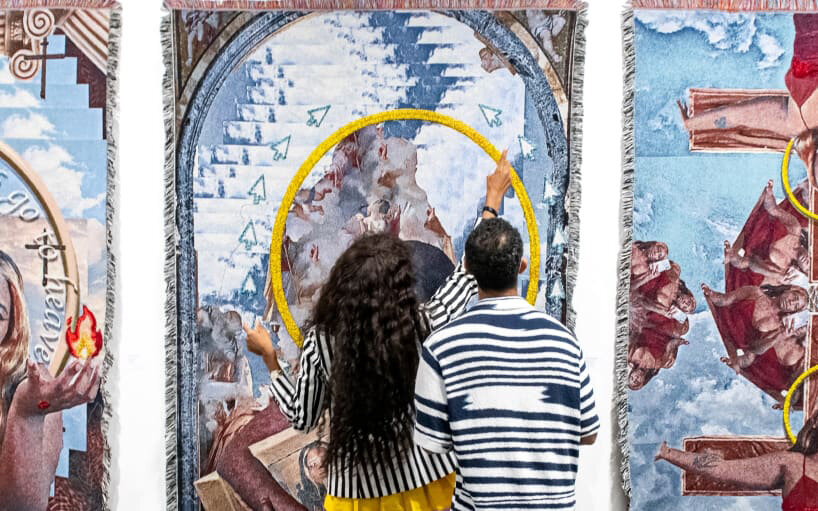 image courtesy Art Basel
The 2022 edition of Art Basel Miami Beach will see leading galleries from five continents show significant works by masters of Modern and contemporary art, as well as the new generation of emerging stars.
Tickets available here
Address: Miami Beach Convention Center, 1901 Convention Center Drive, Miami Beach
Public show days:
Thursday, December 1, 2022, 11am to 7pm
Friday, December 2, 2022, 11am to 7pm
Saturday, December 3, 2022, 11am to 6pm
DESIGN MIAMI/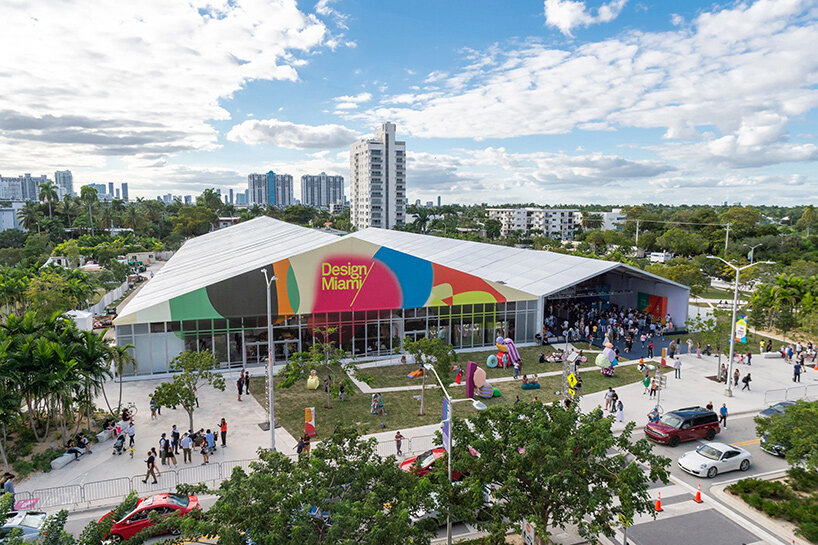 image courtesy Design Miami/
Design Miami/ is the global forum for design. Each fair brings together the most influential collectors, gallerists, designers, curators and critics from around the world in celebration of design culture and commerce. Occurring alongside the Art Basel fairs in Miami (each December), and Basel, Switzerland (each June), Design Miami/ has become a premier venue for collecting, exhibiting, discussing and creating collectible design. Design Miami/ returns to Miami beach for the 18th edition of Design Miami/.
Tickets available here
Address: Convention Center Drive & 19th Street, Miami Beach
Public show days:
Wednesday, November 30th | 1pm–7pm
Thursday, December 1st | 11am–7pm
Friday, December 2nd | 12pm–7pm
Saturday, December 3rd | 12pm–7pm
Sunday, December 4th | 12pm–6pm
UNTITLED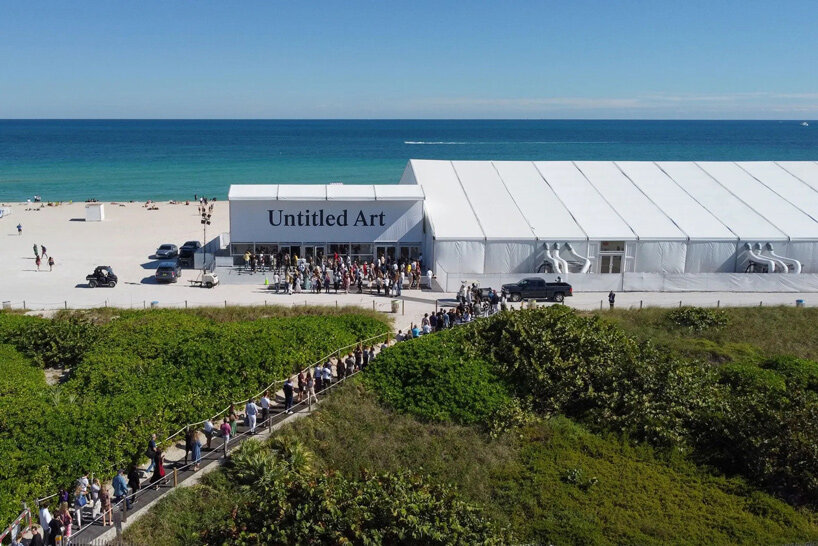 image courtesy Untitled
This year marks the 11th edition of Untitled Art Miami Beach, an independent art fair which takes place annually on the sands of Miami Beach. Guided by a mission to support the wider art ecosystem, Untitled Art offers an inclusive and collaborative platform for discovering contemporary art by emerging artists and historical figures.
Tickets available here
Address: 12th Street and Ocean Drive, Miami Beach
Public show days: November 29th — December 3rd | 11am — 7pm
SCOPE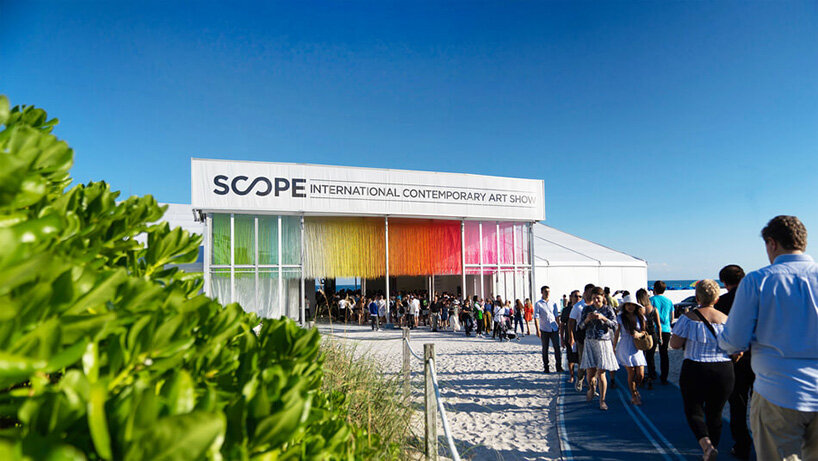 image courtesy SCOPE
Celebrating its 21st year in Miami, SCOPE Miami Beach returns to its bespoke pavilion on the sands of Ocean Drive and 8th Street. Honoring its perpetual mission to provide a platform for experiential innovation and discovery, SCOPE will welcome over 150 diverse contemporary exhibitors featuring the new contemporary, a genre that stands as a critical contribution to both global politics and local community engagement. Originally named the SCOPE foundation, the new contemporary presents daily programming amongst large-scale installations that bend, blend, and transcend genre.
Address: 801 Ocean Drive, Miami Beach
Public show days: November 30th — December 4th | 11am — 8pm
PRIZM 2022 CONTEMPORARY AFRICAN ART FAIR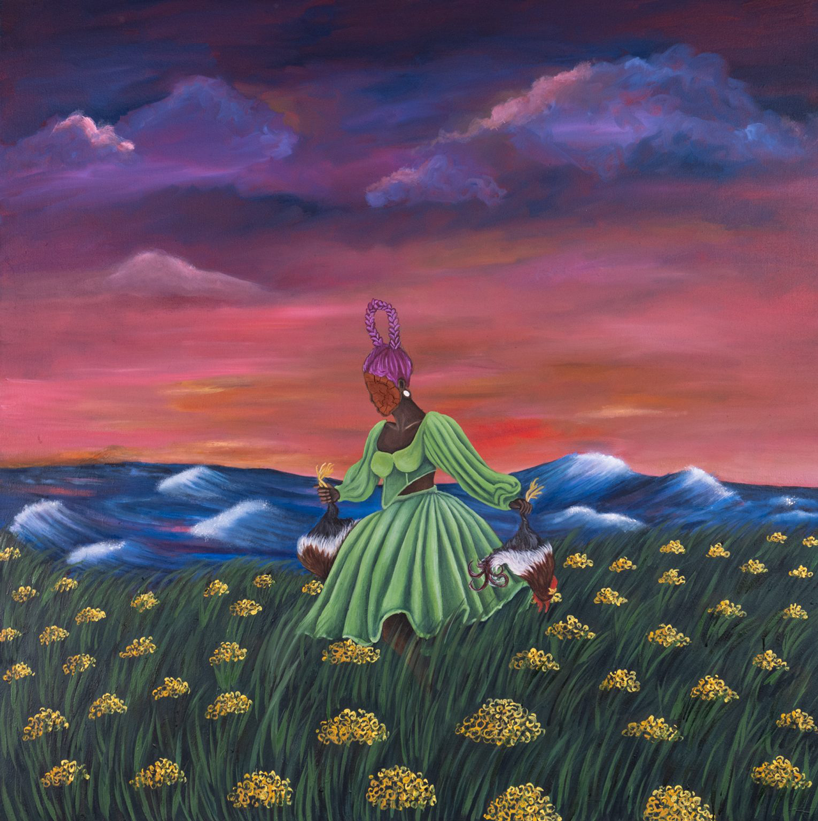 image courtesy of Prizm
To celebrate its 10th Anniversary year, Prizm presents Vernacular À la Mode, exploring how vernacular modes of artmaking originating in global African contexts have influenced the cultivation of fine art practice worldwide.
Address: Design District | 4220 N. Miami Ave
Public show days: November 29 – December 11
KEEP UP WITH OUR DAILY AND WEEKLY NEWSLETTERS
happening now! discover how effe perfect wellness merges tradition with modern design to bring the total relaxation experience of saunas and hammams into use in private homes.
a diverse digital database that acts as a valuable guide in gaining insight and information about a product directly from the manufacturer, and serves as a rich reference point in developing a project or scheme.
designboom will always be there for you
milan, new york, beijing, tokyo

,
since 1999