dec 06, 2012
mike and doug starn: big bambu at MACRO in rome for ENEL contemporanea
mike and doug starn: big bambu at MACRO in rome for ENEL contemporaneaall images © mike and doug starn
for the fiftieth anniversary of energy firm ENEL company and the city of rome, american artists mike and doug starn have built a version of their renowned 'big bambu' structure as part of the annual ENEL contemporanea art initiative. the bamboo 'architecture sculptures' are able to transform locations radically – with this most recent iteration being permanently installed at the MACRO museum in the testaccio district in rome, opening to the public on december 10th, 2012. the scaffolding-like sculpture will eventually rise to 25 to 33 meters to become an iconic symbol for the flourishing neighbourhood located within the city's former stockyards.
the project required the efforts of 15 american and 10 italian rock climbers
the project required the efforts of 15 american and 10 italian rock climbers, building an elevated performance space stage integrated within the framework, and able accommodate about 50 people. a double helix stair and various labyrinth paths lead the visitors up over two 'living rooms' to allow 80 to 120 visitors at a time to wander freely. the thousands of bamboo rods are connected and interlocked with a traditional method generating the chaotic network-like form – the unpredictable intersection of bamboo offering a playful elements well as an expression of the diversity of life, imagination and human creativity.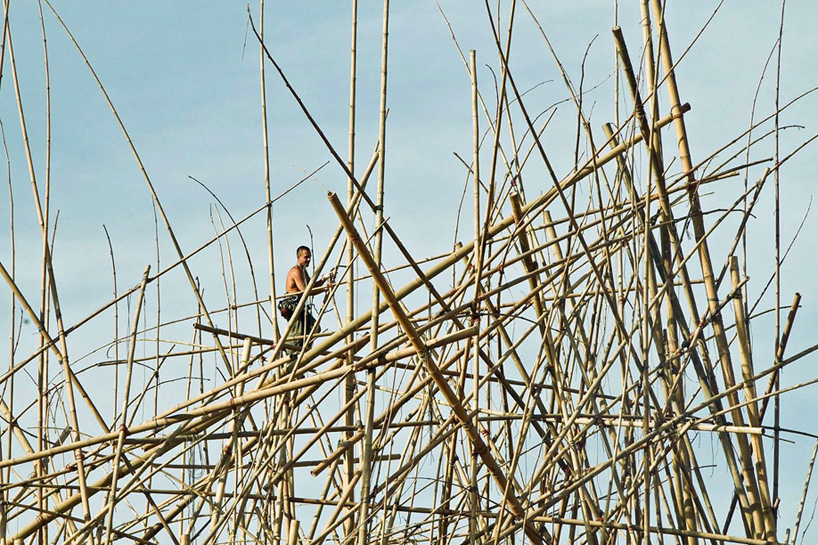 construction progress
the ENEL contemporanea, now in its sixth year, is a public art project that was started in 2007 to promote artistic reflection on energy. the aim of the award is to stimulate public opinion on a highly topical theme – the use of energy in its various articulations as a sustainable and renewable source.
up close of the bamboo and rope structure
the project was selected under the artistic direction of francesco bonami who says of the piece:
'through this work, the starn brothers have shown that it is possible to create one of the very few pieces of contemporary art that despite being presented as a sculpture embraces organics and life and demonstrates the ability to draw in the spectator and englobe the viewer as an integrating part of the process…these sculptures, albeit of enormous dimensions, are in no danger of expressing neither monumentality nor self-celebration. the series in bamboo is in reality an 'anti-monument' that lauds the creative process and conviviality… a 'magical' piece of architecture and sculpture that answers to the individual's culture rather than a collective one despite being the fruit of a collective effort…it is not a piece that can be banally termed ecological. it is biological. from its conception to its realization to ultimately its fruition, this piece has always been alive.'
working within the network of bamboo
detail of the binding system
view from the ground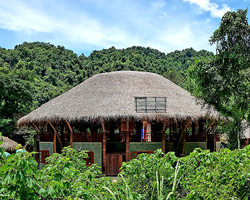 jul 12, 2017
jul 12, 2017
jun 21, 2017
jun 21, 2017
jun 14, 2017
jun 14, 2017
jun 17, 2014
jun 17, 2014
jun 06, 2011
jun 06, 2011
may 19, 2010
may 19, 2010
sep 05, 2011
sep 05, 2011
jun 06, 2011
jun 06, 2011
jan 07, 2011
jan 07, 2011