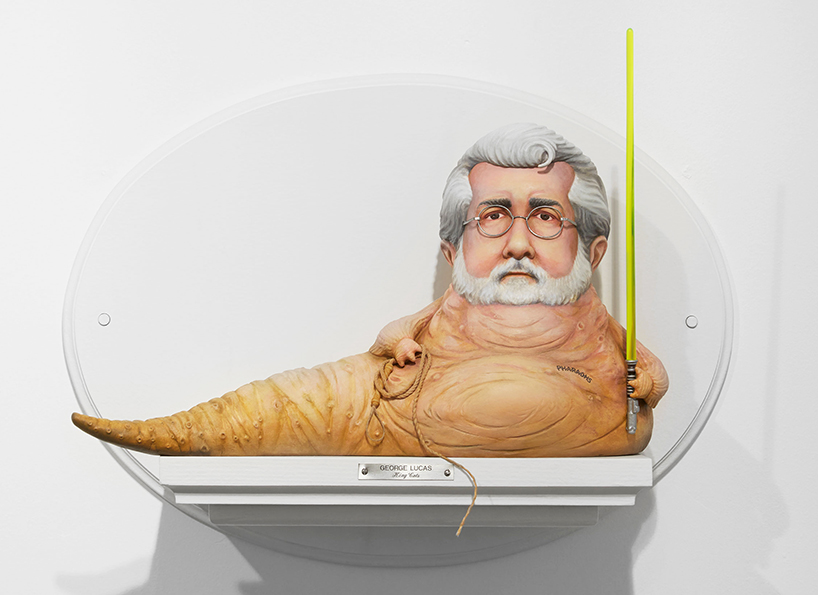 jun 05, 2016
mike leavitt's satirical sculptures blend famous film directors with their characters
mike leavitt's satirical sculptures blend famous film directors with their characters
(above) george lucas, 2016 | hand-carved western red cedar, yellow cedar and acrylic paint | 18 inches (45.7 cm)
all images courtesy of jonathan levine gallery
mike leavitt: king cuts
jonathan levine gallery, new york
now through june 11, 2016
the lives of many great film directors are undoubtedly consumed by their work, intertwined with the stories, characters and settings they seek to convey. as a visual representation of these conditions, seattle-based artist mike leavitt turns some of the most well-known directors into satirical sculptures, blending their physical attributes with features reminiscent of their most-recognizable movie personalities. from now until june 11, new york's jonathan levine gallery presents a solo exhibition of the pieces titled 'king cuts', highlighting sixteen of leavitt's hybrid-human sculptures. 

detail of 'george lucas' 
at 18 inches tall, sculpted at one quarter inch scale, figures like spike lee, quentin tarantino, and wes anderson are carved from a single block of wood. the clever mashups see these directors physically consumed by their greatest hits — alfred hitchcock assumes the form of a bird, george lucas is turned into jabba the hutt, and steven spielberg is placed on the body of E.T. 
'I love movies and I love art,' leavitt says. 'the magic overwhelms me. moviemakers are consumed by their work, similar to the way my own work overtakes my life. whether a block of wood, a scene ending or film reel edit, every cut takes conviction. directors endure pain tending to the light of photography, the story's tension, the limits of money and the sacrifices to their vision. trust in that vision is so powerful that they relinquish their anatomy. that's why I sculpted their bodies physically devoured by their work.'

martin scorsese, 2016 | hand-carved western red cedar, fimo, sculpey polymer clay and acrylic paint | 18 inches (45.7 cm)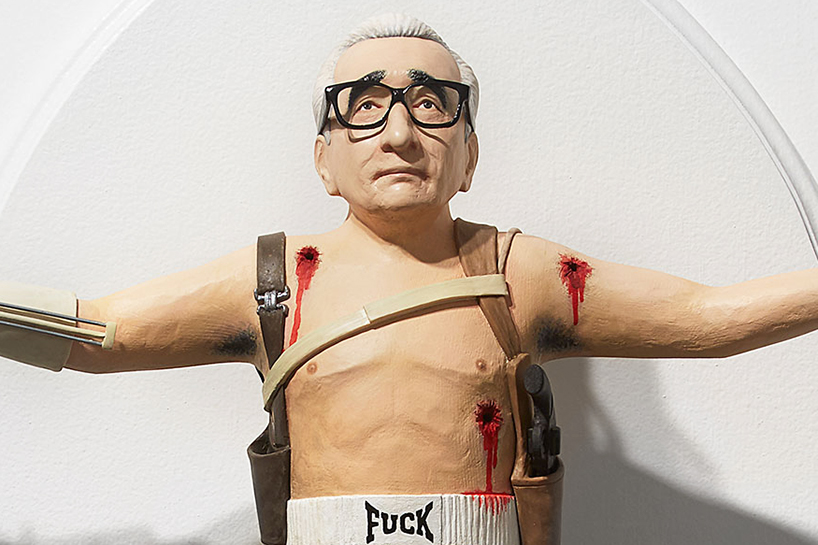 detail of 'martin scorsese' 

steven spielberg, 2016 | hand-carved western red cedar and acrylic paint | 18 inches (45.7 cm)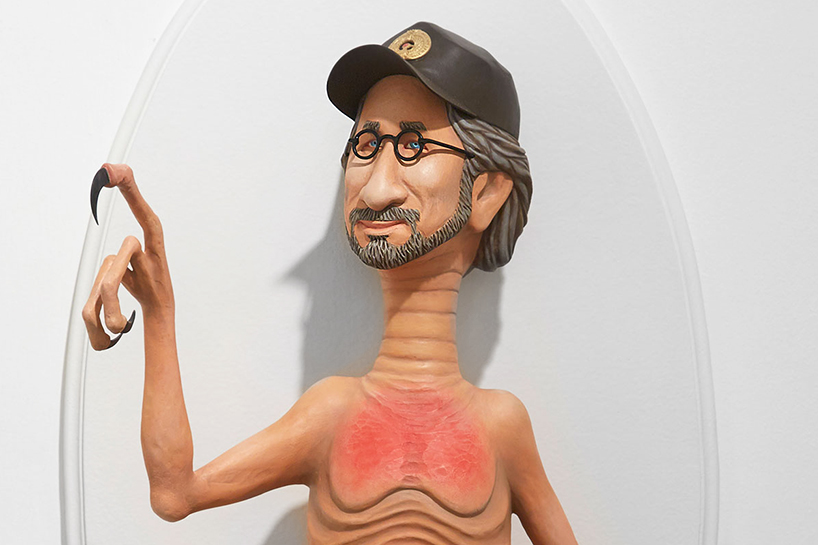 detail of 'steven spielberg' 

quentin tarantino, 2016 | hand-carved western red cedar, white pine, fimo, sculpey polymer clay and acrylic paint | 18 inches (45.7 cm)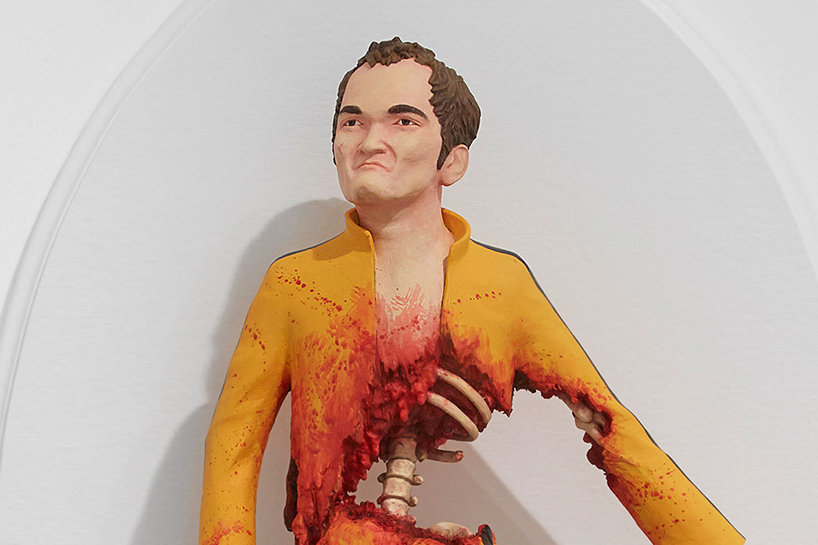 detail of 'quentin tarantino'

wes anderson, 2016 | hand-carved western red cedar, fimo, sculpey polymer clay and acrylic paint | 18 inches (45.7 cm)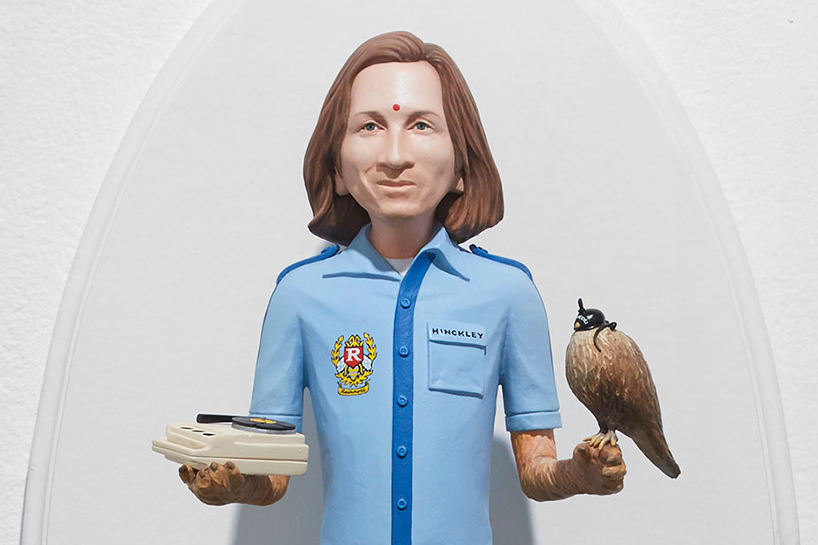 detail of 'wes anderson'

tim burton, 2016 | hand-carved western red cedar, white pine, basswood, fimo, sculpey polymer clay and acrylic paint | 18 inches (45.7 cm) 

detail of 'tim burton' 

hayao miyazaki, 2016 | hand-carved western red cedar and acrylic paint | 18 inches (45.7 cm)

detail of 'hayao miyazaki'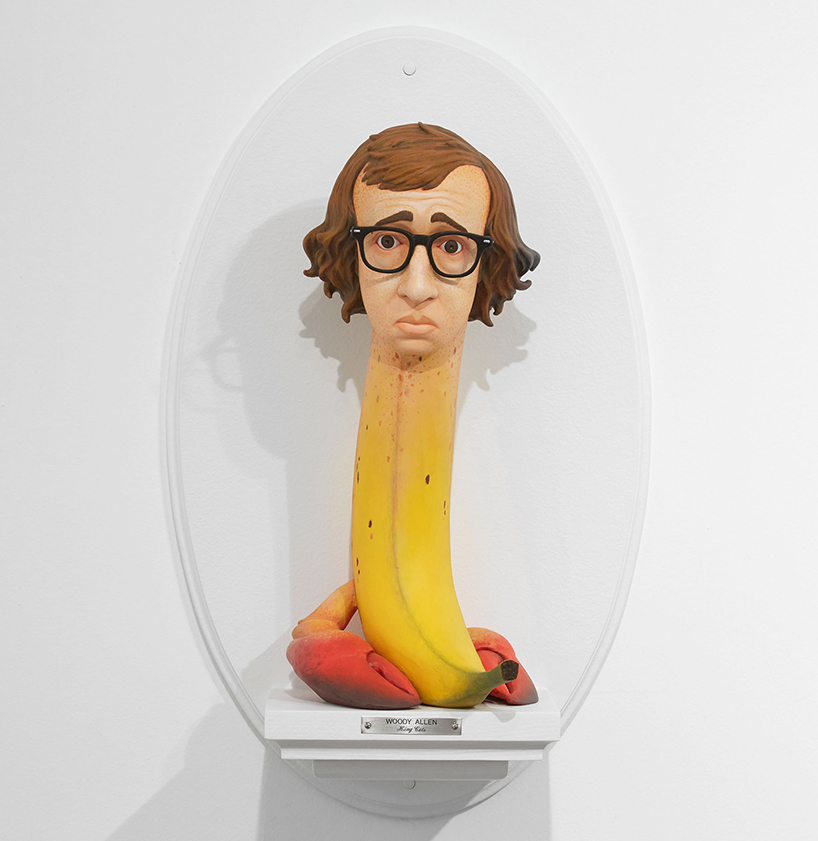 woody allen, 2016 | hand-carved western red cedar and acrylic paint | 18 inches (45.7 cm) 

detail of 'woody allen'