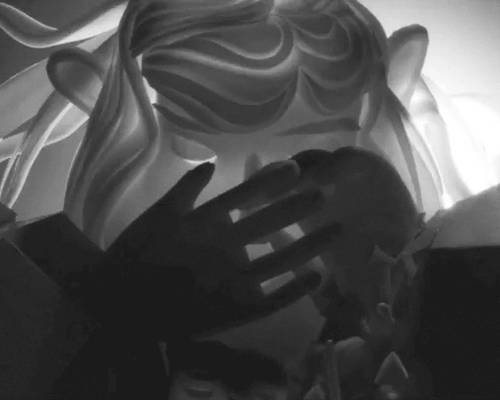 jul 31, 2014
mikey please animates marilyn myller with millions of carved foam pieces
mikey please animates marilyn myller with millions of carved foam pieces
all images courtesy of mikey please

it takes roughly 20 photographs to complete just a single second of stop-motion animation. this remarkable statistic, along with the millions of intricately hand-crafted models and miniatures, painstaking attention to illustrative detail and distinct narrative quality, makes mikey please's 'marilyn myller' a feat of creativity and craftsmanship.
after one year in the making, the london-based BAFTA award winning director and animator has released the 6-minute short film, featuring — as he describes — the voice of josie long, one zillion hand carved tiny things, literally tens of carved foam puppets, two eye fulls of in-camera, long-exposure light trickery and a pair of tiny dolphins, smooching. the story follows the character through the frustrations, faults, triumphs and trivialities that are the roller-coaster ride of a creative person's consciousness. it is 'a tragic comedy about someone trying to make something 'perfect' and then giving up.' please describes 'it has a very specific meaning to me, about the difference between an internal idea, its external outcome and its interpretation by other people. ha! that sounds super pretentious. it's also meant to make people laugh. at the film and at themselves.'
we took a look inside the mind of mikey please and asked him a few questions about his latest film:

DB: what was the process actually like of working on marilyn myller? do you storyboard the whole animation first? or are the ideas generated as the filming goes along?
MP: it's a pretty rigorously planned out affair. a lot of wonderful animation is made just by feeling your way through it in the moment, like an improvised performance. it's called 'straight ahead' animation. but my work, which is usually more heavy on narrative, i start with a piece of prose writing. then it needs to be put into script format, boarded, animaticed (a moving storyboard) then sometimes we'll even roughly animate the shot first before attempting the real thing. stop motion is pretty time consuming and there's no apple-z, so yeah, if you want a specific outcome, you need to plan the heck out of it before leaping in.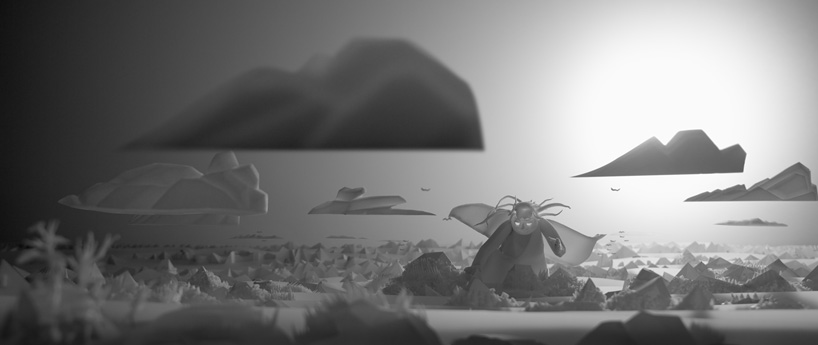 still from the stop-motion animation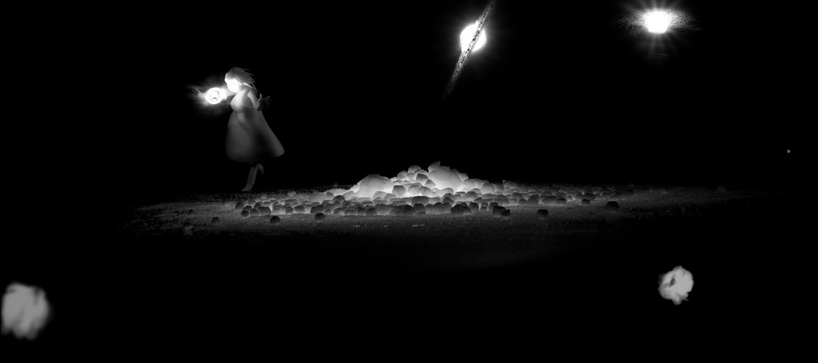 a scene from marilyn myller illustrates the careful use of light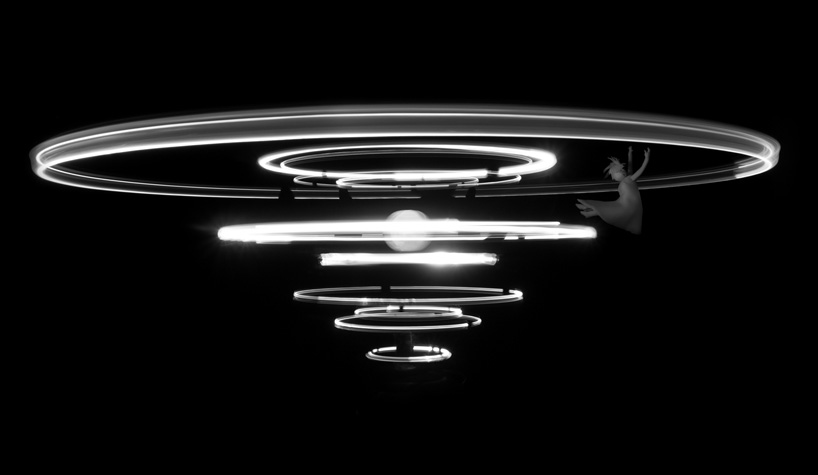 light painting plays an important part of the work's overall graphic quality
DB: painting with light appears to be a big part of setting the mood here. what about this process intrigued you?
MP: I try to keep a graphical quality in my work, using clean materials and illustrative compositions. but there's a danger in that it can become over clinical and clean, which defeats the point of making this stuff for real. so the painting with light was a great way to inject a little organic-ness back into the image without losing the clarity (which I like) of the physical objects.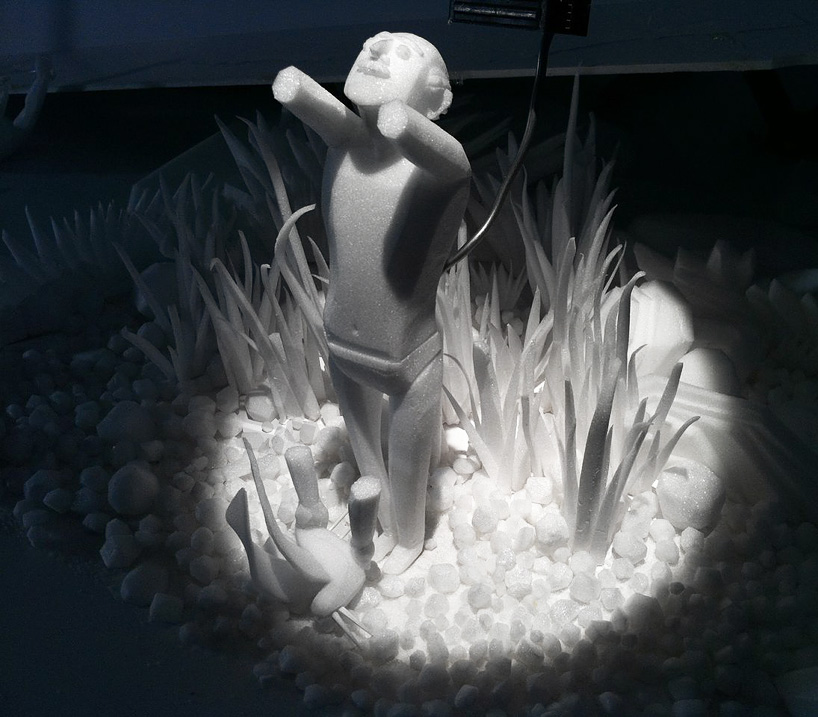 a miniature styrofoam character 'on set' of the film
DB: which developed first for you, the appeal of styrofoam as a medium or stop-motion animation?
MP: for a long time I had a styrofoam fetish and animating was a way of easing myself out of this unhealthy obsession…alas, I'm kidding. it was stopmotion, by a long way. it was a long road to discovering the dreamy stuff that is styrofoam.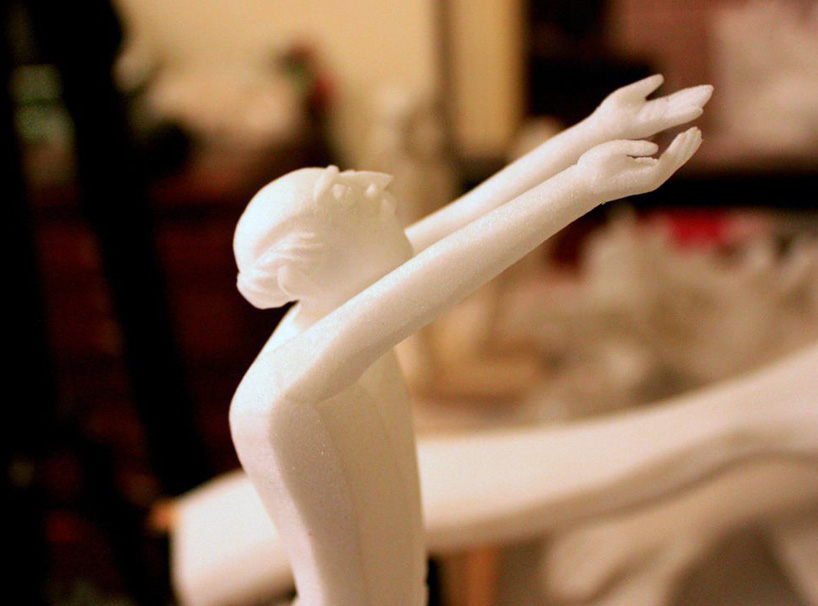 hand-carved figures are carefully moved and manipulated to simulate their animation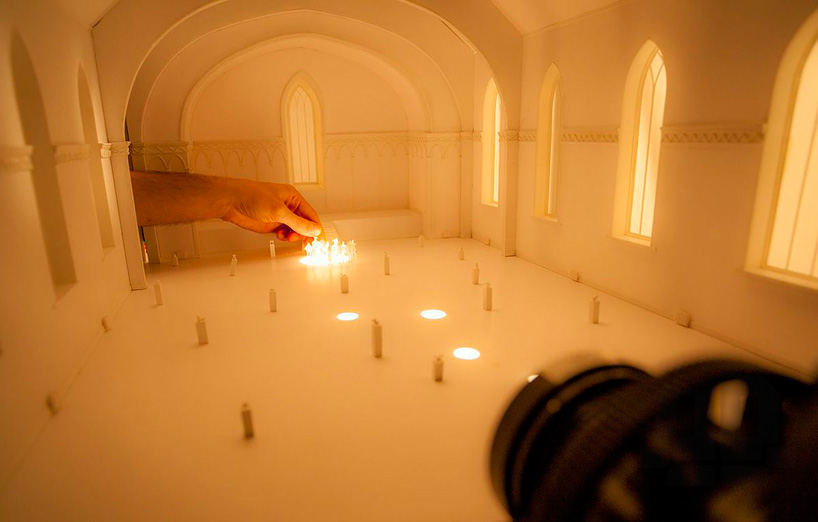 arranging tiny characters in the scene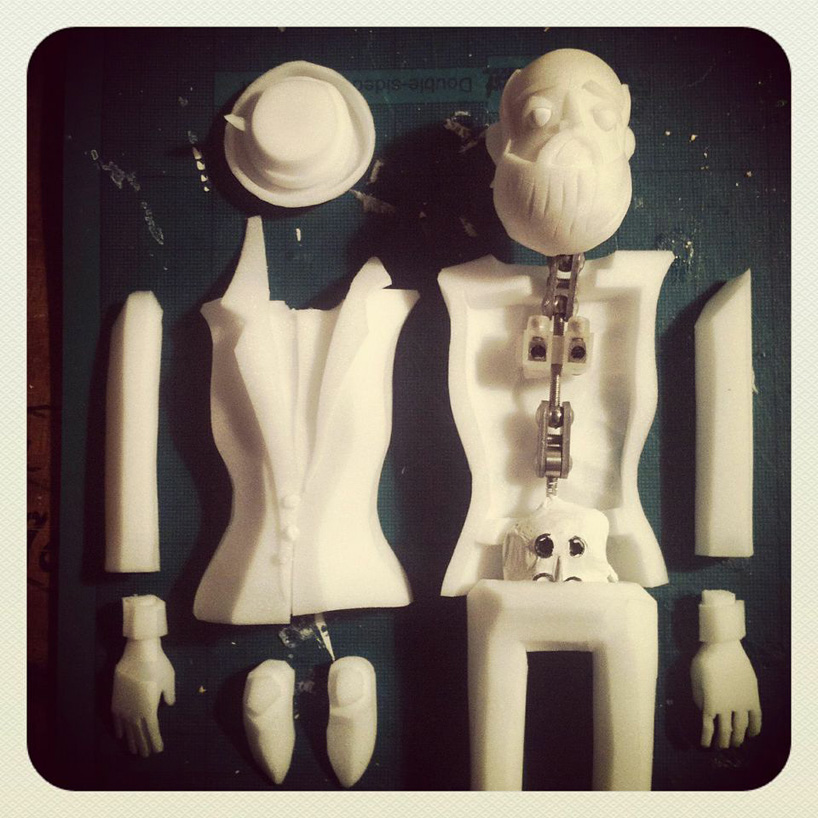 internal mechanisms allow for fluid movement of the character's bodies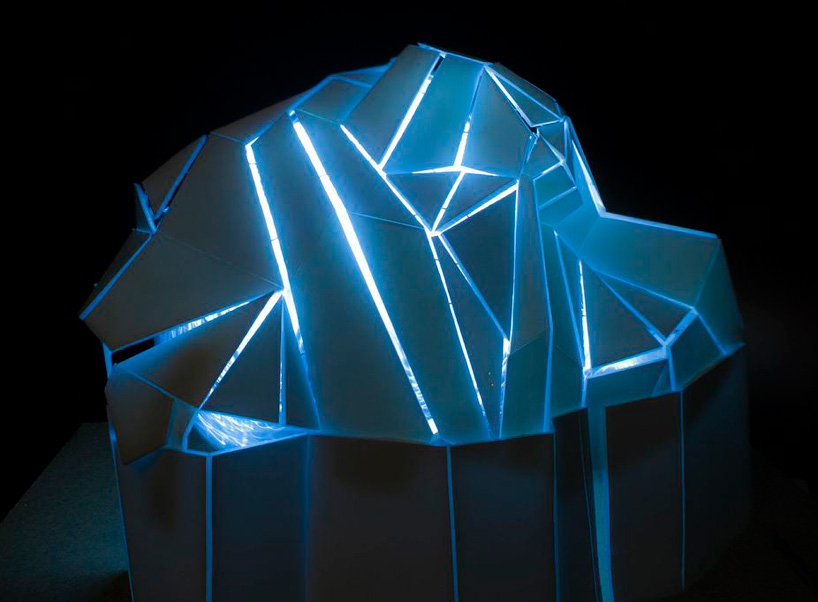 light from beneath a styrofoam 'mountain' creates a dramatic setting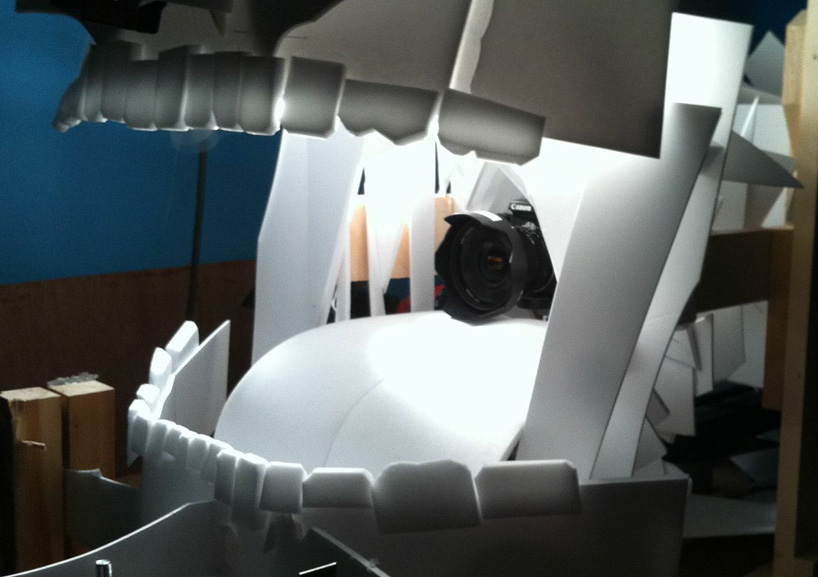 cameras placed within various props creative unique perspectives


the director and animator at work
project credits:
produced by: blink industries / hornet films
filmed at: clapham road studios
executive producers: peter medlock / michael feder / bart yates / mikey please
produced by: jan stebbins/ james stevenson bretton / mikey please
animated & photographed by: mikey please / dan ojari
with animation from: tim allen / steven warne
music composed by: ben please / jools scott / bethany porter
sound design: adam janota bzowski
voices: josie long / james stevenson bretton / theodora van der beek / josephine gallagher
model makers: jen newman / nadia oh / katy beverage / dan ojari / mikey please / carmen mason / anna ginsberg / laura bateman
puppets: mikey please / lizzy dalton / jen newman
set design: nadia oh / mikey please / jen newman / dan ojari
supervising DOP: matthew day
studio manager: elizabeth day
incidental lighting: max halstead
technical support: toby goodyear
musicians: andrew douglas forbes / catherine hurley / emma hooper / benedict please / bethany porter / jools scott / ian vorley / james watts
soloists: amadou diagne / maria danishvar brown
recording engineers: ben please / jack sedgwick
mixed by: simon harris @ offset audio
post production: yussef cole / elisa ciocca / jon gallagher / marty geren / rachel kwak / michael luzzi / joey mccormick / mikey please / leandro santini / ted wiggin
grader: rachel rardin
developed at: the japic residency with the japanese ministry for cultral affairs
thank you: caroline waterlow / dan chester / dave prosser / kev harwood /greg halama / sang jin bae / jack robinson / kim swallow / ditogear
a diverse digital database that acts as a valuable guide in gaining insight and information about a product directly from the manufacturer, and serves as a rich reference point in developing a project or scheme.