morag myerscough and luke morgan have recently completed 'joy and peace', two temporary art installations in london. the public art project was commissioned by 'culture mile', and is prominently sited in a major creative destination.

all images © gareth gardner
the two-part project completed by myerscough and morgan, consists of both a wall installation and a colorful stage at the heart of london. 'joy' grows out of the openings along a 97 meter wall of the brutalist barbican center's car park. in contrast, 'peace' is set in an underused historic garden with ancient trees and squirrels.

the neon colors are characteristic of the artistic duo's works
the installation has transformed the garden into a social destination and stage for performances and activities. the formerly overlooked garden is now a center of 'peace'. similarly, the colorful wall brings unexpected 'joy' to passersby. 

the neon elements add vibrancy and joy to the city
'joy & peace' is a response to the fractious times we are all living in', say the artists. 'we felt strongly that we wanted to make a piece of work that was full of positivity, hope, strength and the power to bring people together with joy in the heart of london'.

the colors provide a bright contrast with the somber colors of the brutalist building
the colorful symbols were handpainted on plywood using neon colors. with help from a small team of painters from the studio in hoxton, the installations were constructed using scaffolding on site. the scheme was led by the city of london corporation together with the barbican, guildhall school of music & drama, london symphony orchestra, and the museum of london. 

a 'sun', 'heart', and 'eye' symbolize happiness

the colorful stage creates a new gathering space in an unused garden

the stage allows for performances to take place

flower symbol = peace

the scaffolding creates a playful space for interaction and performance

'we wanted to make a piece of work that was full of positivity, hope, and strength'

the artists hope to bring people together with joy in the heart of london
Save
Save
sep 01, 2017
sep 01, 2017
aug 31, 2017
aug 31, 2017
jul 06, 2017
jul 06, 2017
feb 02, 2017
feb 02, 2017
oct 02, 2016
oct 02, 2016
oct 23, 2015
oct 23, 2015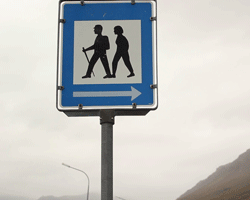 oct 31, 2017
oct 31, 2017
oct 29, 2017
oct 29, 2017
oct 28, 2017
oct 28, 2017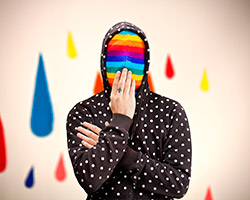 nov 01, 2017
nov 01, 2017
oct 10, 2017
oct 10, 2017
sep 20, 2017
sep 20, 2017
oct 23, 2017
oct 23, 2017
oct 20, 2017
oct 20, 2017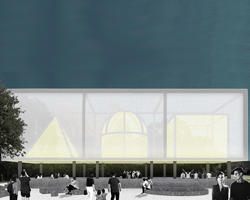 oct 20, 2017
oct 20, 2017