sep 30, 2011
nicholas hanna: water calligraphy device at beijing design week 2011
'water calligraphy device' by nicholas hanna, on exhibition during beijing design week 2011 image © designboom
'water calligraphy device' by canada-born, beijing-based media artist nicholas hanna reinterprets the chinese tradition of using a water brush to write poetry in public spaces by transforming a flat-bead tricycle into a poetry-writing device.
in beijing, these tricycles are a common form of transportation, adapted by residents into everything from carts to traveling market stalls. hanna's 'water calligraphy device' uses a computer, mounted on the handlebars, to transmit passages of chinese literature to an electrical system and array of solenoid valves. each character is converted into a dot matrix, to which the valves synchronize the release of droplets of water as the tricycle moves forward. thus as the device moves forward, passages of text appear behind it, only to gradually evaporate just as in traditional water brush painting.
'water calligraphy device' is traveling through beijing's historic dashilar district through october 3rd, 2011, as part of beijing design week.
video courtesy of nicholas hanna
video courtesy of nicholas hanna
the project draws from the chinese tradition of writing calligraphy in public spaces using a water brush
view of the device in use
closer view of the characters
the tricycle leaves poetry in its wake as it travels through the neighborhoods of dashilar, beijing
view of the solenoid valve system image © designboom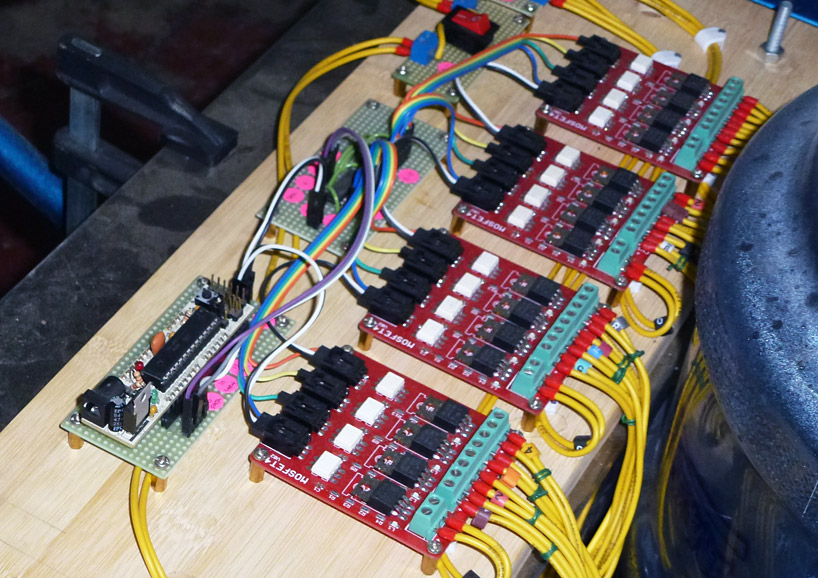 detail of the device wiring image © designboom
top view image © designboom
the flat-bead tricycles hannas used to create 'water calligraphy device' are ubiquitous throughout beijing:
many vendors convert their tricycles into carts to transport and sell fruits and vegetables image © designboom
another common sight is their use to transport cardboard and other materials image © designboom
beijing design week converted a tricycle of their own into an information stall, filled with guidebooks, press postcards, and maps image © designboom
—
from september 26th through october 3rd, 2011, designers and thinkers from across the world gather in beijing, china for beijing design week and beijing international design triennial. exhibitions, conferences, workshops and lectures across the city address the theme of 'design beijing – good design' for the nine-day event, which looks to transform the ubiquity of 'made in china' to 'designed in china'.
beijing design week is presented by the ministry of culture, ministry of education, the china federation of literary and art circles, and the municipal government of beijing, in collaboration this year with tsinghua university.
dec 30, 2011
dec 30, 2011
nov 29, 2011
nov 29, 2011
nov 24, 2011
nov 24, 2011
nov 22, 2011
nov 22, 2011
nov 16, 2011
nov 16, 2011
nov 14, 2011
nov 14, 2011
oct 28, 2017
oct 28, 2017
oct 20, 2017
oct 20, 2017
oct 20, 2017
oct 20, 2017