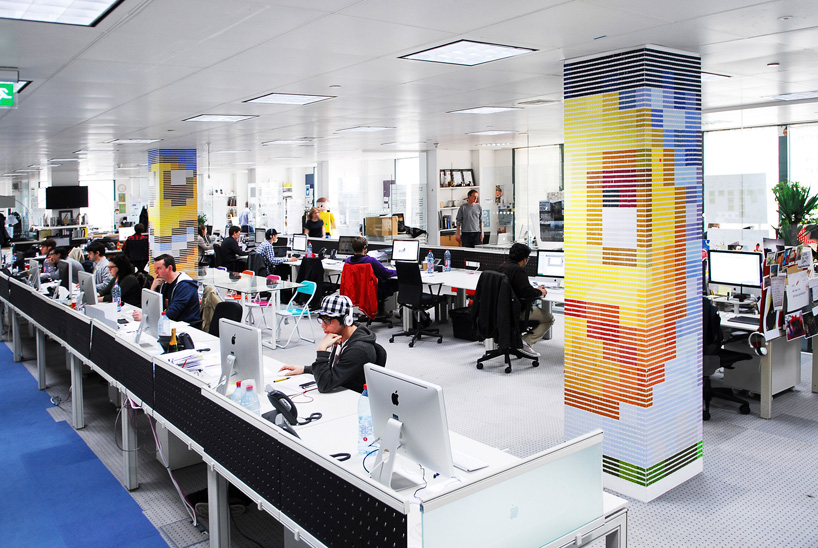 mar 05, 2014
OgilvyOne turns 21,000 pantone color chips into paper pixel emoticons
OgilvyOne turns 21,000 pantone color chips into paper pixel emoticons
all images courtesy of OgilvyOne

OgilvyOne is well versed in the areas of creative digital communications, and more traditional print works, and decided to realize a project that blends these two disciplines into an art installation for their very own london office. the result is 'paper pixels' (originally conceived by OgilvyOne senior designer hiten bhatt), which has seen the agency's design team transform two structural columns in their workspace into ten-foot high mosaics of emoticons – the quintessential icon of the digital landscape.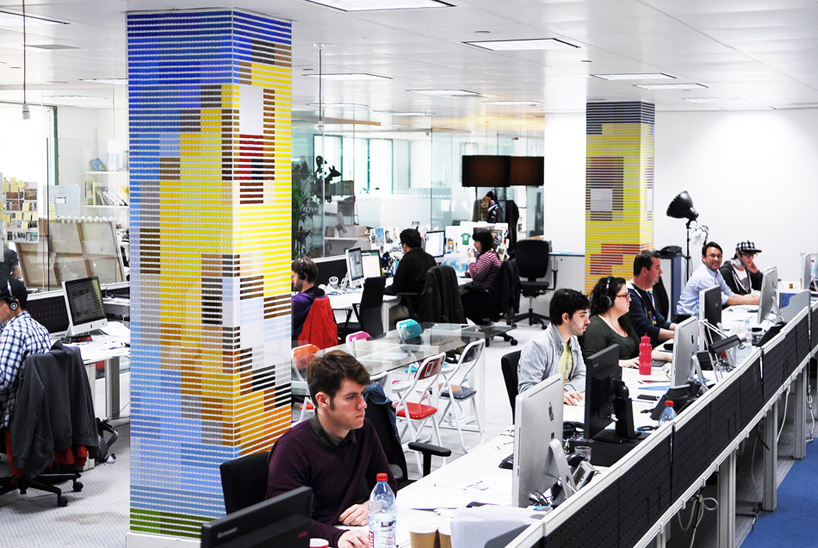 installation view of the 'paper pixel' emoticons
to create the artwork, more than 21,000 'real pixels' – an arrangement of one inch-square pantone color chips – were needed, all hand assembled by 12 individuals over the course of 52 hours. for four months, members of the team tore chips out of more than a hundred pantone swatch books (supplied by pantone after sales director for pantone EMEA, paul graham, found out about the project) to complete the two massive emojis; the placement of each pixel randomized in order that the graphic design seemingly appears to grow organically when captured through time lapse photography.

the OgilvyOne design team turn print into pixels with pantone colour chips
video courtesy of ogilvyvids
rory campbell, head of design says 'just like pixels on a screen, up close you can't see the image, but at a distance the emoticons come to life. this optical illusion has made the design department an eye catching area, uniting the print and digital teams.'
jun 11, 2017
jun 11, 2017
feb 27, 2017
feb 27, 2017
jan 25, 2017
jan 25, 2017