even if you've never heard of okuda san miguel, you almost certainly recognize his work. prismatic, mystical, and infused with color, okuda's murals, street art, sculptures, tapestries, photographs, installations and more vibrate with an energy that is impossible to ignore. laden with enigmatic imagery and highly pigmented geometries, his multi-disciplinary work both suggests and challenges themes of spirituality, modernity, environmentalism and the human condition.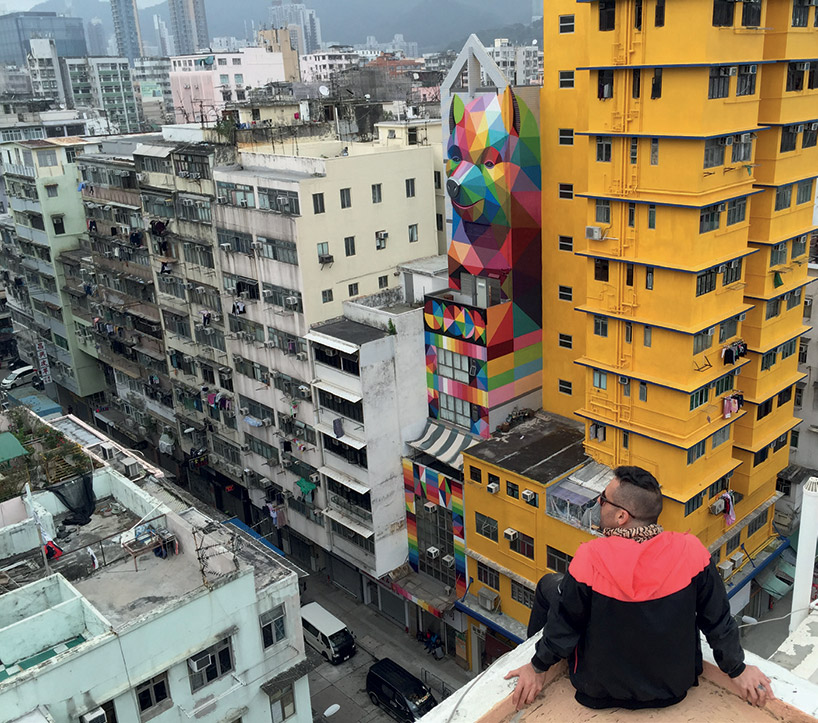 okuda's 'rainbow thief' mural in hong kong, china
all images courtesy of the artist
born in santander, okuda san miguel first started making work around 1997, covering the city's old railroads and abandoned buildings with letters and color. after studying fine arts at the complutense university of madrid, okuda developed his more signature, multidimensional style of drawing. alongside his murals, okuda expanded his practice to include more intimate, smaller scale projects influenced by his love of surrealist painting. the resulting style is a kind of 'pop-surrealism', with one foot in the studio and one on the street, that juxtaposes strict geometries with organic forms.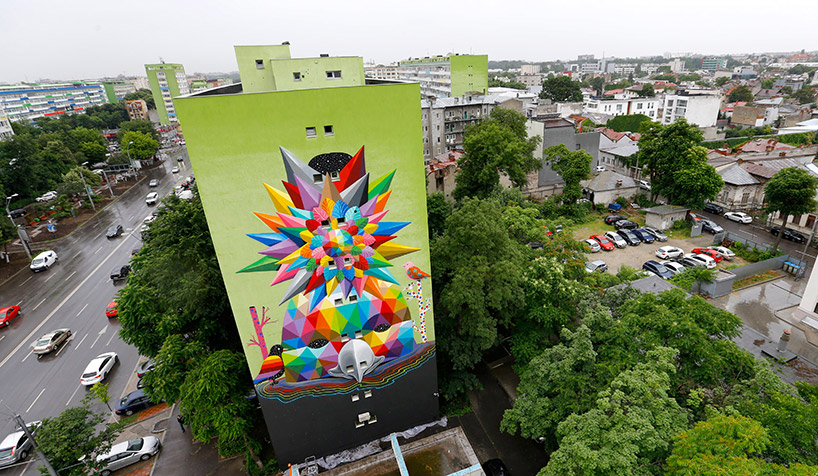 'bird of freedom paradise' mural in bucharest
since then okuda's body of work has grown exponentially to include a myriad of mediums, undertaking projects both in his native spain and internationally. alongside his street art, the artist is possibly most well known for leaving his mark on a number of churches: transforming an abandoned chapel in morocco, colorizing the international church of cannabis, and completing a mind-blowing interior for the 'sistine chapel' of skateboarding, among others.
recently, designboom caught up with the artist to chat about his work and process.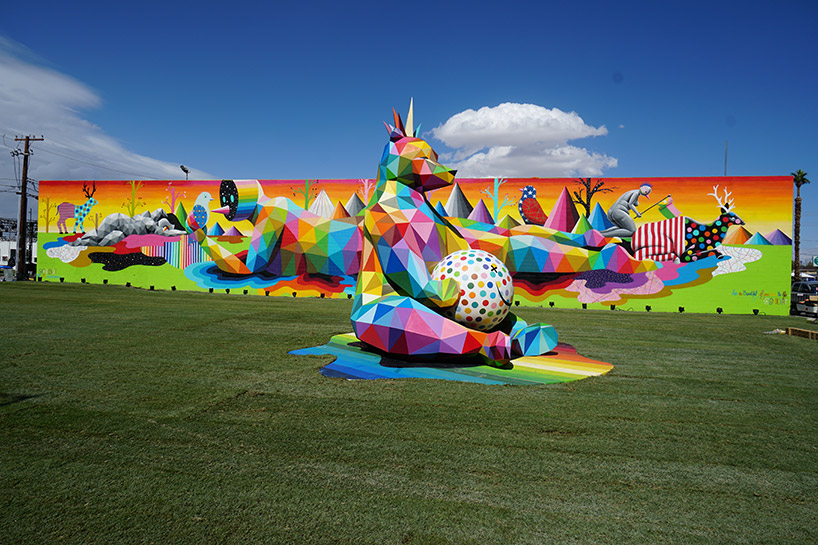 'smile king bear' (sculpture) & 'rest of the three graces' (mural) in las vegas
designboom: what first sparked your interest in mural art, and what is it that keeps you exploring the medium today?
okuda san miguel: I started creating in the streets doing graffiti around 1997. and now I need creating and exploring new mediums to be happy and to evolve as an artist.
DB: obviously it may change from one piece to the next, but what is your process like for approaching a project? how much is planned and how much is improvised, and how big a team do you work alongside?
OSM: I usually don't do sketches for big murals. I love to draw directly on the walls and keep creating and improvising during the process. I need to see in person the whole architecture and try to play with that. when I do sculptures I need to sketch and then take it to my team to work it out in 3D. depending on the project, I have about 4 assistants that help me with everything.
in addition to this, there are these 7 guys (called ink and movement) that work in the office and showroom with my manager. they receive collectors, deal with media and organize my schedule among many other things. basically, they take care of me while I concentrate on my art.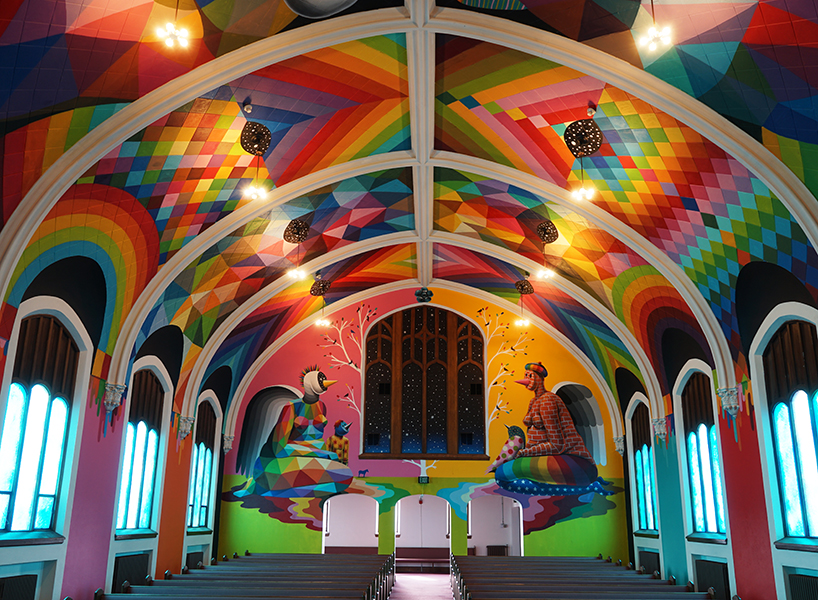 the international church of cannabis, denver
DB: your work is perhaps best known for being incredibly vibrant. can you talk a bit about the role of color in your paintings? what is it that attracts you to certain hues?
OSM: when I paint humans or faces with these multicolored geometric patterns, I try to symbolize all skins and races in one. all colors in one. a multicultural world.
I love to mix different patterns with organic forms and greys. in doing so, I try to represent the artificial versus nature.
DB: how much of your own personal history or culture finds expression in your work?
OSM: a lot, because my work is more related to surrealism and pop-art, which I discovered in school, than to street art or what is known as contemporary art.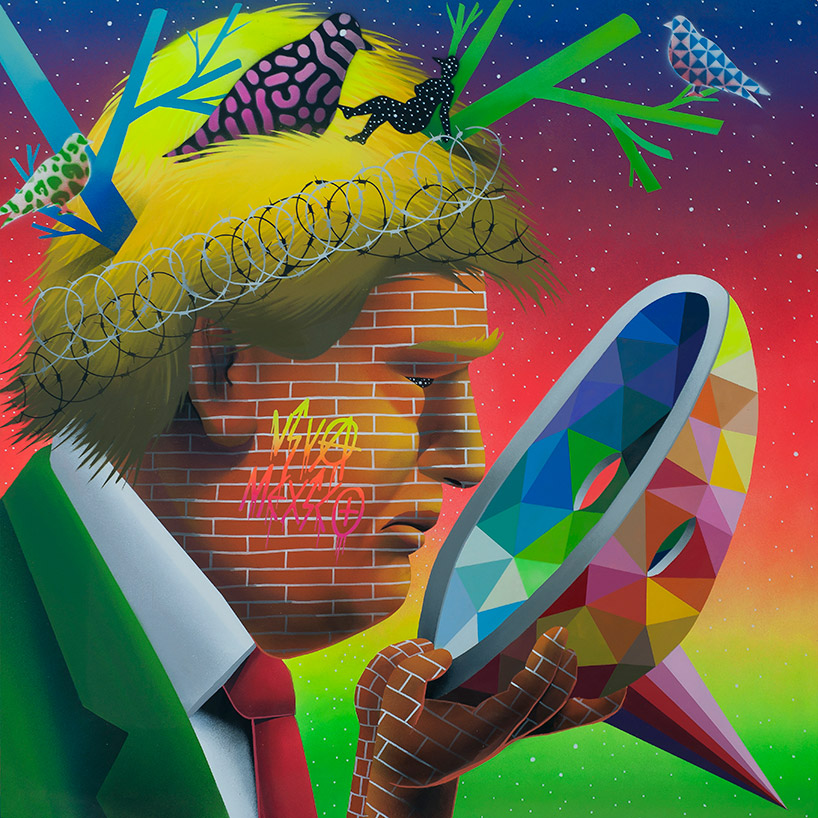 'no mask for the wicked', synthetic enamel on wood panel, corey helford gallery LA
photo by elchino po
DB: are there any artists that stand out as having influenced you creatively, or with whom you would like to collaborate with in the future?
OSM: inspiration comes from artists such as dali, ernst, magritte, murakami, jodorowsky or yayoi kusama…but thumbs up, always, for el bosco. there's no one like him.
I love artists such as kris kuksi, os gemeos, tomokazu matsuyama, kaws, eric parker, todd james, interesni kazki, piet parra, smithe, nano4814, sixe paredes, daniel muñoz, cleon peterson, amandine urruty…some of these are friends of mine which motivates me to grow up and work harder.
my art also relates to old cultures (wicholes, mayans, incas; from india or africa).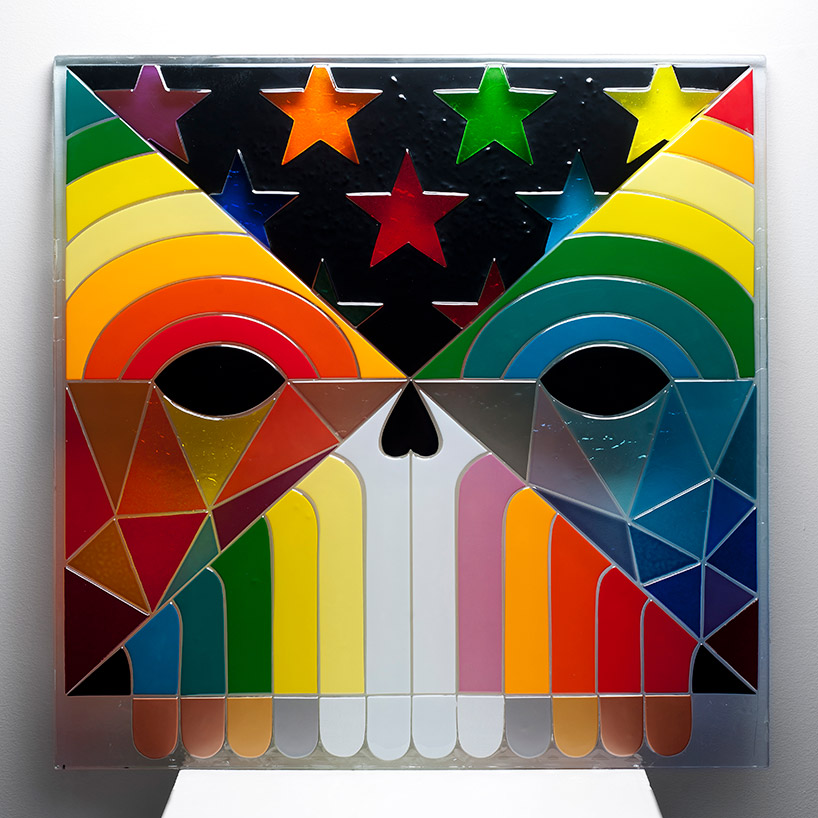 'skulls mutations III', glass work, stolen spaces london
photo by elchino po
DB: how has the world of street art changed since you started out and in what direction do you think it is headed?
OSM: I think that my first church was an important milestone in my career and changed something in my art. it might be an icon of modernity and an example of doing whatever you want by yourself: everything is possible, no limits. I don't really know what direction is street art taking; but this is a crazy moment with a lot of productions around the world everyday.
in my case, I am focused on doing large format sculptures for the public space and trying to mix this with architecture.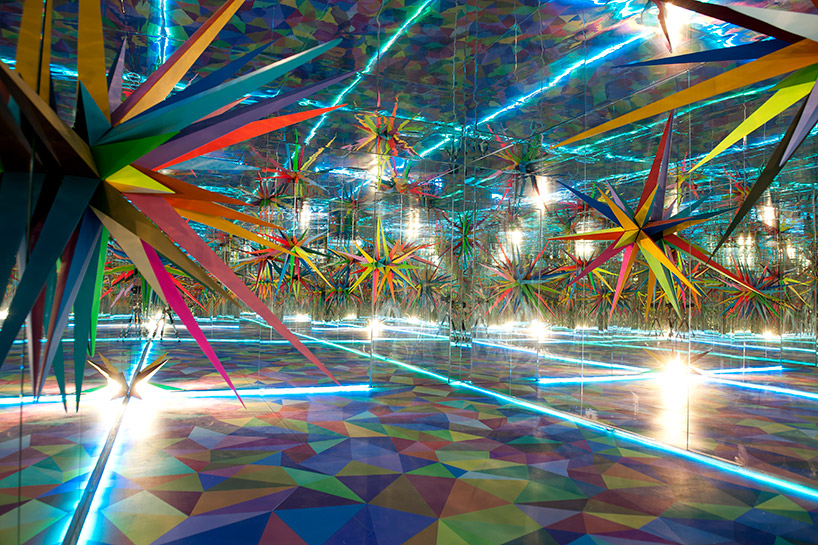 'el jardin del kaos', installation, CEART madrid
photo by elchino po
DB: street art in particular finds potency in how many people it's capable of reaching in such a short time. how large a consideration is your potential audience when creating a piece, and is there a pressure associated with creating something for a public space as opposed to a gallery?
OSM: yes, I feel totally free when I create something for a public space but I do feel a responsibility for the place where it will live after I leave, and for the people that live there. the first and most direct message in my artworks is positivity and happiness. I love when people receive it and feel I feel that back.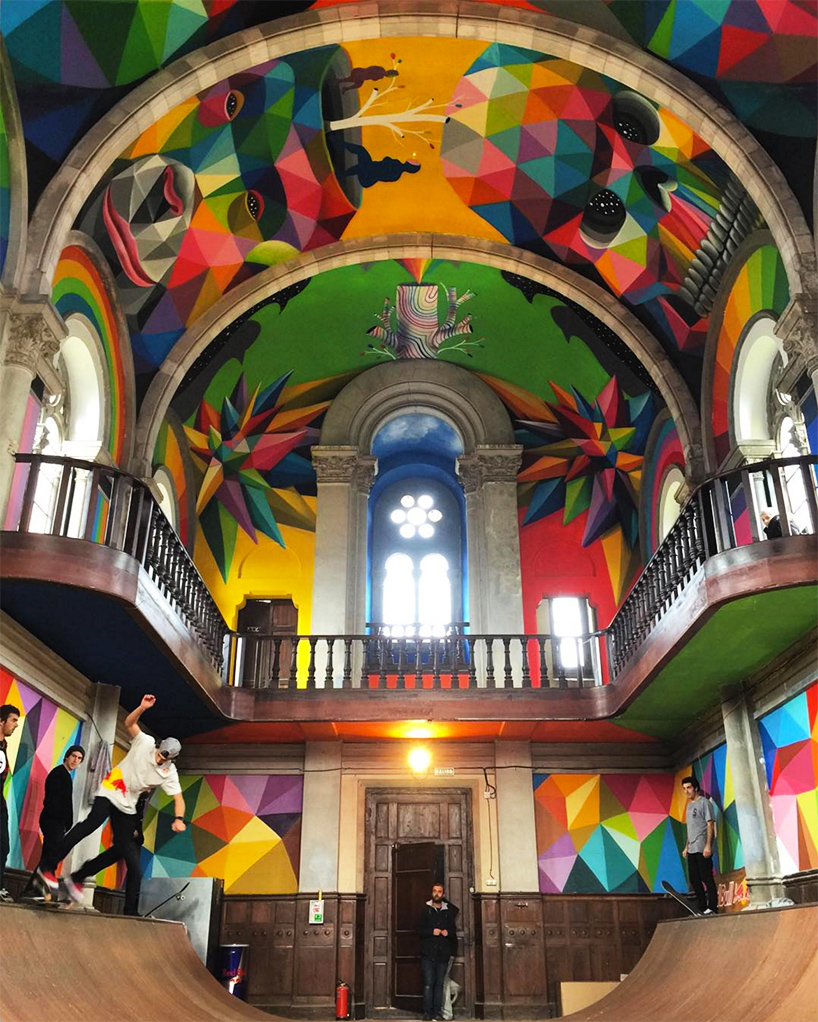 okuda's work on the 'kaos temple' has earned the sit the nickname of 'the sistine chapel of skateboarding'
DB: your body of work includes murals, tapestry, photography, video and more. is there any medium you haven't worked in that you'd like to try your hand at?
OSM: yes. I have in mind some new mediums to work on. for example, a line of jewels for the brand suarez from spain. I would like to work with a cinema director to do a film or short film about a surrealistic story. I also want to mix mapping, lights, and movement for an inside installations in museums or specific buildings. and the craziest…I want to make this big sculpture that could be a building at the same time…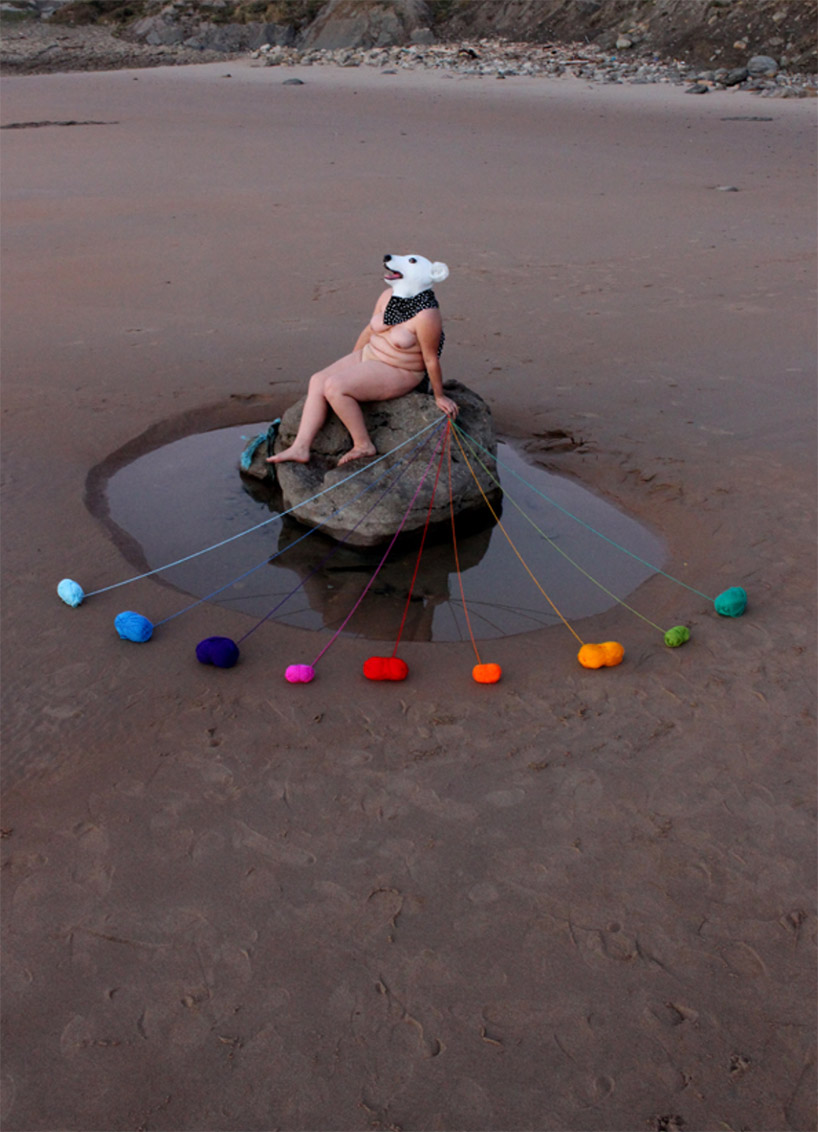 'lost island', photoprint on paper
DB: how important is scale in your work? does your creative approach to a project change depending on its dimensions, or do you find yourself gravitating towards projects of a certain size?
OSM: I love to work on a large scale because it's more breathtaking and I prefer to select this size of project.
DB: are you working on anything exciting at the moment, or have anything planned for the future that you'd like to share with us?
OSM: I am working on a huge (30 meters) sculpture that will burn in fallas 2018 in valencia. that's gonna be huge and spectacular. do not miss it, and if you don't know about this crazy local festivity here in spain, go and search.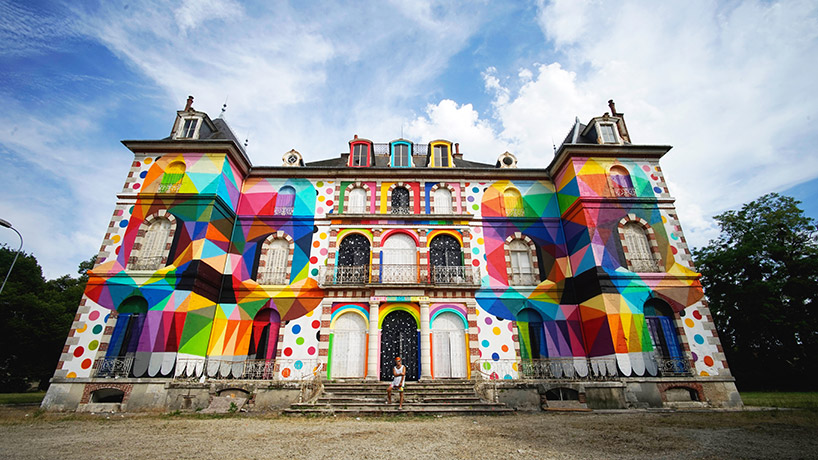 'skull mirror castle', created as part of the label valette festival, france
photo by ChopEmDown
DB: any personal mottos or words of wisdom you try to live by?
OSM: nothing is impossible. no limits. you only have to put your heart in your work. love and peace. art is the only religion and has no borders. enjoy everything and everywhere and every time because we only live once.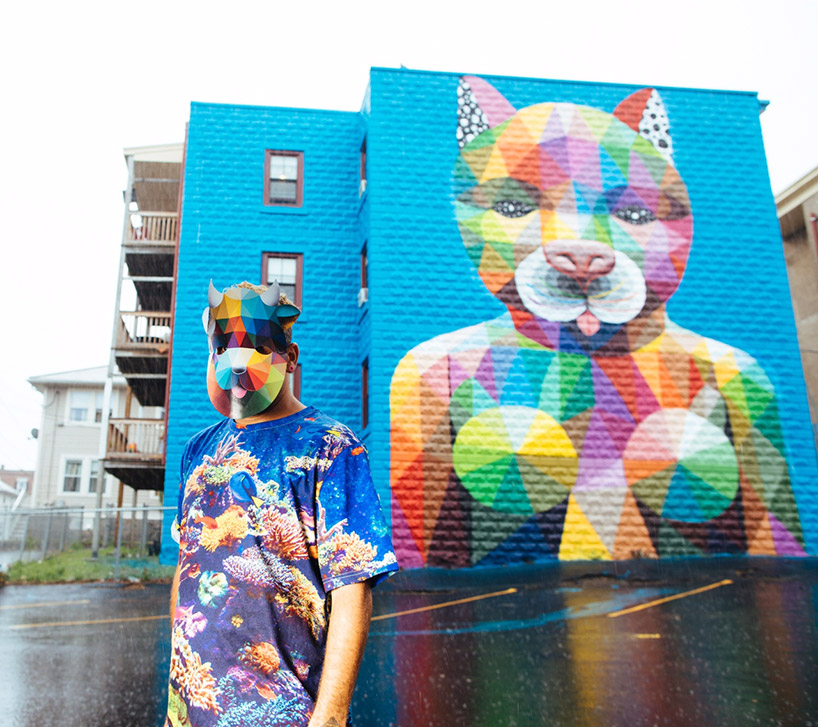 okuda posing in front of his mural, 'cat witch'
photo by jared charney
dec 17, 2019
dec 17, 2019
sep 19, 2018
sep 19, 2018
jul 11, 2017
jul 11, 2017
apr 25, 2017
apr 25, 2017
oct 14, 2016
oct 14, 2016
oct 02, 2016
oct 02, 2016
jul 14, 2020
jul 14, 2020
jul 01, 2020
jul 01, 2020
jun 27, 2020
jun 27, 2020
apr 16, 2020
apr 16, 2020
feb 14, 2020
feb 14, 2020
jan 28, 2020
jan 28, 2020
a diverse digital database that acts as a valuable guide in gaining insight and information about a product directly from the manufacturer, and serves as a rich reference point in developing a project or scheme.