mar 02, 2011
olek + dev harlan: suffolk deluxe electric bicycle I
'suffolk deluxe electric bike, I', by dev harlan and olek, combines crochet work and digital projection
a collaboration between new york -based artists olek (agata olek) and dev harlan, 'suffolk deluxe electric bicycle, I' takes a men's road bike as the site of a realtime intermeshing of objects and material texture inseparably from light and video projection.
covered in white crocheting, the bicycle becomes the canvas for colour, pattern, and movement projected onto its surface. the 3D mapping is designed to mimic the effect of knitting, through not only the textured appearance of many of the projected images but also the realtime evolution of the patterns, which incorporates stop motion animations of real crocheting and thus appear and disappear on the bicycle as if crocheted, unrolled, or unstitched.
the hyperreal piece unites the visual aesthetic of olek's pieces– in which bicycles, cars, sculptures, and people are encased in colourful hand crocheted skins– with the technical production process of dev's new media and projection mapping works.
'suffolk deluxe electric bicycle' is on show in the LZ project space of manhattan's NY studio gallery through march 12th, 2011 as part of the verge: art brooklyn art fair.
installation view of the work
bike projection of a crochet piece depicting the artists' names image courtesy of artlog
the projections include segments of stop motion documentation of real crocheting
closer view
artist dev harlan's documentation of the bicycle on display
another installation video of the piece
jul 26, 2017
jul 26, 2017
jul 09, 2017
jul 09, 2017
jul 07, 2017
jul 07, 2017
may 02, 2017
may 02, 2017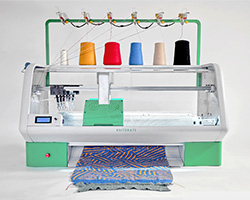 apr 02, 2017
apr 02, 2017
jan 26, 2016
jan 26, 2016
olek
(10 articles)
sep 04, 2016
sep 04, 2016
aug 21, 2014
aug 21, 2014
jul 29, 2014
jul 29, 2014