jan 16, 2011
pablo reinoso: thonet chair sculptures
TH 24 07 photo: estudio cavallero
in his continued exploration and manipulation of the iconic thonet chair, paris-based pablo reinoso has produced a series of sculptural objects which physically extend the bentwood furniture piece beyond the chair's normal boundaries.
TH 14 05 wood 87 x 180 x 74 cm photo: maxime ruiz
for one group of objects, reinoso has duplicated and stretched the back's of the chairs, to create in someway a projection of a distorted, elongated 'shadows' captured in the bentwood. these extensions also act as structural support for the pieces.
TH 16 06 photo: estudio cavallero
TH 04 05 wood variable dimensions photo: carlos yebra
in another set, he has focused on the transformation of the chair's seat, replicating the circular frame and utilizing the caning material in an alternative way. in 'TH 04 05', he has multiplied the seat four times, using vegetal fibres to connect the additional circular frames as if it is falling out of itself.
TH 13 05 wood 146 x 45cm diameter photo: carlos yebra
with 'TH 13 05', reinoso has pulled the chair seat upwards in a vertical structure, using three additional frames to create a tubular form which cannot be sat on.
TH 06 05 wood 86 x 45 cm diameter photo: carlos yebra
'TH 06 05' pushes the seat into a downward's motion, creating a basket-like form within the frame.
TH 21 06 wood variable dimensions photo: estudio cavallero
instead of using the caning vegetal fibres in their typical form, 'TH 21 06' and 'TH 09 05' exhibit them in their natural unwoven state, flowing outwards and gathering in huge masses around the bases of the chairs themselves.
TH 09 05 wood variable dimensions photo: carlos yebra
jan 08, 2011
jan 08, 2011
jan 07, 2011
jan 07, 2011
THONET
(16 articles)
nov 28, 2015
nov 28, 2015
oct 11, 2015
oct 11, 2015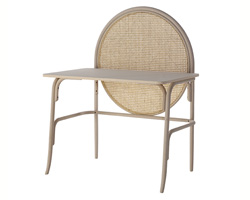 aug 24, 2015
aug 24, 2015